Birds Korea's Bird News April 2013
April
One of the very best birdwatching months! Cold days and nights (lowest day maxima of ca 12°C) gradually warm through the month (reaching the low 20s°C by month's end), and dry spells interspersed with 1-2 days of heavy rain and stormy conditions produce great birding towards month's end.
Early in the month, late Hooded Crane move through while shorebird numbers and diversity start to build up. While the concentrations of 200,000 shorebirds at Saemangeum are no longer to be found since seawall close there in 2006, internationally important concentrations of species like Great Knot and the Critically Endangered Spoon-billed Sandpiper and Nordmann's Greenshank can still be found at the adjacent Geum Estuary. Other ROK specialties include Chinese Egret fand Black-faced Spoonbill, especially along the west coast. This latter species has a world population of only c. 2500! While early April sees species like Brown-headed Thrush and Japanese Robin in very small numbers in the far southwest and southeast, mid-April is often marked by the first large passerine arrivals and spring overshoots, with good counts possible of Blue-and-white, Narcissus and Yellow-rumped Flycatchers, and Tristram's and Yellow-browed Buntings. Late in the month, 100 or more species a day are possible on the outer islands like Heuksan and Gageo in the far south, Eocheong off Gunsan, Weiyeon, and Socheong in the far northwest.
In more than one recent year, highlights have included Pied Wheatear, Caspian Tern, Japanese Night Heron, Black-headed Bunting and Himalayan Swiftlet. Korean firsts for April include a Northern House Martin and Red-breasted Flycatcher on Eocheong in 2003, a Paddyfield Warbler on Hong Island in 2004, a pandoo Blue Rock Thrush in 2005, and a Claudia's Leaf Warbler on Socheong Island in 2009.
(The following records are a compilation of our own sightings and records sent in by other observers. As well as being posted on the Birds Korea website(s), selected records are also forwarded to other Korean-language birding websites; records of threatened species are arranged and forwarded to Birdlife International and national authorities when appropriate; flag images and records are passed to bodies responsible for their coordination throughout the flyway; and all records sent to us are used to compile annual reports and to support the evolving understanding of the status of many of Korea's birds.)
Bird News from Spike Millington
Songdo, April 27-30
The weekend of 27-28th April saw a continuing build up of shorebirds at Gojan mudflats with up to 3,000 Dunlin and 500 Bar-tailed Godwits (with a few Black-taileds), the latter including several colour-flagged birds from Australia, New Zealand and elsewhere in the Flyway. Great Knot numbers were stable at 60, but there were few Curlews, and all Far-Eastern Curlews. However, Curlews are pretty independent-minded birds and they could have chosen to roost on the partially reclaimed land by the University, which I did not check. Whimbrels were up to at least 50 and the first small shorebirds were seen, with 2 Red-necked Stint, 2 Mongolian Plovers and single Terek and Sharp-tailed Sandpipers. Other shorebirds included 200 Grey Plover, many in blotchy partial summer plumage and a few Greenshanks, Eastern Oystercatchers and Ruddy Turnstones.
Over on Namdong Reservoir, duck numbers have declined quite significantly in the last couple of weeks. All the Common Shelduck have gone and only a handful of Common Pochard remain, with 150 Eurasian Teal, 60 Shoveler, 10 Gadwall and 6 Eurasian Wigeon. Soon only the Spot-billed Ducks will be left!
On Incheon Old Golf Course thrushes were much in evidence with 10 Pale, 5-6 Grey-backed, 3 Scaly and 2 Dusky Thrushes. A flighty party of 8 Eastern Great Tits with 3 Coal Tits might have been migrating. A few Yellow-browed Warblers were flitting about and calling and 2-3 Chinese Nuthatches were active in the pines.
New birds keep appearing in Michuhol Park, with a male Blue-and-White Flycatcher on 26th, two male Mugimaki Flycatchers on 29th, and Wryneck, Rufous-tailed Robin, Grey-streaked Flycatcher and Eye-browed Thrush on 30th.
Bird News from Andreas Kim
Mokpo Namhang Urban Wetland, April 29
The daily visit started in the early afternoon with light rain which later cleared and also with light wind. Almost all ducks have left, only 8 Eastern Spot-billed Duck, 4 Eurasian Wigeon, 2 Falcated Teal and a few Common Teal were seen.
On shorebirds 49 Bar-tailed Godwit, c. 30 Whimbrel, c. 130 Dunlin, 8 Common Greenshank, 6 Grey-tailed Tattler, 4 Terek Sandpiper, 4 Common Sandpiper, 40+ Kentish Plover - on Saturday the first parent with 3 chicks seen - several Little Ringed Plover, c. 20 Ruddy Turnstone, c. 30 Red-necked Stint and 5 Curlew Sandpiper which were seen for the third day.
Today not many gulls at the site, a few Black-tailed and Black-headed Gulls, but at least 20 very noisy Little Tern flying around huntig for fish and also 3 Grey Heron, 1 Eurasian Coot and 1 Great Cormorant.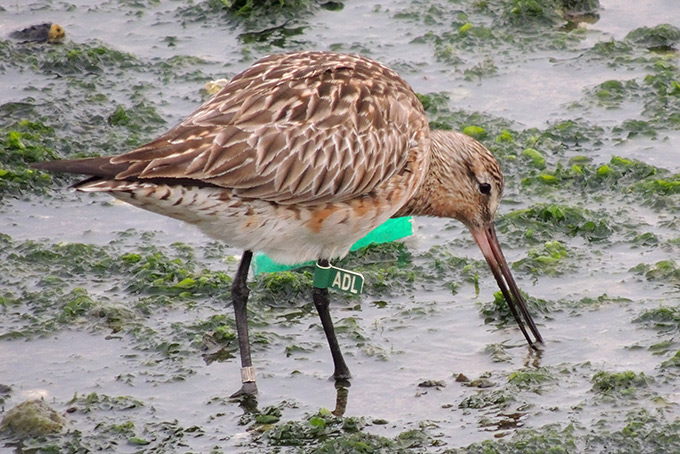 Green leg-flagged Bar-tailed Godwit Limosa lapponica ADL, Photo © Andreas Kim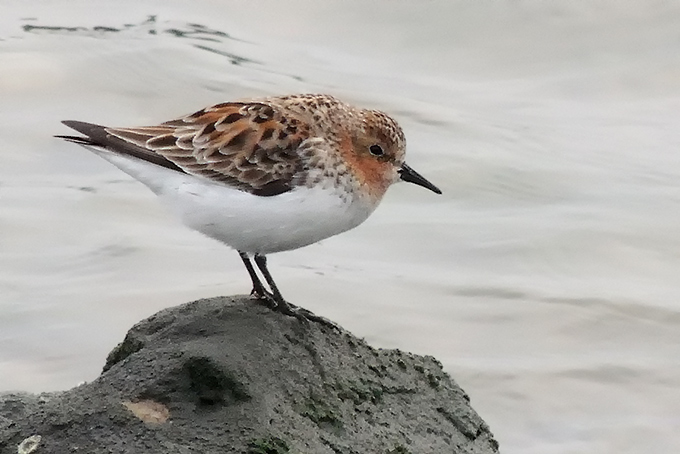 Red-necked Stint Calidris ruficollis, Photo © Andreas Kim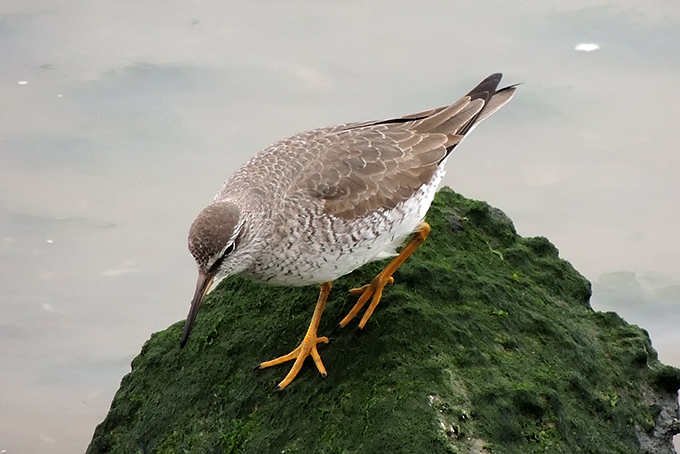 Grey-tailed Tattler Tringa brevipes, Photo © Andreas Kim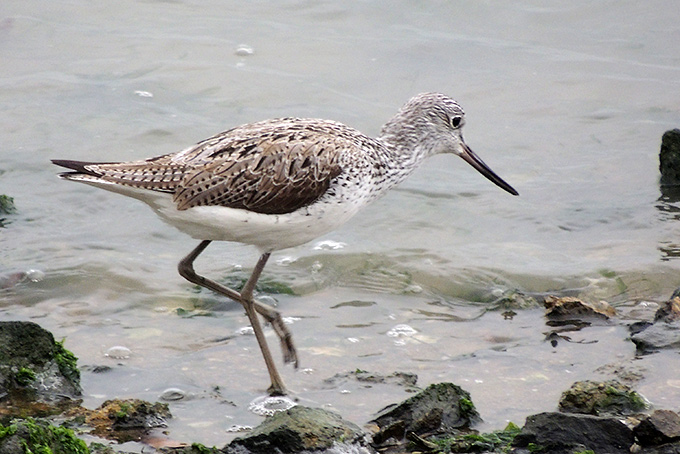 Common Greenshank Tringa nebularia, Photo © Andreas Kim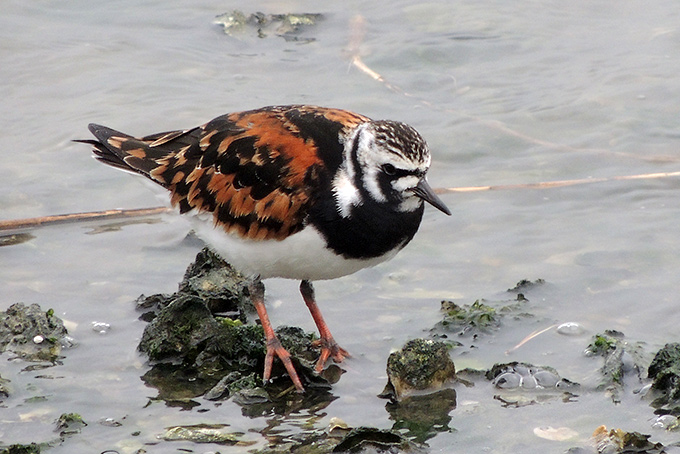 Ruddy Turnstone Arenaria interpres, Photo © Andreas Kim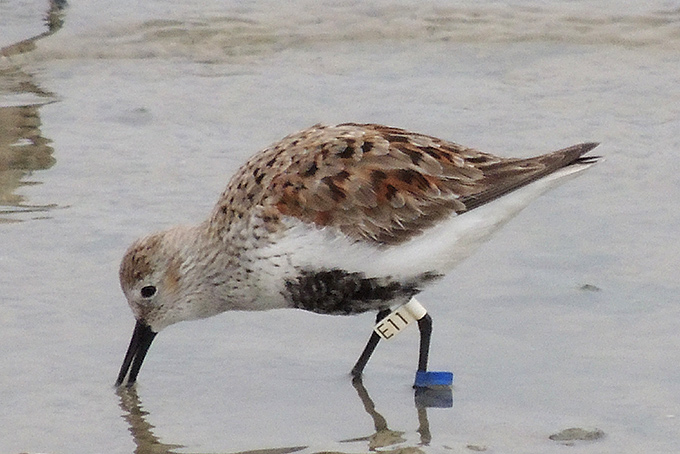 Dunlin Calidris alpina, Photo © Andreas Kim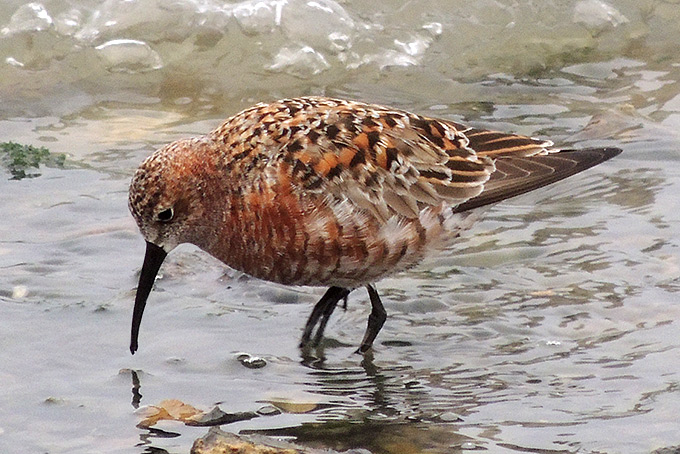 Curlew Sandpiper Calidris ferruginea, Photo © Andreas Kim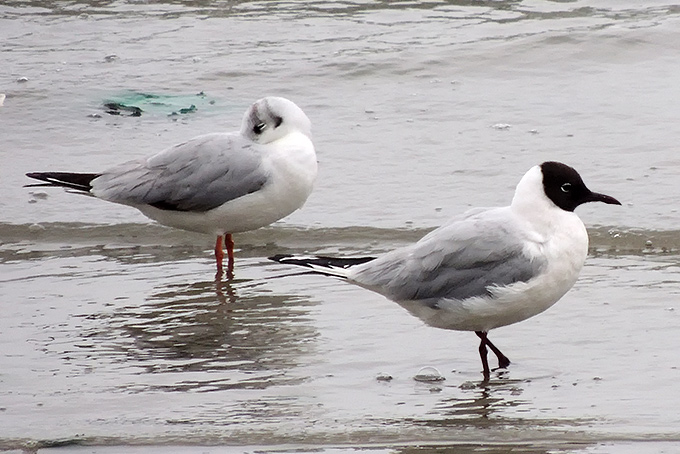 Black-headed Gull Chroicocephalus ridibundus, Photo © Andreas Kim
Bird news from Subhojit Chakladar with Jason Loghry
Busan, April 27
Tempted by the news of wonderful observations from various regions of Busan, I decided to check out what it had to offer. Meeting up with Jason at dawn at the Busan station, we drove to Taejongdae. It was a bright clear morning with very little wind. Checking out the fields at the base, a Striated Heron and a Chinese Pond Heron were found standing a few feet from each other. Eastern Yellow Wagtails (taivana) were busy feeding, their colors enhanced by the morning sun, almost making them glow! Overhead movements included Grey Heron, Great and Little Egret and Pacific Swift. At this point, scanning the hilltops on the south-western side, a single Asian House Martin (with what seemed to be rather white underparts at a distance of approximately 500m or more) and 2 White-throated Needletails were observed along with Barn Swallows. At Taejongdae, walking away from the crowded main trail, a good mix of species were found but the numbers were rather small. Yellow-browed Warbler, Blue-and-White Flycatcher, Pale, Grey-backed and Grey Thrushes moved through the forest eluding most attempts to photograph them. The second best find of the day was a Japanese Robin near the temple (which showed a growth on its right thigh). The best moment (it was more like a solid 20 minute or more!) of the day was undoubtedly a Grey Bunting feeding at the well-shaded moist stream bed. Perhaps one of the best birding encounters for both of us.
Checking out the Nakdong estuary in the afternoon, Whimbrel, Common Greenshank, Grey-tailed Tattler, Little Ringed Plovers, Little Terns were observed. Walking through a dried grassland, Common Snipe, Japanese Quail, Olive-backed Pipit and a Korean Water Deer were observed. A total of 59 species were observed at these 2 places. A day well spent!
Eastern Yellow Wagtail Motacilla tschutschensis taivana, Photo © Subhojit Chakladar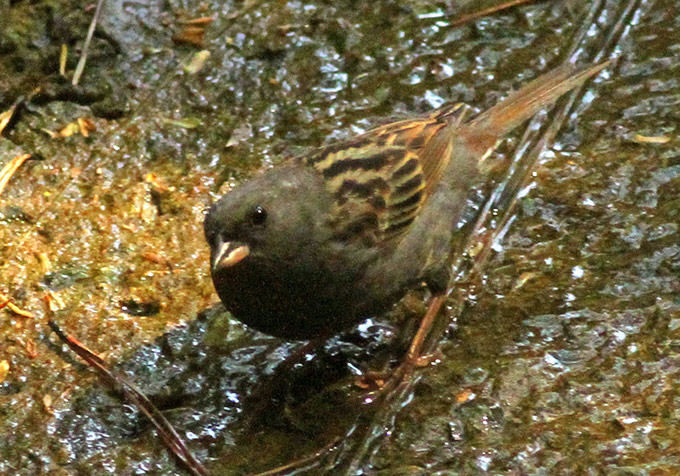 Grey Bunting Emberiza variabilis, Photo © Subhojit Chakladar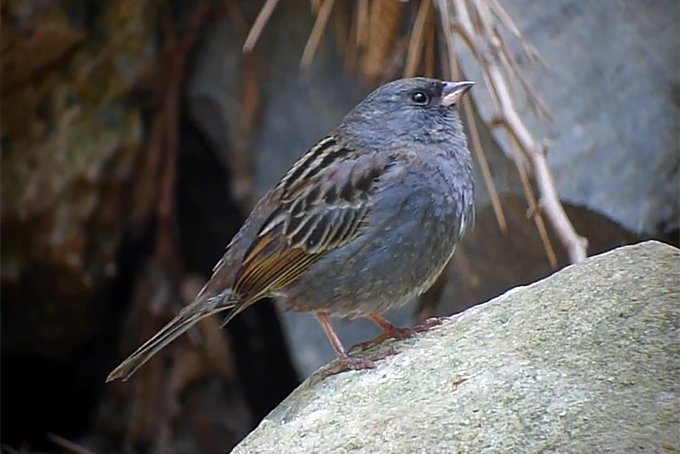 Grey Bunting Emberiza variabilis, Photo (videograb) © Jason Loghry
Bird news from Nial Moores
Igidae (Busan), April 24
Following rain through most of the 23rd until c. 4AM of the 24th, a full day in the field (6AM-6PM) at Igidae.  After heavy overcast and low cloud until 9AM, the weather started to clear rapidly to become warm (18C+) and  cloudless by midday, with winds mostly between south and west.
A total of 72 species were logged during the day, with several interesting records for Busan.  At SK shortly after dawn, highlights included a female Amur Falcon and single Intermediate and Eastern Cattle Egrets (all personal firsts for the year); single Richard's and Red-throated Pipits (latter very scarce in Busan); at least four ocularis White Wagtail and two Eastern Yellow Wagtails; and a group of seven all brown whimbrel-type shorebirds offshore (presumably Little Whimbrel, though ID could not be clinched because of the conditions).  Still at SK, two hours of "viz-migging" between 0935 and 1135 then produced counts of 39 Grey-faced Buzzard, 93 Barn Swallow and an exceptional 49 Asian House Martin  (all going south), with one martin flock containing a Common House Martin (personal first ever on the mainland!).  Moving through the woodland during the afternoon numbers of most migrants appeared to be much lower than a week ago (e.g. only 15 Pale Thrush, three Asian Stubtail and six Red-flanked Bluetail counted). However, further species of note included two Oriental Cuckoo, a single Common Rosefinch (extremely scarce in the southeast), nine Blue-and-White and nine Narcissus Flycatchers (latter all males), three Grey-backed and two Grey Thrush and several Sakhalin / Pale-legged Leaf Warblers. Also of interest were two presumed Korean Hare (wild or feral?) – a taxon considered by the IUCN to be Least Concern but nonetheless seldom encountered.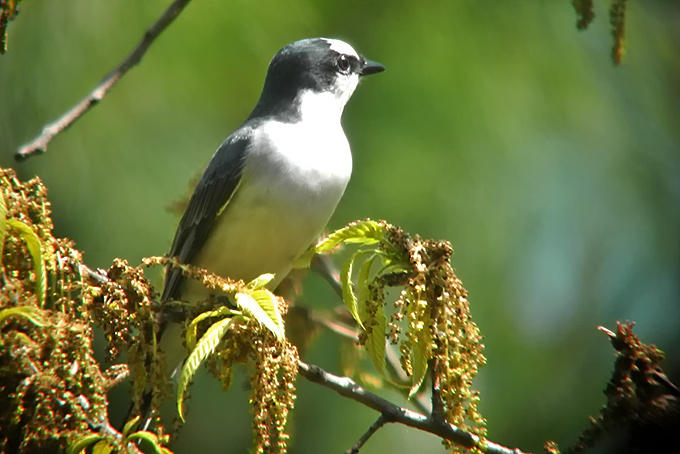 Ashy Minivet Pericrocotus divaricatus, Photo © Nial Moores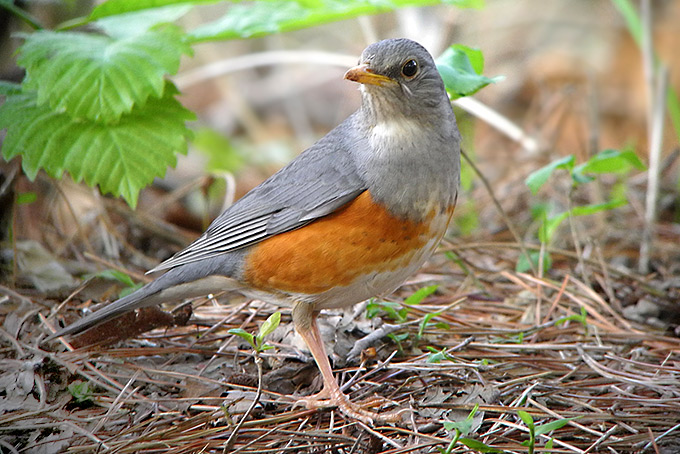 Grey-backed Thrush Turdus hortulorum, Photo © Nial Moores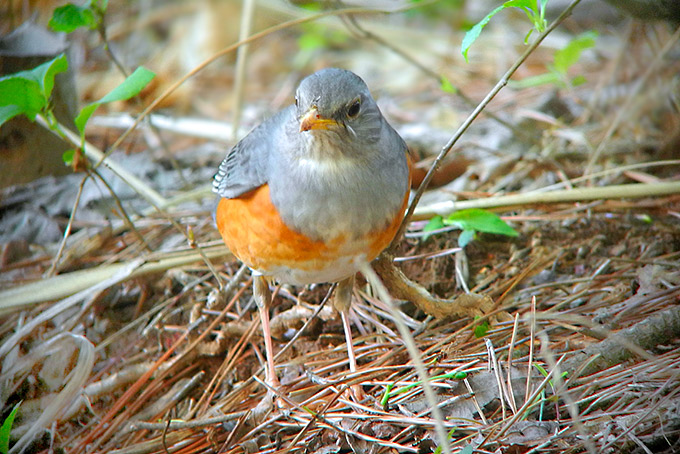 Grey-backed Thrush Turdus hortulorum, Photo © Nial Moores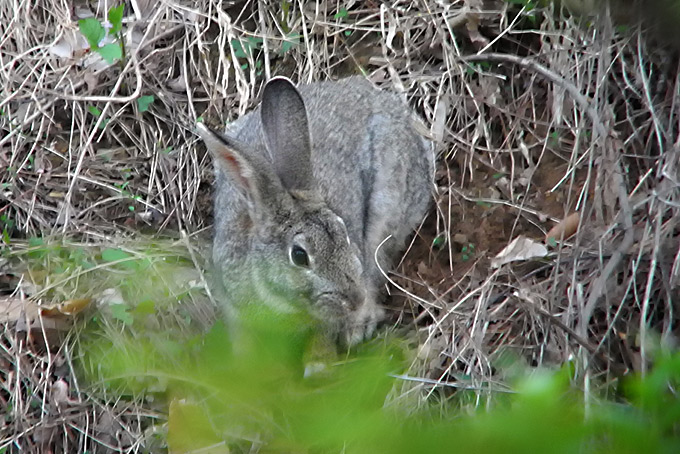 Korean Hare Lepus coreanus (or L. timidus), Photo © Nial Moores
Narcissus Flycatcher Ficedula narcissina, Photo © Nial Moores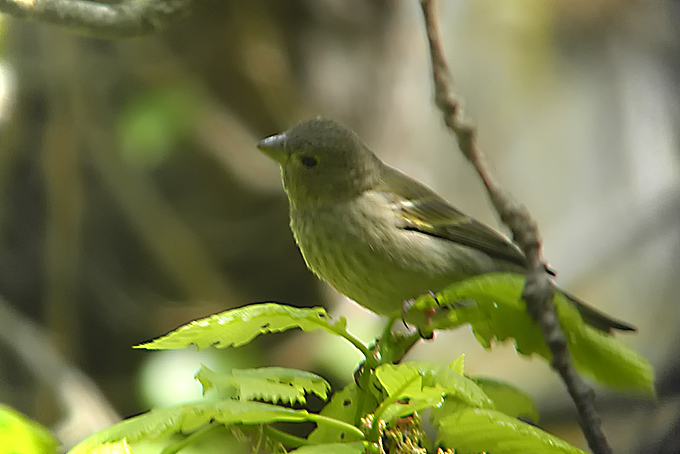 Common Rosefinch Carpodacus erythrinus, Photo © Nial Moores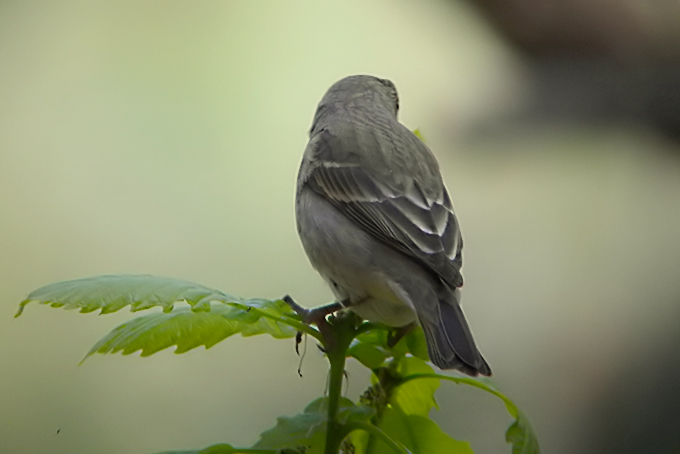 Common Rosefinch Carpodacus erythrinus, Photo © Nial Moores
Bird News from Subhojit Chakladar and Bradlee Sulentic
Socheong Island, April 21
A Hawfinch was seen near the main village. It may or may not be the same bird seen here last Sunday by SC, on Friday by a Korean birder. North point had hardly anything worth mentioning. The resident Peregine was soaring in search of breakfast. Walking towards the lighthouse gully, a couple of Goldcrests were spotted. Right at the entrace to the gully, there was a male Bluethroat (unfortunately with the sun right behind it, most of the photos were completely washed  away by the light). While returning to the main village, a Chinese Pond Heron was seen in flight. Right before leaving the island, a group of 13 Grey-faced Buzzards were seen drifting east. On the return journey, a single Ancient Murrelet was observed from the salt stained windows of the ferry.
A total of 52 species were observed, the most dominant being Dusky Thrush and Red-flanked Bluetails. Other than that, there were quite large number of Grey-backed Thrush, Stejneger's Stonechat. Last weekend, surveying the same areas, a total of 41 species were observed. Though there was an evidence in the increase in the variety of species, the overall impression was a reduction in numbers. Its also worth noting that the facilities at the radio tower is being expanded to provide high speed connectivity on the island (specifically what seemed like expansion of the 4G/LTE infrastructure by KT), a major construction on the stream east of the main village right next to the military barracks, addition of new property on the hill just east of the main village, a sea-wall to protect the section of the road just south of the main village and a general expansion of the military defensive structures.
Bird News from Tim Edelsten
Yongyu, Yongjeong, April 21
In only two hours at the Yongyu-do area of Yongjeong, a quick 42 species recorded. Despite the imposition of a new highway and concreting of the stream, this small western corner has retained some worthwhile habitat including mudflat at Eulwangni, Saltpans and shrimp ponds, woodland and reedbed. Following the (interesting) new format of report, the full list as follows:
Common Pheasant: A male seen escorting three females. Vertical take-off and landing.
Mandarin Duck: One female in the shrimp pond. Very low-sounding alarm call.
Eastern Spot-billed Duck: Eight on the saltpans and surrounding fields.
Black-faced Spoonbill: Seven on the mudflat, in pretty summer finery. Roosting and also fishing together in the deeper water with sideswipes of their bills.
Grey Heron: One on the saltpan and one on the estuary.
Great Egret: Two on the saltpans, including one presumed alba, based on size (larger than, or at least equal to Grey Heron).
Intermediate Egret: One momentarily hovering along the edge of the reedbed.
Little Egret: A pair together along the stream and five others on the fields and mudflat.
Chinese Egret: Two feeding separately in rockpools on the mudflat, in gorgous breeding condition. Even at distance the wavering head plumes and unique crouch-and-stab hunting technique can be distinguished. Also seen rapidly "treading" the mud with its feet.
Eurasian Oystercatcher: Eight on the mudflat at Eulwangni, creating much noise with courtship displays. Dominant mal calls constantly with bill downward, others adopting stooped posture.
Grey Plover: One female at Eulwangni. Very wary, hesitant and slow-moving!
Little Ringed Plover: About three pairs on territory on the saltpans, engaged in aggressive aerial chases.
Kentish Plover: One on the saltpans (where a small number breed) and four on the mudflat.
Lesser Sandplover: Several heard calling from the mudflat.
Black-tailed Godwit: Three seen at Eulwangni.
Bar-tailed Godwit: At least 46 along the waterline at Eulwangni bay.
Whimbrel: Twenty or so on the mudflat.
Eurasian Curlew: Two or three at Eulwangni.
Eastern Curlew: At least 51 scattered in the bay.
Common Greenshank: Ten or so.
Wood Sandpiper: Four on the shrimp ponds.
Dunlin: Twenty-one, mostly in breeding plumage.
Black-tailed Gull: Perhaps 200 in the area. A pair seen bathing in freshwater in the ricefield.
Mongolian Gull: Five or six roosting on the mudflat, adults and immatures.
Little Tern: Two diving after fish in the retreating tide.
Oriental Turtle Dove: Several.
Common Kingfisher: One at his usual perch near the shrimp ponds.
Great Spotted Woodpecker: One calling from the trees.
Eurasian Magpie: Two or three in the area.
Carrion Crow: A pair flying together to the mountain.
Eastern Great Tit: One heard from the trees.
Brown-eared Bulbul: Several calling.
Barn Swallow: Five hunting over the fields.
Zitting Cisticola: One heard singing from the reeds.
Vinous-throated Parrotbill: At least two heard (reeds and woodland edge).
Goldcrest: Two or three calling in the pines.
Pale Thrush: Three seen in the spinney.
Eurasian Tree Sparrow: Always within earshot of the incessant singing.
White Wagtail: Two seen in flight, subspecies unknown.
Brambling: A group of seven moving through the pines.
Grey-capped Greenfinch: Two or three overhead.
Black-faced Bunting: Four apparent extremiorientis (both sexes).
Unfortunately there has been, and is ongoing, much mudflat reclamation alongside the Yongjeong Grand Bridge, which is mostly not indicated on tourist maps. In the photo, taken from the train, visible is a large area of recently reclaimed tideland upon which a new urban area and theme park "robot land" is being built.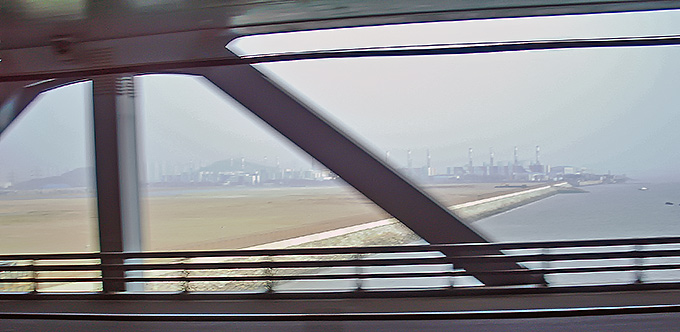 Recently reclaimed mudflat, viewed from Yongjeong Grand Bridge, Photo © Tim Edelsten
Bird News from Bird News from Jason Loghry, later joined by Nial Moores and Ha Jung Moon
Igidae (Busan), April 20
Starting this morning at 6:44, skies were mostly cloudy, with a chilly temperature of 8° and winds from breezy to an occasional gust.
First birds of the morning were Grey-faced Buzzard (1), Peregrine Falcon (1), Ashy Minivet (3), Pacific Swift (7), and a surprising highlight, a stunning male Siberian Rubythroat (1). With only a few hours of birding because of rain, I tried to cover as much as ground as possible. Stejneger's Stonechat (6), Blue Rock Thrush (4), and a gorgeous male Brambling (3) were showing well. Other notable species include Siskin (1), Eastern Crowned Warbler (4), Yellow-browed Warbler (6), Oriental Greenfinch (5), Black-faced Bunting (1), Red-flanked Bluetail (11), Pale Thrush (57), a flock of Dusky Thrush (12), White's Thrush (5), Japanese Bush Warbler (3), Brown-headed Thrush (1 – personal first), White-backed Woodpecker (1), Goldcrest (16), Blue and White Flycatcher (2), female Narcissus Flycatcher (3), Asian Brown Flycatcher (1), Pale-legged Leaf Warbler (3), Asian Stubtail (2), and Winter Wren (1).
Taking a break for the heaviest of the rain, I enjoyed sharing lunch with a welcoming group of hikers. An hour and a half later, I met up with Dr. Nial Moores and Mr. Ha Jung Moon. On the way to meet up with them, the number of Red-flanked Bluetail observations grew by 31 birds. Additional highlights were eight more Blue and White Flycatchers, three more Stejneger's Stonechats, five more Blue Rock Thrush, one Black-faced Bunting, three White's Thrush (including great views of one singing), two male Narcissus Flycatchers (including one possibly attempting to depart to Japan!), and two Asian Stubtails; although at one point towards the late evening we also heard several Asian Stubtail making 'congregation' calls. Listening carefully to vocalizations, we very probably heard one or two Sakhalin Leaf Warbler although identification could not be confirmed, and definitely heard a few more Pale-legged Leaf Warblers. New species of the day include Pacific Reef Egret (1), Olive-backed Pipit (4), Grey Thrush (2), Grey-backed Thrush (2), a flock of migrating Grey Herons (13), White Wagtail (3), and a Bull-headed Shrike, in flight with prey, an unfortunate Vinous-throated Parrotbill. Near dusk, I spotted what looked very much like a Japanese Robin from a distance, but with only a brief view and unable to find it again, also could not confirm. Other species seen (NM) were Slaty-backed Gull, Mongolian Gull, and Pelagic Cormorant.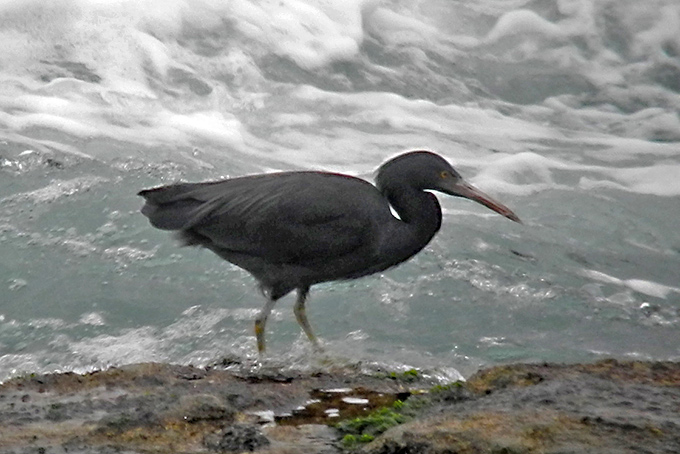 Pacific Reef Heron Egretta sacra, Photo © Nial Moores
Bird News from Subhojit Chakladar and Bradlee Sulentic
Socheong Island, April 20
Light overnight rain continuing till 9am. First bird of the day was a Red Rumped Swallow right outside the pension. The Red-billed Starling was spotted on the same tree near the main village. Walking towards the lighthouse gully, there was evidence of much reduced number of birds. The species spotted were almost exactly as same as the previous day. The only new addition were a group of Eurasian Siskins, an Eurasian Jay, a couple of Naumann's Thrush in the 2nd village and a Korean Bush Warbler. Towards the end of the day, a Little Bunting and a Red-throated Pipit were also seen. BS also saw a Black Kite and had a fleeting glimpse of a Blue and White Flycatcher.
Bird News from Subhojit Chakladar
Socheong Island, April 19
Back to Socheong after 5 days. The ferry ride proved to be absolutely sterile in terms of sea-birds but the first hour on the island proved to be quite nice. Firsts for the spring included a male and female Chinese Grosbeak, a Striated Heron in flight and about 12 Grey-faced Buzzards. Other than that a couple of Red-billed Starlings and a Japanese Bush Warbler were also spotted near the main village. But after that it was rather dull. The other highlights of the day included the first Brown Shrike and 3 male Siberian Rubythroats of the spring. Thrushes are much reduced with only a handful of White's Thrush and Grey-backed Thrush other than the dominant Dusky Thrush. Firsts for this spring also included a Tristram's Bunting in flight and lots of Yellow-browed Warblers. There seems to have been an increase in the number of Eurasian Wrynecks, Asian Stubtails, Pallas's Leaf and Dusky Warblers as compared to last weekend.
Bird news from Nial Moores
Igidae, Busan, April 17-18
Two full-days in the field in the local Igidae Park – which despite all the noise and disturbance can be surprisingly birdy in the right conditions. The park, several hundred hectares in area, occupies a narrow strip of hilly coastal pine and patches of broadleaved evergreen forest, much criss-crossed by roads and tracks. There is a small area of more open parkland at the south of the park (near the SK apartments), useful for visible migration counts. In mid-April best conditions have long been suspected to include overnight rain with south-easterlies when migrants heading towards Japan might be drifted to the Busan coast. On 17th and 18th weather seemed ideal.  Following overcast conditions overnight on 16th / 17th, a few hours of light rain between 1AM and 5AM with moderate south-easterly winds followed on the 17th (with temperatures struggling to reach 14-15C). It remained overcast through the day and the night of 17th / 18th, until about 9AM on 18th, when long sunny periods and milder temperatures (perhaps 16-17C) persisted, to be replaced by overcast conditions in the late afternoon. Winds were light on 18th and from the northwest, becoming moderate again in the evening.
Among a total of 84 species, outstanding highlights included singing Sakhalin Leaf Warbler on both dates (due to the identification challenge probably <10 previous national records, with these perhaps the first mainland records?); single Yellow Bunting and Greater Short-toed Lark on 17th (presumably both very scarcely-recorded in Busan or anywhere on the mainland); and several migrant landbirds much more typical of Japan and south-western island than mainland ROK (Japanese Robin, Brown-headed and Grey Thrushes, Chestnut-cheeked Starling etc). The total also included a dozen "personal first for the year". Based on a comparison with personal survey coverage on the south-western island of Gageo in 2009 and on the north-western island of Socheong in 2010 (when near-daily coverage) none of these dates seem exceptionally early or late.
In order to help get a sense of turnover and relative abundance, all migrants on 17th and all birds (irrespective of distance, seen or heard) were counted on 18th. Not all the park was covered (though most of the usual good areas were, both days) and there was some difference in extra areas covered on 17th and 18th. In a few cases these counts also might be quite inaccurate, e.g. Vinous-throated Parrotbill (for obvious reasons to those who know these feathered bundles of energy!). However, to help ease comparisons with other sites (in the ROK and elsewhere – e.g. in Japan as on the Kantori Listerver, or in China as often included on Birding Beijing and by Tom Beeke in Liaoning) the full list and the counts are given below:
Common Pheasant:  Nine counted (18th).
Eurasian Wigeon: One (18th).
Black-crowned Night Heron: One plus heard (18th)
Grey Heron: Seven, including five very high up, apparently moving SE towards Teima Island (Tsushima) (18th).
Temminck's Cormorant: c. 50 still at the evening roost (both days).
Japanese Sparrowhawk: One (17th & 18th).
Black Kite:  One adult.
Grey-faced Buzzard: Two (18th)
Upland Buzzard: One (17th): an apparently exceptionally late individual, seldom reported in April.
Common Kestrel: One (17th)
Peregrine Falcon: One (17th)
Black-headed Gull: 30 counted on 18th.
Black-tailed Gull: c. 25 both days
Vega Gull: c. 150 on 17th, most of which were heading south along the coast; many fewer (<10) on 18th.
Taimyr Gull: At least one adult on 17th.
Oriental Turtle Dove: 18 counted on 18th
Oriental Cuckoo: One seen near the park at dawn on 17th; one heard in the park 18th. This was a personal first of the year (and a personal first in Busan). This species seems to be an earlier migrant through the south than through the northwest (e.g. first record in 2009 on Gageo was on April 18th, and in 2010 on Socheong was April 29th).
Oriental Scops Owl: One heard on 18th (personal first of the year and personal first for Igidae). This species is much commoner northward in the ROK. In 2010, first-recorded on Socheong on April 16th; and this year apparently first-recorded in Beijing on 16th (http://birdingbeijing.com/).
Pacific Swift: 15+ present in usual area on 18th.
Japanese Pygmy Woodpecker: Seventeen counted on 18th.
White-backed Woodpecker: Three on 17th (including a male and female together) and two on 18th (including a male chasing off a Great-Spotted Woodpecker).
Great Spotted Woodpecker: One on 18th.
Grey-headed Green Woodpecker: Three counted on 18th.
Ashy Minivet: Twenty on 17th and 15 on 18th.
Bull-headed Shrike: One on 17th and two on 18th.
Eurasian Jay: Nine counted on 18th.
Eurasian Magpie: Thirty-five counted on 18th.
Large-billed Crow: Thirty-three counted on 18th.
Marsh Tit: Two counted on 18th.
Varied Tit: Four counted on 18th.
Coal Tit: Twenty-two counted on 18th.
Eastern Great Tit: Forty-four counted on 18th.
Greater Short-toed Lark: One on 17th, heard and seen in flight only. Personal first record in Busan – and while expected on offshore islands in the West Sea there appear to be very few mainland records.
Brown-eared Bulbul: Ninety-one "counted" on 18th.
Barn Swallow: Six on 17th and nine on 18th.
Asian House Martin: Three on 18th.
Red-rumped Swallow: Five on 18th.
Japanese Bush Warbler: One on 17th and three on 18th (all singing birds);
Korean Bush Warbler: Three singing on 17th and 18th.
Asian Stubtail: Eleven on 17th and 10 on 18th.
Long-tailed Tit: Sixteen counted on 18th.
Pallas's Leaf Warbler: One on 17th. This species is very scarce in the southeast, and is much commoner towards the northwest, peaking in late April-early May. On Socheong in 2010, first recorded on April 8th; in 2013, first seen in Song Do, Incheon, on April 12th: see http://www.birdskoreablog.org/?p=8281.
Yellow-browed Warbler: Three on 17th and 14 on 18th (personal highest count in Busan).
Pale-legged Leaf Warbler: One recorded singing on 18th.
Listen to a recording of the Pale-legged Leaf Warbler:
Sakhalin Leaf Warbler: Two or three singing on 17th (one sound-recorded); one sound-recorded singing on 18th (thin see-sawing song was distant and almost drowned out by Brown-eared Bulbuls). Presumed to be (among ) the  first adequately-documented records on the ROK mainland – although presumably much overlooked as several records from south-western islands of the ROK and used also to be regular in April in Fukuoka in the 1990s (pers. obs.).
Listen to a recording of the Sakhalin Leaf Warbler:
Sakhalin/Pale-legged Leaf: Two heard calling on both days.
Eastern Crowned Warbler: Seven on 17th and nine on 18th.
Vinous-throated Parrotbill: A total of 172 "counted" on 18th.
Japanese White-eye: Thirty-three counted on 18th.
Goldcrest: Eighteen on 17th and 31 on 18th.
Eurasian Wren: Six counted on 18th.
Red-billed Starling: One on 17th and probably the same individual seen very poorly on 18th.
Chestnut-cheeked Starling: Five on 17th.
White's Thrush: Two on 17th and four on 18th.
Grey-backed Thrush: Ten on 17th and eight on 18th.
Grey Thrush: Four on 17th and five on 18th.
Eye-browed Thrush: Two (heard only) on 17th. This is a very scarce species through the south and south-east of the country, much commoner across the "Northern Crossing" (Shandong-Liaoning/Hwanghaenam/Incheon). First recorded in 2009 on Gageo on April 21st, and in 2010 on Socheong also on April 21st.
Pale Thrush: A total of 163 on 17th but only 69 on 18th. On both dates, an exceptional-looking individual was present in the same area. As can be seen in images, this bird had a striking face-pattern (with initial impression from head-on views recalling Eye-browed Thush), mottled grey and brown underparts, and still clean white tips to the greater coverts (usually only so clearly visible in the first calendar-year).

Exceptional-looking Pale Thrush Turdus pallidus, Photo © Nial Moores

Exceptional-looking Pale Thrush Turdus pallidus, Photo © Nial Moores

Pale Thrush Turdus pallidus, Photo © Nial Moores

Brown-headed Thrush: Five on 17th and one on 18th.
Dusky Thrush: Six on 17th and three on 18th.
Japanese Robin: Two (one heard singing; one seen well) on 17th.

Bluethroat: One possible in the evening of the 18th (seen very briefly).

Siberian Blue Robin: Four on 17th and one on 18th.
Red-flanked Bluetail: Forty-two on 17th and 23 on 18th.
Daurian Redstart: Five on 17th and six on 18th.
Stejneger's Stonechat: Three on 17th and four on 18th.
Blue Rock Thrush: Six counted on 18th.
Asian Brown Flycatcher: Five on 17th and one on 18th. In 2009, first-recorded on Gageo Island on April 17th; and on Socheong Island in 2010 on April 21st.
Yellow-rumped Flycatcher: One heard on 18th was the personal first of the year.  In 2009, first-recorded on Gageo island on April 18th and in 2010 first-recorded on Socheong Island on April 20th.
Narcissus Flycatcher: Four on 17th and six on 18th.
Blue-and-White Flycatcher: Two on 17th and 14 on 18th (mostly nominate males with probably two intermedia males and two females).

Blue-and-white Flycatcher Cyanoptila cyanomelana, Photo © Nial Moores

Russet Sparrow: One heard on 18th.
Eurasian Tree Sparrow: About 20 counted on 18th.
Grey Wagtail: Three on 17th and six on 18th.
White Wagtail:  Two on 17th and three on 18th.
Olive-backed Pipit:  Four on 17th and seven on 18th (all in areas where birds overwintered: therefore perhaps over-winterers rather than fresh-in migrants).
Buff-bellied Pipit: One on 17th and two on 18th.
Brambling: Eight on 17th and 25 on 18th.
Hawfinch: Two on 17th.
Grey-capped Greenfinch: Fifteen counted on 18th.
Eurasian Siskin: Sixty on 17th and 83 on 18th.
Tristram's Bunting: Three on 17th and two on 18th.
Yellow-throated Bunting: Twenty-seven counted on 18th.

Yellow-throated Bunting Emberiza elegans, Photo © Nial Moores

Yellow Bunting: One on 17th near the SK apartments( poorly digiscoped).

Yellow Bunting Emberiza sulphurata, Photo © Nial Moores

Black-faced Bunting: Five on 17th (including three personata) and five on 18th (including one personata).
Grey Bunting: One heard on 17th.

Bird News from Jason Loghry
Taejongdae (Busan), April 17

Having a late start at 1550, the afternoon conditions were on the chilly side, with strong winds reaching 44.4 km/h and a temperature of 12°C (dew point of 9°C). Still, with at least a couple hours of good light, I rushed into the woods to see if the rain from the night before had brought anything new.

The highlight of the afternoon was Grey Bunting, with one seen briefly and a few others heard. The numbers of Yellow-browed Warbler (7) and Eastern Crowned Warbler (8) had increased. Goldcrest, Varied Tit, and several Eastern Great Tit could be found in the pine. Most abundant seemed to be Pale Thrush (59), with some zipping across the tops of the trees giving flight calls. Other thrushes include Grey Thrush (7), White's Thrush (7), and Grey-backed Thrush (3). Other highlights include Asian Brown Flycatcher (1), Black-faced Bunting (3), Red-flanked Bluetail (6), Winter Wren (1), a female Stejneger's Stonechat (1), and the ever so exquisite, Japanese Robin (3). The evening ended with two brave looking Little Egret coming in from the sea, struggling in flight against the fierce wind.

Bird News from Spike Millington
Songdo, April 13-14

Growing up in England, hearing the first song of the returning Willow Warblers really meant spring was on the way. Sure Chiffchaffs arrived earlier, but they didn't cross the Sahara to get there. And their song is pretty boring, especially in comparison to the delightful, silvery, descending notes of the Willow Warbler, maybe still my favourite bird. When I moved to Beijing in 2006, the arrival of spring was marked by another Phylloscopus warbler, Pallas's Leaf Warbler. Each year I would make a trip to the gardens of the Summer Palace in mid-April to hear the songs of the warblers, which seemed to arrive en masse and thronged the majestic old willow trees, singing from every corner. One year I didn't make it and heard the first Pallas's Leaf Warbler in my tiny suburban garden. Nice, but I was sad to have missed the Summer Palace arrival. Now, in Songdo, I am still waiting for spring to arrive. But on 12 April, with the buds barely out, I saw and heard my first Pallas's Leaf warblers in Michuhol Park, two birds flitting among the pines and singing away. Apart from the Red-flanked Bluetails, which arrived in numbers a couple of days earlier, the warblers were my first "real" spring migrants, and they presaged the rapid arrival of many other species over the next couple of days. In fact, later on the same day, an Asian Stubtail appeared, feeding unconcernedly under the pines in my apartment complex. A singing male Daurian Redstart was also my first for a while. Meanwhile a Coal Tit and a couple of Chinese Nuthatches still lingered from the winter. The next day, 13 April, I visited Incheon Old Golf Course, where there were a couple of splendid Scaly Thrushes, one of which perched up in a pine tree and began singing its deliberate creaky door" song. Brilliant! Skulking Grey-backed and Pale Thrushes were less cooperative. Other birds here included Barn Swallow (2), Dusky Thrush (6) and Brambling (10). A Eurasian Woodcock gave good views as it flushed from a pine copse. On 14 April, Grey-backed Thrushes seemed everywhere, with 8 at the Golf Course, 5-6 at Namdong Reservoir and 1 in my apartment complex. The scrub along the edge of Namdong Reservoir also held 2 Pale Thrushes, 6 Dusky Thrushes, 2 Korean Bush warblers and several Black-faced Buntings, some singing. Two Eastern Crowned Warblers were new. Chinese Penduline Tits were noisy in the reedbeds, although only the odd bird popped up because of the wind. The wintering Chinese Nuthatch put in appearance in the small park. Duck numbers on the water included 10 Mallard, 100 Chinese Spot-billed Ducks, 400 Shoveler, 100 Eurasian Teal, 6 Eurasian Wigeon, 3 Falcated Duck, 30 Tufted Duck, 6 Common Pochard and 105 Common Shelduck. Interestingly, the unusual Baer's Pochard-type duck that was seen late in 2012 was again present. It's plumage was identical to that in late 2012, indicating a hybrid origin (male Baer's Pochard would surely show a greenish head at this time of year). Ten Common Greenshank were along the stream, with 3 Black-winged Stilts. 40 Far Eastern Curlew rested on the exposed mud, but a calling Green Sandpiper remained unseen. Finally, a single Spotted Redshank was on Gojan mudflats, with increasing numbers of Bar-tailed Godwits (500) and Great Knot (200). On 11 April, at least 250 Saunders's Gulls were also present here at high tide.

Bird News from Jason Loghry
Taejongdae (Busan), April 14

This morning at Taejongdae, the sky was clear but the wind was strong and gusty. Nonetheless, a very birdy day was had starting with great views of two personata Black-faced Buntings. Shortly after, in the park near a stream, I stumbled upon a stunning Japanese Robin. I was then surrounded by a sound-scape of ""thrushiness" with several foraging Grey-backed Thrush (2), White's Thrush (8), Grey Thrush (15), Dusky Thrush (5), and Pale Thrush (43 for the day). Blue and White Flycatcher (5) and Red-flanked Bluetail (6) were also found in the wooded area, as were Eastern Crowned Warbler (7), and Olive-backed Pipit.

At midday, a massive thunderstorm moved through. Just before the heavy downpour, I found a Eurasian Hoopoe feeding on the lawn. After the rain, many of the same thrushes were out foraging again. The highlight of the afternoon were three Japanese Robin along the same stream, calling and singing. Other post-storm highlights include Yellow-browed Warbler (2), Stejneger's Stonechat (1), Tristram's Bunting (2), a few more Black-faced Buntings (5), and a Striated Heron (1).

Japanese Robin Erithacus akahige, Photo (videograb) © Jason Loghry

Black-faced Bunting Emberiza spodocephala personata, Photo © Jason Loghry

Male Grey Thrush Turdus cardis, Photo © Jason Loghry

Female Grey Thrush Turdus cardis, Photo © Jason Loghry

White's Thrush Zoothera dauma, Photo © Jason Loghry

Bird News from Subhojit Chakladar
Socheong Island, April 13-14

A quick dash to Socheong on the weekend to resume birding after almost a month. Very windy (rough seas) meant no chance of observing from the ferry. On the island, the first day was rather sedate but an overcast night revealed many new birds in the morning. A total of 41 species in 24hrs covering only about half the island from the main village to the lighthouse gully.

Highlights from day 1 include a couple of Eurasian Wrynecks, a Latham's Snipe and a skulking Radde's Warbler at the lighthouse gully. A very tired White's Thrush near the fish farm, which was too exhausted to fly and hopped around trying to find food just meters from me, as a I sat watching it. A Red-Billed Starling on the road returning to the main village. The dominant bird of the day were Orange-flanked Bluetails (200+).

Morning of the 2nd day was overcast and extremely windy. It was a real struggle to stand on the ridge at the North Point. New birds in the first hour of sunlight were Little Buntings. Winter migrants still linger in form of a Siberian Accentor and a Hawfinch. This day belonged to the thrushes. At least 100+ Dusky Thrushes, 20+ White's Thrushes and close to 30 Grey-backed Thrushes (particularly) at the second village. Flocks of Bramblings (many of them in full breeding plumage) were present in the fields close to the main village. The most common of the warblers were Pallas's Leaf Warbler (many of which provided excellent photo opportunities inspite of their notorious agility). Less cooperating were a couple of Korean Bush Warblers and an Eastern Crowned Warbler. Best of all was an Asian Stubtail that foraged literally inches from my lens, as I sat near a dry stream-bed at the 2nd village. When the bird first appeared (in perfect light conditions), my heart skipped a beat! It kept hopping around me, sparing me an occasional glance and for a while staring into the lens (or maybe its own reflection!)

Asian Stubtail Urosphena squameiceps, Photo © Subhojit Chakladar

Asian Stubtail Urosphena squameiceps, Photo © Subhojit Chakladar

White's Thrush Zoothera dauma, Photo © Subhojit Chakladar

Eurasian Wryneck Jynx torquilla, Photo © Subhojit Chakladar

Bird News from Andreas Kim
Mokpo Namhang Urban Wetland, April 12

Since the shorebirds arrived, 1-2 visits to the site every day is for checking on leg-flagged birds. today 47 Bar-tailed Godwit were present, among them orange leg-flagged 3V. This individual was banded in January 2011 and seen on the site and the neighboring Aphae Island (c. 16km away) in 2011 and 2012 (http://www.birdskorea.org/Habitats/Wetlands/Mokpo/BK-HA-Mokpo-Flagrecords.shtml#MFR2011; http://www.birdskorea.org/Habitats/Wetlands/Aphaedo/BK-HA-Aphaedo-Flagrecords.shtml#MFR2011). About 50 Dunlin, 30+ Kentish Plover, c. 20 Little Ringed Plover, 5 Red-necked Stint, 2 Grey Plover and 1 Great Knot were seen. But the highlight was a single Little Stint, a vagrant to Korea with very few records.

The number of ducks and gulls still the same like two days before, only the Ruddy Shellduck was not seen anymore.

Leg-flagged Bar-tailed Godwit Limosa lapponica 3V, Photo © Andreas Kim

Kentish Plover Charadrius alexandrinusa, Photo © Andreas Kim

Little Ringed Plover Charadrius dubius, Photo © Andreas Kim

Red-necked Stint Calidris ruficollis, Photo © Andreas Kim

Grey Plover Pluvialis squatarola, Photo © Andreas Kim

Great Knot Calidris tenuirostris, Photo © Andreas Kim

Little Stint Calidris minuta, Photo © Andreas Kim

Birdnews from Nial Moores
Igidae (Busan), April 12

A full day in Igidae Park (6am-6pm) under generally clear blue skies with W/NW 3 winds and temperatures rising to 16-17C.  Despite the crowds of people and vehicles, again some truly excellent birding. Covering a much larger area than yesterday, the most numerous migrants were Pale Thrush (141), Red-flanked Bluetail (67), Barn Swallow (36) and Eurasian Siskin (32). Highlights included three Japanese Robin (at least two of which were considered different from yesterday, with one of yesterday's birds showing excellently in a small puddled stream); 13 Grey-backed, nine White's and no less than five Grey Thrushes; 13 Asian Stubtail, 12 Eastern Crowned Warbler and a Dusky Warbler (latter very scarce in Busan); two male Blue-and-White Flycatcher and a single Siberian Blue Robin; six Hawfinch; a probable Tristram's Bunting heard; Light-vented Bulbul heard (again); and four Asian House Martin.

Japanese Robin Erithacus akahige, Photo © Nial Moores

Japanese Robin Erithacus akahige, Photo © Nial Moores

Japanese Robin Erithacus akahige, Photo © Nial Moores

Grey Thrush Turdus cardis, Photo © Nial Moores

Birdnews from Nial Moores
Igidae (Busan), April 11

A quick late afternoon visit to Igidae in fair weather (long sunny periods, with Beaufort 3 westerly winds and a maximum temperature of c.14C) was surprisingly bird-rich. Although there was no time to check several of the best spots, highlights included two Japanese Robin, one male Siberian Blue Robin, 5+ Asian Stubtail, a single Eastern Crowned Warbler, 85 Red-flanked Bluetail (counted), 3+ Stejneger's Stonchat, c. 100 Pale and 20 Dusky Thrushes, 5+ Grey-backed, 3 White's and two male Grey Thrushes, a Light-vented Bulbul (heard only), 2+ Eurasian Bullfinch, and overhead single Asian House Martin and Red-rumped Swallow (both personal firsts for the year) in with c. 10 Barn Swallow.

Japanese Robin Erithacus akahige, Photo © Nial Moores

Bird News from Andreas Kim
Mokpo Namhang Urban Wetland, April 10

Since the weekend the first Bar-tailed Godwit had arrived in Mokpo. Today there were 26 with two leg-flagged individuals. In addition 1 Great Knot, c. 50 Dunlin and c. 30 Kentish Plover and 18 Little Ringed Plover were seen. Circa numbers of ducks still present are Eurasian Wigeon 40, Eurasian Teal 20, Eastern Spot-billed Duck 60, Falcated Teal 6, Mallard 10, Common Shellduck 80 and surprisingly today also one Ruddy Shelduck. One Little Egret, 3 Grey Heron, c. 150 Black-tailed Gull and as many Black-headed Gull and the first 3 Little Tern were also on the site.

Leg-flagged Bar-tailed Godwit Limosa lapponica, Photo © Andreas Kim

Ruddy Shelduck Tadorna ferruginea (left) and Common Shelduck Tadorna tadorna, Photo © Andreas Kim

Bird News from Nial Moores & Jason Loghry
Busan, April 7

Following the westerly passage of a vigorous low pressure system on Saturday April 6th (with heavy rain and occasionally moderate to strong winds) a day spent birding several of Busan's better birding sites searching for spring migrants with minds also turning towards next month's Birdathon… In conditions that improved from cold and cloudy (with a minimum of 5C at dawn) to pleasantly warm (15C with largely clear skies and little wind), the day started at the south-end of Igidae, included Taejongdae and several stops around the Nakdong Estuary, and finished at Daejo "Eco-park" on the banks of the Nakdong River In total, despite crowds of people and continuing habitat degradation, an impressive (and most enjoyable!) 101 species were logged with several additional species (e.g. Asian Stubtail, Sakhalin/Pale-legged Leaf Warbler and Japanese Wagtail) likely heard but too poorly for a definitive id.

At SK View (Igidae) the first of the day's Hawfinch and Black-faced Bunting were heard, with best being 2+ singing White's Thrush and a single Pacific Swift – the latter species also seen in three different areas during the day with a maximum of 10 together at Taejongdae later in the morning.

At Taejongdae, starting in what remains of the allotments and reed outside of the park, 3+ Grey Wagtail, three personata Black-faced Bunting seen together, the personal first Stejneger's Stonechat of the spring (with at least five here, and perhaps up to 8 together at the Nakdong later in the day), four Red-billed Starling and a flyover Grey-faced Buzzard were the obvious highlights. A check of the main gully in Taejongdae itself proved disappointing (with best being prolonged views of a feeding Pale Thrush). However, the woodland around and close to the temple was much more birdy with most numerous species being Goldcrest (probably 70+), several of which had crown feathers erected and appeared to be giving a prolonged agitated warble containing several notes strongly reminiscent of Pallas's Leaf and other species. Further species of note here included a White-backed Woodpecker, a single Red-flanked Bluetail and three Eurasian Bullfinch – with best of all the personal first Blue-and-White Flycatcher, Eastern Crowned Warbler and Siberian Blue Robin of the spring.

Moving southwest to the Nakdong Estuary, views from Amisan (a decade ago a scenic spot, now dominated by yet another massive new centre, new roads and apartment blocks) clear views over the estuary. Upstream, the Nakdong Estuary barrage (with new sluice gates constructed as part of the Four Rivers project); below exposed tidal-flats and the outer sandy barrier islands used annually by now tiny numbers of Spoon-billed Sandpiper; and 10km to the southwest Gadeok Island – offshore from which Busan City is pushing to construct (yet another) international airport. If built, this island airport will likely wreak further ecological havoc on this still internationally important estuary. Few birds noted here, with best being a single Black-faced Spoonbill, a "Far Eastern Oystercatcher", five Bar-tailed Godwit and several Far Eastern Curlew. At Ulseuk Island, again no sign of the Pied Avocet that overwintered here, but instead other winter species included a late Whooper Swan, single Rustic Bunting, probably 8+ Little Bunting and 3+ Pallas's Reed Bunting. Over-winterers that are more regular in the ROK as migrants also included two Japanese Quail, 20 or so Dusky Thrush and a singing Zitting Cisticola (dubbed Far Eastern Cisticola by Birds Korea, as the distinctive brunniceps both looks and sounds rather different from more western taxa and appears to respond to playback only of other brunniceps and not to recordings of vocalisations made in Europe). More obviously spring migrants included 5-7 Garganey (including two males), 40+ Barn Swallow and an early Eastern Yellow Wagtail. The last stop in the estuary was at Miyoenji, where best were four Eurasian Spoonbill , a Common Greenshank, seven Great Knot (the personal first of the year), and 28 Little Ringed Plover in one group (with >40 recorded in total during the day).

Moving upriver, the last hour of daylight was spent at Daejo Eco-park – carved out of formerly extensive reed-beds and riparian habitat as part of the extremely poorly-advised Four Rivers project. Most conspicuous here was a flock of Barn Swallow (with probably 100+ present), with further species of note a single Japanese Quail, c20 Falcated Duck and a male Merlin (this last being a rather surprising personal first of the year for NM at least).

View across estuary towards Gadeok proposed airport site, Photo © Nial Moores

Stejnegers Stonechat Saxicola stejnegeri, Photo © Jason Loghry

Black-faced Bunting Emberiza spodocehala personata, Photo © Nial Moores

Female Black-faced Bunting Emberiza spodocehala personata, Photo © Jason Loghry

Grey Wagtail Motacilla cinerea, Photo © Jason Loghry

Pale Thrush Turdus pallidus, Photo © Jason Loghry

Little Bunting Emberiza pusilla, Photo © Jason Loghry

Zitting Cisticola Cisticola juncidis, Photo © Jason Loghry

Bird News from Tim Edelsten
Yongjeong, April 7

Very cool and with a strong northwesterly wind that felt more like winter than spring. Of 31 species around the northern reservoir and nearby bulldozed moonscape, best the first migrants- a Stejneger's Stonechat and a mini-fall of 12 Red-flanked Bluetail, including males and females, looking a bit weak and hungry as they desperately searched for food. There seem to be few if any insects in evidence as yet.

Other birds present included e.g. 2 alba Great Egret, 4 Northern Skylark, a Wren, at least 1 Temminck's Cormorant and 3 late Goldeneye among the selection of c.200 lingering winter wildfowl.

Sadly much of the mudflat between the mainland and the island has been impounded by a reclamation wall and is drying out.

North Yongjeong Reservoir, Photo © Tim Edelsten

Red-flanked Bluetail Tarsiger cyanurus, Photo © Tim Edelsten

Bird News from Nial Moores
East Busan, April 4

A few hours in the park at Igidae under hazy blue skies with the maximum temperature rising to 15-16C, though feeling cooler in a moderate easterly. There were several signs that landbird migration is gathering pace. In addition to 3-4 Pacific Swift still (first noted here on March 18th when 15 present), birds of note included the personal first Grey-backed Thrush of the year, at least 3 (probably 4) White's Thrush (the first here since last year) and probably 50+ Eurasian Siskin in addition to 1+ Long-tailed Rosefinch, an Eastern Buzzard and 6+ Eurasian Wren. As last week, no sign of any Eurasian Bullfinch and no Long-tailed Shrike (last seen on March 18th).

Eurasian Siskin Carduelis spinus, Photo © Nial Moores

White's Thrush Zoothera dauma, Photo © Nial Moores

Copyright 2002 - present

http://www.birdskorea.org

all rights reserved

Birds Korea 1108 Ho, 3 Dong, Samick Tower Apt., 148-22, Namcheon-Dong, Su-Young-Gu

Busan, 618-762 Republic of Korea