Birds Korea Update for Members: June - August 2008
The summer months of June, July and August have been as busy as they have been hot! We have, for example, overhauled and re-launched our Korean-language website; held numerous meetings (both inside and outside of Korea); and worked on several reports and books. This Update, posted two months before the Ramsar Convention conference in Changwon City, is therefore rather different from our regular monthly updates. It covers three months, explains some of the strategy underlying our work, and is divided into only two main parts:
• The Work and Strategy of Birds Korea
• The Work and Strategy of Birds Korea
After only four years of work, Birds Korea is an organization with a clear identity and mandate, a combined domestic and overseas membership of over 750, websites in both Korean and English, and a small and cheerful office in Busan. We also have a growing team of core Birds Koreans (based in Korea and overseas), working on a large and varied portfolio of conservation projects. By any standard, this is a very good start, and with more funding and support we know we can do even better! In the coming months, we especially want to provide more opportunities for Birds Koreans to meet, either in cyberspace or outdoors, to share interest in and love for the environment, and we are also looking to build up and strengthen our Environmental Education Team.
Since our foundation in late 2004, 10 key elements have shaped all that we do:
Birds are beautiful, and many species are very valuable as bio-indicators. BirdLife International and other specialist organizations have already demonstrated that conservation of birds and their habitats will also conserve the majority of important areas for other species – including people!

Approximately 95% of all South Korean bird species are migratory, so to conserve birds we really need to work simultaneously at the local, national and international levels.

Out of the 21 globally-threatened bird species that occur regularly in South Korea, all are migratory, fifteen are defined by the Ramsar Convention as waterbirds, and all but two of the species are found regularly in wetlands and adjacent habitats.

Wetlands are therefore the most bird-important habitat. They also support the needs of many people. Yet many wetlands remain threatened by unsustainable development.

Major threats to wetlands at this time include the proposed Korean Grand Canal (presently on hold, but not yet cancelled) and the reclamation of coastal wetlands. Dozens of coastal reclamation projects are ongoing, and new projects, including several affecting internationally important wetlands, continue to be approved (even as recently as in July 2008).

Song Do, Reclamation of the tidal-flats: new Song Do to Yeong Jong bridge in the background,
May 3 2008, Photo © Nial Moores

Saemangeum was, until 2006 (when the sea-wall was closed), the most important wetland (for birds) in South Korea and the single most important shorebird site in the whole of the Yellow Sea. It also supported the livelihoods of more than 20,000 people. The impacts of the Saemangeum reclamation are enormous. Saemangeum needed to become either a globally-famous symbol of the costs of reclamation, or with a change of policy, a leading example of large-scale wetland restoration.

The triennial Ramsar Convention Conference of the Parties (COP) will be held here in South Korea in October 2008, under the heading of "Healthy Wetlands, Healthy People." The Ramsar COP (most especially the run-up to it) offers an excellent opportunity for improving wetland conservation work. Success of Ramsar in Korea at many levels depends in large part on NGOs. We need to promote and to inform the Convention, and to shape our own strategies in order to benefit from its processes and experiences.

Although domestic Civil Society is strong, domestic NGO involvement in international conventions and partnerships still remains comparatively weak. There are, for example, no South Korean partner organizations to any of Ramsar's International Organisational Partners (including BirdLife International, Wetlands International, the IUCN and WWF International).

There are, however, two major UNDP-GEF wetland conservation projects ongoing in South Korea both of which provide opportunities to collaborate at a variety of levels: the Korean Wetlands Project (KWP), and the Yellow Sea Large Marine Ecosystem Project (YSLME). The KWP is funded largely by the Ministry of Environment, confined to South Korea, and due to be completed in 2009; and the YSLME is a joint project run by the governments of China and South Korea, with a project office in the Korea Ocean Research and Development Institute, also apparently due for completion in 2009.

Like the birds we work to conserve, Birds Korea needs to keep evolving and adapting. We also need to remain ever honest and open. For conservation to win out, we need compassion and collaboration over confrontation, and education (of self and other) over ignorance and anger.
As an organization, we therefore work largely through the inter-related approaches of Research, Planning and Design, and Public Awareness and Education. Our mission is the conservation of birds and their habitats in Korea and the Yellow Sea Eco-region, and our belief is that "Birds, Wetlands and People Are One."
Between 2006 and the present, examples of our work include:
Initiating and conducting the 2006-2008 Saemangeum Shorebird Monitoring Program (SSMP), in partnership with the international Australasian Wader Studies Group (AWSG), a specialist group of Birds Australia (BirdLife in Australia). We are now preparing to repeat the survey effort in 2010, the year of the Tenth conference of the Convention on Biological Diversity.

Focused research on key sites and issues. The vast majority of our research effort has been on internationally important wetlands. Many of these were covered by our national shorebird survey (May, 2008), and are BirdLife-listed Important Bird Areas. Sites of especial concern include Saemangeum, the Geum Estuary and Song Do in Incheon. Birds Korea has also been very active in identifying impacts and raising awareness of the threats to avian biodiversity from the Korean Grand Canal project as well as from e.g. Avian Influenza and the Taean oil-spill.

Improving the baseline data on birds. We have continued to gather and organize records of birds, and we have developed presumably the most widely-used online checklist of the birds of the Korean peninsula. Our annual records reviews also apparently remain the only such resource available in Korea.

Promoting conservation of wetlands and other habitats through wise use planning, that aims to conserve or restore biodiversity, while also (where-ever possible) providing benefits to local communities. Some such benefits will come through environmental education and sustainable eco-tourism. We have therefore supported several bird tours; led environmental education camps and eco-guide workshops; voiced our concerns over ill-advised construction (e.g. at Upo Ramsar site and Joonam Reservoir, ironically in preparation for the Ramsar COP); participated in a symposium on Muan tidal-flat and the new Tidal-flat centre there (in June 2008); and we are working actively on the development of guidelines for the enhancement and restoration of the Mokpo Namhang Urban Wetland.

Promoting (through all of our work) the Ramsar Convention, and the Convention's International Organisational Partners within Korea. Work to this end has included e.g. frequent posts on and reference to the Ramsar Convention on our websites and in our materials; frequent posting to the Ramsar Forum and mailing to the Ramsar Secretariat; participation in the Ramsar STRP meeting in Changwon (November 2007); invitation to Korea and hosting of the head of the BirdLife Asia office for site visits and meetings (December 2007); participation in the Asian Ramsar regional meeting (January 2008); repeat assistance given to the development of waterbird population estimates and site data (as coordinated by Wetlands International); extensive contribution to a tri-lingual book focused on shorebirds of the Yellow Sea (with lead author Birds Korean and professional wildlife photographer Mr. Jan van de Kam, supported by the Flyway Partnership and funded by Wetlands International); and visits and presentation to the Ramsar Secretariat and the head-offices of BirdLife International and Wetlands International (July 2008).

Supporting and collaborating with existing conservation-oriented structures according to the demands of our mandate and conservation approach. Collaboration has been extensive at the local, national and international levels, with NGOs, with government bodies responsible for conservation, and with the academic community. Birds Korea is e.g. participating actively in (and promoting widely) the Tidal-flat Conservation Forum, or Getbol Forum, comprised of national experts from government, academia and NGOs. We have also conducted projects for both UNDP/GEF projects. For the KWP, work has included e.g. leading environmental education camps in 2007 and again in August 2008; the creation of an environmental education textbook, provisionally entitled "Healthy Wetlands, Healthy People: Ramsar in Changwon" (June-August 2008); and conducting workshops for eco-guides and on shorebird monitoring. In relation to the YSLME, Birds Korea became the first Korean NGO partner to the Yellow Sea Partnership, and we are presently conducting a wetland restoration project at the Mokpo Namhang Urban Wetland, funded by a YSLME small grant.
More recently, in the period June-August 2008, we:
Overhauled and reopened our Korean language website (on July 20th), at the same URL (http://www.birdskorea.or.kr). The English-language website (managed by Mr. Andreas Kim) was reopened in January 2008, and already receives over 300 unique visitors per day. Site visitors have come from 143 countries so far this year, with most-visited pages being the Home-page, the Latest Bird News, and the web-pages on Saemangeum and the Korean Grand Canal.

Conducted classes on the environment in English at our office, led by volunteer teachers (many thanks to Mr. Dave Edwards).

Worked on the texts of three books, focused in turn at the local level (an education textbook for Changwon city students – written together by Birds Koreans in Busan and Birds Korea–Canada Representative Mr. Geoff Styles in Canada!); at the national level (a chapter on the importance of South Korean inter-tidal wetlands for birds, and the relevance of the Ramsar Convention - for a book being produced by the Getbol Forum); and at the international level (writing, translating and proof-reading sections of the trilingual book by Mr. Jan van de Kam on the shorebirds of the Yellow Sea: special thanks to Ms. Kim Sona, our National coordinator Ms. Park Meena, Mr. Lee Chang Gu and other volunteers for their key roles in this important work).
Away from Busan (in Korea), we also:
Participated in several Getbol Forum meetings, and e.g. in symposia in Muan (to celebrate the designation of Muan Ramsar site, on June 26th) and at Mokpo University (on August 20th).

Conducted field work and held meetings with Mokpo City officials about the Mokpo Namhang Urban Wetland.

Conducted an environmental education workshop (August 18th) and an English Environment Education Camp, in Changwon (August 23rd-24th).

Students preparing an Eco-map, Photo © Martin Sutherland
And nationally-internationally, we:
Started work on the SSMP Report (2006-2008).

Promoted a Shorebird Research program in Australia (organized by the AWSG: so many thanks to Dr. Danny Rogers, as always). Most of the funds for participants will be supported from Australia. Birds Korea is presently raising the remainder, to ensure 3 or perhaps 4 participants can join this program from Korea.

Participated in discussions on the development of a possible student program, linking children, birds and wetlands in New Zealand and Korea. A meeting was held at the Miranda Naturalist's Trust (MNT) in New Zealand by the project proponent Mr. Chin Jae-Un (a Life member of Birds Korea and also a keen supporter of the Busan group Supchi wa Seiduri Chingu) and MNT committee members (including Mr. Adrian Riegen and Mr. Keith Woodley, both overseas Birds Koreans and participants in the SSMP).

Helped organize and participated in a South Korean NGO delegation to Europe in late July. Funded by the Buddhist Environmental Solidarity (BES), Mr. Nial Moores (Director of Birds Korea) joined the Reverent Su Gyeong (Permanent Representative of BES), Mr. Park Jin-Sub (Vice President) and Ms. Jang Ji-Young (Researcher), both of Eco-Horizon Institute, and Mr. Kim Sang-Kuk (translator and coordinator of an international network opposed to the Canal). The delegation gave three joint presentations on the anticipated impacts of the Korean Grand Canal, on Saemangeum, and on some of the strategic preparations for the Ramsar COP. The schedule included a presentation at the Ramsar Secretariat, and a meeting with a representative of the IUCN in Gland, Switzerland on 22nd; a meeting with international staff of the RSPB and presentation to BirdLife International staff on 24th (assisted most valuably by Mr. Charles Moores, Ms. Kim Sona and Mr. Martin Sutherland, three Birds Koreans living in England); and a presentation and prolonged and useful discussion with Wetlands International staff, including CEO Dr. Jane Madgwick, on 25th. These meetings were followed by the release of a Letter of Concern about the Korean Grand Canal by BirdLife International (originally sent on May 22nd), and a news update on the BirdLife website in late July, and by posting about the visit by Wetlands International on their website in early August.

At the RSPB headquater (The Lodge, Sandy, Bedfordshire)
Finally, in the weeks and months ahead, we will:
Continue work (with Mokpo City, the Mokpo Natural History Museum, and e.g. a Senior Ecologist from the RSPB) towards conservation of the Mokpo Namhang Urban Wetland, developing basic concepts for enhancement and restoration of this wetland.

Produce the SSMP Report 2006-2008, and accompanying CD of selected images, in time for the Ramsar COP.

Participate in several further workshops and symposia, including a symposium on wetland restoration at Seoul National University (September 8th); the workshop and symposium on the Mokpo Namhang Urban Wetland (September 10th); and a major symposium on the conservation of East Asian tidal-flats (co-organised by the Getbol Forum, BirdLife International, the YSLME project and the Wadden Sea Secretariat) in Changwon (October 27th).

Participate actively in the Ramsar COP, contributing in the best ways we can to its success. For those intending to come to the conference, we have ordered a booth, where we hope our members and visitors can learn much more about our work, as well as pick up copies of the SSMP report, and even some specially-designed Birds Korea cups (beautifully illustrated by overseas member Mr. Ed Keeble).

Organise and support an increasing number of birdwatching events for members, and help to develop education programs.
The months and years ahead will always be full of interesting and sometimes exciting things to do. We thank you, our members, for making all of this possible, and look forward to working with you even more!
• Selected Bird News (covering the period June-August)
The hot and humid summer months tend to be the least exciting of the year for birdwatchers. However, the summer of 2008 saw the first national record of Roseate Tern Sterna dougallii (on June 29th), the first confirmed (but long-awaited) breeding record of Grey-capped Pygmy Woodpecker Dendrocopus canicapillus, successful mainland breeding for the first time of Mongolian Gull Larus mongolicus, and several other records of note.
The following records have been selected by Mr. Tim Edelsten (with thanks to Dr. Shim Kyu-Sik) and edited by Mr. Nial Moores. Several potentially significant records posted on the increasingly popular Birddb website lack supporting information.
Grey-headed Lapwing Vanellus cinereus P5
One photographed near the Nakdong Estuary by Kim Hwa-Yon on June 15th, is apparently the first summer record. Photographs of presumably the same individual were also posted on the BirdDb website on July 6th.
Oriental Pratincole Glareola maldivarum INC, P5, SV3
A recently fledged juvenile was photographed near Seosan by Han Dong-Gwan on June 25th and posted to the KWBS website. This becomes probably the second national breeding record.
Mongolian Gull Larus mongolicus P2,W3,S4
Known to breed on offshore islands, a small colony was found breeding on a rock island in an artificial lake in Incheon in early May. At least 13 juveniles were present at this colony on June 21st (Tim Edelsten).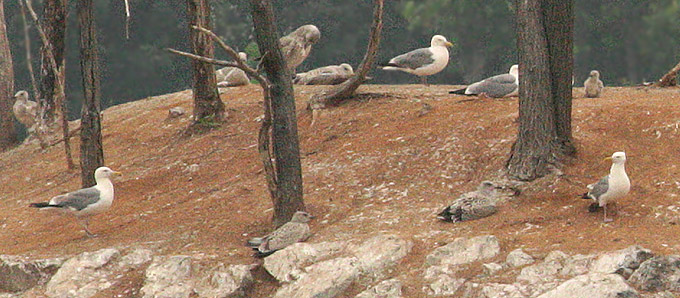 Mongolian Gull Larus mongolicus, Photo © Tim Edelsten
Gull-billed Tern Gelochelidon nilotica V3 (So)
One seen at the Nakdong estuary, Busan on July 9th by Nial Moores and Jeon Shi-Jin is only the 8th or 9th national record.
Roseate Tern Sterna dougallii V3 (So)
Two seen and photographed at the Nakdong estuary, Busan, on June 29th by Jeon Shi-Jin , Kim Hyang-Ee and others, is Korea's first record of this species.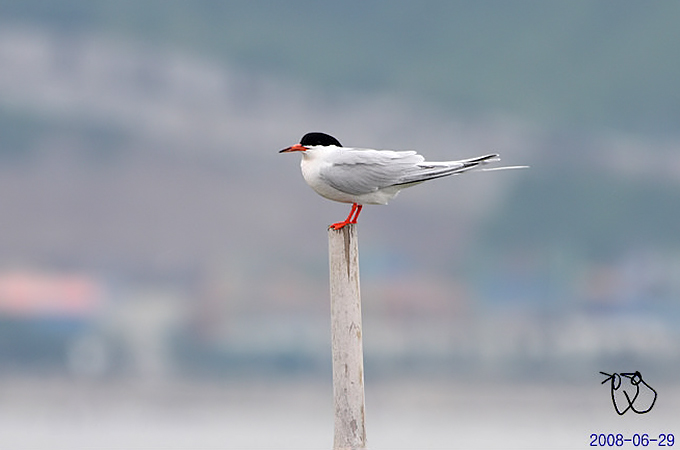 Roseate Tern Sterna dougallii, Photo © Jeon Shi-Jin
Grey-capped Pygmy Woodpecker Dendrocopos canicapillus DEC.R(m)5
A pair photographed at the nest-hole feeding young at Okcheon, Chungbuk on June 8th by Lee Yang-Sop (and posted on the KWBS website) is believed the first documented breeding record in South Korea.
Spotted Nutcracker Nucifraga caryocatactes R(m)4
On July 13th, five were found and photographed near the peak of Seoraksan, Gangwon province by Shim Kyu-Sik. According to locals, these are part of a group of 14 individuals that are resident in this area, with the possibility of more existing within a nearby fenced-off area. This species has also been recorded from Odaesan and is apparently also resident on Jirisan (via SKS)
http://www.kwbs.or.kr/bbs/board.php?bo_table=search&wr_id=1561
Plumbeous Water Redstart Rhyacornis fuliginosa V3 (So)
A female was photographed in Odae San National Park on July 23rd by Choi Bek-Soon. Despite (apparently unsuccessful) breeding in the south-east 2007, still less than 10 individuals have been recorded in Korea.
Rosy Pipit Anthus roseatus V3(So)
One photographed and posted to the http://www.birdsinjeju.com website on June 6th, was followed by a second bird photographed on June 18th. If the photographs were indeed taken in Korea, they would represent perhaps only the 7th and 8th national records known to Birds Korea.
Finally, a gentle reminder to all of our members, past and present, living in Korea. Birds Korea depends entirely on the support of our members and volunteers. Donations and domestic membership fees are vital to us! Please renew your membership (annual membership fee is only 30.000 Korean won; and life-time membership only 150.000 Korean won at this time), and help us to help the birds!
Birds Korea, August 25th, 2008.