Birds Korea National Shorebird Survey 2008
Spoon-billed Sandpiper at Saemangeum,
May 2008. Photo © CY Chiang
(Taiwan Wader Studies Group)
Based on earlier survey work (most especially by a joint survey team from Kyung Hee and East Anglia Universities in 1988; by a Korean NGO Alliance survey in 1998; and subsequent government research) and dependent on delineation, there are approximately sixteen or so sites in South Korea that have been recognised as internationally important for shorebirds (in that they regularly support 1% or more of a population or 20,000 or more individuals of shorebird). The Birds Korea National Shorebird Survey (conducted by several teams of counters, from Birds Korea, the Miranda Naturalists Trust, the Australasian Wader Studies Group and Broome in Australia) aims to count shorebirds at all such sites (see the map below), providing that data freely on our websites, and through publication, in time for the upcoming Ramsar Convention conference (Changwon City: October 28-November 4, 2008).
The timing for this survey effort is based on a combination of elements:
The most comprehensive published shorebird data in South Korea is from April and May 1988 and 1998. Shorebird counts in 2008, in early May when shorebird numbers are at their peak in Korea, will provide an excellent snapshot of shorebird numbers between decades;

Survey effort at this time will feed into ongoing discussions on the health of intertidal wetlands in South Korea (and by extension, in the Yellow Sea), by providing further insights on shorebird population trends, and information and images on changes to key sites nationwide during the past decade or two;

The National Shorebird Survey will reveal whether (apparently contrary to all published studies on shorebirds elsewhere) the several hundred thousand shorebirds that have been displaced by the Saemangeum reclamation have simply moved to other sites within South Korea, or rather have experienced declines at the national level. In 2003, the proponents of the Saemangeum reclamation argued that "The (Saemangeum) reclamation project invites more migratory birds to the area" and that "snipes and plovers (shorebirds) easily move their habitat to the Gomso Bay, Geum River estuary or other tidal flat (239,000ha) which are 5 ~ 20km away from Saemangeum." (Ministry of Agriculture and Forestry website, 2003).

Birds Korea believes that the Saemangeum Shorebird Monitoring Program (SSMP), initiated in 2006 in partnership with the AWSG , has already refuted the first part of this claim: that displaced birds easily move their habitat to Gomso Bay and the adjacent Geum Estuary. While numbers of shorebirds at both sites have increased (for now) since the closure of the Saemangeum seawall in April2006, these increases represent approximately only one third of the number of shorebirds lost to Saemangeum. Moreover, declines in those populations of migratory shorebirds that depended on Saemangeum may continue on for several years, as both "interference" (increased competition between displaced birds and birds already dependent on a site) and adult mortality rates both increase, while fitness and breeding success of surviving individuals declines.
Dependent on tides and success of the site-counts, the National Shorebird Survey will therefore cover the following internationally important shorebird sites on the following dates:
Ganghwa Island (between May 3 and May 5);

Yeong Jong Tidal-flats (between May 3 and 5);

Song Do/Sorae Tidal-flats (between May 3 and 5);

Shiwa Roost/Teibu Island tidal-flats (between May 4 and 5);

Namyang Bay (between May 5 and 6);

Asan Bay (between May 5 and 6);

Honwon Ri rice-fields (between May 5 and 6);

Seosan reclamation lake/rice-fields (May 6);

Cheonsu Bay (May 6);

Geum Estuary/Saemangeum/ Gomso Bay (as part of the SSMP, between May 7 and 9);

Hampyeong Bay, and perhaps Baeksu (May 9 or 10);

Muan Tidal-flats (between May 9 and 11);

Aphae Island (between May 9 and 11);

Haenam coastline (between May 9 and 11);

Suncheon Bay (between May 11 and 12);

Nakdong Estuary (between May 13 and 14);
In addition, survey teams will also conduct counts at nationally important wetlands in Mokpo (Mokpo Namhang Urban wetland), and if time allows at Gwangyang Bay and Namhae Island on the south coast.
We welcome your support and (for those living in Korea) your participation!
---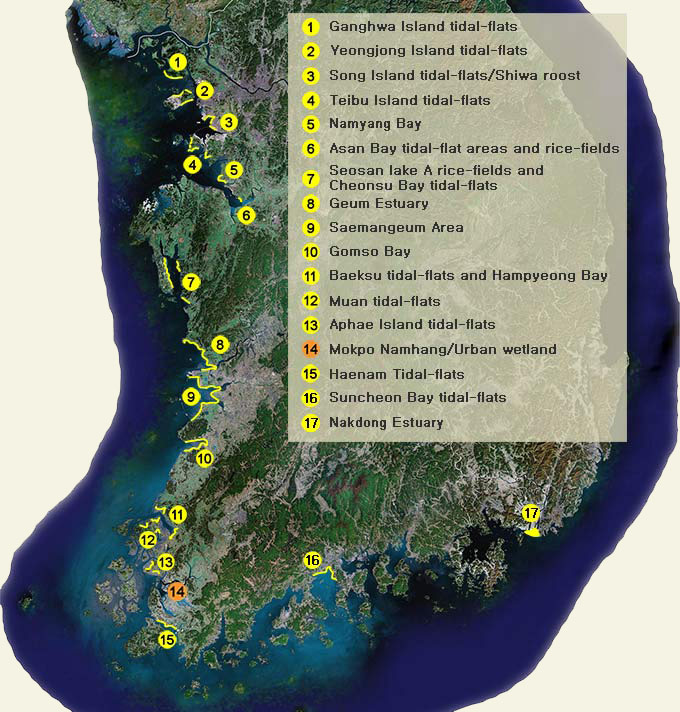 Map of the Birds Korea national Shorebird Survey regions
Click on site number or name to access images and information (all pages will be added to in the near-future).
Selected News from the Birds Korea National Shorebird Survey ('The SSMP Supplementary Survey")
Preliminary Update: May 3-6
A wide range of internationally important sites for shorebirds covered by several teams of highly experienced counters (including members from Birds Korea, Miranda Naturalists Trust in NZ, Broome in Australia, and from the AWSG and Taiwan Wader Studies Group), covering adjacent sites simultaneously over this spring high tide series. Sites so far surveyed are: Yeongjong Island and Song Do (May 3rd); Ganghwa and Taebu Do (May 4th); Namyang Bay and Asan Bay and the Kia Tidal-flat (May 5th); rice-fields near Namyang Bay (May 5th), and west and east of Seosan Lake A (May 6th); and the remaining tidal-flats of Cheonsu Bay (May 6th). These sites have been covered before the National Survey counters rejoin the main SSMP for 7th and 8th, before then continuing on again along the west and then the south coast, from 9th to 14th/15th of May. While data compilation is still underway (and analysis at least two weeks away!), most striking already has been the extent of the loss and degradation of shorebird habitat, even over the past decade (since NM's last national shorebird survey). Much of the Song Do tidal-flat area (largely inaccessible in 1998 during that year's national shorebird survey) has now been reclaimed; and the eastern, innermost part of the remaining area is now being dyked for a new road project (with most of the rest slated for an extension of the Song Do New City); the main roost area at Shiwa is now being built on; tidal-flats at Teibu have become more disturbed; most of Namyang Bay (one of the nation's most important shorebird sites in both 1988 and 1998) has now been reclaimed, with the seawall there completed in 2006; the best shorebird areas in Asan Bay (which held a single flock of 18,000 Black-tailed Godwit and over 12,000 Great Knot in 1998) are now dyked, and although the seawalls there are still somewhat porous, the area will likely soon be built on; the rice-fields at Honwon Ri (between Namyang and Asan Bays) which supported thousands of Black-tailed Godwit in 1998 were godwitless this visit, with much of the surrounding area "under construction"; and the rice-fields at Seosan seemed very shorebird-poor, with apparently much lower densities of birds than in previous years. In addition, Saemangeum of course is clearly severely degraded, since seawall closure in April 2006...
Black-tailed Godwit Limosa limosa, near now-reclaimed Namyang Bay, May 5, Photo © Nial Moores
Against this very negative background, over 25,000 shorebirds at Song Do (making it one of the most important remaining shorebird sites nationwide), a total so far of 35 Nordmann's Greenshank (with highest counts being of 11 at Song Do South and 21 at Namyang South); almost 2,000 Black-tailed Godwit in rice-fields near Namyang Bay; and two Oriental Pratincole in rice-fields at Seosan
More details on shorebird numbers and other highlights will be posted soon, as time allows.
Nial Moores, Birds Korea, May 7th 2008.
---
Why survey shorebirds?
Shorebirds are excellent bio-indicators: typically highly specialised species that depend on extremely productive wetlands. Changes in their numbers indicate changes in the health and productivity of the wetlands they depend on: wetlands that also provide multiple benefits and services to people, including fisheries, water purification, recreation and opportunities for environmental education.