Birds Korea's Bird News March 2003
(The following records are a compilation of our own sightings and records sent in by other observers. As well as being posted on the Birds Korea website(s), selected records are also forwarded to other Korean-language birding websites; records of threatened species are arranged and forwarded to Birdlife International and national authorities when appropriate; flag images and records are passed to bodies responsible for their coordination throughout the flyway; and all records sent to us are used to compile annual reports and to support the evolving understanding of the status of many of Korea's birds.)
Bird News from Martin ANDREE
Yeongnangho, Sokcho, March 30
6 Garganey were the first so far this spring. In addition, Long-billed Plover also present locally.
Bird News from Tim Allison
Han River, March 30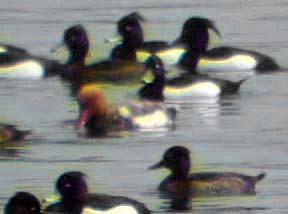 Male Red-crested Pochard, © Tim Allison
Among the Mongolian Gulls were 2 Vega Gulls, and near Hanyang University there were 2 Long-billed and 17 Little Ringed Plovers.
Near Oksu Station the outstanding highlight was a male Red-crested Pochard among Tufted Ducks and Common Pochards. For more on Red-crested Pochards in South Korea, go to Rarity Reports.
Bird News from Tim Allison
Daegok, March 29
In ricefields around Daegok, east of Ilsan, there were about 200 Little Ringed Plovers and a Hoopoe. Lingering winter visitors included 2 Rooks and 5 Brambling.
Bird News from Kim Hyun Tae
Seosan Lake A and B, March 18
Numbers of Hooded Crane : Seosan A, B Lake
March 18: 52 Hooded Crane on Seosan A Lake (Lee Hae-Soon)
March 20: +200 Hooded Crane flying high overhead (observed by Im Wan-Ho, Seosan B Lake)
March 21: 33 Hooded Crane on Seosan A
March 22: 62 Hooded Crane on Seosan A (Kim Jeong-Hoon)
March 23: 32 Hooded Crane on Seosan A
March 26: 51 Hooded Crane on Seosan A (Lee Hae-Soon)
March 28: +100 Hooded Crane on Seosan A
Bird News from Nial Moores
Eocheong Island, March 27
Heavy overnight rain was followed by bitterly cold northwesterlies (gusting to Beaufort 6-7) and hugely increased visibility. Many migrants seemed to move on (or keep in cover), with probably only 5 Red-flanked Bluetail and 20 Daurian Redstartshowing, several of which appeared in the late afternoon, when there were also ca 70 leucopsis White Wagtailpresent. Also, a hint of raptor movement, with 1 Buzzard, 4 Japanese Lesser Sparrowhawk, 1 or 2 Northern Sparrowhawk and an early Osprey north in 2 hours at midday, along with a few other new arrivals including single Red-rumped Swallow and Red-throated Pipit.
The day's best bird, however, was a stunning adult male Silky Starling (surely a more appropriate name for this individual at least than Red-billed?).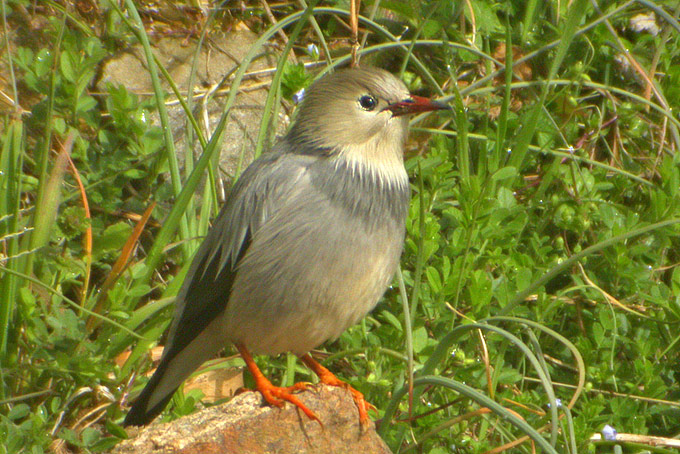 Male Red-billed (or Silky) Starling, © Nial Moores
Bird News from Nial Moores
Eocheong Island, March 26
Another good day, though lacking the rarities of the day before. Many migrants had moved on, but still ca 10 Hoopoe and an increased number of thrush, with ca 30 Naumann's,10 Dusky, 3 Pale and a White's Thrush.
Best birds included 1 Bohemian with 3-4 Japanese Waxwing, 4 rather late Pallas's Rosefinch, and what is thought to have been an alexandrinus Kentish Plover with 4 dealbatus: nominate "KP" is possibly a rather scarce taxon in South Korea, though the whole group appears to require very much more detailed study (especially when considering the range in measurements and appearance of birds in Taiwan as revealed by Liu Weiting's excellent research).
Female Red-flanked Bluetail, © Nial Moores
Male Red-flanked Bluetail, © Nial Moores
Bird News from Nial Moores
Gunsan-Eocheong Island, March 25
An excellent day, with mild temperatures (up to 15C), light north-westerly winds and high-pressure building, while the sky remained overcast with mist/fog and low visibility.
From the ferry 4 Saunders's Gull and 2 Far Eastern Curlew in the Geum estuary, while at sea 3 Streaked Shearwater, 2 Ancient Murrelet and today's highlight: incredibly (yet) another Great Black-headed Gull (ca 400 km northwest and only 6 days after the second record!). This individual was a first winter which followed some way behind the boat for several minutes as it approached the island.
On Eocheong (dubbed "Magic Island" by visitors in spring 2002), 53 species in 6 hours included a few late winterers including Siberian Accentor and Bullfinch, and many more early spring migrants: 28 Black-crowned Night Heron, 2 Japanese Lesser Sparrowhawk, 50+ leucopsisWhite Wagtail, 5 Grey Wagtail, 9 Hoopoe, 4 Barn Swallow, 45 Daurian Redstart, 8 Red-flanked Bluetail, 3 male Siberian Stonechat and ca 110 Grey Starling.
Less expected were a male personata Black-faced Bunting, a very confiding male Pine Bunting, 6 Japanese Waxwing, a Chinese Blackbird heard and a female-type Red-billed (or Silky) Starling found in the village in the evening.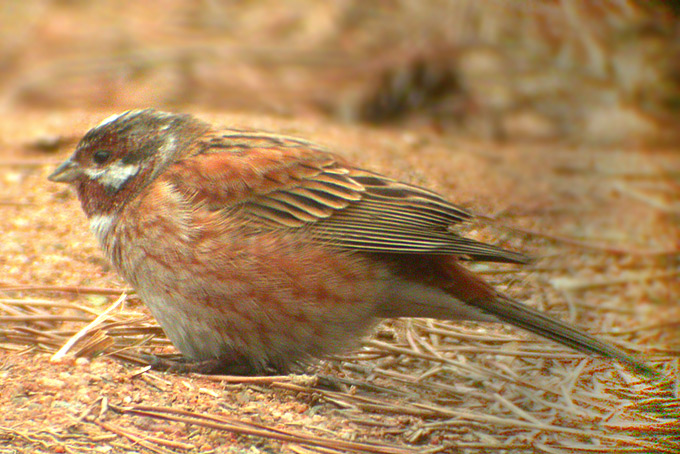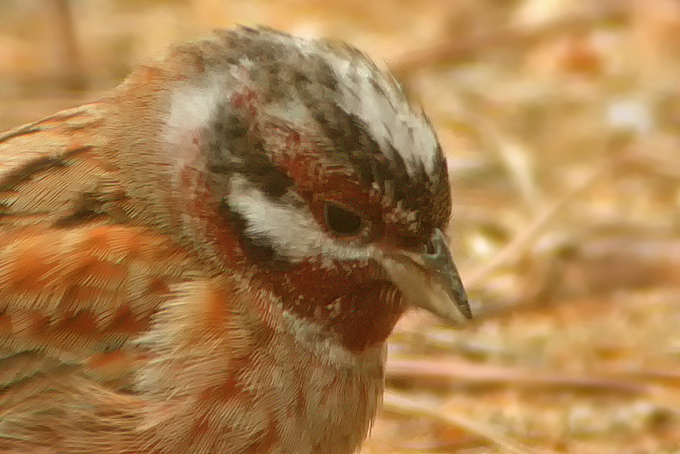 Male Pine Bunting, © Nial Moores
Bird News on Kim Hyun-tae's website, from Kwak Ho-Kyong
Seosan, March 23
Best were 1 Avocet (scarcely annual in South Korea), 32 Hooded Crane and 2 rather late Cinereous Vulture.
Bird News from Tim Allison
Chungnang Stream, Seoul (between Oksu and Hanyang Univ.), March 23
Rising water levels (up about 70 cms from last week!) appear to have displaced a number birds, but 4 Long-billed Plovers were present at Hanyang University.
Firsts for the year in Seoul included Grey Wagtail (2) and Common Kingfisher (1). Also present were about 25 leucopsis White Wagtails and 20 Black-backed Wagtails.
Bird News from Tim Allison
Seondu-ri, Ganghwa Island, March 22
Spring movements are becoming more apparent, though a number of winter species are still here. Highlight of the day was an adult Lesser White-fronted Goose.
Other species included Greater White-fronted Goose approx. 800; Bean Goose approx. 400; Common Shelduck approx. 400; Ruddy Shelduck approx. 30; Hen Harrier 1 ad male; Common Moorhen (first of the spring!) 4; Little Ringed Plover 1; Eurasian Curlew approx. 130; Far Eastern Curlew 2; Saunder's Gull approx. 55; and a large flock of Reed Buntings totalling over 150 birds, and containing: Japanese 20+; Common 70+; Pallas 40+.
Bird News from Nial Moores
Nakdong estuary, March 19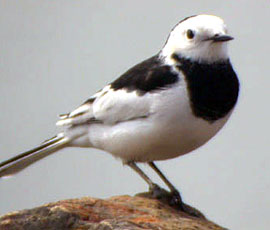 "leucopsis" White Wagtail, © Nial Moores
The Great Black-headed Gull was still present, though repeatedly harassed by groups of Mongolian and to a lesser extent Vega Gulls.
Otherwise, rather fewer birds than of late, with only 1 White Spoonbill (3 had been present on the 17th still) though a group of 30 Eastern Taiga Beans included 1 Swan Goose, and there were still several leucopsis White Wagtail present along the shoreline.
Other interesting birds included ca 200 Rook north and an unusually pale-eyed "Kamchatka" Gull. Small-billed and medium-sized it nonetheless lacked the distinctive primary pattern of Mew Gull L. (canus) brachyrhynchus (a taxon believed still unrecorded in Korea).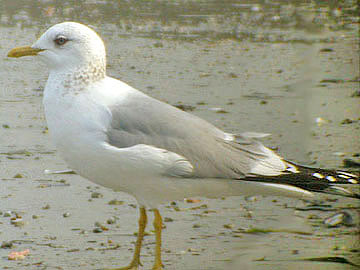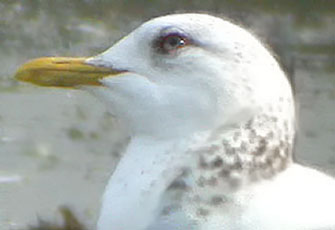 A pale-eyed "Kamchatka" Gull, © Nial Moores
Bird News from Nial Moores
Nakdong Estuary, March 17
Signs of spring included 4 Far Eastern Curlew and 2 leucopsis White Wagtail (in amongst ca 50 Black-backeds), and an absence of geese. Highlights, once again, were gull-based, with ca 30 Saunders's, a late first winter Relict Gull, and outstanding highlight Korea's second Great Black-headed (or Pallas's) Gull. Although looking like a first winter, the bill showed a much more advanced pattern: yellow basally, with a broad blackish band, and a red tip. In addition, amongst ca 1000 vegae/birulai, at least 30 mongolicus and one adult showing resemblance to barabensis/cachinnans.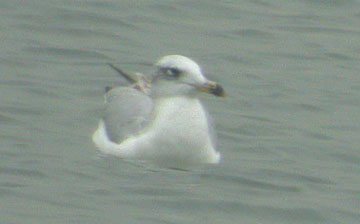 Great Black-headed Gull, © Nial Moores
Bird News from Kim Hyun-tae's website
Seosan, March 16
2 male Pied Harrier: Kim Ju-Hun (an exceptional and unexpected record, as Pied Harrier is generally considered a rare migrant, typically occurring between May and September).
March 18, Seosan
52 Hooded Crane (LEE Hae-Soon), and 2 male Pied Harrier (Kwang Kyeng-Sook).
March 20, Seosan
200+ high-flying Hooded Crane (IM Wan-Ho)
March 22, Seosan
62 Hooded Crane (Kim Jeong-Hoon)
Bird News from Tim Allison
North-east of Seoul, March 15
Suraksan, to the north and east of Seoul: 2 Siberian Accentors, 20+ Pallas' Rosefinches, and a Chinese Nuthatch (with a small group of tits on the south side of the mountain).
A stop at the Chungnang River in Nowon-gu on the way back to Seoul failed to turn up the usually present Long-billed Plovers, but numbers of White Wagtails ssp are increasing.
Bird News from Nial Moores
Pohang-Guryongpo-Daebo, March 8 pm and 9 am
2 Saunders's Gull ca 10 km upriver from Pohang with ca 150 Black-headed Gull hinted at migration on March 08, though cold northeasterlies and snow showers on 9th prevented much movement at sea, with only ca 90 Ancient Murrelet moving north in 2 hours off Guryongpo (compared to 1 500 in one hour on the same dates in 2002). In amongst an extremely interesting range of gulls on the 9th were ca 8 red wing-tagged and 1 blue wing-tagged Black-tailed Gull, 3 first winter Glaucous and outstanding highlight, 1 first winter Iceland Gull. Watched close up for ca 1 minute in flight as it circled a beach with ca 15 Slaty-backed and Vega Gulls in overcast conditions, this finely marked, medium-toned bird showed no signs of hybrid origin, no darker primary markings (apparently suggesting glaucoides rather than kumleini), and a medium-sized, dark bill, only faintly paler basally (apparently ruling out small barriovanus Glaucous Gull). Rather suprisingly, Iceland Gull has been reported from Korea before (and is listed in Lee, Koo & Park, 2000), and has also been recorded several times in neighboring Japan, with three individuals already listed on the Ujiharas' excellent gull website, at larus.hp.infoseek.co.jp/gullidentifi_.htm, this year alone!
Bird News from Kim Su-Kyung.
Forest near Upo wetland, March 5
Searching for the thrush flock seen yesterday, we found about 150 Dusky Thrush, 20 Naumann's Thrush, and the cracking male Red Throated Thrush feeding on persimmons in a large fruit garden.
Adult male Red-throated Thrush.
Photos © Kim SuKyung
Adult male Red-throated Thrush.
Photos © Kim SuKyung
News from Nial Moores and Kim Su-Kyung.
Upo, March 4
A short time in the field produced ca 1 500 Eastern Taiga Bean Geese, 3 Spotted Redshank, 6 White Spoonbill and an exceptional 350 thrush in one flock. The flock was composed almost entirely of Duskys, but also contained ca 10 Naumann's and at least one full adult male Red-throated Thrush: extremely rare so far inland.
News from Upo on March 03 included 2 Japanese Waxwing.
Bird News from Nial Moores
Nakdong Estuary, March 3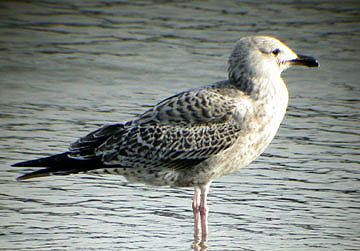 1st winter heuglini/taimyrensis.
Note the virtually all-dark tertials and bill.
Photo © Nial Moores
Many fewer ducks and geese present, and no Relict Gull located.
Best were 1 White Spoonbill, 2 Eastern Marsh Harrier, 1 White-tailed Eagle and 1 rather late Cinereous Vulture. Saunders's Gulls (ca 50 along the estuary's eastern flank alone) were more numerous than through much of the winter, and passage was also suggested by 80 Rook north and ca 30 Black-backed Wagtail and 20 japonicus Buff-bellied Pipit along the foreshore.
At Dadapo, 1-2 Grey Bunting heard, and also one first winter gull considered to show some some characteristics of cachinnans/barabensis, along with more typical Vega and heuglini/taimyrensis.
For more on gull identification, see our article
"The Herring Gull Assemblage".
Bird News from Tim Allison
Seoul, March 1 - 2
1 presumed Willow Tit (a species whose status is very unclear in South Korea due to confusion with Eastern Marsh Tit) -- Namsan Public Gardens across the street from the Seoul Grand Hyatt, March 01.
"White-headed" Long-tailed Tit (ssp. japonicus?) -- 2 near Eungbong Station, March 02.
Imperial Eagle -- 1 imm., Oksu, March 02 (briefly)
Duck numbers continue to decline as they move north.
Bird News from Dave Baker
Daejeon Dam and Munwui (at the northern tip of Daejeon Reservoir), March 1 - 2
For the most part there was nothing especially unusual around the dam except 0ne 'caudata' type Long-tailed Tit in the park just below the dam. Also of note were about 50 Mandarin Ducks just below Daejeon Dam.
Copyright 2002 - present
http://www.birdskorea.org
all rights reserved
Birds Korea 1108 Ho, 3 Dong, Samick Tower Apt., 148-22, Namcheon-Dong, Su-Young-Gu
Busan, 618-762 Republic of Korea