The Red-crested Pochard Netta rufina in South Korea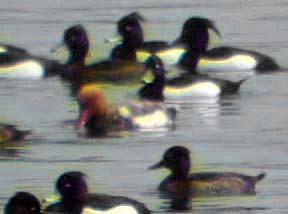 Male Red-crested Pochard, Han River, March 30, 2003
Photo © Tim Allison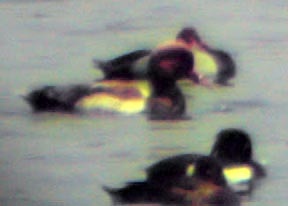 Male Red-crested Pochard, Han River, March 30, 2003
Photo © Tim Allison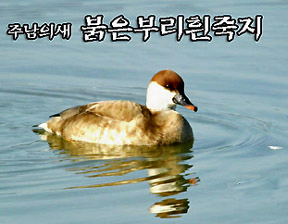 Female Red-crested Pochard, Joonam, Jan 2003.
Photo © Choi Jong-Soo
Considered most numerous in western, central and southwestern Asia (with a minimum population of 200 000 for that region given in Rose and Scott 1997, and a further 40 000 estimated for Southern Asia [Perennou et al, 1994]), the Red-crested Pochard is listed as a vagrant in South Korea by Lee, Koo & Park (2000), and as an accidental winter visitor to Japan by Brazil (1991).
Following on from the first record in Japan in 1967, it appears to have become an almost annual winterer there. In South Korea too there have now been 6 or 7 records (known to WBKEnglish at least) with the first only in 1996 or 1997, all falling between November and March and concentrated on or near the Han River in the northwest and Joonam reservoir in the southeast:
| | |
| --- | --- |
| 1996 or 1997 | Han River, Seoul (photographed and filmed) [information via Dr. Park Jin-Young, pers. comm.] |
| 1999 | November 16th, Ganghwa, Gyeonggi Do: female (NM, Kim Kyung-won, Sin Sung Sik) |
| 2001 (?) | Han River, Yeouido, Seoul: January? (Kim Kyung Won) |
| 2001 | Dec 29 2001- Jan 2002, Joonam/Dongpan reservoirs, Gyeongsangnam Do: female. (NM, C. Artuso, T. Prater, D. Rossair et al. Filmed by PSB TV); |
| 2002 | Nov 30 2002- Jan 12, 2003. Joonam/Dongpan reservoirs, Gyeongsangnam Do: female (Paul Holt, etc. Photographed by Choi Jong Soo). Considered likely to have been the same returning individual as in the previous winter. |
| 2003 | March 30, Han River, Oksu, Seoul (Found and photographed by Tim Allison). |
The Red-crested Pochard breeds across much of the Palearctic, from the Iberian Peninsula in the west to Mongolia in the east, and population trends do not appear to be consistent across this vast range - with declines in some areas, and increases in others.
Although the species is widely kept in collections, which perhaps has muddied its status in Europe, this clearly is not the case in Far East Asia where such collections are very unusual, and the rapid increase in records in recent years might be due to either population change or perhaps rather more likely, to greatly increased observer activity (with a correspondent improvement in optics).
To further clarify the status of the species in South Korea (and neighboring countries) we would, as always, greatly appreciate any extra information and/or corrections to the above.
References:
Brazil, M. A. 1991. The Birds of Japan. Helm (Publishers) Ltd.
Lee, W-S., Koo, T-H. & J-Y Park. 2000. A Field Guide To the Birds of Korea. LG Evergreen Publishers.
Perennou, C., Mundkur, T., Scott, D.A, Follestad, A. & Kvenild, L. 1994. The Asian Waterfowl Census 1987-1991: Distribution and Status of Asian Waterfowl. AWB Publication No. 86. IWRB Publication No. 24. AWB, Kuala Lumpur, Malaysia and IWRB, Slimbridge, UK.
Rose, P.M. and Scott, D.A. 1997. Waterfowl Population Estimates - Second Edition. Wetlands international Publ.44, Wageningen, The Netherlands.