Birds Korea's Bird News November 2002
November 29, Taejongdae and vicinity, Busan
Unseasonably warm weather, and a wide range of Japanese-type winter species, including Olive-backed Pipit, 20+ Japanese White-eye , several Pale (and one White's) Thrush, 2-3 Red-flanked Bluetail, 2 cantans Japanese Bush Warbler, and highlight of the day at least 2 and possibly as many as 4 or 5 Grey Bunting. Considered a rare winter visitor to Korea, records of this rather skulking bunting seem to be confined to near the south coast and Jeju Island.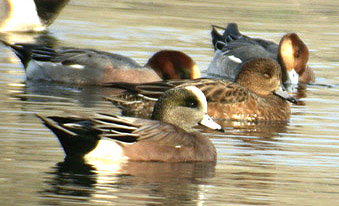 Possible hybrid male American x Eurasian Wigeon (foreground).
Photo © Nial Moores.
In the harbour too, rather few gulls, but interest created by one female and one male American Wigeon, either a first winter or perhaps a hybrid containing some Eurasian Wigeon influence.
Considered a rare winter visitor to Korea (Lee, Koo & Park, 2000) the status of American Wigeon is somewhat confused by the presence of American x Eurasian Wigeon hybrids, which while also rare, still appear to be more numerous than pure American. At certain angles the facial stripe going back from the eye to the nape on this bird appears dark green, at other angles tinged with warmer brown, suggesting a hybrid origin.
Bird News from Wonwoo (a priest in Seosan)
Seosan, November
1 Black Woodpecker, 1 Red Flanked Bluetail, and 1 Mugimaki Flycatcher.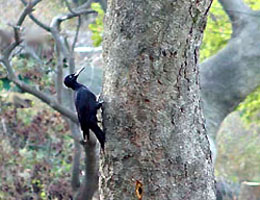 Black Woodpecker
Photo © Wonwoo
Mugimaki Flycatcher (& Red-flanked Bluetail)
Photo © Wonwoo
Bird News from Kim Woo Soo
Osipcheon river in Youngdeok city, November 29
Scaly-sided Merganser (right, with Common Mergansers).
Photo © Kim Woo Soo
1 Scaly-sided Merganser seen with 17 Common Merganser.
Bird News from Choi Soon-kyoo
Gangneung City, November 28
Collared Dove, Gangeung City. © Choi Soon-Kyoo
Following on from a sighting of Collared Dove in Ganghwa on October 13, another one - this time photographed - has been seen in Gangneung City, by Choi Soon-Kyoo. Listed in Lee, Koo, and Park as a rare resident, it may well be commoner than these few records suggest.
Bird News from Han Jong Jyun
Cheonsu Bay, November 23-24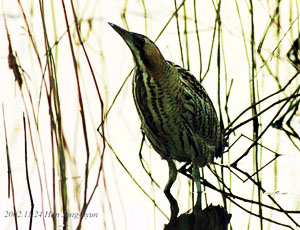 Eurasian Bittern Photo © HAN Jong jyun
+50,000 Baikal Teal, 15 Hooded Crane, 1 Oriental White Stork, 2 White-tailed Eagle (1 adult, 1 immature),1 Eurasian Bittern
Bird News from Kim Woo Su
Oshipcheon river in Youngduk city, 24 November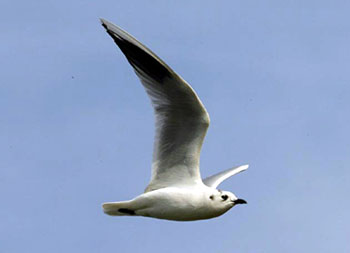 Ad Winter Saunders's Gull Photo © Kim Woo Su.
3 Saunder's Gull
Bird News from Tim Allison
Waterfowl count between Oksu and Hanyang University in Seoul, November 24
The following counts are the minima recorded: Little Grebe 9; Common Pochard 560; Tufted Duck 640; Shoveller 230; Mallard 180; Spot-billed Duck 120; Pintail 810; Common Teal 1350; Gadwall 30; Greater Scaup 12; Mandarin 1; Eurasian Wigeon 2; Coot 1.
Bird News from Tim Allison
Ganghwa, November 23
A good count of 11 Red-crowned Crane, plus 950+ White-fronted Goose, approx. 300 serrirostris Bean Goose, 1 Black-tailed Godwit among the regular winter shorebirds and a Common Kingfisher. Passerines included a (presumed) Black-throated Thrush (for more on the status of this species go to Probable hybrid thrush), 2 Siberian Accentor, 1 Red-flanked Bluetail, a high count of 14 Daurian Redstart, 2 Meadow Bunting, 80+ Rustic Bunting, 60+ Yellow-throated Bunting, and 3 Pallas' Reed Bunting.
Bird News from Mo In Ho
Joonam reservoir, November 23
+1,500 Baikal Teal, 8 White-naped Crane, 7 White Spoonbill, 60 Whooper Swan, and 10 Northern Lapwing
Bird News from Park Heong Sik
Han estuary, November 23
5 Cinereous Vulture, 41 White-naped Crane, 350+ Ruddy Shelduck, 250 Swan Geese.
Bird News from Nial Moores
Guryongpo, November 23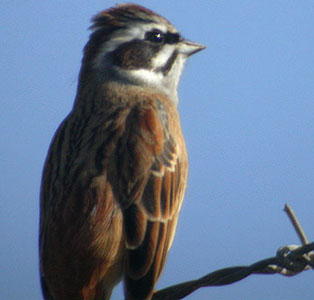 ciopsis Meadow Bunting. Photo © Nial Moores
Another excellent day. A fall off in movement of birds at sea in the morning allowed time to check the headland. The good range of species present included a late (or wintering) Zitting Cisticola, the Richard's Pipit still, ca 20 Siberian Accentor, a Pine Bunting, 2 Red-billed Starlings (see November 06 for another record of this Korean "rarity"), and most unexpected of all a male ciopsis ("Japanese") Meadow Bunting, presumably either a very rare or unrecorded taxon in Korea.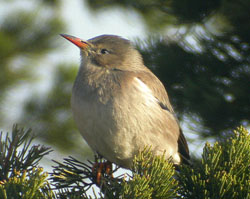 Red-billed Starling, © Nial Moores
In the late afternoon movement picked up again, with 1750 Ancient Murrelet and 92 Black-legged Kittiwake past in an hour.
Among many differences from male castaneiceps are a less heavy bill, often shorter and blunter-looking primaries, blackish rather than brown ear coverts, reduced grey on the nape, a grey rather than white (or near white) throat, and significantly harder, more metallic calls.
Bird News from Nial Moores
Pohang, east coast, November 22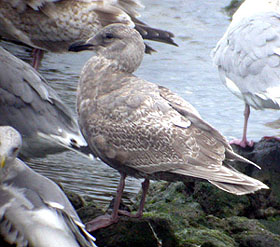 1st W Glaucous-winged Gull Photo © Nial Moores
Overcast and rainy, but less windy than yesterday. 8 hours counting (8 a.m to 16:45 p.m)
There was a strong movement of divers today, with 3200 Pacific, 105 Red-throated , and 72 Black-throated Divers all flying south.
With them were a good count of 3885 Ancient Murrelet moving southward in a 2 hour period. Also 8 Black Brant (probably different individuals from those yesterday), 3 Pomarine Skua (a species still not "officially" recorded in Korea), 1 Long-tailed Duck, 1 Common Tern, 4 Rhinoceros Auklet, 1 Glaucous-winged Gull, and 262 Red-breasted Mergansers.
A declining (and debatable) taxon, this form of Black Brant is scarce in Korea, and Pohang offers the best chance of seeing them.
"orientalis" Black Brant, Pohang, November, © Kim Su Kyung.
Bird News from Nial Moores & Kim Su Kyung
Pohang, east coast, November 21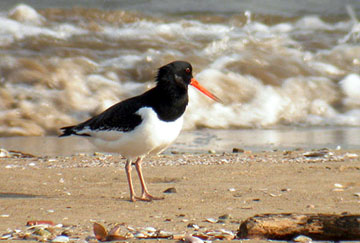 osculans
Oystercatcher
, Pohang, November.
Photo © Kim Su Kyung.
This large form of Oystercatcher may well merit specific status: osculans shows more white on the secondaries and median coverts and less on the primaries than nominate ostralegus, and in winter usually has no white neck-collar - though the bird shown here does show a slight collar, it is very poorly-marked and nowhere near as prominent as in nominate birds.
With a mimimum estimated population of 10 000 (Barter 2002), breeding in the Yellow Sea on islands along the west coast of Korea, and also in northern China and e.g. Kamchatka (Marchant, Prater & Hayman, 1986; Barter 2002), the largest known concentration is in winter at the Geum estuary, with 5 700 in January 2000.
Movements of auks along the east coast can be excellent at this time of the year, but unfortunately not on this occasion! Divers were moving though, and 220 Pacifics, 43 Red-throated, and 19 Black-throated Divers flew south, with 70 Pelagic Cormorants, 20 Harlequin Duck, and a late Common Tern.
Present along the coast were 20 Black Brant, and 3 osculans Oystercatchers - the latter a very scarce bird on the east coast. (Images taken of the Oystercatchers will form the basis of a short ID note we hope to post in the near future.)
Inland were 5 Japanese Larks, 30 Northern Skylarks, a Richard's Pipit, and a late Barn Swallow.
Bird News from Tim Allison
Geumgang Estuary, November 16 - 17
Swan Goose 8, Greater White-fronted Goose approx. 30, Tundra (serrirostris) Bean Goose approx. 700, Whooper Swan approx. 100, Tundra ("Bewick's") Swan 11, Northern Lapwing 11, "Eastern" (osculans) Oystercatcher 13, Dunlin 500, Sanderling 1, Common Sandpiper 7, Black-tailed Godwit 1, Bar-tailed Godwit 4, Eurasian Curlew approx. 250. Saunder's Gull 8+.
Passerines (and near-passerines) included Long-eared Owl 1, Olive-backed Pipit approx. 30 (!), Buff-bellied Pipit 20+, Chinese Penduline Tit 6, Rook approx. 200, Daurian Jackdaw approx. 20.
Related Information:
Have you seen one of the "Key Species" we are collecting data for? Please take the time to look at the Key Species page and mail us any relevant information if you have. Help us make your sightings count!
Related Information:
A request for data on sightings of Ruddy Shelducks: Jevgeni Shergalin has posted a request on behalf of a research group looking for information on the distribution of Ruddy Shelducks. The species often reaches good numbers in eg Ganghwa in winter - any birders seeing Ruddy Shelducks are cordially asked to participate. For more information Click here.
Related Information:
Mark Barter's hugely important report "Shorebirds of the Yellow Sea - Importance, Threats and Conservation Status", has been placed online.
The URL is http://www.ea.gov.au/water/wetlands/mwp/yellow-sea.html.
Bird News from Kim Hyun-tae
Seosan Lake complex, November 15
Many thanks to Kim Hyun-tae for permission to post the following table detailing the numbers of Baikal Teal he's recorded at the Seosan Lake complex:
| | | | | | |
| --- | --- | --- | --- | --- | --- |
| Lake | Date | Number | Lake | Date | Number |
| Seosan A | 2002.09.01 | 3 | Seosan B | 2002.10.31 | 100,000+ |
| Seosan A | 2002.09.15 | 500+ | Seosan B | 2002.11.01 | 100,000+ |
| Seosan A | 2002.09.19 | 2,500 | Seosan A | 2002.11.03 | 130,000+? |
| Seosan A | 2002.09.21 | 4,800 | Seosan A | 2002.11.05 | 300,000+? |
| Seosan A | 2002.10.03 | 10,000 | Seosan A | 2002.11.08 | 100,000+ |
| Seosan A | 2002.10.15 | 30,000 | Seosan A | 2002.11.10 | 100,000+ |
| Seosan A | 2002.10.20 | 50,000 | Seosan B | 2002.11.12 | 100,000+ |
| Seosan B | 2002.10.27 | 150,000 | Seosan A | 2002.11.13 | 100,000+ |
| Seosan B | 2002.10.30 | 100,000+ | Seosan A | 2002.11.15 | 50,000+ |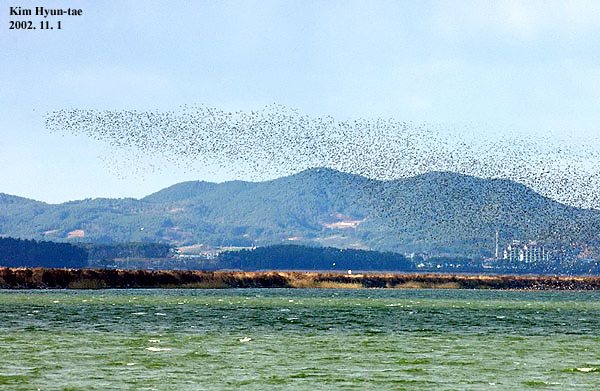 Baikal Teal at Seosan, © Kim Hyun-tae.
Ami mountain, Nakdong estuary, Busan, November 15
Coming towards the end of the raptor and migration survey, and the only hint of autumn today was a lone Far Eastern Curlew in amongst Eurasians, while winter birds included Siberian Accentor, and on the estuary 2,168 Swans (almost all Whooper Swans with very few Tundras ), and ca , 200 Great Cormorants.
Outstanding highlights of the day were very wintery in feel too: 11 Cinereous Vulture (there had been unconfirmed reports of a staggering 36 in the estuary a few days before) and 3 Upland Buzzards, usually a very scarce winter visitor to Korea.
Bird News from Nial Moores & Kim Su Kyung
Taejongdae "Watch Point", Busan, November 14
Suspected juvenile/first winter nominate Heuglin's Gull Larus heuglini heuglini
(front bird) with juvenile/first winter Slaty-backed Gull Larus schistisagus
(rear bird and centre image). Busan, November 14, 2002.
Although there were several Daurian Redstart, 5 Siberian Accentor and a late Yellow-browed Warbler near the counting point, best of the migrating passerines included only 60 Siskin, 28 Siberian Buff-bellied Pipit and 5 Hawfinch, though 160 Brown-eared Bulbul again moved southeast.
Taejongdae harbour was more interesting, supporting several hundred gulls, including "Kamchatka" Common Gull, several Vega Gulls, Slaty-backed and a possible nominate-type first winter Heuglin's Gull. (See images and discussion below).
The superb but outdated "Gulls, a guide to identification" (Grant, 1986) describes nominate heuglini thus: " Breeds northwest USSR. Migrates south to winter in area bounded approximately by Black Sea, Aral Sea, northwest India, Gulf of Aden and southern Red Sea; (also) East Africa south to Tanzania. Large and long-legged....First years resemble michaellis/cachinnans in all-black-bill, whitish head and underparts, less obvious pale window on inner primaries than argenteus/argentatus (also Vegae, which similarly shares with western Herring Gullnotched tertials: Nial Moores), solidly dark-centred tertials, plainer (less barred) greater coverts, and general appearance recalling first year Great Black-backed Gull..." Of taimyrensis, Grant wrote, "Size, structure and plumage much like heuglini".
However in fact, birds of the widespread form considered to be taimyrensis in South Korea and Japan typically appear small and compact when compared with vegae and especially to the rather more massive Slaty-backed Gull, with medium leg length and medium or even shortish bills. Although structurally this bird is rather closer to mongolicus than e.g. vegae, its bill appears too deep-based, and all-black (many mongolicus in Korea tend to show an obvious pale or even pink base even by early first winter). Plumage-wise too, compared with mongolicus it appears too cleanly scaled dark brown and white on the upperparts (lacking any grey tones, which can appear in many mongolicus even as early as September in Korea), shows too much streaking on the head, especially concentrated near the eye as in typical first winter taimyrensis. As nominate Heuglin's Gull is thought to be extremely scarce in East Asia, we would, as always, appreciate comments on the identification of this individual.
Bird News from Nial Moores & Kim Su Kyung
Taejongdae "Watch Point", Busan, November 13
Slightly better visibility led to stronger movements of raptors, including the outstanding surprise of the day: 2 extremely late immature Amur Falcon. Despite this, the generally rather narrow range of southwest migrating passerines was again noted, but included 16 Common Crossbill, 32 Oriental Greenfinch and 5 Dusky Thrush (still apparently very scarce this winter). In Taejongdae Park, ca 40 Yellow-throated Bunting and the lone Yellow-browed Warbler still were the highlights.
Bird News from Nial Moores & Kim Su Kyung
Taejongdae "Watch Point", Busan, November 12
Dust moving southeast out from the Gobi Desert is hanging over the South Korean peninsula, so even though the sky was cloudless, visibility was 10 km or less, perhaps hindering migration. At least 40 Rook and a further 125 Brown-eared Bulbul moved SE towards Japan, before returning northwest, while ca 245 Siskin, 10 Common Crossbill and 95 Siberian Buff-bellied Pipit moved southwest.
Rather more exciting, an extremely late Swift sp was watched feeding through the 'scope for 4-5 minutes, at all times appearing to show no white in the rump. Sadly views were a little distant and therefore inconclusive (Common Swift Apus apus has apparently not yet been reliably claimed in Korea...).
In Taejongdae park itself, ca 10 Pale Thrush, and a large mixed feeding flock containing 30 Great Tit, 20 Japonicus Japanese White-eye, 10-15 Goldcrest, 2 Japanese Pygmy Woodpecker and a late Yellow-browed Warbler. The Black Kite roost contained at least 191 individuals.
Also, on the Nakdong 12+ roosting Spoonbills, mostly Eurasian/White Spoonbill but at least 1, possibly 2, Black-faced Spoonbills.
Bird News from Chung-yu Chiang & Yan-feng Wu of TWSG (TaiwanWaderStudyGroup)
Many thanks to both observers for sending details of a Korean-flagged Dunlin seen in Taiwan.
Date and time of the Observation: 2002/11/08
Location: LunWei, Changhwa County, Taiwan (24deg 06min 0sec N, 120deg 24min 0sec E)
Species: Dunlin Calidris alpina
Number of Flagged birds: One
Plumage:Non-breeding Plumage
Marking: Right: Tibia (White Colour flag)/ Tarsus (Orange Colour flag); Left : Tibia (Nothing)/ Tarsus (Metal Ring)
Bird News from Jos Henrichs
Kumi, November 10
Cheonsang sanseong (mountain fortress) (407m) near Nakdong river in Kumi: 2 Alpine Accentor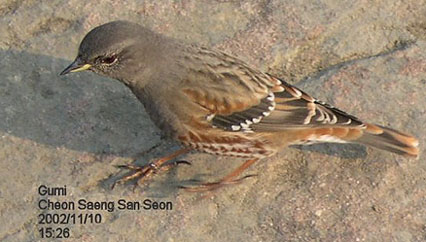 Alpine Accentor, © Jos Henrichs.
UPDATE:
We've just posted a major paper detailing the sightings of 28 birds not listed in "A Field Guide to the Birds of Korea". We welcome any input and/or comments...Go to -
New Species List
Bird News from Kim Su Kyung
Geum River, November 8
10,000+ Baikal Teal, 5 Swan Geese, 10+ Saunders' Gull, 670 Taiga Bean Geese, 80 Whooper Swan, 300 Oystercatcher, and 200 Eurasian Curlew.
Bird News from Kim Su Kyung
Seosan A Lake, November 9
35,000 Baikal Teal, +50 White Spoonbill, 1 Black Faced Spoonbill(Juv.), 1 Oriental White Stork, 2 Hooded Crane, 30,000+ Thick-billed Bean Geese, 20,000+ White-fronted Geese, 30+ Ruddy Shelduck, 2 Saunders' Gull, 22 Spotted Redshank, 1 Yellow Wagtail, and 1 Eastern Marsh Harrier.
Spotted Redshanks, © Park Heung Sik.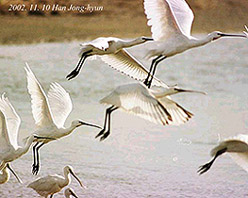 White Spoonbills, © Han Jong-hyun.
Bird News from Tim Allison
Near Gimpo Airport, November 9
AM - near Gimpo Airport:
Ice on slow-moving water --- really cold!
No waterfowl except approx. 65 Ruddy Shelducks. Approx. 300 Rooks & 16+ Daurian Jackdaws, 200+ Skylarks, approx. 20 Buff-bellied Pipits, 1 Grey Wagtail, 1 Rough-legged Buzzard (light phase) and 4 Common Buzzards, and 1 Common Snipe.
PM - Yeouido:
Eurasian Woodcock still present (first seen Oct. 20), 1Siberian Accentor, and 3 Buff-bellied Pipits.
Bird News from Tim Allison
Near Seoul, November 10
A Common Sandpiper and 4 Yellow-browed Warblers in Seoul this afternoon...no other real news. Waterfowl numbers continue to build East of Oksu, with the first Greater Scaup and Smew of the fall there this afternoon.
Bird News from Han Jong Hyun
Cheonsu Bay, November 07 - 08
1 White-tailed Eagle, 1 Steller's Sea Eagle, and 1 Oriental Stork
Bird News from Nial Moores & Kim Su Kyung
Taejongdae "Watch Point", Busan, November 8
Despite force 5 westerlies and rather low temperatures (only reaching 12 C in Busan, the mildest part of the peninsula) our raptor and diurnal migration survey continues...the first coordinated effort to gather data on such movements in Korea. Best out of 9 raptor species was 3-4 Hen Harrier, while other migrants included ca 60 Siberian Buff-bellied (and only 2 Olive-backed) Pipits, an extremely late Sand Martin (being chased by an overly optimistic Japanese Lesser Sparrowhawk) and 3 Swallows, and a surprisingly high count of 225 Common Crossbill, all heading southwest. The southeasterly movement of pastinator Rooks towards Japan also continued, with ca 195 recorded heading out to sea.
Bird News from Nial Moores & Kim Su Kyung
Taejongdae "Watch Point", Busan Raptor and Visible migration survey, November 7
A low pressure system introduced thunderstorms, increasing wind and a sharp drop in temperature...bird movement was effectively halted by the rain at midday, so best counts for the day were less than spectacular: 60+ Siberian Buff-bellied Pipit , 40 Siskin and 60 Brambling, 22 Common Crossbill and ca 350 Rooks, many of which headed out to sea towards Japan, only to return 30 minutes later.
Bird News from Nial Moores & Kim Su Kyung
Taejongdae, Busan. Raptor and visible migration survey, November 6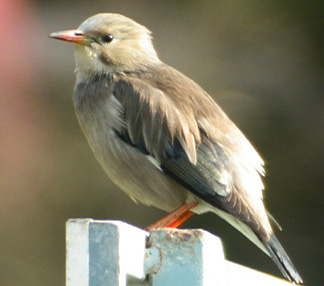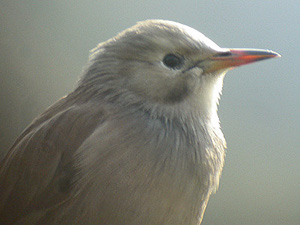 Immature Red-billed (or Silky) Starling.
Photos © Nial Moores.
Continuing sunny and calm conditions (though with poor visibility hiding the Japanese island of Teima Do/Tsushima only 35 km to the SE) failed to stimulate much migration, though again nearly 200 Siskin, 52 Common Crossbill, 33 Japonicus or Siberian Buff-bellied Pipit and a Lapland Bunting moved southwest, this time joined by ca 75 Northern Skylark in total, along with 14 Red-rumped Swallow and 3 Asian House Martins. Rooks (ca 125), joined by a single Daurian Jackdaw, and a total of 61 Brown-eared Bulbul tried to move southeast towards Japan, though with some returning due to poor visibility.
Staying until dark allowed a better count of the Black Kites roost: at least 177, with birds still arriving.
Highlight of the day, however, was undoubtedly an immature-type Red-billed or Silky Starling, a species being increasingly observed in South Korea since the first records in 2000. (For details of the first Korean record of this and another 27 species go to Observation of species not listed in Lee, Koo, and Park.)
Ageing or sexing of immature Red-billed Starlings is not well-described in e.g Robson's Birds of South-East Asia (2000), but as this individual shows some limited yellowish at the bill base indicative of juvenile plumage, and glossy wing coverts and tertials contrasting with rather dull flight feathers, it can perhaps best be aged as a first winter. In addition, based on personal observations of adults, the slightly yellowish-white ("nicotine-stained") cast to the head, the glossy greenness of the tertials, and the length of the scapulars, showing some obvious pale edges, all suggest too that it might be a male. As always, observations from birders with experience of ageing and sexing the species would be most welcome.
Bird News from Nial Moores & Kim Su Kyung
Taejongdae "Watch Point", Busan, November 5
Clear skies and light winds induced some diurnal movement in a broad mix of species, with e.g. ca 200 Siskins, ca 40 Common Crossbill, a single Lapland Bunting and 65 Japonicus Buff-bellied Pipits (Korea's commonest pipit in winter) moving southwest along the coast during the day, along with several groups of gulls (containing one early adult Glaucous), a single Whooper Swan, and small numbers of Mallard, Eurasian Wigeon and Common Teal. In addition, ca 25 Rook and a single group of 110 Brown-eared Bulbul (largely considered to be resident in Korea) were watched flying southeast, out towards Japan. Lingering reminders of the autumn included a single Siberian Stonechat, several cantans Japanese Bush Warblers, 10 Barn and a single Red-rumped Swallow, but best of the day were a Long-eared Owl, an immature White-tailed Eagle and at least one Upland Buzzard.
An evening check of the local Black Kite roost (the largest known in Korea) revealed at least 126 individuals already present: the highest count last winter was 205.
Bird News from Kim Dong Hyun and Kim Su Kyung
Bongrae Mountain, Busan, November 4
10 Hooded Crane southeastward, 1 Needle-tailed Swift, 15+ Siskin, 8 Brambling, 1 Olive-backed Pipit.
Bird News from Kwak Ho Kyong
Seosan, November 4
Rough-legged Buzzard: 1
Bird News from Park Byung Sam
Han - Imjin estuary, November 3
800 Swan Geese, 13 White-Naped Crane, 3 White Spoonbill
Bird News from Arnoud Van Den Berg and Magnus Robb
Gangwha and Yeongjong Do
Now back in Holland, Magnus mailed some last observations made on Gangwha and Yeongjong Do, 27-28 Oct:
2 Siberian Accentor on the 27th and Red-flanked Bluetail (the latter "suddenly quite common"). Thrushes remained elusive, although a large and mobile flock in the distance contained a few Dusky but no Naumann's. Near Sondu-ri on Ganghwa 3 Red-crowned Cranes incl one juvenile, bringing the total seen on the trip to five (2 on the 26th). Other birds seen were Whooper Swan (3 on 27th), Japanese Sparrowhawk, and a Pallas's Leaf Warbler (Sondu-ri on the 27th, where there were also several Saunders's Gulls foraging).
On the last day before catching the plane home, a flock of thrushes on Yeongjong Do, appeared to be all Dusky. Also on Yeongjong Do, at a site in the northeast, Chestnut Buntings were common for the first time, also Long-tailed Rosefinch, Hawfinch, Crossbill and Grey-backed Thrush there.
Bird News from Kim Dong Hyun
Kumi, Nakdong Estuary, October 28 - November 2
28th: 80 Hooded Crane arrived around 2 p.m and stayed.
29th: 69 Hooded Crane departed around 9 30a.m southward.
30th: Remaining 11 Hooded Crane departed around 7:00a.m southward.
2nd November: 15 Hooded Crane passed through.
Bird News from Mo In Ho (Birder in Changwon city)
Junam Reservoir, November 1
3000 Baikal Teal, 500 Taiga Bean Geese, 16 White-naped Crane, and 24 Whooper Swan.
Bird News from Chung-yu Chiang in Taiwan
Chung-yu Chiang & I-fan Cheng of the Taiwan Wader Study Group mailed us with the details of a Korean-flagged Turnstone seen in Taiwan.
Date and time of the Observation: 2002/10/22.
Location:Han-Pao, Changhwa, Taiwan (24deg 2min 0sec N, 120deg 21min 0sec E).
Plumage: Non-breeding plumage
Marking: Right: Tibia (White Colour flag) / Tarsus (Orange Colour flag); Left: Tibia (Nothing) / Tarsus (Metal Ring)
Copyright 2002 - present
http://www.birdskorea.org
all rights reserved
Birds Korea 1108 Ho, 3 Dong, Samick Tower Apt., 148-22, Namcheon-Dong, Su-Young-Gu
Busan, 618-762 Republic of Korea