Birds Korea's Bird News July 2013
July
Hot (typically maxima above 25°C, and sometimes reaching 34°C) and humid, with occasional storms and heavy rains associated with southern-tracking typhoons.
Young Japanese and White Wagtails can be found begging food on streams and rivers in the East and southeast. Juvenile Chinese Egrets and Eastern Oystercatchers are on north-west tidal-flats, in some areas feeding alongside summering Saunders's and Mongolian Gulls. Chinese Sparrowhawks are on telegraph poles in rice-fields throughout the country. Black-naped Orioles, Vinous-throated Parrotbills and parties of tits, are found in almost all woodland areas. By the end of July the first returning shorebirds arrive, with large numbers of Far Eastern and Eurasian Curlews at Ganghwa and the Geum Estuary.
"Southern breeders" in recent years have included Pheasant-tailed Jacana, White-breasted Waterhen and Greater Painted Snipe. In 2006 an early typhoon brought Korea's first Bridled Tern, to Jeju island.
(The following records are a compilation of our own sightings and records sent in by other observers. As well as being posted on the Birds Korea website(s), selected records are also forwarded to other Korean-language birding websites; records of threatened species are arranged and forwarded to Birdlife International and national authorities when appropriate; flag images and records are passed to bodies responsible for their coordination throughout the flyway; and all records sent to us are used to compile annual reports and to support the evolving understanding of the status of many of Korea's birds.)
Bird News from Spike Millington
Songdo, July 28
Checked the Gojan mudflats at high tide on a wet and windy day, but the water was up to the wall, leaving no roosting areas for shorebirds. So I checked the University area, which is no longer tidal due to ongoing reclamation. There were quite a few shorebirds, including 200 Eastern Curlew and 160 Eastern Oystercatchers. The visibility was poor though, so I went again in the late afternoon. Still grey and overcast (what is with all this crappy weather!) but counted 250 Black-tailed Godwits, 200 Dunlin, 200 Red-necked Stints, 150 Great Knots, with 8 Red Knots, my first for Songdo. Nearly all these birds were adults and mostly still in summer plumage. Does this mean a poor breeding season, or is it the normal start of return passage? Quite a few Terek Sandpipers and Greenshanks were scattered in amongst these birds. There weren't any Curlews though, so these birds must have been feeding elsewhere.
Bird News from Nial Moores
Igidae, July 24
In rather hot (30C), humid and hazy conditions, a quick late afternoon trip out to Igidae. This was both to look for early signs of autumn and also to test out my new "long-loan" scope: the Swarovski ATX 30-70x95.  While there were many insects and rather few birds, in one hour out to sea >200 Black-tailed Gull went south, along with three Streaked Shearwater.  In woodland, highlights included excellent views of several juvenile Daurian Redstart and Eastern Great Tit, and a Japanese Bush Warbler heard (probably a local breeder), while in the "harbour" area, single juvenile Grey Heron, two modesta Great Egret (one with a pale yellow strip on the tarsus), and calls heard of both a Common Sandpiper and a group of Terek Sandpiper (first of the autumn here). And the scope?  Both for close and long-range viewing and also for simple point-and-shoot digiscoping, it was absolutely fantastic!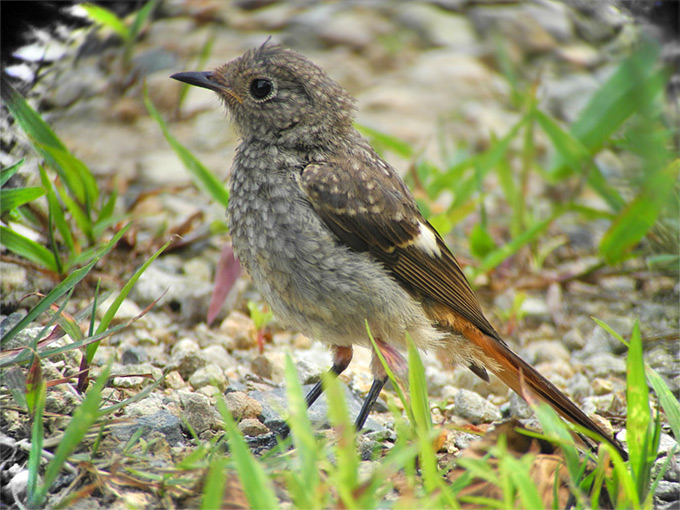 Juvenile Daurian Restart Phoenicurus auroreus, © Nial Moores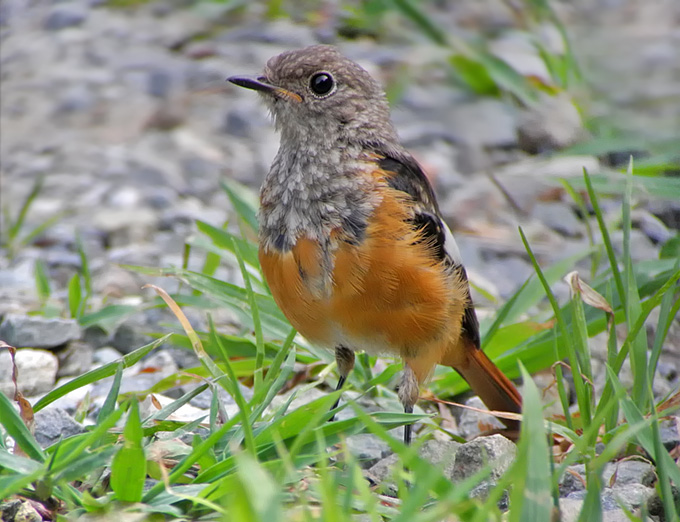 Juvenile Daurian Restart Phoenicurus auroreus, © Nial Moores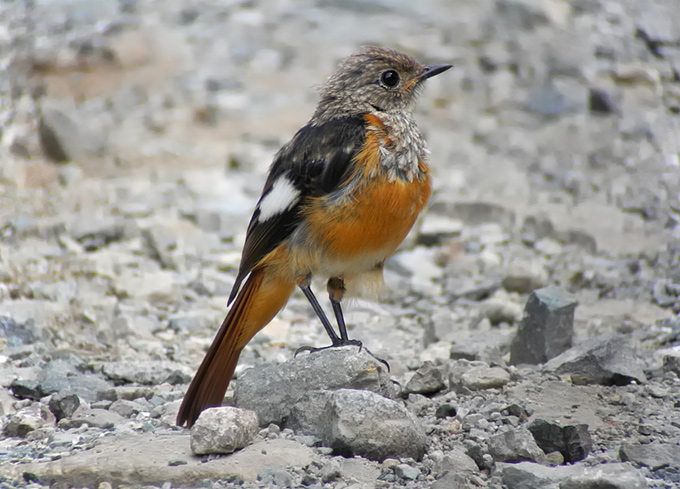 Juvenile Daurian Restart Phoenicurus auroreus, © Nial Moores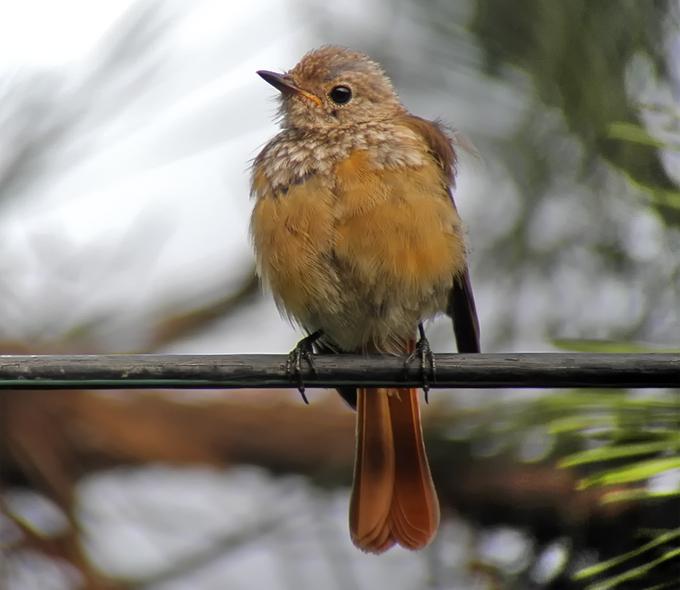 Juvenile Daurian Restart Phoenicurus auroreus, © Nial Moores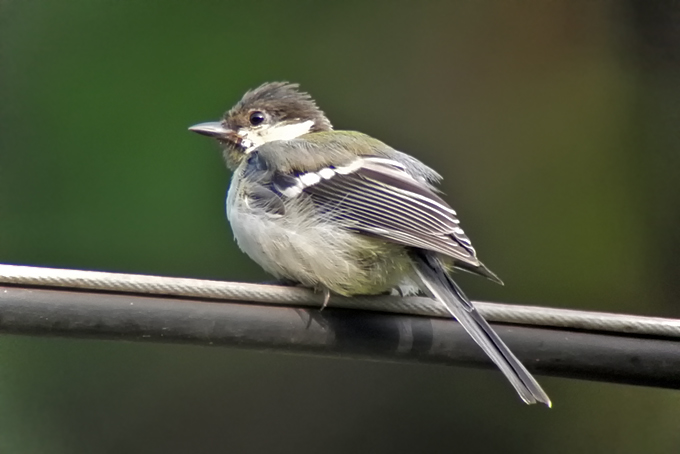 Juvenile Eastern Great Tit Parus minor, © Nial Moores
Bird News from Spike Millington
Song-Do, July 21
Just back from travels in USA and Europe, I popped down to the University area in Songdo to check on the Black-winged Stilts. When I left in early June, one male Stilt had two females on nests on small islands in the ponds of the reclaimed land. I suspect one nest failed, but yesterday one juvenile bird indicated that the other nest had been successful. A quick look at the mudflats revealed quite a few waders, notably 250 Black-tailed Godwits, nearly all in summer plumage and 60 Eastern Oystercatchers. A group of 85 Black-faced Spoonbills were also present, along with about 300 Great Cormorants.
At high tide at Gojan with Judit Szabo, the Godwits were still present, along with c. 400 Terek Sandpipers, 200 Eastern Curlew, 50 Dunlin, 50 Grey Plover and a few Great Knots, Ruddy Turnstones and Whimbrels. The Tereks typically peak at this time and numbers will fall off rapidly soon. However, the Black-tailed Godwits will hang around until October, often feeding the "fresh!" water of Namdong Reservoir, where yesterday there were 70 Greenshanks and 20 Wood Sandpipers.
Belated Bird News from Yoli Park
Busan, May 13 – 22
Two birders from Japan told me that they couldn't make it this year to Busan, so I volunteered to go in their place in May. For nearly two weeks I stayed at Taejongdae, getting up at 4:30am each morning, and hiking to the watch point at the Observation Deck on the southernmost tip of the island of Yeongdo-gu. Along the way, I could hear an Oriental Turtle Dove, Eastern Great Tit and the lazy cry of a Large-billed Crow. I get to the watch point, and begin as soon as I get there to keep an eye out for Oriental Honey Buzzards, the target of my study. The mission was to record all the ones I see for those (almost) two weeks in order to gather data for the Asian Raptor Research & Conservation Network (ARRCN). Each day I would record the raptors I had seen, how many, at what time, as well as the weather conditions: temperature, wind speed, pressure, and cloud cover. My results can be seen at: http://www5b.biglobe.ne.jp/~raptor/Korea2013spring.html.
Other birds that I would see while buzzard watching were: Black-naped Oriole, Osprey, Brown-eared Bulbul, Eurasian Magpie, Pygmy Woodpecker, Vinous-throated Parrotbill, Daurian Redstart, Black-tailed Gull, Oriental Dollarbird, Blue Rock Thrush, Barn Swallow, Japanese Bush Warbler, Eurasian Jay, and Arctic Warbler. There was also a possibly mated pair of Peregrines and Black Kites.
For the final three days, while walking on the path to head back after I was finished at around 11:30am, I wondered why there were two men staring intently at the foliage scattered on a wall, with cameras. At one time, one of the men actually climbed up the slope a little and peered closely. Obviously there was something interesting going on, but I could never tell what it was. Until the last day, when they now had a camera with a telephoto lens, up on the slope, a foot away from a log (totally missing the point of what that kind of lens is for), with two more cameras that they held pointed at that fixed point. I saw now, that they had been and were photographing a two adult, three chick, Japanese White-eye family. The adults were trying to feed their chicks, but it was unfortunately and painfully obvious that they were not happy with the presence of strangers and their equipment watching them so closely. I was frustrated and helpless.
I don't know the outcome of that bird family and those…photographers. I just hope the chicks got fed well, grew up quickly, and got out of there as soon as they could.
Bird news from Subhojit Chakladar, Bradlee Sulentic and Jason Loghry
Seosan, July 13
Starting at the crack of dawn amidst heavy rain, we reached Seosan lake A just as the rain had abated and a nice breeze brought some respite from the humidity. Encouraged by the relatively good condition of the track, we started by scanning a flock of Little Terns busy feeding. Scanning the birds which were more than a 100m away, all 3 of us stumbled upon a single Whiskered Tern and a Common Tern. In the meantime, the local insect population (especially the spiders) seemed to have developed a great liking for us! There were good numbers of Great, Intermediate, Little and Cattle Egrets in the surrounding rice fields. Further up the lake, we encountered 16 Black-tailed Godwits feeding on one of the sandbars. Nearby there were at least 13 Far Eastern Oyestercatchers, 12 Dunlins, 2 Grey Plovers and 3 Red-necked Stints. In the trees and reeds around the lake, large numbers of Black-crowned Night Herons were spotted, many of them juveniles. We also spotted a couple of Bean Geese. It was quite unusual to see a species we normally see in the winter. 3 Black-winged Slilts in gorgeous breeding plumage graced the main stream running into the lake.
As the day progressed, we began intensively scanning the reed beds for bitterns. The first success was in form a single Yellow Bittern, which gave good views. More followed, some of them quite close and easy to see, some of them more distant only offering fleeting glimpses as they flew over and plunged into the reeds. The highlights of the day came from the same reservoir north of the lake. At first a pair of Pheasant-tailed Jacanas on the lily pads. Though rather distant, it was an absolute pleasure to look at these handsome birds in their eye popping plumage. The second highlight required some patient scanning but in the end we were rewarded with good views of 2 (or probably 3) Von Schrenck's Bitterns. The reservoir also had Coot, Moorhen, Great Crested and Little Grebe and Oriental Reed Warblers. A Common Cuckoo was also heard. Buoyed by the 2 highlights in quick succession, we searched in vain for watercock. Speaking to one of the local farmers, who seemed to recognize the bird, we learned that though they used to frequent the fields in the past, they have been absent in the recent years and mentioned the increased use of pesticides.
In spite of the sweltering heat and spells of rain, it was a great day of birding with 54 species spotted.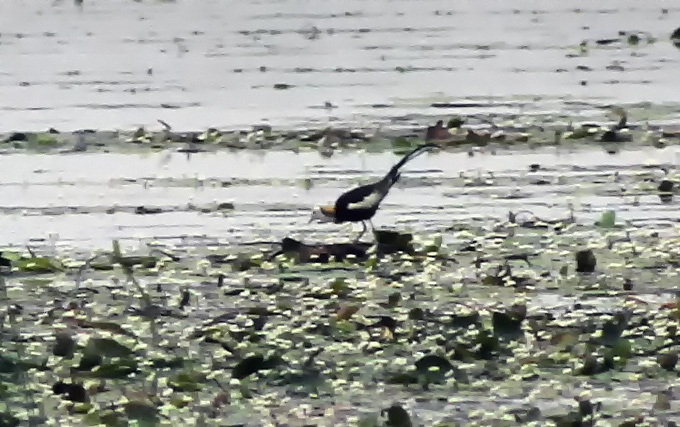 Pheasant-tailed Jacana Hydrophasianus chirurgus, © Subhojit Chakladar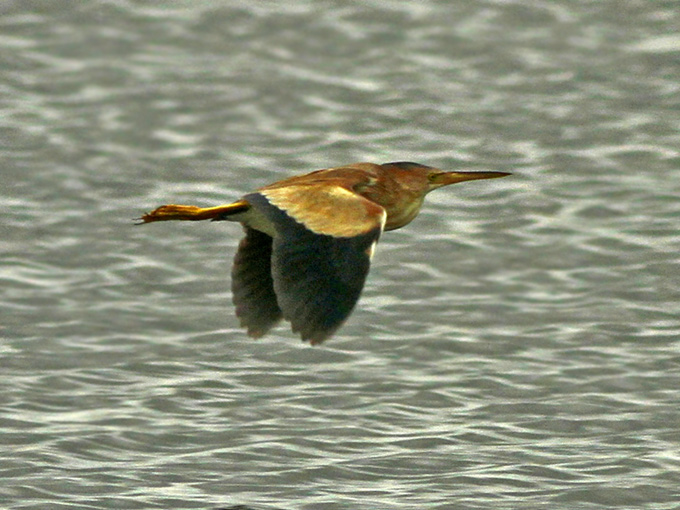 Yellow Bittern Ixobrychus sinensis, © Subhojit Chakladar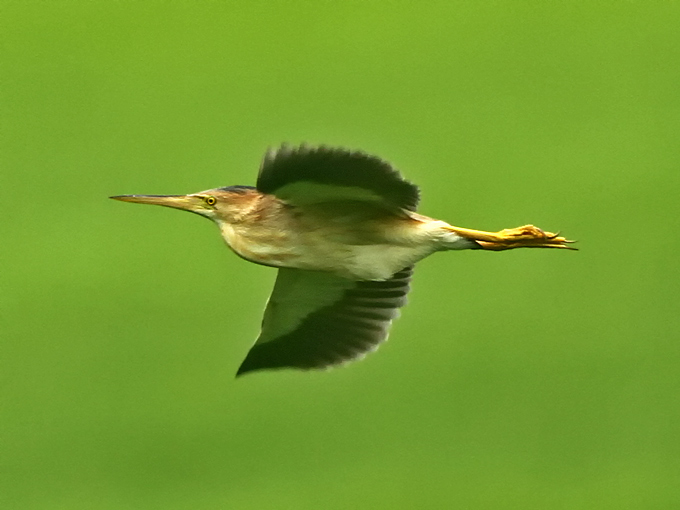 Yellow Bittern Ixobrychus sinensis, © Subhojit Chakladar
Yellow Bittern Ixobrychus sinensis, © Jason Loghry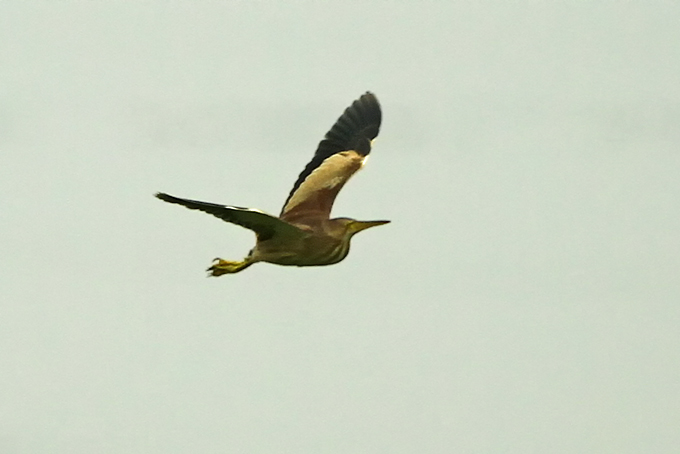 Von Schrenck's Bittern Ixobrychus eurhythmus, © Subhojit Chakladar
Von Schrenck's Bittern Ixobrychus eurhythmus, © Subhojit Chakladar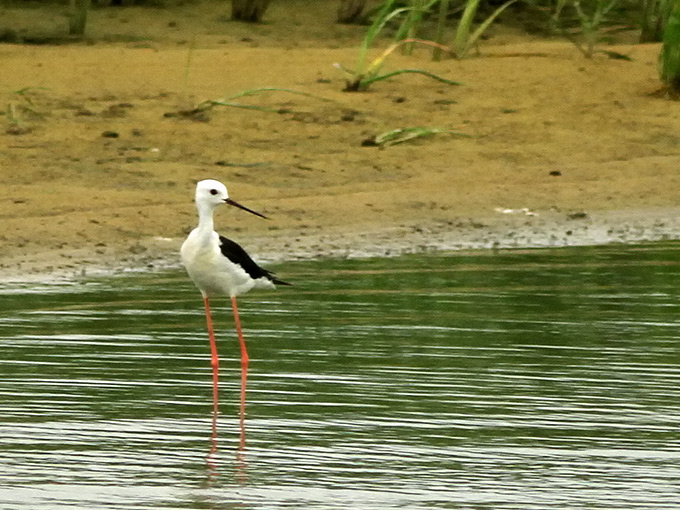 Black-winged Stilt Himantopus himantopus, © Subhojit Chakladar
Copyright 2002 - present
http://www.birdskorea.org
all rights reserved
Birds Korea 1108 Ho, 3 Dong, Samick Tower Apt., 148-22, Namcheon-Dong, Su-Young-Gu
Busan, 618-762 Republic of Korea