Birds Korea's Bird News June 2013
June
Often hot (temperatures up to 30°C or more inland) and humid, with very heavy rains some years by mid-month.
By early June, Yellow and the rare Schrenk's Bittern are breeding in the least disturbed reed-beds, and Watercock give their (slightly comical) gulping calls in a few rice-field areas. Nesting activity in Black-faced Spoonbill and Chinese Egret colonies peaks, and forest nesters are still vocal, especially in the first half of the month. At Gwangneung, typical species include 4 species of woodpecker, Ruddy Kingfisher, Yellow-rumped Flycatcher and Mandarin Duck, while on the south coast at Geoje Island Pale Thrush, Blue-and-white Flycatcher and Yellow-throated Bunting predominate. Black Woodpigeon nest on Gageo and other islands and Styan's Grasshopper Warbler are widespread on small islets. Although not usually considered a month for migration, June has nevertheless provided some national firsts in recent years, with a Lesser Coucal in 2005, Malayan Night Heron in 2006, and a Roseate Tern at the Nakdong estuary in 2008.
(The following records are a compilation of our own sightings and records sent in by other observers. As well as being posted on the Birds Korea website(s), selected records are also forwarded to other Korean-language birding websites; records of threatened species are arranged and forwarded to Birdlife International and national authorities when appropriate; flag images and records are passed to bodies responsible for their coordination throughout the flyway; and all records sent to us are used to compile annual reports and to support the evolving understanding of the status of many of Korea's birds.)
Bird news from Jason Loghry and Mike Friel
Goseong, Geoje and Uiryeong, June 29 and 30
Starting out early on Saturday from near Jinju, we went to the Goseong Ruddy Kingfisher site, where it had recently been seen by MF. There was no sign of it this time, but we saw a Northern Boobook, which moved about warily in the treetops.
We then went on to Geoje Island in search of Fairy Pitta. We spotted a handsome male Tiger Shrike in a treetop near the coast; on looking closer, we saw it was sitting with a juvenile, which later flew away. We checked out two possible Fairy Pitta sites to no avail, but at the second there was a pair of nesting Black Paradise Flycatchers known to JL. We observed them both as they passed surreptitiously back and forth. On our return to Jinju, we paused at a small river and watched a Striated Heron deftly catch two fish in a single lunge; it proceeded to swallow them one after the other.
On Sunday, we went back to the Goseong site, and this time heard the Ruddy Kingfisher calling, though it remained unseen. Driving over the ridge at this site, we started to descend a well-wooded valley road. From the car we heard a Black Paradise Flycatcher calling, and soon after a male displayed at the roadside for several minutes, clearly defending a nearby nest. We closely observed a singing male Blue-and-white Flycatcher at the same spot, along with brief views of a juvenile.
From there we went on to Uiryeong to see another Northern Boobook known to MF. This required a steep climb, but we were rewarded with excellent views, as this individual was much more confiding than the one in Goseong and posed proudly in the treetops.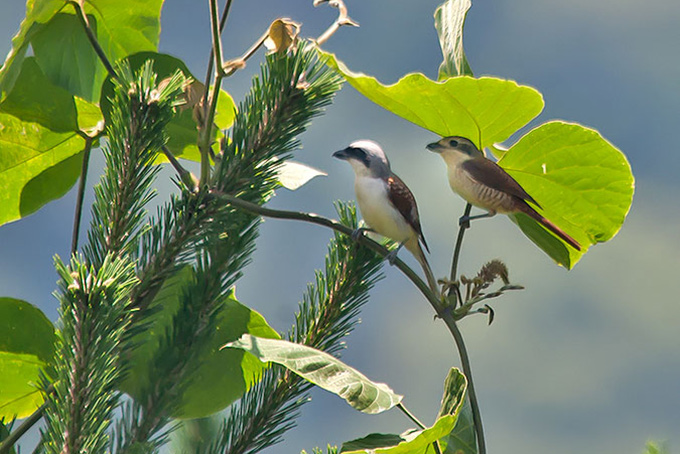 Adult and juvenile Tiger Shrike Lanius tigrinus, © Mike Friel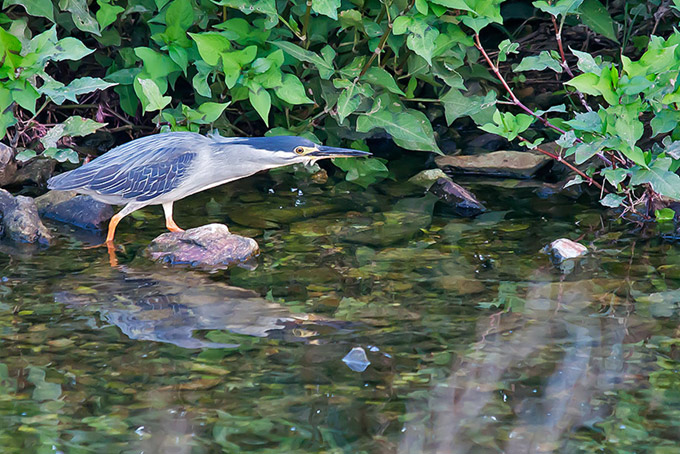 Striated Heron Butorides striatus, © Mike Friel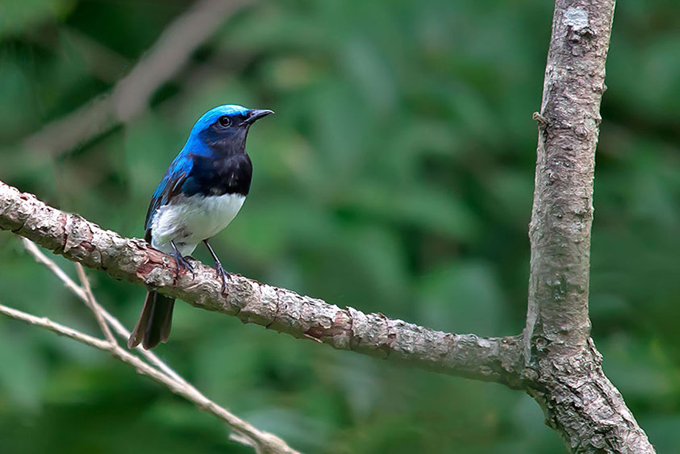 Blue and White Flycatcher Cyanoptila cyanomelana, © Mike Friel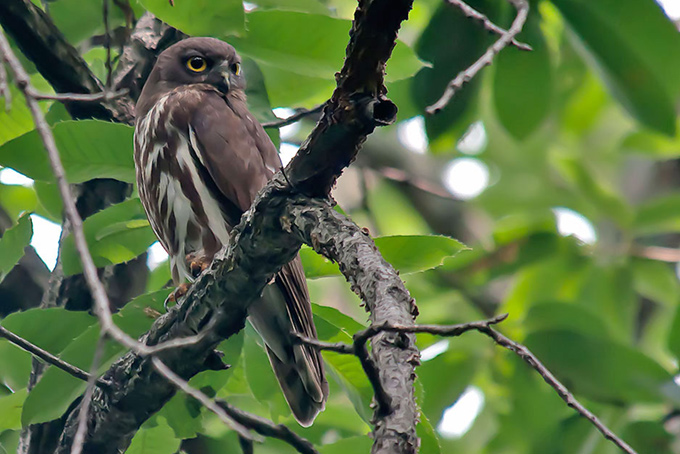 Northern Boobook Ninox japonica, © Mike Friel
Bird news from Tim Edelsten
West Yongjeong, June 30
My survey continued on foot this afternoon, in sweltering summer heat that has not yet been broken by rain. June is definitely the quietest month birdwise in this country, and today only 35 species, although including a couple of noteworthy surprises: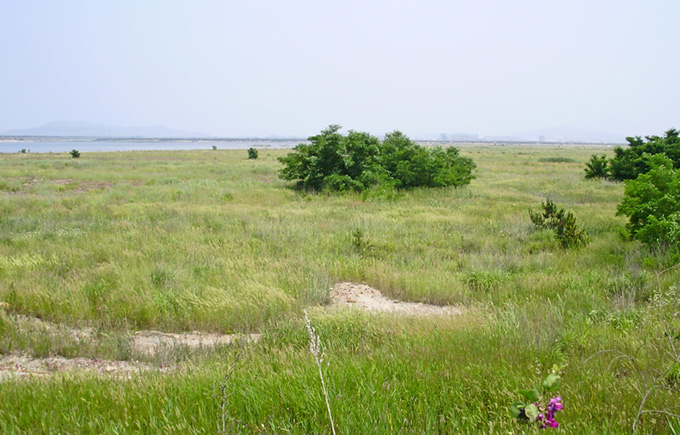 Western Reservoir area, © Tim Edelsten
Common Pheasant Phasianus colchicus. A male calling near Wangsan.

Gadwall Anas strepera. A pair on the western reservoir. There are very few previous summer records of this species.

Gadwall Anas strepera, © Tim Edelsten

Falcated Duck Anas falcata. Four males in breeding plumage. There are less than ten previous summer records of this species.

Falcated Duck Anas falcata, © Tim Edelsten

Eastern Spot-billed Duck Anas zonorhyncha. About 50 adults, and a creche with 12 ducklings on the western reservoir.

Black-faced Spoonbill Platalea minor. Three on the mudflat at Yongyudo.

Striated Heron Butorides striata. One at Wangsan, one on the western res., and two at Yongyu.

Chinese Pond Heron Ardeola bacchus. Two, frequently flying to and from trees on the hillside, suggestive of breeding. This species is rare in summer and has only scracely and irregularly been noted breeding.

Eastern Cattle Egret Bubulcus coromandus. Two in ricefields at Yongyu.

Grey Heron Ardea cinerea. Probably 80 in total at all areas visited.

Great Egret Ardea alba. Common on all types of wetland.

Intermediate Egret Egretta intermedia. Six hunting on the mudflat, other individuals on the shrimp ponds and elsewhere.

Little Egret Egretta garzetta Several on the mudflat and elsewhere. Estuary would appear to be the prefferred habitat for all types of egret.

Chinese Egret Egretta eulophotes. At least five on the mudflat at Yongyu.

Great Cormorant Phalacrocorax carbo. Over 70 roosting on the western reservoir.

Temminck's Cormorant Phalacrocorax capillatus. Two or three on the reservoir-which is adjacent to open sea- identified by more extensive white cheek-patches.

Eurasian "Far Eastern" Oystercatcher Haemotopus ostralegus. A pair with two chicks on the reservoir.

Little Ringed Plover Charadrius dubius. Six or seven on the saltpans at Yongyu, including two juveniles.

Kentish Plover Charadrius alexandrinus. A pair on the shrimp ponds and another adult showing territorial breeding behaviour near the reservoir.

Black-tailed Gull Larus crassirostris. Several hundred. No apparent fledglings yet.

Little Tern Sternula albifrons. Several frequenting the reservoir.

Oriental Turtle Dove Streptopelia orientalis. Several.

Great Spotted Woodpecker Dendrocopus major. One drumming and calling at Yongyu.

Black-naped Oriole Oriolus chinensis. Several.

Eurasian Jay Garrulus glandiarus. One bathing at Yongyu.

Eurasian Magpie Pica pica. Several.

Carrion Crow Corvus corone. One with short chatty "kra-kra-kra-kra" calls.

Eastern Great Tit Parus minor. Several. Parents appear to emit a low "seeeuw" call when returning to feed fledglings.

Eurasian/ "Far Eastern" Skylark Alauda arvensis/ japonica. One or two apparently breeding on the bare ground beside the reservoir.

Brown-eared Bulbul Hypsipetes amaurotis. Commonplace.

Barn Swallow Hirundo rustica. Surprisingly scarce. One over the reservoir and two at Yongyu-do.

Long-tailed Tit Aegithalos caudatus. One at Wangsan.

Zitting Cisticola Cisticola juncidis. Two in reeds near the reservoir.

Vinous-throated Parrotbill Sinosuthera webbiana. Two or three at Wangsan.

Eurasian Tree Sparrow Passer montanus. Several.

Grey-capped Greenfinch Carduelis sinica. A pair at Yongyu.

Bird news from Matt Poll and Mike Balfour
Jeju, June 23

It's great to be back on Jeju, although a lot of construction/destruction has been going on over the past two years. At a site on Halla's southern slope formerly home to Fairy Pitta, noisy construction to widen a path for 'Olle trail' hikers, coupled with an idiotic speaker blaring music in a once peaceful forest were the only sounds heard today. Nearby, thankfully there remains a quiet corner of habitat still productive for Black Paradise Flycatcher, with two males seen squabbling, while a female was quite confiding. It came within 10 feet of us, calmy watching the watchers for several amazing minutes. Also seen in this area were a female Yellow-rumped Flycatcher, a noisy Peregrine Falcon, Yellow-throated Bunting, plentiful Japanese White-eye and Grey-capped Greenfinch, several Lesser Cuckoo, a White Wagtail, Long-tailed Tits, and several comically-clumsy Common Pheasant chicks.

Back in Seogwipo's harbour, a stately Pacific Reef Heron stalked prey surprisingly close to a large number of tourists. Also worth mentioning was the Fairy Pitta I heard calling from a small grove of trees right outside my window at 3:30 a.m. two weeks ago! I'm assuming it was making its way to the nearby southern slope of Mount Halla.

Black Paradise Flycatcher habitat, © Matt Poll

Male Black Paradise Flycatcher Terpsiphone atrocaudata, © Matt Poll

Female Black Paradise Flycatcher Terpsiphone atrocaudata, © Matt Poll

Common Pheasant Phasianus colchicus chick, © Matt Poll

Pacific Reef Heron Egretta sacra, © Matt Poll

Bird News from Tim Edelsten
Yongjeong, June 22

New tourist maps show every inch of this island as either completed golf course, industrial park, or apartment complex. Thankfully in reality some of these sites are as yet undeveloped, but its obviously only a matter of time. After an hour at the southern roost site I was forced to quit as my scope has stopped working, however in that short time I saw the following:

Eastern Spot-billed Duck Anas zonorhyncha several pairs on the freshwater.

Black-faced Spoonbill Platalea minor Eight flew in from the mudflat.

Black-faced Spoonbill Platalea minor, © Tim Edelsten

Striated Heron Butorides striata A pair was hanging around the freshwater outlet then flew over the sea when the tide came in.

Grey Heron Ardea cinerea Four or five.

Great Egret Ardea alba modesta Several on the freshwater.

Intermediate Egret Egretta intermedia One.

Chinese Egret Egretta eulophotes One over the mudflat.

Great Cormorant Phalacrocorax carbo Five on the sea and the freshwater.

Little Ringed Plover Charadrius dubius A breeding pair on the freshwater.

Black-tailed Gull Larus crassirostris 500+, mostly immatures. This species seems to need freshwater for bathing.

Eurasian Magpie Pica pica. Two.

Eurasian Tree Sparrow Passer montanus. Several.

White Wagtail Motalla alba leucopsis Two parents feeding young.

Bird News from Jason Loghry
East of the Nakdong, June 17 - 20

Throughout the course of last week, I spent a few of my afternoons on the east bank of the Nakdong River. As many of you may know, the landscape has been subjected to numerous changes, many of which are ongoing, most of which give public access to these once inaccessible reed beds, marshes, and shallow freshwater ponds.

On one hand, it is exciting to explore these new parks in hopes of finding out more about the native species that this rich habitat support. On the other hand, it's easy for me to feel uncomfortable considering the added pressure contributed simply by my presence. Searching for Yellow and Von Schrenck's Bittern, which I believe were once more easily seen near the estuary and just upstream, again I found myself unsuccessful.

Species of highlighted interest include:

Chinese Pond Heron Ardeola bacchus, two observed together on June 19; one in breeding plumage, the other in "non-breeding type" plumage

Black-winged Stilt Himantopus himantopus, one observed in a marsh adjacent to a reclaimed area currently under construction

Long-tailed Shrike Lanius schach, one observed on the evening of June 20; first summer record on the mainland?

Common Cuckoo Cuculus canorus, on different dates, two seen in flight near reed beds

Korean Water Deer H. i. argyropus, doe with fawn

Amur Leopard Cat P. b. euptilurus

Non-breeding type Chinese Pond Heron Ardeola bacchus, © Jason Loghry

Long-tailed Shrike Lanius schach, © Jason Loghry

Other Species observed include:

Common Pheasant Phasianus colchicus, several seen with chicks

Mandarin Duck Aix galericulata, a few seen on the same shallow ponds, appearing to be in moult

Spot-billed Duck Anas zonorhyncha

Eurasian Coot Fulica atra

Common Moorhen Gallinula chloropus

Black-crowned Night Heron Nycticorax nycticorax, most common of the small herons

Striated Heron Butorides striata

Grey Heron Ardea cinerea

Great Egret Ardea alba

Common Kestrel Falco tinnunculus

Eurasian Hobby Falco subbuteo, 4 observed on June 17, after a day of heavy rain; hundreds of dragonflies present

Little Ringed Plover Charadrius dubius

Rufous Turtle Dove Streptopelia orientalis

Pacific Swift Apus pacificus, 50+ near dusk on June 17

Common Kingfisher Alcedo atthis

Bull-headed Shrike Lanius bucephalus

Large-billed Crow Corvus macrorhynchos

Barn Swallow Hirundo rustica

Japanese Bush Warbler Horornis diphone

Oriental Reed Warbler Acrocephalus orientalis

Far Eastern Cisticola Cisticola juncidis, several heard singing throughout the park

Vinous-throated Parrotbill Sinosuthera webbiana

White-cheeked Starling Spodiopsar cineraceus

Eurasian Tree Sparrow Passer montanus

White Wagtail Motacilla alba

Selected Bird News from Drs. Rainer Ertel, Peter Berndt and Nial Moores
Various West Coast Locations, June 9 - 13

A quick birding trip was taken along the west coast, visiting Seosan (June 9th and 10th, and again briefly on 12th); Heuksan Island and adjacent sea-areas (June 10th-12th); and Song Do, Incheon (June 13th).  Selected highlights included:

Mallard Anas platyrhynchos. One at Song Do on 13th.

Northern Shoveler Anas clypeata. Two or more likely three males were at Song Do on 13th (there are fewer than ten previous records of over-summering birds known to Birds Korea).

Common Pochard Aythya ferina. One was at Song Do on 13th (there are fewer than ten national records of over-summering birds known to Birds Korea, with most such records in recent years).

Greater Scaup Aythya marila One was at Song Do on 13th (as with the above two species, there are fewer than ten national records of over-summering birds known to Birds Korea).

Arctic Loon Gavia arctica. One (apparently in rather poor condition) was in the main harbour on Heuksan Island on 11th.  There are very few previous mid-summer records known to Birds Korea, though one was seen off Daejin, Gangwon Province by Dr. Shim Kyu-Sik and others on June 10th 2012; and single Arctic Loon were present in mid-May this year at Boryeong and Taean.

Arctic Loon Gavia arctica, © Nial Moores

Flesh-footed Shearwater Puffinus carneipes. At least ten were seen (mixed in with small groups of Streaked Shearwater Calonectris leucomelas) off Heuksan on 10th.

Flesh-footed Shearwater Puffinus carneipes, © Dr. Rainer Ertel

Streaked Shearwater Calonectris leucomelas, © Dr. Rainer Ertel

Swinhoe's Storm Petrel Oceanodroma monorhis. At least 100 (and possibly rather more) were seen off Heuksan on 10th; and seven were seen between Bigeum and Heuksan from the commercial ferry on 10th and 12th.

Great Crested Grebe Podiceps cristatus. Probably ten were present at Seosan, where presumably breeding, on 9th and 10th.

Great Crested Grebe Podiceps cristatus, © Nial Moores

Black-faced Spoonbill Platalea minor. At least 80 were present at the main breeding island in Song Do on 13th, including 20-30 (and possibly rather more) young of the year.

Black-faced Spoonbill Platalea minor, © Nial Moores

Black-faced Spoonbill Platalea minor, © Nial Moores

Yellow Bittern Ixobrychus sinensis. Probably 20 were present at Seosan on 9th and 10th, including several displaying males.

Yellow Bittern Ixobrychus sinensis, © Nial Moores

Yellow Bittern Ixobrychus sinensis, © Dr. Rainer Ertel

Von Schrenck's Bittern Ixobrychus eurhythmus. Fast-declining in the ROK (largely due to infrastructural over-development and because of disturbance by recreational fishers).  One was heard on 9th and a male was feeding in the open at Seosan on 10th.

Von Schrenck's Bittern Ixobrychus eurhythmus, © Nial Moores

Von Schrenck's Bittern Ixobrychus eurhythmus, © Nial Moores

Von Schrenck's Bittern Ixobrychus eurhythmus, © Dr. Rainer Ertel

Watercock Gallicrex cinerea. A male (not fully in breeding plumage) was seen at Seosan on 10th and was heard there again on 12th.

Black-tailed Godwit Limosa limosa melanuroides. A flock of 90+ (92 were counted) was at Song Do on 13th. There are fewer than ten mid-summer records known to Birds Korea (most at Seosan).

Black-tailed Godwit Limosa limosa melanuroides, © Nial Moores

Saunders's Gull Chroicocephalus saundersi. About 20 adults were seen at Song Do on 13th.

Mongolian Gull Larus mongolicus. Although no formal count was attempted, probably 70 adults, three immatures and probably more than 20 young of the year were on the Song Do breeding island on 13th.

Songdo breeding island, © Nial Moores

Mongolian Gull Larus mongolicus chicks, © Nial Moores

Common Tern Sterna hirundo. At least ten and possibly as many as 15 (all believed to be longipennis) were present at sea off Heuksan Island on 10th.  The date and that some of these were not in full breeding plumage likely suggests over-summering rather than late migration.

South Polar Skua Stercorarius maccormicki. One was seen excellently as it preened on a buoy off Heuksan on 10th. Unlike most birds seen in Korean waters, this was a pale-end individual.  Hand-held images taken through a coolpix (by NM) will soon be followed by much more professional images (taken by RE)…

South Polar Skua Stercorarius maccormicki with Heuksan Island in the background, © Nial Moores

South Polar Skua Stercorarius maccormicki, © Nial Moores

South Polar Skua Stercorarius maccormicki, © Dr. Rainer Ertel

Pomarine Skua Stercorarius pomarinus. One was seen distantly from the commercial ferry between Bigeum and Heuksan on 10th.

Parasitic Jaeger Stercorarius parasiticus. One (perhaps a third calendar year?) was seen excellently as it perched on a buoy c.15km from Heuksan Island on 10th.  Images (taken by RE) will be posted later. In recent years this has been the least-often reported of the three regularly-occurring stercorarius.

Parasitic Jaeger Stercorarius parasiticus, © Dr. Rainer Ertel

Parasitic Jaeger Stercorarius parasiticus, © Dr. Rainer Ertel

Black Wood Pigeon Columba janthina. At least one was seen (and perhaps another was heard) on Heuksan on 11th.

Common Cuckoo Cuculus canorus. Although sometimes claimed "never" to use hosts in reed-beds in Korea, a female repeatedly over-flew a reed-bed at Seosan on 12th, with a slow, gliding flight – dropping into reeds at least twice (once to perch, another time in a much denser area, in an area with several singing male Oriental Reed Warbler Acrocephalus orientalis). Images and some low quality video were taken.

Common Cuckoo Cuculus canorus, © Nial Moores

Common Cuckoo Cuculus canorus, © Dr. Rainer Ertel

Eurasian Eagle-Owl Bubo bubo. One was (unusually) perched in the open, on a telephone pole next to the road, at Seosan on 9th.

Eurasian Eagle-Owl Bubo bubo, © Nial Moores

Black Paradise Flycatcher Terpsiphone atrocaudata. At least three were heard singing (two of which were seen poorly) at the south of Heuksan Island on 11th, and one was heard singing in the north of the island, at dawn on the 12th.

Light-vented Bulbul Pycnonotus sinensis. At least three were in the north and 3+ were in the south of Heuksan Island.

Kamchatka Leaf Warbler Phylloscopus examinandus. One was heard on Heuksan Island on 11th (NM only). Mid-June records of Arctic Warbler sensu lato almost certainly refer to late migrants – as none of the three species are (known to) breed on the Korean peninsula.

Styan's Grasshopper Warbler Locustella pleskei. One was singing "lustily" in optimal breeding habitat on Heuksan Island on 11th.

Bird News from Jason Loghry
East Nakdong, June 10

Despite all the mosquito bites, this late afternoon was well-spent. First, I re-visited a site near the Nakdong River where recently I had observed Red-billed Starling. It turns out there are at least three breeding pairs at this site. Although they were nesting near a tree at a school, a few seemed bothered that I was observing them. To avoid disturbing them any more than I already had, I cut my visit short. There were plenty of Tree Sparrows to keep them company and down the road were a pair of White-cheeked Starling to keep me company.

Ambitious to find a bittern, I headed to the riverside, where I instead found quite a few juvenile Bull-headed Shrike, many singing Far Eastern Cisticola, many more singing Oriental Reed Warbler, several Barn Swallow, a few Eastern Spot-billed Duck (including one with ducklings), five Black-crowned Night Heron, a Striated Heron, a few Grey Heron, a few Common Pheasant, and a Coot.

As part of my seemingly never-ending early summer search for Von Schrenck's at the Nakdong, I spent the last hour of sunlight observing a small pond spread full of aquatic plants, bordered with reeds and tall grass. After only a few minutes, a familiar song grew from faint to loud. Suddenly, a Ruddy-breasted Crake appeared. Overwhelmed with awe, I watched and listened until it disappeared into the dusk.

Red-billed Starling Sturnus sericeus, © Jason Loghry

Red-billed Starling Sturnus sericeus, © Jason Loghry

Red-billed Starling Sturnus sericeus, © Jason Loghry

Red-billed Starling Sturnus sericeus, © Jason Loghry

Red-billed Starling Sturnus sericeus, © Jason Loghry

Juvenile Bull-headed Shrike Lanius bucephalus, © Jason Loghry

Common Pheasant Phasianus colchicus, © Jason Loghry

Ruddy-breasted Crake Porzana fusca (video grab), © Jason Loghry

Bird News from Jason Loghry with Lee Eunjae
Goeje, June 1

A short trip to Goeje turned out to be quite interesting. First birds of the day were two Ashy Minivet – or were they Ryukyu?! singing near the main road. Regretfully, I assumed Ashy after seeing some contrast between the dark crown and the grey mantle, without realizing the date was quite late. I didn't take notes nor did get a sound recording. Sigh. Big Sigh. Soon after, we drove by what seemed to be good-looking habitat – so we had a look. It was indeed. Right away we were surprised to find a Black Woodpigeon. Soon after we were greeted by a pair of Black Paradise Flycatcher.

In hopes of finding a Pitta, we moved on along the trail deeper into the woods. There were a few Pale Thrush, Black-naped Oriole, Asian Stubtail, several singing Lesser Cuckoo and a couple of singing Blue and White Flycatchers. We were startled by fierce sounding growl. It turned out to be a Wild Boar that was taking a rest just two meters from where we stood. It was probably as startled as we were. On our way out, we were very excited to see a Fairy Pitta, but only for a brief moment, then it was gone. We checked a few other places on the island, but nothing better than this first trail.

Copyright 2002 - present

http://www.birdskorea.org

all rights reserved

Birds Korea 1108 Ho, 3 Dong, Samick Tower Apt., 148-22, Namcheon-Dong, Su-Young-Gu

Busan, 618-762 Republic of Korea