Birds Korea's Bird News December 2012
December
Periods of intense cold alternate with milder spells. In the coldest winters maxima are often below freezing; in milder years (increasingly regularly) maxima often reach 10°C in Seoul: a few lingering autumn migrants can still sometimes be found as well as huge numbers of wintering waterbirds.
A great time for a winter bird tour or a couple of days in the right areas. Saunders's Gulls are widespread, while very small numbers of Relict Gulls also start to appear at a number of sites, especially in cold winters. Scaly-sided Merganser move southward onto unfrozen rivers, while numbers of Baikal Teal remain at their peak - often dispersing southward from Seosan, along with large numbers of Greater White-fronted and Thick-billed Bean Geese with the onset of subzero temperatures. Taiga Beans too can be found in the low thousands at Woopo, Joonam and in the Nakdong Estuary in the southeast, the mildest part of the mainland. Raptors include good numbers of Cinereous Vulture in the Cheorwon Basin, where they are often joined by White-tailed and even Steller's Sea Eagles, while cranes (Red-crowned, Hooded, and White-naped), also remain at key sites. Passerines include occasionally numerous Brambling, mixed flocks of Naumann's and Dusky Thrushes and in some winters large numbers of Siberian Accentor. Species such as White's and Pale Thrush, Japanese Bush Warbler, Red-flanked Bluetail and Japanese White-eye also remain in reasonable numbers on Jeju Island and in the far southeast.
Highlights in recent years have included irruptions of Chinese Nuthatch, and records of Sandhill Crane, Siberian White Crane and Cackling Goose. Recent national firsts have included Grass Owl in 2003 and Meadow Pipit in 2006, both on Heuksan Island, and Korea's first Lesser Black-backed Gull at Yubu Island in the Geum Estuary in 2008.
(The following records are a compilation of our own sightings and records sent in by other observers. As well as being posted on the Birds Korea website(s), selected records are also forwarded to other Korean-language birding websites; records of threatened species are arranged and forwarded to Birdlife International and national authorities when appropriate; flag images and records are passed to bodies responsible for their coordination throughout the flyway; and all records sent to us are used to compile annual reports and to support the evolving understanding of the status of many of Korea's birds.)
Bird News from Matt Poll
Geoje-do, December 29
A heavy snowfall overnight painted a bright new landscape around my local patch, and there was plenty of interesting bird activity, with close to 60 species seen. I saw a few personal Geoje firsts, some unexpected birds, and a lot of the birds seemed to be acting edgy and strange because of the snow. 'Hungrier' all of a sudden, maybe. I was stunned to see a Bull-headed Shrike locked in a life-or-death dogfight with a bite-sized Winter Wren, and they flew around me at close range before vanishing behind a group of trees. Also acting uncharacteristically aggressive was a reddish Eastern Buzzard that was actively cruising the fields at low level, perhaps taking advantage of how visible small birds were against the snow.
Most of the action was going on in a scrubby/reedy corner of a large set of fields. Two Little Buntings (a personal Geoje first) were confiding in a ditch, while a Zitting Cisticola and Pallas's Reed Bunting were a lot less open, skulking in the reeds. A group of 25 Skylarks, not usually seen on this side of the island, shimmered nervously through the fields as a Northern Goshawk, Eastern Buzzard, and Eurasian Kestrel took turns making low passes over the field. Also in the fields, a flock of close to 30 Chinese Penduline Tits, dozens of Buff-bellied and Olive-backed Pipits, and perhaps six Common Snipe.
On the mountain trails, several Hawfinch (also a personal Geoje first), a confiding male Red-flanked Bluetail and later at least a half-dozen females. I also ran into the resident small flock of Eurasian Bullfinch, made up of five females, a male rosacea, and a male 'griseiventris-type', which I photographed earlier in the week.
The nearby canals and especially the harbour were teeming with winter bird activity. Common and Black-headed Gulls outnumbered Black-tailed Gulls where the canal meets the harbour, and at least a hundred Great Crested Grebe formed loose rafts further out. Also on the harbour, about 60 Common Pochard, and a handful of Greater Scaup, Tufted Duck, and Common Goldeneye.
Snow on Geoje, Photo © Matt Poll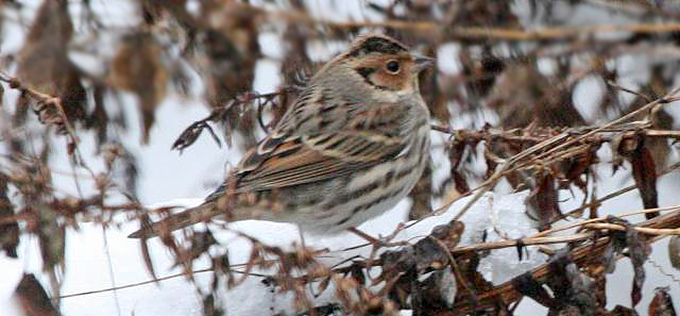 Little Bunting Emberiza pusilla, Photo © Matt Poll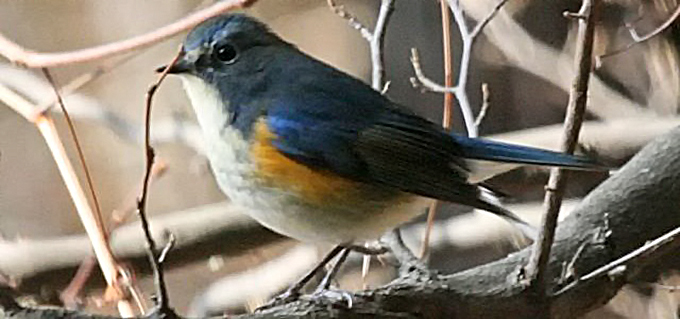 Red-flanked Bluetail Tarsiger cyanurus, Photo © Matt Poll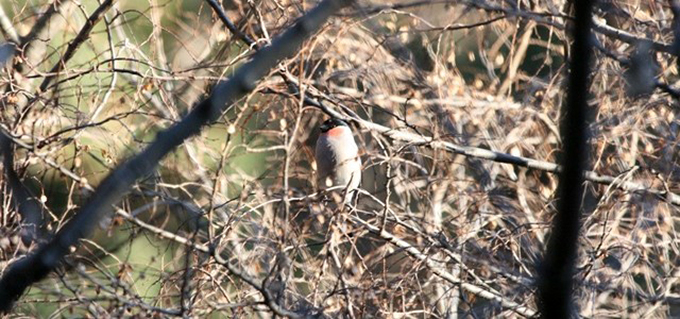 Eurasian Bullfinch Pyrrhula pyrrhula, Photo © Matt Poll
Bird News from Nial Moores, Mike Friel, Jason Loghry, and Matt Poll
Nakdong, Dadaepo, and Junam Reservoir, December 23
It was a great day of birding with friends new and old, and close to 75 species seen. A frigid, windy dawn and several great species awaited us at the Nakdong River. A distant, shimmering scope view of two Steller's Sea Eagles was a great way to start the day – their stocky and imposing presence was evident even at a distance. Also along this stretch were several Eurasian Curlew, a Eurasian Oystercatcher, and a healthy assemblage of gulls.
Closer to Dadaepo, a Light-vented Bulbul was spotted mixed in with a large flock of Brown-eared Bulbuls roiling through the treetops. This represents the first record of Light-vented Bulbul for the Busan area, more evidence of a species steadily colonizing the ROK. Dadaepo was fairly quiet, with several Eurasian Bullfinch and Pale Thrush in evidence.
At Junam, we quickly spotted nine Swan Geese, a great sight to watch as they broke through ice in the fields to feed. Also of note at Junam were nine White-naped Crane, two White-tailed Sea Eagles, and several rotund Brambling.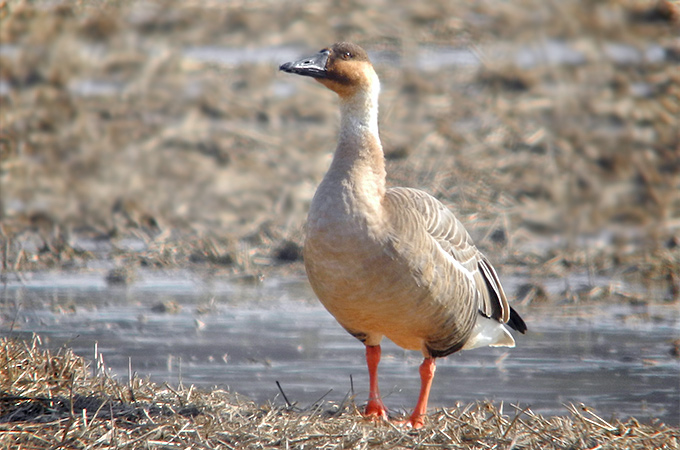 Swan Goose Anser cygnoides, Photo © Birds Korea
Bird News from Andreas Kim
Mokpo Okam-dong, December 22
Sometime it is just to go out and you find some nice birding just in front of you doorstep. Today on the little tidal stream beside our house was quite some activity to observe: 20 Gadwall, 12 Mallard and a single Vega Gull circled on the stream while a Grey Heron and a Little Egret waited at one side for the water to run out. A Little Grebe was busy diving for food. A few White Wagtails flew over several times, but only one sat down briefly (for the picture). Also seen a Blue Rock Thrush which showed two times but quickly moved back under a bridge and 3 Grey-capped Greenfinch.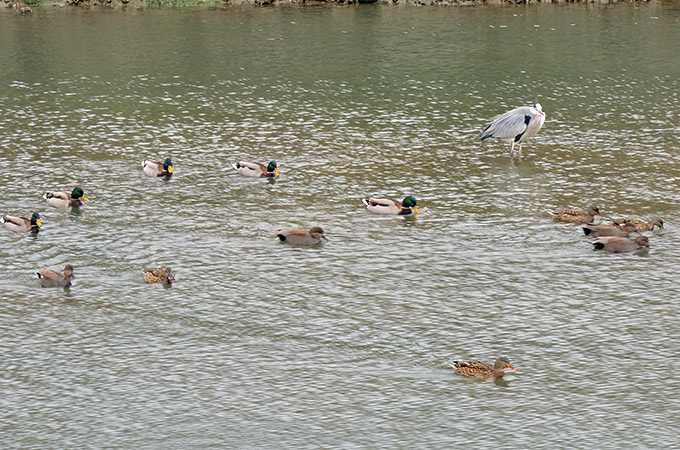 Birds on the stream, Photo © Andreas Kim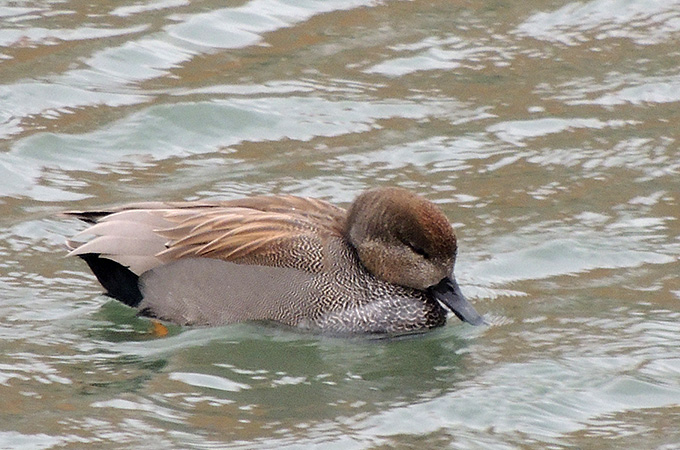 Gadwall Anas strepera, Photo © Andreas Kim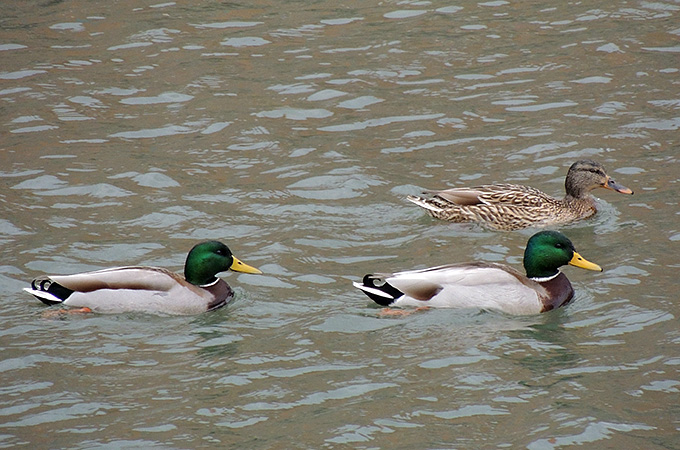 Mallard Anas platyrhynchos, Photo © Andreas Kim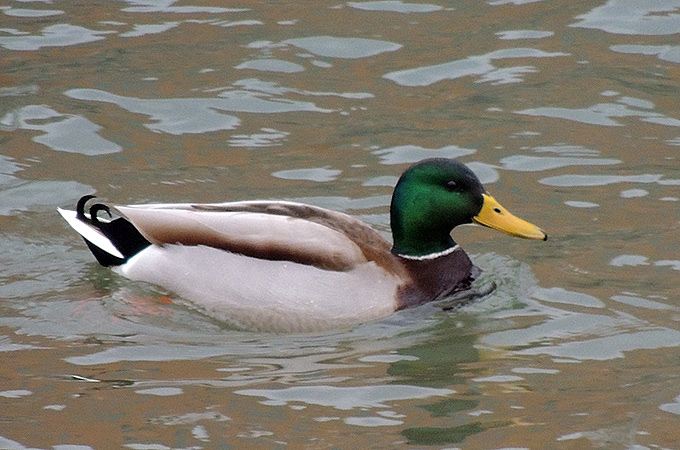 Mallard Anas platyrhynchos, Photo © Andreas Kim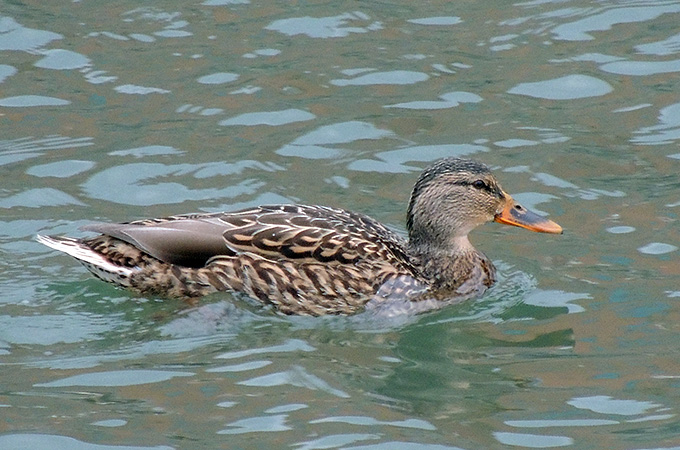 Mallard Anas platyrhynchos, Photo © Andreas Kim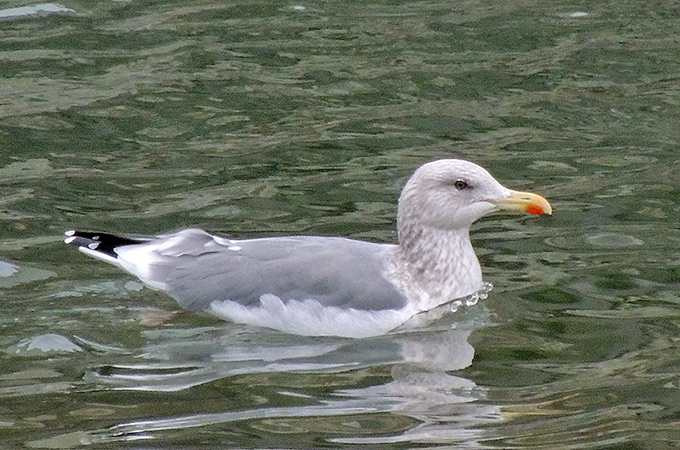 Vega Gull Larus vegae, Photo © Andreas Kim
Grey Heron Ardea cinerea, Photo © Andreas Kim
Little Grebe Tachybaptus ruficollis, Photo © Andreas Kim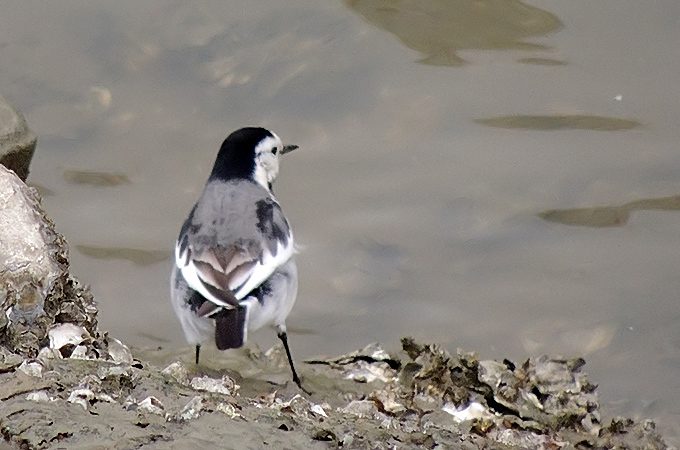 White Wagtail Motacilla alba, Photo © Andreas Kim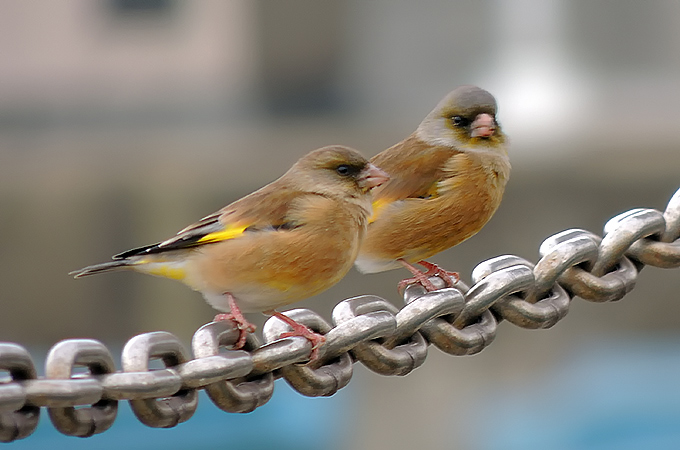 Grey-capped Greenfinch Carduelis sinica, Photo © Andreas Kim
Bird News from Andreas Kim
Kangjin Bay, December 19
The visit to the Kangjin Bay on the sunny afternoon turned out to be a very short one; even it was sunny, a very strong an very cold wind made it very uncomfortable staying outside. In addition the former parking lot is now a construction site. Along the end of the bay for about 2km there had been build a paved bicycle road which had been just a gravel path with nice "bushy" vegetation along it. In total about 350 Whooper Swans were seen, close to the parking lot also 23 Eastern Spot-billed Duck and a single Grey Heron. At the end of the bay (about 1km away) more unidentified ducks were seen with the telescope.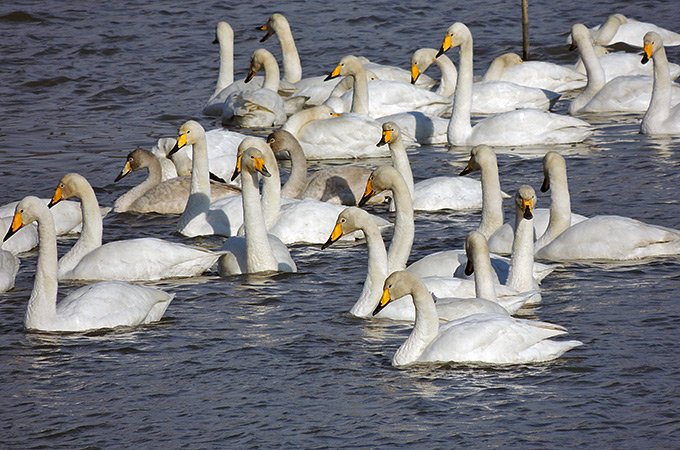 Whooper Swan Cygnus cygnus, Photo © Andreas Kim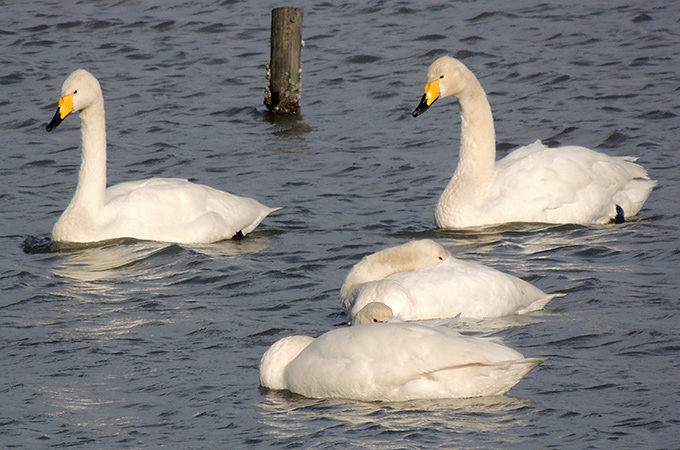 Whooper Swan Cygnus cygnus, Photo © Andreas Kim
Whooper Swan Cygnus cygnus, Photo © Andreas Kim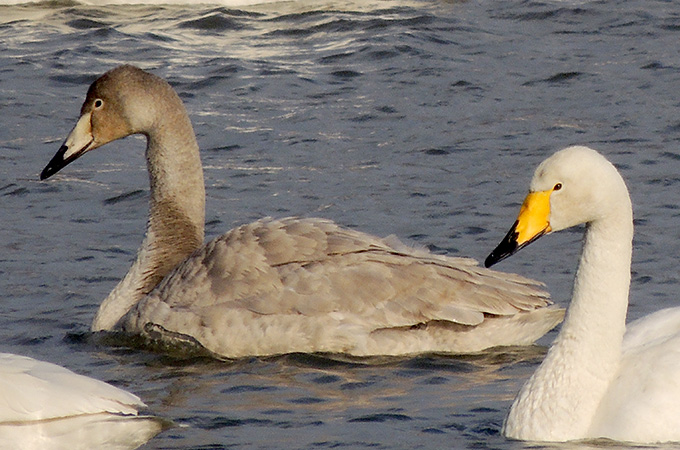 Whooper Swan Cygnus cygnus, Photo © Andreas Kim
Bird News from Nial Moores, Park Meena, Thomas Chojnicki, Jason Loghry and Subjohit Chakladar
Joonam Reservoirs, December 15
A quick visit in mild (maximum of 12-13C) and foggy conditions to Joonam proved excellent for landbirds, with most notable a Red-breasted Flycatcher (heard and seen by all but SC, though only briefly: believed the first provincial record, and probably only the second national mid-winter record), two Red-billed Starling and 11 Common Starling (mixed in with a flock of c. 75 White-cheekeds) and a "Dark-throated" Thrush (most likely a First-winter male). Other landbird highlights included single Eurasian Hoopoe and Eastern Yellow Wagtail (both excellent mid-winter records) in addition to single Eurasian Bullfinch and up to 50 thrush (mostly Dusky with at least two Naumann's). A flock of c. 30 White-naped Crane appearing out of the fog, single Northern Goshawk and Eurasian Sparrowhawk and excellent views of a large-looking Amur Leopard Cat provided further memorable highlights.
Common Starling Sturnus vulgaris, Red-billed Starling Spodiopsar sericeus and White-cheeked Starling Spodiopsar cineraceus,
Photo © Birds Korea
Bird News from Tim Edelsten
Namdong-Gu, December 15
Nothing too unexpected at the reservoir, although at least 7 "Taimyr" Gull and an unusually overwintering Grey Wagtail. A delightful group of magnus Long-tailed Tit passed by within a metre of me- in fact too close for the camera.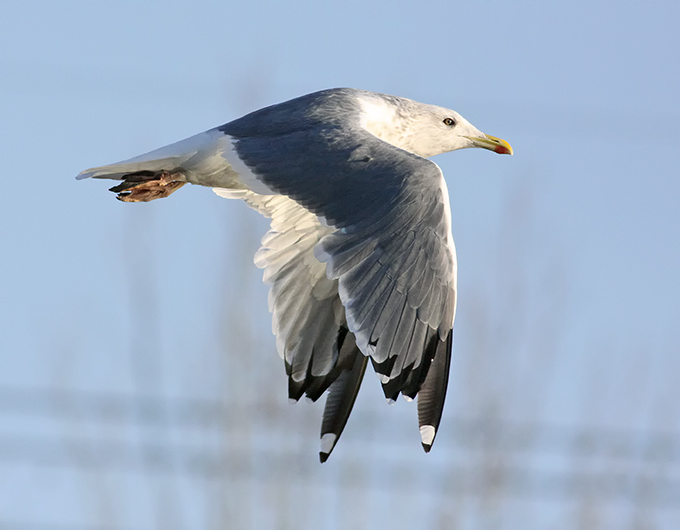 Heuglin's Gull / Taimyr Gull Larus heuglini taimyrensis, Photo © Tim Edelsten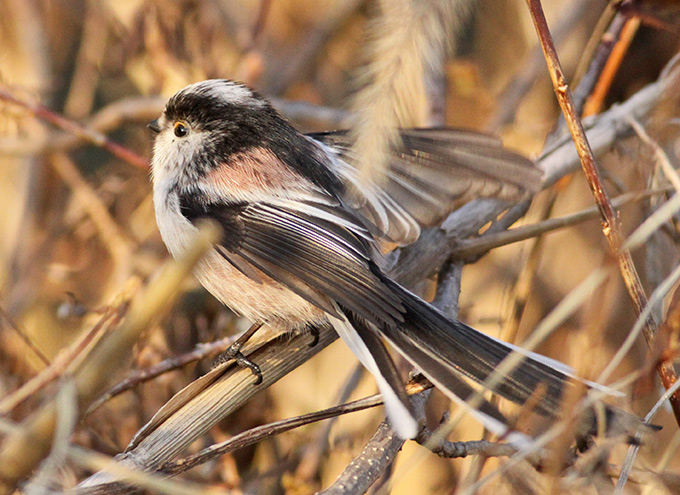 Long-tailed Tit Aegithalos caudatus magnus, Photo © Tim Edelsten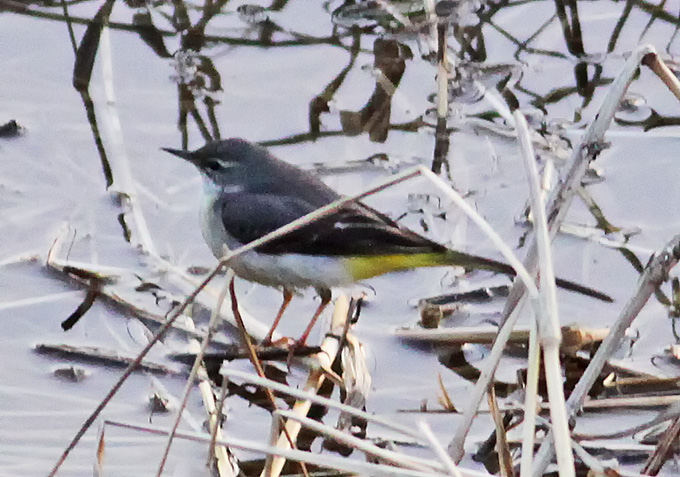 Grey Wagtail Motacilla cinerea, Photo © Tim Edelsten
Bird News from Nial Moores
Igidae, December 13
A walk through Igidae in Busan after the recent cold snap (with a few hours of snow and maxima struggling to only 4 -5C for much of the past week) found 20-30 Goldcrest (well down on the peak of 120 recorded in November) and tens of Eastern Great, no thrushes, but one or two personata Black-faced Bunting, at least one Eurasian Bullfinch (most likely rosacea), two Eastern Buzzard, a single very small and dark Northern Goshawk and the Long-tailed Shrike still. After some light loon passage earlier in the month, the sea remains very quiet – with no loons and no murrelets seen.
Long-tailed Shrike Lanius schach, Photo © Birds Korea
Bird News from Bradlee Sulentic
Seosan Lake A, December 9
The afternoon started when I picked up Mr. Richard Edden at the Songtan Bus Terminal, after which we set out for Seosan Lake A, making a couple stops along the way. The most interesting of our stops was to check out a flock of Rooks in a field near Godeok. Scanning the flock, we were able to pick out at least 12, but likely more, Daurian Jackdaws mixed in with the others. We reached Lake A around 1:30pm to find the lake under ice out to about 15 meters from the shoreline. We got out of the car to find ourselves surrounded by a flock of around 40 Far Eastern Skylarks.
After finding only small numbers of Mallard, Eastern Spot-billed Duck, Common Goldeneye, and Common Merganser, and Greater White-fronted Goose in the fields, we decided to move towards the northern part of the lake with only a couple stops to scan the lake and fields. One of these stops found 6 Hooded Cranes mixed in with a flock of Greater White-fronted and Bean Goose. Mr. Edden got some great looks and, hopefully, a couple decent pictures of the beautiful cranes. Near the "land bridge" across the lake, we had the great pleasure of watching 2 Merlin chasing several Far Eastern Skylarks. In this same area we had decent looks at 2 Smew (one male and one female)near the first bridge out into the lake. Upon reaching the northern end of the lake, near where the creek empties into it, we were disappointed to find the lake completely iced over (except for one small open area with a concentration of several hundred waterfowl).
Being that the lake was iced over, we moved on to the open water of the creek and our luck improved some. On the creek we found 36 gorgeous Whooper Swans, along with 24 Ruddy Shelducks huddled together on a sandbar. Near the first bridge crossing the creek, Mr. Edden excitedly pointed out a sparkling Common Kingfisher moving among the reeds along the creeks bank. This stop was where we spotted our only Common Kestrel of the day. It was also near here that the two of us had prolonged looks at a male Hen Harrier hunting the fields to the east of the creek. After crossing the bridge, we stopped to scan one more time before moving further upstream. This stop was quite fortuitous, because it was here that we discovered a sharp-looking Black-faced Bunting picking through the dead vegetation along the shoreline.
Our last stop for the day was about a kilometer upstream, where a smaller creek feeds into the larger one. It was here that a decent sized flock of "egrets" quickly turned into 21 Eurasian Spoonbills, most of them with their heads tucked into their wings. A couple other birds of note were a single Little Egret, as well as a single leucopsis White Wagtail.
Braving quite cold temperatures, along with slushy dirt tracks and a rather heavily iced-over lake, Mr. Edden and I turned in a pretty strong day of birding. Overall, we were able to locate and identify 49 different species, with nice looks at some pretty amazing birds. A big thanks to Mr. Edden for his company and some great birding.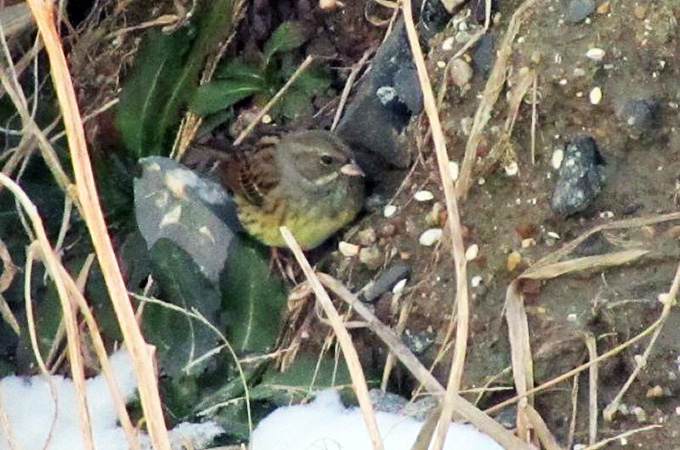 Black-faced Bunting Emberiza spodocephala, Photo © Bradlee Sulentic
Bird News from Tim Edelsten
Geomam, December 9
At Geomam on the 9th, a winter wonderland with a pretty Hawfinch, small flocks of Brambling , Yellow-throated and Rustic Bunting, a single Dusky Thrush and c. 30 Naummann's Thrush.
Also e.g. 3 presumed extremiorientis Black-faced Bunting, an Carrion Crow, a Grey-headed Green Woodpecker and an Eastern Buzzard.
In the reeds, a Siberian Accentor, Winter Wren and handfuls of Pallas's Reed Bunting – the first winter females of which can look surprisingly dark.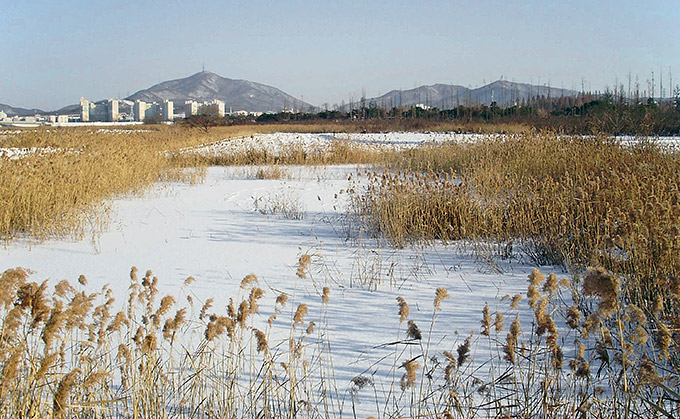 Geomam, Photo © Tim Edelsten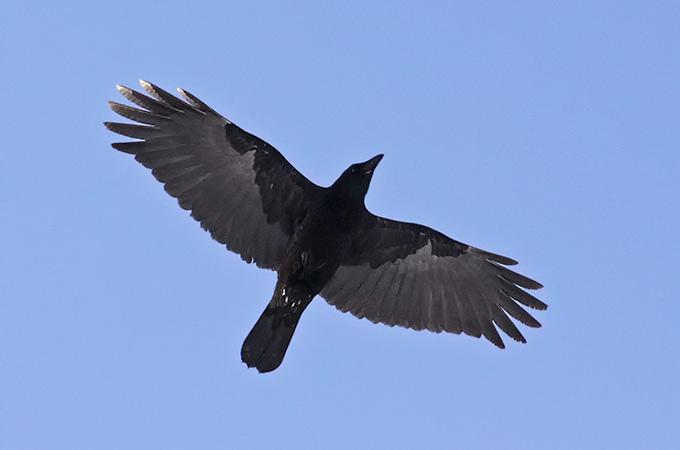 Carrion Crow Corvus corone, Photo © Tim Edelsten
Bird News from Subhojit Chakladar
Uiwang Reservoir, December 8
A quick visit to the the reservoir in the afternoon resulted in some decent birds. With a thick blanket of snow all around, the going was a bit slow but the open areas of the stream feeding the reservoir attracted species like White Wagtails lugens, Common Sandpipers and Buff-bellied Pipits. The scrubs surrounding the stream supported a playful flock of Hawfinches which seems to be overwintering at the spot (a birder from Hong Kong visiting the reservoir 3 weeks before reported about 10 of them). There was a single Long-billed Plover which seemed quite oblivious of my presence as I walked along the embankment. Rustic Buntings and Yellow-throated Buntings were also present in quite large numbers.
On the fields on the western edge of the reservoir, an Eastern Buzzard appeared for a brief interval. There were flocks of Bramblings, a few Bean Geese, some Carrion Crows, Great Tits and Marsh Tits as well. There was also a Naumann's Thrush and a couple of Daurian Redstarts. Right before sunset, a pair of unidentified species of Snipe were seen flying across the fields.
Bird News from Matt Poll
Geoje-do, December 2-3
I had a weekend filled with interesting birds in my own patch, as the weather started to finally get frosty. On Saturday I went back to the Light-vented Bulbul spot and saw a pair of Light-vented Bulbuls being mercilessly harassed by a large pack of Brown-eared Bulbuls for the better part of an hour. One of the LVB was missing its tail. Nearby, I finally caught up with a Long-tailed Shrike that was first spotted a few weeks ago.
On Sunday I stuck closer to home, and I spotted several Geoje firsts. A first winter female Naumann's Thrush perched in a scrubby area of a farm field before flying off. I used to see these birds quite often up in Ilsan (near Seoul), but I've never run into one this far south. Shortly after that, a Red-billed Starling rocketed into some brush at my feet, hotly pursued, once again, by Brown-eared Bulbuls. Apparently they migrate south through nearby Tsushima Island, and winter further south. It made me wonder if this individual was a late migrant or a potential winter visitor. Whatever the case, it felt like it was fresh in, given its disheveled/lethargic behaviour.
On the nearby saltwater canal I've noted at least a dozen active Little Grebes, where last year I only saw a handful.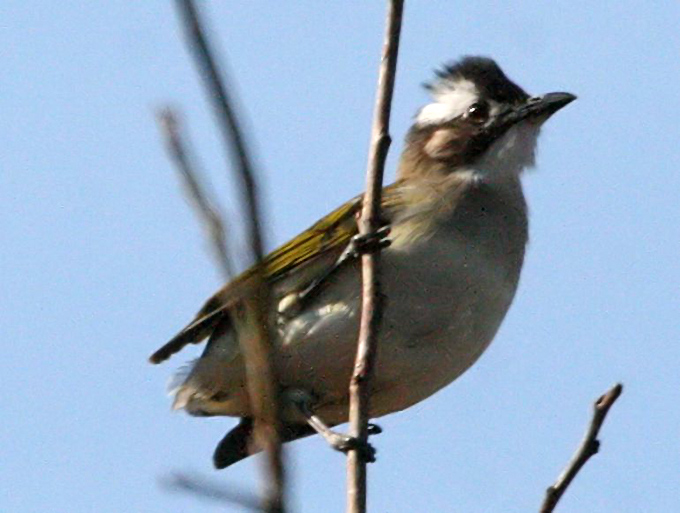 Light-vented Bulbul Pycnonotus sinensis, Photo © Matt Poll
Long-tailed Shrike Lanius schach, Photo © Matt Poll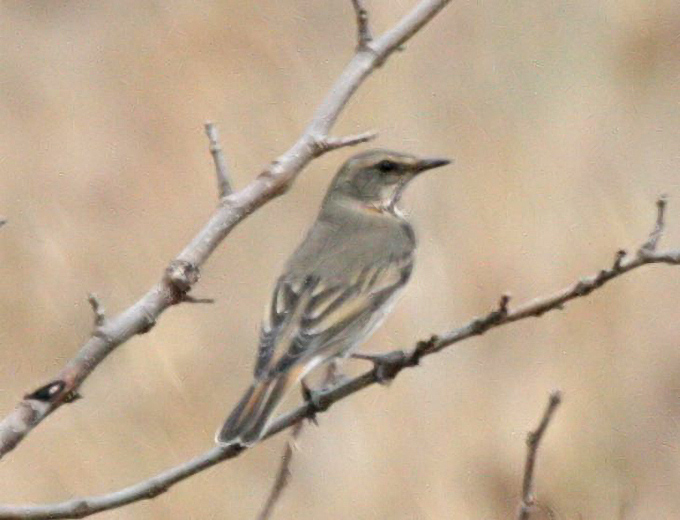 Naumann's Thrush Turdus naumanni, Photo © Matt Poll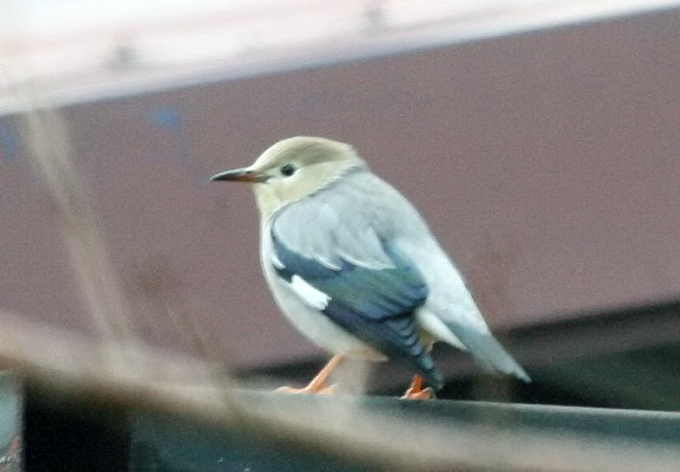 Red-billed Starling Sturnus sericeus, Photo © Matt Poll
Bird News from Tim Edelsten
Yongjeong Island, December 2
In one hour at North Yongjeong on the 2nd (with Bradlee Sulentic), c. 15 Northern/ Far Eastern Lark on the reclaimed ground. On the reservoir, 68 Whooper Swan, 2300 Coot, which are in especially high numbers this winter, and were seen to bunch close together towards dusk, forming a thick black mass, many of them curiously wing-flapping, and centring around a small islet where also e.g. 950 Falcated Duck, 290 Eurasian Wigeon and 220 Gadwall were seen to gradually move toward in unison. Otherwise notable 4 Goldeneye, 4 Smew, 2 Red-breasted Merganser, 4 Great Crested Grebe and 3 Tufted Duck.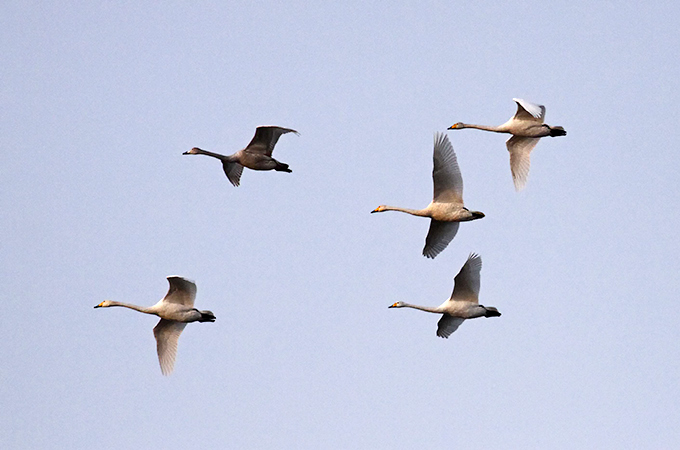 Whooper Swan Cygnus cygnus, Photo © Tim Edelsten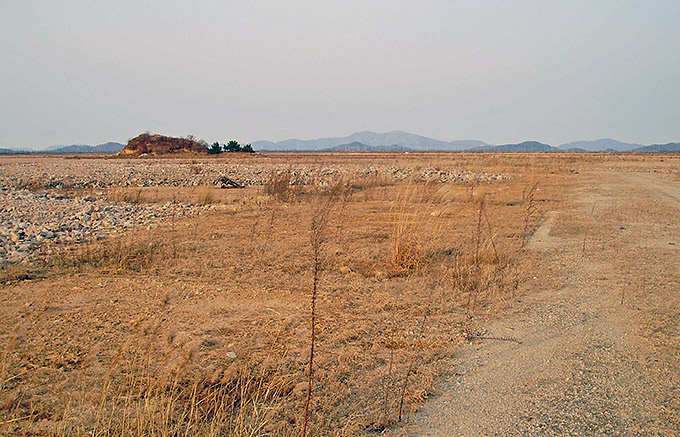 Reclaimed former mudflat, North Yongjeong, Photo © Tim Edelsten
Bird News from Tim Edelsten
Seolleung tombs, December 1
At Seolleung tombs on the 1st, I was disturbed to see that the woods have been sterilized by the new concept of "forest management" that seems to be sweeping the country.
This involves wrapping the older trees in duct tape, clearing away and shredding all undergrowth, and collecting all dead wood into cellophane bags. In this "tidying" process, the ecological value of the forest is devastated and it offers much less food for birds. I expressed my displeasure to the staff of course. Today only a few Goldcrests and Long-tailed Tits could be found passing through.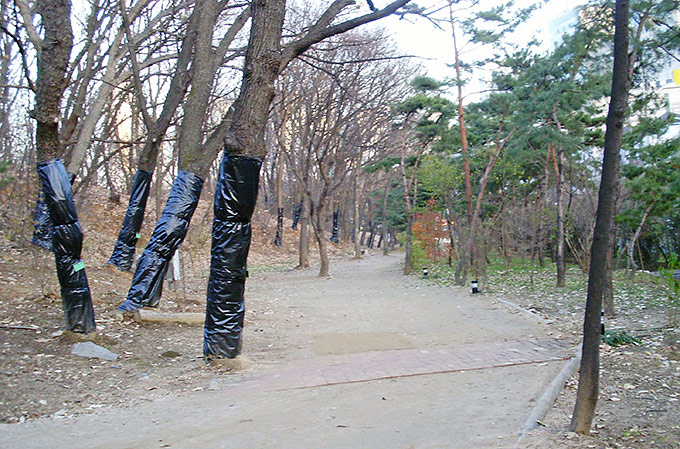 Seolleung Tombs, Photo © Tim Edelsten
Bird News from Mike Friel
Hamyang, Gyeonsangnamdo, December 1
Today I broke my inland speed-birding record. At the wooded park beside the river on the outskirts of Hamyang, I spotted 18 species in 50 minutes.
Apart from the usual birds like tits and mallards, those that I was most pleased to see included a pair of lugens White Wagtails and a Japanese Wagtail, a Hawfinch, a Great Spotted Woodpecker,
several Olive-backed Pipits and three Long-billed Plovers. Most beautiful to my eyes, because seldom seen, was a group of four Common Snipes feeding and bathing in the water near the river bank.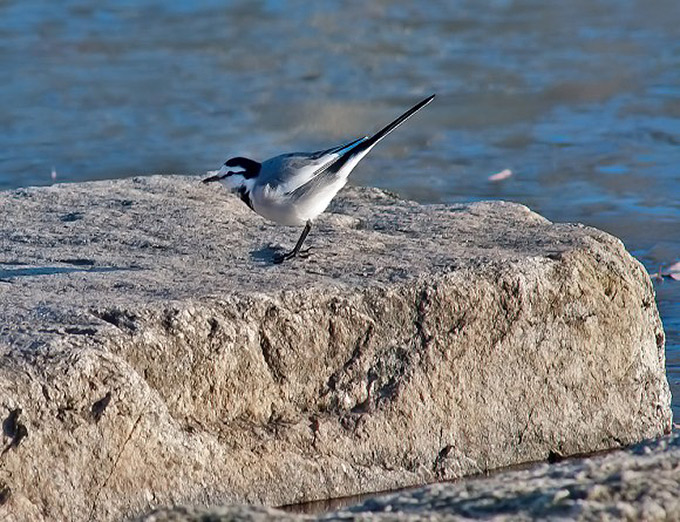 White Wagtail Motacilla alba lugens, Photo © Mike Friel
Great-spotted Woodpecker Dendrocopos major, Photo © Mike Friel
Olive-backed Pipit Anthus hodgsoni, Photo © Mike Friel
Varied Tit Poecile varius, Photo © Mike Friel
Long-billed Plover Charadrius placidus, Photo © Mike Friel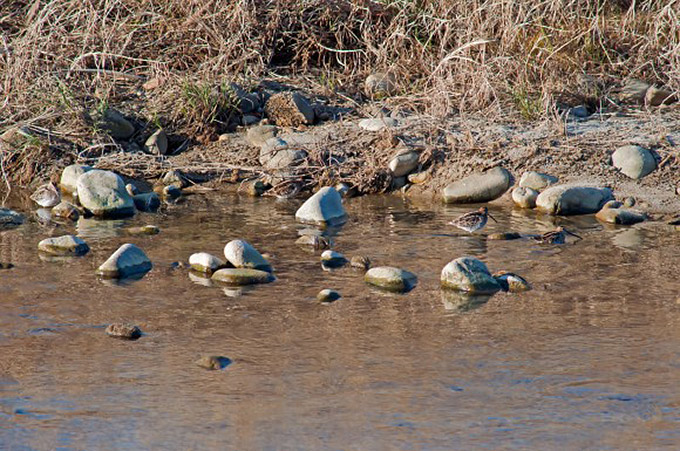 Common Snipe Gallinago gallinago, Photo © Mike Friel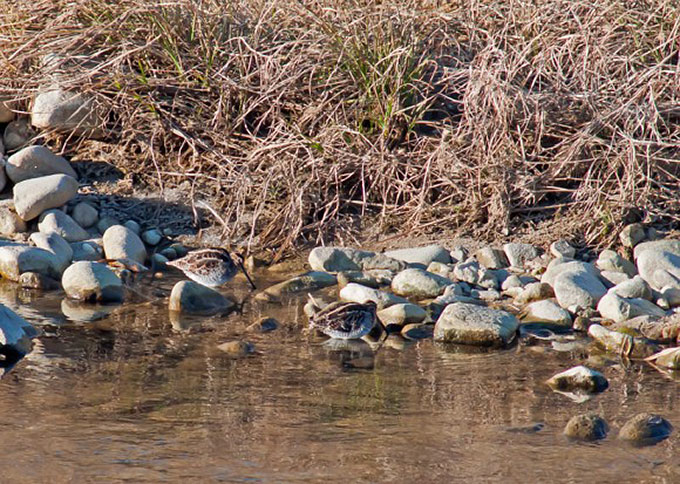 Common Snipe Gallinago gallinago, Photo © Mike Friel