Birds Korea's Bird News November 2012
November
Waves of colder air cause a sharp drop in temperature, especially from mid-month onwards, when maxima can be as low as 8-10°C: the last of the autumn migrants are joined by huge numbers of wintering waterbirds.
Numbers of Baikal Teal continue to build, along with geese (many of which move on into China). Swan Geese peak at the Han-Imjin (with 1000-1500 in recent autumns). Common Buzzards and Cinereous Vultures start to arrive for the winter, along with gulls (Saunders's, Heuglin's, Vega, Mongolian and Slaty-backed are all widespread), Red-crowned, White-naped and Hooded Cranes, and passerines, including Siberian Accentor. Movements of pers and alcids, most especially Ancient Murrelet, can be impressive. Passerines include many late summer visitors until the second week of the month, when winter species, such as Chinese Penduline Tit and Pallas's Reed Bunting start to predominate.
In recent years November has produced national rarities such as Red Phalarope, Iceland Gull and the country's third and fourth Verditer Flycatchers in 2004. National firsts in November include White-capped Water Redstart in 2003 and Redwing in 2006.
(The following records are a compilation of our own sightings and records sent in by other observers. As well as being posted on the Birds Korea website(s), selected records are also forwarded to other Korean-language birding websites; records of threatened species are arranged and forwarded to Birdlife International and national authorities when appropriate; flag images and records are passed to bodies responsible for their coordination throughout the flyway; and all records sent to us are used to compile annual reports and to support the evolving understanding of the status of many of Korea's birds.)
Bird News from Tim Edelsten
East Coast, November 23-24
At Dejin on the 24th (with Shim Kyu-Sik), for example 2 Eurasian Nuthatch, numbers of Pelagic Cormorant, Slaty-backed Gull and Temminck's Cormorant. Later from the boat (with Nial Moores, Matt Poll, Jason Loghry, Subhojit Chaklader and Bradlee Sulentic) near the maritime DMZ, excellent views of some 350 Rhinoceros Auklet and similarly large numbers of Ancient Murrelet, many diving directly under the boat.
Several feeding aggregations of Black-legged Kittiwake included also e.g. Glaucous Gull, 5 Harlequin and 3 Red-breasted Merganser, 1 Red-throated Loon, a Pacific Diver, several Common Gull and rarest perhaps a Long-tailed Duck. Of exceptional interest was a distant, lanky, dark shearwater, banking up on rather languid wingbeats, wings angled down at the elbow, which did not match Flesh-footed or Short-tailed. Sadly the boat could not catch it and it was lost after some reasonable and sustained views.
The following day started at the mysterious coastal town of Uljin, with e.g. 5 Pallas' Reed Bunting, a Buff-bellied Pipit, modesta Great Egret (smaller than Grey Heron in direct comparison), 2 Common Reed Bunting and a Japanese Wagtail. At Jukbyeon, and a handful of other harbors down the coast- several Winter Wren, perhaps 15 Siberian Accentor including eg 5 in one bush; a parliament of Rooks, and alba Great Egret.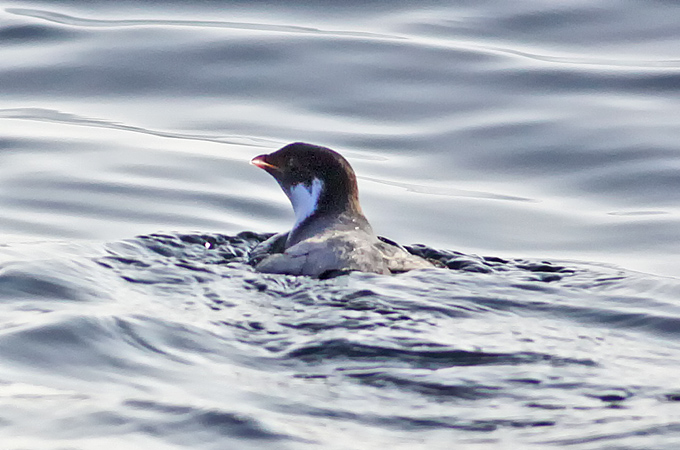 Ancient Murrelet Synthliboramphus antiquus, Photo © Tim Edelsten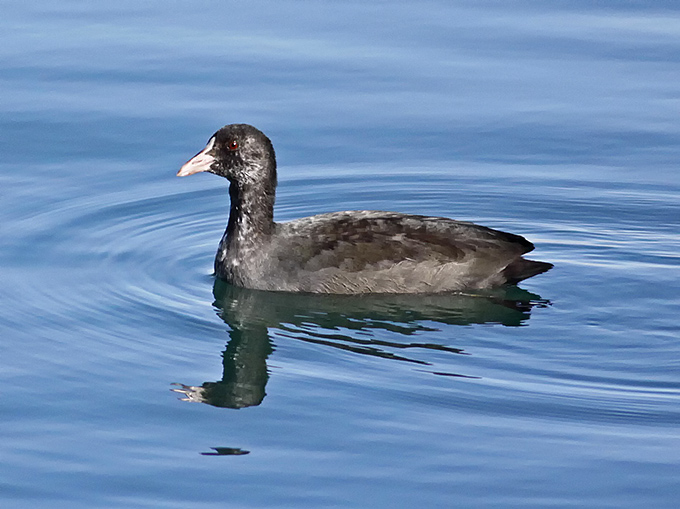 Juvenile Eurasian Coot Fulica atra, Photo © Tim Edelsten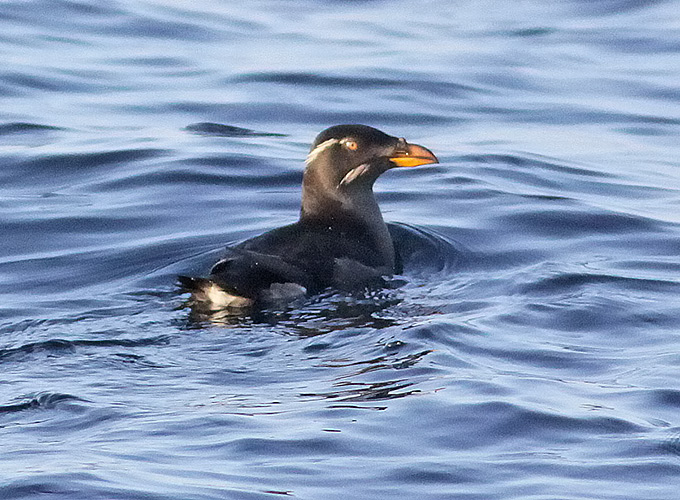 Rhinoceros Auklet Cerorhinca monocerata, Photo © Tim Edelsten
Bird News from Matt Poll
Geoje-do, November 22
Another interesting afternoon of birding on Geoje. I headed out to the east coast to look for a Long-tailed Shrike that was spotted a few days ago by visiting birder Stephen Judd. I didn't manage to catch up with the shrike, but the area has some great 'birdy' habitat. I decided to check out a nearby agricultural area and quickly spotted two noisy and confiding Light-vented Bulbuls.
Light-vented Bulbul Pycnonotus sinensis, Photo © Matt Poll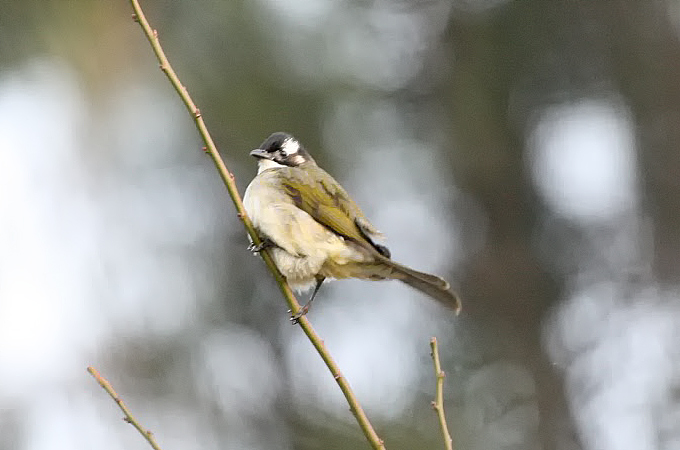 Light-vented Bulbul Pycnonotus sinensis, Photo © Matt Poll
Bird News from Matt Poll
Geoje-do, November 20
I spent a wonderful few hours of crisp birding in a quiet valley near Gohyeon. The valley has been quite productive for birds over the past month, probably due to its remoteness and consequential very light foot traffic on the trail. After a relatively quiet trip back down the trail, I spotted a small dark bird flutter from the stream up to the bank. I first assumed it was yet another Winter Wren, but it was noticeably quiet, and something about it didn't add up. I got a look at it with the binos and was more than pleased to realize that I'd finally crossed paths with a gorgeous but shy Japanese Robin. I wish I'd known about this spot in the spring!
Japanese Robin Erithacus akahige, Photo © Matt Poll
Bird News from Tim Edelsten
Songdo, November 18
At Songdo lagoon the following day, 2 Chinese Nuthatch, a Yellow-throated Bunting, and unusually on the water several Greater Scaup, 4 Coot, a Goldeneye, Falcated Teal and Black-necked Grebe.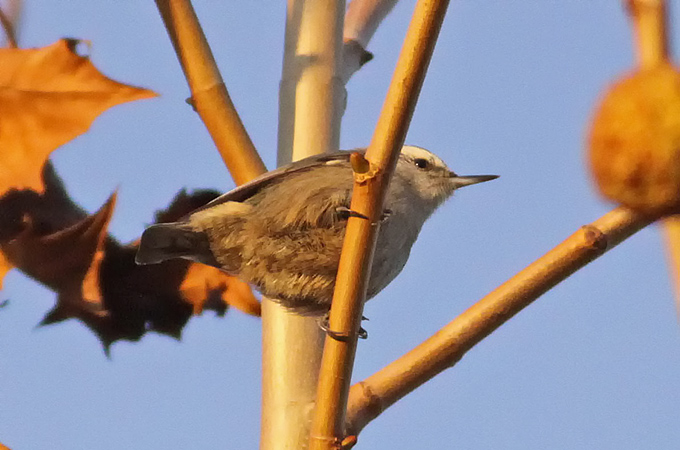 Chinese Nuthatch Sitta villosa, Photo © Tim Edelsten
Bird News from Subhojit Chakladar
Socheong Island, November 18
With skies clearing out, temperature dropped below zero, as I walked towards North Point in the pre-dawn hours. The first bird of the day was a probable White's Thrush seen at a distance of about 50m under poor light conditions. At North Point itself, a pair of unidentified Larks, were seen flying around. At this point, the wind caused my eyes to water, making it particularly tricky to photograph. Very soon, a group of Naumann's Thrush were seen flying off towards Daechong. A group of Pallas's Reed Bunting, after a bout of feeding and warmup, gained height and sailed towards China. Other birds of note were Meadow Bunting, Chinese Nuthatch (thanks to the irruption, it is my 3rd encounter with this species this winter) and a Siberian Accentor.
On my last visit to the island, the soldiers were clearing a trail that hugged the contours of the north coastline of the island connecting North Point to the road leading to the fish farm area. This time I decided to take this trail and check out what it had to offer. About a third of the trail has been cleared and the remaining section is not difficult to follow. The new species encountered in this section, were a vocal group of finches including Long Tailed Rosefinch and Hawfinch. The fish farm area was alive with activity. There were flocks of Brambling and Rustic Bunting cris-crossing the road. As I scanned the tree tops, I had the biggest miss of the day in form of a warbler, as it flushed from the top of a bush, sat momentarily on the branch of tree before plunging into the undergrowth. I could only see it for about a second. The position of the sun also made it difficult to identify it accurately. It had a greenish-brown color (probably not a Phylloscopus) with a prominent supercilium, largely white underparts with some brown-orange on the undertail coverts, pinkish tarsi and a beak quite large compared to its head. Just before it flew it gave a short call that seemed rather loud as compared to its dimensions (and one which I cannot recalled having heard before), which was similar to an Arctic Warbler. Any help with ID based on this rather clumsy description would be appreciated. Apart from that the area yielded the resident Light Vented Bulbul, a couple of Little Buntings, more finches and a rather bold Hoopoe.
With time running out, I hurried to the stream at the second village in search of thrushes. Scanning the trees, I virtually ran trying to make most of the last couple of hours that I had. In this process, I flushed a probable Japanese Quail (based on a split second view of its back plumage) less than a meter off my feet. Disappointed at another miss, I slowed down and let the birds get accustomed to my presence. Very soon the thrushes resumed their activity with Dusky Thrush being the most prominent. There was also a couple of Bohemian Waxwings. On my way back to the main village, I spotted a group of White-cheeked Starlings.
A total of 54 species were spotted on the island and the neighboring sea in about 10 hours of birding. On the way back, the sea was remarkably quite and hardly any birds.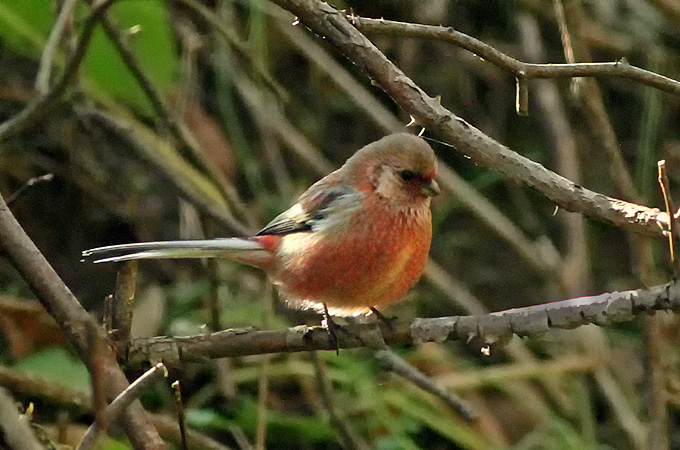 Long-tailed Rosefinch Uragus sibiricus, Photo © Subhojit Chakladar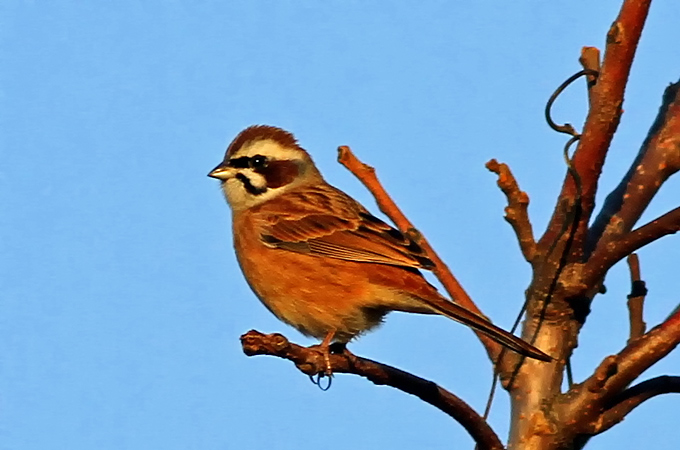 Meadow Bunting Emberiza cioides, Photo © Subhojit Chakladar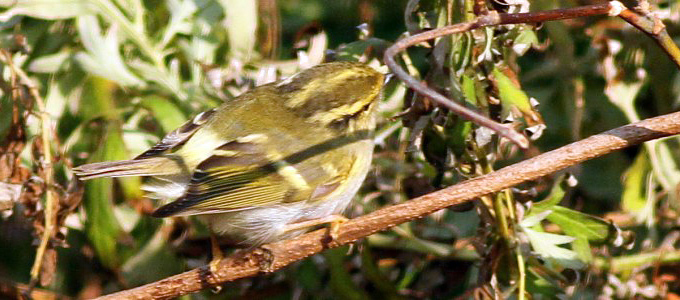 Pallas's Leaf Warbler Phylloscopus proregulus, Photo © Subhojit Chakladar
Bird News from Tim Edelsten with Son Sung-Bae & Gil Hong-Pyo
Shiwha, November 17
At Shiwha on the 17th (), exceptional numbers of c. 4650 Coot; also a restless mass of c. 70+ Lapland Longspur, 164 Whooper Swan, 2 Eurasian Spoonbill, 550 Ruddy Shelduck and a Hen Harrier. Otherwise present smallish numbers of eg Goldeneye, Black-necked Grebe and Gadwall.
Unfortunately the lake itself and wider area of habitat has come under increasing disturbance by fishermen, paragliders and windsurfers and even a new aerodrome. Ultimately of course a new "Green city" is planned for the entire area.
Further along at Hwaseong, 3 Eastern Quail, a Eurasian Sparrowhawk and c.10 Northern Skylark.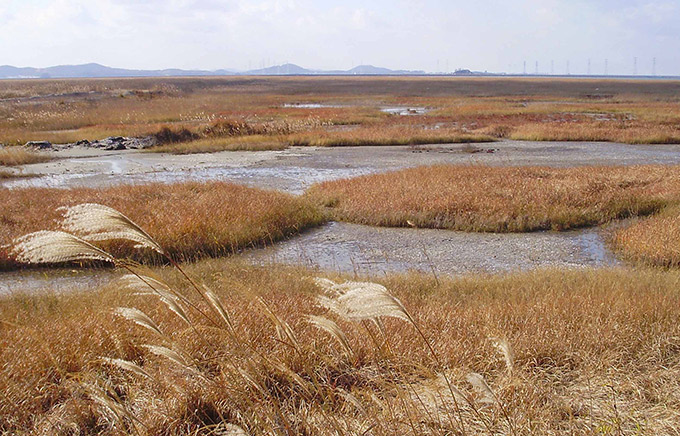 Reclaimed former mudflat awaiting development at Shiwha, Photo © Tim Edelsten
Ruddy Shelduck Tadorna ferruginea, Photo © Tim Edelsten
Bird News from Subhojit Chakladar
Socheong Island, November 17
Given the conditions, I could spot only a couple of Streaked Shearwaters as the vessel swayed wildly. Pretty shaken by up the ride, I was more than happy to get back on terra firma and birding started from the very first moment with 2 Eastern Buzzards circling at a distance. Already an hour and a half shaved off a short trip, I skipped lunch and went straight to the lighthouse. With gale force winds making it difficult to keep the camera steady on the road, I descended into the gully. Because of the possibility that it holds, birding in Socheong is quite a bit more stressful than on the more accessible places. Every bird you miss could have been something special. Though there was nothing spectacular there, I spotted my first Winter Wren of the season. Apart from that, the other thing of note was a very active flock of Eurasian Siskins.
Back on the road, I gradually moved eastwards, scanning every tree and bush. The remaining few hours had more than one highlight. At first a flock of extremely agile Pallas's Leaf Warbler and Goldcrests providing some difficult but worthwhile photo opportunities. This was followed by atleast 4 Eurasian Treecreepers, which was a lifer for me. So far Socheong has yielded at least one lifer every day I've been on that island! The fish farm area yielded a pair of Eurasian Bullfinches. By this time, the wind induced chill coupled with pain in my fingers was making it really difficult to keep the camera steady. As I walked back to the minbak after sundown, playful and inquisitive Orange-flanked Bluetails checked me out from the roadside. The more bold ones would come forward, sit on the road in front of me, flicking their tails and accompanying me, as the street lights were turned on.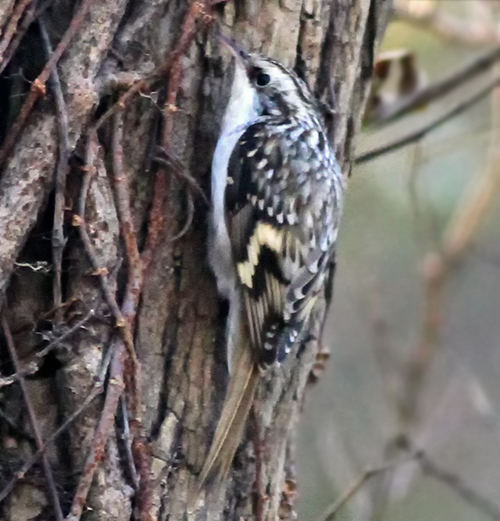 Eurasian Treecreeper Certhia familiaris, Photo © Subhojit Chakladar

Goldcrest Regulus regulus, Photo © Subhojit Chakladar
Eurasian Siskin Carduelis spinus, Photo © Subhojit Chakladar
Bird News from Matt Poll
Geoje-do, November 11
After having a planned Saturday trip to a nearby offshore island scrapped by extremely high winds, it was good to get out and get a full day's birding in at 'Grey Bunting Mountain'. On the way, I heard several Chinese Penduline Tits calling from a reedbed. Aside from the expected forest mix of tits and woodpeckers, with several Goldcrest mixed in, I spied my first Red-flanked Bluetail of the winter near the peak, a shy female tail-flicking near the trail. I noticed the Winter Wrens have spaced themselves a bit more sensibly along the stream. Soon after this, I heard a few thrushes calling from deeper in the woods, and their calls sounded a bit thin and different from the Pale Thrushes I encounter there regularly. I made my way to a remote gravesite fringed with fruiting berry trees and hunkered down. About 45 minutes later, six Eyebrowed Thrush returned and fed casually on the berries for about ten minutes. A special birding moment, and a real treat to watch!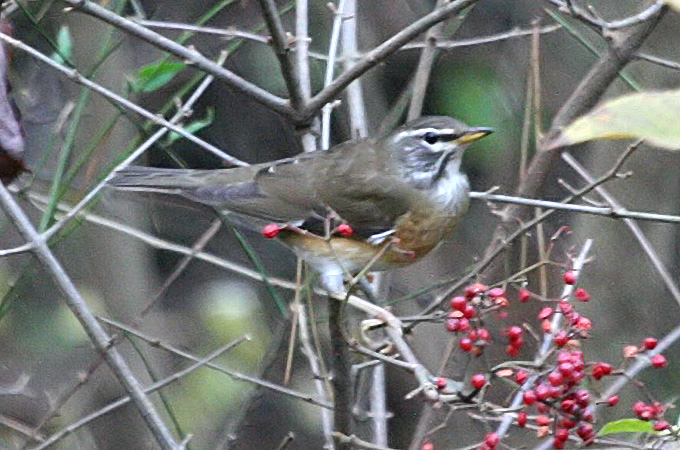 Eyebrowed Thrush Turdus obscurus, Photo © Matt Poll
Bird News from Matt Poll
Geoje-do, November 8
After a chilly ride out to the west coast I spotted a lone Eurasian Spoonbill resting in a reedy lagoon in the company of two dozen Grey Heron. I found yet more Winter Wrens at three mountain stream sites, with 3-6 noisy individuals seen at each.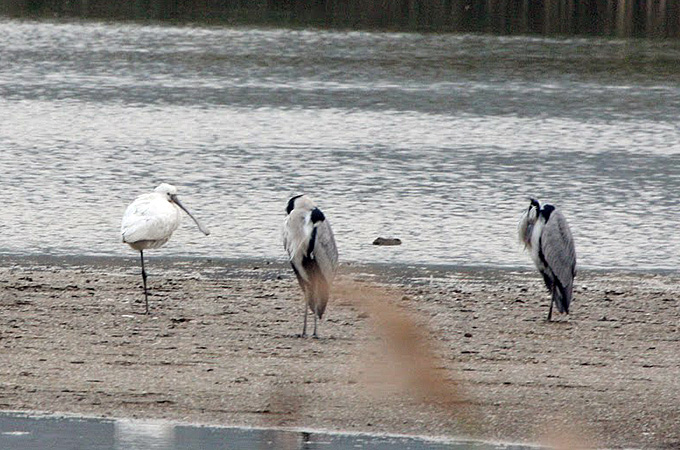 Eurasian Spoonbill Platalea leucorodia, Photo © Matt Poll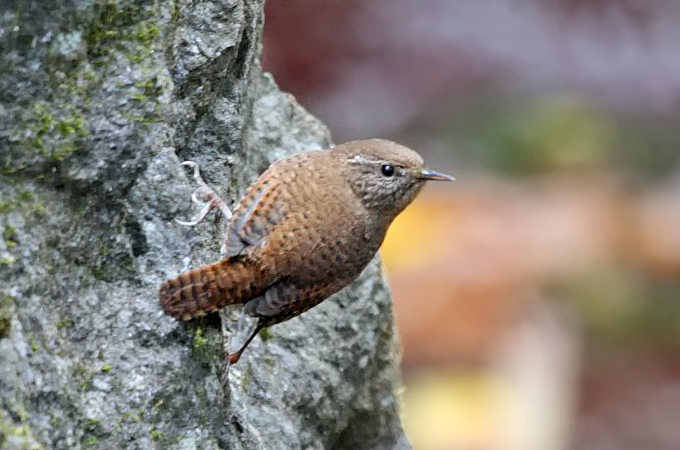 Winter Wren Troglodytes troglodytes, Photo © Matt Poll
Bird News from Matt Poll
Geoje-do, November 6
The Winter Wrens have arrived in force on Geoje! I saw nine noisy and scrappy examples on one small stream, and it seemed like they were scuffling over prime habitat. A single female Greater Scaup has been seen on a saltwater canal near my apartment for about a week. Nearby, several hundred Spot-billed Duck and a dozen Eurasian Teal were feeding busily.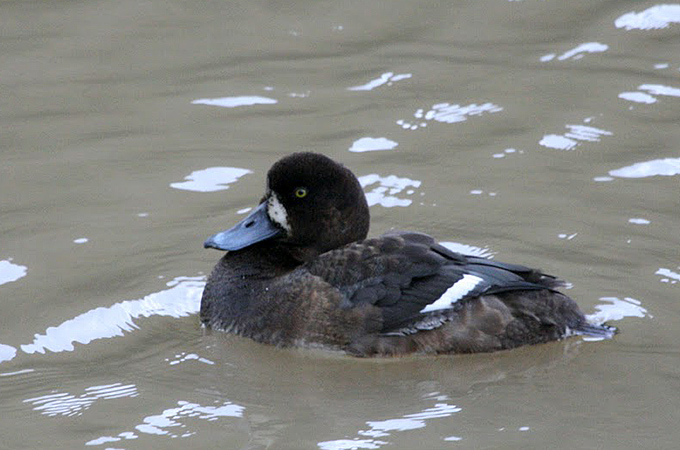 Greater Scaup Aythya marila, Photo © Matt Poll
Bird News from Nial Moores
Gageo Island, Shinan County, November 2-7
In total 111 species were recorded during this period (out of a grand total of 146 species recorded on Gageo between October 21st and November 7th). Counts were made daily along the 1-Gu Circuit, and also in 2-Gu on 5th and 6th. Between 63 and 85 species were recorded each day, with 85 and 80 species recorded on the 5th and 6th respectively. Although the 2nd and 3rd were dry with winds between the north and east, several hours of rain during the morning of November 4th and some light rain on 5th were followed by strong westerly and north-westerly winds, moderating on the 7th (the last morning of fieldwork). This same weather system grounded a large number of migrants, including several Japanese-type species (i.e. several Grey Thrush, Yellow Bunting and two Japanese Grosbeak) and large numbers of Dusky and Eye-browed Thrush. It therefore showed several similarities to a late autumn fall on Socheong on November 11th 2004 (see http://www.birdskorea.org/Birds/Birdnews/BK-BN-birdnews-2004-11.shtml). Highlights (with all images taken with a hand-held Nikon P7100 through a SUPERB Swarvoski scope) included:
Japanese Quail: Recorded daily, with six on 5th the highest count.
Common Merganser: One on November 2nd was perhaps the first record for Gageo.
Dunlin: One on November 4th was perhaps the first record for Gageo.
Lesser Kestrel: One probable was watched apparently coming in from the east, before gaining height, in the late afternoon of the 3rd Identification was based on its whitish-looking underwings with broad blackish primary tips; its weak facial markings, lacking an obvious "moustache" (although only seen with binoculars); and its slightly wedge-shaped tail, with prominent, longer central tail feathers. No images were taken, and all views (over less than one minute) were at moderate to long-range, at one time directly from below. There have been several claims of Lesser Kestrel in late autumn on Gageo, and one further claim from the mainland (in Gyeonggi), none supported with images.
Amur Falcon: The same individual first found on October 31st was still at 2-Gu on 5th and 6th.
Yellow-bellied Tit: Only recorded once during the period: a high-flying single was seen and heard trying to depart west from the island on 7th.
Light-vented Bulbul: Although only first-recorded in the ROK on October 29th 2002 (on Eocheong), this species now breeds on several islands, and has been recorded throughout the year on Gageo. Although at least 25 were present in late October, the highest count was of only 13 in 1-Gu and 2-Gu combined in November (suggesting at least some emigration from the island during this period).
Chinese Nuthatch: One was present (but elusive) in the 1-Gu quarry, last being seen on the 4th.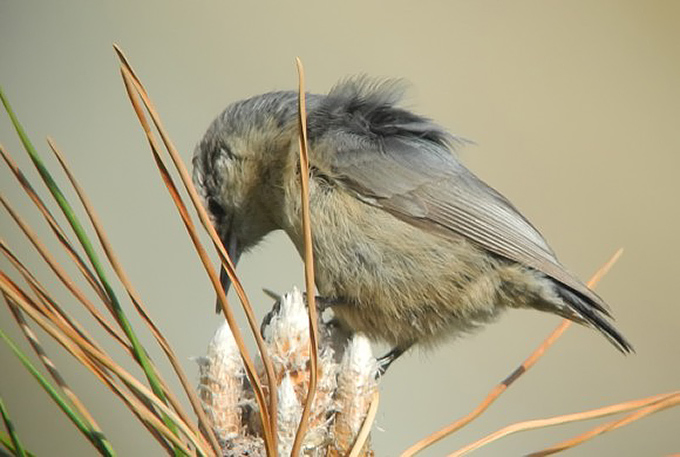 Chinese Nuthatch Sitta villosa, November 4th, Photo © Nial Moores
Common Starling: One was with four White-cheeked Starling in 1-Gu on the 7th. This species remains a very scarce winter visitor to the ROK, apparently most regular on Jeju.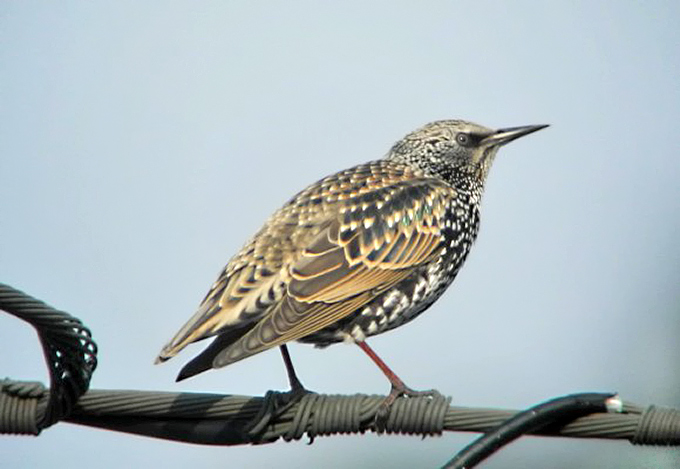 Common Starling Sturnus vulgaris, November 7th, Photo © Nial Moores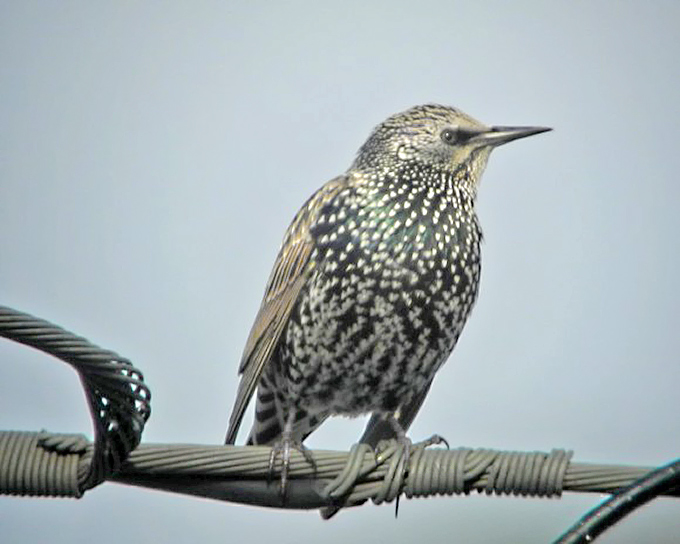 Common Starling Sturnus vulgaris, November 7th, Photo © Nial Moores
Grey Thrush: Two were in 1-Gu on 4th, with further singles found in 2-Gu on 5th and 6th.
Eye-browed Thrush: Approximately 700 were seen at midday on the 4th, with perhaps as many as 1,000 (out of the 1,700 thrushes seen during a 5-minute departure) departing the island at late dusk.
Dusky Thrush: Small numbers seen daily from the 4th, with 50+ seen on the 4th during the day, and probably several hundred involved in the mass thrush departure that evening.
Mugimaki Flycatcher: Eight in 1-Gu on November 3rd was the highest recorded count of the species on Gageo during this 17-day period.
First-winter male Mugimaki Flycatcher Ficedula mugimaki, November 3rd, Photo © Nial Moores
Verditer Flycatcher: One was seen briefly at long-range on 7th – the fourth record of the species on Gageo, and the third Verditer recorded on the island this year.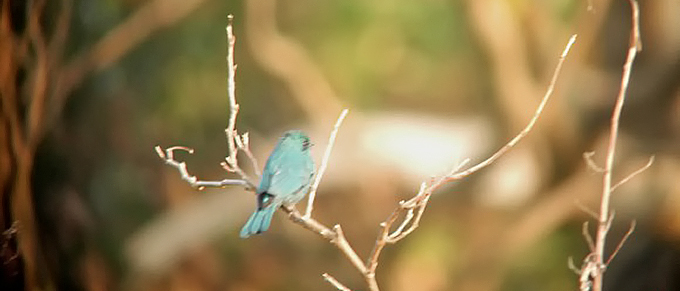 Verditer Flycatcher Eumyias thalassinus (perhaps an adult male?), November 7th, Photo © Nial Moores
Scaly-breasted Munia: Between two and four were recorded between the 5th and 7th in two parts of 1-Gu. This is the first record for Gageo, and the fifth national record (last being recorded on Jeju, on November 14th 2009). Their arrival followed several records far to the north of their mapped range in Hebei and Shandong this autumn (via Jesper Hornskov).
Scaly-breasted Munia Lonchura punctulata, November 5th-7th, Photo © Nial Moores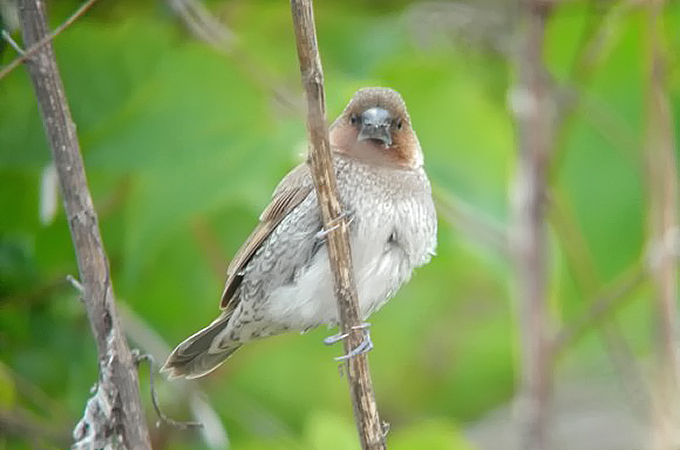 Scaly-breasted Munia Lonchura punctulata, November 5th-7th, Photo © Nial Moores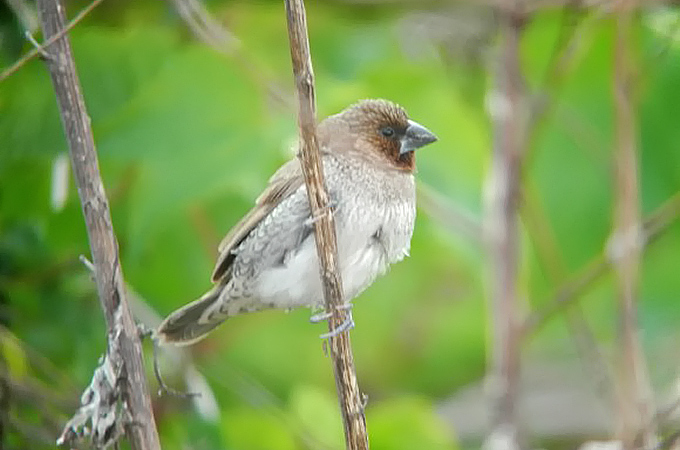 Scaly-breasted Munia Lonchura punctulata, November 5th-7th, Photo © Nial Moores
Yellow-breasted Bunting: Three on the 5th and 6th and one on the 7th.
Yellow Bunting: Two on the 4th, at least four (and perhaps as many as six) on the 5th and one on 6th are remarkable considering the near-lack of records in the ROK of this species during southward migration.
Pallas's Reed Bunting: The second commonest bunting (after Yellow-throated), with 53 counted on the 6th. Several of the individuals seen on 6th and 7th appeared unexpectedly washed through with brown (especially on the underparts).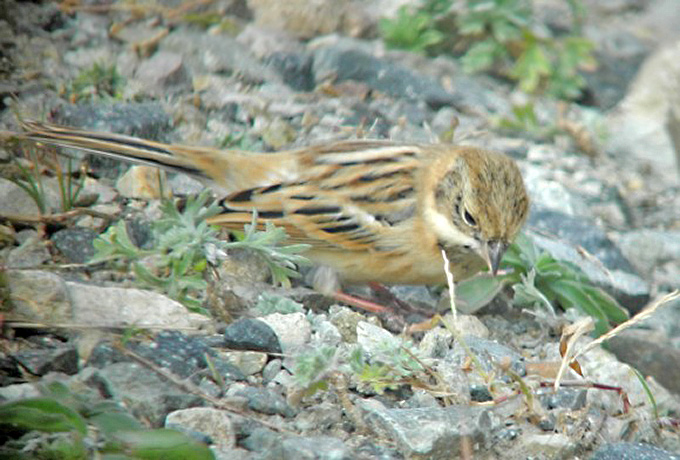 Pallas's Reed Bunting Emberiza pallasi: identified as a non-breeding adult male, this individual was remarkably brown on the underparts.
November 7th, Photo © Nial Moores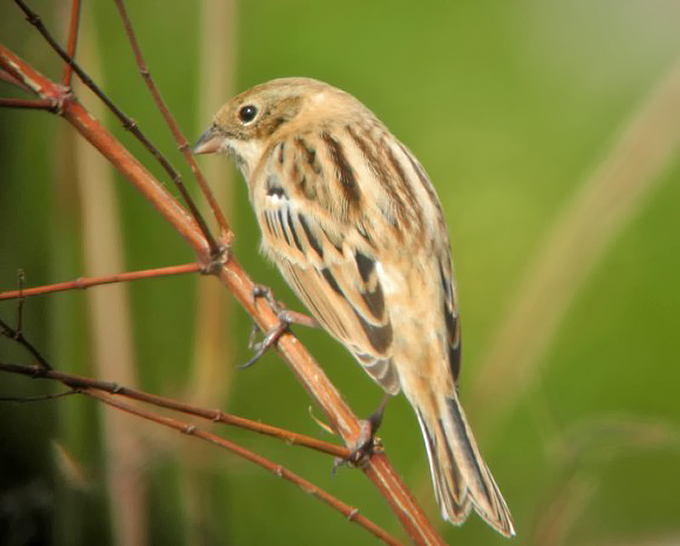 Pallas's Reed Bunting Emberiza pallasi: Non-breeding adult male (similar to or possibly the same individual as above).
November 7th, Photo © Nial Moores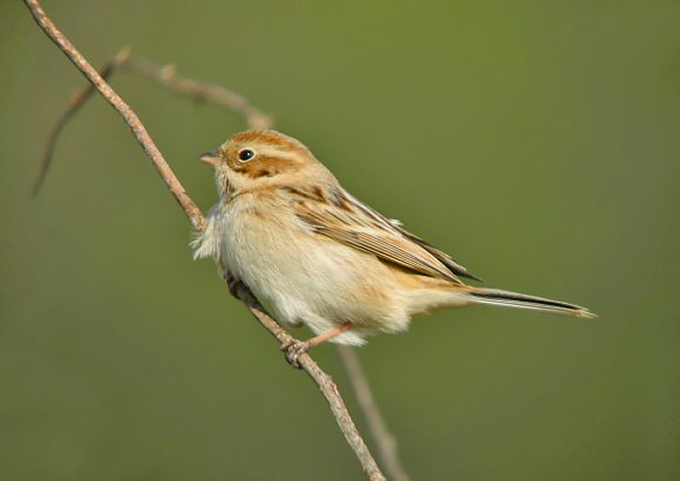 Pallas's Reed Bunting Emberiza pallasi: Non-breeding female, presumed ault (based e.g. on dark eye colour).
November 7th, Photo © Nial Moores
Bird News from Subhojit Chakladar
Deokjeok Island, November 3
I returned to Deokjeok-do to check out the areas that I surveyed last weekend. Being nearer to shore means I could spend more time actually birding rather than traveling on the ferry, as is the case with Socheong. Even though there are some hikers on the trails, most of the tourist go to this island either for fishing or merry-making. So inspite of the tourist numbers and the associated 'development', birding can be quite productive here.
Birding started the moment I got off the boat. There were 2 Eastern Buzzard circling over the ridge, closely followed by a mid sized flock of Brambling. The hiking trail towards the eastern side of the island had about 300 Yellow-throated Buntings, whose numbers seemed to have changed little since last weekend. However, the other species of buntings that I had encountered last Sunday seemed to be missing. There were a large number of Great Tits as well as a steady column of hikers – greatly amused to find a 'strange foreigner' looking at the treetops. Partly, to get away from the attention and partly to have a better look at the Tits, I decided to use a bit of fieldcraft and disappear into the surrounding vegetation. I examined each Tit carefully, trying to find if anything was 'odd'. The oddity however, came in form of thrush! Concealed in vegetation at the end of a gully at a distance of about 50m, it had very light orange streaks on the breast, white belly, a faint malar stripe but hardly any streaks on the flank. After a couple of seconds, it turned revealing an almost uniform grey nape, mantle and back. The sunlight hinted a faint supercilium on a grey head and a white throat. I tried to get a photo but it soon disappeared into the vegetation and I couldn't locate even after waiting for close to 15 minutes. The orange streak pattern resembled a Naumann's but it was too faint for any Naumann's I've ever seen and was confined only to the upper breast. Perplexed by this new mystery bird, I recalled a split second view of a similar bird that I had in Socheong last month. I could just catch a glimpse of its breast (which more a bit more orange … maybe because of the sunlight) and belly, before it flew off but the size of the bird was commensurate with that of a thrush (because of the extremely short view and unable to ID it definitely, I left it off my account for Socheong … this time I had a little more time to look at it closely). Flipping through the field guide and a bit of searching on the net, the nearest match I found was a probable hybrid between a Red-throated Thrush and a Naumann's Thrush. However, looking at the distribution map makes me less confident! Any expert opinion in this matter would be deeply appreciated. Rest of the day was easy pickings and quite eventful as well!
As I emerged from my hideout, I startled a group of hikers whose colorful clothing would easily put Birds of Paradise to shame. They greeted me with wide eyed wonder and their high decibel laughter would have carried all the way to mainland. After they departed, I was considering my next course of action, when out of nowhere, a flock of Chinese Nuthatches swept through the pines. Given their agility, it was difficult to count but I'm quite sure its size was no less than the flock that I'd encountered in Socheong a month ago, and could be even more. There were also a number of curious Coal and Long-tailed Tits, a couple of Eurasian Jays and 3 Great Spotted Woodpeckers drumming furiously.
Coming out of the pine forest, to the rice-fields near the school, I found a particularly obliging female Meadow Bunting, a Eurasian Sparrowhawk and a couple of Bull-headed Shrikes. Crossing over the small hillock, brought me to a more extensive series of rice fields. There were more Buntings here including about 100+ Yellow-browed, 30 Rustic and stunning male Pine Bunting. Apart from that I had close look at a Siberian Accentor and the excellent light afforded some nice shots.
I managed to spend only about 5 hours on the island before the return ferry and as a result could survey only a small part of the island (primarily the North-eastern part). But even with such a limited time, more than 30 species were found based only on visual record (I'm sure somebody good with bird calls would find a few more). Given the fact that these islands are quite popular with tourists, I think it presents a great opportunity to raise awareness about the importance of these islands, and the Yellow Sea region in general, to bird migration. Even a very small step like encouraging people to speak in a low voice while hiking could have a large impact on the long run. If any local or international organization, wishes to pursue or is pursuing a project in this regard, I'd be happy to offer my ideas and help.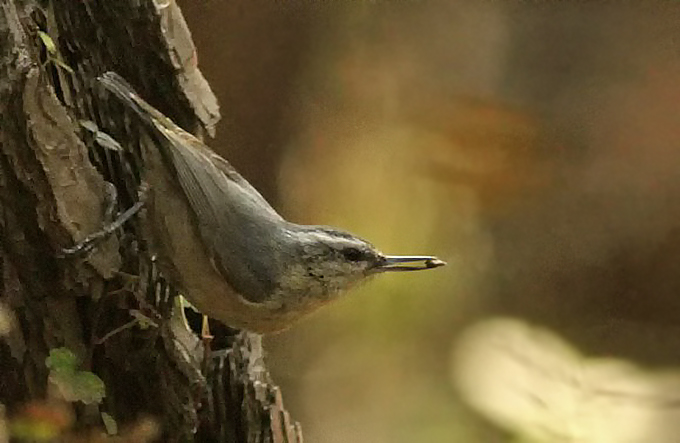 Chinese Nuthatch Sitta villosa, Photo © Subhojit Chakladar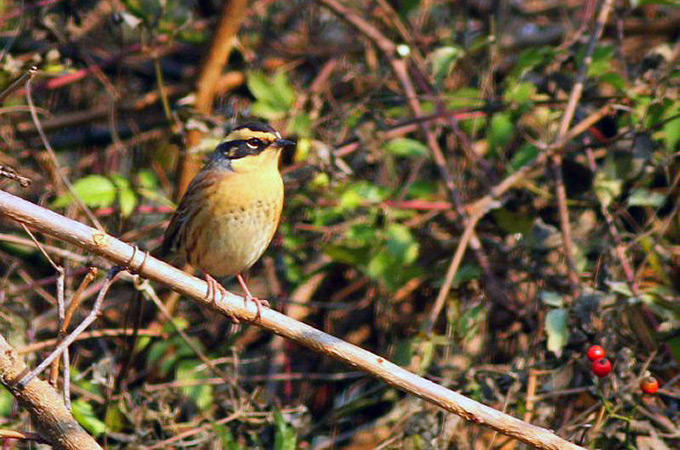 Siberian Accentor Prunella montanella, Photo © Subhojit Chakladar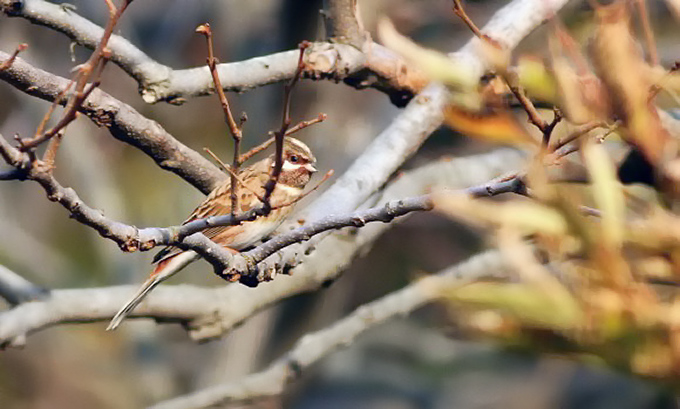 Pine Bunting Emberiza leucocephalos, Photo © Subhojit Chakladar