Birds Korea's Bird News September 2012
September
Temperatures begin to cool, especially towards the end of the month, with maxima often falling from 28°C to 20°C. Sunny, dry weather predominates, though often punctuated by occasional heavy rain and very strong winds associated with typhoons.
September sees migration pick up considerably, with a build-up of ducks including the first returning flocks of Baikal Teal by mid-month. Seabirds still provide much interest (with small but increasing numbers of jaegers and dark shearwaters possible), while shorebirds like Nordmann's Greenshank and a very few Spoon-billed Sandpiper can be found at prime sites, such as the Geum and Nakdong Estuaries, with other Yellow Sea "specials" also at Hwaseong (Namyang Bay) and Song Do (Incheon). Whiskered and White-winged Black Terns, although scarce in South Korea, become rather more widespread with small flocks of the latter at Seosan and in Gunsan, along with an increasing number of Mongolian Gull. Raptor migration includes large concentrations of Chinese Sparrowhawk making their way towards Japan (where over 50 000 have been recorded in one day on an island in the Korean Straits only 40 km south of Busan!), along with smaller flocks of Grey-faced and Crested Honey Buzzards, and very small numbers of Pied Harrier and Amur Falcon especially through the west and northwest. Passerines become rather more numerous and perse, with Thick-billed Warbler and Brown Shrike early in the month, good numbers of Eastern Yellow Wagtail , Pechora Pipit, and the three species of "grey-brown flycatchers" by mid-month (some Dark-sided and Brown still, with a peak in Grey-streaked). Towards the very end of September, Olive-backed and Buff-bellied Pipit migration starts in earnest, and the first small flocks of buntings also arrive, with most numerous being Chestnut and Black-faced.
September holds the chance of national rarities like Rose-coloured Starling, Ashy Drongo, Tree Pipit, and South Polar Skua. Firsts for Korea in recent years have included Steppe Grey Shrike in 2004, Eurasian Dotterel in 2005, Willow Warbler in 2006, and Wood Warbler and Buff-breasted Sandpiper in 2007.
(The following records are a compilation of our own sightings and records sent in by other observers. As well as being posted on the Birds Korea website(s), selected records are also forwarded to other Korean-language birding websites; records of threatened species are arranged and forwarded to Birdlife International and national authorities when appropriate; flag images and records are passed to bodies responsible for their coordination throughout the flyway; and all records sent to us are used to compile annual reports and to support the evolving understanding of the status of many of Korea's birds.)
Bird News from Subhojit Chakladar
Seochong Island, September 30
I set out for Seochong-do with lots of hope and a bit of trepidation. Having planned to spend the entire 3 hour journey on the deck looking out for seabirds, my hopes were quickly dashed as the boat authorities informed me that was not permitted due to safety reasons. Looking at the sea through a salt stained window wasn't my idea of perfect autumn pelagic and I dozed off a result. Luckily, we were allowed to go out on the deck for about 15 minutes. Within minutes I spotted the first Pomarine Skua at a distance. I ran back to grab my camera. During the remaining time on the deck under pretty windy conditions, I encountered around 10 more of them and 2 separate flocks of Streaked Shearwaters with a conservative estimate of about 200+ birds in total. The stay in Seochong-do and the ferry journey produced a total of 55 species (based only on visual observation and photographic record)
Birding and especially photographing them in autumn is considerably more tricky than in spring. I learned it the hard way on the 1st day. The shifting clouds made it especially tricky to photograph the raptors. Highlights of the day include the migrating Oriental Honey-buzzards (~25), a probable Pallas's Leaf Warbler in the lighthouse gully. North Point was strangely quite that afternoon except for 3 Black Faced Buntings and a single Olive Backed Pipit.
Bird News from Tim Edelsten
Seunggi Pond (aka Songdo Lagoon), September 29
Briefly at high tide most interestingly 124 Black-faced Spoonbill, a lingering Black-winged Stilt, the seasons first Taimyr Gull and several Northern Pintail. There is still e.g. a singing Oriental Reed Warbler and Marsh Sandpipers.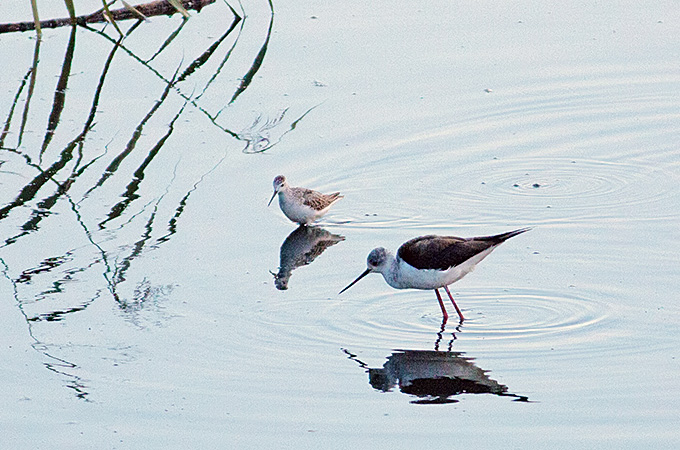 Black-winged Stilt Himantopus himantopus, Photo © Tim Edelsten
Bird News from Bradlee Sulentic
Gayabong & Seosan Lake A, September 28
Gayabong
After getting a late start, I took my two sons up to Gayabong for some birding on a perfect Autumn day. Unfortunately, events conspired against us in the early going with Chuseok traffic slowing us in the trip out there and then the road being blocked off right before it heads up the mountain (at the bridge). So, in trying to make the best of a less-than-great situation, I parked the car and we had a great hike up an exceptionally quiet Gayabong. Outside of what I call the "Big Five" (Eurasian Tree Sparrow, Brown-eared Bulbul, Oriental Turtle-dove, Common Magpie and Eastern Great Tit) the only species of note were 4 Eurasian Jays, a raucous flock of 12 Azure-winged Magpies, a Marsh Tit showing off for us on an exposed branch and a Grey Wagtail flying beneath us under a bridge. Seeing that Gayabong wasn't going to be giving up many more species we decided to cut our losses and head to…
Seosan Lake A
As usual, Seosan Lake A did not disappoint. Anthony very quickly got his first looks at 2 Whimbrel mixed in with a flock of 15 Far Eastern Curlew. He very much enjoyed learning about the differences in bill size and shape between the two species. There were quite a few gulls to look at, though they were mostly made up of Black-headed, Black-tailed and Mongolian Gulls. I was intrigued, though, by a rather large and very clean, bright gull that was mixed in with a flock of the afore-mentioned species. Being that I was busy trying to keep two boys interested, I couldn't take the time to get to know my mystery gull better and had to move on. Ducks now seem to be moving into the area with 4 Mallard and 2 Eurasian Wigeons (all in eclipse plumage) mixed in with the usual Spot-billed Ducks. I was also able to spend a little time studying 3 Common Redshanks that were roosting with some Spot-billed Ducks and a lone female Mandarin Duck on a sandbar in the creek. Two species stole the show at Seosan today, though. Anthony got his very first looks at an endangered species when I located two handsome Black-faced Spoonbills roosting and cleaning themselves near the mouth of the creek. As excited as he was, he immediately started asking me when he'd have a chance to see "Spoonies" like I saw at Yubu-do. I guess seeing one "spoonbill" led his mind right into thinking about the other "spoonbill". The other "star" was the flock of 10,000-15,000 Bean and Greater White-fronted Geese that flew over our heads on their way to their roosting area on a large sandbar in the mouth of the creek. To go from a couple thousand last weekend to ~15,000 this weekend is quite a jump and was a pleasant surprise for Anthony, Gabriel and myself.
Though our day kicked off the way it did, the beautiful weather and setting at Gayabong along with the spectacle of geese and spoonbills at Cheonsu made for a great day for me and my boys.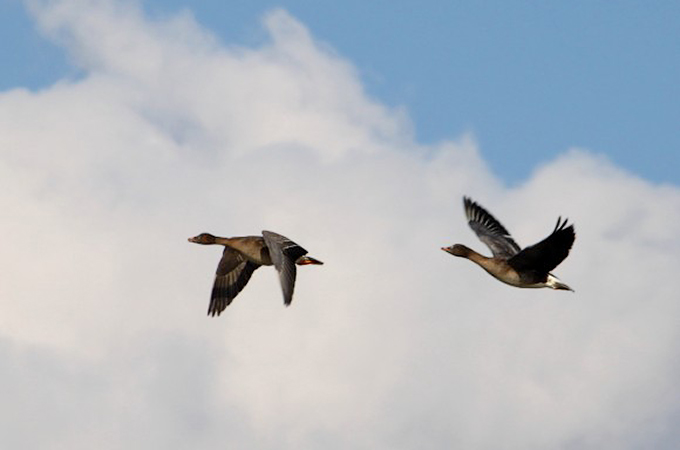 Tundra Bean Geese Anser serrirostris, Photo © Bradlee Sulentic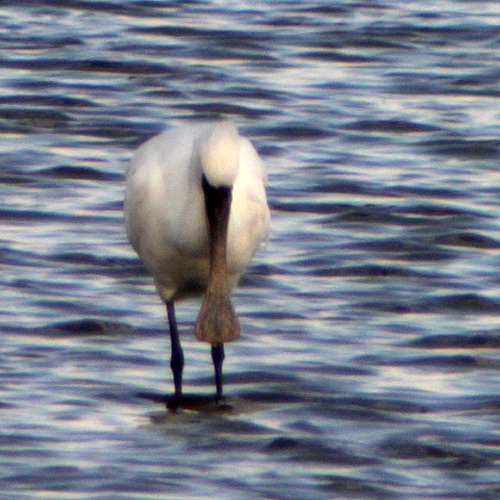 Black-faced Spoonbill Platea minor, Photo © Bradlee Sulentic
Bird News from Nial Moores
Igidae, Busan, September 22 & 24
On Saturday 22nd in light southerlies with 7/10 cloud cover, seawatching from the north of Igidae found 55 large white-headed gulls moving south between 1420 and 1700, with additional highlights a juvenile Parasitic Jaeger south (my personal first in the ROK for several years) and a small dark alcid always too distant to see sufficiently well.
Scoped for 45 minutes as it slowly drifted away northward and away from the coast, notes and rough sketches taken at the time included the following: A small dark alcid, consistently appearing about half the size of Black-tailed Gulls in direct comparison – therefore suggesting Long-billed Murrelet or Ancient Murrelet in size/structure. However, the bill was much more prominent, and was completely or near-completely dark, deep-based, heavy, and quite long – narrowing distally – and was usually held downward. The bird also sat very low in the water, looked flat-backed and lacked a "cocked tail", yet the neck was always apparent, and even sometimes obviously extended, especially when it was attacked by Black-tailed Gulls (seen 3-4 times). At such times the bird's outline recalled that of a small grebe or (an even smaller!) coot. The plumage was blackish, and almost lacked contrast, at a range when plumage details and bill markings could be made out on Black-tailed Gulls close to it. At closest range (still probably >1km away, through a tripod-mounted 60x Swarovski under overcast skies) noted as showing some suggestion of a "white line" facially, near or around the eye, therefore recalling a miniature breeding-plumaged Spectacled Guillemot. The plumage also appeared somewhat paler just above the water-line, and it showed a whitish belly when rearing up during wing-flaps (suggesting that the bird was probably not dark with oil). Unfortunately, it was only seen wing-flapping properly towards and from the rear, when its wings looked all black above, and very round-handed. Its rear-end also looked "short" and rounded. Based on its all-dark plumage above and its heavy bill, as well as its status in Korea, the most likely ID would be immature Rhinoceros Auklet: a highly unseasonal record of a species previously recorded only once at this site, but which sometimes forms quite large flocks at other east coast sites in the mid-winter. However, at no time during the observation did this bird actually suggest the bulk or size of Rhinoceros Auklet, and several expected features (such as some orange on the bill; head and bill shape; usually cocked tail and white undertail) were also looked for but not seen …Instead, its size, structure and plumage all seem to suggest Cassin's Auklet Ptychoramphus aleuticus: a species as yet unrecorded in Korean waters. (As a prolonged search for this bird on subsequent dates has so far proved unsuccessful, this seems to be yet another oddball following in the wake of Typhoon Sanba that simply "got away"…Here's hoping someone else has better luck!).
On Monday 24th, winds had picked up to a moderate north-easterly, and seawatching at the same point between 1250 and 1450 found much larger numbers of birds both moving and feeding offshore. Most numerous were Common Tern with c. 660 south in two hours and Streaked Shearwater (with 80+ north between 1400 and 1450). Counting became much more challenging as winds strengthened further, and large numbers of both species started to feed in dense, frenzied flocks – with four of five feeding groups containing in total at least 700 Common Tern and 30+ Streaked Shearwater. Surprisingly, however, the two highlights of the day were both landbirds. Checking the open ground close to the seawatching point, first up was a calling Raddes' Warbler (always very scarce in the southeast) and even more unexpected a Long-tailed Shrike! The latter species is typically a scarce late autumn and early spring migrant to offshore islands along the west coast, and an even scarcer overwintering species. Although one recently overwintered at Joonam Reservoir, this is presumably the first record for Busan.
Long-tailed Shrike Lanius schach, Photo © Nial Moores
Bird News from Subhojit Chakladar
Weiyon-do, September 22-23
Every time a typhoon hits the Korean peninsula, I'm tempted to go on a pelagic immediately afterwards in search of exotic seabirds. This trip to Weiyon-do was primarily for searching seabirds from the ferry. The ferry rides were unfortunately rather disappointing in terms of birds. The only birds of note were 2 Streaked Shearwaters. Though too far to be effectively photographed, I was able to observe them for quite a long time. The first day on the island was also quite disappointing. The best part of the stay was Sunday morning. It started with a Great Spotted Woodpecker, followed in quick succession by a Siberian Stonechat, Olive-Backed (1) and Pechora Pipits (2). But then I encountered a deceased juvenile Common Moorhen. It seemed to have perished from an injury to the back of its head (probably inflicted by a raptor). The western side of the "Temple hill" held more surprises. Yellow-Browed Buntings (~6), Siberian Stonechats (~3), Asian Brown and Grey Streaked Flycatchers (2 each). There was also a juvenile cuckoo. The picture is shown below and any help at identification would be deeply appreciated. But of the 31 species spotted on the island, the obvious highlight was a juvenile Oriental Scops Owl (Rufous form) (thanks to Dr Moores, Tim and Jason for helping with the ID). It was spotted at the edge of the forest on the western face of the hill. Other species of note on the island were a Yellow-breasted Bunting and a Western Osprey. During the trip about 120+ Yellow-Browed Warblers and about 10+ Arctic Warblers were encountered.
Apart from the birds, the relatively unspoilt night sky and glowing waves in the sea (bio-luminescence) provided some much needed break from the hectic pace of city life.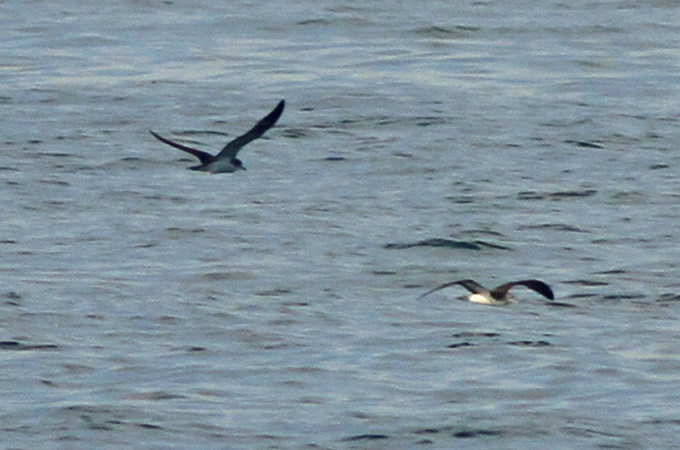 Streaked Shearwater Calonectris leucomelas, just outside Ho-do (first stop enroute Weiyon-do), Photo © Subhojit Chakladar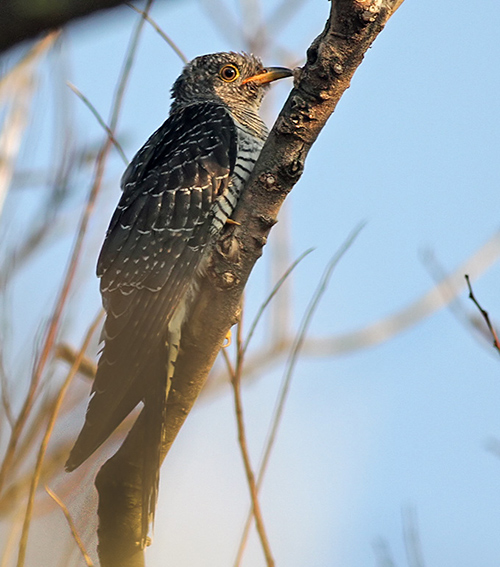 Juvenile Cuckoo (any help with ID would be appreciated), Photo © Subhojit Chakladar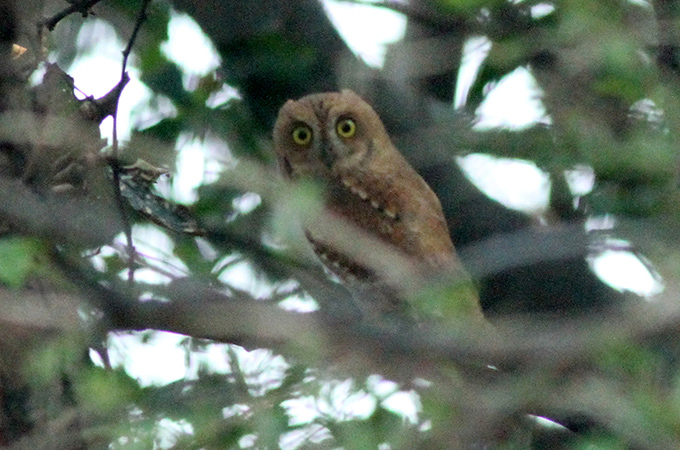 Oriental Scops Owl Otus sunia, Photo © Subhojit Chakladar
Bird News from Tim Edelsten
Gwahrim Josuji, September 22
At Gwahrim Josuji two families of Common Moorhen (one with four chicks), a pair of Common Kingfisher and a Little Grebe. In nearby woods, a White's Thrush, Eurasian Hobby, Grey-headed Green Woodpecker and two very elusive Pale Thrush.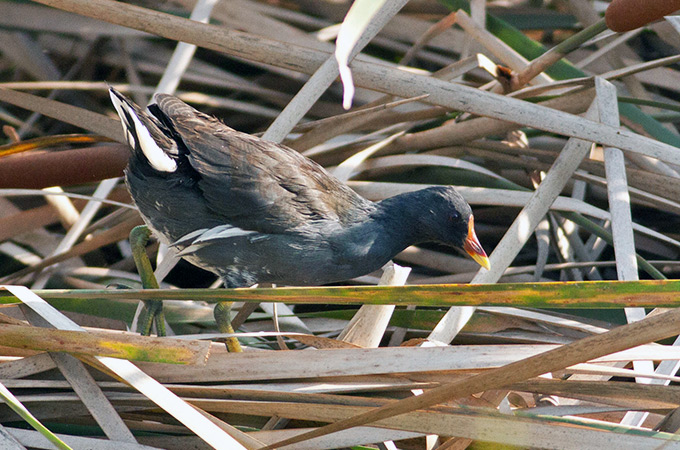 Common Moorhen Gallinula chloropus, Photo © Tim Edelsten
Bird News from Bradlee Sulentic
Seosan Lake A, September 22
Took a trip to Seosan Lake A with my son Anthony and a good friend, Theo. It was Theo's first birding trip, so I focused on giving him a memorable day instead of doing a serious count. We hit the road at 6:30am and got great looks at two Northern Hobbies roadside just a couple minutes into the drive. Amazing birds for someone who is new to birding. Just outside of Lake A we had two Large-billed Crows fly right over the car. Plover activity is much reduced compared to the numbers from 3 weeks ago. Two Mongolian Plovers were seen amongst a small flock of Common Greenshanks. They were a fun challenge for me, being that they were in transitional plumage, showing only hints of their breeding plumage on their heads. The only ducks seen today were the usual Spot-billed Ducks, which was a bit surprising to me, since I have already seen Northern Shovelers here this season. The highlight for Theo was the Peregrine Falcon that was perched on one of the islands in the lake. I am thinking this bird is a resident, having seen a falcon in the same area of the lake each of the last three times I've been there. Common Sandpipers provided their usual comic relief for all of us with their constant tail-bobbing.
The two highlights for me came in quick succession. The first highlight was the Wood Sandpiper that was playing hide-and-seek with me on one of the dikes between two rice fields. When I pulled up to the dike and first saw it, I got great looks at it sitting there quietly. But I wanted to get my scope set up on it so that Theo and Anthony could get even better looks of it. As soon as I turned off the engine to get out and get my scope set up it quickly dipped into the rice. No bird. Time to move on. Except as soon as I started the engine up again it quickly came out of the rice and settled down in plain sight. Engine off. Bird gone. This happened several times over 3-5 minutes. Highlight number two for me was the very attractive Richard's Pipit I saw skulking along at the base of a dike separating two fields. What made it the highlight for me was being able to positively ID it after getting home and researching it a little. I figured not ID'ing it in the field meant not ID'ing it at all. It was also good to know that my shorebird book-work has worked out for me. I was able to instinctively distinguish two Marsh Sandpipers from the greenshanks we had been seeing all day.
We ended the morning with a flock of ~750-1,000 Bean Geese (with a couple Greater White-fronted Geese mixed in) flying tree-top level right over the car after flushing from a field in the distance. Seeing the looks on Theo's and Anthony's faces as the geese flew over made the trip more than worth the time spent driving them down. All-in-all, it was a good day of birding. We saw no rare birds and overall numbers were still pretty low. The daily average of species always hovers around 30 species, though the species differ from one week to the next. I'm looking forward to taking the local Cub Scout wolf den to earn their Wildlife Conservation belt loops on a trip to Cheonsu Bay at the end of next month.
Bird News from Jason P. Loghry
Bunsungsan, Gimhae, September 18-20
There is nothing more rewarding than finishing a good day of work with a great afternoon of birding – especially during this comparatively birdy migration season.
At Bungsunsan, Grey-Streaked and Dark-sided Flycatchers have been consistently present this week. On Tuesday I counted more than 40 Daurian Redstarts By Thursday, I found less than half that. Every day there seems to be a small but noticeable increase in Asian Brown Flycatcher and yesterday I observed a single juvenile male Blue and White Flycatcher. Highlights of the week include a personal first of the season adult female Mugimaki Flycatcher and three Pacific Swifts, both sightings on the 19th. It was close to sunset when I spotted the Swifts, and they didn't stay long continuing on a southerly direction towards the Nakdong. Interestingly, they were followed by a group of 20+ Barn Swallows that had been present from the previous week.
Arctic Warblers sensu lato also remained throughout the week and on Thursday there were good opportunities to watch them foraging in some trees in a more open area north of the temple. Other notable species observed this week include Black-naped Oriole, Yellow-browed Warbler, Japanese Bush Warbler, Grey-headed Woodpecker, White-backed Woodpecker, a pair of Kestrels on Thursday, and an increasingly regular presence of Eurasian Hobby.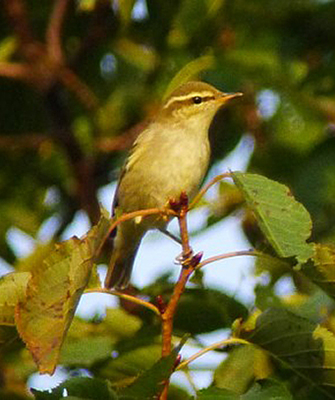 Arctic Warbler sensu lato
Photo © Jason P. Loghry
Arctic Warbler sensu lato,
Photo © Jason P. Loghry
Bird News from Nial Moores
Igidae, Busan, September 18
Following the passage of Typhoon Samba about 150km to the west of Busan on 17th, much of the 18th was spent looking at the sea. Conditions were bright under occasional cloud, with a still moderate southerly wind, and visibility falling from 40km early on to 3-4km toward the evening.
During 8 hours of seawatching (between 07:35 and 15:30, and again between 17:15 and 17:45), there was evidence of a diverse range of species on the move, especially before 09:00. Outstanding highlight was a Brown Booby heading south at 09:30 (only my personal second in the ROK). Although occasionally present (and rarely, even numerous) in or near Fukuoka only 200km to the south, there are perhaps still fewer than 10 national records.
Possible "misses" included an apparently all dark petrel scoped for 1-2 minutes at a range of 1-2km in good light as it moved south-southeast at 07:55, at no time allowing a direct size comparison with any other species. Although possibly a Swinhoe's Storm Petrel (the default ID in Korean waters), it appeared rather large, solid and very long-tailed (tail seemed to be held closed at all times, and from the side gave the bird a vaguely cuckoo-like profile at times). Moreover, a few times it showed an odd deeply bowed-wing flight, and one time even towered up suddenly 20-30m on bowed wings, before dropping down and resuming a steady flight low over the water – neither flight action recalling anything seen in many hundreds of encounters of Swinhoe's Storm Petrel in a range of conditions from boats.
The other oddball was an all-brown, long-tailed shorebird with pale underwings through with a flock of Dunlin in the afternoon.
Day totals of more regular species south included c. 1170 Common Tern and one White-winged Tern; 68 large white-headed gulls of three species (including the first definite Vega Gulls of the autumn, with a single juvenile, a single 4CY and probably 10 adults; and a beautiful juvenile Taimyr Gull south with adults); 135 shorebirds (mostly Dunlin and Mongolian Plover, but including 10 Red Knot, at least 8 Pacific Golden Plover and single Great Knot and Far Eastern Curlew); and three species of duck (one Northern Shoveler, one Mallard and 10 or so Common Teal).
On land, other species of interest included single Western Osprey and Richard's Pipit, a probable Arctic Warbler in with "Kamchatka Leaf Warblers" (based on differences in calls) and two Blue-and-White Flycatcher in addition to five Grey-streaked and two Asian Brown Flycatchers.
Bird News from Tim Edelsten with Spike Millington
Songdo, September 17
Most noteworthy the strong influx of hundreds of Northern Shoveler, with also rising numbers of Common Teal. At the lagoon, c.60 Red-necked Stint and 300+ Black-tailed Godwit. Also, the first Green Sandpiper of the season, otherwise e.g. 2 Common and 1 Spotted Redshank, 2 Black-winged Stilt, 10+ Broad-billed Sandpiper, all occasionally roused by a juvenile Peregrine. At Aham-do now 6 Common Shelduck and on the golf course, an Arctic Warbler, Varied Tit, Indian Cuckoo and Japanese Pygmy Woodpecker.
Northern Shoveler Anas clypeata, Photo © Tim Edelsten
Bird News from Tim Edelsten
Songdo, September 16
Sadly at Uiwang much of the reedbed has been cleared in preparation for the construction of a go-kart track which is to be constructed all around and over the lake.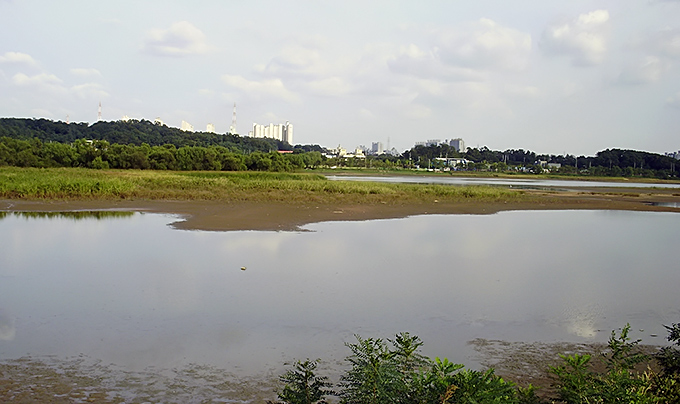 Uiwang, Photo © Tim Edelsten
Otherwise, most interesting 9 Long-billed Plover in a loose group, also several Yellow Wagtail, a juvenile Mongolian Plover, 2 Great Crested Grebe, a singing Oriental Reed Warbler, a Yellow-browed Warbler, 5 Mallard, 12 Eurasian Teal (in eclipse), a Black-faced Bunting, and e.g. several Little Egret and 2 Large-billed Crow.
Long-billed Plover Charadrius placidus, Photo © Tim Edelsten
Bird News from Jason P. Loghry
Bunsungsan, Gimhae, September 11-13
It's been another marvellous week for birding, but this time in my own neighbourhood. I was tipped off a few months back that Bunsungsan is a reliable spot for migrating flycatchers, great for raptor watching, and if I remember correctly, is possible to find wintering rosefinches (Pallas's? can't wait to find out). Skies were clear on Tuesday afternoon, so I headed up to investigate. In total, 5 Eurasian Hobbies were moving swiftly through the sky feeding mid-flight. They could also be heard calling. I learned that Eurasian Hobby are mainly insectivorous and their migratory movements often correspond with dragonfly migration. Interestingly, there were several dragonflies in the sky. On Wednesday and Thursday, I saw no Hobbies but a couple of unidentified Accipiters (sparrowhawks) and some Barn Swallows. Near the temple, there were great numbers of passerines feeding in a dense area, notably flycatchers and some Long-tailed Tits. There were more than 25 Grey-streaked Flycatchers, two Asian Brown Flycatchers, two Dark-sided Flycatchers, two Blue and White Flycatchers, two Yellow-browed Warblers, a dozen Arctic Warblers (sensu lato – more likely Kamchatka Leaf Warbler based on a sound recording), but most significant were Daurian Redstarts, with up to 38. Eurasian Jays, a few Varied Tits, Coal Tits, Marsh Tits, Japanese Pygmy Woodpeckers, 3 Grey-headed Woodpeckers, 4 White-backed Woodpeckers (with three in the same tree), 3 Bull-headed Shrikes, and even a Chinese Grosbeak (personal first on the mainland).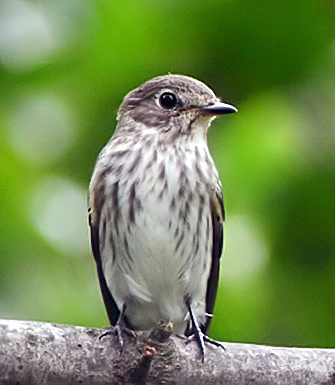 Grey-streaked Flycatcher Muscicapa griseisticta
Photo © Jason P. Loghry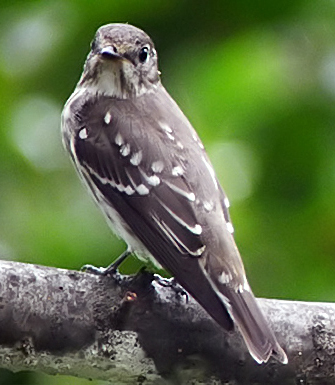 Grey-streaked Flycatcher Muscicapa griseisticta,
Photo © Jason P. Loghry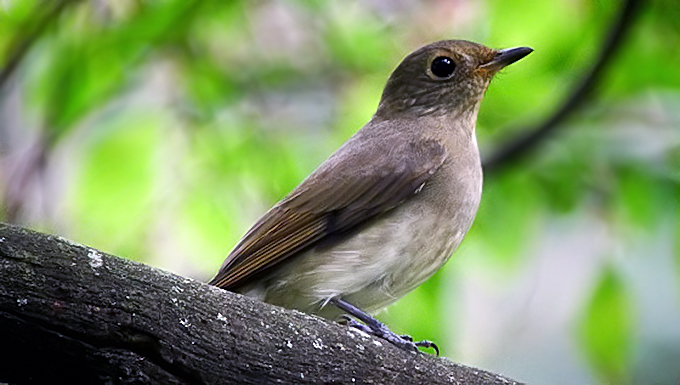 Blue and White Flycatcher Cyanoptila cyanomelana, Photo © Jason P. Loghry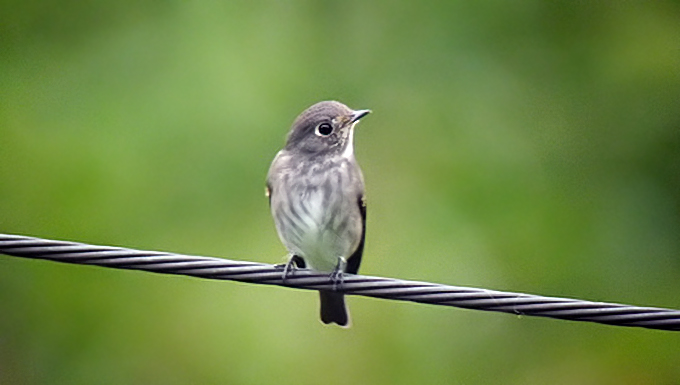 Dark-sided Flycatcher Muscicapa sibirica, Photo © Jason P. Loghry
Daurian Redstart Phoenicurus auroreus, Photo © Jason P. Loghry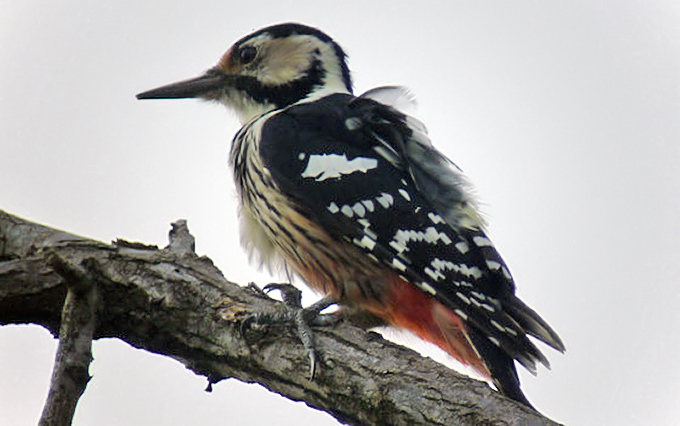 White-backed Woodpecker Dendrocopos leucotos, Photo © Jason P. Loghry
Bird News from Tim Edelsten
Geomam, September 8
At Geomam reedbed best the Chinese Pond Heron still, which has, interestingly, oversummered. This whole area includes masses of tangled and overgrown scrub, most of which ..predictably.. is being rapidly cleared for car parks and other infrastructure. Also of interest, a Yellow-breasted Bunting, two Asian Brown Flycatcher and a pair of Daurian Redstart, which breed in the uplands in summer and return to the lowlands in the fall.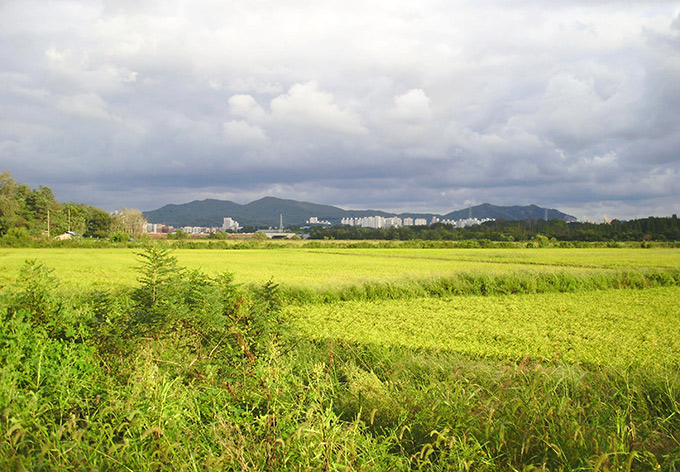 Geomam: reeds & ricefields, Photo © Tim Edelsten
Among other pretty sights, a Common Kingfisher, Yellow Bittern, Oriental Reed Warbler, Dollarbird and Black-naped Oriole still, a Ring-necked Pheasant and the usual Black-crowned Night-heron, Great Spotted Woodpecker and Marsh Tit. Flushed from the fields, one Common Snipe and one Pintail Snipe (showing e.g. all-dark underwing). Also of note, evidence of Chinese Water Deer. The bases of reed stems are now festooned with the pretty red eggs of the Lister River Snail Viviparus contectus.
Eggs of Lister's River Snail (Viviparous contectus) attached to reed stems, Photo © Tim Edelsten
Bird News from Tim Edelsten
Songdo, Aham-do, September 2
At Songdo's lagoon/ Namdong Reservoir, the first 3 Shoveler of the season appeared, where also 5 Garganey and 6 Mallard (all in eclipse). Otherwise, 332 Black-tailed Godwit, 14 Red-necked Stint, a Dunlin, 56 Black-faced Spoonbill, 4 Spotted Redshank, 3 Common Redshank, 4 Broad-billed Sandpiper, and the ubiquitous Vinous-throated Parrotbill.
At the Aham-do high tide roost, best 2 Curlew Sandpiper and a Ruff: also e.g.100+ Grey Plover, up to 70 Red-necked Stint, 14 Dunlin, 2 Garganey, 2 Black-faced Spoonbill, 21 Spotted Redshank, 5 Sharp-tailed Sandpiper and several Common Redshank.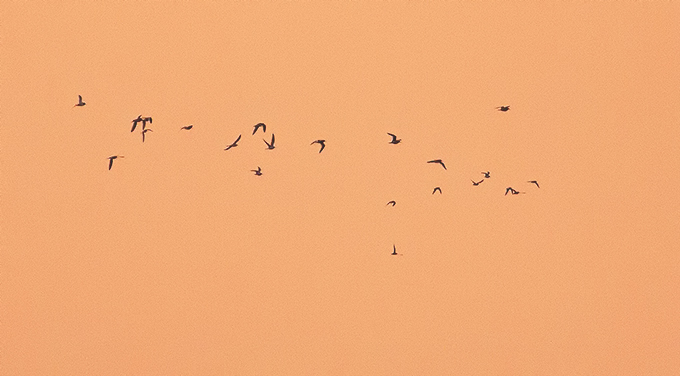 Waders vanishing from Songdo, Photo © Tim Edelsten
In the grasslands, an Oriental Reed Warbler, Eurasian Kestrel, 14 Cattle Egret, an Intermediate Egret, 2 Northern/ Far Eastern Skylark, and at least 80 tschutschensis Yellow Wagtail in two loose flocks. Most astonishing sight came just after dusk, whereupon a Grey Nightjar emerged from scrub to fly back and forth -viewed at very close quarters- low over the still seawater, frequently dropping to the surface to pluck insects!
Bird News from Subhojit Chakladar with Bradlee Sulentic and Jason P. Loghry
West Coast, September 1
A fantastic weekend of birding along the west coast. Starting early on a hot. humid Saturday, Brad and I spent some time around the Seosan lake A. Highlights included a solitary Greater White Fronted Goose, a Peregrine and Whiskered Terns (~6) including 2 juveniles. Other birds of interest included distant views of a Common Snipe, a Yellow Wagtail and a presumed Arctic Warbler.
After meeting up with Jason at Gunsan, we headed towards Yubu-do in search of a bird that has come to symbolize the fragility of wetlands. Though we expected to find this critically endangered bird, we (Brad and I) didn't expect it to be this easy! The 5(6) Spoon-billed Sandpiper were the undoubted highlight of this trip. Other prominent species encountered included Saunder's Gulls, Eurasian and Far Eastern Curlews, Whimbrels, Broad-billed Sandpipers, Red-necked Stints, Black and Bar-tailed Godwits, Common Greenshanks, Marsh Sandpipers, Wood Sandpipers, Grey Plovers and a single Northern Shoveler. The locations surveyed included the Saemangeum tidal flats (near the airport) and the Geum barrage.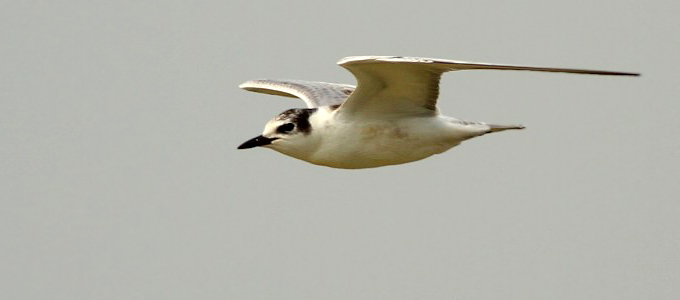 Whiskered Tern Childonias hybrida, Photo © Subhojit Chakladar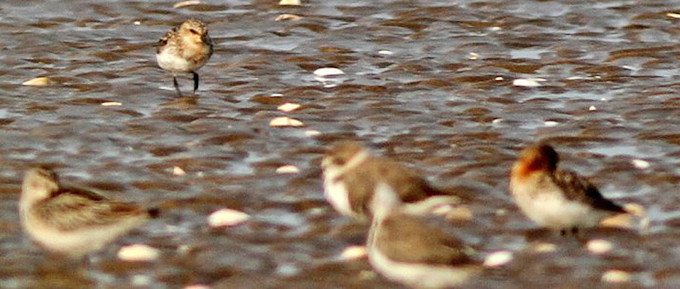 Spoon-billed Sandpiper Eurynorhynchus pygmeus, Photo © Subhojit Chakladar
Bird News from Tim Edelsten with Spike Millington
Yongjeong Island, September 1
At Yongjeong Island best was a Temminck's Stint frequenting with 3 Long-toed Stint at the saltpans, where also 1 Grey-tailed Tattler, 1 Spotted Redshank, c.200 Common Greenshank, 4 Wood Sandpiper, several Red-necked Stint, Common Sandpiper and Little Ringed Plover.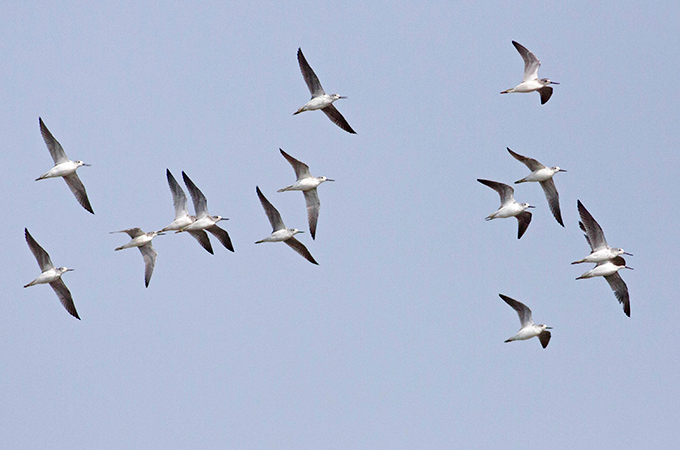 Common Greenshank Tringa nebularia, Photo © Tim Edelsten
Also in the vicinity, the expected accumulation of Barn Swallow, with also Grey Heron, Little Egret, Great Egret, Common Kingfisher, Black-tailed Gull, Black-billed Magpie, Jay, Tree Sparrow, Grey Wagtail, Brown-eared Bulbul, Long-tailed Tit, White Wagtail, Eastern Great Tit, Eastern Spot-billed Duck, Striated Heron, Black-naped Oriole, Oriental Turtle Dove, Great Cormorant and of particular note 2 Pacific Swift (first I've seen here).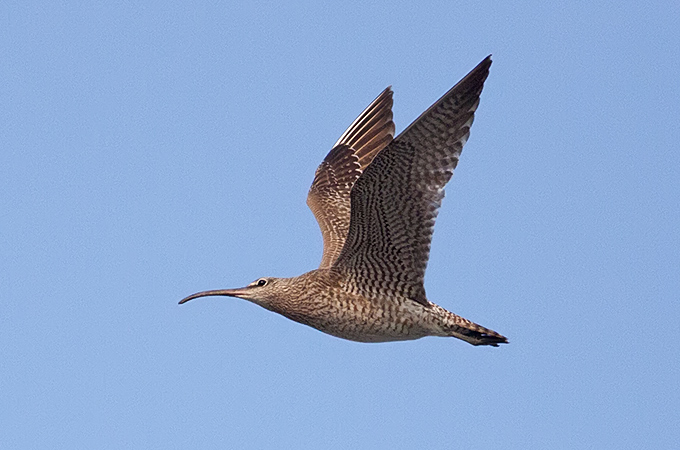 Whimbrel Numenius phaeopus, Photo © Tim Edelsten
At the southern wader roost, 75 Black-faced Spoonbill, 32 Saunders's Gull, 1 Eurasian Spoonbill, 400 + Far Eastern Curlew, 3 Eurasian Curlew, 100 + Whimbrel, 4 "Eastern" Oystercatcher,c. 400 Grey Plover, several Mongolian Gull, 1 Marsh Sandpiper, only 12 Great Knot and similar numbers of Dunlin and Terek Sandpiper, 63 Bar-tailed Godwit and 2 Chinese Egret. Also in the area several Yellow Wagtail, 3 Northern Hobby and 2 Zitting Cisticola.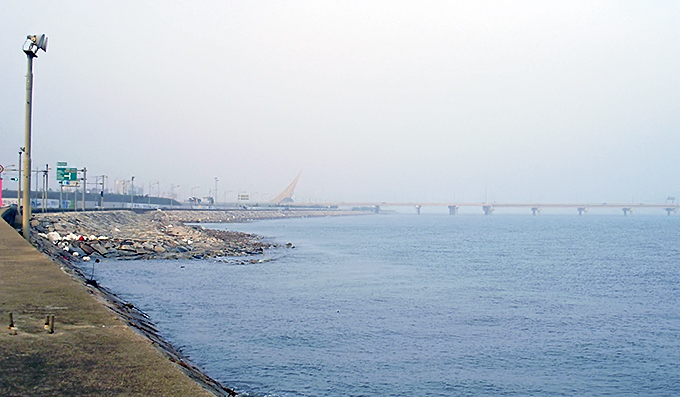 Area of southern Wader roost, Yongjong, Photo © Tim Edelsten