Birds Korea's Bird News July 2012
July
Hot (typically maxima above 25°C, and sometimes reaching 34°C) and humid, with occasional storms and heavy rains associated with southern-tracking typhoons.
Young Japanese and White Wagtails can be found begging food on streams and rivers in the East and southeast. Juvenile Chinese Egrets and Eastern Oystercatchers are on north-west tidal-flats, in some areas feeding alongside summering Saunders's and Mongolian Gulls. Chinese Sparrowhawks are on telegraph poles in rice-fields throughout the country. Black-naped Orioles, Vinous-throated Parrotbills and parties of tits, are found in almost all woodland areas. By the end of July the first returning shorebirds arrive, with large numbers of Far Eastern and Eurasian Curlews at Ganghwa and the Geum Estuary.
"Southern breeders" in recent years have included Pheasant-tailed Jacana, White-breasted Waterhen and Greater Painted Snipe. In 2006 an early typhoon brought Korea's first Bridled Tern, to Jeju island.
(The following records are a compilation of our own sightings and records sent in by other observers. As well as being posted on the Birds Korea website(s), selected records are also forwarded to other Korean-language birding websites; records of threatened species are arranged and forwarded to Birdlife International and national authorities when appropriate; flag images and records are passed to bodies responsible for their coordination throughout the flyway; and all records sent to us are used to compile annual reports and to support the evolving understanding of the status of many of Korea's birds.)
Bird News from Tim Edelsten
Paldang, Ungilsan, Gwanaksan, Yongjeong & Songdo, July
Continuing the line-up of birds one can expect to see in the summer in Korea, on July 1st I photographed a juvenile Grey-headed Green Woodpecker in Bucheon, already quite independent of its parents.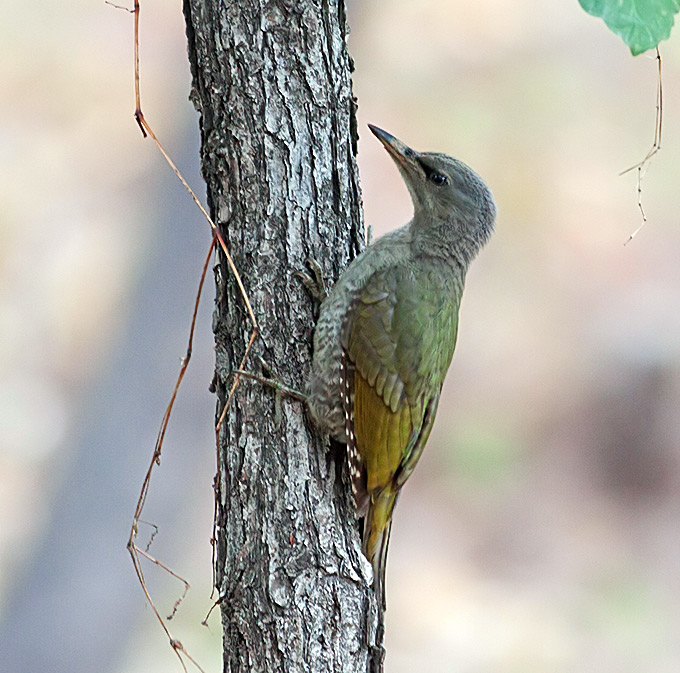 Grey-headed Woodpecker Picus canus jessoensis, Photo © Tim Edelsten
In stifling heat at Paldang on July 7th, very little on the swollen Han river except for ranks of Great Cormorant (which have a nesting colony on the nearby lake), a Striated Heron, two Mandarin, and a (presumably breeding?) Common Sandpiper.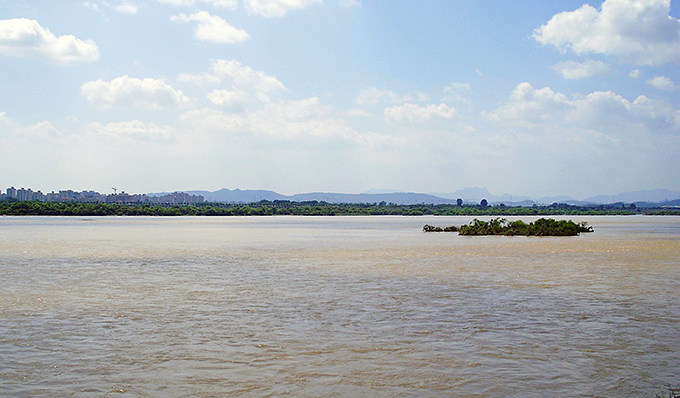 Han River, Paldang, Photo © Tim Edelsten
Whilst watching several Large-billed Crow playing together over the ridge on one high mountain to the east, a medium-large raptor suddenly came into view, brown above, barred underwings, and with long, straight-edged wings and relatively neat square tail- a Grey-faced Buzzard. This hawk is very rare in the summer in the ROK, although there have been two or three breeding records in recent years, and at least one previous sighting from nearby in this local area (One photographed, Choi Soon-Kyu, Yangpyeong, July 29th 2005).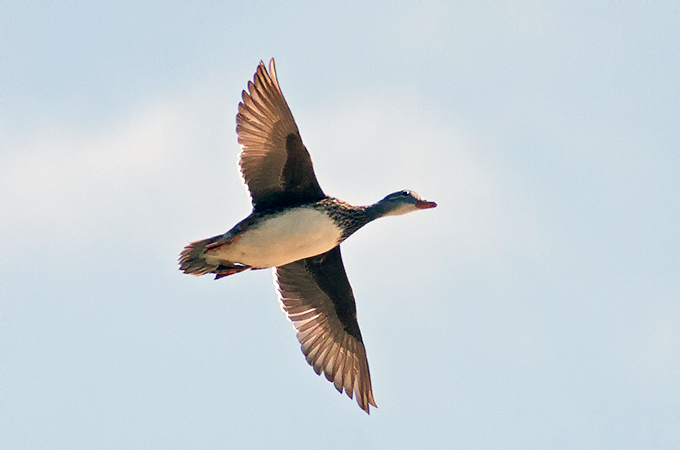 Mandarin Duck Aix galericulata, Photo © Tim Edelsten
At Ungilsan, there were e.g. two families of Great Crested Grebe (5 chicks and 2 adults) a Coot, and 2 White Wagtails. Oriental Reed Warblers were singing particularly noisily in the sun: they are, by contrast, usually silent in overcast weather.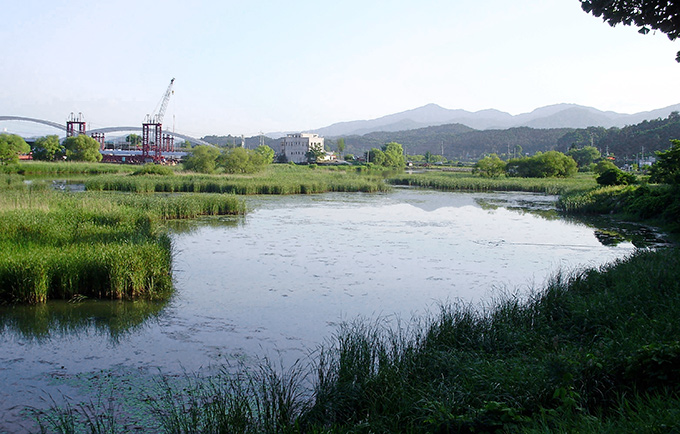 Ideal Habitat: Reeds at Ungilsan, Photo © Tim Edelsten
An undisturbed and remarkably productive area of reeds yielded nice views of five Yellow Bittern, which can look strikingly lemon-yellow in bright sunshine, or darker like a schrenks in angled evening light. My guess is that they have been pushed and concentrated into dwindling pockets of habitat by rising floodwaters.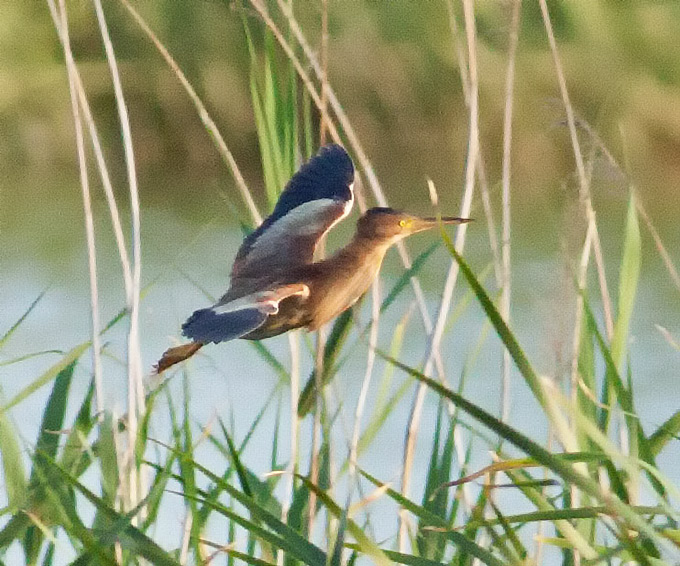 Yellow Bittern Ixobrychus sinensis, Photo © Tim Edelsten
Yellow Bitterns seem to be widespread and fairly common in suitable habitat in the ROK, although their breeding success and presence in any particular area seems to be strongly affected by water levels. Also calling from nearby trees, a Pale Thrush.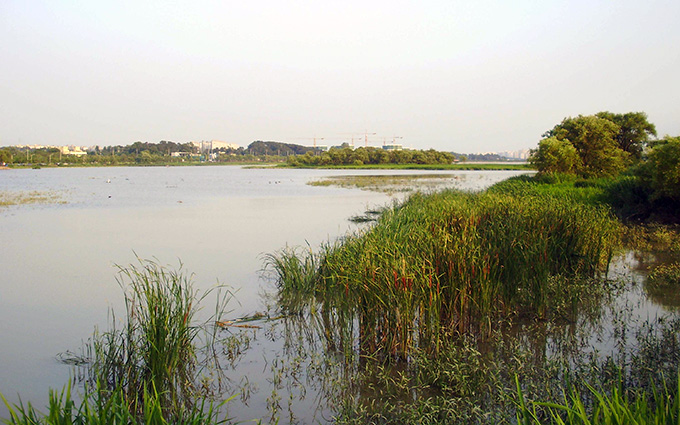 Uiwang Reservoir, Photo © Tim Edelsten
At Uiwang briefly on July 8th, most unusual, a lone female/eclipse Mallard. This duck is rare in the ROK in midsummer, although there exist a handful of breeding records. There were also five adult Great Crested Grebes, although apparently no chicks. This species appears to sometimes suffer breeding failure due to the sudden and artificial raising of water levels, particularly when they are still sitting on eggs early in the spring. Among the other usual suspects, a Coot, 2 Mandarin, breeding Striated Heron once again, and a Common Kingfisher and some Marsh Tit fledglings in nearby trees.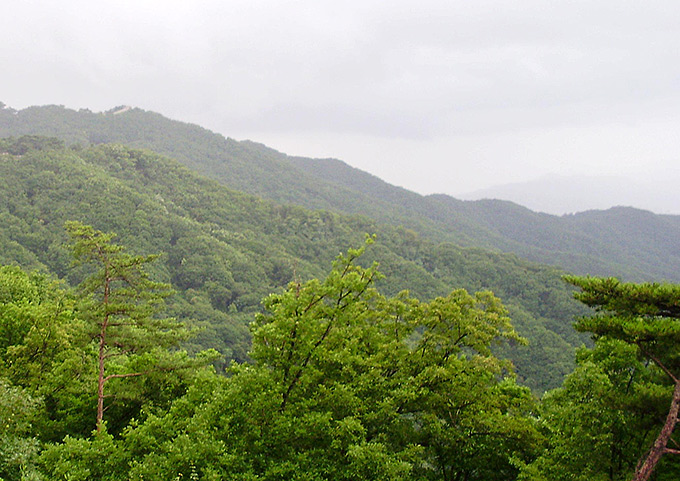 Forest, Eastern Seoul, Photo © Tim Edelsten
July 14th was dark and overcast, with continuous rain. Scouting an area of mixed forest east of Seoul, I was pleased to hear the occasional call of a Fairy Pitta in the late afternoon, which I slowly crept up on. After three hours of waiting around under my umbrella, I decided to move on- at which point something vivid blue-green, with flashing white wing-windows darted across my path!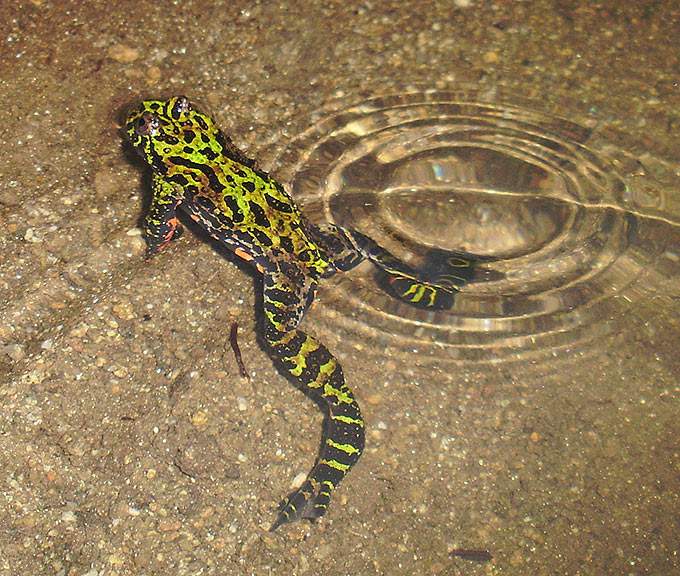 Fire-bellied Toad Bombina orientalis, Photo © Tim Edelsten
Also in these woods (among other expected birds), a Short-tailed Bush Warbler/ Asian Stubtail, the lazy see-sawing whistle of a White's Thrush, a vocal Brown Hawk Owl, two close Oriental Cuckoo at dusk, an Indian Cuckoo, and family of Eastern Crowned Warbler. At nightfall, delightful Fire-bellied Toads Bombina orientalis emerged into the new pools of rainwater.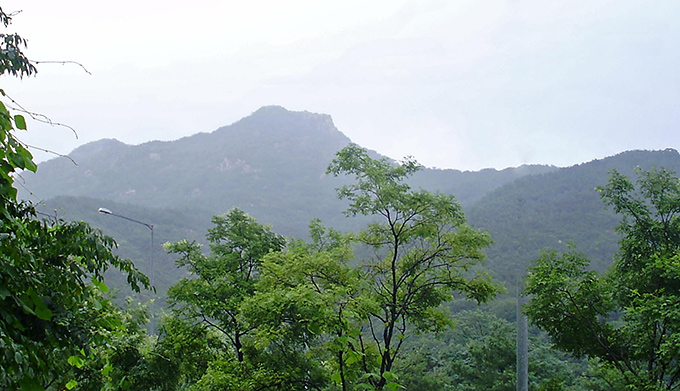 Gwanaksan, Southern Seoul, Photo © Tim Edelsten
At Gwanaksan on the 15th (with JP Loghry and Amael Borzee) very little to be found in the rain, best being a Northern Hawk-Cuckoo.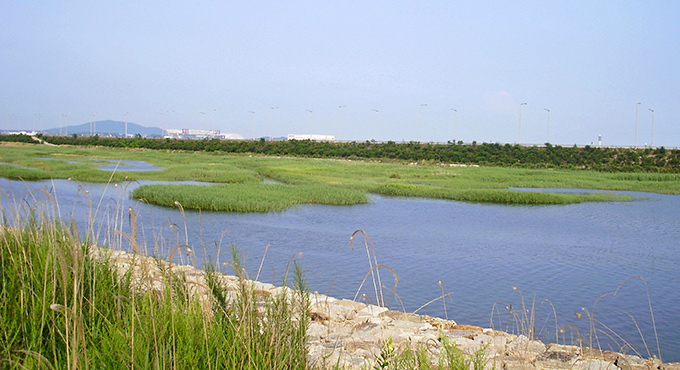 North Yongjeong Island, Photo © Tim Edelsten
At north Yongjeong on July 21st I tried to cross the river at several points by way of a short cut, each time the water rising above my waist and threatening to soak my rucksack and camera. In this, the only untouched natural area left, 4 Zitting Cisticola on territory, a pair of Meadow Bunting (the male singing briefly at dusk), a Grey Wagtail and a Common Redshank.
Meadow Bunting Emberiza cioides, Photo © Tim Edelsten
Thus due to having to walk the long way around, I was only able to get a view of the old reservoir at dusk. Sadly it has been mostly drained and dried out: it used to harbour large numbers of waterfowl. In its place, there is a large shallow artificial reservoir, paved with a sterile concrete floor. On here, a few roosting Great and two Temminck's Cormorant.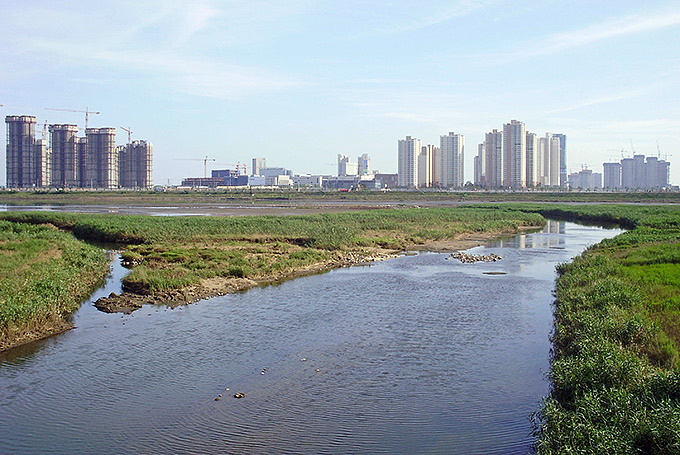 Songdo Lagoon, with reclamation development in background, Photo © Tim Edelsten
At Songdo on July 22nd, strong signs of southward movement included 200+ Common Greenshank on the lagoon, where also 5 Mallard, 51 Black-faced Spoonbill, 2 Marsh Sandpiper, 6 Common Sandpiper, 4 Black-headed Gull, 200+ Great Cormorant, c.20 Mongolian Gull and 1 Eurasian Spoonbill.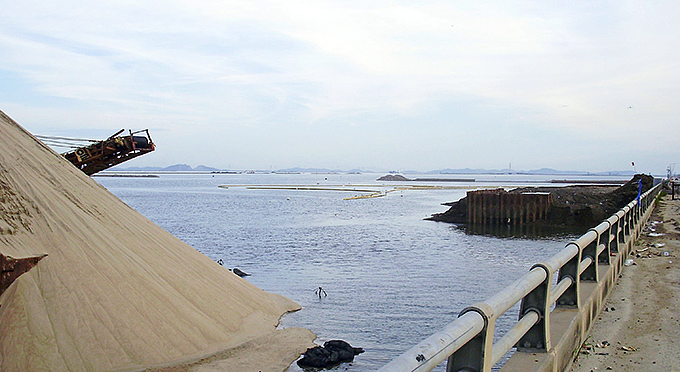 Last mudflat: undergoing reclamation, Photo © Tim Edelsten
Sadly the last mudflat is almost completely closed off and comprehensively destroyed. Glimpsed through the numerous concrete walls, c.50 distant Saunders's Gull, 200+ Far Eastern Curlew, 5 Eastern Oystercatcher, 2 Eurasian Curlew, 8 Bar-tailed Godwit, c.45 Black-tailed Godwit, 6 Grey Plover and 3 Whimbrel .
Black-faced Spoonbill Platalea minor, Photo © Tim Edelsten
Also, a further 44 Black-faced Spoonbill roosting on debris- making a total of 95 individuals, approximately half of which appeared to be juveniles.
At Shiripdae on the 28th it was disappointing to see that the forest has been cluttered with all manner of unecessary infrastructures, including boardwalks, walls across the streams, and dozens of exercise machines. It has been stripped of its ecological value- all brushwood and fallen logs have been cut and collected into cellophane bales, and many trees have been wrapped in flourescent yellow tape to protect them from insects and woodpeckers.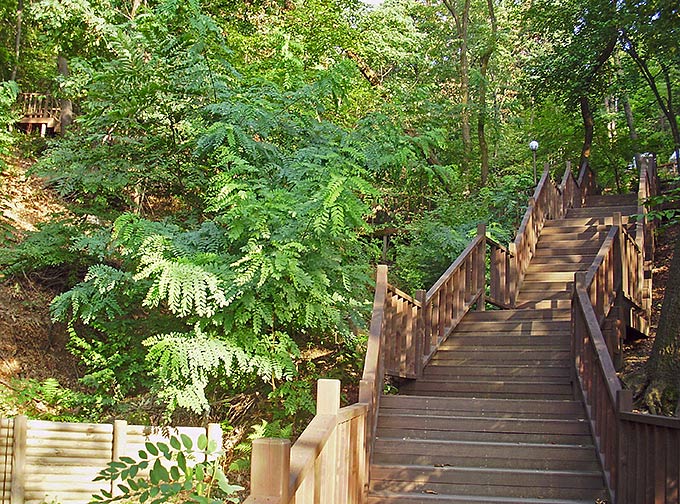 Shiripdae: damaged by excessive liesure-use infrastructure, Photo © Tim Edelsten
Given the amount of disturbance from walkers and hand-clappers, few birds present, although a family of Dollarbird, two Hobby, and a fly-by Chinese Sparrowhawk.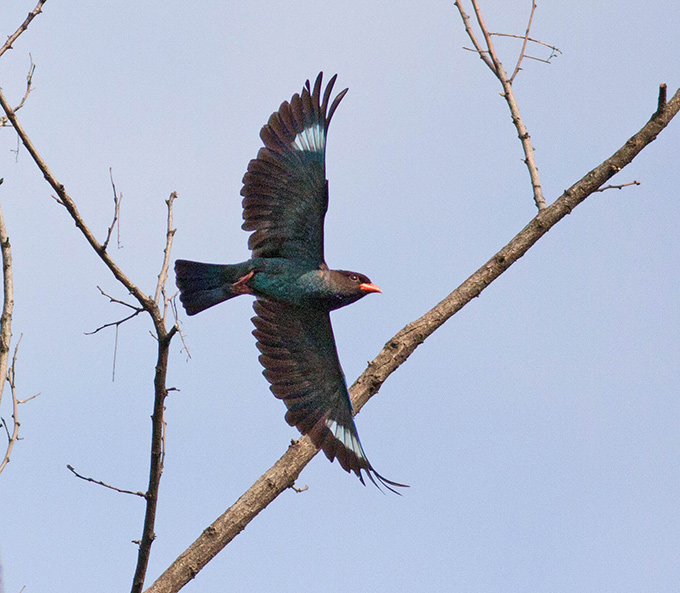 Oriental Dollarbird Eurystomus orientalis, Photo © Tim Edelsten