Birds Korea's Bird News May 2012
May
Like April, a great birding month. Temperatures begin to climb with day maxima often reaching 25°C by the end of the month, though feeling cooler on offshore islands due to low sea temperatures and wind. Fog can temporarily limit birding, while also causing spectacular falls of migrants.
Migration continues, and persity can be exceptional. Mongolian Plovers, Red-necked Stints, Broad-billed and Spoon-billed Sandpipers peak at the Geum Estuary, while Chestnut and Little Buntings outnumber Yellow-throated and Black-faced Buntings. Mugimakis, Dark-sided and Grey-streaked Flycatchers also start to arrive, often peaking in the second and third weeks of the month. Brown and Thick-billed Shrikes, Siberian Rubythroats and Broad-billed Rollers add colour and quality to the birding mix. By late May locustella warblers (Lanceolated, Pallas's, Middendorff's, Stayn's and Gray's Grasshopper) arrive on western islands. In forests Ruddy Kingfisher and very small numbers of Fairy Pitta are in territory and vocal, though still elusive and easily disturbed. Korean breeding Chinese Egrets and Black-faced Spoonbills remain widespread at the best sites, and Saunders's Gull have also nested in Gyeonggi Bay annually or near-annually since at least 1999.
In recent years May has produced several sightings of national rarities like Common Chiffchaff, Band-bellied Crake, Black-winged Cuckoo-shrike, Cinnamon Bittern and Red-headed Bunting. "Korean firsts" in May have included Asian Drongo-cuckoo, Hill Blue Flycatcher, Spotted Dove and House Sparrow in 2006, and Large Hawk-cuckoo and Yellow-streaked Warbler on Socheong Island in 2007.
(The following records are a compilation of our own sightings and records sent in by other observers. As well as being posted on the Birds Korea website(s), selected records are also forwarded to other Korean-language birding websites; records of threatened species are arranged and forwarded to Birdlife International and national authorities when appropriate; flag images and records are passed to bodies responsible for their coordination throughout the flyway; and all records sent to us are used to compile annual reports and to support the evolving understanding of the status of many of Korea's birds.)
Bird News from Subhojit Chakladar with Jason P. Loghry
Weiyon-do, May 29
The morning was quite foggy and visibility over the sea was rather limited. The new arrivals included a Red-billed Starling. Once again, we searched for the Locustella Warblers but to no avail. Instead we found the Chinese Pond Heron that eluded us the previous day. Close to the feeding ground of the Japanese Night Heron previously observed by Dr. Moores, we found singing Japanese Bush Warblers and Oriental Reed Warblers (both of which gave prolonged views and photos). The area around the temple produced the nesting pair of Black Paradise Flycatcher. After spending about half an hour in wait for them, we managed to get some decent shots of the gorgeous male as well as good looks on the female. Later in the day, a group of Japanese White Eyes were seen and photographed on the hiking trails of the eastern part of the island.
Other species of note include Eyebrowed Thrush (JPL only), female Mugimaki Flycatchers, at least one Lesser Cuckoo (heard only), Grey Wagtail, Grey-streaked, Dark-sided, and Asian Brown Flycatchers, Richard's Pipit and a Chestnut-eared Bunting (SC only).
Interestingly on the return ferry, a pastor showed us the images of a injured immature Long-Eared Owl which eventually died. He claims that the parents of this particular bird that he found about 3 years ago, still live on the island. This might indicate that there is (or at least used to be) a breeding population on the island. However this would require a more detailed survey of the island.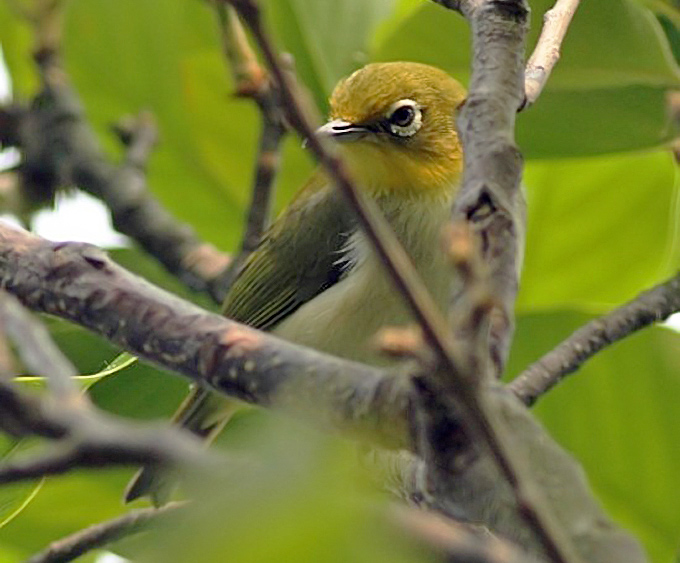 Japanese White-eye Zosterops japonicus, Photo © Subhojit Chakladar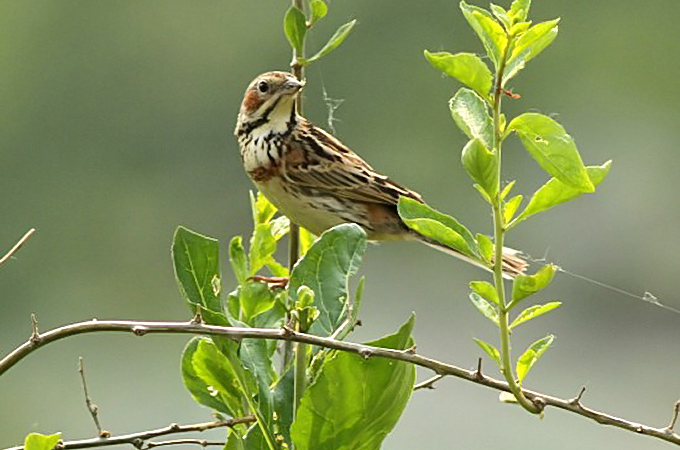 Chestnut-eared Bunting Emberiza fucata, Photo © Subhojit Chakladar
Black Paradise Flycatcher Terpsiphone atrocaudata, Photo © Subhojit Chakladar
Bird News from
Seungbong Islands, May 28
At the small inshore Seungbong Island relatively quiet. There has been an unbelievable escalation in construction and development here in recent years, including even a new condominium.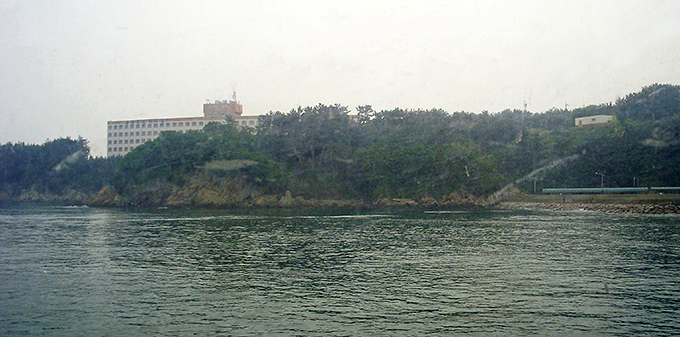 Luxury condo: the new skyline of Seungbong-do, Photo © Tim Edelsten
Fortunately pockets of excellent habitat have remained untouched. Most enjoyable were lengthy observations of two Tiger Shrikes, a large creche of Long-tailed Tits, and a close encounter with a greenish, one-metre Korean Rat Snake Elaphe anomala.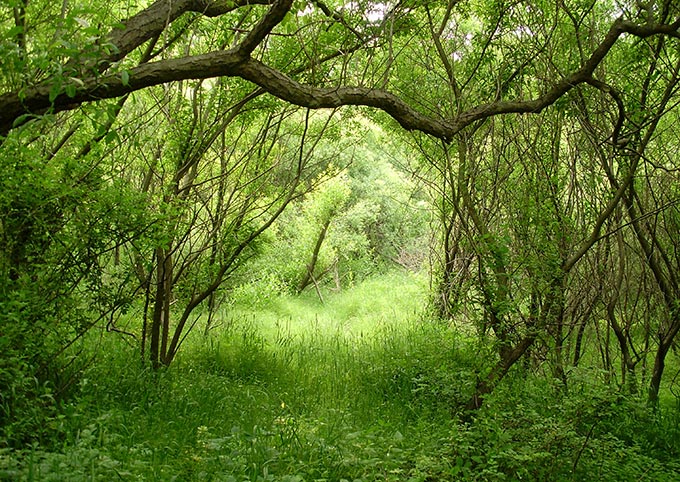 Wonderful habitat: the Willow Forest, Photo © Tim Edelsten
For the record, also present were 7 Cattle Egrets, a Chinese Pond Heron, an Oriental Scops Owl, 2 Eastern Oystercatcher, 1 recently plucked Grey-backed Thrush, 1 Pale Thrush, 2 White's Thrush, 2 Northern Hobby, 2 Jay, 2 Pale-legged Leaf Warbler, 1 Eastern Crowned Warbler, num. Eastern Great Tit, 4 Yellow-throated Bunting, sev. Black-billed Magpie, 2 Oriental Turtle Dove, sev. Brown-eared Bulbul, 10 + Eastern Carrion Crow, 2 Greater Spotted Woodpecker, 10+ Spot-billed Duck, sev. Ring-necked Pheasant, 2 Dollarbird, sev. Tree Sparrow, a Mongolian Gull, 3 Barn Swallow, 2 Chinese Grosbeak, num. Black-tailed Gull and 1 Black-naped oriole.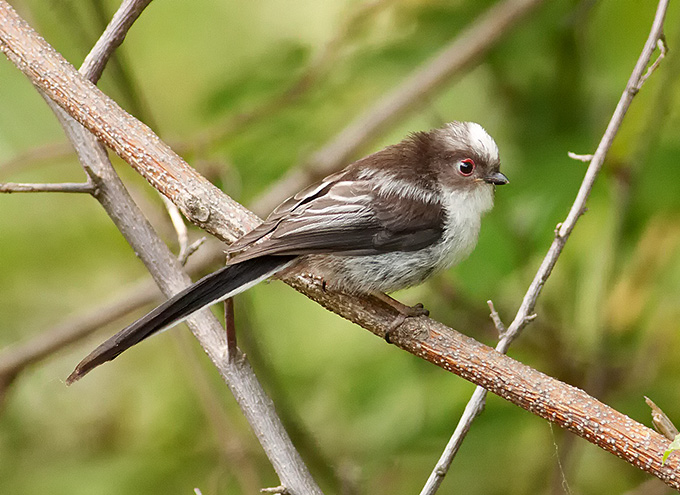 Just out the nest, a Long-tailed Tit Aegithalos caudatus, Photo © Tim Edelsten
The Seungbong list now stands at 107, of which 32 likely breed on the Island.
Bird News from Subhojit Chakladar with Jason P. Loghry
Weiyon-do, May 28
The ferry ride was uneventful even though some other birders claimed to have seen a single Short-tailed Shearwater. Once on the island, we dropped off our bags at the minbak and got into action immediately. The next few hours, we searched in vain for Locustella warblers. Even though we got a few glimpses of warblers in bamboo thickets, their ID could not be confirmed. The only highlight of those first few hours was a female Amur Falcon. Things began to change after about 3pm as I was crawling though grass in search of cuckoo like bird with brown plumage on the back. I found a dead Narcissus Flycatcher in front of me as a Japanese Bush Warbler emerged in front of me. Later hiking along the western part of the island, we found Pale Thrushes, Arctic and Yellow-browed warblers, Shrikes (Tiger, Bull-headed and Brown) and Pacific Swifts amongst other more commonly occurring birds. The highlight of the day was undoubtedly the Japanese Night Heron at the temple. We spent close to 1 hour searching for it in the trees around the temple before finally getting a series of rather dark images of the bird (which upon processing revealed the identity of the bird). Close to sundown, a group of migrants arrived on the island including a couple of Yellow-rumped flycatcher, Chinese Grosbeaks and Arctic Warblers.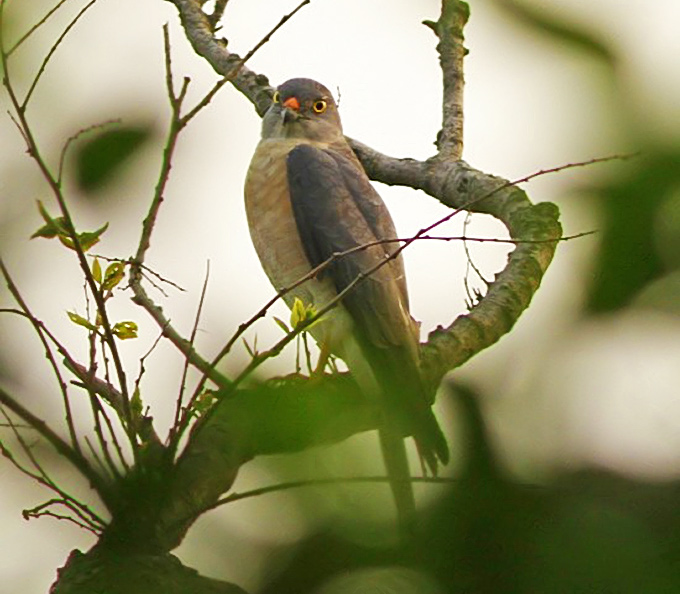 Chinese Sparrowhawk Accipiter soloensis, Photo © Subhojit Chakladar
Chinese Grosbeak Eophona migratoria, Photo © Subhojit Chakladar
Bird News from Jason P. Loghry with Park Seonyeong and Bradlee Sulentic
Yubu-do, May 27
As part of our research on the critically endangered Spoon-billed Sandpiper, our team set out early on Saturday morning to survey Yubu Island. It was a long day and unfortunately we were unable to find a single SBS. There were less than 2000 birds on the tidal flat, and highest numbers were observed at the first high tide. Highlights included Broad-billed Sandpiper, Red-necked Stint, Sanderling (including an individual flagged Orange over Yellow on right leg and ringed on left and another individual flagged White over Orange), Sharp-tailed Sandpiper, some Dunlin, Eurasian and Far Eastern Curlew, with more of the latter, Ruddy Turnstone, Terek Sandpiper, Grey-tailed Tattler, a single Whimbrel, Kentish Plover, some gorgeous Mongolian Plovers, Grey Plover, Greater Sand Plover, Bar-tailed Godwit, Great Knot, Little Tern, Black-faced Spoonbill (5), Eurasian Oystercatcher (less than 200), and Eurasian Cuckoo, Oriental Reed Warbler, and Tiger Shrike on the island.
*Also, important to add that Dr. Nial Moores also surveyed the Nakdong Estuary on the 26th of May and although there was a Spoon-billed Sandpiper previously reported, no Spoon-billed Sandpipers were observed.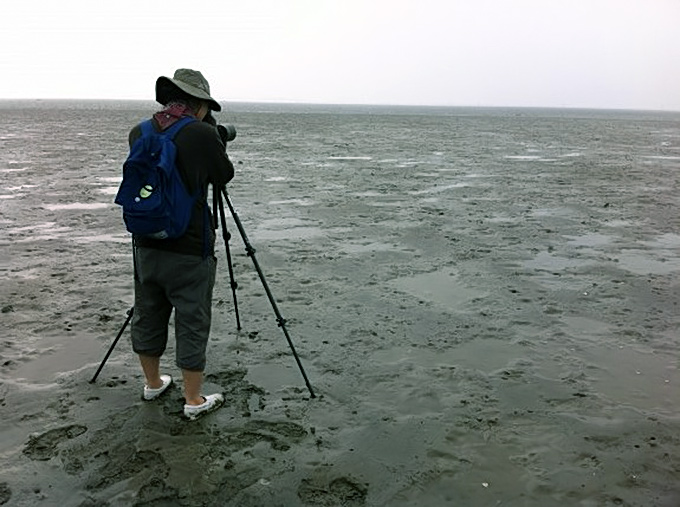 Birds Korean Park Seon-yeong observing shorebirds feeding at Yubu-do.
Bird News from Jason P. Loghry with with Lee Ki Soo and colleagues, later joined by Matt Poll
Goeje, May 19
Was a nice visit to Goeje in search of Black Paradise Flycatcher and Fairy Pitta. On the way, good views of an Oriental Dollarbird perched on a wire. We also passed a male Ring-necked Pheasant sitting paused atop a garden ledge. After watching the pheasant, we found a very vocal group of Bull-headed Shrikes. A closer look revealed a stunning Tiger Shrike which seemed to be having a dispute with the other shrikes. This went on for a short time. A short time later, we managed to find two male Black Paradise Flycatchers, both male. They were also very vocal. We sat in the grass on the roadside and watched them as they zipped back and forth from patch to patch of wooded forest. Throughout the morning, we could hear Pale Thrushes and a Grey-headed Woodpecker singing. There were also many Varied Tits and we saw one Grey-streaked Flycatcher. Unfortunately, no Pitta to be observed. It might have been too early, leaving the search for another time soon to come.
And as a note, a pair of Black Paradise Flycatchers were observed on the next morning at Taejongdae by Matt Poll.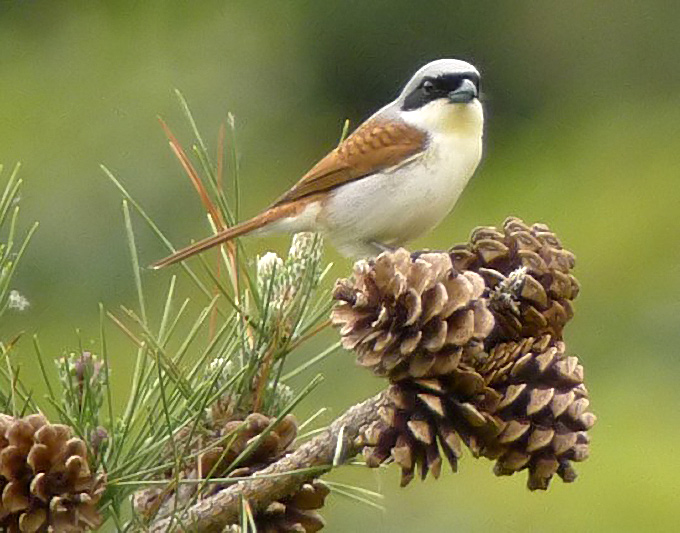 Tiger Shrike Lanius tigrinus, Photo © Jason P. Loghry
Bird News from Subhojit Chakladar
Socheong Island, May 19 - 21
Having read so much about the Spring Migration across the Yellow Sea, I was very excited about my first vacation in almost 8 months. Tempted by the stories of fellow birders, I decided to spend 2 days in Socheong island. Though I was hoping to sync my travel with the arrival of the Locustella Warblers, I failed to spot even a single Locustella! Without the rain, most of the streams were dried and construction activities elsewhere had turned parts of the island into a dust bowl. The cloudless blue skies and the warm weather produced a decent number of raptors and shrikes. A couple of hundred of Brown and Tiger Shrikes were on the prowl. A particular highlight was a Tiger Shrike chasing a female Yellow Rumped Flycatcher near the road leading to the army camps in the eastern part of the island. During the 2.5 days spent on the island, I managed to spot only 54 species of birds but out of them 11 were lifers! The most common birds were Arctic Warblers and Grey-streaked Flycatchers. Selected highlights for each day are as follows:
May 19
The ferry from Incheon had no outside access and with passengers next to me in total festive mood, there were hardly any opportunity for observation! The first day in the afternoon, I focused on the part of the island just east of the main village. With cloudless blue skies and not too high temperatures, there were few passerines but there were a decent number of Brown (~30) and Tiger Shirikes (~12). Raptors like Eurasian (~8), Chinese Sparrowhawks (~5), Eursian Hobby (~3) and Grey Faced Buzzard (1) were patrolling the skies as their prey refused to come out of the vegetation cover. Partly to escape from the blazing sun and partly to get a closer look at the warblers and flycatchers, I ventured into the undergrowth and sat motionless for 10 minutes. At first there was not much activity but as the birds were accustomed to my presence, they ventured out to feed and play. Particularly interesting was a Dusky Warbler and an Ashy Minivet that came so close that I could see their eyelashes with my bare eyes! As sunset approached, I walked over to the North Point. Interesting species here include a gorgeous male Yellow-rumped Flycatcher and a Rufous-tailed Robin. There were also at least 3 passing Chinese Sparrowhawks. While returning to the Minbak, I spotted a Red-billed Starling on one of the electricity poles.
May 20
The whole day spent walking across the island starting with the western section of the island in the early morning and noon. I spotted a Chinese Grosbeak (a lifer for me) on the road to the 2nd village, at least 5 Eurasian and 2 Chinese Sparrowhawks on the road to the lighthouse. Between the radio tower and the lighthouse, a couple of Peregrine Falcons were probably guarding a nest and went absolutely crazy as I walked down the road. At the lighthouse, I spotted newly arrived Meadow (~5), Little (~2) and Chestnut (1) Buntings, as well as a Light-vented Bulbul. There were a number of Korean Bush Warblers calling in the gully but none of them could be seen even after sitting patiently in the bushes for more than 30 minutes. On the way back, there were a lot Arctic Warblers along with a few Radde's Warblers, a flying Richard's Pipit, a distant Black Kite (with a small animal in its talons), 1 female Blue and White Flycatcher and a female Mugimaki flycatcher. In the woods just east of the village, there were Pechora Pipits (2), a Great Spotted Woodpecker (heard drumming) and best of all, a brilliant male Narcissus Flycatcher with cobwebs in its head. North point this day in the afternoon was virtually deserted except for a few Grey-streaked Flycatchers and a couple of Oriental Greenfinches.
May 21
Early morning at the North Point didn't produce anything interesting. The same with the valley just east of the village. New species for the day was a White-cheeked Starling and more shrikes – Brown (~10) and Tiger (~4). The last hour was spent on the ridge on the south east section of the island (thanks to an obliging army office) where there were Blue Rock Thrushes (~7) and a Striated Heron. On the ferry back to Incheon, there was a single Ancient Murrelet, distant views of probable Streaked Shearwaters. Just outside Incheon, close looks at a Little Tern and 2 Saunders's Gull.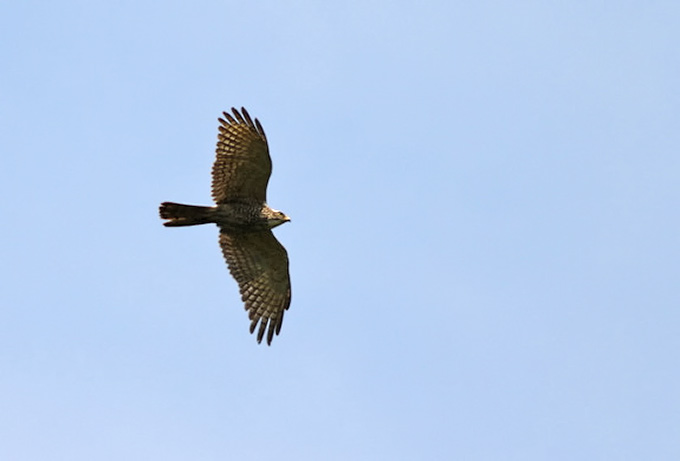 Grey-faced Buzzard Butastur indicus, Photo © Subhojit Chakladar
Brown Shrike Lanius cristatus lucionensis, Photo © Subhojit Chakladar
Radde's Warbler Phylloscopus schwarzi, Photo © Subhojit Chakladar
Light-vented Bulbu Pycnonotus sinensis sinensis, Photo © Subhojit Chakladar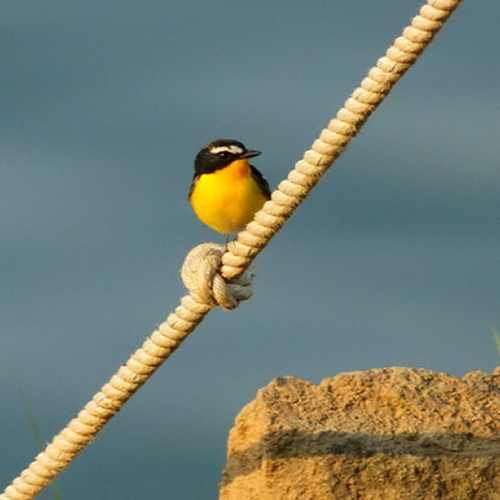 Yellow-rumped Flycatcher Ficedula zanthopygia, Photo © Subhojit Chakladar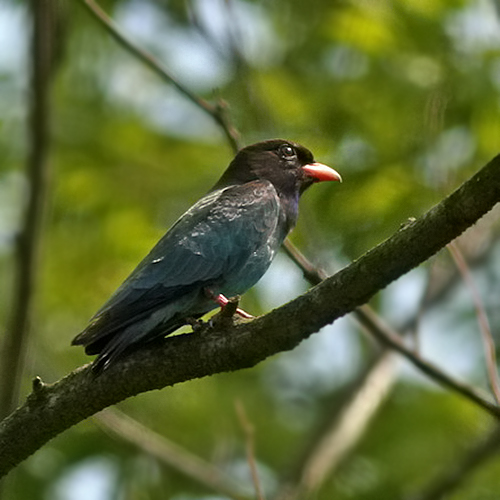 Oriental Dollarbird Eurystomus orientalis calonyx, Photo © Subhojit Chakladar
Narcissus Flycatcher Ficedula narcissina narcissina, Photo © Subhojit Chakladar
Bird News from Nial Moores
Weiyeon-do, May 12-17
A total of 108 or 109 species were logged on this island between the afternoon of the 12th (when doing the World Migratory Bird Day Birdathon) and departure on the 17th. Although there were no large arrivals of birds, the daily turnover of species, the good scenery (away from the main village) and a wonderful minbak made the time pass quickly. Along with expected scarce migrants (including Daurian Starling and Red-billed Starling), obvious highlights included a Black Drongo and male Black Paradise Flycatcher on the 12th (we missed an Ashy Drongo seen earlier the same day); a Hume's Leaf Warbler on 13th and 16th; a Japanese Night Heron (globally Endangered) between at least 15th-17th, watched feeding on small frogs and worms; a Willow Warbler (perhaps only two or so national records to date?) seen and heard though not photographed in between dense fog patches on 16th; and single Amur Falcon and Common House Martin on 17th.
Japanese Night Heron Gorsachius goisagi
Photo © Nial Moores
Japanese Night Heron Gorsachius goisagi,
Photo © Nial Moores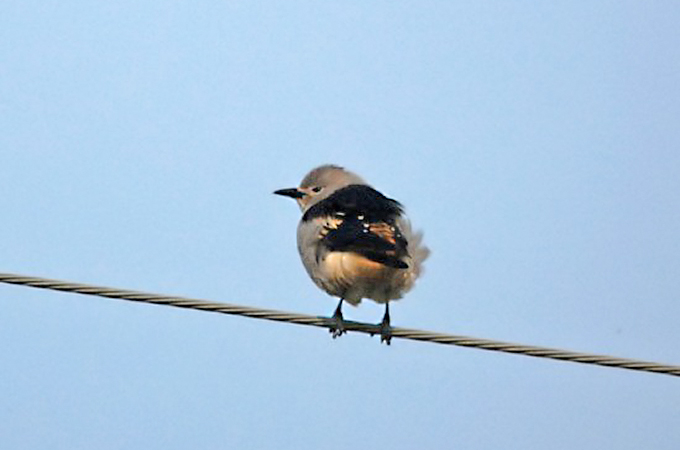 Daurian Starling Agropsar sturninus, Photo © Nial Moores
Red-billed Starling Spodiopsar sericeus, Photo © Nial Moores
Bird News from Jason P. Loghry
Weiyeon-do, May 13
On Sunday, after such a remarkable day of birding, time allowed for longer views of most of the species we had observed on Saturday. New species seen included a brief glimpse of a Siberian Rubythroat, a Hume's Leaf Warbler, both male and female White-throated Rock Thrushes, a Great-spotted Woodpecker (on the island) and Japanese Sparrowhawk. I've included some digiscoped photos taken before heading back to the mainland on Sunday afternoon.
Eastern Cattle Egret Bubulcus coromandus, Photo © Jason P. Loghry
Japanese Sparrowhawk Accipiter gularis gularis, Photo © Jason P. Loghry
Chinese Grosbeak Eophona migratoria, Photo © Jason P. Loghry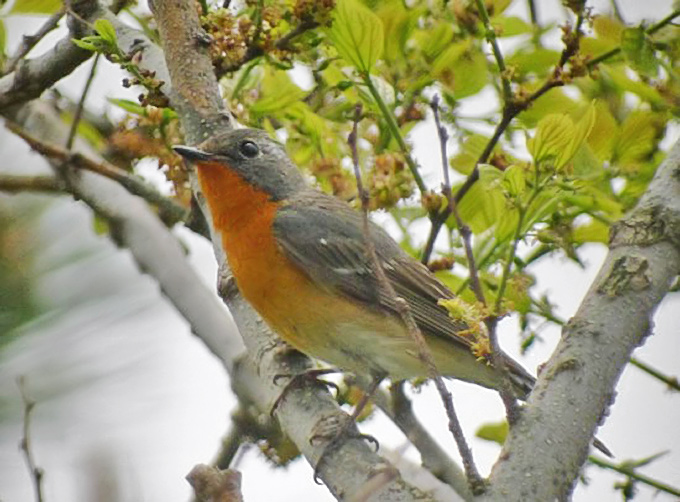 Mugimaki Flycatcher Ficedula mugimaki, Photo © Jason P. Loghry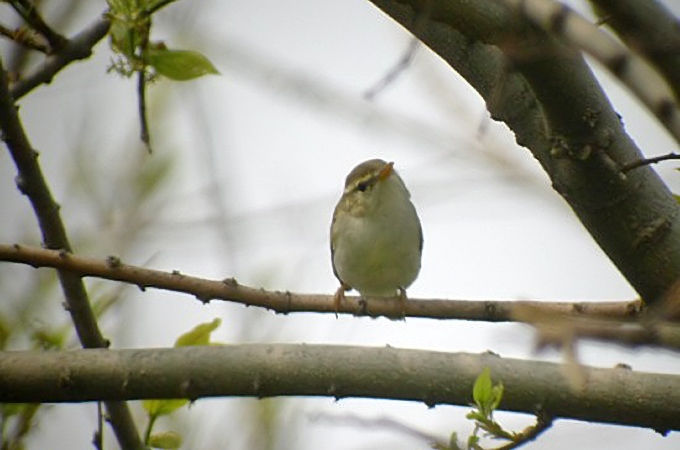 Yellow-browed Warbler Phylloscopus inornatus, Photo © Jason P. Loghry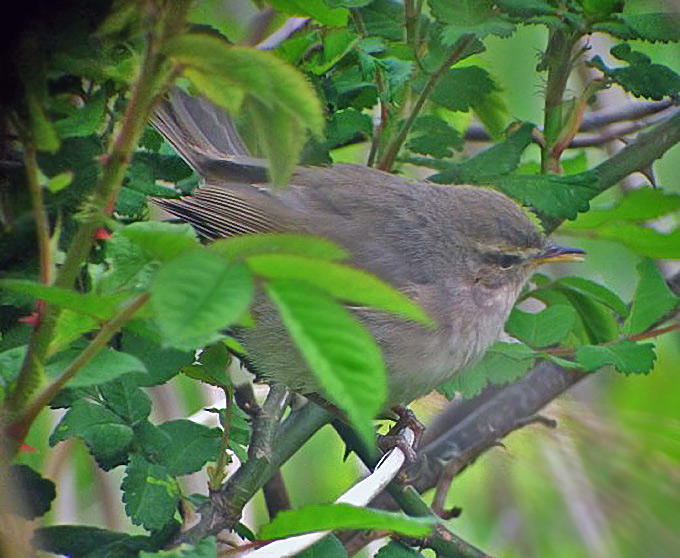 Dusky Warbler Phylloscopus fuscatus, Photo © Jason P. Loghry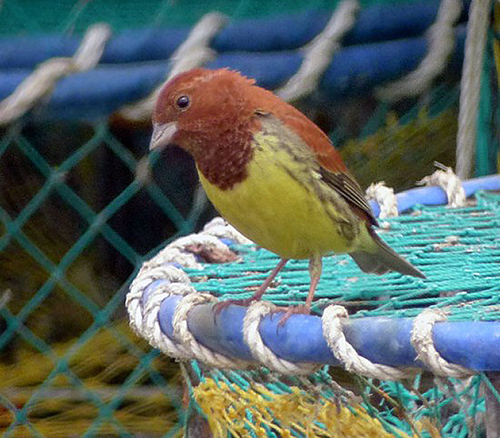 Chestnut Bunting Emberiza rutila, Photo © Jason P. Loghry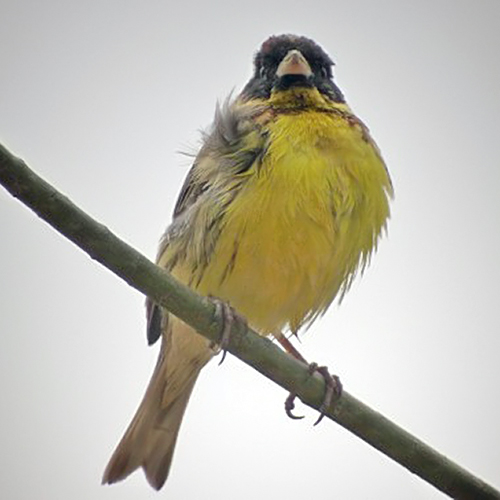 Yellow-breasted Bunting Emberiza aureola, Photo © Jason P. Loghry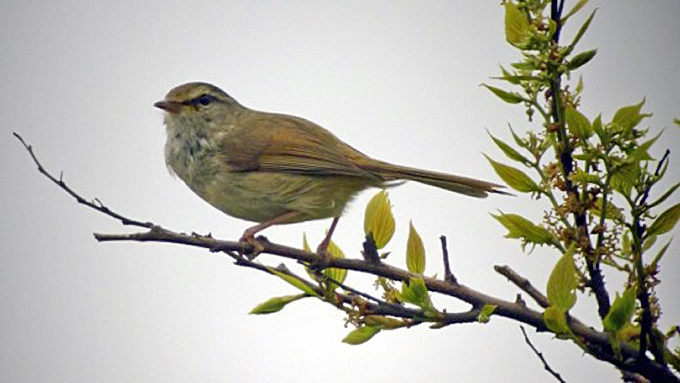 Japanese Bush Warbler Cettia diphone, Photo © Jason P. Loghry
Tristram's Bunting Emberiza tristrami, Photo © Jason P. Loghry
Oriental Dollarbird Eurystomus orientalis, Photo © Jason P. Loghry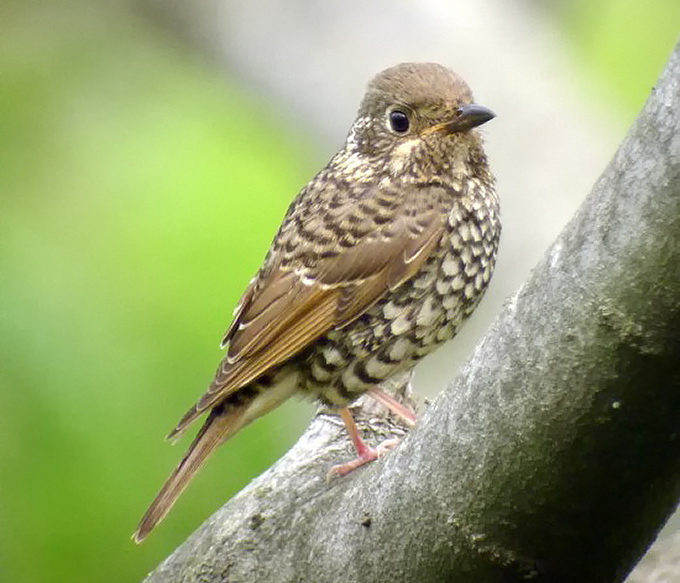 White-throated Rock Thrush Monticola gularis, Photo © Jason P. Loghry
Bird News from Dr. Kim Seok-Yee and Andreas Kim
Aphae Island, May 6
The weekly shorebird survey on Aphae Island on Sunday May 6th showed on the southern tidal-flat about 2000 Dunlin, less than 100 Grey Plover, c. 300 Red-necked Stint and very few Terek Sandpiper and Ruddy Turnstone. While these smaller birds were pushed out of the site by the incoming tide, a small group of Bar-tailed Godwit could be watched very closely and revealed not only two leg-flagged individuals, but also a smaller individual immediately caught the attention and the observers identified it as Asiatic Dowitcher, a species rarely recorded in Korea. After the tide had completely filled the southern tidal-flat, all birds had moved to the northern part joining others on a few small patches of remaining roosting space.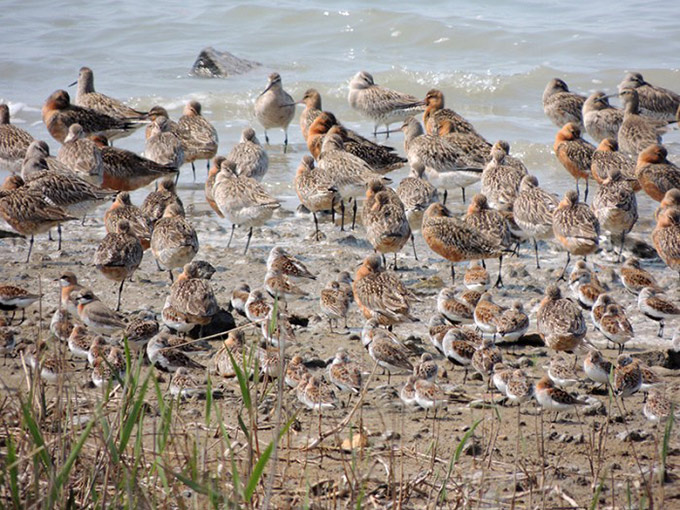 Aphae at northern tidal-flat, Photo © Andreas Kim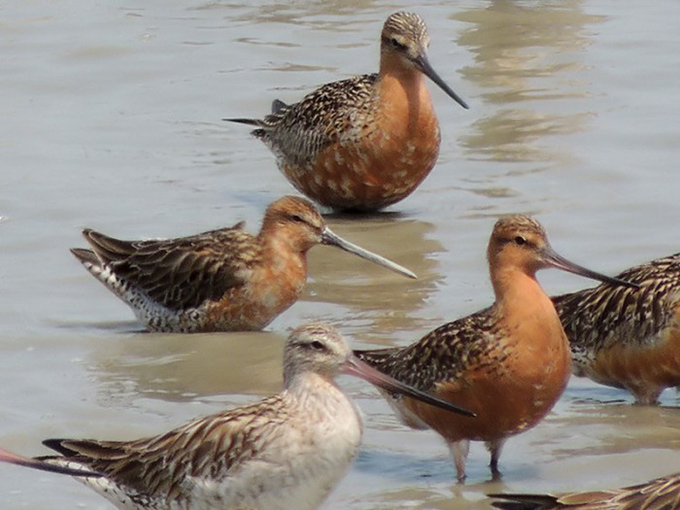 Asiatic Dowitcher Limnodromus semipalmatus, Photo © Andreas Kim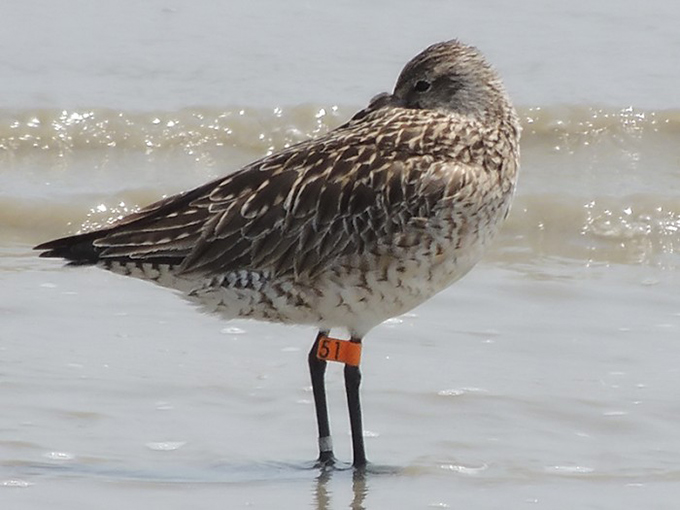 Bar-tailed Godwit Limosa lapponica, Photo © Andreas Kim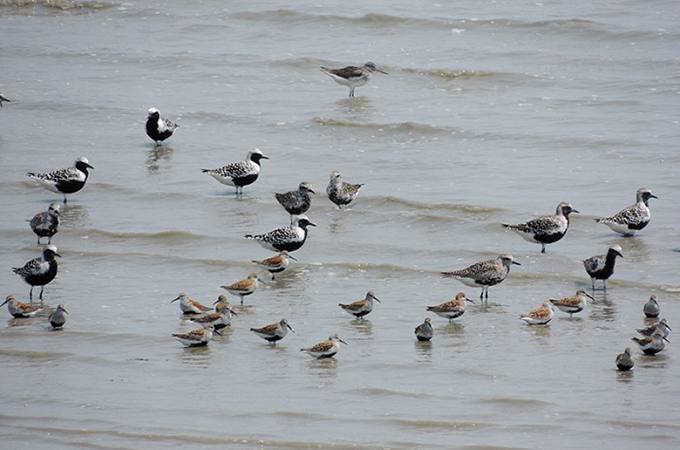 Grey Plover Pluvialis squatarola and Dunlin Calidris alpina, Photo © Andreas Kim
Bird News from Tim Edelsten and Subhojit Chakladar
Dokjeok Islands, May 6
In a brief five hours at Dokjeok Island, clear skies but a cold southerly breeze. There was much visible migration underway, mostly small flocks of buntings and hirundines. Best of 61 species were a remarkable Citrine Wagtail, Daurian Starling, Pechora Pipit, Forest Wagtail, apparent Chinese Blackbird and 2 Taiga Flycatcher.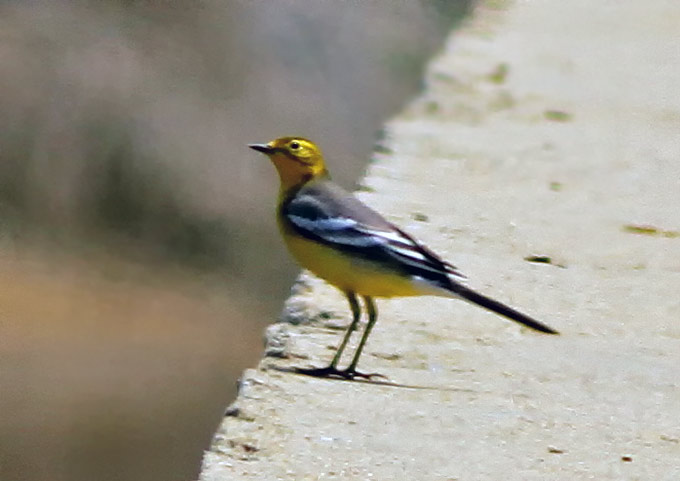 Citrine Wagtail Motacilla citreola, Photo © Subhojit Chakladar
For the sake of Dokjeok archives…the rest amounted to sev. Korean Bush, sev. singing Eastern Crowned, and numerous Yellow-browed Warbler; 1 Intermediate, 1 Great and 2 Little Egret; on the crossing were 1 Mongolian, ab. Black-tailed and 8 Saunders's Gull, 1 Little Tern and 1 Temminck's Cormorant; also on the island, 3 White, 8 Yellow and c. 10 Grey Wagtail; 10 Long-tailed, 2 Marsh and sev. Eastern Great Tit; 4 Eastern Oystercatcher, 6 Green Sandpiper, 2 Common Kingfisher, c. 50 mixed Red-rumped and Barn Swallows; 2 Richard's and a handful of Olive-backed Pipit; 2 Asian Brown, 1 Blue-and-white, and several Grey-streaked Flycatcher; 1 Indian and 1 Eurasian Cuckoo; a White's and a Blue Rock Thrush…-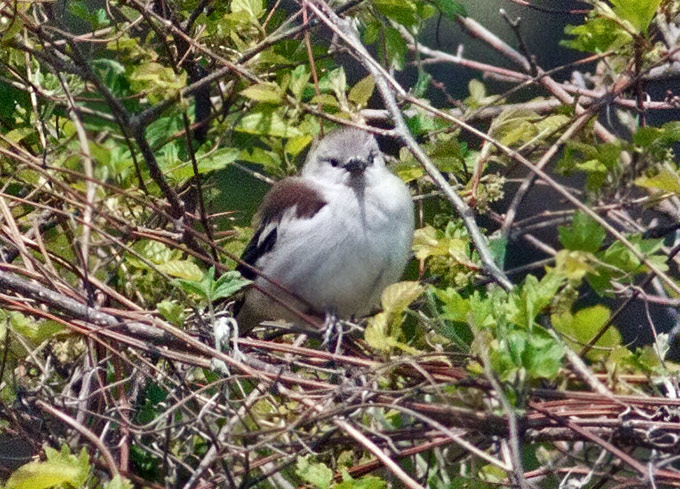 Daurian Starling Agropsar sturninus: a first for Dokjeok Island, Photo © Tim Edelsten
c. 25 Yellow browed, 12 Yellow-breasted, 1 Chestnut, 4 Little, and numerous Black-faced Bunting; 2 Spot-billed Duck, 1 Eastern Carrion Crow, 1 Jay, num. Black-billed Magpie, a Swinhoe's Snipe, sev. Oriental Turtle Dove, 1 Hoopoe, sev. Ring-necked Pheasant, sev. Brown-eared Bulbul, 1 Great-spotted Woodpecker, sev. Ashy Minivet, 2 Pacific Swift, 2 Hobby, 1 Black-crowned night-Heron, 1 Oriental Scops Owl, 4 Brown Shrike, 1 Siberian Stonechat, 2 Chinese Grosbeak, and several Black-naped Oriole.
Pechora Pipit Anthus gustavi, Photo © Tim Edelsten