Birds Korea's Bird News April 2012
April
One of the very best birdwatching months! Cold days and nights (lowest day maxima of ca 12°C) gradually warm through the month (reaching the low 20s°C by month's end), and dry spells interspersed with 1-2 days of heavy rain and stormy conditions produce great birding towards month's end.
Early in the month, late Hooded Crane move through while shorebird numbers and persity start to build up. While the concentrations of 200,000 shorebirds at Saemangeum are no longer to be found since seawall close there in 2006, internationally important concentrations of species like Great Knot and the Critically Endangered Spoon-billed Sandpiper, Nordmanns' Greenshank and the highest known concentrations of osculans "Far Eastern Oystercatcher" can still be found at the adjacent Geum Estuary. Other Korean specialties include Chinese Egret from mid-month, and Black-faced Spoonbill in small groups along the west coast. This latter species has a world population of only 1500 or 1600! While early April sees species like Brown-headed Thrush and Japanese Robin in very small numbers in the far southwest and southeast, mid-April is marked by the first large passerine arrivals and spring overshoots, with good counts possible of Blue-and-white, Narcissus and Yellow-rumped Flycatchers, and Tristram's and Yellow-browed Buntings. Late in the month, 100 or more species a day are possible on the outer islands like Heuksan and Gageo in the far south, Eocheong off Gunsan, and Socheong in the far northwest.
In more than one recent year, highlights have included Pied Wheatear, Caspian Tern, Japanese Night Heron, Black-headed Bunting and Himalayan Swiftlet. Korean firsts for April include a Northern House Martin and Red-breasted Flycatcher on Eocheong in 2003, a Paddyfield Warbler on Hong Island in 2004, a pandoo Blue Rock Thrush in 2005, and a Claudia's Leaf Warbler on Socheong Island in 2009.
(The following records are a compilation of our own sightings and records sent in by other observers. As well as being posted on the Birds Korea website(s), selected records are also forwarded to other Korean-language birding websites; records of threatened species are arranged and forwarded to Birdlife International and national authorities when appropriate; flag images and records are passed to bodies responsible for their coordination throughout the flyway; and all records sent to us are used to compile annual reports and to support the evolving understanding of the status of many of Korea's birds.)
Bird News from Bradlee Sulentic
Cheonsu Bay, April 29
It's days like these that make me look forward to my next day out! Today I took my good friend down to Seosan Lake A for his first birding experience. This being my first Spring trip to Cheonsu Bay, I wasn't quite sure what to expect. The warm, overcast day got off to a fantastic start with great looks at a Striated Heron on one of the irrigation ditches on the southeast side of the lake. Overall, the numbers of water fowl were down, with only a small flock of ~500 Greater White-fronted Geese seen on the water and small numbers of 10 other species of water fowl seen. Northern Shoveler was the only species still seen in decent numbers (and they were all clearly paired up for breeding). The best duck seen today was a pair of Garganey near the first reed hide. These birds made up for the painful dip of a possible Garganey on the river near my house due to my not bringing my scope that day. The great variety of herons and egrets kept my friend in awe all afternoon, with seven different species seen today. There were also scores of shorebirds and waders on nearly every meter of open sand/mud and shallow water. If we weren't racing sunset I would have spent much more time ID'ing more than the seven species I found, including Black-tailed and Bar-tailed Godwit, Red-necked Stint and Dunlin. A flock of ~12 Penduline Tits working their way through the reeds along one of the ditches kept us busy for a while, making identifying them difficult until they finally settled in some reeds for some good looks. About a dozen Little Terns also made their first appearance of the year and put on a nice show diving for food. To top off a fantastic day, a lone Black-faced Spoonbill was resting on a sand bar near where the stream empties into the lake (near the second reed hide). His head was tucked under his wing, which made identification a bit tricky. His eye was exposed just enough to see the black which separated him from his more common cousin. All-in-all, we identified 44 species of birds, including 7 lifers for me. With another more experienced birder, we could easily have pushed the total number to 60 species. My buddy was great company. He tells me he had a great time learning about birding and wants to accompany me on future trips. GREAT DAY ON CHEONSU BAY!
Bird News from Nial Moores
Gageo Island, April 25-30
Rather more of the same (with no additional species to compare with the male Fujian Verditer on Weiyeon found on 25th), with instead between 65 and 97 species recorded each day. Among these, highlights included probably both Siberian Chiffchaff remaining through until April 28th, and two Asiatic Verditer Flycatcher together on 26th – with at least one of these remaining through until month's end, even singing occasionally. In addition to the regular scarce spring migrants (including Citrine Wagtail, with 3-4 recorded during the past two weeks), there were wonderfully good views – though no images – of a menzbieri Pechora Pipit and a peak of 3 White-breasted Waterhen, both on 26th. Other species of interest included 1-2 White-shouldered Starling, a longish-winged presumed Pacific Golden Plover (April 26th-28th) (of which perhaps more in a separate post), a Pied Harrier on April 29th, and on April 30th in 1-Gu and 2-Gu a total of 59 Narcissus Flycatcher (none as yellow-washed below as the odd individual disgiscoped on 25th) and two adult male Black Paradise Flycatcher together, watched at close range towards dusk.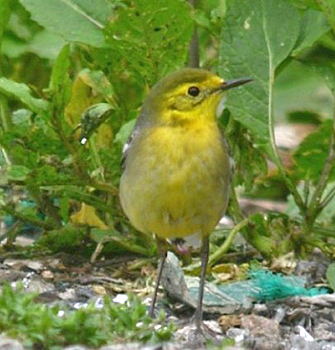 Citrine Wagtail Motacilla citreola,
Photo © Nial Moores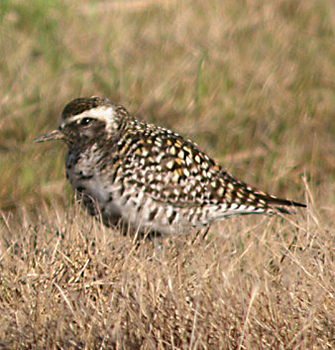 Pacific Golden Plover-type, showing apparently long
primary projection, © Nial Moores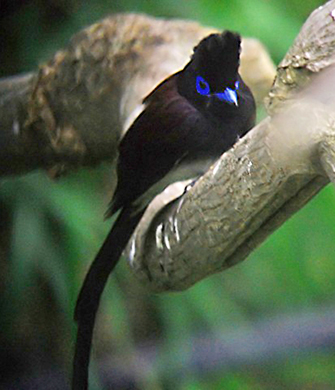 Black Paradise Flycatcher Terpsiphone atrocaudata,
Photo © Nial Moores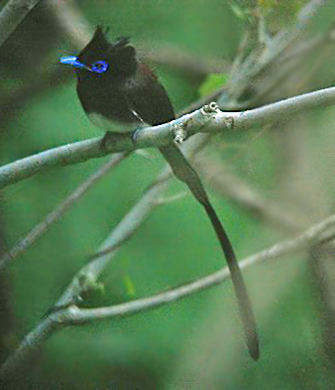 Black Paradise Flycatcher Terpsiphone atrocaudata,
Photo © Nial Moores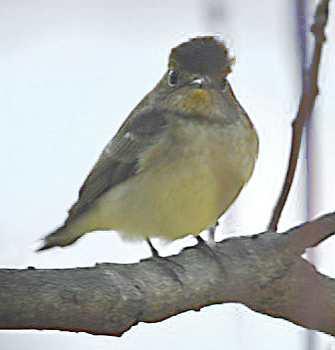 Narcissus Flycatcher-type, showing yellow eye-ring, whiteish
wing-bars, and strong yellowish wash to the underparts.
Photo © Nial Moores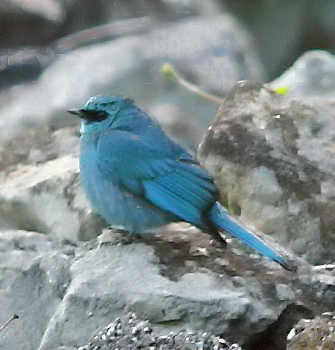 Verditer Flycatcher Eumyias thalassinus,
Photo © Nial Moores
Bird News from Nial Moores
Gageo Island, April 24
With a moderate southerly wind ahead of a low pressure system centred over southern China, combined with some heavy overcast at dawn, expectations were high for "something good". In all, eighty-eight species were logged in 1-Gu during the day. First highlight of the day was an Asian Verditer Flycatcher, followed shortly after by a possible owstoni "Ryukyu Narcissus Flycatcher", then an adult male Citrine Wagtail, followed soon after by two (!) Siberian Chiffchaff together…Other birds of note included the personal first Mugimaki and Chinese Grosbeak of the spring, and four species of starling (8 Chestnut-cheeked, 4 or 5 Red-billed, 3 White-cheeked and a single adult male Daurian).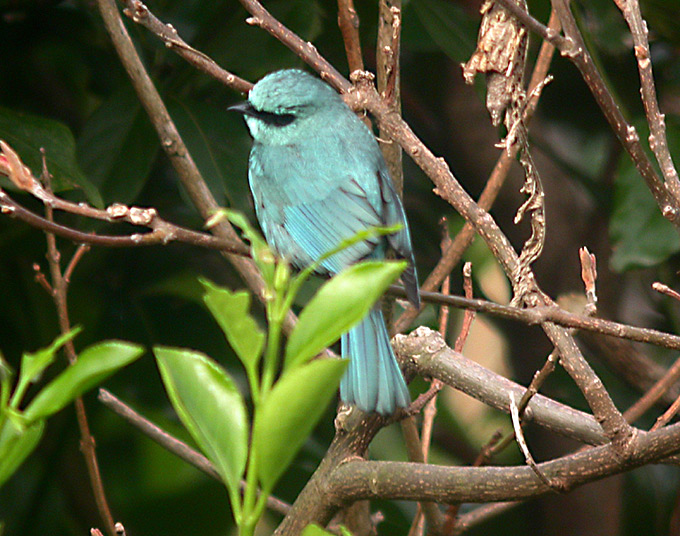 Verditer Flycatcher Eumyias thalassinus, Photo © Nial Moores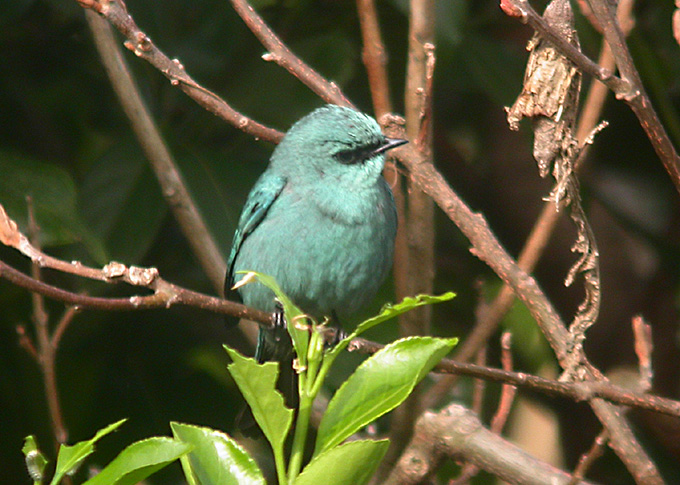 Verditer Flycatcher Eumyias thalassinus, Photo © Nial Moores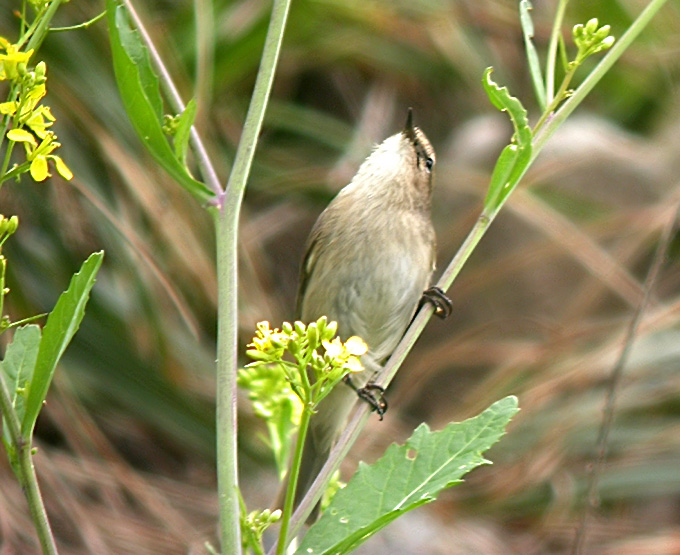 Siberian Chiffchaff Phylloscopus (collybita) tristis, Photo © Nial Moores
Siberian Chiffchaff Phylloscopus (collybita) tristis, Photo © Nial Moores
Bird News from Nial Moores
Gageo Island, April 23
In warm sunshine, 84 species logged in 1-Gu, with most in reduced numbers (e.g. many of the shorebirds, including the Pectoral Sandpiper and Bar-tailed Godwit, have departed the island, though Sharp-tailed Sandpiper increased to six, and an Oriental Pratincole sunning itself in the park in front of the minbak was also a surprise!). Of most interest was an odd female Narcissus Flycatcher-type. In shade, this individual was clearly yellow on most of the underparts, and rather green-toned above; in sunlight, however, the bird appeared somewhat plainer. Details of the wing (disgiscoped through an obviously SUPERB Swarovski scope) suggest that there were only seven primary tips exposed beyond the longest tertial: a little short for "typical" narcissina and along with the yellow-toned eye-ring and underparts perhaps a better fit for a Second calendar year female elisae?
Oriental Praticole Glareola maldivarum, Photo © Nial Moores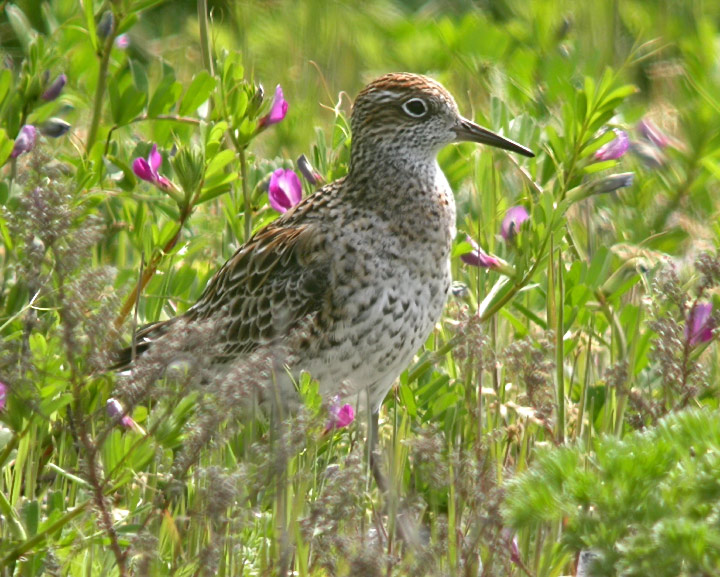 Sharp-tailed Sandpiper Calidris acuminata, Photo © Nial Moores
Bird News from Nial Moores
Gageo Island, April 22
In fair weather (so much for the forecast day of rain and cloud…), good views, finally, of the Pectoral Sandpiper and a few new species in (including the personal first Japanese Quail, Daurian Starling (a female), Chestnut-eared and Yellow-browed Buntings led to the decision to undertake the long hike to 2-Gu. In total, an exceptional 106 species were logged for the day (with 94 of these in 1-Gu), with best on the way to 2-Gu being decent views of a Black Woodpigeon, a cracking adult male davisoni Siberian Thrush and a Grey-streaked Flycatcher (both so much earlier here than on islands further north). At 2-Gu itself, rather quiet (apart from the construction – this time for a new fence to protect hikers from the natural scenery) with the exception of 8+ Light-vented Bulbul and a Richard's Pipit.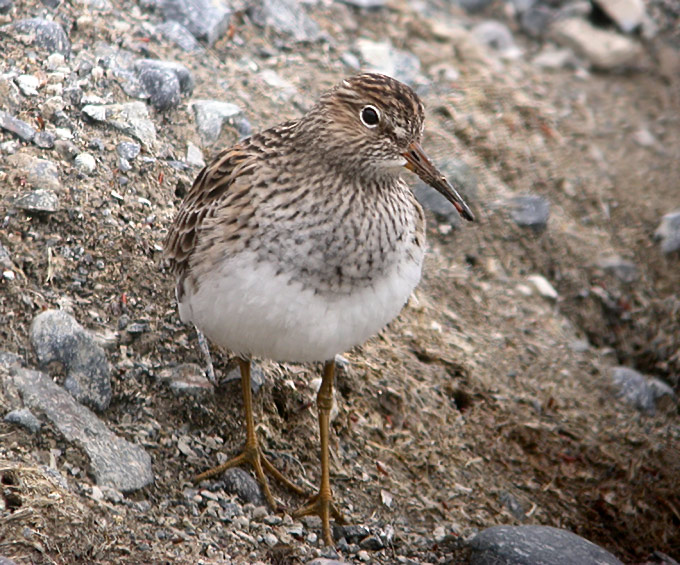 Pectoral Sandpiper Calidris melanotos, Photo © Nial Moores
Mongolian Plover Charadrius mongolus, Photo © Nial Moores
Bird News from Nial Moores
Gageo Island, April 21
Heavy rain overnight through until the afternoon, followed by fog banks and a shift in wind direction from SE 5-6, to W 3-4. In 1-Gu, limited survey found 81 species, with nine "new in" including at least one Chinese Egret, an Oriental Pratincole, Little Whimbrel (two or more heard after dark), Marsh Sandpiper (4-5) and best of all a Pectoral Sandpiper (presumably a first record for Gageo), joining a growing list of shorebirds on the island. The northwestward track of the low pressure system across the Yellow Sea (from near Shangai) was also likely to drift a fair number of birds from the "Southern Crossing" (between China and Japan), and there was a Japanese feel to the birding provided by e.g. 10+ Narcissus Flycatcher and 30+ Brown-headed Thrush, in addition to five Yellow Bunting, a Latham's Snipe and early singing Oriental Reed Warbler.
Narcissus Flycatcher Ficedula narcissina, Photo © Nial Moores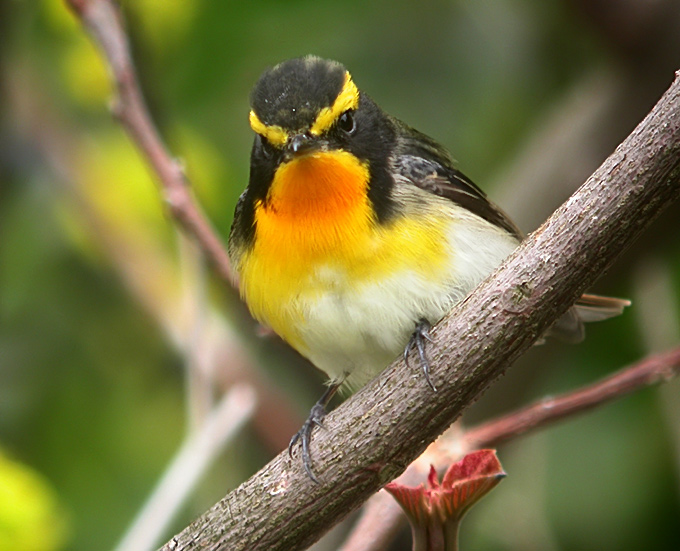 Narcissus Flycatcher Ficedula narcissina, Photo © Nial Moores
Bird News from Nial Moores
Gageo Island, April 18 & 19
In fair weather on 18th, 71 species logged in the afternoon in 1-Gu. Birds of note included a single Latham's Snipe, two Black Woodpigeon, six Yellow Bunting, two Brown-headed Thrush, single Yellow-rumped and Narcissus Flycatchers, one or two Citrine Wagtail, a Chinese Blackbird, a probable female Black Redstart and four Eurasian Wryneck. On the mossy slab, two Sharp-tailed Sandpiper, a Great Knot, two Red-necked Stint, four Kentish Plover and best of all single Greater Sand Plover and Bar-tailed Godwit – the latter a female menzbieri beautifully adorned with bands: metal ring on right tibia (including sequence of 107?); Yellow over Yellow on right tarsus; and on left tarsus, Yellow flag above Red over Red bands. A local shopkeeper first saw this bird on April 16th.
In overcast conditions with occasional rain and strengthening SE winds, incomplete survey suggested fewer birds in the morning – with no sign of the Great Knot (fortunately – as very little if any food for such a species here) – and a small arrival ongoing through the afternoon. In total, 74 species logged, with new birds in including Northern House Martin (1-2), Asian House Martin (30+) (and one apparently all brown martin…), Red-billed Starling (3), Oriental Reed (1) and Sakhalin or Pale-legged Leaf Warblers (3) and two male Blue-and-white Flycatcher. Narcissus Flycatcher increased to four, a group of Greater Short-toed Lark in the village increased from five to nine, and on the mossy slab the Bar-tailed Godwit and Greater Sandplover were joined for a while by a Glaucous-winged Gull – presumably a first record for Gageo and one of the first records in the southwest of this species away from Jeju.
Glaucous-winged Gull Larus glaucescens, Photo © Nial Moores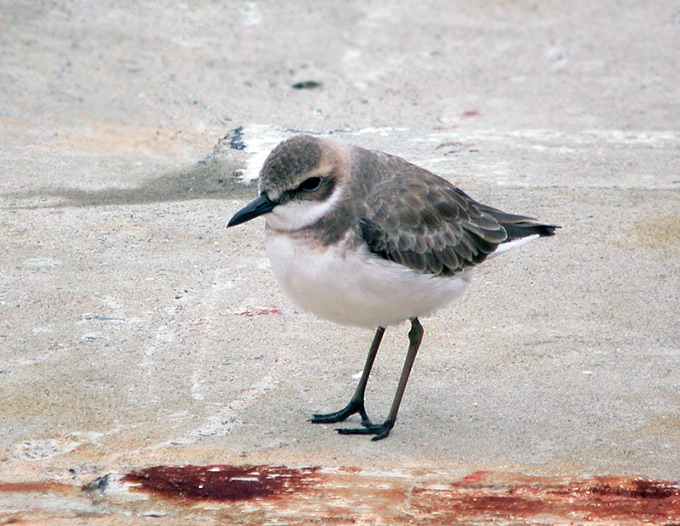 Greater Sand Plover Charadrius leschenaultii , Photo © Nial Moores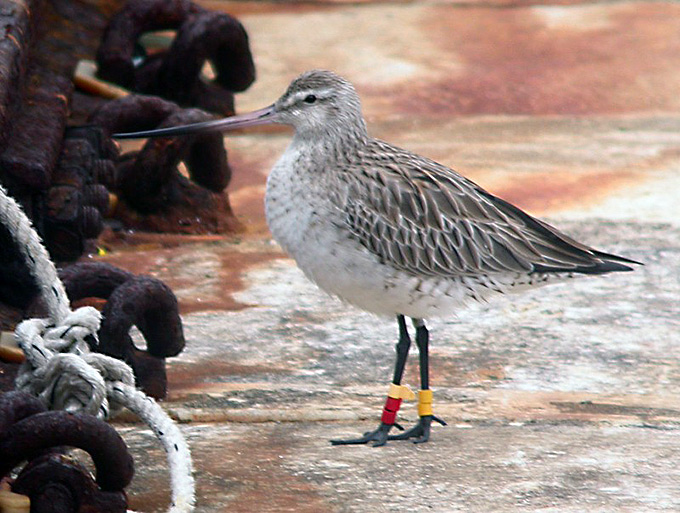 Banded Bar-tailed Godwit Limosa lapponic, Photo © Nial Moores
Bird News from Nial Moores
Igidae, Busan, April 10
A total of 53 species logged in four hours under overcast skies with occasional rain showers. Despite the hordes of hikers and plant-pickers, some excellent species found. On land these included two Japanese Robin (both giving song phrases, with one well seen), one adult male "Japanese" Grey Thrush, one female Brown-headed, 2 Grey-backed and 11 White's Thrushes, and single Korean Bush and Pallas's Leaf Warblers. Out to sea, no shearwater, but at least seven Arctic and four Pacific Loons (several in partial breeding plumage), and a group of c. 10 Black-necked Grebe, whilst overhead interest was provided by c. 10 Pacific Swift, 5-10 Barn Swallow, and a group of c. 5 Asian House Martin. All in all, a pretty good half-day's birding for the mainland!
Bird News from Matt Poll
Geoje-do, April 9
A walk through the fields near my apartment yielded some interesting birds this morning. Aside from the steadily decreasing numbers of Spot-billed Ducks, notable were several dozen Buff-bellied Pipits noisily foraging in the rice fields. Most exciting was a loose group of about 50 Chinese Penduline Tits moving lazily through the reeds. I've never seen Pendulines in these fields, so they must be moving through.
On the weekend I witnessed a dozen Grey Herons performing deft aerial maneuvers better suited to Rollers or Swallows! It was quite uncharacteristic and impressive to watch – I'm guessing it was part of a courtship display.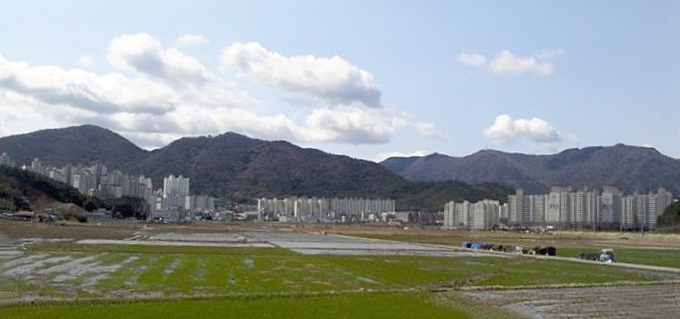 Gohyeon fields, Photo © Matt Poll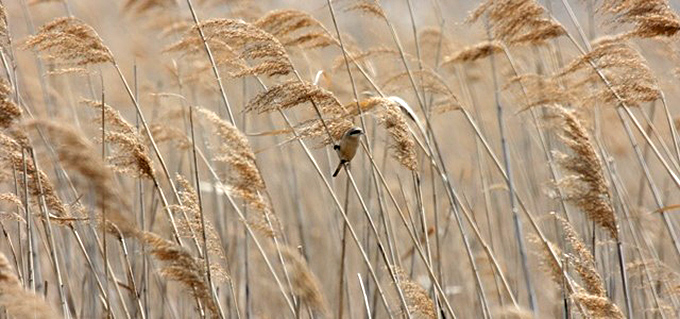 Chinese Penduline Tit Remiz consobrinus, Photo © Matt Poll
Bird News from Jason P. Loghry
Tajongdae, April 8
It was a beautiful clear-skied morning. There was very little wind. Dozens of Eastern Great Tits were singing and calling from the trees. Scattered near the park entrance were 5 Pale Thrushes fossicking through the leaf litter. I sat and watched but as people began to pour in, I quickly searched out a quiet undisturbed patch. I made it to the gully and near the stream I found a Japanese Robin. This was only the second time for me to see this species (was also my target species for the day), so it was very exciting. I sat quietly and watched it move curiously and cautiously up and down the stream bed. A flurry of birds were about. Most were more tits and some Yellow-throated Buntings. In the distance on a stone, sat a flycatcher, a personal first of the season. It was an Asian Brown Flycatcher. I lost sight of the Japanese Robin, but then a Winter Wren suddenly took the stage. Up the gully was a Black-faced Bunting feeding near the stream. It was a personata, and gorgeous. Just above it in a tree was warbler. It was distant, so I placed my scope on it. At that moment, a group of visitors noisily scurried near the tree and the bird was flushed. Not to be bothered, I shrugged my shoulders and smiled at the morning. It was a lovely day.
I did my rounds throughout Taejongdae. The wind picked up in the afternoon. I noticed 3 Eurasian Sparrowhawks circling above me. I came across some Japanese White-eyes, and more tits. Near the seaside were many Black-tailed Gulls and a few Black-headed Gulls. I saw a pair of Eurasian Spoonbills in flight following the southern coastline. At the distant lighthouse there was a line of about 200+ Loons.
As the wind became very strong, I headed back to the gully. Walking along the stream I found a Tristram's Bunting feeding. Birds around me suddenly flew up and a Eurasian Sparrowhawk perched up on a tree above the me. Putting the scope on it I saw that it had a Black-faced Bunting, personata. Could it have been the same bird I had seen just a few hours earlier? Leaving the gully I passed a stunning Grey-backed Thrush feeding in the leaves. On the way out of the park I spotted a White's Thrush, an Eastern Buzzard, and 3 Black Kites.
Pale Thrush Turdus pallidus, Photo © Jason P. Loghry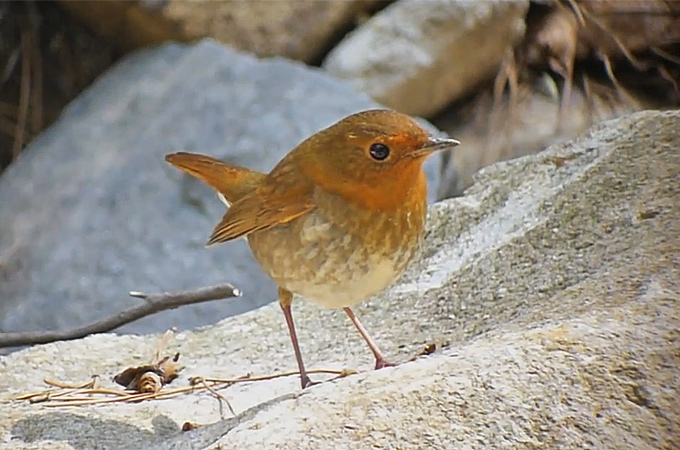 Japanese Robin Erithacus akahige, Photo © Jason P. Loghry
Black-faced Bunting Emberiza spodocephala personata, Photo © Jason P. Loghry
White's Thrush Zoothera aurea, Photo © Jason P. Loghry
Bird News from Tim Edelsten with Son Sung-Bae
Yongdeong-Gun, Chungchongbuk Province, April 7
We visited a heronry which at present holds some 150 Grey Heron nests, many with chicks. There were also at least two nests of Great Egret.
According to a local villager, this colony started about sixteen years ago. The herons arrive in February, but by May are vastly outnumbered by Egrets, when the total number of nests apparently reaches over 500, and the hillside looks as if covered in snow.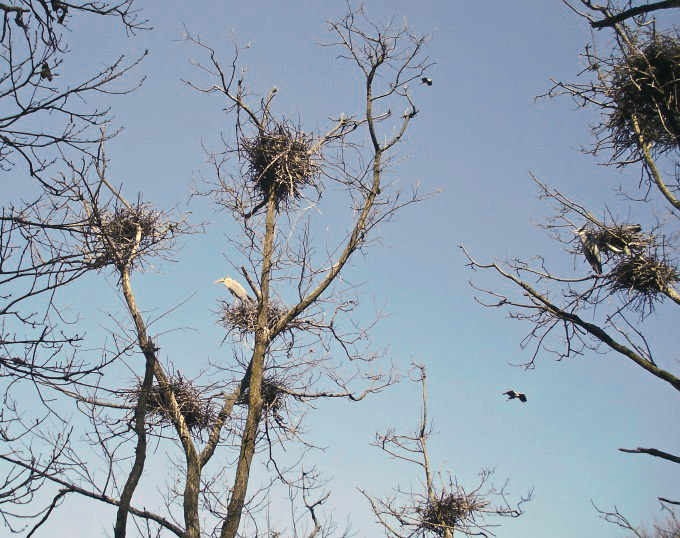 Heronry
Bird News from Nial Moores
Igidae, Busan, April 5
A few hours away from the office and into the field on a sunny but still windy day (with Force 6 southwesterlies following on from two days of even stronger winds). Out to sea, at least 30 Streaked Shearwater and large numbers of gulls appeared to be on the move (heading south back towards the Korea Strait), joined by one loon sp. and one Yellow-billed Loon, while 71 Great Crested Grebe seemed rather more settled closer in to shore. On the land, by SK View, 11 Buff-bellied Pipit and one Eurasian Sparrowhawk arrived in off the sea, while the woods also held a few early migrants. These included 6+ Red-flanked Bluetail (including two adult males), a single Pale Thrush, both Korean (1) and Japanese (2) Bush Warblers and a single Russet Sparrow (heard only, as was an over-flying accentor). Also of note there was a drumming White-backed Woodpecker, blurrily disgiscoped (the combination of decade old Nikon coolpix and brand new and brilliant Swaorvski scope not really being the best of matches…).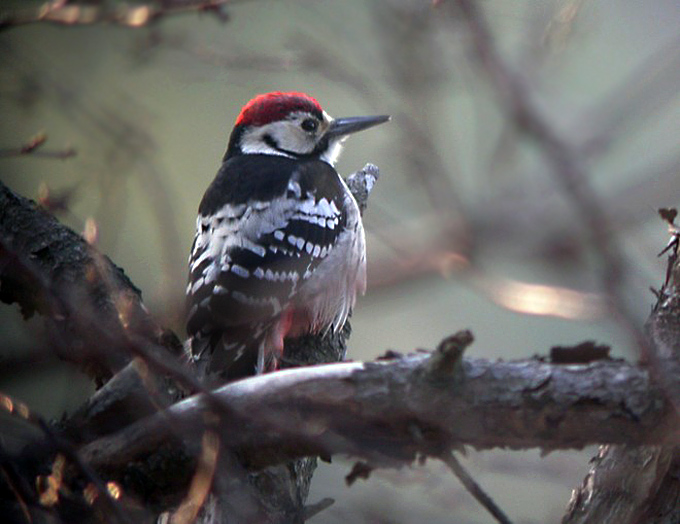 White-backed Woodpecker Dendrocopos leucotos, Photo © Nial Moores
Bird News from Subhojit Chakladar
Uiwang Reservoir, April 1
A cloudless blue sky at dawn, (relatively) moderate temperatures and low winds – its the kind of day birders look forward to! After the brutal winter, it was an absolute pleasure to walk around the Uiwang reservoir. A total of 30 species spotted in about 4.5 hours of birding.
It started with White Wagtails (both lugens and leucopsis) playing around in the rice stubble. Followed by some courtship display by 3 pairs of Great Crested Grebes. The numbers seems to be a bit reduced when compared to last weekend but the courtship displays are becoming more intimate. There were also a couple of them in their winter plumage. However, the Little Grebes were all in their summer plumage, and one of them gave close and prolonged views near the eastern shores of the lake. There is a housing construction going on in the North-eastern corner of the lake but inspite of the noise and distraction, I found quite a few birds in the woods around, including a nesting Marsh Tit and a couple of extremely inquisitive Varied Tits.
In the farms on the western periphery of the lake, I found a couple of obliging Long Tailed Tits and Naumann's Thrush. There was also a Grey Headed Woodpecker in the woods and a Common Buzzard in the sky. I searched for the Red-Billed Starling that I spotted last Sunday but no signs of it. Instead, I found a Red-Flanked Bluetail (which is a lifer for me). There were plenty of Barn Swallows on the wires and moving around.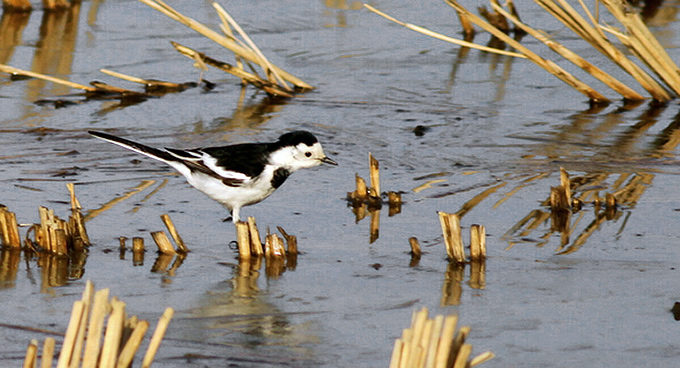 White Wagtail Motacilla alba leucopsis, Photo © Subhojit Chakladar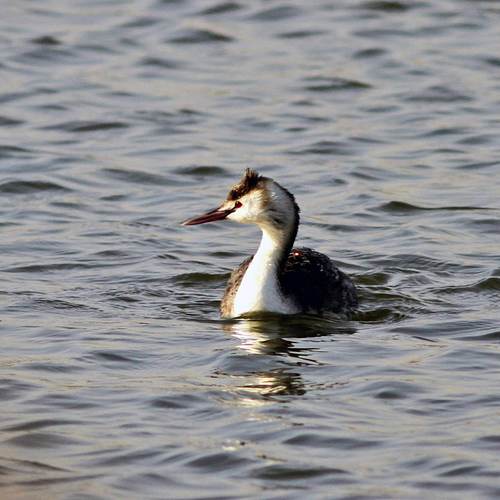 Great Crested Grebe Podiceps cristatus, Photo © Subhojit Chakladar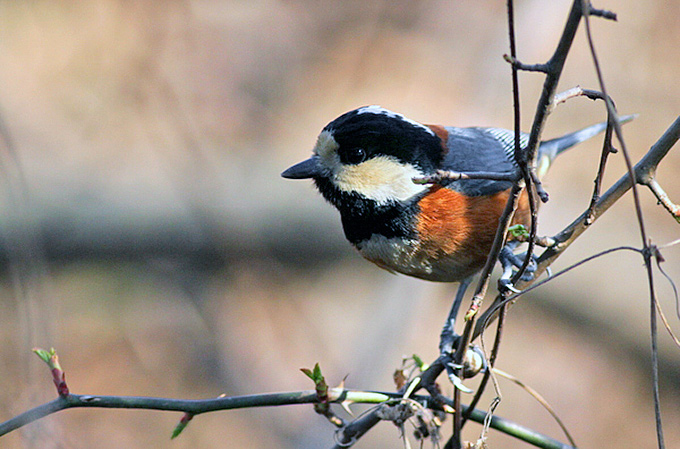 Varied Tit Poecile varius, Photo © Subhojit Chakladar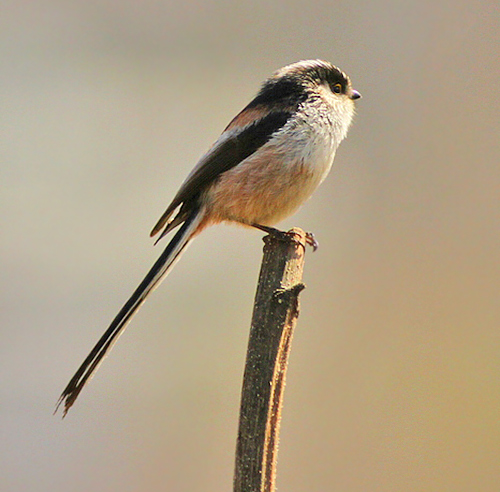 Long-tailed Tit Aegithalos caudatus, Photo © Subhojit Chakladar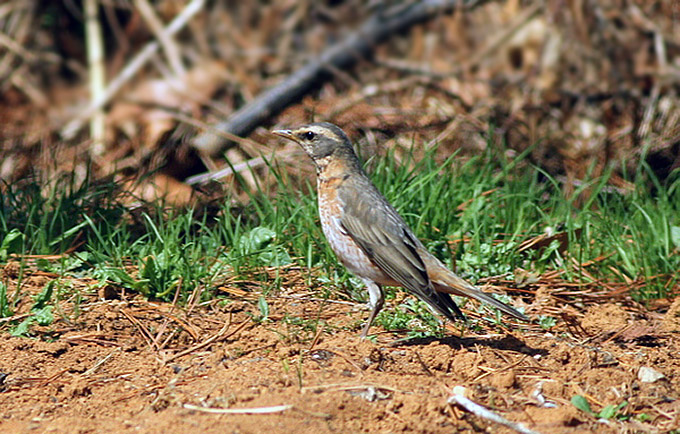 Naumann's Thrush Turdus naumanni, Photo © Subhojit Chakladar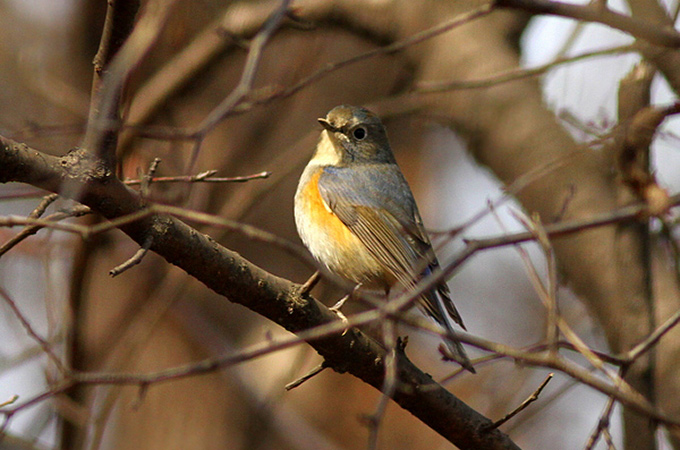 Red-flanked Bluetail Tarsiger cyanurus, Photo © Subhojit Chakladar
Barn Swallow Hirundo rustica, Photo © Subhojit Chakladar
Grey-headed Woodpecker Picus canus, Photo © Subhojit Chakladar
Bird News from Tim Edelsten
Songdo, April 1
At Songdo four Black-faced Spoonbill have returned to their nest site, even as their feeding area is destroyed by commercial development. A few Mongolian Gull have already begun nestbuilding. It will be a race to raise young before the mudflat is reclaimed.
Most unexpected, a stunning 281 Ruddy Shelduck were snoozing on the lagoon, with 25 Bean Geese nearby and a Naumann's Thrush (scarce this past season).
The last mudflat area, otherwise known as section 11, is covered with walls, construction and debris everywhere. At present tidal flow has not yet been cut off, so Saunder's Gulls are still able to feed on areas of exposed mud.
There are also a few Far Eastern and Eurasian Curlews, several Grey Plovers and a Kentish Plover.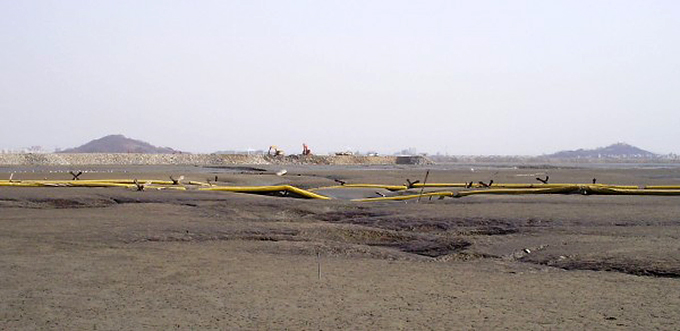 Destruction of last remaining mudflat, Photo © Tim Edelsten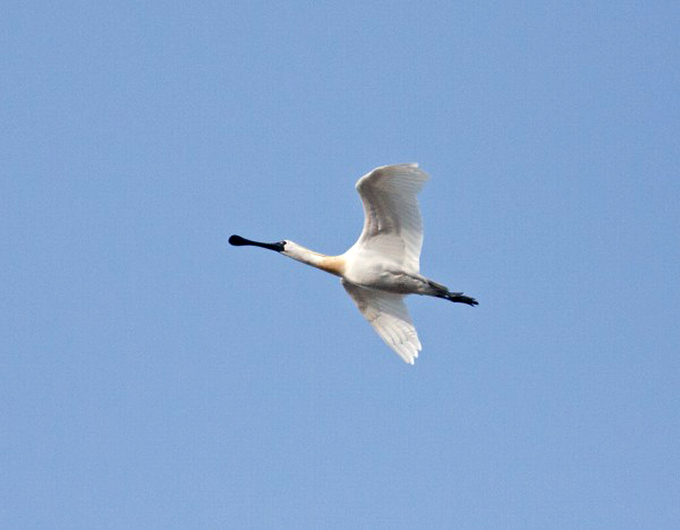 Black-faced spoonbill Platalea minor, Photo © Tim Edelsten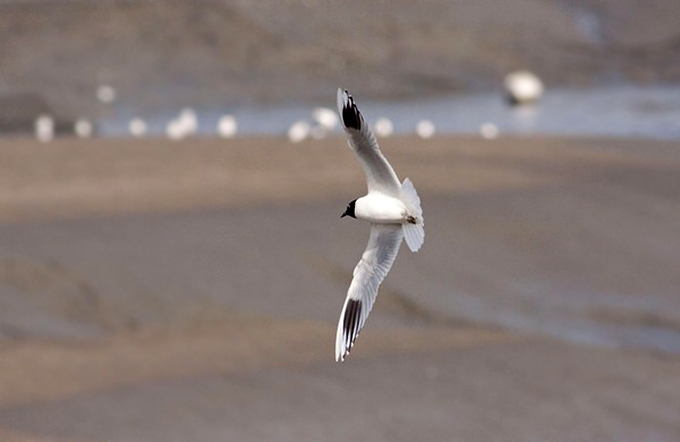 Saunders's Gull Chroicocephalus saundersi, Photo © Tim Edelsten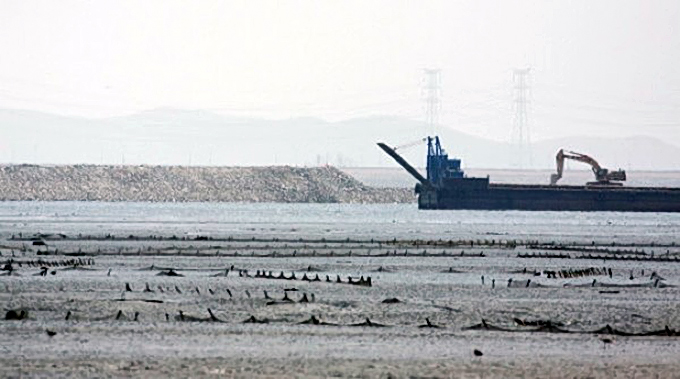 A reclamation wall spells doom for endangered species., Photo © Tim Edelsten