Birds Korea's Bird News March 2012
March
March often contains a mixture of dry, cold days (with night temperatures down to 3-4°C, and highs between 10 and 15°C) and occasional milder showery, windy weather.
Most wintering species are still present, but in progressively reduced numbers. Falcated Duck regularly display on reservoirs and ponds, while small numbers of Baikal Teal remain at key sites. Migrant cranes peak in the northwest, as can the Ancient Murrelet migration along the east coast. Small numbers of shorebirds, including early Little Ringed Plover and flocks of Far Eastern Curlew arrive, plus Siberian Buff-bellied Pipits and the first leucopsis White Wagtails. Hundreds of Rustic Buntings, Dusky and Naumann's Thrushes move north-east out of China and Japan, along with smaller numbers of raptors and occasional influxes of Japanese Waxwing. Bramblings and Siskins often form large flocks at key migration points. Sunny days tempt Rustic, Meadow, and Yellow-throated Buntings into song, and numbers of Oriental Stork, while still very small, peak at Seosan.
Rare finds in March in recent years have included Red-crested Pochard, Yellow-bellied Tit, and Red-throated Thrush. Careful searching through gull flocks may reveal taxa like Pallas's Gull, barabensis, cachinanns, or smithsonianus. National firsts in March include Bar-headed Goose in 2003, European Robin on Hong Island in 2006, and Bonelli's Eagle on Ui Island in 2007.
(The following records are a compilation of our own sightings and records sent in by other observers. As well as being posted on the Birds Korea website(s), selected records are also forwarded to other Korean-language birding websites; records of threatened species are arranged and forwarded to Birdlife International and national authorities when appropriate; flag images and records are passed to bodies responsible for their coordination throughout the flyway; and all records sent to us are used to compile annual reports and to support the evolving understanding of the status of many of Korea's birds.)
Bird News from Matt Poll
Geoje Island, March 31
It was a gorgeous warm day for exploring an offshore island. Very soon after getting off the ferry, an eerie crooning alerted me to the presence of several Black Woodpigeons in the treetops. After standing still for a while, I was rewarded when two of these impressive birds flew down to a tree at my eye level. I would estimate at least six were in the area of the island I explored. A Black Kite, and numerous Japanese Bush Warblers singing their summer songs were also notable on the island.
Back in Gohyeon, Little Ringed Plovers and Grey Wagtails have been arriving over the past week, a good sign that summer is around the corner. In the harbour, most of the Great Crested and Little Grebes are starting to assume their breeding plumage. The large group of Eurasian Wigeons near my apartment seems to be thinning out lately, and I've noticed large numbers of Grey Herons in the area over the past week.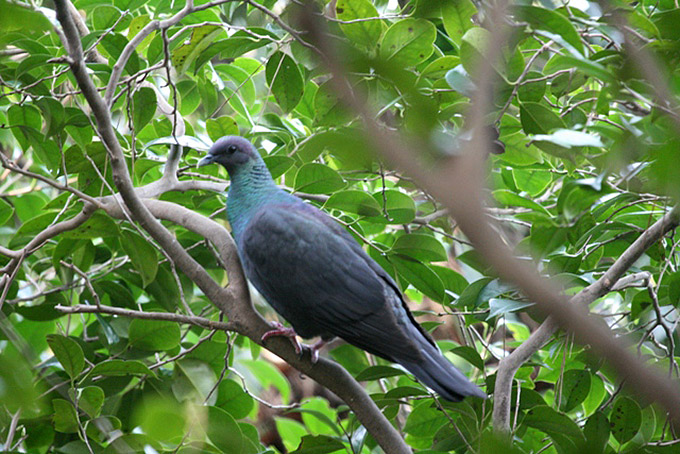 Japanese Wood Pigeon Columba janthina, Photo © Matt Poll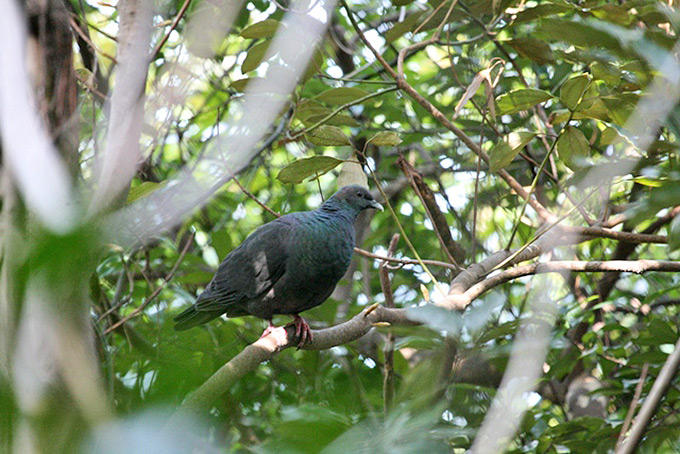 Japanese Wood Pigeon Columba janthina, Photo © Matt Poll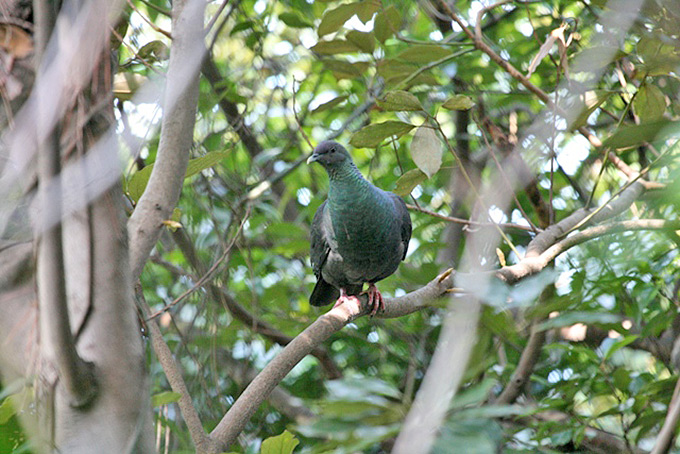 Japanese Wood Pigeon Columba janthina, Photo © Matt Poll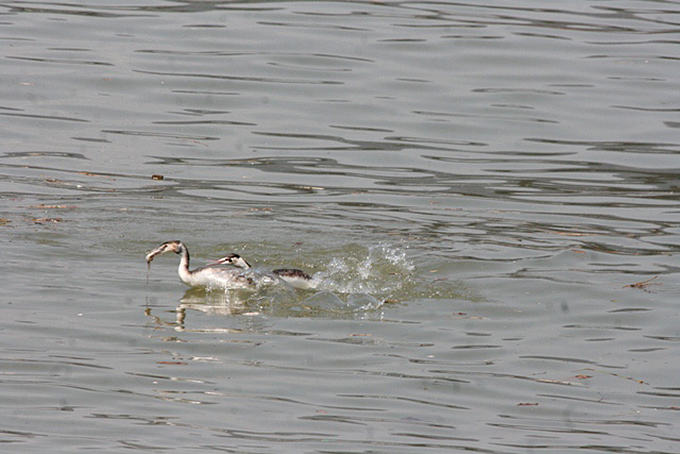 Great Crested Grebes Podiceps cristatus, Photo © Matt Poll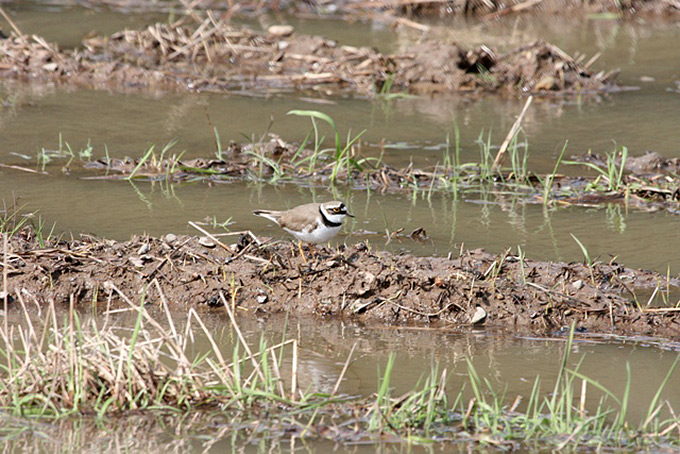 Little Ringed Plover Charadrius dubius curonicus, Photo © Matt Poll
Woodpigeon habitat, Photo © Matt Poll
Bird News from Subhojit Chakladar
Uiwang Reservoir, March 24
I surveyed a part of the Uiwang Reservoir (Southern and Western edges) on foot. Though it was bright and sunny, the wind was quite strong, which made it somewhat difficult to photograph and observe the birds that were towards the middle of the lake.
After a spell of rain towards the end of the week, the rice fields adjoining the reservoir were flooded. Apart from the usual Spot Billed Ducks, there were Eurasian Teals (2), Coots and Gadwalls (~20). There were isolated clusters of waterfowl scattered throughout the lake, almost always in mixed flocks. Close to the island and reed beds in the center of the lake, there were Mallards and around 20 pairs of Northern Shovelers. The Grebes had acquired summer plumage with the Great Crested Grebes (at least 10 pairs in the part of the lake surveyed) engaging in occasional courtship dances. There were 4 Little Grebes on the western part of the lake, also in summer plumage. White Wagtails (leucopsis) were struggling to fly in the strong winds, as were 3 Grey Herons and a single Great Egret.
Towards late afternoon, a group of Bean Geese noisily flew overhead. In the rice fields on the western side, a Common Buzzard was hunting for its dinner. There were Great Eastern Tits, Marsh Tits and Yellow-throated Buntings in the trees.
I also had a distant views of a Starling but looking in the direction of the setting sun, made it difficult to ID it with certainty. I took a number of images. It had a moustache with lighter cheek patches, crest and chin. The flanks and underparts were also considerably lighter than the wings. The mantle and scapulars were not uniformly dark. Because I was at an odd angle to it, I could not see the whole profile of the bird. The legs had a somewhat orange hue but it could be due to the light. Are there any lighter morphs for White-cheeked Starling? Or is it another species? Some images of the bird are shown below.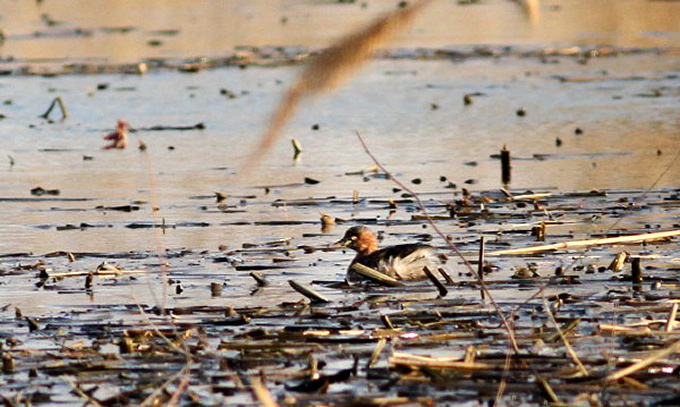 Little Grebe Tachybaptus ruficollis, Photo © Subhojit Chakladar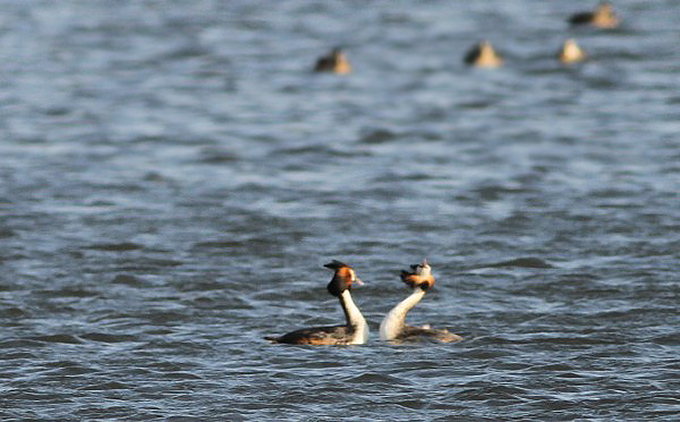 Great Crested Grebes Podiceps cristatus, Photo © Subhojit Chakladar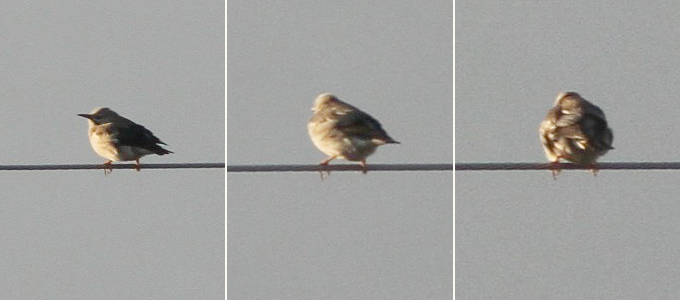 Can you identify this starling?, Photo © Subhojit Chakladar
Bird News from Bradlee Sulentic
Cheonsu Bay, March 19
Even though I've been a birder for less than 5 years, it is days like today that remind me of why I love birding. My companion for today's outing was my beautiful six year old son, Anthony, who is becoming quite the birder and champion for conservation. I couldn't have asked for a better birding buddy (apologies to all the fine gentlemen at Birds Korea, but it's not even close).
We started out at 10:00 this morning and drove the 90 minutes it takes to get to Cheonsuman. We saw only two Eurasian Kestrels and no Eastern Buzzards on the way down, which is quite low compared to previous trips. When we pulled up to the southeast corner of Seosan Lake A, Anthony's excitement level rose quickly, knowing that the fun was about to begin. Early looks at Common Goldeneye and especially Baikal Teal put a huge smile on his face. As we traveled up the eastern shore of Lake A my early wonder about the absence of geese vanished with looks at a flock of several Greater White-fronted Geese. This was just a prelude of things to come.
My interest in a smaller flock of "geese" flying near the large flock piqued when something about them told me I wasn't looking at geese. I quickly realized I was looking at my first Korean cranes. My excitement spilled over to my son and we spent long minutes scoping a flock of 400+ Hooded Cranes. Mixed in with this large flock of Hooded Cranes were two White-naped Cranes (one adult and one juvenile) and a single Common Crane, which I saw after returning to them for one last scan before heading home. Three crane species in one day had father and son FLYING!!! But, there was still more excitement to come. Further on, we stopped to get some scoped shots of Common Shelduck (which Anthony said looked funny) when I saw a couple of large raptors on a sand bar in the middle of the lake. "Anthony!! White-tailed Sea Eagles!!" This sent Anthony into space. He had never seen an eagle in the wild before and his favorite bird is the Bald Eagle, which makes any eagle special to him. To watch his face when looking at those eagles made my day, hands down. Near the mouth of the river, Anthony got his first looks at swans, 40 juvenile Whooper Swans with no adults present (which has me thinking the adults have already moved on). Our last big find of the trip was a pair of gorgeous Eurasian Spoonbills near where the stream drains into the lake. After seeing a flock of 20+ leucopsis White Wagtails at the very end of our day Anthony says to me, "Dad, I had so much fun today. Can we please go birding again?" To share my passion with my son and have it reciprocated is priceless. I can only hope this is the first of many such trips I take with the best partner a guy could ask for.
Northern Shovelers Anas clypeata, Photo © Bradlee Sulentic
Northern Lapwing Vanellus vanellus, Photo © Bradlee Sulentic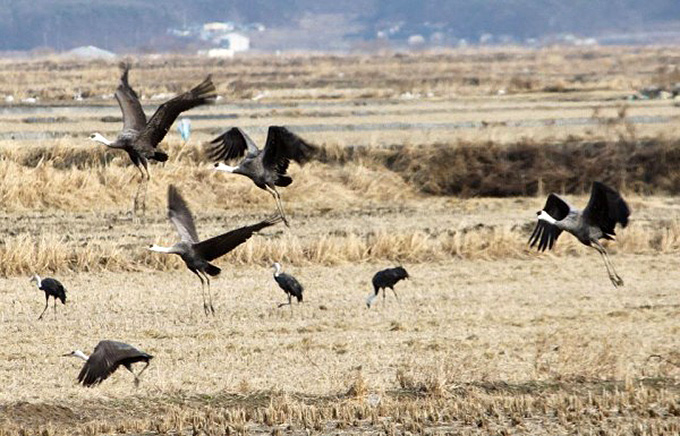 Hooded Cranes Grus monacha, Photo © Bradlee Sulentic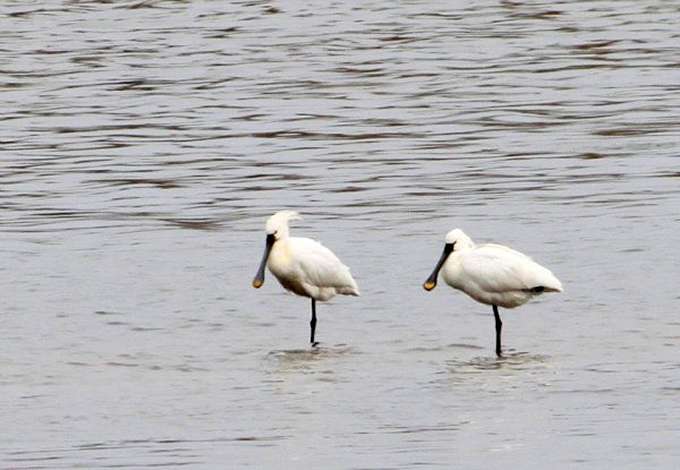 Eurasian Spoonbills Platalea leucorodia, Photo © Bradlee Sulentic
Bird News from Jason P. Loghry with Ju Yong-Ki and Tim Edelsten
Saemangeum, March 10
The night before last, it was very hard to sleep. I suspect all others reading this understand the excitement, anticipation, and even butterflies that come along with knowing that there is a possibility that one might see one of the most exquisite members of the biological world, the Siberian Crane.
This critically endangered species has an estimated global population of less than 3000, and is "the most highly specialized member of the crane family in terms of habitat requirements, morphology, vocalizations, and behavior as well as being the most aquatic of the cranes, exclusively using wetlands for nesting, feeding, and roosting." (ICF)
Knowing this, and having been at Saemangeum just a few months before and experiencing how massive the degradation of this wetland actually is, I had butterflies for other reasons as well.
We set off on our morning journey from Jeonju. We made a stop to look for Long-billed Plover alongside a small river, but instead found 9 Little Egrets, 2 Green Sandpipers, and 12 Teal. Continuing on we passed a flock of about 1700 Rook, including great views of a Daurian Jackdaw. This flock seemed to grow to an even greater number when it was possibly joined by another flock in the higher altitudes. It was at this moment that the skies began to look very busy with traffic.
Soon after 3 different flocks of White-fronted Geese passed us moving east. A few, including a couple of Bean Geese, stopped to feed in the rice fields. Most birds seemed to be headed in the same relative direction, as were we. Arriving at a berm, Mr. Ju Yong Ki quietly and cautiously led us to a protected outlook, where we right away had superb but safely-distanced views of 12 White-naped Cranes, and the majestic Siberian Crane.
It was an extraordinary bird; charming, powerfully poised, yet also apparently delicate. The cranes were feeding, gathering up energy, preparing to continue their long difficult journey onward.
Looking just beyond these gorgeous birds, were another kind of crane; also excavating the soil- but on a tremendous scale; severely out of balance. It was difficult to watch these bulldozers, dump trucks, and other machines altering the natural landscape even more, making obvious that at Saemangeum, including the barrage they are the contributing factor to the struggle for these wild species.
About 3000+ geese- White-fronted and Bean were feeding in close proximity to the cranes. There was a White-tailed Sea Eagle that brought them up a few times. At one point, we observed the eagle preying upon a lone White-fronted Goose swimming in water. The goose was clearly hurt but would not come up out of water as the eagle continued to attack and pursue. The eagle eventually gave up. There was a flock of 200+ Common Shelduck , some Common Mergansers, and some Whooper Swans.
As we watched the cranes, a water deer stormed passed us at the berm, racing by. Suddenly the cranes were flushed and took flight. We then saw two more water deer stampeding through the feeding grounds only to realize that they too had been disturbed, by a man on a bicycle and his two unleashed dogs.
The White-naped Cranes continued on out of sight but the Siberian Crane came down to roost with the large flock of geese. At the site, we also observed Pallas's Reed Buntings, a Penduline Tit, a Eurasian Sparrowhawk, a Northern Goshawk, and 2 presumed Japanese Bush Warblers.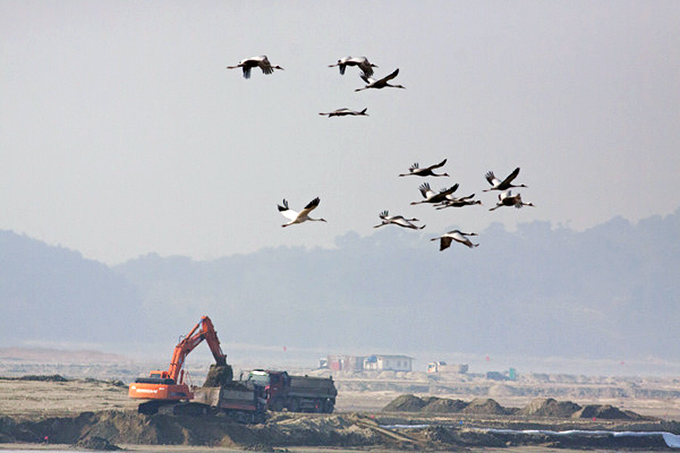 Siberian Crane Siberian Crane and White-naped Cranes Grus vipio, Photo © Tim Edelsten
Moving northward, we stopped at different sites along the western coast. We observed Smew, Pochard, Coots, Tufted Ducks at Okgu Reservoir. Common Gulls, Black-tailed Gulls, and Black-headed Gulls were present at Dongho, in Gochang. A few of these gulls had been badly oiled. About 800 geese were separated into groups and flying in formation. An Upland Buzzard was spotted.
In Gochang, near Geomso Bay, Mr. Ju Yong Ki kindly introduced us to some of the local community. We learned that recently, with the support of local government, they had converted 35 of their homes to solar power. This village is impressive and seems very interested in sustainable living.
At the bay, two Grey Plovers, some Kentish Plovers, Dunlin, Whooper Swan, Eurasian Curlew, and Far Eastern Curlew were seen. Also, 6 Oystercatchers and a Peregrine Falcon. As evening came, we headed to Dongrim Reservoir, seeing a few Azure-winged Magpies on the way.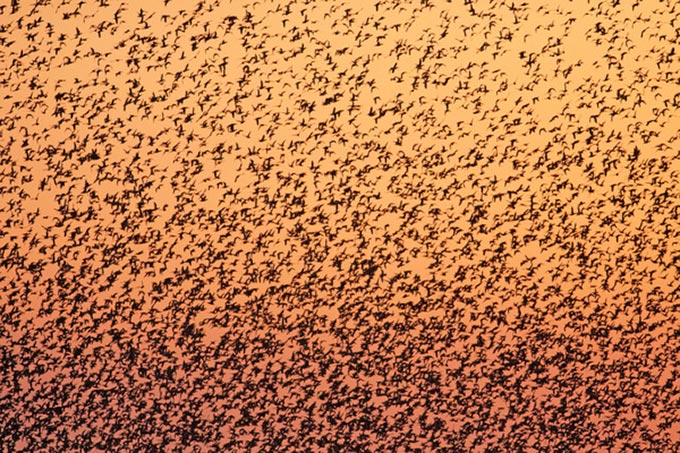 Baikal Teal Anas formosa, Photo © Tim Edelsten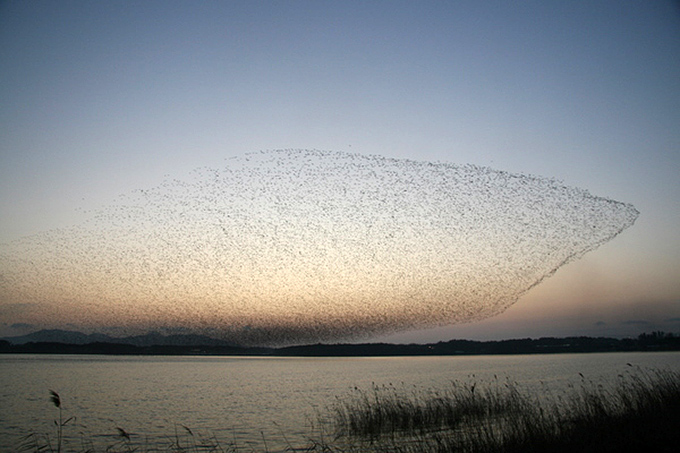 Baikal Teal Anas formosa, Photo © Ju Yong-Ki
Baikal Teal Anas formosa, Photo © Ju Yong-Ki
Once we arrived at the reservoir, I was suddenly stunned at the unimaginable mass of birds on the water. They seemed to continue on out of sight. We peered through our scopes at them, about 450,000 Baikal Teal. The birds on the outside of the flock seemed to continuously be moving inwards, as if they were playing a game of musical chairs. For a moment, I questioned whether it was all a dream. We changed locations to get a different view. There were about two dozen photographers and onlookers. They were a bit noisy so we moved to an area with few people and watched in awe this spectacle of a lifetime. This flock was massive; almost half a million birds, fluidly shape-shifting through the sunlit sky. They moved around over the reservoir for some time. Suddenly they grew closer to us and finally flew overhead. It was life-altering. The rhythmic sound of their wing beats soothed our ears and we bid farewell for the night.
This trip was remarkable. Despite all the pressure here in the ROK, we have really wonderful birds and great opportunities to observe them. Saemangeum is in a deep crisis. With the right kind of work and support, we can only do our best to turn what's happening around. Please support the work of Birds Korea.
Bird News from Ju Yung-Ki
Saemangeum, March 4
Surveying ongoing destruction of this once vast intertidal wetland, found a small group of White-naped Crane and one adult Siberian Crane. There were three different Siberian Cranes in the country late last year: is this one of the overwinterings birds or is it a northward migrant from China?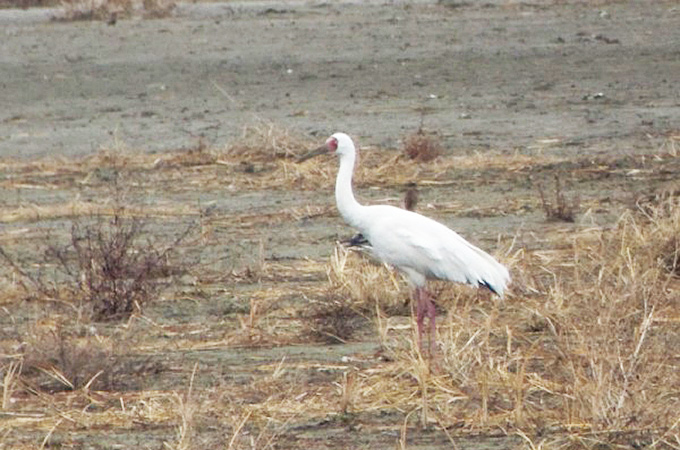 Siberian Crane Grus leucogeranus, Photo © Ju Yung-Ki
Bird News from Tim Edelsten
Kangneung, March 4
At Gyeongpo lake I finally caught up with the presumed Canvasback (present since at least February 5th). Loosely associating on the edge of a tight raft of c. 100 Common Pochard, it made frequent separate forays on its own.
In direct comparison to the Poches, it appeared obviously larger; with thicker neck, rounder and wider head (when viewed from behind; with more textured body patterning; longer, blacker bill, (broader at the base) and distinctly hunched outline. It dived a lot more actively, taking brief, frequent naps and often neck-stretching. It also seemed more aggressive, occasionally attacking the pochard drakes.
Otherwise of note, a pair of Japanese Wagtail (singing), a lone Wigeon, but suddenly no Glaucous Gull (there were at least ten here a week ago).
Presumed Canvasback Aythya valisineria, Photo © Tim Edelsten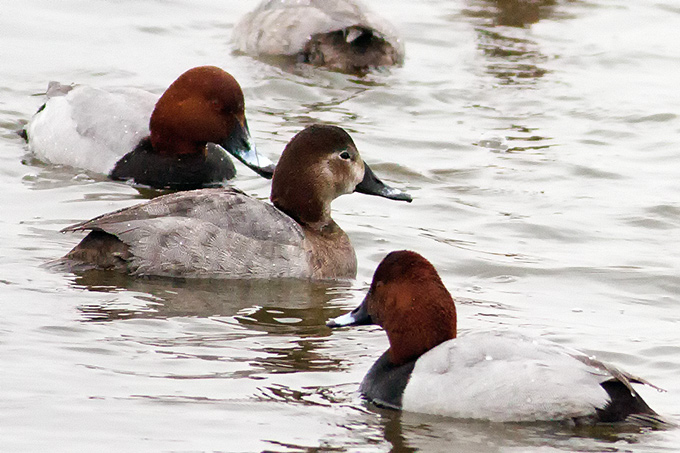 Common Pochard Aythya ferina, Photo © Tim Edelsten
Bird News from Matt Poll
Geoje Island, March 1
Taking advantage of some mild weather and a day off, I drove up to the northwest corner of Geoje Island. In Hacheong Harbour there were about 60 Red-breasted Merganser, along with a similar number of Spot-billed Ducks, but little in the way of gulls. At a nearby reservoir, a smaller number of Red-breasted Mergansers, and maybe 20 Smew. I was surprised to find 11 Cinereous Vultures circling over a small village. An hour later, I was at the top of a small mountain overlooking Gohyeon harbour with a friend when another eight (perhaps the same group from earlier) vultures passed by close overhead – an awesome sight! Aside from today, I've only seen a lone Cinereous Vulture over Gohyeon, this one in early January.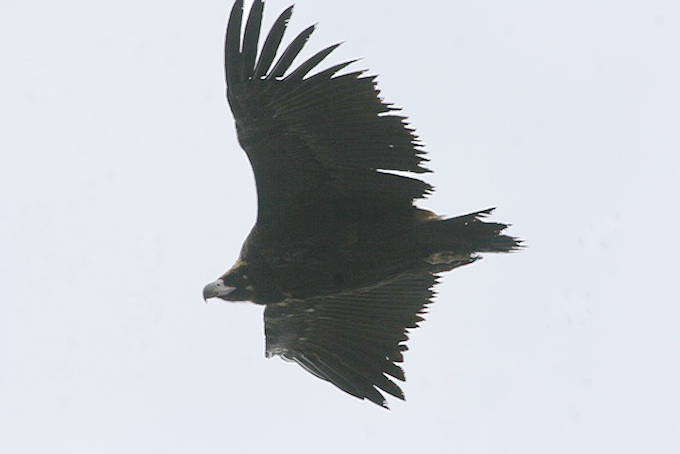 Cinereous Vulture Aegypius monachus, Photo © Matt Poll