Birds Korea's Bird News January 2012
January
In occasional periods of extreme cold many smaller rivers and reservoirs freeze over. Temperatures often drop to -5°C at night, and stay near freezing in the day. Periods of light snow and severe cold are usually followed by milder temperatures for a few days, and then severe cold again.
Mid-winter specialties include Baikal Teal (in often huge concentrations) and Scaly-sided Merganser, Swan and Lesser White-fronted Goose, Steller's Sea Eagle, Relict and Saunders's Gulls and Solitary Snipe! Red-crowned and White-naped Cranes and Cinereous Vultures are concentrated in the Cheorwon basin, with Hooded Cranes at Seosan and Suncheon in the south, and huge numbers of ducks and geese at the Geum and in Haenam. Milder conditions on the southern island of Jeju allow species like Black-faced Spoonbill, White's & Pale Thrushes, and even taivana Eastern Yellow Wagtails to over-winter. On the East coast, there are plenty of gulls to check through, and favoured seawatching areas such as the Guryongpo peninsula and north Gangwon Province provide chances to see Yellow-billed Loon, Long-billed Murrelet and Spectacled Guillemot along with occasionally large numbers of Ancient Murrelet and smaller groups of Rhinoceros Auklet.
National highlights in recent years have included Lesser Whitethroat, Asian Rosy Finch, Red-crested Pochard, and White-bellied Green Pigeon.
Recent Korean firsts in January have included a Plumbeous Water Redstart at Daejon in 2006, a Desert Wheatear at Pohang in 2008, and in 2009 the first and second records of King Eider, both on the East coast.
(The following records are a compilation of our own sightings and records sent in by other observers. As well as being posted on the Birds Korea website(s), selected records are also forwarded to other Korean-language birding websites; records of threatened species are arranged and forwarded to Birdlife International and national authorities when appropriate; flag images and records are passed to bodies responsible for their coordination throughout the flyway; and all records sent to us are used to compile annual reports and to support the evolving understanding of the status of many of Korea's birds.)
Bird News from Tim Edelsten
Han-River, January 27
At Namyangju, fairly cold, overcast and snowy on the Han river, which was a touch higher than normal. Lower than usual numbers of waterfowl however, although at least 74 Whooper Swan. Also present one adult Steller's Sea Eagle (although Mr Park Ji-Taek informs me he saw three adults here ten days ago).
Otherwise, 3 White-tailed Eagle (accompanied by a loose gathering of 88 Large-billed Crow), a Japanese Wagtail and the usual assortment of e.g. Common Merganser and Goldeneyes.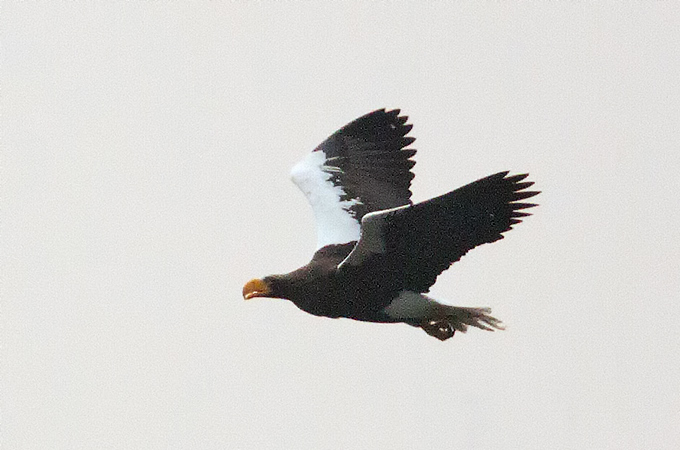 Steller's Sea Eagle Haliaeetus pelagicus, Photo © Tim Edelsten
Common Merganser Mergus merganser, Photo © Tim Edelsten
Bird News from Tim Edelsten & Im Bek-Ho
Namhansan, January 24
On the 24th at Namhansanseong (with Im Bek-Ho), great views of three adorable Hazel Grouse picking their way gently through the branches of a woodland clearing. It seems remarkable that Mr. Im has previously seen a gathering of 18 individuals here after heavy snow. Two Korean Water Deer were unexpected as I have only ever seen them in lowland areas before.
Subzero temperatures and solid, frozen mountain streams left the regular winter characters quite hungry and approachable, which included Yellow-throated and c. 40 Rustic Buntings, Long-tailed, Marsh, Great and Varied Tits, European Nuthatches, White-backed and Greater Spotted Woodpeckers, and 2 Daurian Redstart.
Hazel Grouse Tetrastes bonasia, Photo © Tim Edelsten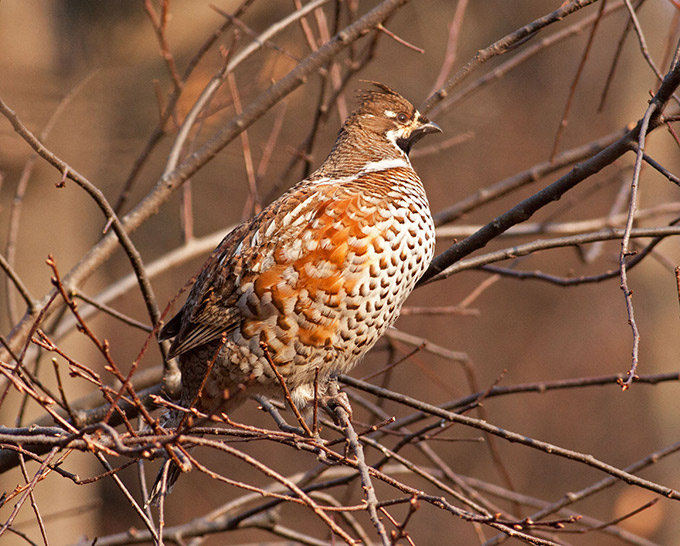 Hazel Grouse Tetrastes bonasia, Photo © Tim Edelsten
Bird News from Tim Edelsten & Son Sung-Bae
Shiwha, January 21
At Shiwha a young Steller's Sea Eagle was loitering amongst 9 White-tailed Eagle on the far bank, squabbling over some prey. Spectacular numbers of waterfowl were nice to see, which in the shallows included a drake American Wigeon and 73 Whooper Swan.
In the deeper lake water stretched long lines of diving ducks, including 9000+ Greater Scaup and c. 2000 Goldeneye. Briefly driving through Hwaseong, an Upland Buzzard and a swirling flock of up to c.1600 Rook, which also held several Daurian Jackdaw.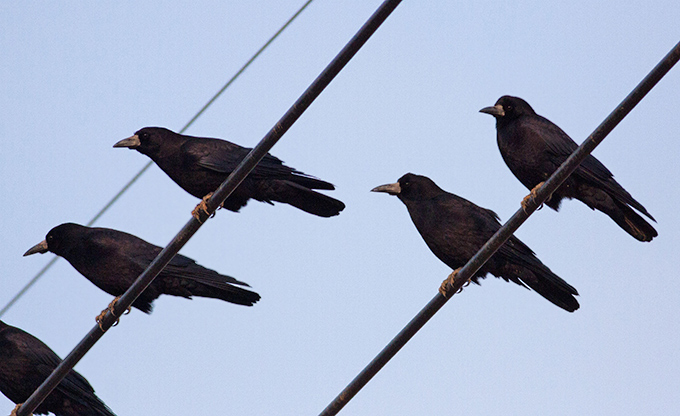 Rook Corvus frugilegus pastinator, Photo © Tim Edelsten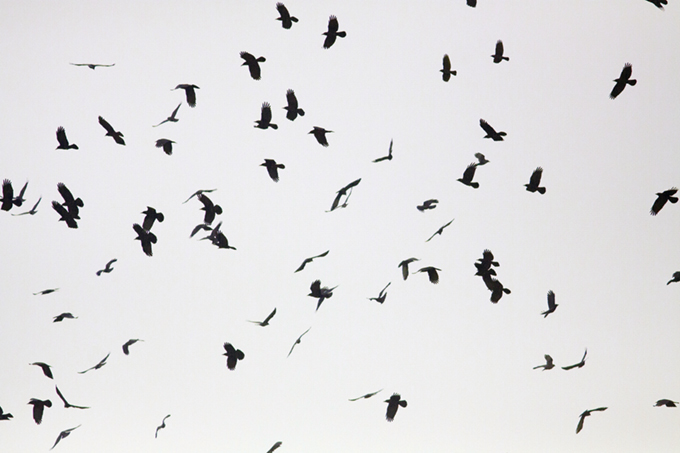 Rook flock, Photo © Tim Edelsten
Bird News from Nial Moores
Gangwon Coast, January 16
Counting from the wonderful January Pension produced a total of 1644 birds south in the first hour of light (between 0725 and 0825), with most numerous Temminck's Cormorant (1086), Loons (326: almost all considered likely to be Arctics) and Ancient Murrelet (66). The same movement (regular southward each dawn and often northward in the evening) also included 15+ Spectacled Guillemot, one Rhinoceros Auklet and a Long-billed Murrelet, with the latter landing and feeding c. 200m from the Pension.
From the headland above Geojin Harbour, scans of the sea produced 300+ Arctic Loon, 1 or 2 Rhinoceros Auklet, four Spectacled Guillemot and a Third Calendar-year Glaucous-winged Gull, while on the headland itself best were a Korean Water Deer, a Long-tailed Rosefinch, and two Siberian Accentor (one heard, and one sadly found dead on the road back into town).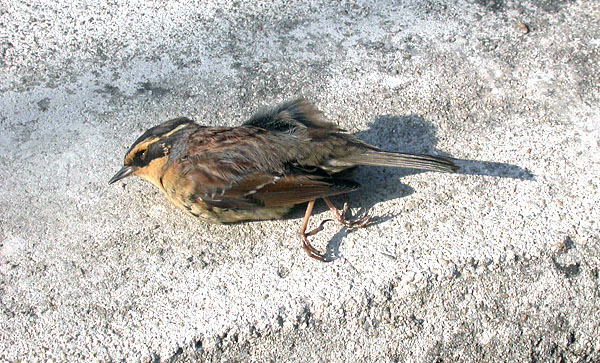 Siberian Accentor Prunella montanella, Photo © Nial Moores
Bird News from Nial Moores with Shim Kyu-Sik and Kim Shin-Hwan, joined on the boat by Park Heung-Sig, Song In-Sik and Lee Yong-Sang
Gangwon Coast, January 15
Few birds of note from land (best were about eight Spectacled Guillemot from shore by NM in the evening), but rather better success during 3.5 hours birding from a fishing boat. Taking the boat out from Daejin harbour, we headed a little further out than usual (out to 9.7km north-east of the harbour on a more or less straight line) in the hope of finding more obviously pelagic alcids including the still seldom-recorded Least Auklet. The first of the 357Ancient Murrelet counted were recorded 1.8km from shore (with most between 3km and 6km out), the first of three Spectacled Guillemot 2.5km out, the first of probably six Brunnich's/Thick-billed Murre 3.2km out, and the first of five or six Common Guillemot more than 6km out. As predicted, Least Auklet were recorded a little further from shore still, with one at about 7.7km out, and another at 8.1km. Despite the pitch and roll of the boat in the 1m sea-swell, all of the photographers (i.e. everyone but NM!) took some excellent images, reproduced here with permission. It is a testimony to the skill of those involved that even details of the eye can be made out in many of the images of Least Auklet even though taken from a moving boat – please note that this is a species with a total length shorter than a Tree Sparrow! Other species of note during the day included a single Yellow-billed Loon, probably 200 Red-necked Grebe off Daejin Lighthouse area and nine Glaucous Gull in the harbour (NM only).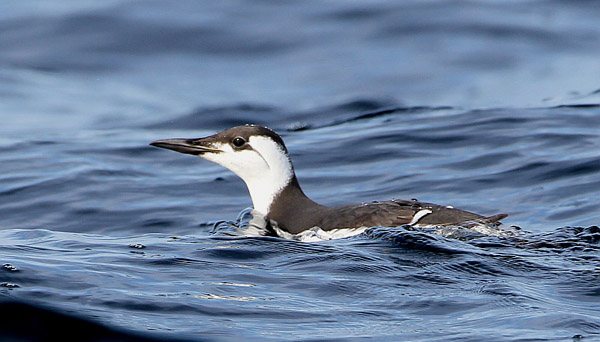 Common Murre Uria aalge, Photo © Kim Shin-Hwan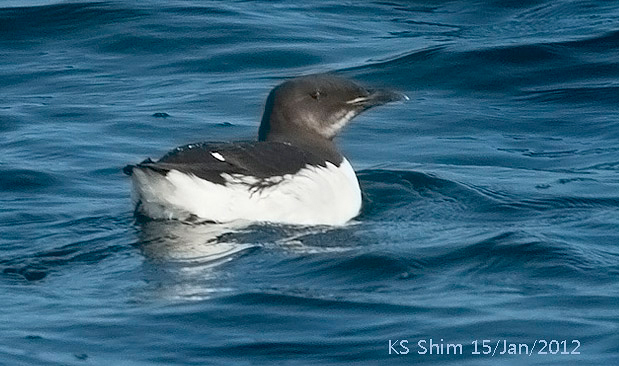 Thick-billed Murre Uria lomvia, Photo © Shim Kyu Sik
Least Auklet Aethia pusilla, Photo © Kim Shin-Hwan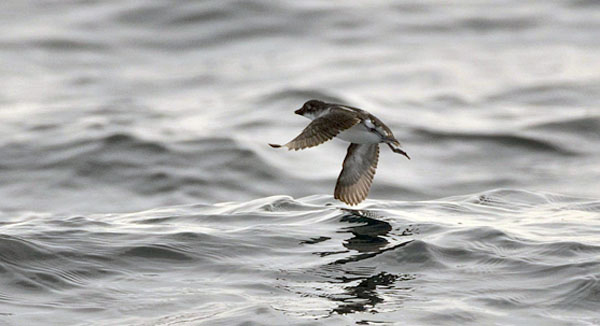 Least Auklet Aethia pusilla, Photo © Park Heung-Sig
Bird News from Nial Moores with Shim Kyu-Sik and Kim Shin-Hwan
Gangwon Coast, January 14
Cold overnight (-5C) rising to a balmy 6C by mid-afternoon. A series of short-stops along the coast between Wondeok and Yangyang revealed much construction and found a few good birds, with highlights the long-staying Long-tailed Duck in Gangneung (earlier photographed by Shim Kyu-Sik on January 8th), a concentration of 270 Rhinoceros Auklet and 500 Pacific Loon near Imwon Harbour, and 220 Ancient Murrelet in one short scan south of Yangyang.
Long-tailed Duck Clangula hyemalis, Photo © Shim Kyu-Sik
Bird News from Matt Poll
Geoje-do, January 8
It's great to be back in Korea! I knew my new home on Geoje Island was going to be a promising spot for birds when I spotted a Black Kite on the car ride from Gimhae airport. I'm living in Gohyeon, which is nestled in a coastal valley that offers a wide array suitable bird habitat packed into a relatively small space.
Taking an early morning jet-lag walk near my apartment, I was impressed by my new patch, as I passed by a harbour, a salt-water canal, fresh-water streams, low mountains, fallow farm fields, marshy wetlands, and massive reedbeds.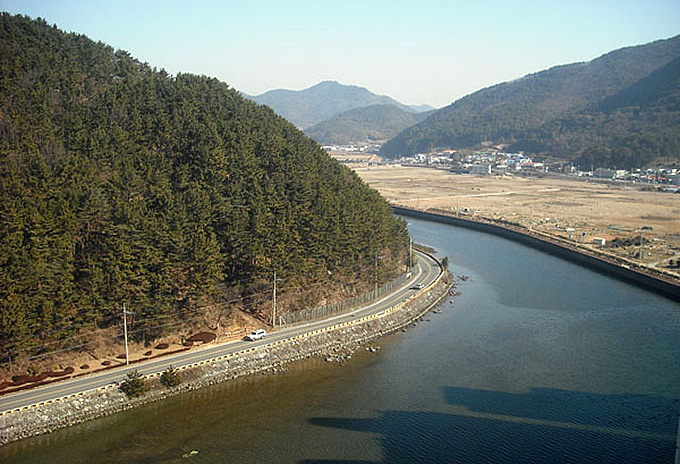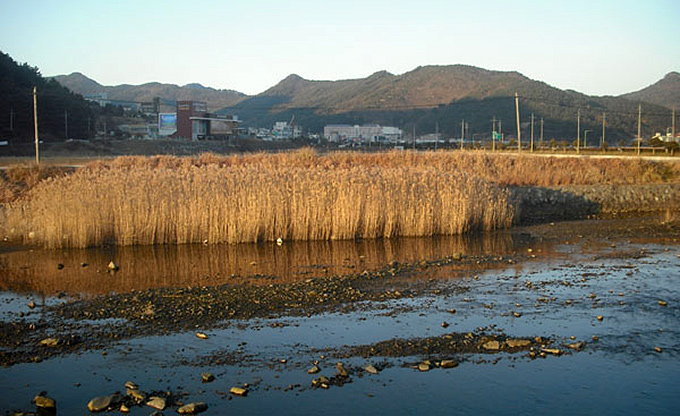 Photos © Matt Poll
I spotted 42 species on this walk, including a number of mainland species that were notably infrequent or absent from my Jeju birding trips, such as Long-tailed Tit, Varied Tit, Coal Tit, Japanese Pygmy Woodpecker, and Vinous-throated Parrotbill – most part of a vigorous and inquisitive bird wave that enveloped me as I ate breakfast at the top of a mountain! In the hills, I also saw a Japanese White-eye, numerous Yellow-throated Buntings, as well as a Dusky Thrush and a Pale Thrush.
The harbour and streams are home to many hundreds of Spot-billed Ducks, as well as groups of 20-50 Eurasian Teal, Gadwall, Eurasian Wigeon, Common Pochard, Common Goldeneye, and Great Crested Grebe. I spotted a Black-headed Gull in the harbour with the more common gulls, while a lone Cinereous Vulture soared overhead. At a quiet spot on a rocky stream, I was pleased to find five Long-billed Plovers.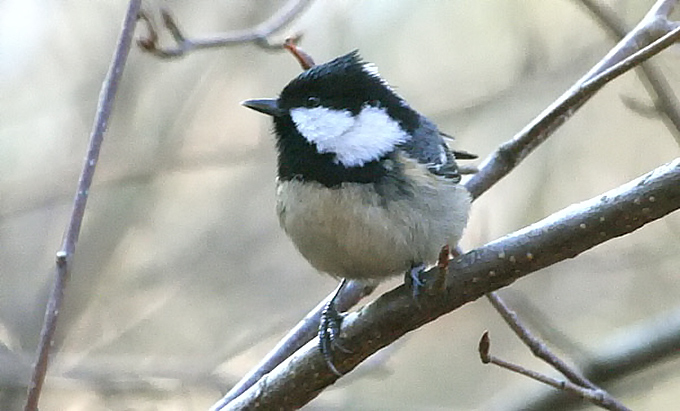 Coal Tit Periparus ater, Photo © Matt Poll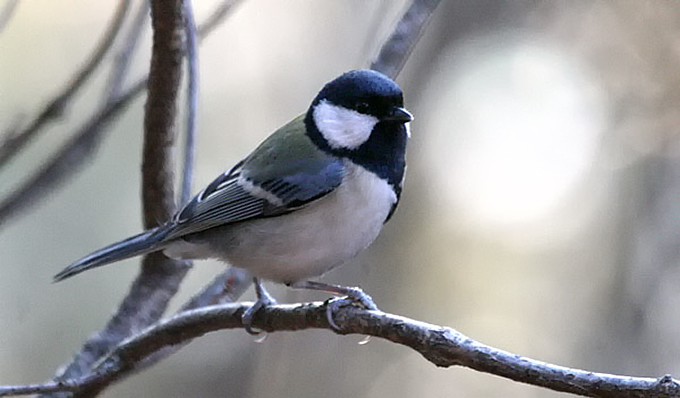 Japanese Tit Parus minor, Photo © Matt Poll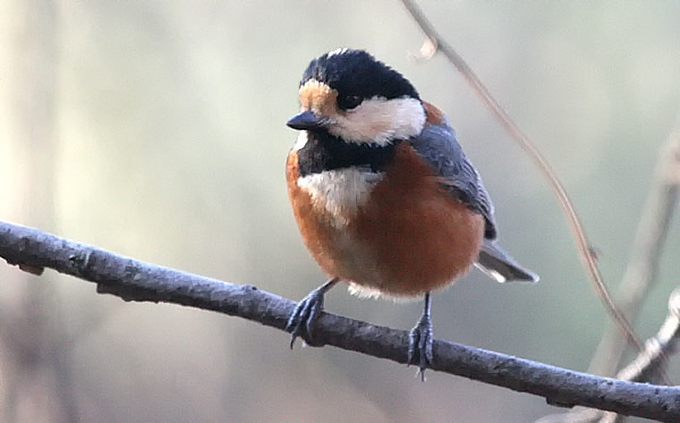 Varied Tit Poecile varius, Photo © Matt Poll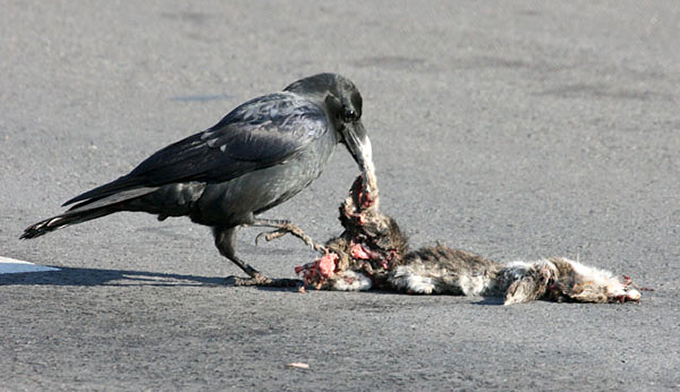 Large-billed Crow Corvus macrorhynchos, Photo © Matt Poll
Bird News from Jason P. Loghry, joined later by Kim Sae-min (aka Cody)
Dadaepo, January 3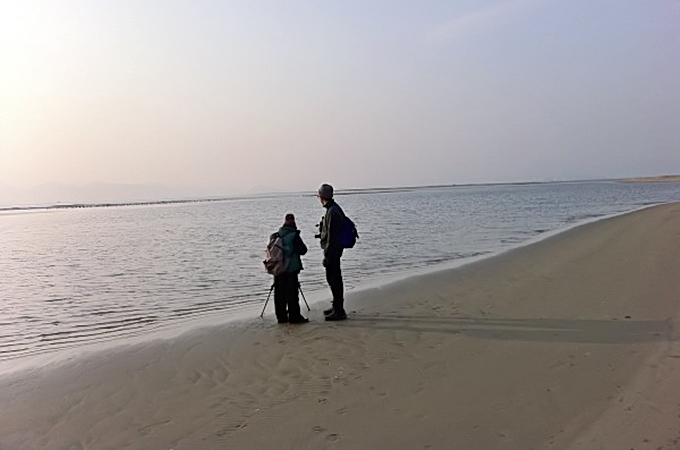 Cody and I scanning for Relict Gull., Photo © Jason P. Loghry
With every intention of seeing a Relict Gull, I made an early morning of Dadaepo once again. To my surprise, 6 large dark eagles could be seen instead. Three Steller's Sea Eagle (one adult and two immature), and the other three were dark, same-sized but lacked any visible white on the wings or tail nor could I see the distinct bill. Too far for crackin' views, regardless, what a sight !
From the shore, I also saw many of the same birds as reported on the first, this time including three Saunders's Gulls. Additional species included several very impossible-to-photograph Black-necked Grebes, a Little Grebe, some Common Shelducks on the spit, a very lazy looking Slaty-backed Gull, the ever-diligent Eastern Curlews, and some Dunlin in the distance.
A walk in the woods made for some very photogenic Daurian Redstarts, three Red-flanked Bluetails, and a couple dozen Long-tailed Tits. Cody arrived on the scene just in time for a few Olive-backed Pipits, some chatty Coal Tits, and seven Oriental Goldfinches on a wire. We headed for the beach to scan for Relict once again. A large number of gulls were at roost but none were what we had set out for. Still, we were rather excited, a Eurasian Kestrel playfully perched on the nearby grassy beach.
We followed the shore away from Dadaepo to see if the eagles were still there. They must of flown. No matter, from there, the sun setting on the Nakdong was a gorgeous scene. Just as the sun said goodbye, we were surprised by our final bird of the evening, a Winter Wren, hopping along the rocks near the shore. Thanks to Cody (Kim Sae-min) for joining me. I'm looking forward to our next adventure !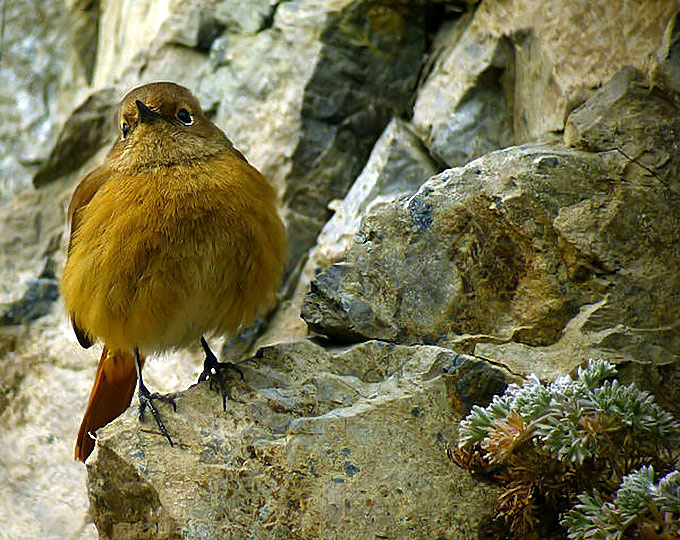 Daurian Redstart Phoenicurus auroreus, Photo © Jason P. Loghry
Eastern Great Tit Parus minor, Photo © Jason P. Loghry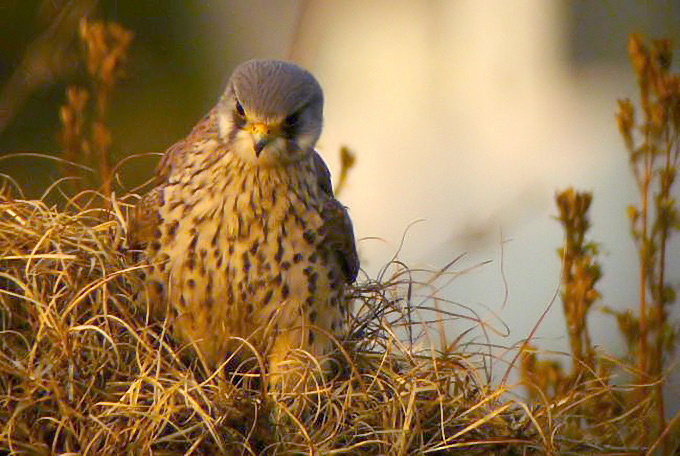 Common Kestrel Falco tinnunculus, Photo © Jason P. Loghry
Bird News from Nial Moores
Igidae, East Busan, January 3
Much more birdy at sea compared to December, with birds of note including one Black-necked, one Red-necked and c. 15 Great Crested Grebes, 13 Ancient Murrelet and best of all a Rhinoceros Auklet (my personal first in Busan). In the woodland, still rather quiet, with best the chance to watch a Eurasian Woodcock feeding actively at dusk, shuffling rapidly across piles of dead leaves.
Bird News from Jason P. Loghry
Dadaepo, January 1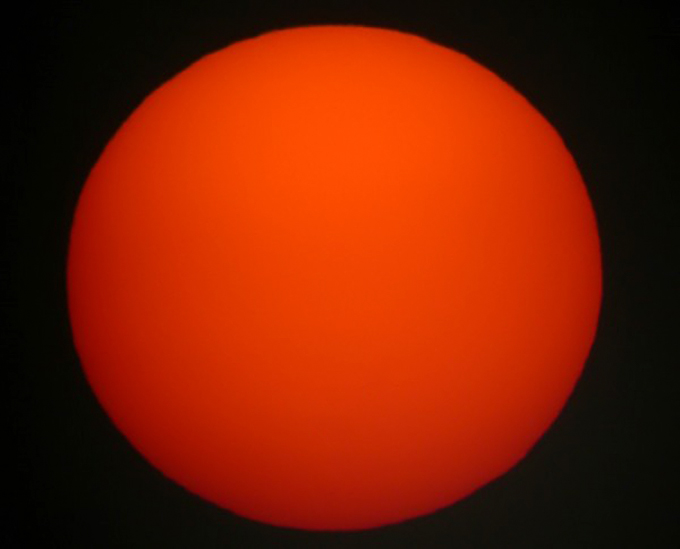 First sunrise, Dadaepo, Photo © Jason P. Loghry
After a fast, fun night of celebration, I headed to Dadaepo to catch our first sun. Hundreds of other folks had the same idea. Quietly up the hill to the southern side, we moved. Black-headed Gulls and Great Cormorants flew back and forth across the dark open water. The sun finally showed itself and a wave of cheers filled the sky before the mass of excited people quickly retreated.
I strayed into the woods for a walk. My peaceful walk was made even more so when a gorgeous White's Thrush darted in and perched on a tree in front of me. Silently, it stayed for a while and then suddenly dropped down to a stream for a drink of water. Small flurries of Yellow-throated Buntings, Eastern Great Tits, Varied Tits, Brown-eared Bulbuls, and Japanese White-eyes filled the trees and bushes around me. They too seemed attracted to this small stream. Just below us was the beach. Several Eurasian Wigeons and pairs of Red-breasted Mergansers shared the water with a few lone Great Crested Grebes. Two White Wagtails, lugens, inspected the beach.
Back in the woods a couple Pygmy Woodpeckers and a White-backed Woodpecker enjoyed their breakfast. On the floor, I was pleased to hear and see Pale Thrushes. There were three. Has there been a shortage of thrushes this winter?
Curious about the gulls out at Doyodo, I left the woods. The beach has especially seen a lot of development in the past few months. Today there seemed to be a lot more dunes than I ever remembered and a growing number of reeds. On my way out, I watched an Osprey fly up and down over the water until finally dipping in and out with a fish. No sign of any eagles but did see a Black Kite. A long line of large white-headed gulls, mostly Vega and Mongolian, sat along the shore of Doyodo. Several Whooper Swans could be seen in the distance.
Having seen a White's Thrush and even the Pale Thrushes, I was already quite pleased for having stayed up all night. And then the morning got even better. A Saunders's Gull was feeding just opposite the shore in a shallow body of water! The new year started to feel kind of epic. With hopes it continues to and this year brings greatness to conservation everywhere, happy new year !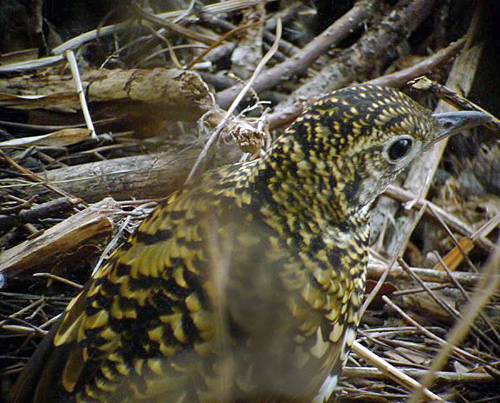 White's Thrush Zoothera aurea, Photo © Jason P. Loghry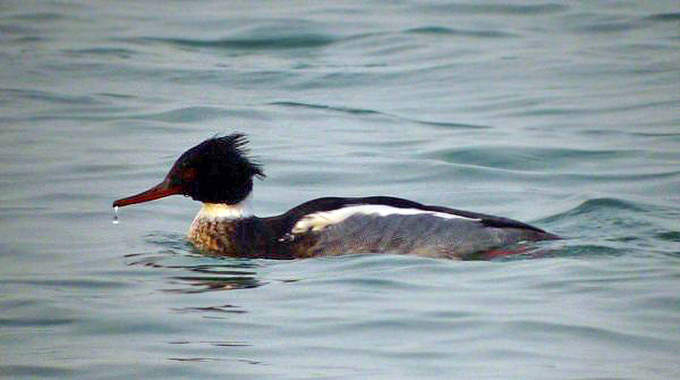 Red-breasted Merganser Mergus serrator, Photo © Jason P. Loghry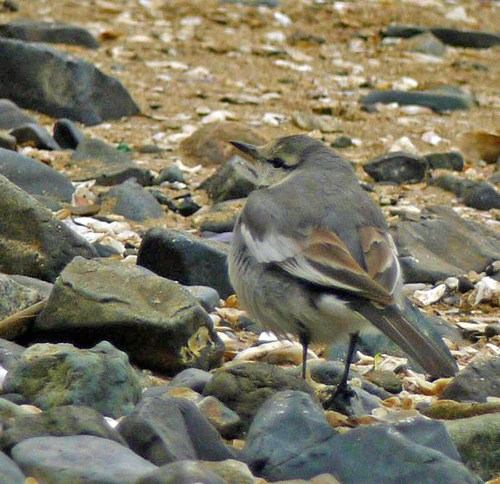 White Wagtail Motacilla alba lugens, Photo © Jason P. Loghry