Birds Korea's Bird News December 2011
December
Periods of intense cold alternate with milder spells. In the coldest winters maxima are often below freezing; in milder years (increasingly regularly) maxima often reach 10°C in Seoul: a few lingering autumn migrants can still sometimes be found as well as huge numbers of wintering waterbirds.
A great time for a winter bird tour or a couple of days in the right areas. Saunders's Gulls are widespread, while very small numbers of Relict Gulls also start to appear at a number of sites, especially in cold winters. Scaly-sided Merganser move southward onto unfrozen rivers, while numbers of Baikal Teal remain at their peak - often dispersing southward from Seosan, along with large numbers of Greater White-fronted and Thick-billed Bean Geese with the onset of subzero temperatures. Taiga Beans too can be found in the low thousands at Woopo, Joonam and in the Nakdong Estuary in the southeast, the mildest part of the mainland. Raptors include good numbers of Cinereous Vulture in the Cheorwon Basin, where they are often joined by White-tailed and even Steller's Sea Eagles, while cranes (Red-crowned, Hooded, and White-naped), also remain at key sites. Passerines include occasionally numerous Brambling, mixed flocks of Naumann's and Dusky Thrushes and in some winters large numbers of Siberian Accentor. Species such as White's and Pale Thrush, Japanese Bush Warbler, Red-flanked Bluetail and Japanese White-eye also remain in reasonable numbers on Jeju Island and in the far southeast.
Highlights in recent years have included irruptions of Chinese Nuthatch, and records of Sandhill Crane, Siberian White Crane and Cackling Goose. Recent national firsts have included Grass Owl in 2003 and Meadow Pipit in 2006, both on Heuksan Island, and Korea's first Lesser Black-backed Gull at Yubu Island in the Geum Estuary in 2008.
(The following records are a compilation of our own sightings and records sent in by other observers. As well as being posted on the Birds Korea website(s), selected records are also forwarded to other Korean-language birding websites; records of threatened species are arranged and forwarded to Birdlife International and national authorities when appropriate; flag images and records are passed to bodies responsible for their coordination throughout the flyway; and all records sent to us are used to compile annual reports and to support the evolving understanding of the status of many of Korea's birds.)
Bird News from Nigel Marven and Nial Moores
Joonam & Nakdong Estuary, December 13
A cold and clear dawn (-4C) provided excellent conditions for 'scoping decent numbers of Taiga Bean Geese (c. 2000) and small numbers of Baikal Teal (c. 100), with further species of note including probably 350+ Rufous Turtle Dove but only one Dusky Thrush. High tide at the Nakdong Estuary meant that a brief scan from the eastern shore there found rather few birds, but these included one very distant immature Steller's Sea Eagle.
Bird News from Nigel Marven and Nial Moores
Geum River-Gomso Bay-Southeast River, December 12
A milder day, with perfect conditions for watching a flock of c. 30,000 Baikal Teal at the Geum River, where there was also a very late Red-throated Pipit and small numbers of Lapland Longspur, Eurasian Skylark and Far Eastern Lark overhead. Prolonged views of two Oriental Stork at Gomso Bay (three were present on 12th: Ju Yung-Ki) were then followed by excellent long looks at two pairs of Scaly-sided Merganser on the southeast river.
Bird News from Nigel Marven and Nial Moores
Cheorwon-Arboretum-Geum River, December 11
A cool, dry dawn (c. -7C) was followed by long sunny periods, and much greyer conditions on the west coast. The morning flight of cranes in Cheorwon included excellent views of both Red-crowned (80+) and White-napeds (50+) and one Hooded Crane, while additional birds of interest there included a male Pine Bunting, a Long-eared Owl (flushed by several Cinereous Vulture landing clumsily into a clump of pine trees) and two or more Pallas's Rosefinch (heard only by NM). Remarkably, there were no Siberian Accentor at this or other of the stops.
Close to the arboretum, a lone Solitary Snipe was seen excellently, while a long drive down to the Geum ended successfully with a flock of c. 35,000 Baikal Teal seen lifting off the river into the evening gloom.
Bird News from Tim Edelsten
Aham-do, December 11
At Aham-do, a tiny remnant strip of mudflat (now fully surrounded by reclaimed land) on December 11th, 61 Saunders's Gull, including 7 juveniles. Also, 2 Slaty-backed (scarce along W. Coast), 3 Mongolian Gull and several Taimyr Gull.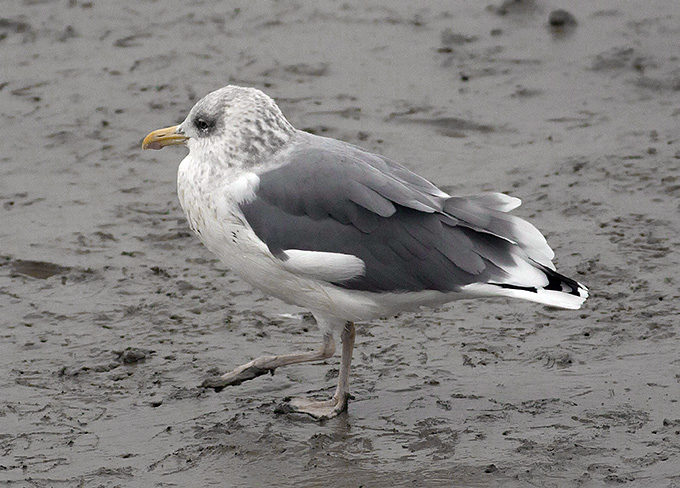 Heuglin's Gull Larus heuglini taimyrensis, Photo © Tim Edelsten
In addition, there were at least two other pale-backed gulls (below) which appeared taller and thinner legged than the Vega Gulls: they also had flesh coloured legs with a hint of yellow and primaries that were flush with, or stopped before the tail tip.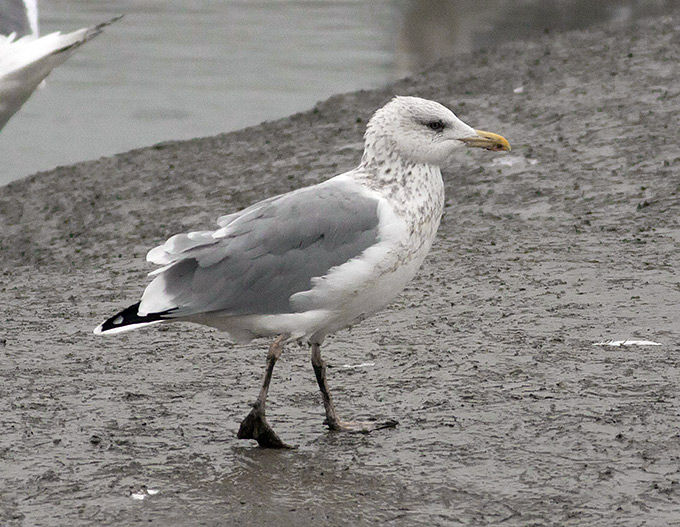 Birula Gull?, Photo © Tim Edelsten
The adult Vegas (e.g.,below) , by contrast, had quite short, thick, pink legs and primaries that extended beyond the tail tip, and very heavy mottling on the head and neck.
Vega Gull Larus vegae, Photo © Tim Edelsten
Also of interest in the water channel, 9 Goosander, the males chasing eachother and performing neck-stretching displays.
The overgrown golf course- formerly used by a diverse range of birds- is sadly now at an end. Most of its trees have been felled, and a portion of it has already been transformed into a car park for heavy goods vehicles.
Bird News from Mike Friel
Majin, December 8
This morning was buzzing with birds in my home village, Majin, near Jinju. First, before 8am, the persimmon tree was being stalked for its last two fruit by Magpies, Brown-eared Bulbuls and a female Grey-headed Woodpecker, who got there first. When a bulbul tried to butt in, the woodpecker sent it packing. Half an hour later, the Jay family arrived. Ever since I dug up the peanuts, they've been coming in to pinch them, and now they get an official quota. I noticed today that one bird, instead of immediately splitting open the shell to eat the nut, placed the whole full shell in its crop, took a second one in its bill and flew off for a double feed.
Towards 11am I went out to check the Cinereous Vultures, who have been coming in numbers now that the manure has arrived for the fields. Today I counted one hundred of them at the high point, but they didn't hang around for long as they saw that the farmers were not spreading the dung on the fields yet, which is the best time for finding nuggets of rotten chicken. For the first time this year I found a tagged vulture. The Americans tag the birds with white numbers, the Germans with red, but this one was blue. This means it's a rehab'ed bird which was tagged last winter in Korea before being released back into the wild.
Eurasian Jay Garrulus glandarius, Photo © Mike Friel
Brown-eared Bulbul Microscelis amaurotis, Photo © Mike Friel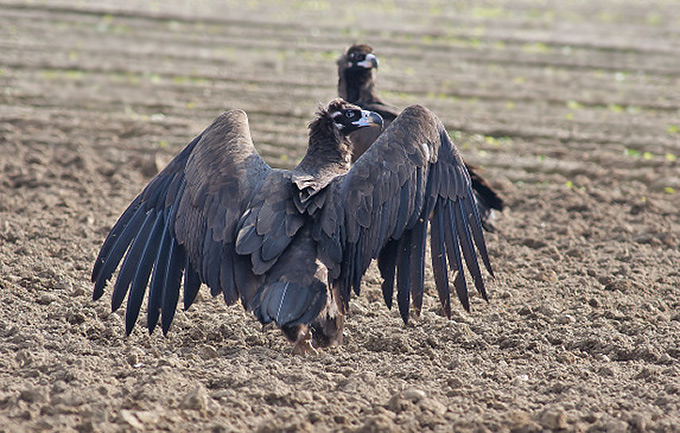 Cinereous Vulture Aegypius monachus, Photo © Mike Friel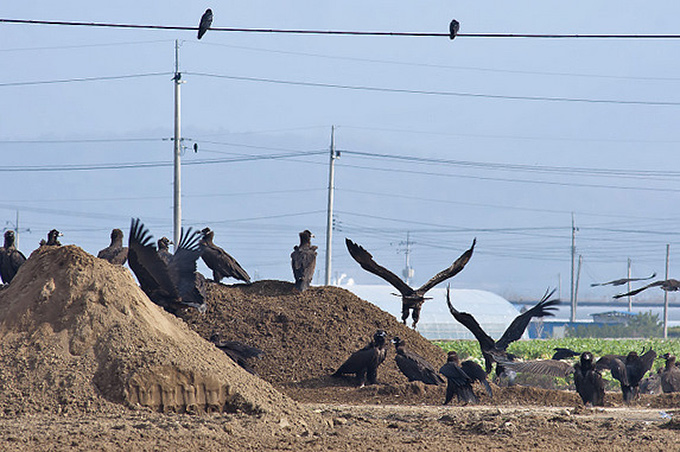 Cinereous Vulture Aegypius monachus feeding, Photo © Mike Friel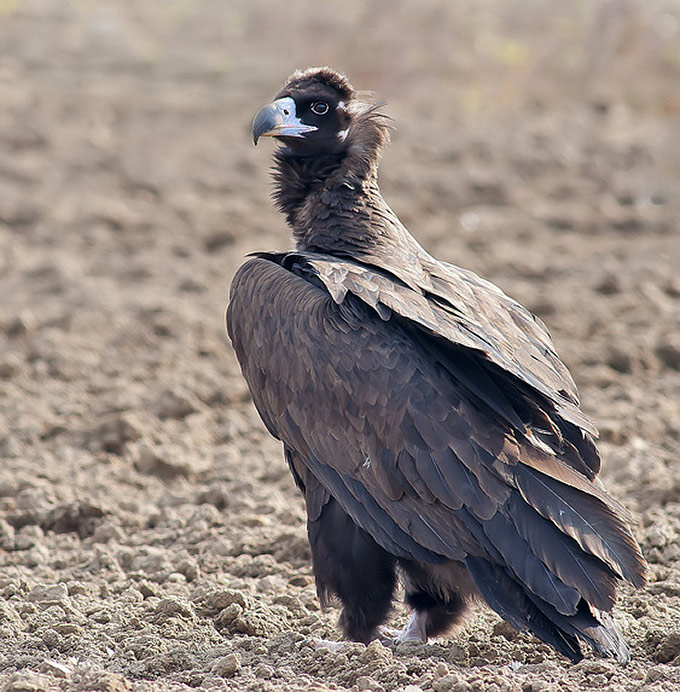 Cinereous Vulture Aegypius monachus, Photo © Mike Friel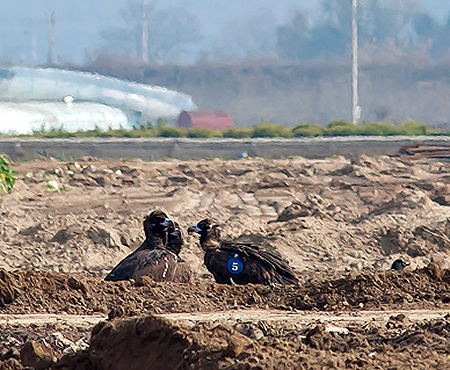 Tagged Cinereous Vulture Aegypius monachus, Photo © Mike Friel
Bird News from Jason P. Loghry and Mike Friel
Suncheon Bay, December 4
Our morning started with 16 White-cheeked Starlings and 4 Common Starlings perched on some wires not far from the park. It was clear and although cold, pleasantly sunny. On the park grounds a Eurasian Sparrowhawk was spotted at a very close distance on small tree. A large group of feeding Hooded Cranes could be heard. Hoping to find reed buntings, we headed for the reeds. On the way, we saw 3 Rustic Buntings. Flying in the distance was an unknown buzzard. It turned out to be a very nice looking Rough-legged Buzzard.
The weather started to change and the wind picked up, so we decided to get a closer look at the cranes. We counted more than 162 Hooded Cranes, 1 Common Crane, and 1 crane that seemed to be a possible hybrid. There was a large number of Mallards, some Pintails, some Teal, +150 White-fronted Geese, and 3 Cattle Egret. A Long-billed Plover was spotted on some rocks in the distance. There were 2 Eurasian Curlews feeding near the flock of Mallard. It was interesting to see how their plumage provided for perfect camouflage on the rice field. Seeing only a few buntings- including only 1 Meadow Bunting and some possible Reed Buntings in flight, we opted for a boat ride to check out the flat. There we saw Whooper Swan, Grey Plover, Dunlin, more Eurasian Curlew, 1 Eurasian Spoonbill, Black-headed Gulls, and 1 Saunders's Gull.
As the afternoon progressed, the temperature dropped a bit and the wind grew stronger. Still, once again, we had a lovely time at Suncheon Bay. Special thanks to Mr. Kim In Cheol.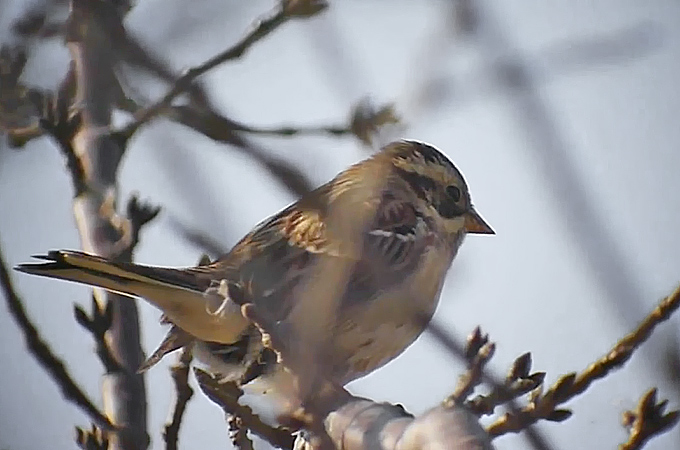 Videograb: Rustic Bunting Emberiza rustica, Photo © Jason P. Loghry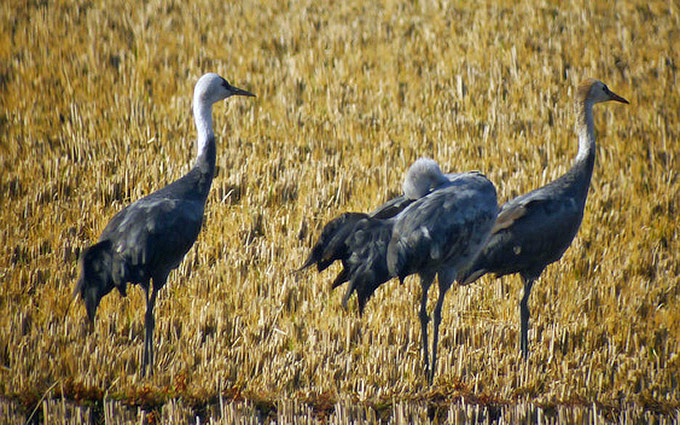 Hooded Cranes Grus monacha, Photo © Jason P. Loghry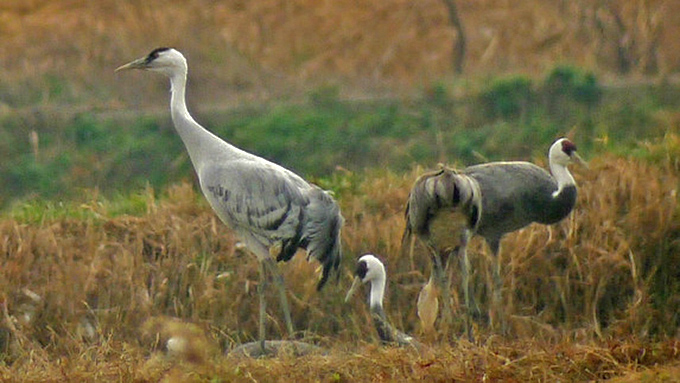 Common x Hooded Crane Grus grus x Grus monacha with Hooded Cranes, Photo © Jason P. Loghry
Common Crane Grus grus with Hooded Crane Grus monacha, Photo © Jason P. Loghry