Birds Korea's Bird News November 2011
November
Waves of colder air cause a sharp drop in temperature, especially from mid-month onwards, when maxima can be as low as 8-10°C: the last of the autumn migrants are joined by huge numbers of wintering waterbirds.
Numbers of Baikal Teal continue to build, along with geese (many of which move on into China). Swan Geese peak at the Han-Imjin (with 1000-1500 in recent autumns). Common Buzzards and Cinereous Vultures start to arrive for the winter, along with gulls (Saunders's, Heuglin's, Vega, Mongolian and Slaty-backed are all widespread), Red-crowned, White-naped and Hooded Cranes, and passerines, including Siberian Accentor. Movements of pers and alcids, most especially Ancient Murrelet, can be impressive. Passerines include many late summer visitors until the second week of the month, when winter species, such as Chinese Penduline Tit and Pallas's Reed Bunting start to predominate.
In recent years November has produced national rarities such as Red Phalarope, Iceland Gull and the country's third and fourth Verditer Flycatchers in 2004. National firsts in November include White-capped Water Redstart in 2003 and Redwing in 2006.
(The following records are a compilation of our own sightings and records sent in by other observers. As well as being posted on the Birds Korea website(s), selected records are also forwarded to other Korean-language birding websites; records of threatened species are arranged and forwarded to Birdlife International and national authorities when appropriate; flag images and records are passed to bodies responsible for their coordination throughout the flyway; and all records sent to us are used to compile annual reports and to support the evolving understanding of the status of many of Korea's birds.)
Bird News from Bruce and Janet Eder with Nial Moores
Geum River and Seosan Lake A, November 18
The forecast heavy rain was replaced by occasional sunny spells and extremely mild, even warm, conditions (with a maximum of c. 21C). Near Iksan, another 5,000+ Rook were followed by 40,000 Baikal Teal at the Geum River. Not only was this flock much smaller than usual for the time of year, it was also on the only stretch of river largely unaffected by the noise, pomp and ceremony of the so-called Gunsan Bird Festival.
Below the barrage, large numbers of birds included 2 Smew, a couple of Saunders's Gull and an unseasonal Yellow-browed Warbler. However, there was no sign of any Swan Goose – below the barrage or along the Janghang coast.
In the early afternoon, a couple of hours at Seosan Lake A, started with a pair of Mandarin Duck on a stream by the IC (most of which is now being dredged and concreted), and then – despite much ongoing construction here too – a rapid succession of highlights comprised of 120 Hooded Crane, a Lesser White-fronted Goose (and tens of thousands of other grey geese) and best of all an Oriental Stork.
Bird News from Bruce and Janet Eder with Nial Moores
Cheorwon and Han-Imjin, November 17
A fairly calm and mild dawn included good views of c 200 White-naped and 30 Red-crowned Cranes, several thousand Greater White-fronted Geese, and heard (but not seen) Pallas's Rosefinch (2) and Long-tailed Rosefinch (3). Also present was a single adult male Dusky Thrush (still apparently surprisingly scarce this autumn), small numbers of Carrion Crow (5), Rook (40) and Daurian Jackdaw (4, including one fine pied bird), with Rustic Bunting (c. 250) the only numerous passerine.
Daurian Jackdaw Corvus dauuricus, Photo © Bruce Eder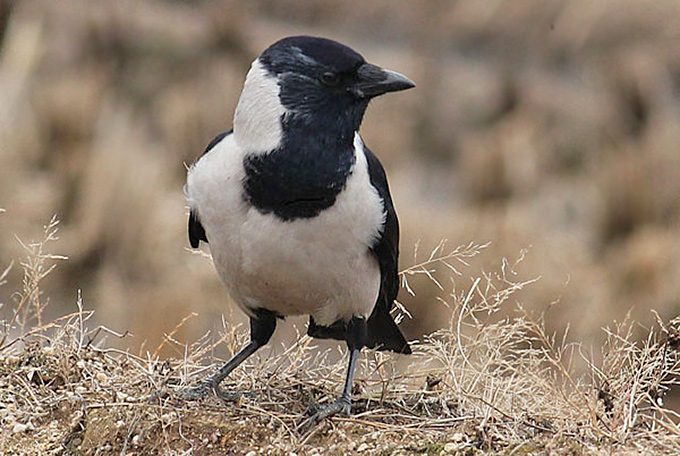 Daurian Jackdaw Corvus dauuricus, Photo © Bruce Eder
Other species of note included 6 Cinereous Vulture (first noted in the area on 13th or 14th) and a Common Crane (apparently 5 present in the area), with belated news of two Siberian Crane apparently seen (but not photographed) on November 8th and 9th (via Park Chung-Han).
In the afternoon, a drive along the Han-Imjin failed to find any Swan Goose – with most grey geese located on mid-river islands east of Paju.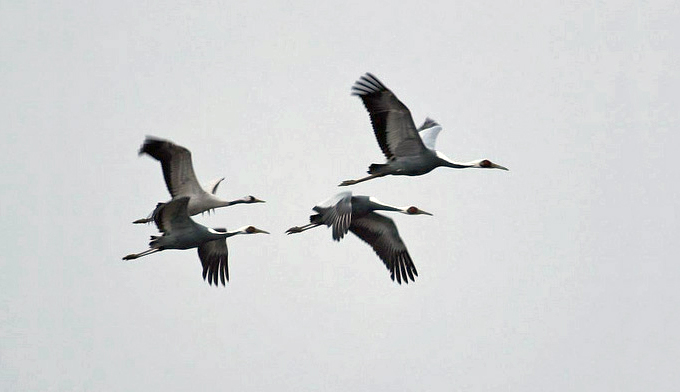 Common Crane Grus grus (left) with White-naped Crane Grus vipio, Photo © Bruce Eder
Bird News from Bruce and Janet Eder with Nial Moores
Yeongjong Island and National Arboretum, November 16
In bright and warm conditions, birds of especial note at Yeonjong (where massive construction ongoing – e.g. adjacent to the former shorebird roost) included several Far Eastern Curlew and two Red-necked Stint still; c. 500 Falcated Duck; and most unexpected, three nominate Japanese White-eye (they are real migrants to parts of the ROK after all!). At the arboretum, where very few passerines (e.g. no thrushes) and more construction noise, highlights included three Solitary Snipe, and excellent scope views of White-backed Woodpecker in addition to the regular Varied Tit and Japanese Pygmy Woodpecker.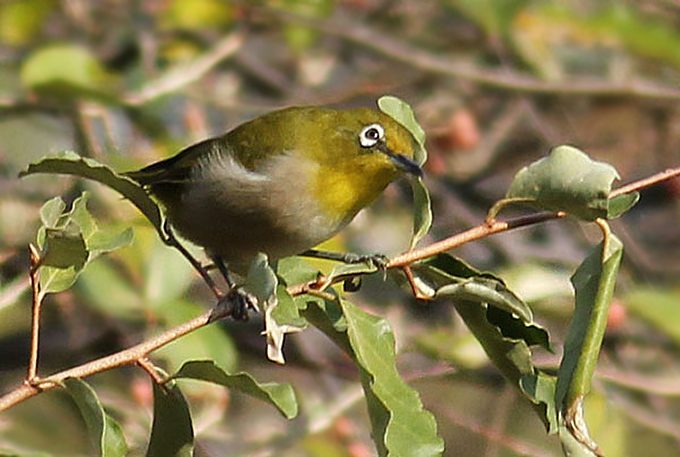 Japanese White-eye Zosterops japonicus, Photo © Bruce Eder
Varied Tit Poecile varia, Photo © Bruce Eder