Birds Korea's Bird News October 2011
October
Warm (typically between 15-20°C mid-month), with often excellent birding weather: dry, sunny, and relatively calm. Occasional rain, although uncomfortable for birdwatchers, can produce excellent falls. One of the best times to be birding in Korea! Autumn migration is in full swing, and anything is possible!
Black-faced Spoonbill and Chinese Egret are still reasonably widespread. Hooded and White-naped Cranes start moving back south into Korea, and huge concentrations of Tundra Beans and Greater White-fronted Geese form at the Han-Imjin and Seosan. The charismatic Baikal Teal arrives in force mid-month, with up to 300,000 at Seosan and Haenam! Raptor migration is often strong, with Grey-faced Buzzards (day peak of 1,500 on Gageo Island), Oriental Honey Buzzards, the occasional eagle (especially Greater Spotted), and in some years, flocks of Amur Falcon. Shorebirds are still present in good numbers and persity, with a peak in Nordmann's Greenshank. Visible migration peaks with Olive-backed Pipits becoming numerous by mid-month along the west coast, plus often excellent numbers of buntings and flycatchers. Pale, White's, and small numbers of Dusky Thrushes are also on the move, along with the first of the typical winter passerines - Brambling and Siskin.
In 2005 the country's first Swinhoe's Rail in 70 years was reported from Hong Island, while recent Korean firsts for this month include Yellow-bellied Tit on Socheong in 2005 and Booted Eagle on Heuksan Island in 2006.
(The following records are a compilation of our own sightings and records sent in by other observers. As well as being posted on the Birds Korea website(s), selected records are also forwarded to other Korean-language birding websites; records of threatened species are arranged and forwarded to Birdlife International and national authorities when appropriate; flag images and records are passed to bodies responsible for their coordination throughout the flyway; and all records sent to us are used to compile annual reports and to support the evolving understanding of the status of many of Korea's birds.)
Bird News from Mike Friel and Jason P. Loghry
Socheong Island, October 23-27
Birding Socheong-do for the first time was quite exciting. From the ferry, it wasn't until we arrived closer to the island that we saw any sea birds. These included Pomarine Skua, Streaked Shearwater, & Flesh-footed Shearwater. Conditions were foggy but still these birds feeding and in flight were easily viewed from the side of the boat.
Species observed on the island were a flock of about 300 Brambling that were observed on the first and last day, a few small flocks of Oriental Greenfinch, Eastern Buzzard (with a high count of 32 soaring), Peregrine Falcon, Eurasian Sparrowhawk, and Kestrel.11 Japanese Lark, 4 Asian House Martin, 3 Chinese Bulbuls, 1 Red-billed Starling, 1 Grey-cheeked Starling, 2 Taiga Flycatchers, 1 Little Bunting, at least 10 Meadow Buntings could be found in the gully near the lighthouse, Chestnut Bunting, Yellow-throated Bunting (more than 30 in one field), 1 Yellow-browed Bunting (on our second day), Black-faced Bunting throughout our visit, Red-flanked Bluetail, Japanese White-eye, Goldcrest, 13 Korean Bush Warblers, Yellow-browed Warbler, Pallas's Leaf Warbler, 3 Dusky Thrushes, 3 Bull-headed Shrikes, Eastern Great Tit, Daurian Redstart, Siberian Stonechat, a single Black-naped Oriole, and 2 Yellow-bellied Tits. 15 White Wagtails were observed on the last two days of our visit.
On the ferry back, again Streaked Shearwater, Pomarine Skua, Flesh-footed Shearwater, but also Kittiwake, only in small numbers. It was interesting to note that while closer to the island, in areas without fishing line, there were many more birds to see than on the long stretch of sea which seemed to have miles and miles of fishing line.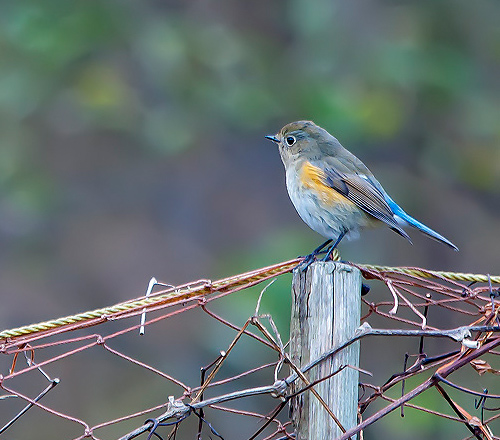 Red-flanked Bluetail Tarsiger cyanurus, Photo © Mike Friel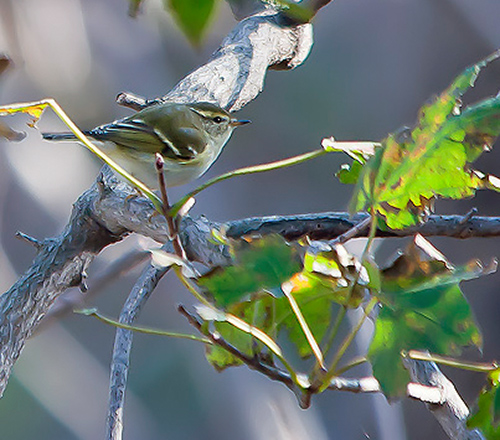 Pallas's Leaf Warbler Phylloscopus proregulus, Photo © Mike Friel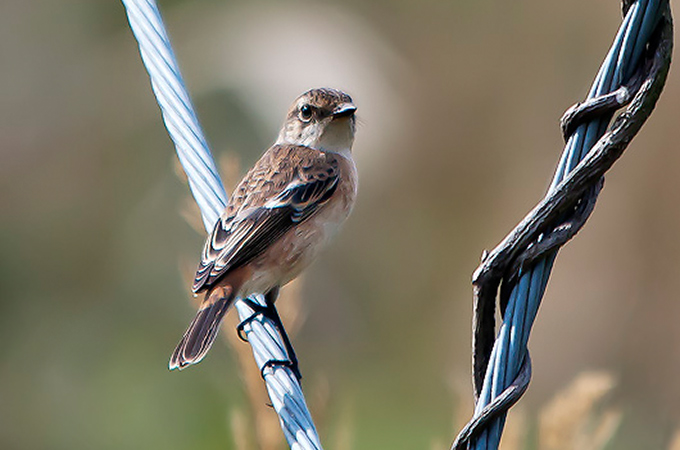 Siberian Stonechat Saxicola maurus, Photo © Mike Friel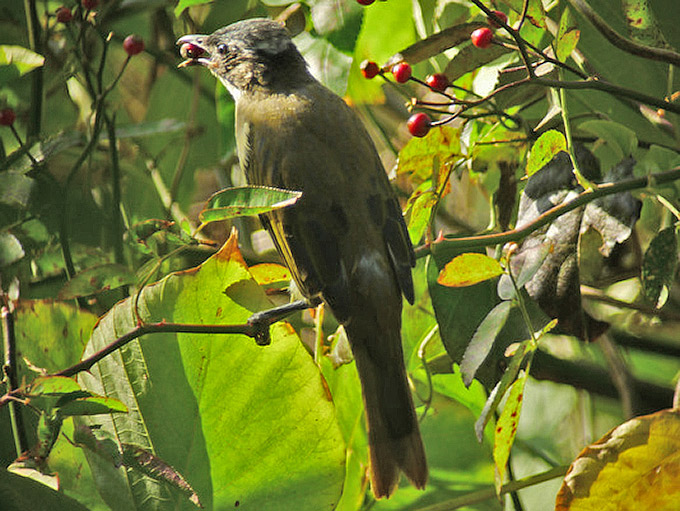 Light-vented Bulbul Pycnonotus sinensis, Photo © Jason P. Loghry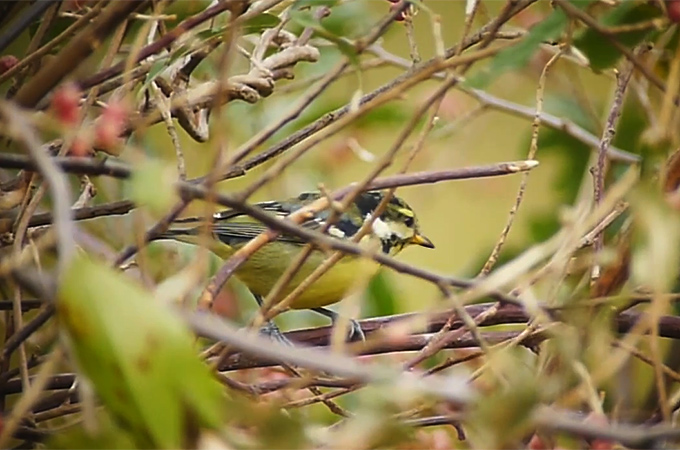 Videograb: Yellow-bellied Tit Parus venustulus, Photo © Jason P. Loghry

Pomarine Skua Stercorarius pomarinus, Photo © Mike Friel
Bird News from Tim Edelsten with Shim Kyu-Sik
Socheong Island, October 22-23
Notably on the crossing, 17 Pomarine Skua (including a "flock" of 8), up to 70 Streaked Shearwater, 500+ Black-legged Kittiwake (mostly concentrated in rafts near the island), and 5 Flesh-footed Shearwater.
On the island itself most interesting 4 Pine Bunting at NE point: also a lone rattling Chinese Bulbul and Bluethroat (SKS) at the lighthouse early in the morning. Striking out for the Chinese coast at this time were 8 Little Bunting and a flock of Oriental Turtle Dove heading out over the sea.
Otherwise, 15 Eastern and 3 Upland Buzzard, 4 Spot-billed Duck, 25+ Eastern Great Tit, 10 Brown-eared Bulbul, a Long-tailed Tit, a Peregrine, 2 Common Kestrel (including one mobbing a Buzzard), 12 Eurasian Sparrowhawk, 12 Yellow-browed, 2 Dusky, 1 Korean Bush and 3 Pallas's Leaf Warbler, a Richard's Pipit, several Large-billed Crow, the resident Jay, 5 Siberian Stonechat, 5 Daurian Redstart, a Eurasian Skylark, 2 Bull-headed Shrike, 2 Red-flanked Bluetail, 14 Black-faced Bunting (inc. 2 personata), 3 Tristram's, 2 Yellow-throated and 10 Meadow Bunting.
On the cliffs, 2 Temminck's were among the many Pelagic Cormorants, and a Mongolian among the many Black-tailed Gulls. :Unfortunately reduced to roadkill were an Oriental Scops Owl and Grey Wagtail.
Scuttling along the roadside, a Tsushima Smooth Skink Scincella vandenburghi.
A very calm sea on the return leg produced c.140 Streaked Shearwater, 10 Pomarine Skua, 7 Flesh-footed Shearwater, c.50 Black-legged Kittiwake, and most unexpected one Short-tailed Shearwater.
View from the lighthouse, Photo © Tim Edelsten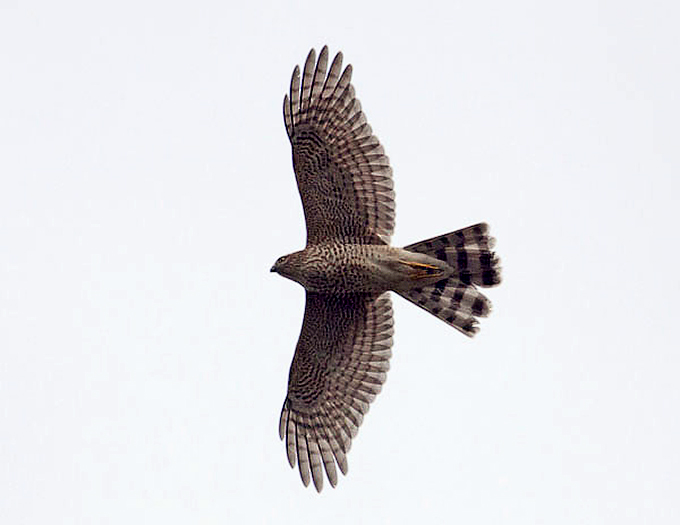 Eurasian Sparrowhawk Accipiter nisus, Photo © Tim Edelsten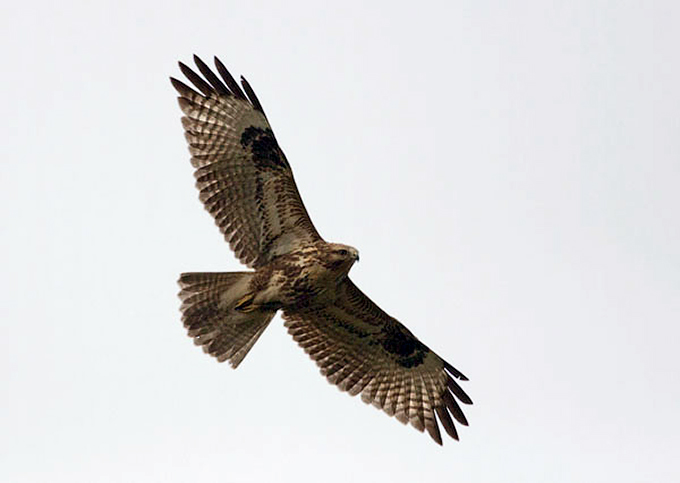 Upland Buzzard Buteo hemilasius, Photo © Tim Edelsten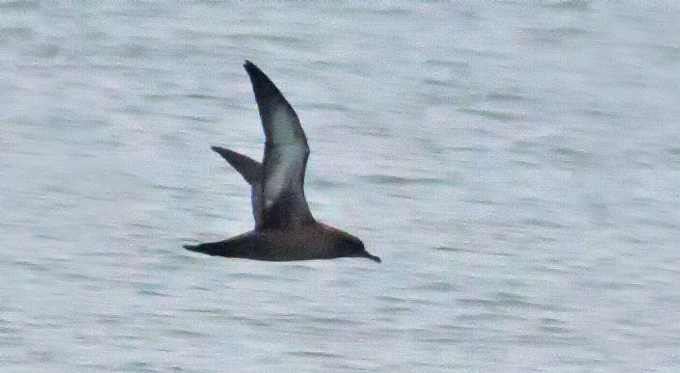 Short Tailed Shearwater Puffinus tenuirostris, Photo © Tim Edelsten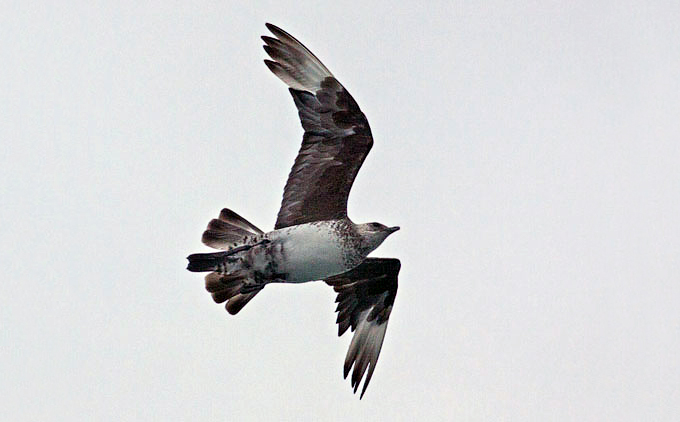 Pomarine Skua Stercorarius pomarinus, Photo © Tim Edelsten
Pine Bunting Emberiza leucocephalos, Photo © Tim Edelsten
Bird News from Jo Seong-sik
Gwacheon-si, Gyeonggi-do, October 20
Mr. Jo Seong-sik Nim observed and photographed this albino Eurasian Nuthatch at a park in Gwacheon-si, Gyeonggi-do.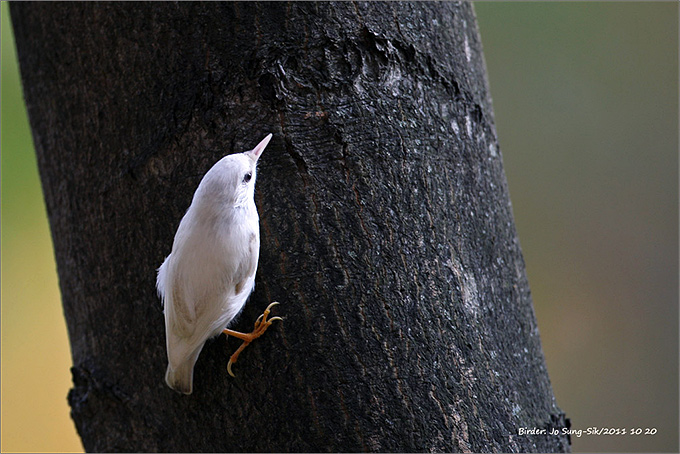 Albino Eurasian Nuthatch Sitta europaea, Photo © Jo Seong-sik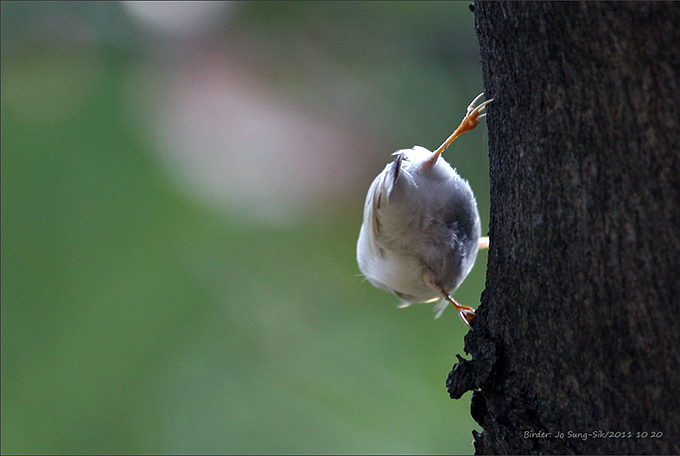 Albino Eurasian Nuthatch Sitta europaea, Photo © Jo Seong-sik
Albino Eurasian Nuthatch Sitta europaea, Photo © Jo Seong-sik