Birds Korea's Bird News August 2011
August
Typically hot and humid (with day maxima often around 30°C until at least mid-month), with occasional heavy rains and strong winds, associated either with southern typhoons or caused by the mix of humidity and heat.
Chinese Egrets become widespread along the west coast. Shorebirds (including a very small number of Spoon-billed Sandpiper) begin to build up at a few of the remaining best sites. Numbers tend to be rather lower than in spring, though Kentish Plover and Terek Sandpiper often number in the thousands in the southwest.
Parties of Black-naped Orioles, the appearance of returning leaf warblers (especially Eastern-crowned and Arctic Warblers) and small numbers of Brown Shrike and Yellow-rumped and Brown Flycatchers by mid-month also hint at the start of passerine migration, while Eurasian Hobby appear to be on the move by the month's end. At the very end of August, the first migrant Pechora Pipit (most likely of the subspecies menzbieri) and early migrant buntings also appear on offshore islands. August national rarities include Common Ringed Plover, Sooty Tern, House Swift, Black Tern and Lesser Frigatebird.  National firsts since 2000 have included Sooty Shearwater in 2002, and Aleutian Tern and Great Frigatebird in 2004.
(The following records are a compilation of our own sightings and records sent in by other observers. As well as being posted on the Birds Korea website(s), selected records are also forwarded to other Korean-language birding websites; records of threatened species are arranged and forwarded to Birdlife International and national authorities when appropriate; flag images and records are passed to bodies responsible for their coordination throughout the flyway; and all records sent to us are used to compile annual reports and to support the evolving understanding of the status of many of Korea's birds.)
Bird News from Nial Moores, Rainer Ertel and Herman Reinhardt
Open sea between Heuksan and Chilbal, August 29
From a fishing boat, an excellent day's birding, with close encounters with two of 20 Swinhoe's Storm Petrel, 200+ Common Tern (showing a range of bare part coloration), single Flesh-footed Shearwater, several hundred Streaked Shearwater, 600+ Red-necked Phalarope, a single Pomarine Skua and one or two South Polar Skua: the latter species the highlight for NM at least! With wonderful steering by the boat's captain, we were able to approach one of the South Polar Skua's closely – as it first rested on a buoy and then roosted on the sea – allowing Dr. Ertel to take an excellent series of images.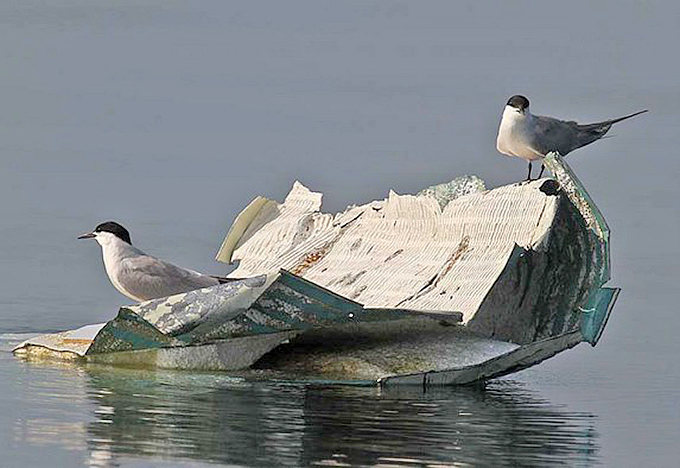 Common Terns Sterna hirundo, Photo © Rainer Ertel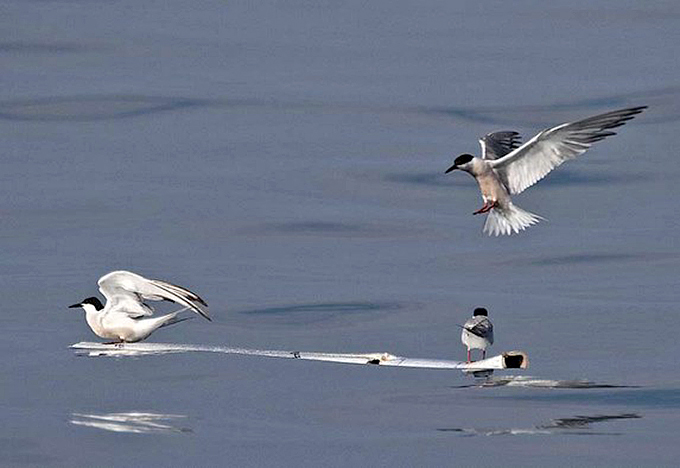 Common Terns Sterna hirundo, Photo © Rainer Ertel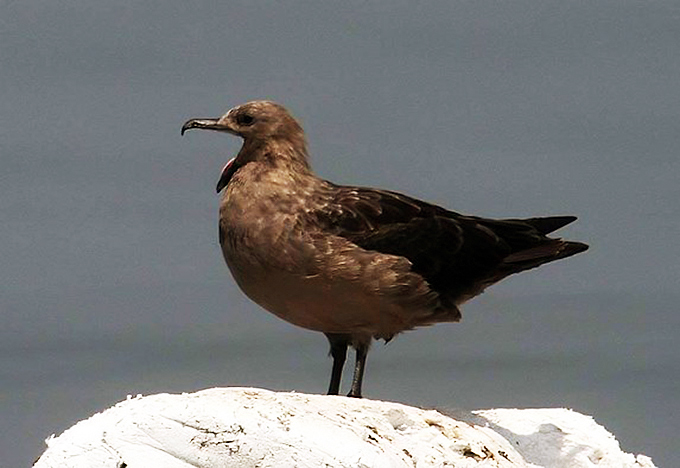 South Polar Skua Stercorarius maccormicki, Photo © Rainer Ertel
South Polar Skua Stercorarius maccormicki, Photo © Rainer Ertel
Identification as South Polar (a scarce but apparently regular species in ROK waters, especially between July and October) was supported by examination of a couple of the images by seabird expert David James, who commented,
"My first impression is an adult intermediate-morph South-polar. It is within the realm of darkness to be a Brown Skua, but it seems too warm orangey or pinky-buff on the underparts, a distinctive colour of South-polar. From below it would show considerable contrast between underparts. Another important issue is the scattered pale streaks on the scapulars. These are essentially shaft-streaks, are restricted to the scapulars, and are also characteristically paler and bolder distally. When Brown skua shows pale streaks on the upperparts, they tend to be over a range of tracts, are uniformly white, and tend to be on the outer margins of the feathers… It appears that the complete pre-basic moult is well progressed. The timing seems early for SPSK to me, though it is not well-known and apparently quite variable. But I have definitely seen less advanced moult in late October" (David James, in lit. Sep 16 2011).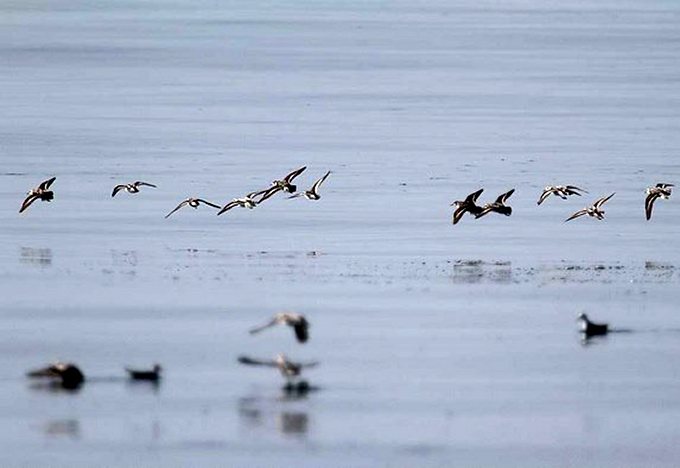 Red-necked Phalarope Phalaropus lobatus, Photo © Rainer Ertel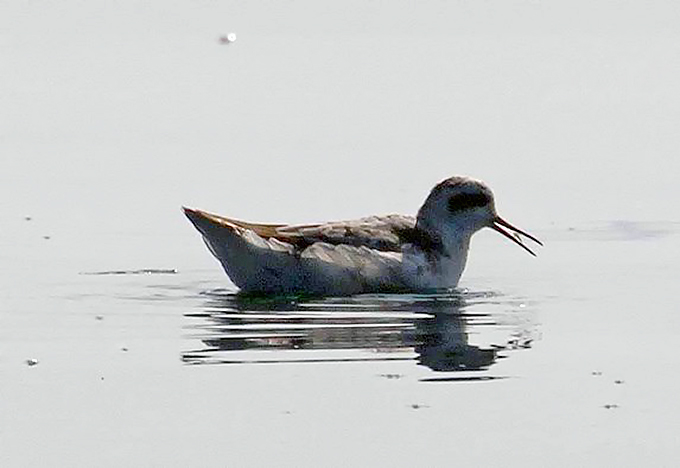 Red-necked Phalarope Phalaropus lobatus, Photo © Rainer Ertel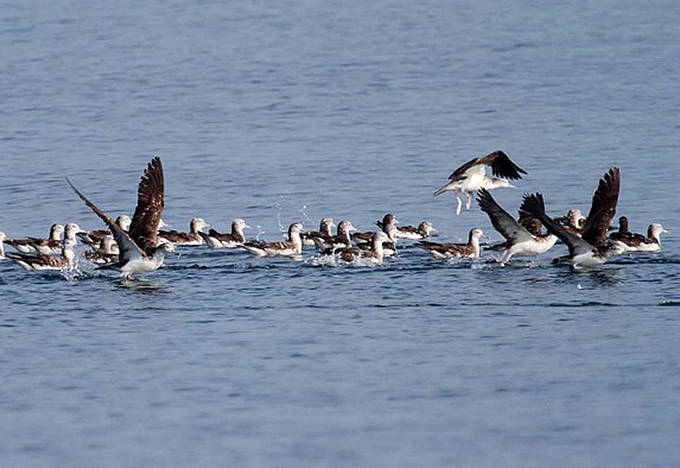 Streaked Shearwater Calonectris leucomelas, Photo © Rainer Ertel
Streaked Shearwater Calonectris leucomelas, Photo © Rainer Ertel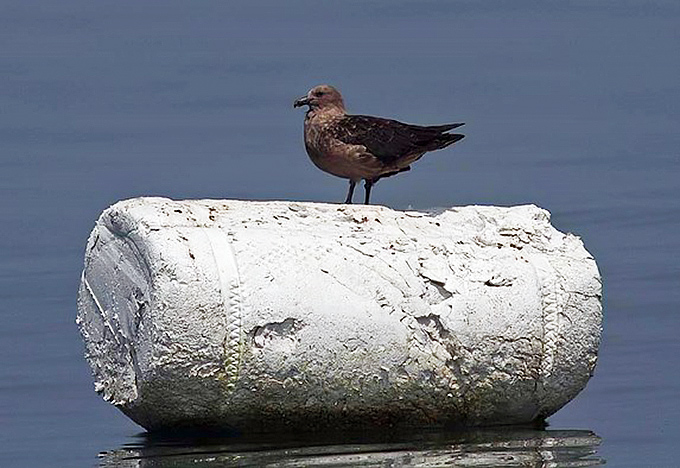 South Polar Skua Stercorarius maccormicki, Photo © Rainer Ertel
Bird News from Mike Friel, Dominic Le Croissette, Jason P. Loghry, & Kim In Cheol
Suncheon Bay, August 28
Heading out to Suncheon Bay is almost always an exciting adventure, especially with Mike Friel and Dom Le Croissette. Stopping in for a view from a tidal area, first thing we noticed an abundance of mudskippers, various crabs, and other benthos. We weren't the only ones who noticed. The local fishers were hard at work, as were the waders.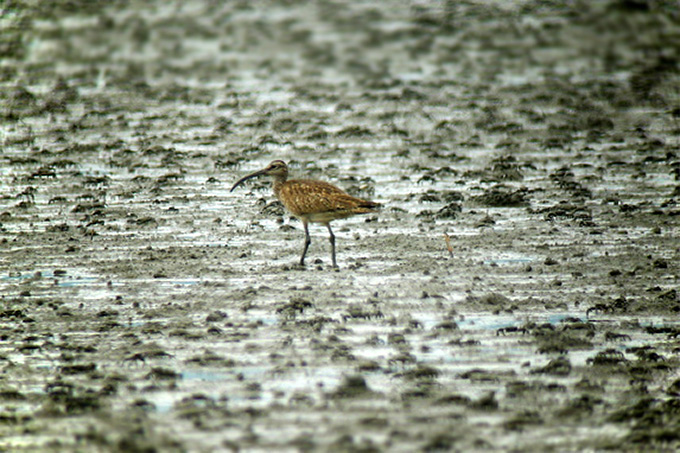 Whimbrel Numenius phaeopus, Photo © Jason P. Loghry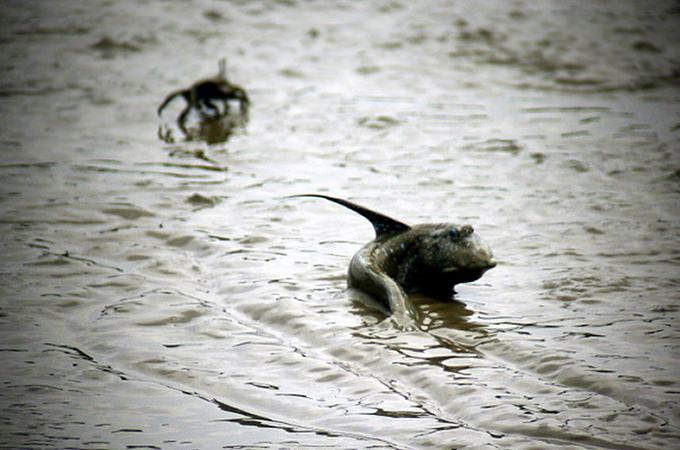 Mudskipper, Photo © Jason P. Loghry
A Terek Sandpiper was the first bird heard and seen; then a Common Sandpiper. A Common Greenshank was also in close proximity. Intermediate and Little Egrets were in flight and a few were grouped together feeding on the tidal flat with another Greenshank and Terek. There were several shorebirds at a distance, but most too far to distinguish. A Pacific Golden Plover was spotted. A Whimbrel was feeding nearby. Ah, I could spend all day just marveling at so much going on.
But the clock was ticking and we had more to see. So we then headed to the park area, coming to a group of Terek Sandpipers feeding in a wetland along one of the many narrow country roads. We had to make a pit stop and observe.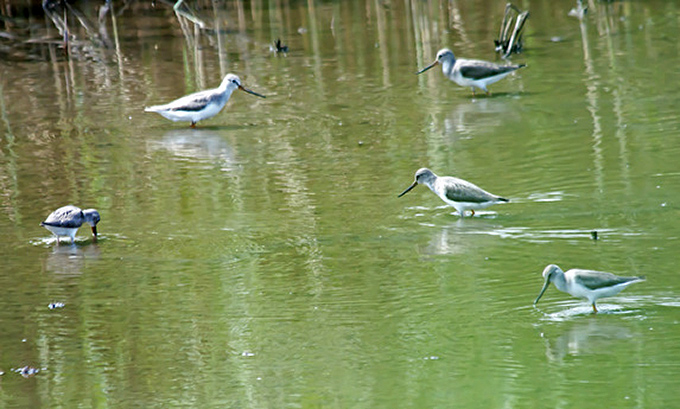 Terek Sandpiper Xenus cinereus, Photo © Mike Friel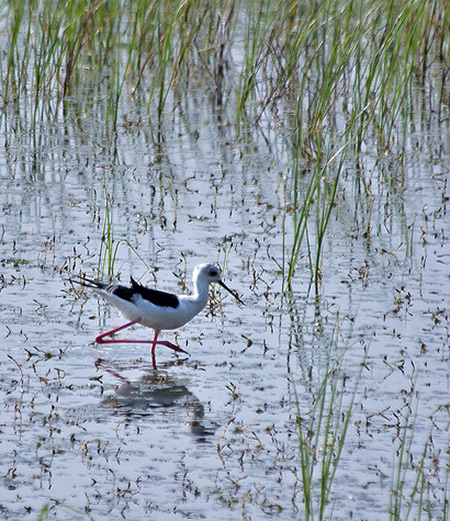 Black-winged Stilt Himantopus himantopus, Photo © Mike Friel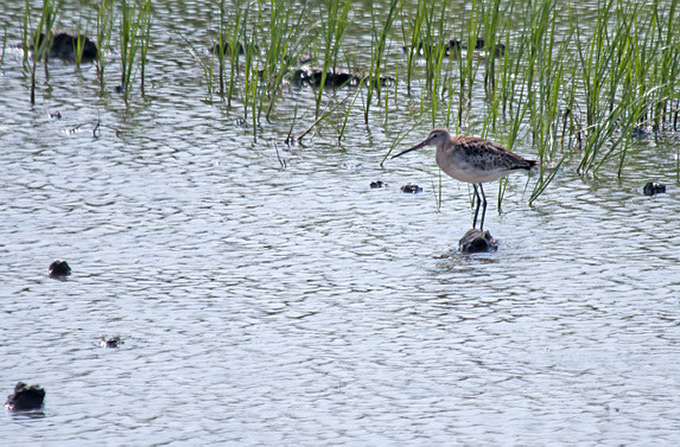 Black-tailed Godwit Limosa limosa, Photo © Mike Friel
At the park, we hoped to possibly get closer views of waders from the boat that makes the hourly rounds. Unfortunately, the boat was docked up until after Chuseok, so we decided to take a stroll around. Perhaps because of the summertime heat, the park was unusually not as crowded. We ran into local expert, Kim In Cheol. Immediately he excitedly mentioned the sighting of a Black-winged Stilt nearby in the park. Together we walked up to find not one, but two Black-winged Stilts, along with a Black-tailed Godwit. Lovely surprise! We stayed and observed for a while. The reeds swayed with a pleasant breeze and a Common Kingfisher looking for lunch made an appearance as we watched the Stilts and Godwit.
Common Kingfisher Alcedo atthis, Photo © Jason P. Loghry
The afternoon rolled on and we made our rounds throughout the area, observing a Red-necked Stint, more Greenshanks, Green Sandpipers, Grey Herons, Great Egrets, Little Egrets, Black-crowned Night Heron and lots of spiders. Another excellent way to spend Sunday at Suncheon Bay.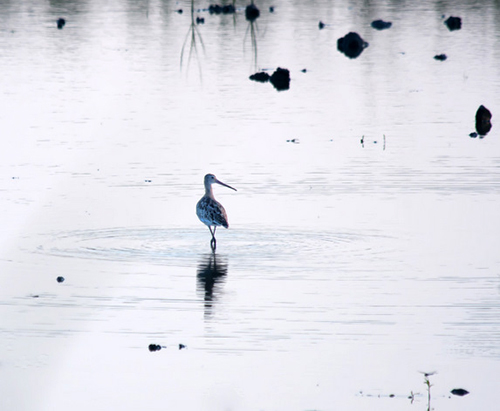 Black-tailed Godwit Limosa limosa, Photo © Mike Friel
Bird News from Mike Friel, Clare Morton, & Jason P. Loghry
Hoemunsan, Jeollabukdo, August 14
Besides observing some very curious Daurian Redstart fledglings in my neighborhood park on a daily basis, or following the sea winds of the passing typhoon to two possible Sooty Terns streaming by Oryukdo; that is, streaming by too quickly out of view leaving me with the darndest feeling of what my Korean friends call ashipta (아쉽다), or besides getting a tip that a Lesser Frigatebird was at that exact moment outside the window I was staring, allowing me a slight glimpse, as a sudden rain shower comes storming in, leaving me without that "crippling view" I always dreamed of, besides that, it has been a quiet few weeks for me.
That was until I met up with fellow Birds Korean, Mike Friel, and visiting 10,000 Birds beat writer & Broome, Australia conservationist, Clare Morton. We peeled out of Jinju and headed up to Hoemunsan to check out an "Eco Recreational" area because we wanted to observe some Nuthatches that Mike had been telling us about.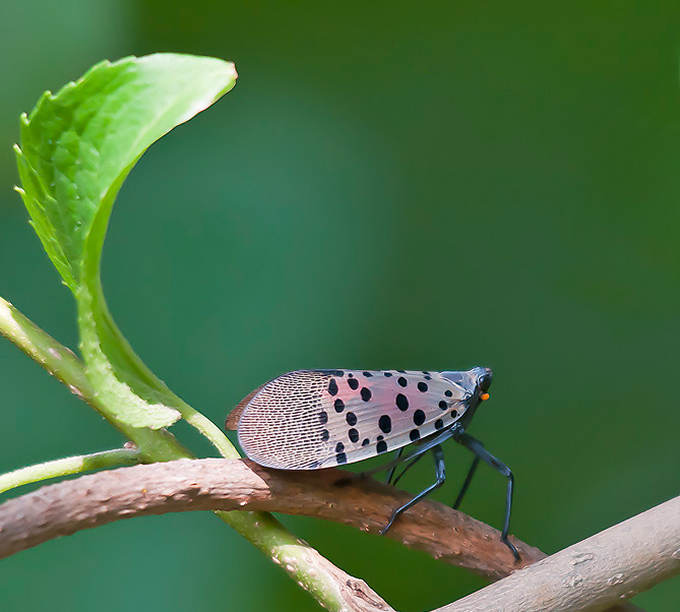 Bug, Photo © Mike Friel
Before we headed to the park, we dropped by a sultry and lush area of road and greenery that was full of butterflies, moths, and beaming sunshine. It was there that we could hear the Black-naped Orioles, that seemed to be doing more of the observing than us. Catching views of them in flight was just alright but after so much of the sun, we knew it was time to move on.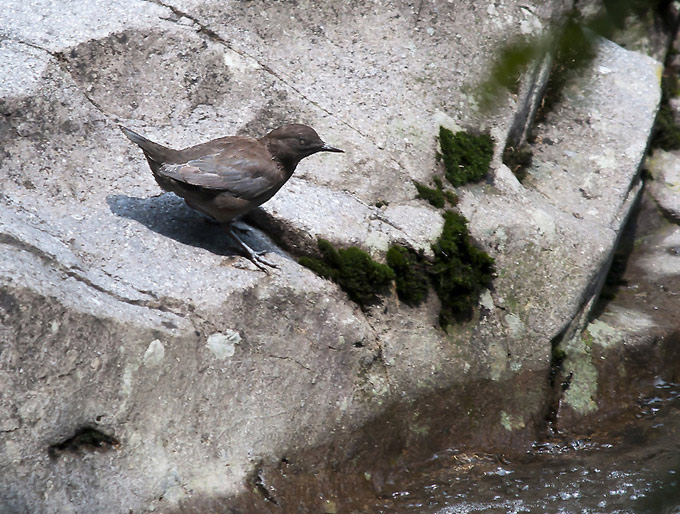 Brown Dipper Cinclus pallasii, Photo © Mike Friel
We made our next stop at a mountain stream, at which Clare seemed stoked to see the Brown Dipper she was hoping for. This Brown Dipper was great at disappearing, and then reappearing suddenly, literally right under our noses.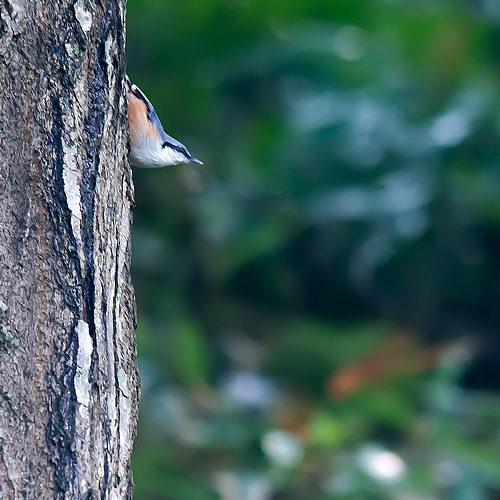 Eurasian Nuthatch Sitta europaea, Photo © Mike Friel
As we moved on to the park entrance, flurries of Eurasian Nuthatches were about in all their glory, scaling the trunks for what might have been hiding about the bark. It was also here that I did see a crown-striped warbler, pale supercillium, yellow vent! Wow, I was now even more stoked myself – a very handsome Eastern Crowned Warbler! which turned out to be in the plural. It left me wondering if they had been breeding in this area, or were they passing migrants?
With the afternoon came showers, on and off; as well as Blue and White Flycatchers; another species we were all delighted to see! Different sites throughout the walk brought different birds of this species- a female, male, and juvenile were all observed.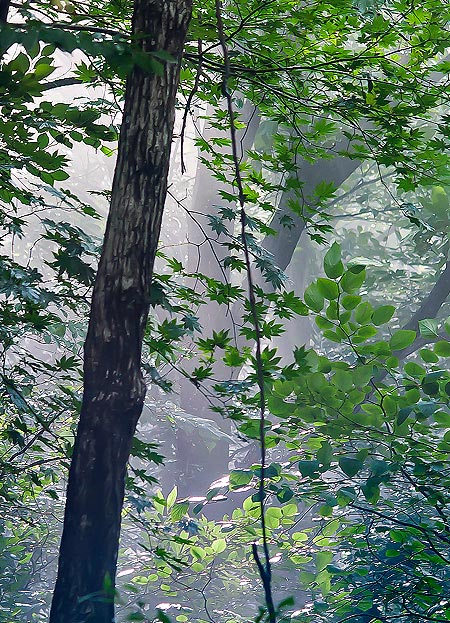 Photo © Mike Friel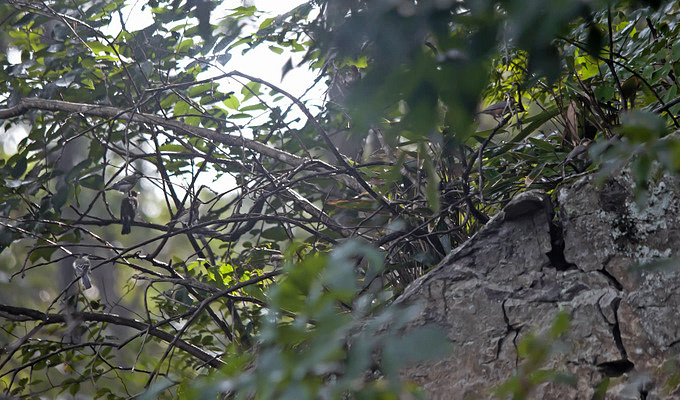 Photo © Mike Friel
Pale Thrushes could be heard echoing amid the wet, dripping leaves. At one point after one of the heavier drops had fallen, the grey clouds seemed to part a bit. The forest became very much enchanted and a haze of the usual suspects screamed for our attention; Varied Tits, Coal tits, Eastern Great Tits, Yellow-throated Buntings, Blue and White Flycatchers, Japanese White Eyes, more Eurasian Nuthatches, and Pygmy Woodpeckers had all seemed to be drawn to a rock along the edge of the trail which had a mysterious crevice that was set upon its wall.
On the way home, a pit stop at a small rice field and reservoir allowed for views of a Common Kingfisher, a Common Sandpiper, a Green Sandpiper, and a Striated Heron hanging out.
Striated Heron Butorides striata, Photo © Mike Friel
A lovely time was spent on this trip and I'm definitely looking forward to this group's next venture out! To keep up with what Clare Morton, please check her out at 10,000 Birds. Also, if you'd like to know about what work she is doing in Broome, Australia, check out the Global Flyway Network!