Birds Korea's Bird News June 2011
June
Often hot (temperatures up to 30°C or more inland) and humid, with very heavy rains some years by mid-month.
By early June, Yellow and the rare Schrenk's Bittern are breeding in the least disturbed reed-beds, and Watercock give their (slightly comical) gulping calls in a few rice-field areas. Nesting activity in Black-faced Spoonbill and Chinese Egret colonies peaks, and forest nesters are still vocal, especially in the first half of the month. At Gwangneung, typical species include 4 species of woodpecker, Ruddy Kingfisher, Yellow-rumped Flycatcher and Mandarin Duck, while on the south coast at Geoje Island Pale Thrush, Blue-and-white Flycatcher and Yellow-throated Bunting predominate. Black Woodpigeon nest on Gageo and other islands and Styan's Grasshopper Warbler are widespread on small islets. Although not usually considered a month for migration, June has nevertheless provided some national firsts in recent years, with a Lesser Coucal in 2005, Malayan Night Heron in 2006, and a Roseate Tern at the Nakdong estuary in 2008.
(The following records are a compilation of our own sightings and records sent in by other observers. As well as being posted on the Birds Korea website(s), selected records are also forwarded to other Korean-language birding websites; records of threatened species are arranged and forwarded to Birdlife International and national authorities when appropriate; flag images and records are passed to bodies responsible for their coordination throughout the flyway; and all records sent to us are used to compile annual reports and to support the evolving understanding of the status of many of Korea's birds.)
Bird News from Barry Heinrich
Ganseong – Nam Cheon, June 30
I got my new toy today, an 80-400mm lens, and seeing as the rain had stopped, I took the opportunity to walk down to the coast along Nam Cheon to try it out.
The first birds I saw were two Japanese Wagtails. They nest under the highway bridge on the south side of Ganseong. I took a few photos of them with my new toy. There were Oriental Reed Warblers everywhere in the long grass along the creek and a few Siberian Stonechats, but none of them would sit where I could get photos of them. A couple of Striated Herons were around too, but I couldn't get close to these sharp-eyed birds either.
Then I saw a shrike with a pale grey head and body with just a small patch of rufous on the flanks, a black line through the eye and a black shoulder. I wasn't sure what it was and tried to get closer but shrikes are sharp-eyed birds too and it wouldn't let me approach. Luckily, it flew to a bare stick where I was able to get some photos using my scope and camera adaptor. It turned out to be a male Bull-headed Shrike.
Continuing towards the coast I get close to a couple of Eurasian Tree Sparrow and got some photos of one with my new toy. There was a Mandarin Drake and some Eastern Spot-billed Ducks along the creek as well, including one female with 9 ducklings.
Just inside the mouth of the creek on the sand bank I found two Swinhoe's Egrets. Hiding behind the pine trees so the soldiers couldn't see me I got some photos of them using my scope. There were 3 Little Ringed Plovers in the same area.
I had a quick look out to see through the security fence and saw some Black-tailed Gulls, 2 Black-headed Gulls and a Great Crested Grebe.
Heading back up the creek I saw a Eurasian Hobby on top of one of the poles beside the road. I walked past it to get the Sun behind me and had just enough time to take a few photos of it before it flew away. It was quite a nice evening walk.
Eurasian Hobby Falco subbuteo, Photo © Barry Heinrich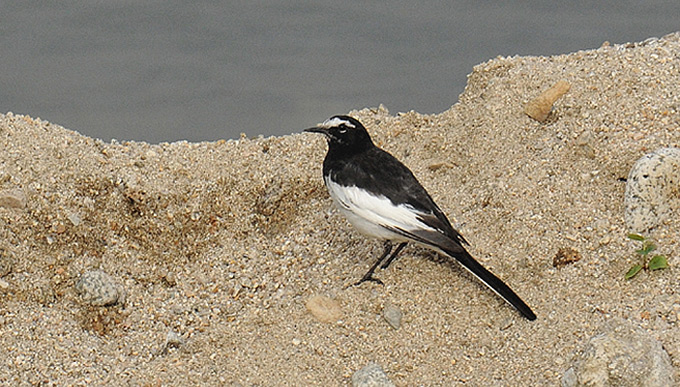 Japanese Wagtail Motacilla grandis, Photo © Barry Heinrich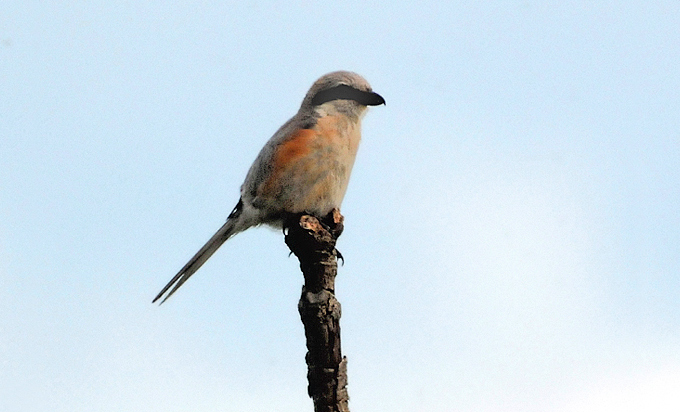 Bull-headed Shrike Lanius bucephalus, Photo © Barry Heinrich
Bird News from Barry Heinrich
Goseong County Birds in May and June
Birdwatching in the last couple of months have been hectic with birds on migration. I have seen a lot of birds and taken many photos.
I found two Brown Shrikes along Nam Cheon near Ganseong on May 15. They were from 2 subspecies, Lanius cristatus lucionensis and L. c. confusus. Other interesting birds along Nam Cheon included a Black-faced Spoonbill with a Grey Heron and a Common Greenshank on June 1, and two Whiskered Terns and 5 Mandarin Drakes on June 6.
Buk Cheon north of Ganseong has also had some interesting birds. I found a group of 7 Japanese Waxwings there on May 18 and two Grey-streaked Flycatchers on May 23.
I've also visited Geonbong Buddhist Temple a number of times having discovered it as a good place to see some forest birds. On May 28 there were 2 Black Woodpeckers on a dead tree near the start of the hiking trail. There has also been a couple of Dollarbirds in the same area and I got photos of them on June 13.
Of course there have been many more birds and many more photos but it's not possible to report on them all.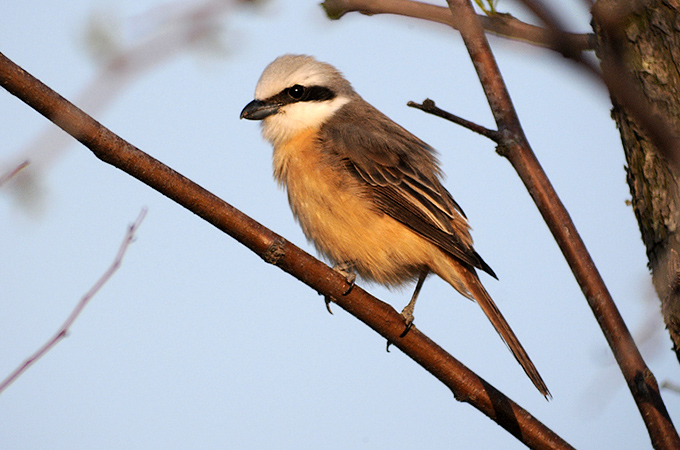 Brown Shrike Lanius cristatus lucionensis, Photo © Barry Heinrich
Brown Shrike Lanius cristatus confusus, Photo © Barry Heinrich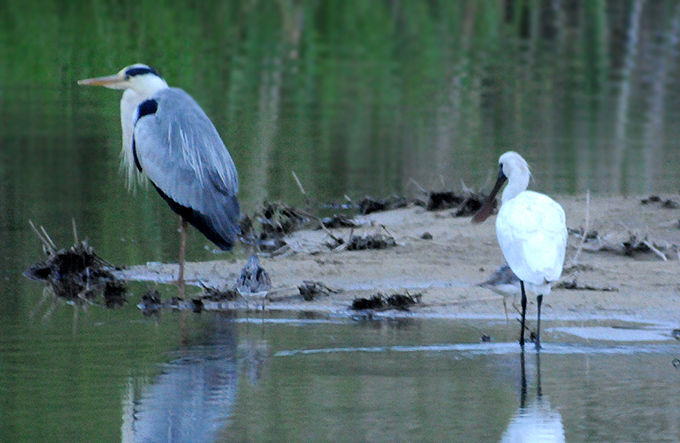 Black-faced Spoonbill Platalea minor, Grey Heron Ardea cinerea & Common Greenshank Tringa nebularia, Photo © Barry Heinrich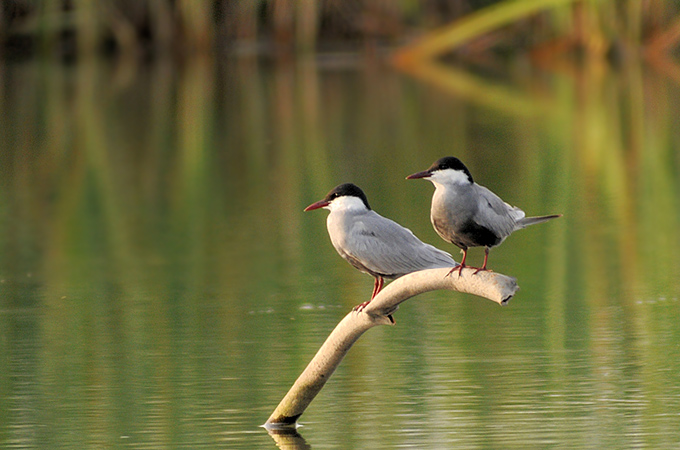 Whiskered Terns Chlidonias hybrida, Photo © Barry Heinrich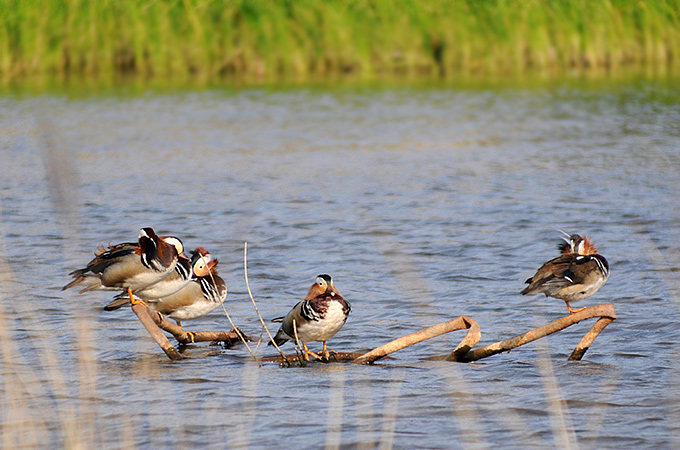 Mandarin Ducks Aix galericulata, Photo © Barry Heinrich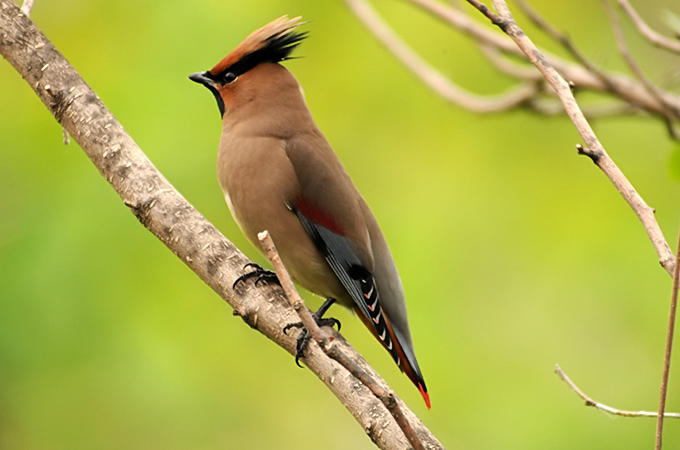 Japanese Waxwing Bombycilla japonica, Photo © Barry Heinrich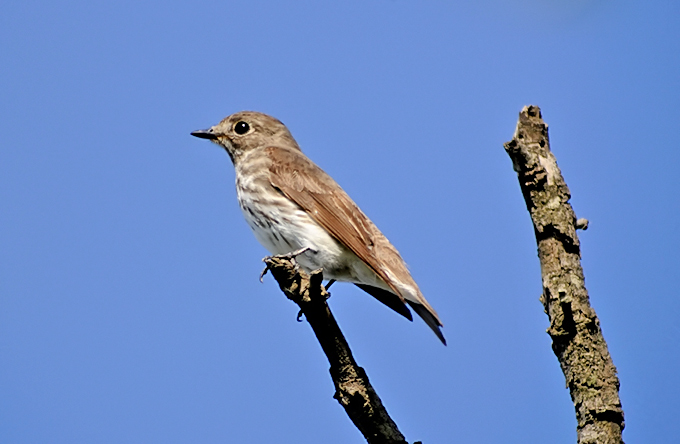 Grey-streaked Flycatcher Muscicapa griseisticta, Photo © Barry Heinrich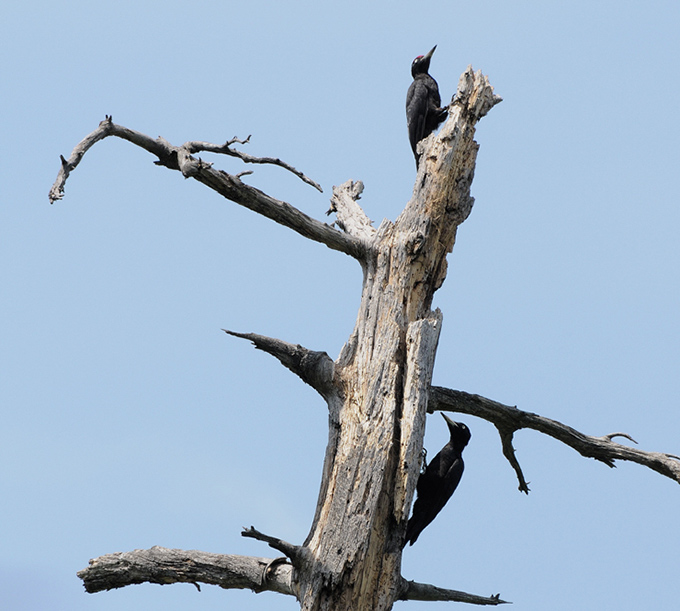 Black Woodpecker Dryocopus martius, Photo © Barry Heinrich
Oriental Dollarbird Eurystomus orientalis, Photo © Barry Heinrich