Birds Korea's Bird News April 2011
April
One of the very best birdwatching months! Cold days and nights (lowest day maxima of ca 12°C) gradually warm through the month (reaching the low 20s°C by month's end), and dry spells interspersed with 1-2 days of heavy rain and stormy conditions produce great birding towards month's end.
Early in the month, late Hooded Crane move through while shorebird numbers and persity start to build up. While the concentrations of 200,000 shorebirds at Saemangeum are no longer to be found since seawall close there in 2006, internationally important concentrations of species like Great Knot and the Critically Endangered Spoon-billed Sandpiper, Nordmanns' Greenshank and the highest known concentrations of osculans "Far Eastern Oystercatcher" can still be found at the adjacent Geum Estuary. Other Korean specialties include Chinese Egret from mid-month, and Black-faced Spoonbill in small groups along the west coast. This latter species has a world population of only 1500 or 1600! While early April sees species like Brown-headed Thrush and Japanese Robin in very small numbers in the far southwest and southeast, mid-April is marked by the first large passerine arrivals and spring overshoots, with good counts possible of Blue-and-white, Narcissus and Yellow-rumped Flycatchers, and Tristram's and Yellow-browed Buntings. Late in the month, 100 or more species a day are possible on the outer islands like Heuksan and Gageo in the far south, Eocheong off Gunsan, and Socheong in the far northwest.
In more than one recent year, highlights have included Pied Wheatear, Caspian Tern, Japanese Night Heron, Black-headed Bunting and Himalayan Swiftlet. Korean firsts for April include a Northern House Martin and Red-breasted Flycatcher on Eocheong in 2003, a Paddyfield Warbler on Hong Island in 2004, a pandoo Blue Rock Thrush in 2005, and a Claudia's Leaf Warbler on Socheong Island in 2009.
(The following records are a compilation of our own sightings and records sent in by other observers. As well as being posted on the Birds Korea website(s), selected records are also forwarded to other Korean-language birding websites; records of threatened species are arranged and forwarded to Birdlife International and national authorities when appropriate; flag images and records are passed to bodies responsible for their coordination throughout the flyway; and all records sent to us are used to compile annual reports and to support the evolving understanding of the status of many of Korea's birds.)
Bird News from Dominic Le Croissette
Taejongdae, Busan, April 30
Intermittent heavy rain for most of the morning made for difficult birding conditions at times, however as expected there was a good selection of migrant birds present. Continuing the trend of this spring, another male Siberian Thrush was seen, this time close to the roadside near the lighthouse. The area above the lighthouse was the place to be, with a female Yellow-browed Bunting the highlight; also in this area, 2 Tristram's Buntings, an Asian Stubtail, a Goldcrest, and a handful of Eastern Crowned, Pale-legged Leaf and Yellow-browed Warblers. The gully was extremely quiet, but the recreation area above the gully was productive for buntings, with two more Tristram's Buntings, 3 Black-faced Buntings (including a male of the personata race), 2 Rustic Buntings still, and an exhausted and somewhat bedraggled Little Bunting which allowed a close approach.
Bird news from Nial Moores
Eocheong Island, April 28
Under clear skies, an afternoon survey of the main southern part of the island with Mr. Ju Yung-Ki produced 63 species, with the personal first Narcissus Flycatcher and Northern House Martin of the spring, three Eurasian Wryneck, a glimpse of the Little Whimbrel, excellent views of a White's Thrush and a Chinese Blackbird, and best of all a Grey-tailed Tattler sporting two blue leg-flags (one each on the tibia and tarsus of the right leg), and a metal ring on the left tibia – perhaps the first banded bird seen here since a (probably Hong Kong-banded) White-shouldered Starling in 2003 or 2004.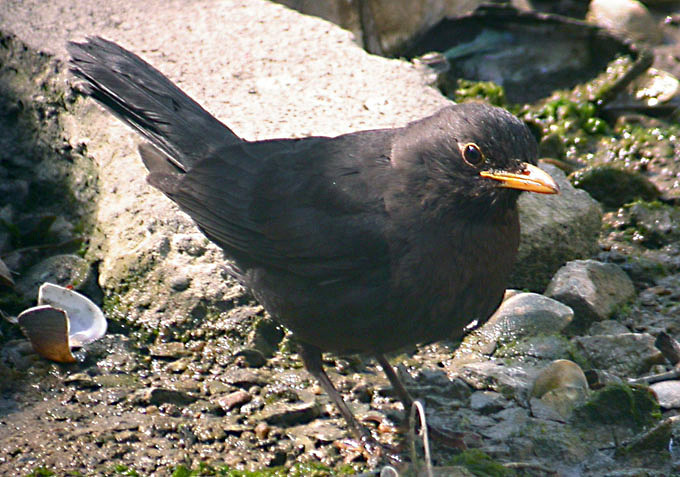 Chinese Blackbird Turdus merula mandarinus, Photo © Nial Moores
Bird news from Nial Moores
Eocheong Island, April 27
The promised rain failed to materialise (again) and a foggy, yellow dusty morning cleared to sunshine for much of the rest of the day. Many fewer birds than on the 26th, though several more new species for the spring including a Long-toed Stint (possibly the bird heard arriving last night?), two Grey Thrush and three Chinese Blackbird (making for an eight-thrush-species day), and a flock of ten starlings containing several White-Cheekeds, a Red-billed, two Daurian and two White-shouldered Starlings (male and female) – all sadly when still too murky to even attempt digiscoping. Other species of note included at least two Citrine Wagtail still and the first bird of the morning seen over the minbak – a Little Whimbrel (probably the same as one heard yesterday) which was later re-found by the school.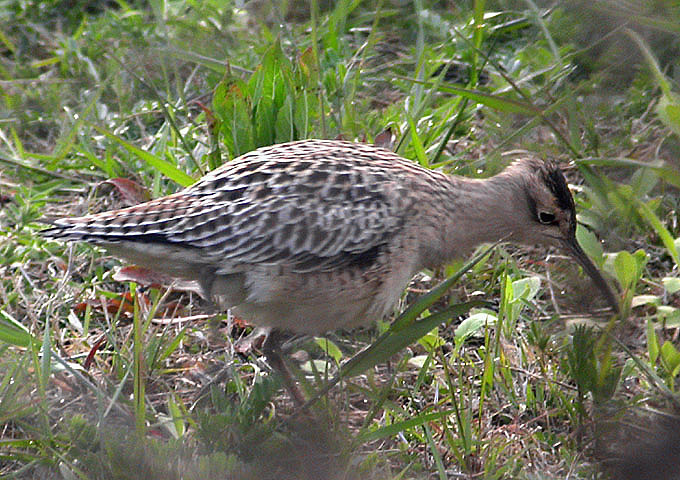 Little Whimbrel Numenius minutus, Photo © Nial Moores
Little Whimbrel Numenius minutus, Photo © Nial Moores
Bird News by Matthew Poll
Southwest Jeju Island, April 26
An early morning drive to the southwest coast produced some interesting spring birds, with 73 species seen today. Black-winged Stilts have arrived, with a total of a dozen seen at several different locations. Wood Sandpipers are also in evidence on Jeju with about 50 seen, in a wide range of wetland habitats. A dozen Whimbrels, and a similar number of Marsh Sandpipers were seen scattered along the coast and flooded fields. Cattle Egrets have returned to Jeju in force, and several Black-throated Loon still remain off the coast. A few hundred winter ducks linger still at the Yongsu reservoir.
On a wooded hill on the southwest coast, perhaps a dozen Japanese Thrush were heard, but proved very elusive to see. A half-dozen vocal Eastern Crowned and Arctic Warblers were seen, along with an Asian Stubtail. Also on this hill were several Narcissus and Asian Brown Flycatchers, and a Chinese Pond Heron. Best of the day was a White-shouldered Starling found with a murmuration of about 50 White-cheeked Starlings.
A farmer's field near Seogwipo held several Yellow Buntings. In a nearby park, several Tristram's Buntings and a White-backed Woodpecker were seen. Still no Flycatchers or migrating Thrushes seen in Seogwipo yet.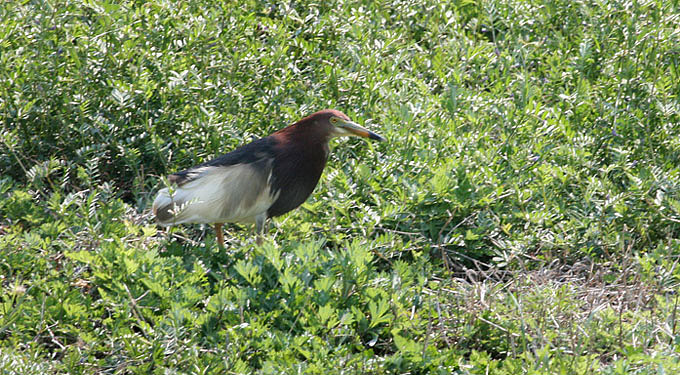 Chinese Pond Heron Ardeola bacchus, Photo © Matthew Poll
Whimbrel Numenius phaeopus, Photo © Matthew Poll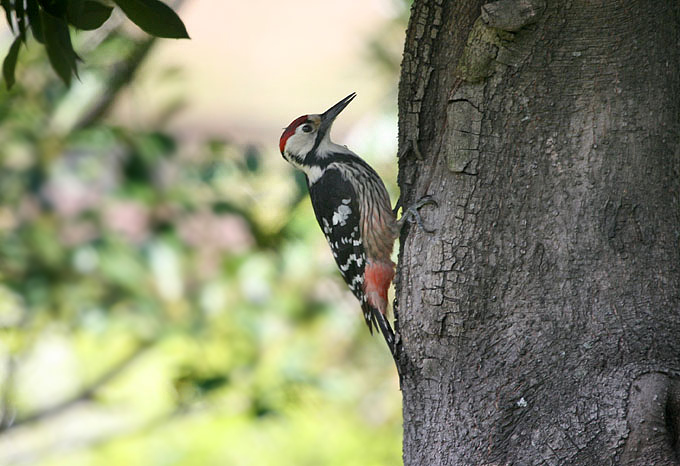 White-backed Woodpecker Dendrocopos leucotos, Photo © Matthew Poll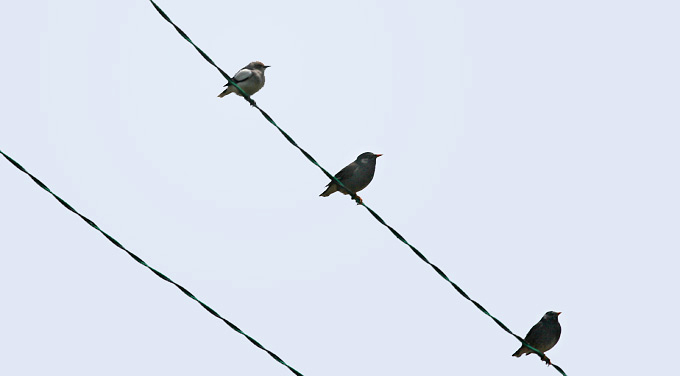 White-shouldered Starling Sturnus sinensis, Photo © Matthew Poll
Bird News by Jason P. Loghry
East Busan, April 26
This morning, the birds must have been celebrating Audubon's 226th bright and early. With a persistently dark heavy sky, and on one occasion about a five minute shower, migrating birds were just hot to trot. At the celebration were 3 Phylloscopus Warblers (possibly Pale-legged Leaf Warblers, as their song was recorded), 5 Eastern Crowned Warblers, 2 Japanese Bush Warblers, 1 Asian Stubtail and a Red-flanked Bluetail. Best dressed award goes to the 7 Narcissus Flycatchers, and my vote for hottest bird of my morning goes to a lone female Mugimaki Flycatcher. Great numbers of Pale Thrushes were about, as were 4 Rock Thrushes, and a Dusky Thrush. Also notable was a Pacific Loon in the water, off the coast.
Later in the afternoon, at a park outside my apartment, I got a huge surprise: 2 more Narcissus Flycatchers in Jangyu, Gimhae! Overall, a superb day for birds. Happy birthday Mr. Audubon!
Bird news from Nial Moores
Eocheong Island, April 26
Finally, a big day – and a long one, starting before dawn and finishing a little before midnight! 97 species and 3500 birds logged. With a heavy overcast, occasional rain spots (but no heavy rain as promised) and strong SW winds, several species were heard coming in from before first light, and this movement continued for a couple of hours in the morning. Between 0610 and 0750, at least 2150 passerines were counted coming in off the sea from the southwest, with most numerous Dusky Thrush (840), Pale Thrush (330), Brambling (240) and Grey-backed Thrush (155). Many of these (except Brambling) appeared to carry on northeast towards Weiyeon Island, (where a team of overseas birders should have just arrived for a week or more). Shortly after, the most abundant grounded species on Eocheong Island itself included Brambling (220), Black-faced Bunting (162) and Yellow-browed Bunting (70), while the most unusual was a female-type Blue-and-White Flycatcher with clear bright blue on the wing coverts, just visible in the very grimy image (does anyone know if this is a feature regularly shown by e.g. older females?). Further species of note included several Latham's Snipe (and several Swinhoe's, Common and Pin-taileds as well as snipes sp!), two Citrine Wagtail and two Hume's Leaf Warbler, and a total of 15 or 16 personal firsts for the spring, including single Chinese Egret, Yellow-breasted Bunting and Bluethroat – the last species to be found late in the evening. With fog banks and clearing skies, there were still plenty of birds calling after dark, however, including a Grey Nightjar – and these calls seemed to increase between 10PM and midnight.
An hour of listening and sound-recording around the harbour at that time produced at least 20 species, mostly thrushes (several Eye-broweds perhaps in with many definite Grey-backed, Pale and Dusky) and shorebirds (including several Grey-tailed Tattler and Terek Sandpiper, single Oriental Pratincole, curlew sp and a stint, perhaps Long-toed?). Other nocturnal odds and ends on the move also included four species of bunting and e.g. single Brambling, Siskin and Eastern Yellow Wagtail.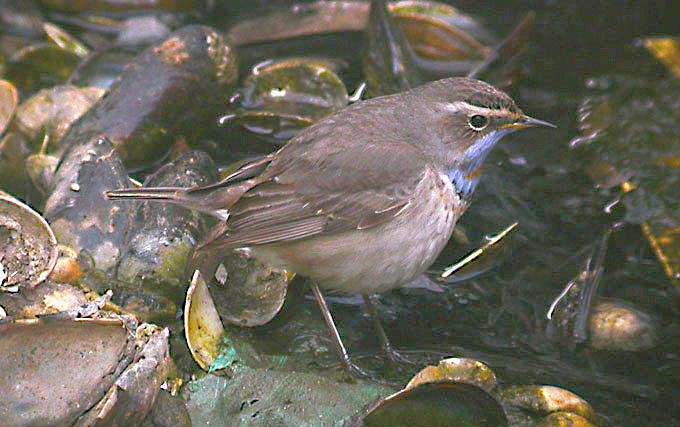 Bluethroat Luscinia svecica, Photo © Nial Moores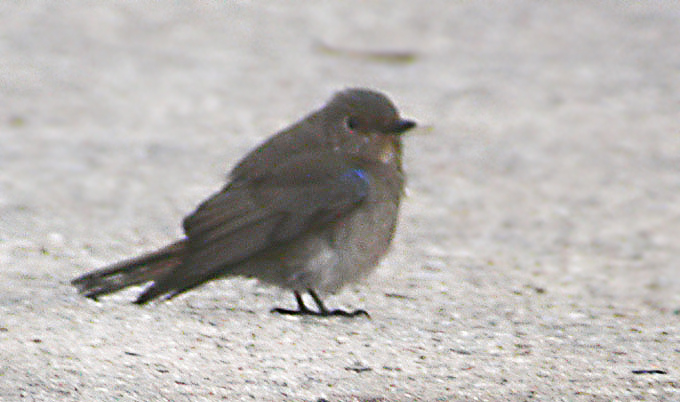 Female Blue-and-white Flycatcher Cyanoptila cyanomelana, Photo © Nial Moores
Bird news from Nial Moores
Eocheong Island, April 24 &amp 25
Still rather quiet for the time of year, with between only 500 and 600 birds both days, 60 species on the 24th and 57 on the 25th; and the only firsts of the spring being Ashy Minivet (1), Greater Short-toed Lark (2), Chinese Pond Heron (2) and Hume's Leaf Warbler (1).
Bird News from Dominic Le Croissette
Taejongdae, Busan, April 23
Hopes were high for migrant birds after yesterday's wind and rain, and the visit did not disappoint. Outstanding highlight was the adult male Siberian Thrush, which appeared at eye level in a treetop as I was looking down onto the top part of the gully. Typically, it moved on quickly and was not seen again. Other thrushes were well represented, with a party of 3 Brown-headed Thrush feeding in the gully all morning, 2 male Grey-backed Thrush, and a conservative estimate of 25 Grey Thrush and 25 Pale Thrush seen, with many more heard. These birds were clearly moving through the area, with at times constant traffic of thrushes moving through the treetops at the top of the gully. Around the recreation area, a party of 6 Rustic Buntings including 3 males in full breeding plumage were a very enjoyable sight; nearby, a male Tristram's Bunting fed unobtrusively in the leaf litter around the base of a fence. The only flycatcher was a female Blue and White Flycatcher; perhaps surprisingly, no Narcissus Flycatchers were seen today. Also present in the area, 3 or 4 Eastern Crowned Warblers, 3 Yellow-browed Warblers, 2 late Brambling, and in the late morning a Grey-faced Buzzard heading west over the park entrance.
Bird news from Nial Moores
Eocheong Island, April 23
A very quiet morning despite the addition of a couple of rooms full of birders, with the best birds all in the evening: a Japanese Waxwing, two Oriental Pratincole and the personal first Eastern Cattle Egret of the spring. Further interest was also provided by a puzzling alba Wagtail showing more black on the head than might be expected in ocularis (perhaps a lugens x ocularis intergrade?).
Japanese Waxwing Bombycilla japonica, Photo © Nial Moores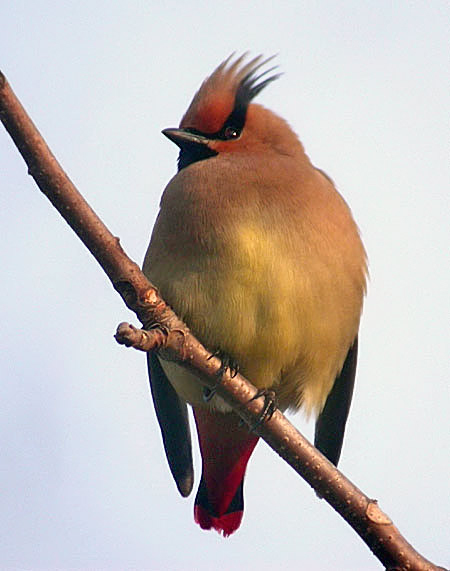 Japanese Waxwing Bombycilla japonica, Photo © Nial Moores
Birds News from Jason P. Loghry & Mr. J Guy Laughlin
East Busan, April 22
Waking before dawn for a nice walk with my colleague and getting drenched completely is exactly how I like to start off my Earth Day. Especially when greeted by 4 gorgeous Narcissus Flycatchers, seperately dancing across a gully. Pale Thrushes were about, but fewer than last weekend. Did happen to observe a White's Thrush from a distance, but the rain and foggy bins didn't allow for the greatest views- nonetheless it was still easy to be in awe. A single Grey-backed Thrush was about in the earliest part of the morning, as were three Eastern Crowned Warblers, a Japanese Bush Warbler, and a male and female Blue and White Flycatcher. Also, not too far offshore, a lone Ancient Murrelet was observed.
Bird news from Nial Moores
Eocheong Island, April 22
Light rain through the morning failed on this occasion to produce a decent fall, either because of the dense fog or perhaps the excessive noise and disturbance this day. Best was a Little Whimbrel low over the main street, and also new for this island's spring single Common Greenshank, Whimbrel and Richard's Pipit.
Bird News from Barry Heinrich
Ganseong coastal stream, April 21
I went to Buk Cheon, to the north of Ganseong Eup after school today to see what birds were around. Interestingly, Great Egrets have moved into the nest site near there, more than a month after Grey Herons. I saw about 12 egrets and about 50 herons in the nesting area. There were more than 30 Tufted Ducks in the creek, but less than 10 Mallards. Also some Eastern Spot-billed Ducks and a pair of Mandarin Ducks.
I heard a Pale Thrush and saw Black-faced Buntings (nominate race) for the first time this year along the creek. On the back of the sand bar across the mouth of the creek I saw a Bar-tailed Godwit with an orange leg flag [a single orange flag on the right tibia indicates that the bird was flagged in Victoria, Australia].
Yesterday evening along Nam Cheon south side of Ganseong I saw about 140 Bramblings and 25 Dusky Thrushes. There were low numbers of ducks including Eastern Spot-billed Ducks, Mallards, Gadwalls, Eurasian Wigeons and a male Northern Shoveler. Just beyond the breaking wave on the sea there were 9 White-winged Scoters.
Returning to Ganseong after sunset I saw a flock of about 60 corvid heading in a general northerly direction. I assume they were Rooks.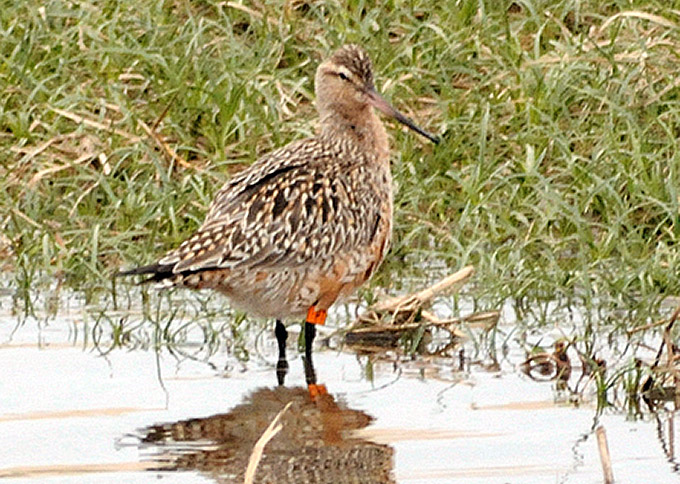 Bar-tailed Godwit
Limosa lapponica
, Photo © Barry Heinrich
(a single orange flag on the right tibia indicates that the bird was
flagged in Victoria, Australia
)
Brambling Fringilla montifringilla, Photo © Barry Heinrich
Bird news from Nial Moores
Eocheong Island, April 21
With moderate south-westerlies/westerlies moderate and banks of cloud on through the day, a small arrival got underway. 67 species were recorded (the highest yet, though none numerous, and still more than 10 species fewer than during the same period in 2003), with personal firsts for the spring of Striated Heron (1), Oriental Scops Owl (2), Pale-legged Leaf Warbler (1), Siberian Rubythroat (3) and Siberian Blue Robin (4). Other species of note included the season high so far of Korean Bush Warbler (25), better views of the two Chinese Penduline Tit and the lingering Eyebrowed Thrush, and a Grey-headed Lapwing (second or third Eocheong record?) which apparently dropped in the evening ahead of the forecast rain.
Eyebrowed Thrush Turdus obscurus, Photo © Nial Moores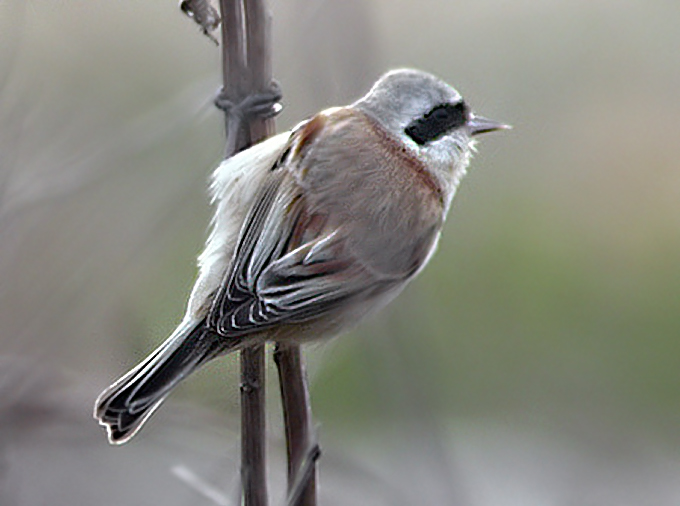 Chinese Penduline Tit Remiz consobrinus, Photo © Nial Moores
Bird news from Nial Moores
Eocheong Island, April 20
61 species and only 431 individuals of all species logged (compared to 601 individuals of 77 species on April 20th 2003). Best for the day were the Pied Wheatear still (much showier than on 19th, though clearly spooked by the arrival of a big camera lens from the mainland!), a Citrine Wagtail (possibly the same, and remaining largely hidden for a couple of days?), a season high count of Pallas's Leaf Warbler (15), a Latham's Snipe seen briefly in the morning, and the Red-necked Grebe still.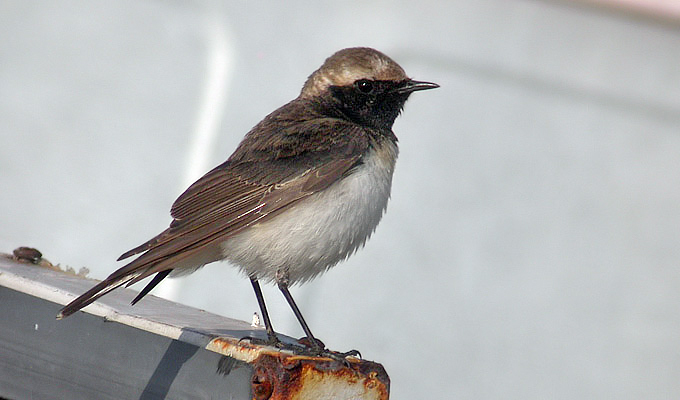 Pied Wheatear Oenanthe pleschanka, Photo © Nial Moores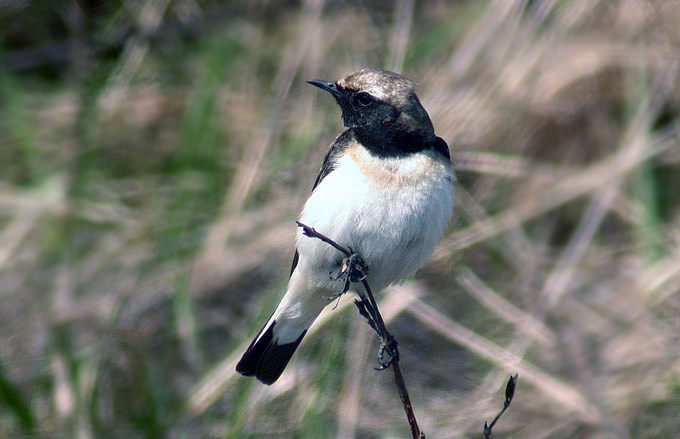 Pied Wheatear Oenanthe pleschanka, Photo © Nial Moores
Pied Wheatear Oenanthe pleschanka, Photo © Nial Moores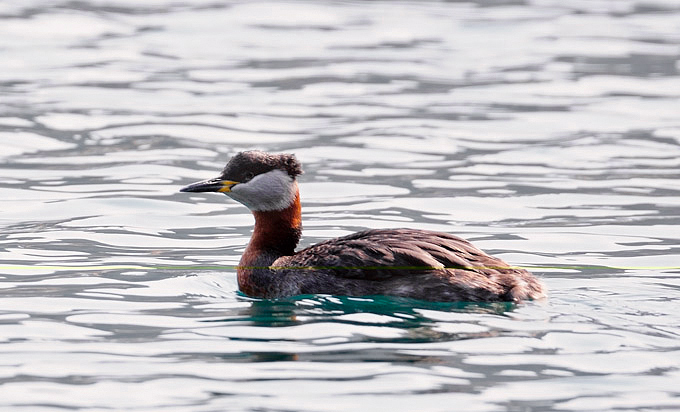 Red-necked Grebe Podiceps grisegena, Photo © Nial Moores
Bird news from Nial Moores
Eocheong Island, April 19
Sunny with some spring haze and a lot milder than the 18th. Still a couple of hundred Dusky Thrush on the island, and a few good highlights including a (hyperactive!) Pied Wheatear that fly-chased and hovered its way across the quarry in double-time, and a male Red-throated Thrush. Other species of interest also included two Kentish Plover and the Mandarin Duck and Red-necked Grebe still. However, almost no warblers still and to date only two sightings of single Blue-and-White Flycatcher…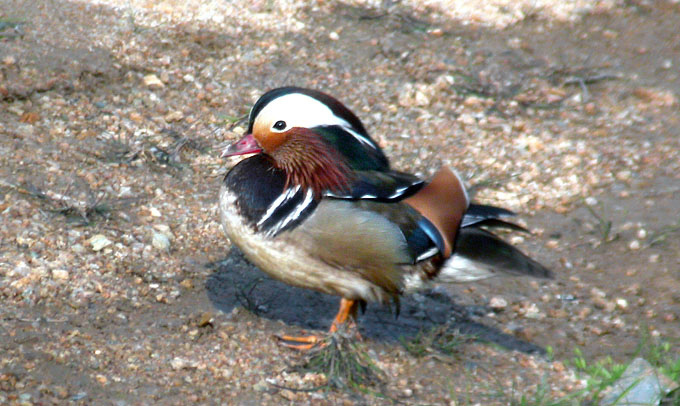 Mandarin Duck Aix galericulata, Photo © Nial Moores
Pied Wheatear Oenanthe pleschanka, Photo © Nial Moores
Red-throated Thrush Turdus ruficollis, Photo © Nial Moores
Bird news from Nial Moores
Eocheong Island, April 18
With occasional spells of rain and a strong (and cold) northwesterly wind, the first decent arrival of the spring, with just over 1000 birds of 65 species logged. Most numerous were Dusky Thrush (295, mostly counted coming in high from the southwest) and Brambling (260), with other species of note including the personal first Eyebrowed Thrush and Yellow-browed Warbler of the spring and 4 Eurasian Wryneck.
Bird news from Nial Moores
Eocheong Island, April 17
Very bird-poor, with a total of only 259 birds of 52 species – birds of the day included a couple of Chinese Penduline Tit and the first Japanese Bush Warbler this week (apparently it's a migrant here and not sedentary) were not quite enough to compensate for all the construction noise and garbage…
Birds News from Jason P. Loghry, Dominic Le Croissette and Mr. Lee Eunjae; and later with Ms. Park Seonyeong
East Busan, April 17
Notably, a male Grey Thrush, was observed on a very windy, clear skied April 17th morning by Dominic Le Croissette, Mr. Lee Eunjae, and I. With such a vibrant species in not-so-grey color, it had us all asking why "Grey" Thrush? On the same day, but rather in the evening just before dusk, a second walk with Ms. Park Seonyeong resulted in an off-the-hook sighting for the both of us. It was that of a dazzling male Japanese Robin. Stunning views made for another remarkable evening in East Busan.
Bird news from Matthew Poll
Eocheong Island, April 16
Some interesting birds on Mara-do, Korea's southernmost point, on a hot day made hazy with yellow dust from China. A dozen Siberian Stonechats, several Eurasian Siskins, at least two dozen Brambling, seven Red-throated Pipit, a female Grey-backed Thrush, and handfuls of Japanese Thrush, Little Bunting, Blue-and-white Flycatcher, Narcissus Flycatcher, Zitting Cisticola, and Red-flanked Bluetail were the highlights.
At Yongsu, a Pacific Golden Plover, several Falcated Teal and Pochard, and good numbers still of Eurasian Teal, Northern Shoveler, Mallard, Spot-billed Duck, and Coot, with about 50-100 of each seen.
It's been pretty quiet still in Seogwipo parks this month, with birds such as Brown-headed Thrush, Ashy Minivet, Yellow-browed Bunting, Narcissus, Blue-and-White, and Asian Brown Flycatchers yet to arrive. For the past two years, these birds have been relatively easy to find in Several Seogwipo parks starting in mid-April.
In a Seogwipo farmer's field, Eastern Yellow Wagtails, Red-throated Pipits, and Siberian Stonechats are good signs of spring.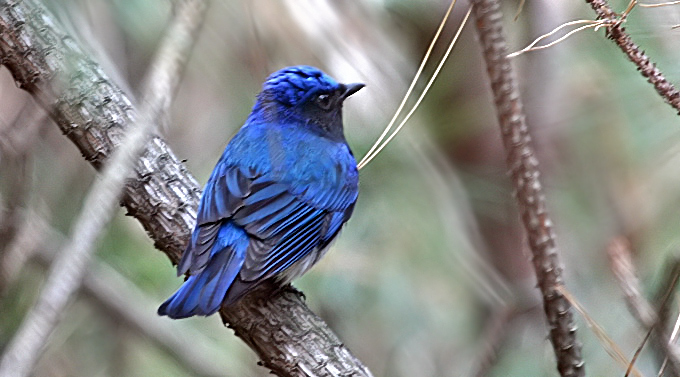 Male Blue-and-white Flycatcher Cyanoptila cyanomelana, Photo © Matthew Poll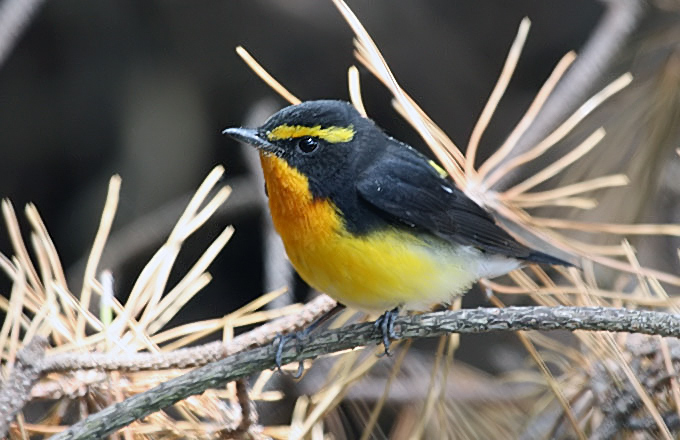 Male Narcissus Flycatcher Ficedula narcissina, Photo © Matthew Poll
Female Grey-backed Thrush Turdus hortulorum, Photo © Matthew Poll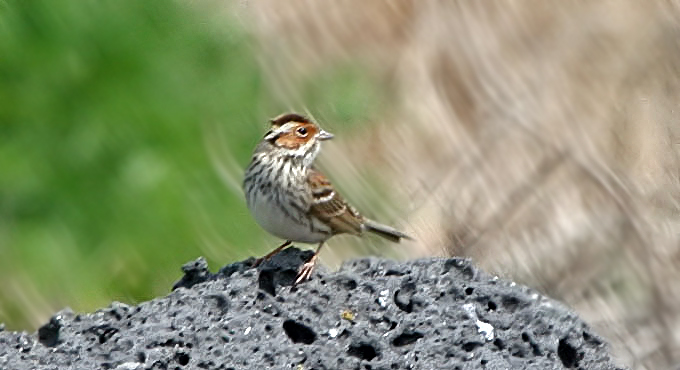 Little Bunting Emberiza pusilla, Photo © Matthew Poll
Bird news from Nial Moores
Eocheong Island, April 16
With bright sunshine and moderate to strong west-northwesterlies, rather better diversity than the 15th with a few more pipits and especially male Red-flanked Bluetails but still not yet very birdy. Best from the morning survey were c. 10 Grey-faced Buzzard (two of which perched up and preened in the open), an Eastern Buzzard, the female Black Redstart still, another male baicalensis White Wagtail and smartest of all a stunning male Citrine Wagtail on the beach.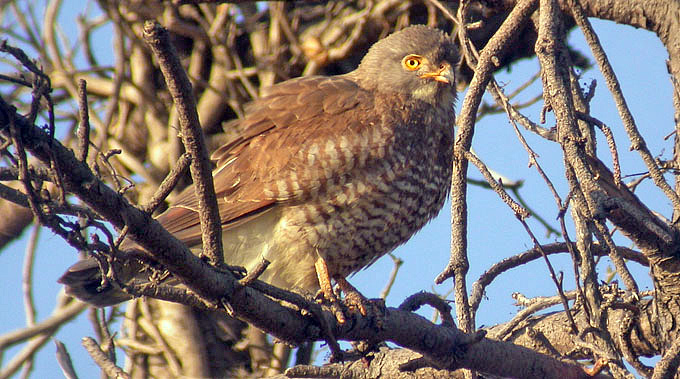 Grey-faced Buzzard Butastur indicus, Photo © Nial Moores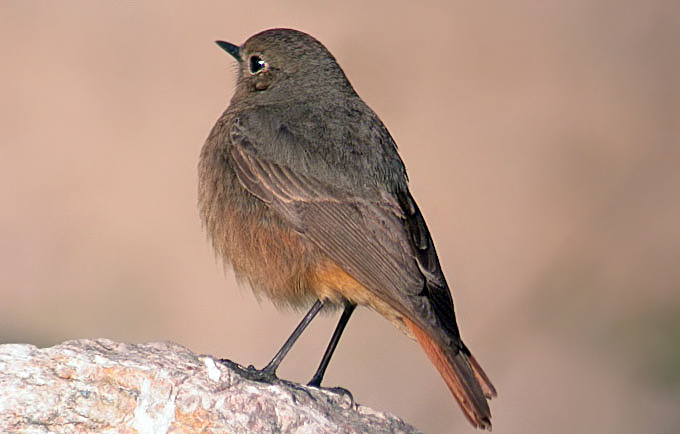 Female Black Redstart Phoenicurus ochruros, Photo © Nial Moores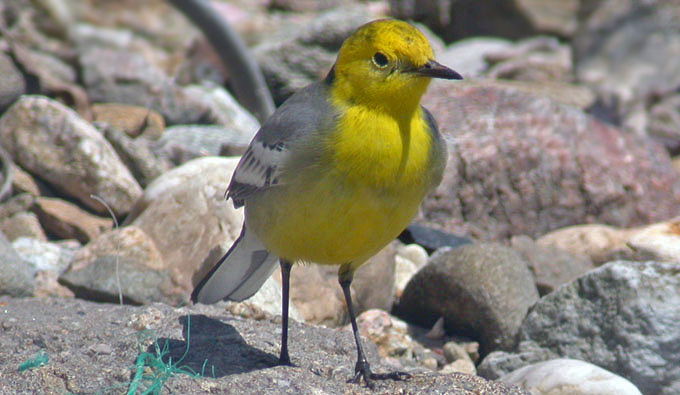 Citrine Wagtail Motacilla citreola, Photo © Nial Moores
Bird news from Nial Moores
Eocheong Island, April 15
Very poor after only a few rain spots and then dense fog swept the island. Only 39 species logged (though likely a few that were still present were missed), with new to the island Black-crowned Night Heron, Grey Heron, Wood Sandpiper and Red-throated Pipit.
Bird news from Nial Moores
Eocheong Island, April 14
Ahead of some forecast rain, still rather few birds, with most numerous landbirds Dusky Thrush (70), Brambling (30) and Siberian Stonechat (23). Of most note were single Mandarin Duck, Arctic Loon and Red-necked Grebe in the harbour still; now two Black Redstart (one male and one female); one baicalensis White Wagtail still (along with single lugens and ocularis and a few leucopsis); and the personal first Red-billed Starling, Brown-headed Thrush, Blue-and-white Flycatcher and Eastern Crowned Warbler (all singles only) of the spring, with the latter oddly showing only the weakest hint of a crown stripe.
Three different islanders today – without any kind of solicitation – stopped me to say that "these days" there are very few birds compared to "before" on the island.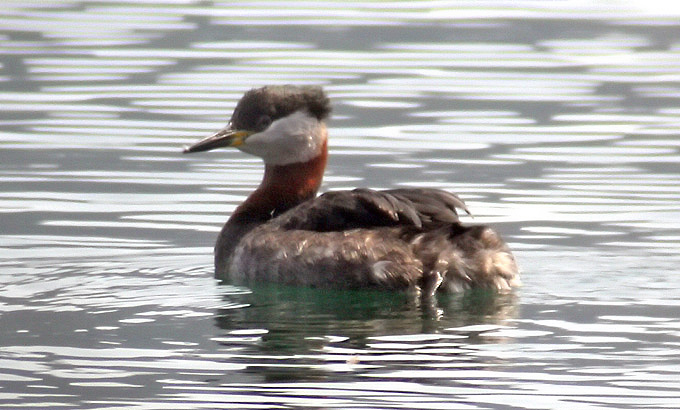 Red-necked Grebe Podiceps grisegena, Photo © Nial Moores
Naumann's Thrush Turdus naumanni, Photo © Nial Moores
Bird news from Nial Moores
Eocheong Island, April 13
Return to Eocheong for one month, to count migrants over the same dates as in 2003 in order to compare numbers of birds between years. In calm and hazy conditions, only small numbers of the expected migrants but several interesting species, with best for the day a female Black Redstart, a Yellow-bellied Tit (heard only), two baicalensis White Wagtail, a Eurasian Wryneck and single Arctic Loon and breeding-plumaged Red-necked Grebe in the harbour.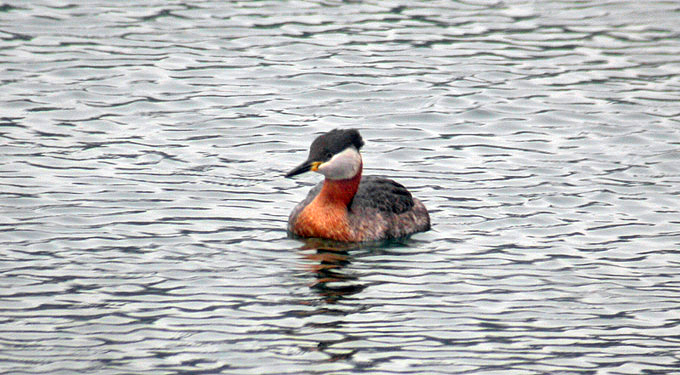 Red-necked Grebe Podiceps grisegena, Photo © Nial Moores
Much habitat has been lost since my first visit back in 2002, and the first birding tour later the same month. Close to the village, changes include a boardwalk and two additional shop ramps breaking up the beach/tidal-flat; "clearing" of some of the stream, and especially a former sheltered suntrap there; "extension" of the reservoir (presently largely empty of water); neglect of or construction material covering probably half of the arable plots; concrete roads replacing several narrow trails; loss of most of the berry bushes and trees in the "gardens"; and the die-off of most of the pine forest (much of which was cleared above the village, presumably to reduce the threat of fire). On the plus side the quarry is no longer in operation.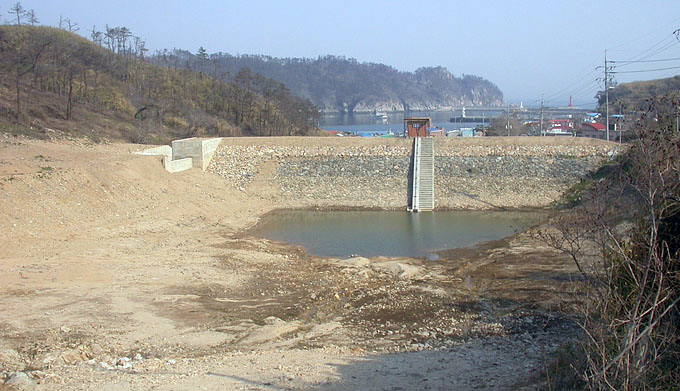 Photo © Nial Moores
Bird News from Jason Loghry
East Busan, April 9
Saturday morning was a much different setting, with a clear skies and dry evergreen. Although the Pale Thrushes could still be heard echoing through the forest in the early morning, no Stubtails nor Buntings other than Yellow-throated were observed.
3 Bush Warblers could be heard singing but with the morning growing late, disturbance increased tremendously. 2 Pacific Reef Herons were observed feeding along the coast as were greater numbers of Swifts and Swallows in the sky.
Curiosity led to a return to the site in the evening, just at dusk. To my pleasure, a Grey-back Thrush was found feeding in the leaves along a creek bed, completing yet another wonderful day of birding in the area.
Bird News from Jason Loghry and Nial Moores
East Busan, April 8
An early, cool, rainy morning provided for minimal disturbance during the first portion of our walk. The songs of Pale Thrushes echoed through a wet forest. 5 Asian Stubtails were heard, one observed. 8 Grey Buntings, 1 Tristram's Bunting, and 2 Black-faced Buntings were also observed. A Japanese Bush Warbler was observed and a Korean Bush Warbler could be heard singing along the rocky edge of the forest.
From the cliff-face out to sea, 4 Blue Rock Thrushes were observed each on their respective rock, and a single Pacific Reef Heron in dark plumage, flying low across the sea, passed us with a smile.
A very vibrant morning was supurbly highlighted when a feeding Goshawk startled a Turtle Dove and a Black Wood Pigeon, leading them to flee over head. What a sight!
In the sky feeding were 14 White-rumped Swifts, which we could also hear quite clearly; as were 4 Barn Swallows, making for an excellent morning to observe.
Bird news from Barry Heinrich
Northeast of Gangwon Province, April 5
The last month or so has seen the end of the winter chill and the beginning of spring migration. The northern lagoons, Hwajinpo Lagoon and Songji Lagoon were mostly ice free by the second weekend of March, apart from the northern end of Hwajinpo were 10 White-tailed Eagles were seen. There have ben thousands of ducks in Hwajinpo Lagoon during the second half of March, especially Mallards and Tufted Ducks. On 26 March I saw 2 Spotted Redshanks at Hwanjinpo Lagoon, the first of the spring migration.
On March 27 at Namdae Cheon I saw a Hooded Crane fly upstream then back towards the coast. Then on March 30 at Nam Cheon near Ganseong I saw 22 Hooded Cranes foraging in rice fields. I found 15 more on in the same area on April 3. I hadn't seen cranes before in this part of Korea.
There have been mixed flocks of Rooks and Daurian Jackdaws migrating north during most of March. And more than 1000 White-fronted Geese have been foraging in rice fields near Nam Cheon, including about 1600 on April 3.
Some other firsts included a Common Redshank and a Eurasian Curlew at Cheongcho lagoon in Sokcho on March 27. The curlew was foraging on the sand flat amongst the Black-tailed Gulls and Great Cormorants. On April 3 I saw the first Barn Swallow at Nam Cheon and Siberian Stonechat at Songji Lagoon.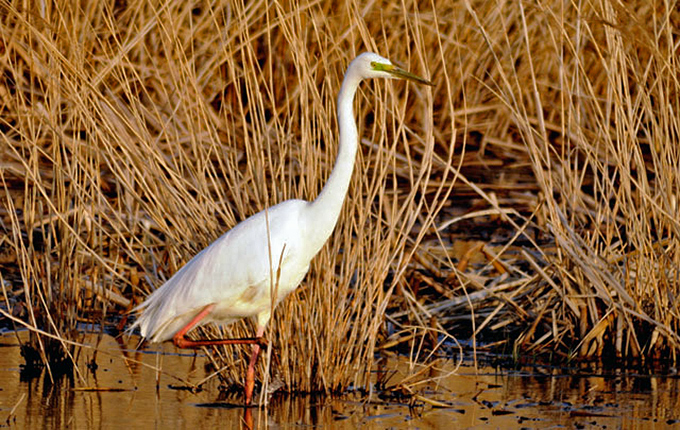 Eastern Great Egret Ardea modesta, Photo © Barry Heinrich
Hooded Cranes Grus monacha, Photo © Barry Heinrich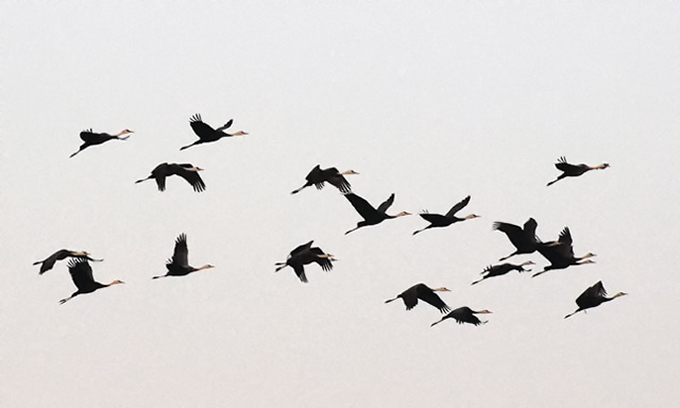 Hooded Cranes Grus monacha, Photo © Barry Heinrich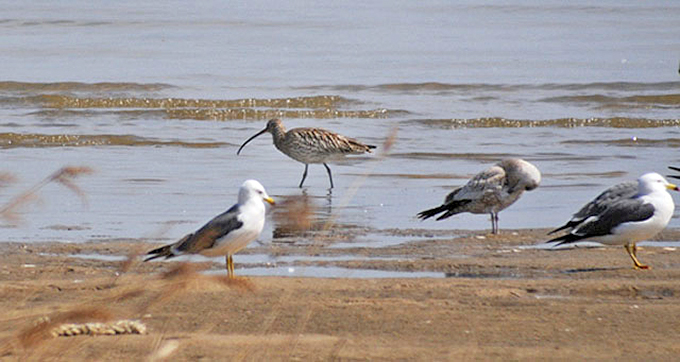 Eurasian Curlew Numenuis arquatus, Photo © Barry Heinrich