Birds Korea's Bird News March 2011
March
March often contains a mixture of dry, cold days (with night temperatures down to 3-4°C, and highs between 10 and 15°C) and occasional milder showery, windy weather.
Most wintering species are still present, but in progressively reduced numbers. Falcated Duck regularly display on reservoirs and ponds, while small numbers of Baikal Teal remain at key sites. Migrant cranes peak in the northwest, as can the Ancient Murrelet migration along the east coast. Small numbers of shorebirds, including early Little Ringed Plover and flocks of Far Eastern Curlew arrive, plus Siberian Buff-bellied Pipits and the first leucopsis White Wagtails. Hundreds of Rustic Buntings, Dusky and Naumann's Thrushes move north-east out of China and Japan, along with smaller numbers of raptors and occasional influxes of Japanese Waxwing. Bramblings and Siskins often form large flocks at key migration points. Sunny days tempt Rustic, Meadow, and Yellow-throated Buntings into song, and numbers of Oriental Stork, while still very small, peak at Seosan.
Rare finds in March in recent years have included Red-crested Pochard, Yellow-bellied Tit, and Red-throated Thrush. Careful searching through gull flocks may reveal taxa like Pallas's Gull, barabensis, cachinanns, or smithsonianus. National firsts in March include Bar-headed Goose in 2003, European Robin on Hong Island in 2006, and Bonelli's Eagle on Ui Island in 2007.
(The following records are a compilation of our own sightings and records sent in by other observers. As well as being posted on the Birds Korea website(s), selected records are also forwarded to other Korean-language birding websites; records of threatened species are arranged and forwarded to Birdlife International and national authorities when appropriate; flag images and records are passed to bodies responsible for their coordination throughout the flyway; and all records sent to us are used to compile annual reports and to support the evolving understanding of the status of many of Korea's birds.)
Bird News from Dominic Le Croissette
Junam Reservoir area, March 19
Largely bereft of interesting birds at Junam as the spring progresses and the water level rises, in a similar pattern to last year when the reservoir suddenly became very quiet birdwise in early March. However, the visit was made worthwhile by the continued presence of a fine adult Lesser White-fronted Goose, which showed very well at close range and permitted some digiscoped record shots to be taken. Otherwise the only bird of interest was a Eurasian Hoopoe, which felt very appropriate for the warm and sunny conditions today.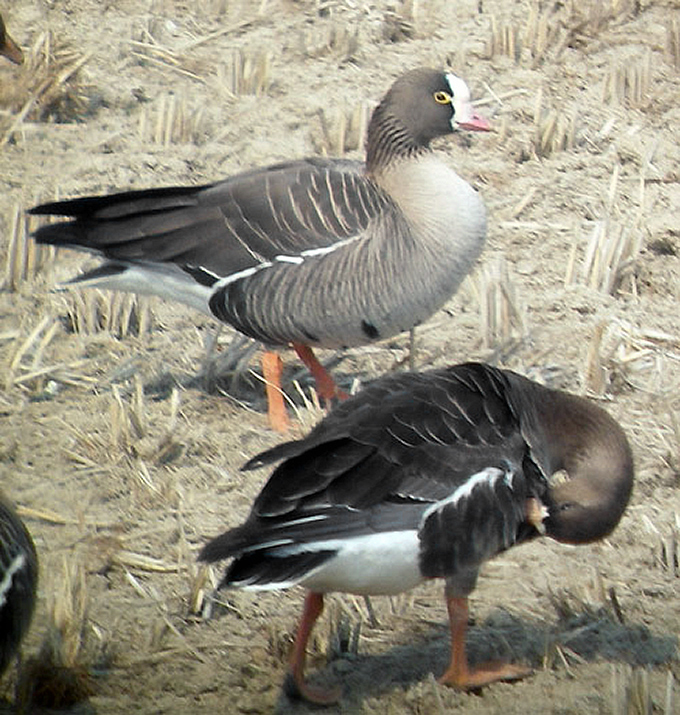 Lesser White-fronted Goose Anser erythropus, Photo © Dominic Le Croissette
Bird News from Dominic Le Croissette, Kim In-Cheol, Jason P Loghry and Mike Friel
Suncheon Bay, March 13
An unseasonably warm (17C), sunny and breezy day at Suncheon. After meeting Kim In-Cheol at the very crowded visitor center (which apparently enjoys up to 6,000 visitors per day from all over South Korea on fine spring days like today), we set off along the thankfully uncrowded raised embankment out towards the mudflats of the bay.
Various small birds showed briefly in flight before dropping back into the extensive reedbeds, however it was clear there were good numbers of Pallas's Reed Buntings around and we saw at least one Chinese Penduline Tit. At a small reedy pond on the landward side of the embankment, we were suddenly able to enjoy prolonged views of many Pallas's Reed Buntings in small groups as well as surprisingly higher numbers of Common Reed Buntings. There was a constant stream of avian traffic to and from this small reedbed, which presumably offered excellent feeding conditions or fresh water to drink. Another Chinese Penduline Tit was in this area, as well as a Black-faced Bunting in the grounds of the education center.
A little further along, we flushed a total of at least 6 Japanese Quail from the embankment, which flew a short distance before pitching down into the reeds. The tide was out so there was little to see on the mudflats, although a party of 6 Eurasian Spoonbill and a perched Western Osprey provided some interest.
Meanwhile, Mr Kim located a female Merlin sitting in a plowed field, and before long we had good views of the Hooded Crane flock, comprising about 200 birds. Among them was a single Common Crane, and two hybrid birds.
Later in the afternoon, we enjoyed spectacular views of the day's best birds not far from Jinju: a pair of Eurasian Eagle Owls, with two Little Buntings nearby.
Eurasian Eagle Owl Bubo bubo, Photo © Mike Friel
Bird News from Dominic Le Croissette
Junam Reservoir area, March 6
A beautiful mild, sunny afternoon spent walking the entire length of all reservoirs in the area, from the south all the way to the north. The drake Baers Pochard was still present and today gave excellent (and fairly close) views in perfect sunlight. 2 Lesser White-fronted Geese (an adult and a juvenile) were also still present, showing well on rice fields near the main Junam walkway with a small flock of around 20 Greater White-fronts. Other than these two outstanding highlights the area has gone fairly quiet birdwise, with the only other noteworthy records today being a Little Bunting, and excellent views of 2 Naumanns Thrushes among the Dusky Thrushes scattered throughout the area.