Birds Korea's Bird News October 2010
October
Warm (typically between 15-20°C mid-month), with often excellent birding weather: dry, sunny, and relatively calm. Occasional rain, although uncomfortable for birdwatchers, can produce excellent falls. One of the best times to be birding in Korea! Autumn migration is in full swing, and anything is possible!
Black-faced Spoonbill and Chinese Egret are still reasonably widespread. Hooded and White-naped Cranes start moving back south into Korea, and huge concentrations of Tundra Beans and Greater White-fronted Geese form at the Han-Imjin and Seosan. The charismatic Baikal Teal arrives in force mid-month, with up to 300,000 at Seosan and Haenam! Raptor migration is often strong, with Grey-faced Buzzards (day peak of 1,500 on Gageo Island), Oriental Honey Buzzards, the occasional eagle (especially Greater Spotted), and in some years, flocks of Amur Falcon. Shorebirds are still present in good numbers and persity, with a peak in Nordmann's Greenshank. Visible migration peaks with Olive-backed Pipits becoming numerous by mid-month along the west coast, plus often excellent numbers of buntings and flycatchers. Pale, White's, and small numbers of Dusky Thrushes are also on the move, along with the first of the typical winter passerines - Brambling and Siskin.
In 2005 the country's first Swinhoe's Rail in 70 years was reported from Hong Island, while recent Korean firsts for this month include Yellow-bellied Tit on Socheong in 2005 and Booted Eagle on Heuksan Island in 2006.
(The following records are a compilation of our own sightings and records sent in by other observers. As well as being posted on the Birds Korea website(s), selected records are also forwarded to other Korean-language birding websites; records of threatened species are arranged and forwarded to Birdlife International and national authorities when appropriate; flag images and records are passed to bodies responsible for their coordination throughout the flyway; and all records sent to us are used to compile annual reports and to support the evolving understanding of the status of many of Korea's birds.)
Bird News from Dominic Le Croissette and Jason P. Loghry
Junam Reservoir, October 30 & 31
Excellent visits on both afternoons at what is possibly the most interesting time of year at Junam. Undoubted highlight on 30th were three Lesser White-fronted Geese (an adult and two juveniles). They were on the patch of water closest to "photographer's corner", and unbelievably were the first geese I saw when beginning a scan through the large numbers of Eurasian White-fronted Geese there. See the attached very poor record shots. Hopefully they will stay at the site throughout the winter. Raptors were also in evidence on 30th, with the highlight being a male Merlin chasing pipits near the Junam 3rd pumping station (my first sighting of this species at Junam). Also one Eurasian Hobby, one huge, presumably female, Peregrine overhead near the visitor centre, 2 Eurasian Sparrowhawks and 2 Common Buzzards.
On 31st I was joined by Jason Loghry. Numbers of geese appeared lower than yesterday and there was no sign of the Lesser White-fronts. Highlight of the afternoon was the Western Osprey which was seen several times circling over the reservoir. A Hoopoe flew directly overhead at "photographer's corner" but it didn't seem to interest the numerous assembled photographers. Migration was in evidence in the rice paddies with several hundred Buff-belled Pipits seen, plus smaller numbers of Eurasian Skylarks, and an Olive-backed Pipit calling in flight. Also present today: a Common Snipe, 2 male Mandarins, hundreds of Baikal Teal (a big increase on the handful seen on 30th), and a male Peregrine (a different bird to yesterday).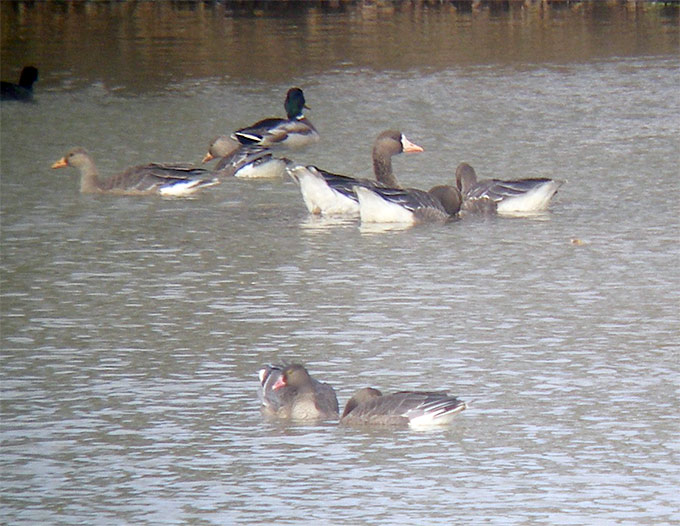 Lesser White-fronted Goose Anser erythropus, Photo © Dominic Le Croissette
Bird News from Dominic Le Croissette
Junam Reservoir, October 26
A sudden change in the weather brought strong northerly winds and temperatures barely into double figures. In the decidedly autumnal conditions, a quick visit to a very cold and blustery Junam revealed some interesting species. Unfortunately I could only spare 90 minutes this morning, but birds were clearly on the move and, despite the cold, it was one of those days when I wished I could have stayed longer.
Junam oddities comprised an Oriental Honey Buzzard passing low overhead, 6 Red-rumped Swallows, and a flock of 20 Spotted Redshanks which flew around for a long time looking for somewhere to land - unfortunately the water level is still too high for waders, even long-legged ones like these. The main reservoir was literally carpeted with waterfowl. A quick scan-through revealed particularly high numbers of Common Pochard, Falcated Duck and Eurasian Coot, with many of the other common duck species also present. Among them were the first Whooper Swans (17) of the winter. Geese were very mobile and obvious today, with the first Greater White-fronted Geese of the winter (10) and hundreds of Taiga Bean Geese. Apart from the continuous overhead movement (arrival?) of ducks and geese, other species like Black-headed Gull, Eurasian Skylark and Buff-belled Pipit were clearly moving through the area. 2 Common Buzzards were also seen.
Bird News from Mathew Poll and Young Ho Kim
West Coast, Jeju island, October 18
A rare visitor to Jeju has caused enough stir to land it on the evening news! On a hazy morning, a massive Oriental Stork paced slowly through a small wetland, in the company of six Grey Herons.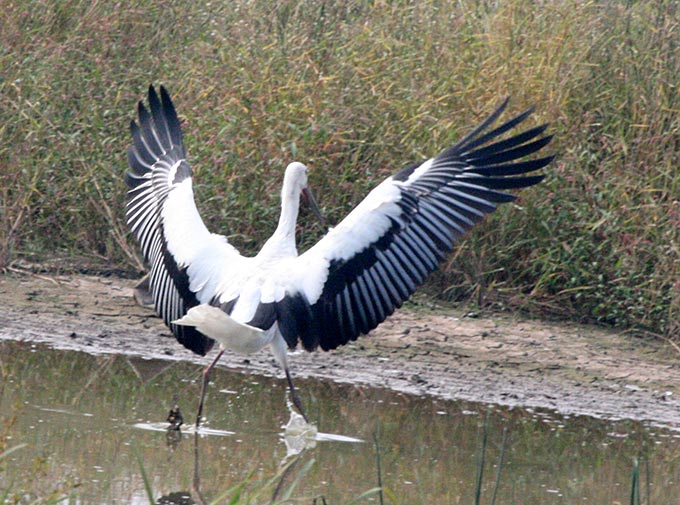 Oriental Stork Ciconia boyciana, Photo © Mathew Poll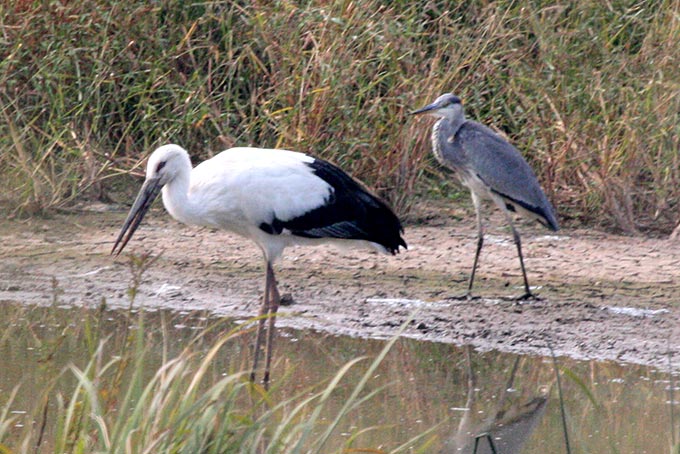 Oriental Stork Ciconia boyciana, Photo © Mathew Poll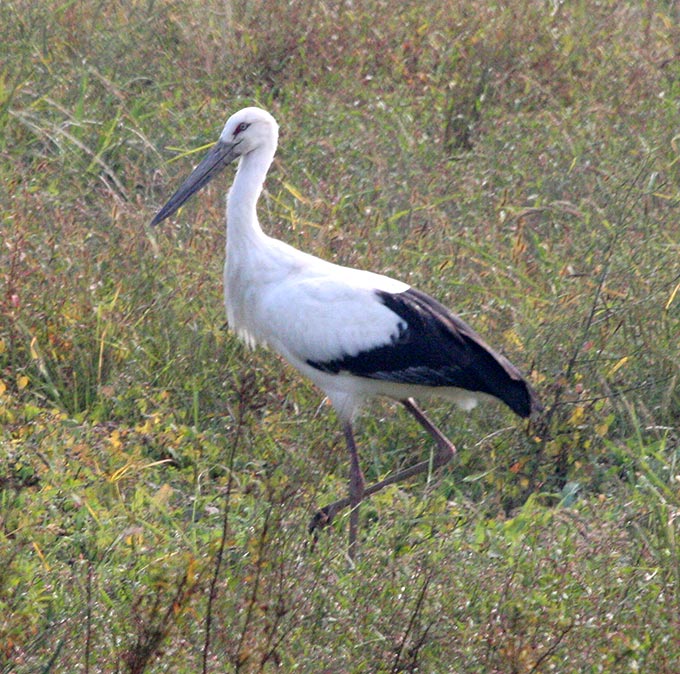 Oriental Stork Ciconia boyciana, Photo © Mathew Poll
Bird News from Dominic Le Croissette
Junam Reservoir, October 17
Sunny and warm at Junam with an afternoon maximum temperature of about 23C. The pick of the afternoon's birds was the male Northern Goshawk which gave exceptionally close and prolonged views as it soared overhead. A Yellow-browed Warbler also showed extremely well in waterside willows, with 3 Hawfinches nearby. 2 Eurasian Jays were an unusual Junam sighting, while 7 Daurian Redstarts and 2 Bull-headed Shrikes were rather more expected. A Common Greenshank and a Eurasian Sparrowhawk were also observed as well as the usual range of more common Junam resident species.
Despite the mild conditions, numbers of wintering wildfowl at the reservoir have increased dramatically compared to my last visit two weeks ago. Spot-billed Duck, Common Pochard, Eurasian Teal and Eurasian Coot are all present in the hundreds, interspersed with single-figure or low double figure counts of Northern Pintail, Mallard, Eurasian Wigeon, Gadwall, Northern Shoveler and Tufted Duck, with 4 Baikal Teal and the same number of Falcated Duck also noted. 40 Taiga Bean Geese were counted.
Bird News from Mathew Poll
Jeju island, October 17
On Udo a dozen Temminck's Cormorant dried their feathers on rocks, as a Northern Lapwing flew overhead. On a mountaintop, a half-dozen White-throated Needletail whizzed past so close I could hear the 'woosh' of air they made. A dozen or so Barn Swallows were also spotted here. A small farmer's field held about 20 Eastern Yellow Wagtail. Also seen on Udo were several Japanese Bush Warblers, Dark-sided Flycatchers and Siberian Stonechats.
At Hado, the reservoir was filling in with growing numbers of Winter ducks - several hundred Pochard, Gadwall, and Eurasian Wigeon. Handfuls of Eastern Spot-billed Duck, Moorhen, and Coots were also present, along with two Osprey and a Common Kestrel.
At Pyeonson, 24 Kentish Plover and several Dunlin paced the beach. Back in Seogwipo, a Taiga Flycatcher remains in a park, associating with an Asian Brown Flycatcher, as the one seen last year did.
Temminck's Cormorant Phalacrocorax capillatus, Photo © Mathew Poll
White-throated Needletail Hirundapus caudacutus, Photo © Mathew Poll
Eastern Yellow Wagtail Motacilla tschutschensis, Photo © Mathew Poll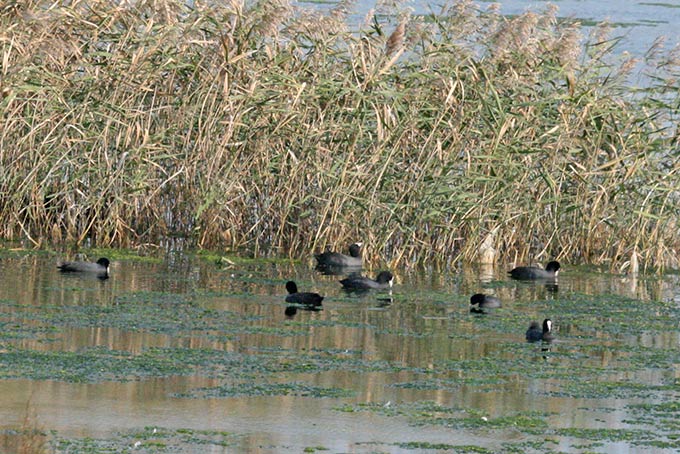 Eurasian Coot Fulica atra, Photo © Mathew Poll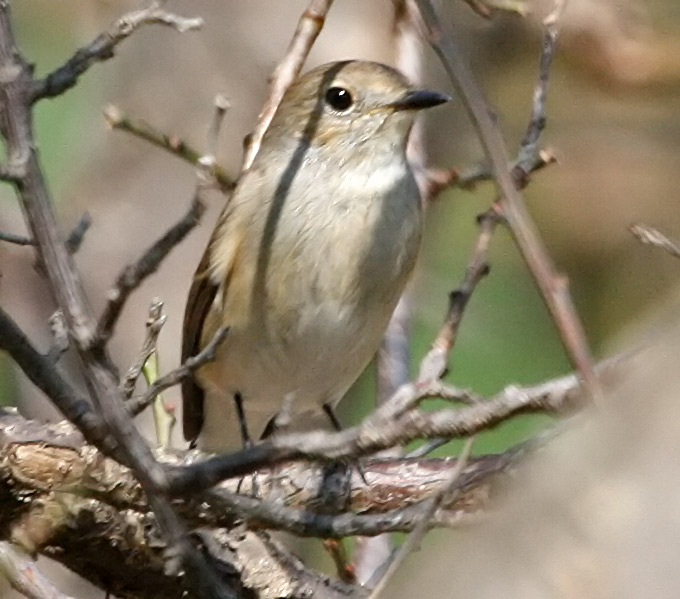 Taiga Flycatcher Ficedula albicilla, Photo © Mathew Poll
Bird News from Mathew Poll
Seogwipo, Jeju island, October 14
Great fall weather for birding on Jeju, with a few migrants and regulars in evidence. In a quiet park, a female Taiga Flycatcher flicked its tail from a low perch, in the same spot where a female Taiga Flycatcher was spotted last year, almost to the day. Perhaps the same bird? Also in this park: several Grey-streaked and Asian Brown Flycatcher, an increasing number of Eastern Spot-billed Duck (20), several Mandarin Duck, and a White-backed Woodpecker.
In a farmer's field, two lugens White Wagtail cavorted in the dirt, chasing grasshoppers, while a Grey Wagtail worked a nearby stream. A male Siberian Stonechat in non-breeding plumage, numerous Japanese White-eye, and a Common Snipe were also present in this field. As I was leaving, a mystery Starling flashed past, showing a lot of grey. I didn't get a good look at it, but it gave me the impression of a White-Shouldered, which I've seen in this field before.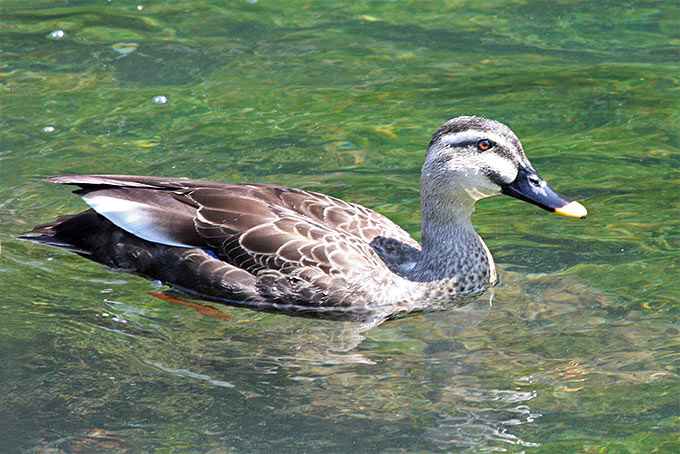 Eastern Spot-billed Duck Anas zonorhyncha, Photo © Mathew Poll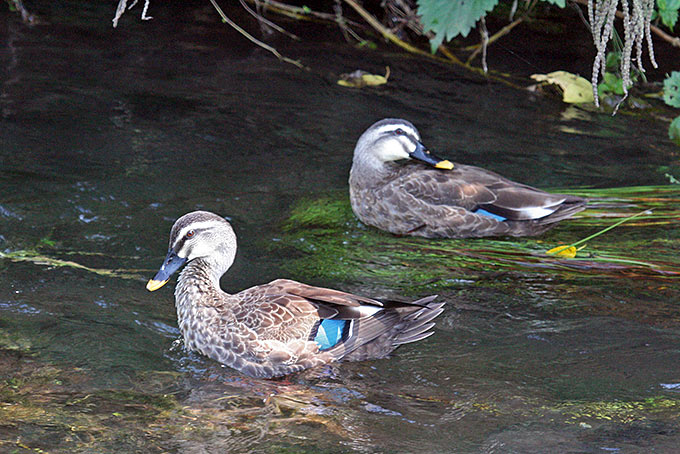 Eastern Spot-billed Duck Anas zonorhyncha, Photo © Mathew Poll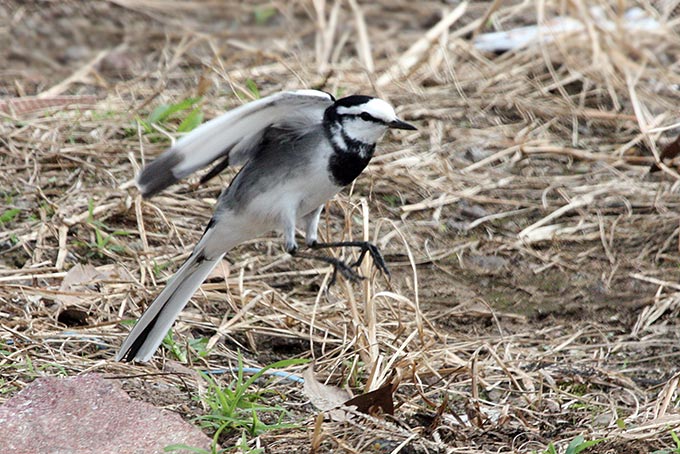 White Wagtail Motacilla alba, Photo © Mathew Poll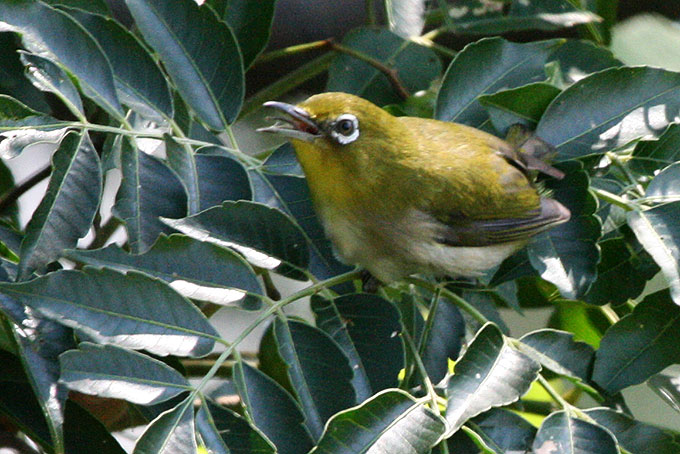 Japanese White-eye Zosterops japonicus, Photo © Mathew Poll
Bird News from Mike Friel
Sacheon, Gyeongsangnamdo, October 1
Today the count of Pacific Golden Plover was 88.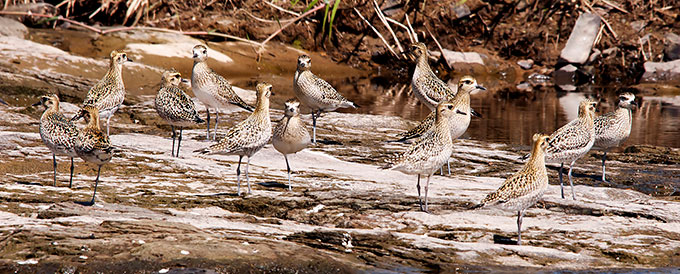 Pacific Golden Plover Pluvialis fulva, Photo © Mike Friel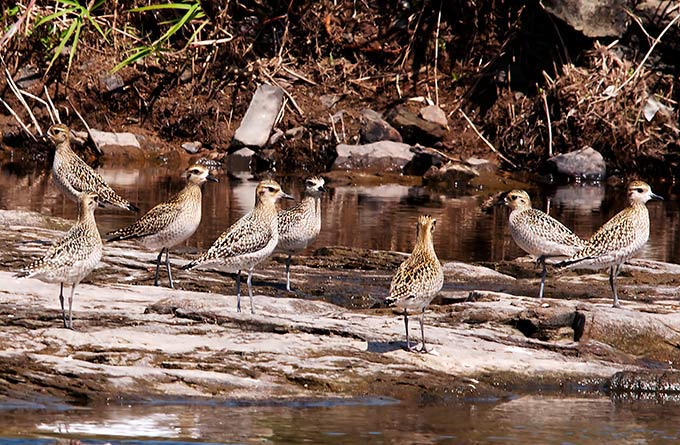 Pacific Golden Plover Pluvialis fulva, Photo © Mike Friel