Birds Korea's Bird News September 2010
September
Temperatures begin to cool, especially towards the end of the month, with maxima often falling from 28°C to 20°C. Sunny, dry weather predominates, though often punctuated by occasional heavy rain and very strong winds associated with typhoons.
September sees migration pick up considerably, with a build-up of ducks including the first returning flocks of Baikal Teal by mid-month. Seabirds still provide much interest (with small but increasing numbers of jaegers and dark shearwaters possible), while shorebirds like Nordmann's Greenshank and a very few Spoon-billed Sandpiper can be found at prime sites, such as the Geum and Nakdong Estuaries, with other Yellow Sea "specials" also at Hwaseong (Namyang Bay) and Song Do (Incheon). Whiskered and White-winged Black Terns, although scarce in South Korea, become rather more widespread with small flocks of the latter at Seosan and in Gunsan, along with an increasing number of Mongolian Gull. Raptor migration includes large concentrations of Chinese Sparrowhawk making their way towards Japan (where over 50 000 have been recorded in one day on an island in the Korean Straits only 40 km south of Busan!), along with smaller flocks of Grey-faced and Crested Honey Buzzards, and very small numbers of Pied Harrier and Amur Falcon especially through the west and northwest. Passerines become rather more numerous and perse, with Thick-billed Warbler and Brown Shrike early in the month, good numbers of Eastern Yellow Wagtail , Pechora Pipit, and the three species of "grey-brown flycatchers" by mid-month (some Dark-sided and Brown still, with a peak in Grey-streaked). Towards the very end of September, Olive-backed and Buff-bellied Pipit migration starts in earnest, and the first small flocks of buntings also arrive, with most numerous being Chestnut and Black-faced.
September holds the chance of national rarities like Rose-coloured Starling, Ashy Drongo, Tree Pipit, and South Polar Skua. Firsts for Korea in recent years have included Steppe Grey Shrike in 2004, Eurasian Dotterel in 2005, Willow Warbler in 2006, and Wood Warbler and Buff-breasted Sandpiper in 2007.
(The following records are a compilation of our own sightings and records sent in by other observers. As well as being posted on the Birds Korea website(s), selected records are also forwarded to other Korean-language birding websites; records of threatened species are arranged and forwarded to Birdlife International and national authorities when appropriate; flag images and records are passed to bodies responsible for their coordination throughout the flyway; and all records sent to us are used to compile annual reports and to support the evolving understanding of the status of many of Korea's birds.)
Bird News from Mike Friel
Sacheon, Gyeongsangnamdo, September 27
The weather was overcast and the tide high so all I saw around the estuary were one or two Common Sandpipers, Terek Sandpipers and a Grey-tailed Tattler. There were also some gulls and about 15 Eurasian Wigeon. Driving along the small river that flows through the town, I heard a sudden loud piping of many birds. Clambering down the bank I saw a large flock of Pacific Golden Plover resting on stones or on the river bank. I counted 60 birds. Some let me come within 4 meters, and they stayed in the same place as a tight-knit group. I imagine they were resting before moving on to warmer climes.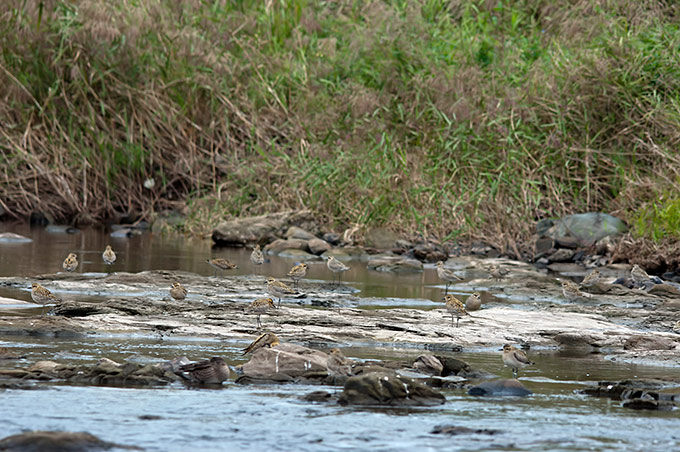 Pacific Golden Plover Pluvialis fulva, Photo © Mike Friel
Pacific Golden Plover Pluvialis fulva, Photo © Mike Friel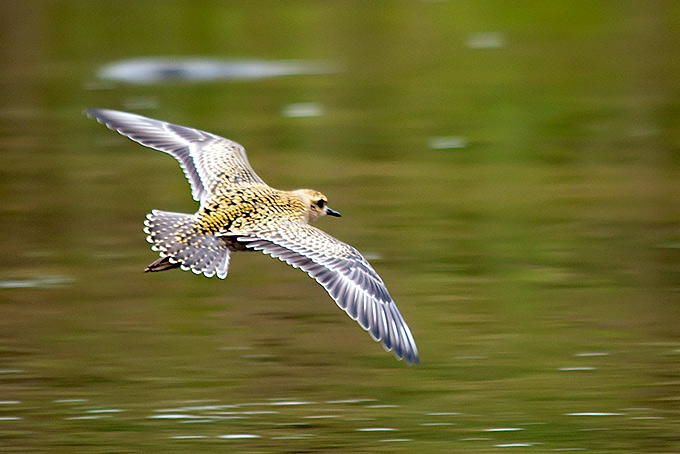 Pacific Golden Plover Pluvialis fulva, Photo © Mike Friel
Bird News from Dominic Le Croissette
Junam Reservoir, September 11
A humid day, with frequent heavy showers interspersed with brief sunny spells. A very surprising highlight came in the form of a probable Middendorffs Warbler on the reservoir banks, in an area of dense ground vegetation where the scrub had been cut back to knee height or less. While walking back from Junam 3rd Pumping Station towards the visitor centre, I caught sight of what was clearly a mid-sized Locustella warbler flying a short distance above the ground vegetation before diving back into cover. Patience was rewarded with further flight views (the bird showing fanned tail in flight with white tips). Finally, and very fortunately, the bird decided to sit up on a stem in full view for perhaps 15-20 seconds, eyeing me nervously as it flicked its wings and tail. It appeared plain and entirely unstreaked above and below; that fact combined with its size and coloration limited the options to Styans and Middendorffs. This bird's prominent long, pale and creamy supercilium, habitat choice and distribution notes in Robson's "Birds of Korea" led me to favour the ID as the latter species, although it was hard to ascertain bill length and the bird was not heard to call. According to Robson, Middendorffs Warbler would appear to be a regular passage migrant through mainland Korea. In any case, it was a new bird for me and a most unexpected Junam find.
Of further interest were a couple of marsh terns, extremely distant at the back of the reservoir, hawking over the surface vegetation of the lake. One of them eventually decided to visit a nearer part of the reservoir, when it became clear that it was an adult Whiskered Tern, just starting to moult out of summer plumage. The other bird remained extremely distant, but even at long range a prominent dark "saddle" was noticeable, which contrasted strongly with its white rump and uppertail coverts. These plumage details along with its very dainty and erratic feeding action over the water led me to conclude that this bird was a juvenile White-winged Tern.
Otherwise, bird activity was very limited, with other notable Junam birds consisting of a Eurasian Hobby (surprisingly a new bird for me at this site), 5 Mandarin Ducks, a Common Kingfisher hovering above the water, 2 Black-crowned Night Herons, a Cattle Egret, and a single Wood Sandpiper picking its way along floating vegetation near the edge of the reservoir.
Bird News from Nial Moores & Ju Yong-Ki
Asan Bay and Namyang Bay, September 10
Another day and another two massively degraded wetlands.
While both wetlands have long been recognised as internationally important for shorebirds (since at least 1988), both are now largely reclaimed and support fewer shorebirds than previously - with further reclamation and "development" of present reclamation lagoons likely to lead to the loss of most shorebird species at both sites.
Most numerous at Namyang were Great Knot (5800), Eurasian Curlew (1950) and Common Greenshank (520), with three Nordmann's Greenshank also noted there, while at Asan most numerous were Dunlin (3900) and Red-necked Stint (1390)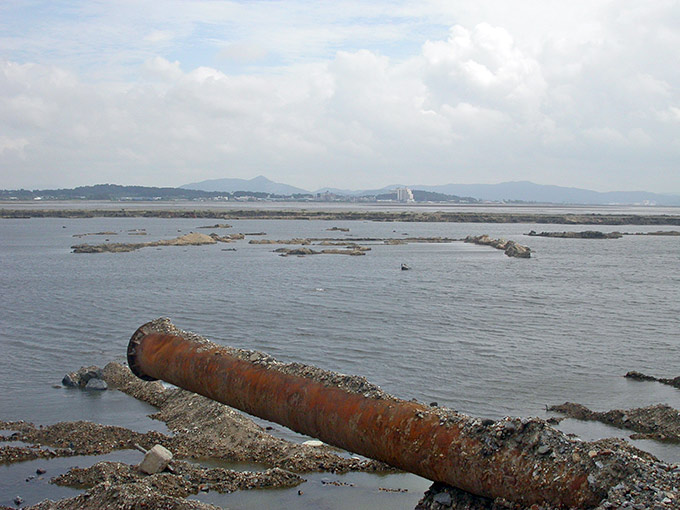 Asan bay, Photo © Nial Moores
Great Knot Calidris tenuirostris at Namyang, Photo © Nial Moores
Bird News from Nial Moores & Ju Yong-Ki
Saemangeum (Mangyeung) and Gomso Bay, September 9
Further counting within Saemangeum, where still no sign of any "eco-city" or even much construction work (indeed less than in most of the nation's rivers or islands!) found 30 Black-faced Spoonbill on the Mangyeung River, and small flocks of Red-necked Stint and Black-tailed Godwit.
Processing of the data gathered over the past week provides a minimum estimate of 26,551 shorebirds within Saemangeum this week - including e.g. 20 Nordmann's Greenshank and four Spoon-billed Sandpiper and most numerous species including Dunlin (5915), Red-necked Stint (4759) and Mongolian Plover (4161). The vast majority of shorebirds were found on offshore islands close to the seawall, where there is still some very limited tidal-movement (probably only 30 cm during the past week with the seagates largely closed, compared to a natural 7m tide). For even these greatly reduced in number but still internationally important numbers of shorebirds to survive, it is clearly imperative to open the seagates fully and to keep them that way.
At Gomso Bay in the afternoon a massive high tide led to a prolonged search for shorebird roosts within fish-ponds that line this wetland. 521 Terek Sandpiper were recorded, but the outstanding highlight came at one roost which contained 938 Kentish Plover, 277 Red-necked Stint, 37 Mongolian Plover and at least four (and possibly five) juvenile Spoon-billed Sandpiper! This is the first record known to us at this site of this Critically Endangered species - now with a population numbering probably only 500 or so individuals and falling.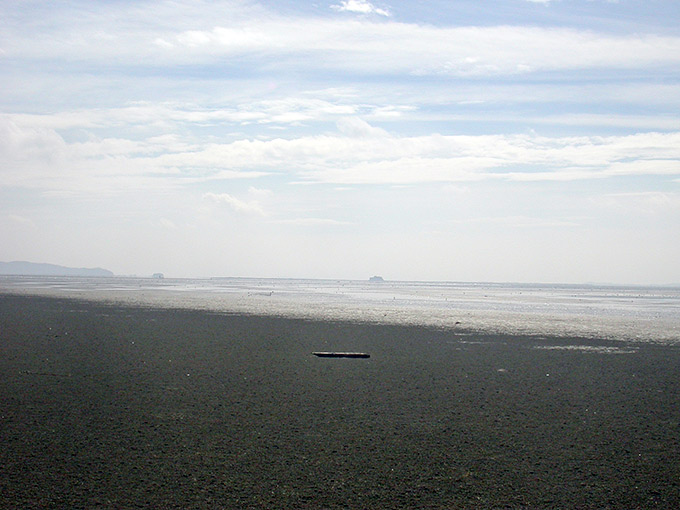 Saemangeum, degraded but still internationally important, Photo © Nial Moores
Black-tailed Godwit Limosa limosa, Photo © Nial Moores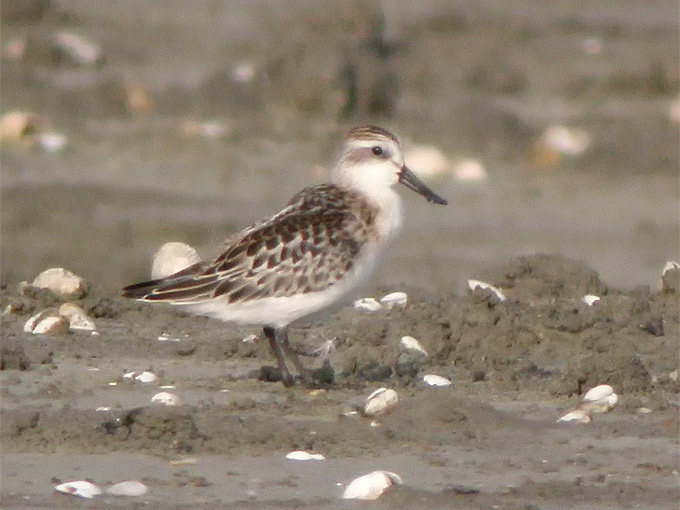 Spoon-billed Sandpiper Eurynorhynchus pygmeus, Photo © Nial Moores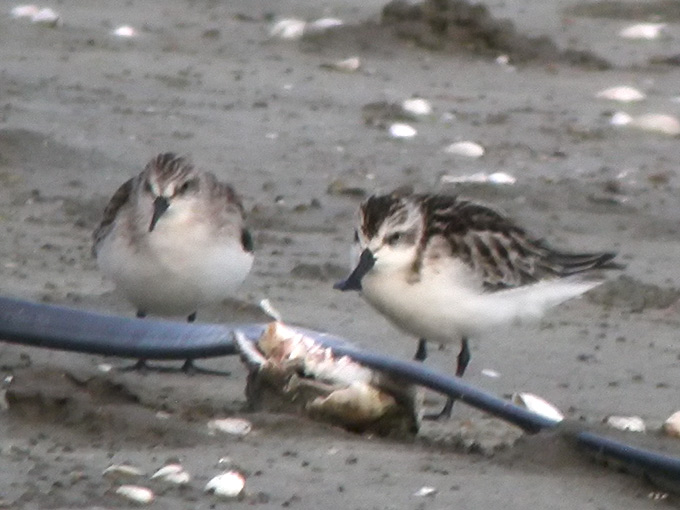 Spoon-billed Sandpiper Eurynorhynchus pygmeus & Red-necked StintCalidris ruficollis, Photo © Nial Moores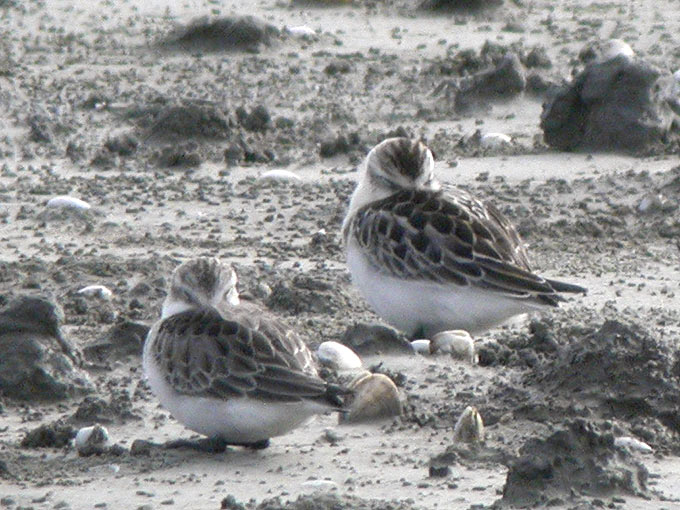 Spoon-billed Sandpiper Eurynorhynchus pygmeus & Red-necked StintCalidris ruficollis, Photo © Nial Moores
Bird News from Nial Moores & Ju Yong-Ki (selected highlights)
Geum Estuary and Saemangeum (Mangyeung), September 8
Highlights included 10 Nordmann's Greenshank at the Mangyeung and one at Shellfish Harbour (Geum), two Whiskered Tern, and also at Shellfish 22 Saunders's Gull (including one juvenile), a Black-faced Spoonbill and 48 Chinese Egret.
Bird News from Nial Moores & Ju Yong-Ki (selected highlights)
Yubu Island, September 7
More than 15,000 shorebirds counted in much better conditions (despite the rain), with highlights four Spoon-billed Sandpiper and an Oriental Plover, though only one Nordmann's Greenshank.
Bird News from Nial Moores & Ju Yong-Ki (selected highlights)
Yubu Island and Mangyeung, September 6
With still low tides a rather poor count at Yubu, with best two Nordmann's Greenshank. At the Mangyeung, an unexpected find was an Asiatic Dowitcher.
Bird News from Nial Moores Ju Yong-Ki & Jason Loghry (selected highlights)
Saemangeum, September 5
Over 10,000 shorebirds on an island offshore from Haje (Mangyeung) included another Spoon-billed Sandpiper and four Nordmann's Greenshank, while even less expected were two Sooty Tern heard and seen at very close range.
Nordmann's Greenshank Tringa guttifer, Photo © Nial Moores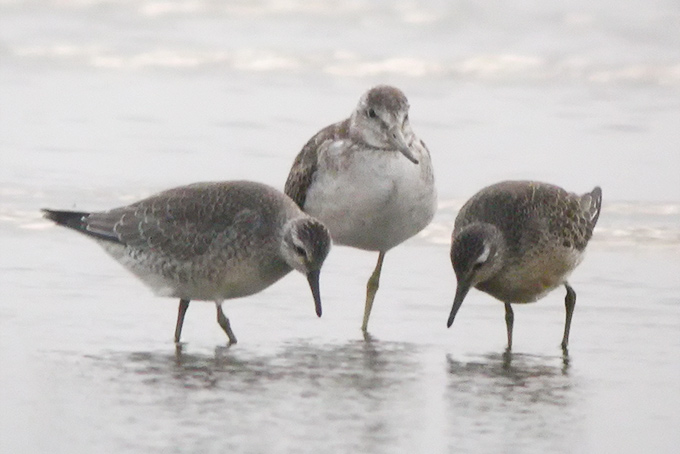 Nordmann's Greenshank Tringa guttifer (center - rear) Red Knot Calidris canutus (left & right - front), Photo © Nial Moores
Bird News from Nial Moores Ju Yong-Ki & Jason Loghry (selected highlights)
Saemangeum, September 4
Even though it is now four years since the Saemangeum seawall closed, research for The Blueprint found some good shorebird habitat remains in the very outer part of the estuary, where there is still some tidal movement. Outstanding highlight was finding three Spoon-billed Sandpiper with a Pacific Loon also very unexpected.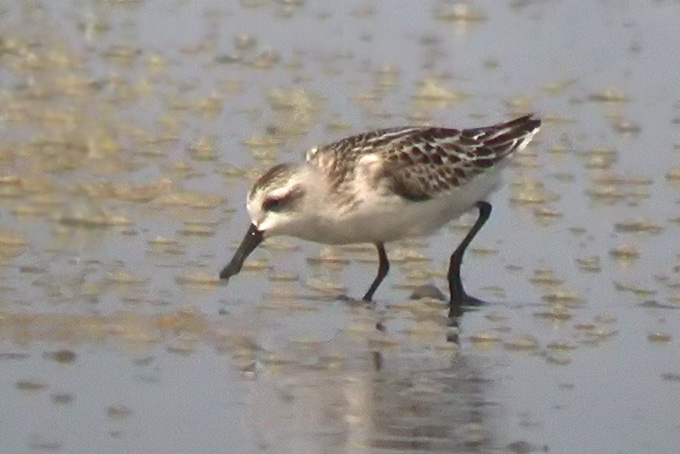 Spoon-billed Sandpiper Eurynorhynchus pygmeus, Photo © Nial Moores
Bird News from Mathew Poll, Stephen Krohn, and Young Ho Kim
Northeast Coast, Jeju island, September 4
In a mixed forest, two White's Thrush were seen, and several Varied Tits were heard. On the coastal road, seven Pacific Reef Heron were seen, one of which was a juvenile that was mottled with rusty-brown, while a scruffy Eurasian Magpie with a very greenish tail was also seen nearby. Large numbers (200+) of Black-tailed Gull were seen grouped on the coast. One of them initially confused us, due to its seemingly smaller size, and thick dark neck ring. Near Sehwa, a small group of Carrion Crows, a Western Osprey, a juvenile Ruddy Turnstone, a dozen Grey-tailed Tattler, three Whimbrels, two dozen Red-necked Stint, a Sanderling, and several Common Sandpiper were present. At Hado, it was pretty quiet, with a dozen Spot-billed Ducks, a half-dozen Temminck's Cormorant, and handfuls of Grey Heron, and Little, Intermediate, and Great Egrets. At Seongsan, an Oriental Reed Warbler and a Cattle Egret were notable. At a beach near Seongsan, about a dozen Kentish Plovers and two Mongolian Plovers were seen, while Barn Swallows were still plentiful at all locations.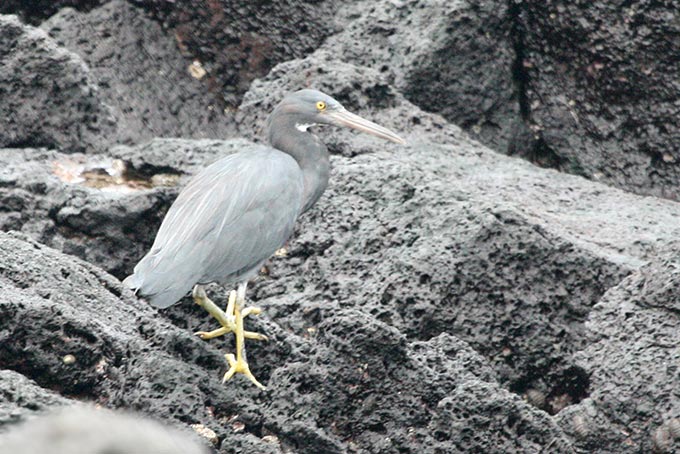 Adult Pacific Reef Heron Egretta sacra, Photo © Mathew Poll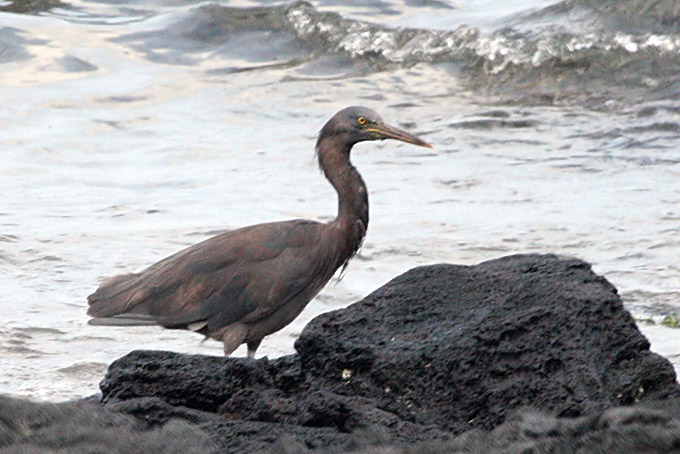 Juvenile Pacific Reef Heron Egretta sacra, Photo © Mathew Poll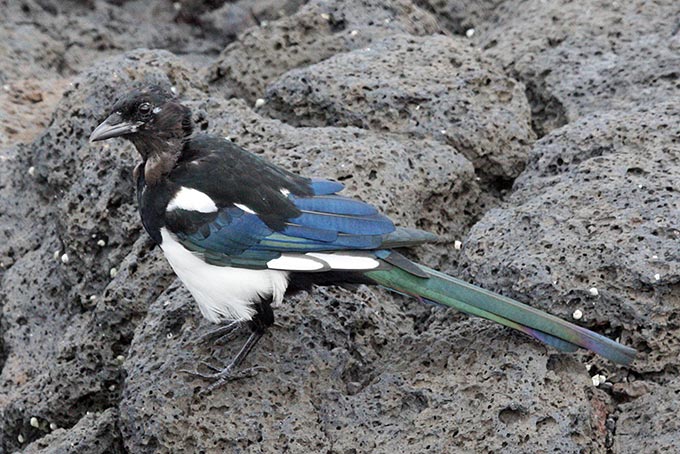 Eurasian Magpie Pica pica, Photo © Mathew Poll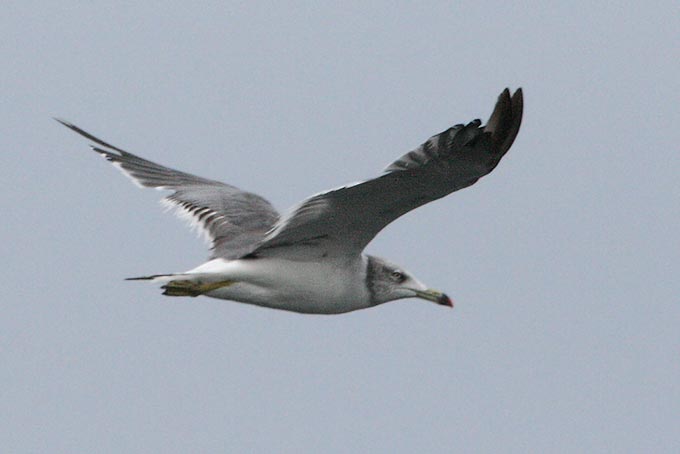 Black-tailed Gull Larus crassirostris, Photo © Mathew Poll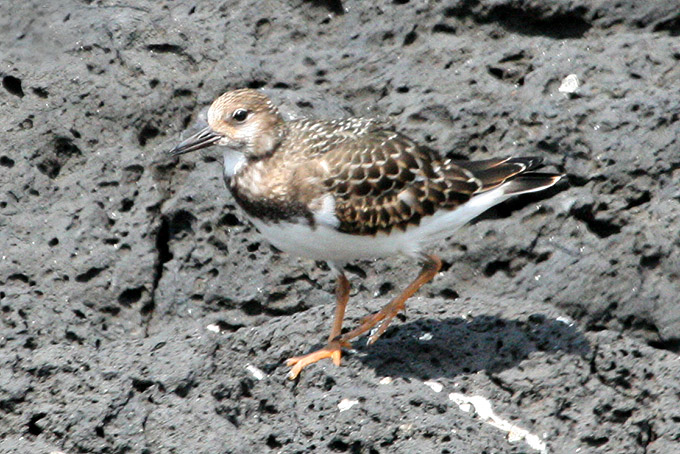 Ruddy Turnstone Arenaria interpres, Photo © Mathew Poll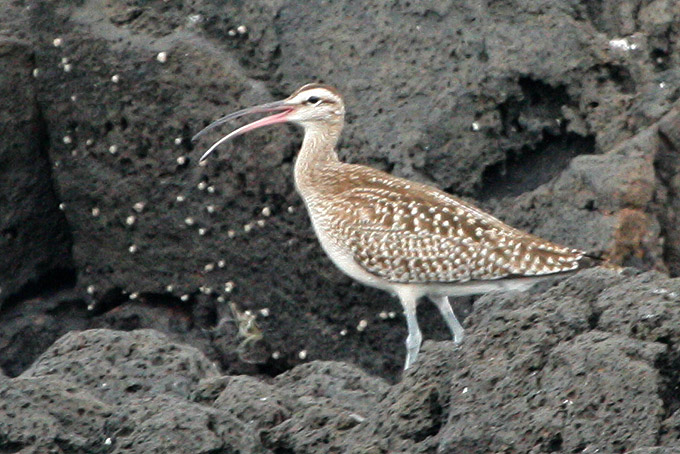 Whimbrel Numenius minutus, Photo © Mathew Poll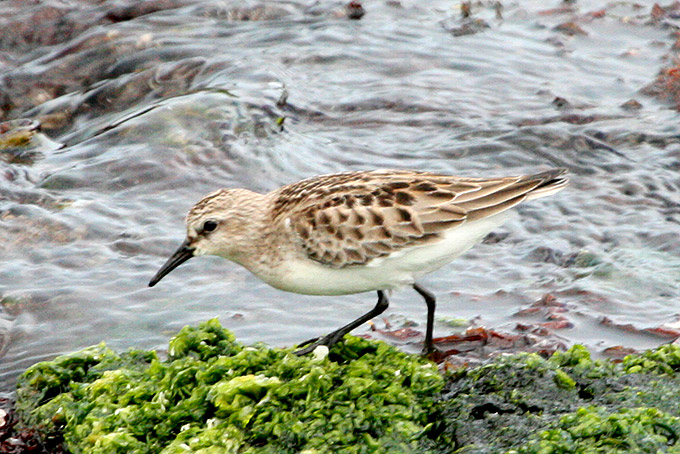 Red-necked Stint Calidris ruficollis, Photo © Mathew Poll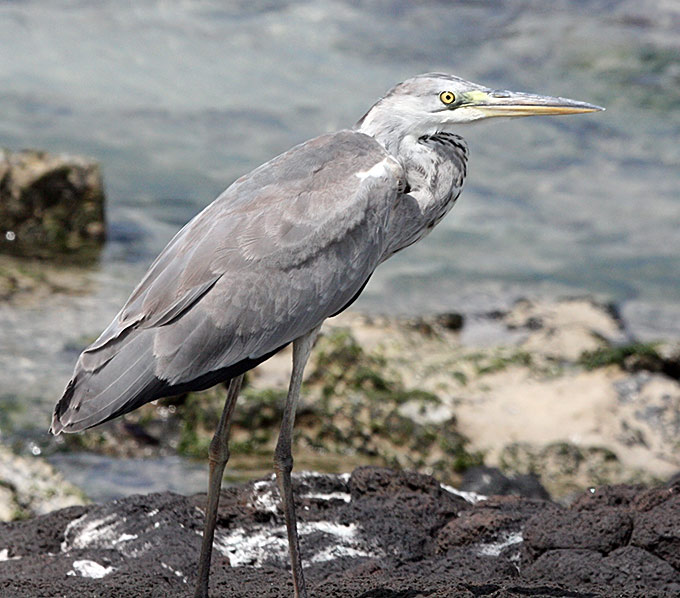 Grey Heron Ardea cinerea, Photo © Mathew Poll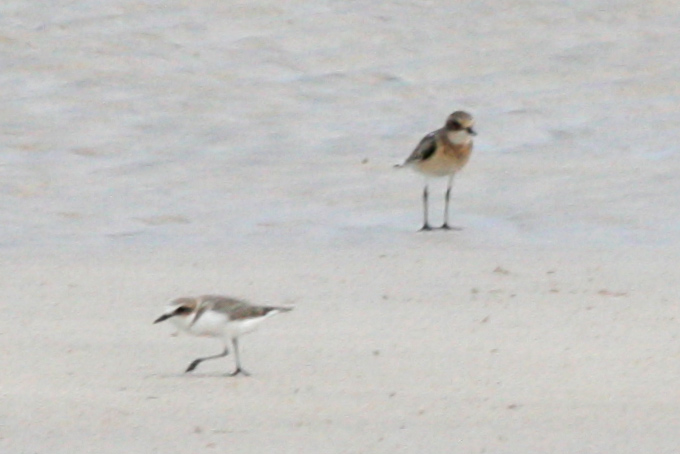 Kentish Plover Charadrius alexandrinus (front) and Mongolian Plover Charadrius mongolus (rear), Photo © Mathew Poll