Birds Korea's Bird News September 2008
September
Temperatures begin to cool, especially towards the end of the month, with maxima often falling from 28°C to 20°C. Sunny, dry weather predominates, though often punctuated by occasional heavy rain and very strong winds associated with typhoons.
September sees migration pick up considerably, with a build-up of ducks including the first returning flocks of Baikal Teal by mid-month especially. Seabirds still provide much interest (with increasing numbers of jaegers and dark shearwaters), while shorebirds and Yellow Sea "specials" remain widespread and numerous: highlights have included the world's largest concentration of Spoon-billed Sandpipers (with a peak at Saemangeum of 200 in the late 1990s, likely 10% of the total world population), Nordmann's Greenshank, and up to 170 Black-faced Spoonbill at Ganghwa.
Whiskered and White-winged Black Terns, although scarce in South Korea, become rather more widespread with small flocks of the latter at Seosan especially, along with an increasing number of Mongolian Gull. Raptor migration includes large concentrations of Chinese Sparrowhawk making their way towards Japan (where over 50 000 have been recorded in one day on an island in the Korean Straits only 40 km south of Busan!), along with smaller flocks of Grey-faced and Crested Honey Buzzards, and very small numbers of Pied Harrier and Amur Falcon especially through the west and northwest.
Passerines become rather more numerous and diverse, with Thick-billed Warbler and Brown Shrike early in the month, good numbers of Yellow Wagtail (including the highly attractive taivana), Pechora Pipit, and the three species of "grey-brown flycatchers" by mid-month (some Dark-sided and Brown still, with a peak in Grey-streaked). Towards the very end of September, Olive-backed and Buff-bellied Pipit migration starts in earnest, and the first small flocks of buntings also arrive, with most numerous being Chestnut and Black-faced.
September highlights include both Korean records of Rose-coloured Starling (2002 and 2004), 2 Eurasian Tree Pipits on Eocheong island in 2002, and in 2003, an Ashy Drongo on Socheong Island, with 1 or 2 South Polar Skua seen at sea nearby, Korea's first Steppe Grey Shrike (2004), and the country's first Dotterel, found at Seosan in 2005.
(The following records are a compilation of our own sightings and records sent in by other observers. As well as being posted on the Birds Korea website(s), selected records are also forwarded to other Korean-language birding websites; records of threatened species are arranged and forwarded to Birdlife International and national authorities when appropriate; flag images and records are passed to bodies responsible for their coordination throughout the flyway; and all records sent to us are used to compile annual reports and to support the evolving understanding of the status of many of Korea's birds.)
Bird News from Robin Newlin
Socheong Island, September 25-28
The weather report suggested interesting conditions west of Incheon, so off I went… Viewing conditions from the ferry were poor: a very crowded deck, high waves, wind, mist and some rain. For sea specialities, only a few Streaked Shearwaters and 5 Common Terns noted.
On the island at evening, lingering showers (afterapparently a very small amount of rain) and relatively few birds in evidence; highlight was splendid (and very close) looks at a pair of Amur Falcons sitting companionably but 40 yards apart on telephone wires, as if triangulating the valley before them. A bit down the road, 3 Hobbies sat close together. Other birds included Chestnut-flanked Whiteyes (heard but not seen), a single Grey-streaked Flycatcher, and small numbers of Crested Honey Buzzard and Japanese Sparrowhawks. Window-rattling winds came in during the night, and the gale continued all day from the north and east; poor conditions for new migrants or for seeing birds already present. Birds seen and heard included Grey and White Wagtails, 20 or so Yellow-browed Warblers, a Pechora Pipit, 10 Black Kites, about a dozen Honey Buzzards (very acrobatic in the high winds), an Eurasian Sparrowhawk, an Osprey, a pair of Peregrines, a Richard's Pipit, an Eye-browed Thrush, a Common Rosefinch, and a small group of Asian House Martins. One of these appeared (on brief but good views of a very extensive white rump, very bright undersides, and relative size) to be a Northern House Martin.
The 27th dawned very calm, and despite a high-altitude wind from the Northwest (judging from the slow movement of cloud-cover) very little incoming movement. The Whiteyes finally allowed themselves to be seen: two separate flocks of about a dozen each roved vociferously around "North Point Path" and "Amur Falcon Valley." Also in were a few Red-rumped Swallows, a Red-throated Flycatcher (heard only) 2 more Common Rosefinch, a Kestrel, a distant flock of apparent Siskins, a (on call only) Blyth's Pipit and the season's first Red-flanked Bluetail. One Pallas' Warbler called from among the Yellow-brows; other warblers included Korean Bush, a scolding Dusky and Arctic Warblers. One Black-faced Bunting represented the Emberizidae.
The morning hour or so before the boat of the 28th added two Olive-backed Pipits and the sense (it always seems to happen that way) that more migrants (Wagtails, Siskins, Thrushes) were coming in. From the ferry, again very few birds: about 50 Streaked Shearwaters and one distant juvenile type Jaeger which appeared to be a Pomarine.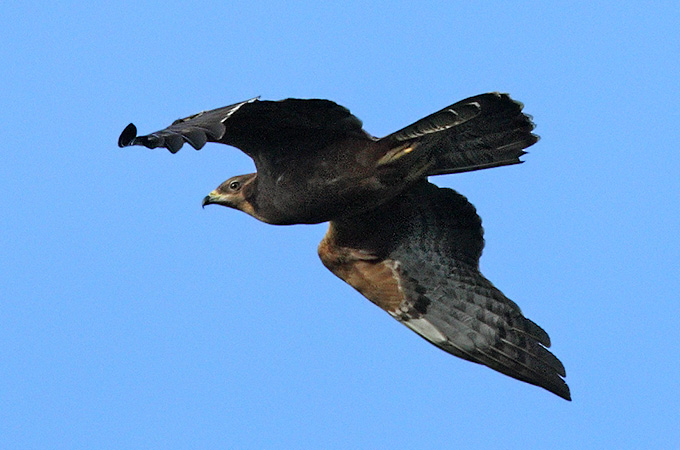 Crested Honey Buzzard Pernis ptilorhyncus, Photo © Robin Newlin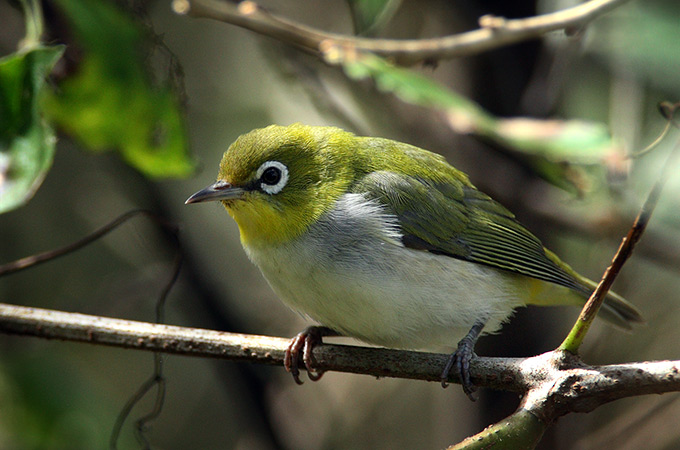 Chestnut-flanked White-eye Zosterops erythropleurus, Photo © Robin Newlin
Bird News from Tim Edelsten & Shim, Kyu-Sik
Seungbong Island, September 28
Cool, clear and decidedly quiet birdwise on the island, with the only obvious migrants being c.50 leucopsis White Wagtail, c.12 Black-faced Bunting, perhaps 20 Siberian Stonechat, a Yellow Wagtail and 2 Red-throated Pipit out of a very modest day total of only 27 species.
Most interesting was a medium-sized Crake glimpsed dashing across the road into ricefields, thought most likely a Watercock. Otherwise notable, 2 Chinese Egret and commoners such as 3 Grey Wagtail, 8 Cattle Egret, a Hobby and several Temminck's Cormorant on the rocks.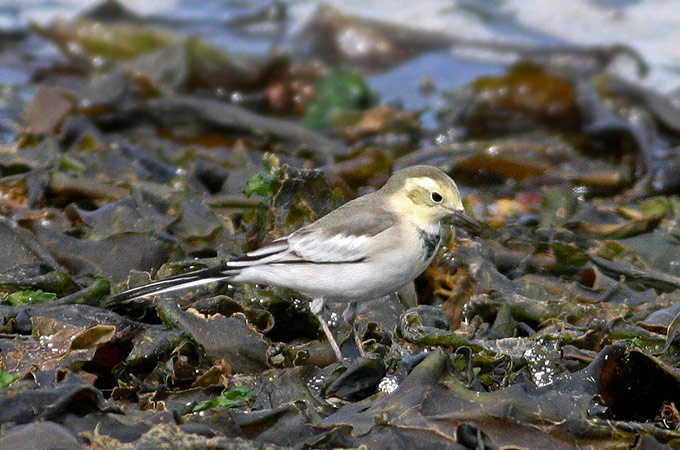 White Wagtail Motacilla alba leucopsis, Photo © Tim Edelsten
Eastern Yellow Wagtail Motacilla tschutschensis, Photo © Tim Edelsten
Bird News from Tim Edelsten
Uiwang, September 27
After an abrupt change to very cool weather, autumn returnees today included 4 Black-faced Bunting, a Siberian Stonechat, 2 Bull-headed Shrike and 2 Green Sandpiper. Most intriguing was a split-second glimpse of a presumed Ruddy-breasted Crake, flushed at extremely close range whilst feeding on the bank- which promptly plunged into, and swam underwater for 2-3 yards, before being lost in the refuge of reeds: some online resources indicate porzana crakes as being "expert swimmers and divers".
Otherwise more typical birds present, such as a Common Moorhen, Yellow-browed Warbler, Common Snipe, with Mallards & Spot-billed Ducks feeding in newly-harvested fields.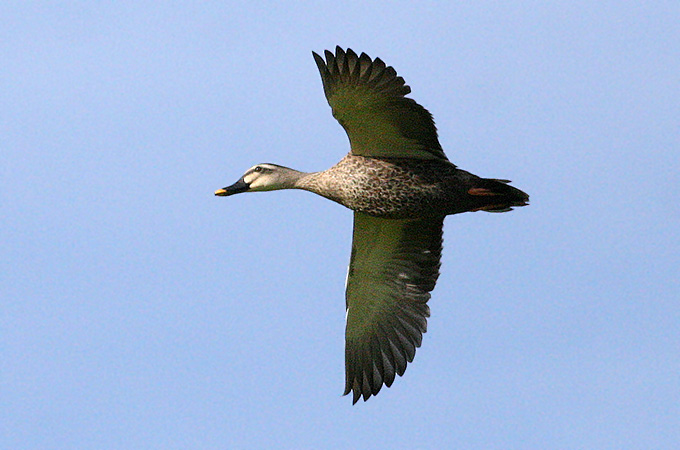 Eastern Spot-billed Duck Anas zonorhyncha, Photo © Tim Edelsten
Bird News from Tim Edelsten & Shim, Kyu-Sik
Songdo, September 21
A day of several autumn firsts: at the golf course, 3 Asian Brown, 2 Yellow -rumped, 1 Mugimaki and 1 Dark-sided Flycatcher: also 4 Yellow-browed, 3 Arctic, and 1 Eastern-crowned Warbler.
At the brackish area, an outstanding windfall of 24 Richard's Pipit in small loose flocks, and new in perhaps 50 Pintail, the season's first Common Shelduck: still 9 Yellow Wagtail, a good scattering of Common Snipe, and 3 Black-faced Spoonbill - 2 of which gave curious aggressive calls amounting to a low, rippling, emphatic "ppppprrrrp" when chasing at the 3rd individual: these two also engaged in some mutual preening.
Most dramatically, the resident juvenile Peregrine terrorised the assembled flock of 2-300 Black-tailed Godwit for perhaps 15 minutes before finally striking one down: however it clumsilly dropped its prey in the water several times, then making numerous failed attempts to pluck it from the water. Ultimately it gave up and exited carrying only a small chunk of the unfortunate victim.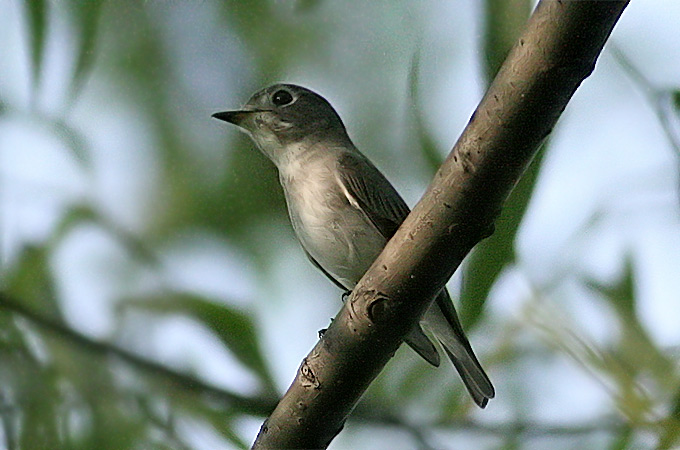 Asian Brown Flycatcher Muscicapa dauurica, Photo © Tim Edelsten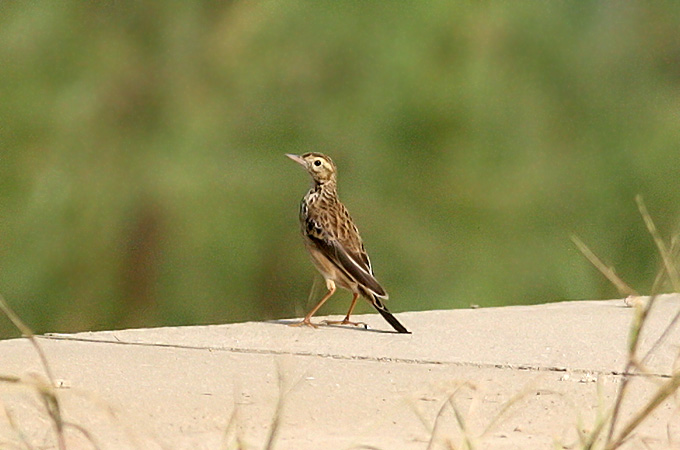 Richard's Pipit Anthus richardi, Photo © Tim Edelsten
Common Snipe Gallinago gallinago, Photo © Tim Edelsten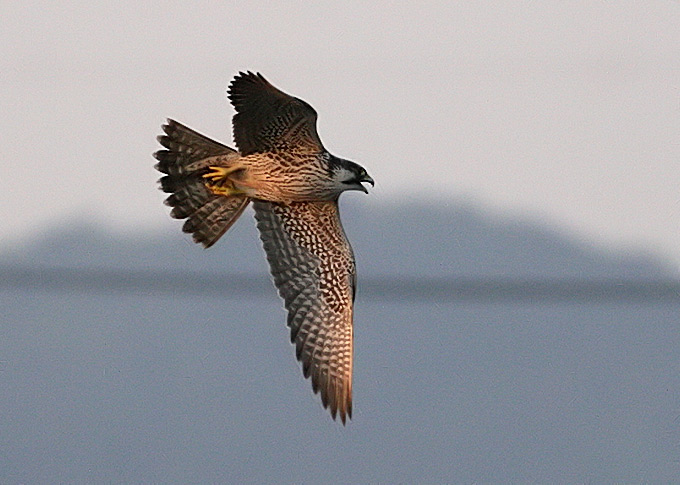 Peregrine Falcon Falco peregrinus, Photo © Tim Edelsten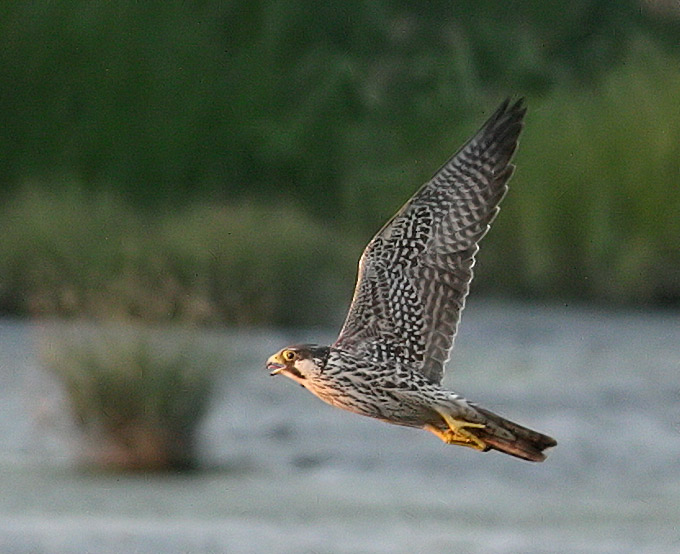 Peregrine Falcon Falco peregrinus, Photo © Tim Edelsten
Peregrine Falcon Falco peregrinus, Photo © Tim Edelsten
Bird News from Tim Edelsten, Shim,Kyu-Sik & Robin Newlin
Hwaseong, September 20
Walking through heavy downpour, we located a Long-billed Dowitcher in a coastal freshwater pool. This individual has been on-site since Sept. 15th, and much photographed, although the possibility remains that it may be a Short-billed Dowitcher.
The bird gave good views as it fed with rapid forward probing bursts of its long bill, occasionally jumping up in the air and wing-stretching.
Sharing the same pond and associating closely, were 2 Black-winged Stilt, 2 Broad-billed Sandpiper, 2 Pacific Golden Plover, a Marsh Sandpiper, several Wood sandpiper, Spotted Redshank, 1 Temminck's Stint, Common Greenshank and 4 Red-necked Stint. Common Snipe were plentiful at this pool and in surrounding fields.
Also present was a very actively-feeding Stint, with bright V-pattern down mantle, which appeared obviously smaller when beside a Red-necked: a possible Little Stint?
Bird News from Brian Beers and Nial Moores
Song Do "Dryland", September 18
In a few hours in the morning Varied Tit, Pygmy Woodpecker, 2 Yellow-browed Warbler and a single White's Thrush up near the War Monument, and 1 Pechora and 2 Richard's Pipits, single Mugimaki and Asian Brown, and probably 2 each of Dark-sided and Blue-and-White Flycatchers were the pick of migrants on the golf-course/aerodrome.
Bird News from Nial Moores and Brian Beers
Seosan Reclamation Area, September 18th
In continuing extremely hot weather (with a high of 34C or more), almost no birds at all in woodland in Gunsan beyond a White-backed Woodpecker and 1 or 2 Asian Stubtail. At Seosan, a range of interesting birds, including 500+ Baikal Teal, 3+ Garganey, several overflying Pechora Pipit and rather more Eastern Yellow Wagtail, a Chinese Grey Shrike, a single serrirostris Tundra Bean Goose, Long-toed Stint, Ruff and Pintail Snipe, and what appeared to be a Stilt Sandpiper. Seen only at long range in good light, this shorebird was seen to walk one or two paces, and then to stand in water almost up to its belly for 2 or 3 minutes, before being flushed by a low-flying plane, along with hundreds of other birds. Most striking when standing was its long, slightly drooping thin all-dark bill, combined with a dark grey and white plumage, including dark pectoral patches (apart from the length of the bill, and its fairly slender look, all very reminiscent of autumn Great Knot), but with unmarked flanks, a strikingly white super and a paler coverts panel. While the legs appeared long and greenish, the only size comparison was with a juvenile Marsh Sandpiper, at which time this bird looked more solid, and far more contrasting and patchy. Sadly, while some assorted Black-tailed Godwit, Red-necked Stint, Marsh Sandpiper and Common Greenshank came back after the plane left, the mystery shorebird did not...The last highlight came in the evening: two duetting Eagle Owl, with one watched briefly through the scope, silhouetted against the evening sky.
Bird News from Nial Moores, Brian Beers, Kim Sona and Martin Sutherland
Geum Estuary/Yubu, September 17
In very hot conditions, with a very high Spring Tide, a few hours on Yubu. Obvious highlight was Spoon-billed Sandpiper, with 8 noted (including 3 juveniles). One recent BirdLife publication suggests this species now has a world population below 250 indviduals. Also present were probably 4 Nordmann's Greenshank, and very approximately 2500 Grey Plover, 2000 Kentish Plover and 8000 Dunlin.
Bird News from Dr. Kim Shin-Hwan
Namyang Bay/Hwaseong, September 16
A non-breeding presumed Long-billed Dowitcher was present and (very!) well-photographed. Consideration of an ID article on the Surfbirds website suggests the possibility of Short-billed, but Alvaro Jaramillo, a leading American ID specialist, kindly provided the following commentary at our request:
Winter plumages are perhaps impossible, or nearly impossible to identify. At least the variation in plumages is not well known, and one is really identifying them on average traits rather than definitive traits. The best way to separate these is by call. Nevertheless, the overall dark breasted look of this bird and the generally long bill is suggestive of Long-billed Dowitcher. Furthermore there are a few alternate feathers left on the breast, right in a good spot to see spotting pattern. The two good spots I see are elongated, more like bars, rather than small spots. This also points to Long-billed Dowitcher. Given that Long-bills have more red on the underparts, that single reddish feather by the legs is also good for Long-billed. So overall, I would go for Long-billed, but you can't be 100% certain.
(AJ: September, 2008).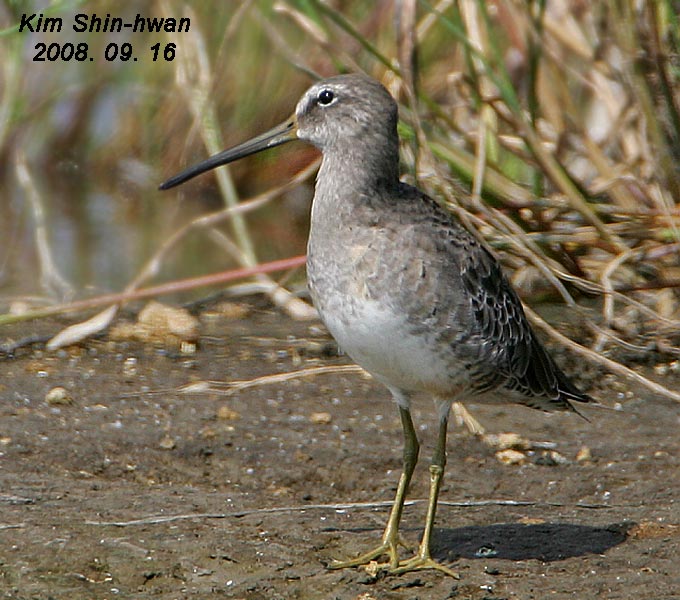 Long-billed Dowitcher Alcedo atthis, Photo © Dr. Kim Shin-Hwan
Bird News from Tim Edelsten
Songdo, September 15
Birds much the same as seen here by R. Newlin yesterday (a full selection of waders), although new in 2 Sand Martin and a Japanese Sparrowhawk: also 2 Temminck's Stint and now up to 15 Common Snipe: Common Teal and Shoveler have arrived in good numbers, also c.15 Marsh Sandpiper. On the reclaimed grassland area, up to 10 Far Eastern Lark.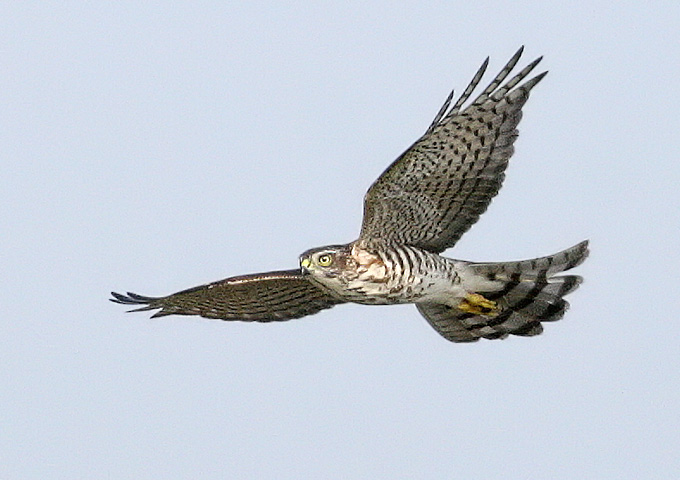 Japanese Sparrowhawk Accipiter gularis, Photo © Tim Edelsten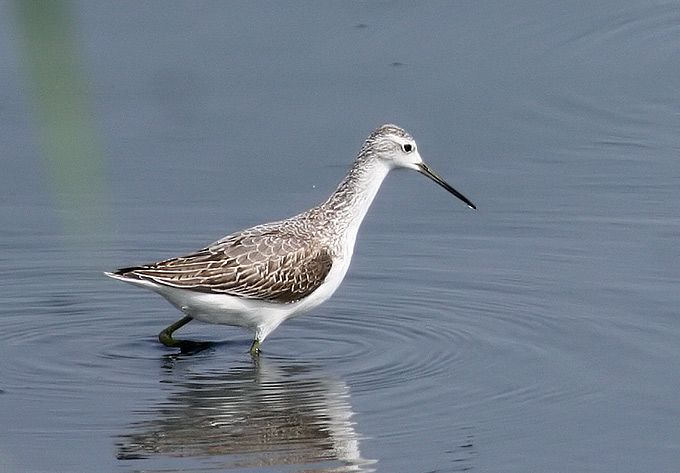 Marsh Sandpiper Tringa stagnatilis, Photo © Tim Edelsten
Bird News from Robin Newlin
Songdo, September 14
Chuseok morning and mid-day at Incheon's Songdo: some excellent shorebirds. Construction workers were on holiday, which may have contributed to the good variety of birds present; at the same time, miniature airplane enthusiasts and a persistent Peregrine Falcon drove the same birds into flight or cover. Several Yellow Wagtails flitted about.
Shorebird highlights were: several hundred Black-tailed Godwits, about a dozen Sharp-tailed Sandpipers, 1 Red-necked Stint, 2 Temminck's Stint, 5 Long-toed Stint, 2 Spotted Redshank, 6 Common Redshank, about 30 Marsh Sandpipers, 1 Terek Sandpiper, 1 Common Sandpiper, a few Wood Sandpipers and Common Greenshanks, 3 Common Snipe. Most excitement (and some frustration, esp. photography-wise) was from a distant view of 2 apparent Long-billed Dowitchers feeding next to Marsh Sandpipers and Black-tailed Godwits. Structure, size and coloration suggested 2 juveniles (the easiest to distinguish among dowitchers). After a jog around a few bends to a closer vantage point the birds were no longer in sight. Prolonged searching relocated one individual in the grassy reed area; this bird stayed partly hidden, but emerged to show (through a scope view) the very long Snipe-like bill, strong supercilium, greyish breast and lack of bright "fringing" on the mantle that would suggest a Long-bill. Unfortunately, the Pergrine appeared and attacked the nearby Godwit group, flushing everything.
Much consolation was had an hour later by the appearance of 2 Black-faced Spoonbills - maybe Songdo's star bird…
Common Redshank Tringa totanus, Photo © Robin Newlin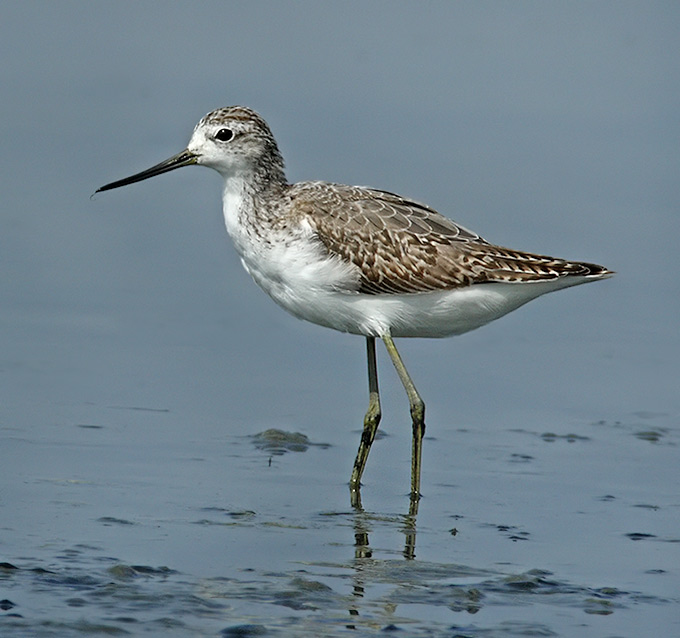 Marsh Sandpiper Tringa stagnatilis, Photo © Robin Newlin
Black-faced Spoonbill Platalea minor, Photo © Robin Newlin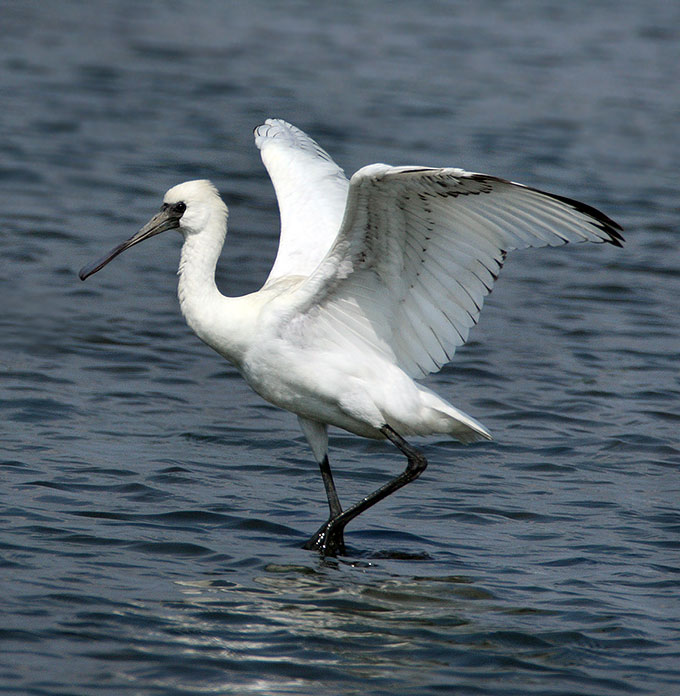 Black-faced Spoonbill Platalea minor, Photo © Robin Newlin
Bird News from Barry Heinrich
Yanggu - Yangyang - Sokcho, September 13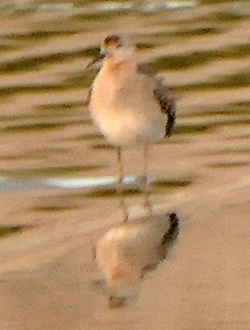 Ruff Philomachus pugnax, Photo © Barry Heinrich
Back in Yanggu I have had time to check the birds along the river here. Last weekend I saw a Ruff along the river.
Also in Yanggu there have been lots of Egrets. In particular, Cattle Egrets, Little Egrets and Eastern Great Egrets have been foraging in the freshly harversted rice fields. I saw a Little Egret catch and, with some difficulty, swallow a large Bullfrog. The Little Egrets, Eastern Great Egrets and Striated Herons were using a weir to catch small fish as well.
During the last week I have heard Oriental Scops Owl, Eurasian Eagle Owl and Northern Boobook calling at night in Yanggu.
I walked along Namdae Cheon from the coast to Yangyang today, August 13. There were some interesting birds around. Two Whimbrels, 2 Grey Plovers, 9 Dunlin, 3 Greenshanks and a Mongolian Sandplover. One Dunlin had a white flag on it's right tibia, and possibly green over white flags, but I couldn't see well enough with my old scope to tell and they were on an island in the river so I couldn't get closer. I need me new scope back. There were Black-tailed Gulls and Grey Herons on the sand bar at the river mouth.
Walking back to Yangyang I found a Zitting Cisticola, about 16 Chinese Grosbeaks, 10 Eastern Yellow Wagtails /mostly in non-breeding plumage. Grey-capped Greenfinches were feeding on seeds of Cosmos bipinnata flowers beside the road. There was also a Common Cuckoo and a Black-naped Oriole in the trees in the park by the river.
A quick survey of Cheongcho Lagoon after lunch in Sokcho turned up Great Cormorants engaged in some amusing antics. The grey colooured Little Egret seen in spring was still present at the Cheongcho Lagoon.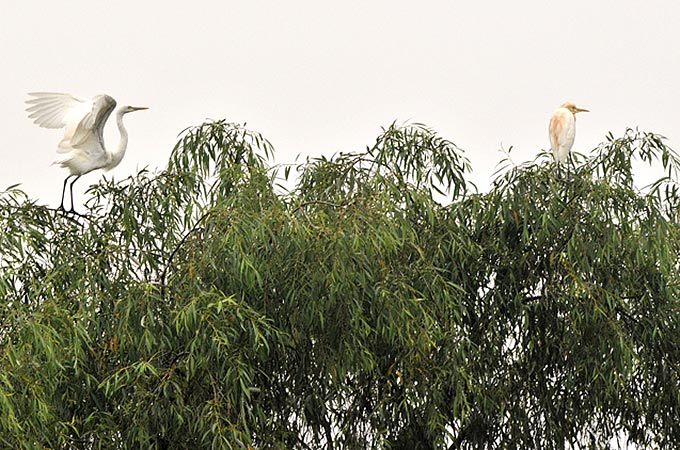 Great Egret Ardea alba and Cattle Egret Bubulcus ibis, Photo © Barry Heinrich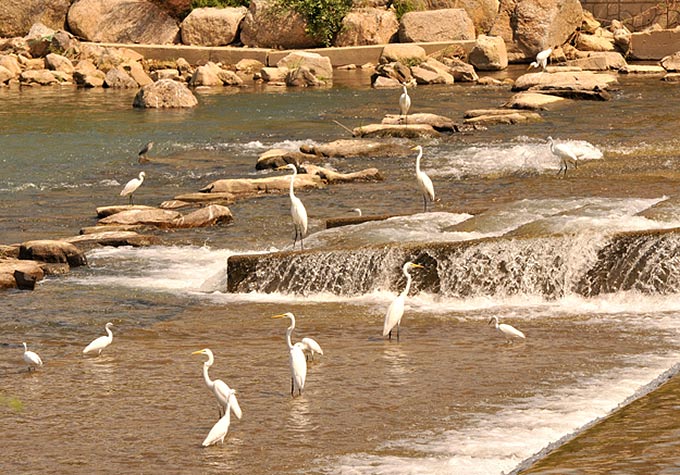 Little Egret Egretta garzetta, Great Egret Ardea alba and Striated Heron Butorides striata, Photo © Barry Heinrich
Chinese Grosbeak Eophona migratoria, Photo © Barry Heinrich
Eastern Yellow Wagtail Motacilla tschutschensis, Photo © Barry Heinrich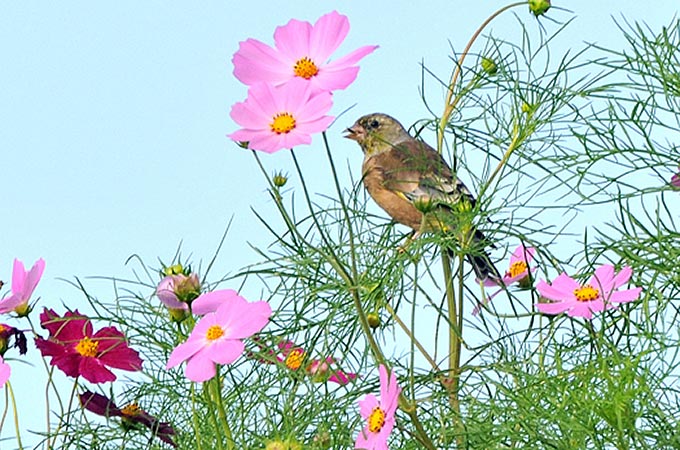 Grey-capped Greenfinch Carduelis sinica, Photo © Barry Heinrich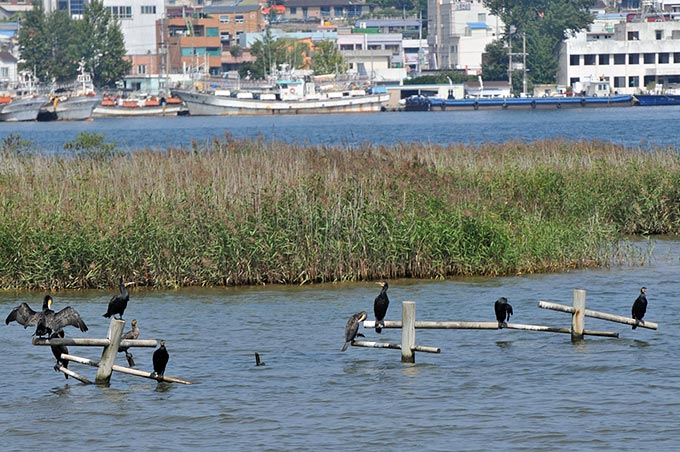 Great Cormorant Phalacrocorax carbo, Photo © Barry Heinrich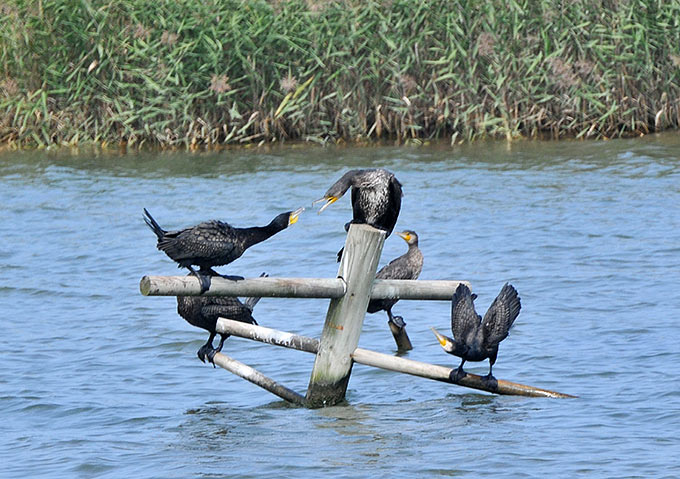 Great Cormorant Phalacrocorax carbo, Photo © Barry Heinrich
Bird news from Tim Edelsten
Shiripdae, September 13
Rather quiet in the woods except for 3 Blue-and-White Flycatchers and an Asian Stubtail. Otherwise, the usual Grey-headed, Great-Spotted & Japanese Pygmy Woodpeckers.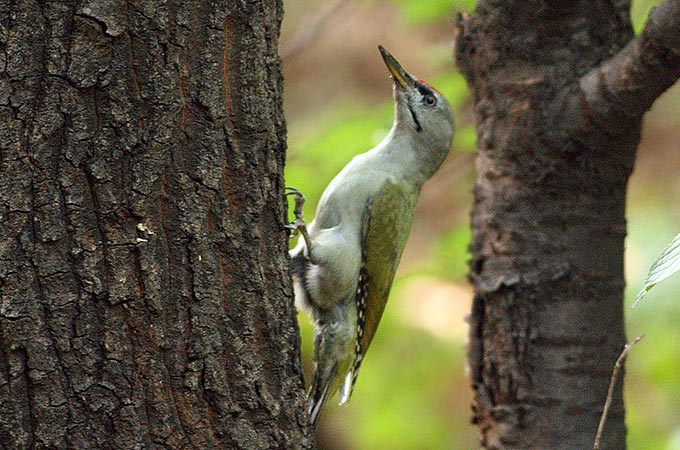 Grey-headed Woodpecker Picus canus, Photo © Tim Edelsten
Bird News from Robin Newlin
Gapyung, September 12
The town had a late-summer-quiet feel to it: 5 or 7 Black-naped Orioles chased each other out of a Chestnut tree; the first birds on the stream were a pair each of White and Japanese Wagtails.
Along a few kilometers of stream other birds noted were: a few more White and Japanese Wagtails, 1 Grey Wagtail, a female Bull-headed Shrike, a female Daurian Redstart, 1 Common Sandpiper, 6 Long-billed Plovers, 7 Striated Herons (adults and juveniles), 1 Greater Spotted Woodpecker, 1 Varied Tit, 1 Hobby and several Spot-billed Ducks.
White Wagtail Motacilla alba lugens, Photo © Robin Newlin
Japanese Wagtail Motacilla grandis, Photo © Robin Newlin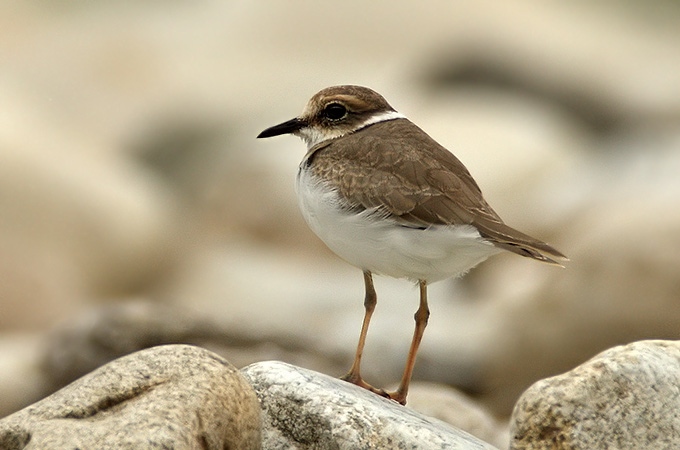 Long-billed Plover Charadrius placidus, Photo © Robin Newlin
Bird News from Robin Newlin
Songdo, September 7
A morning stop at Songdo's brackish area (the mudflats were empty, more so than the scattered fishermen would make you expect).
Smaller variety than last week: at least 700 Black-tailed Godwits were busy feeding; 3 slightly nonplussed-looking Great Knots (juveniles), a few Marsh Sandpipers and 2 or 3 Common Greenshanks amongst and around them. A Moorhen brought her chicks out. A single Black-faced Spoonbill flew over, but 33 more roosted on the lagoon.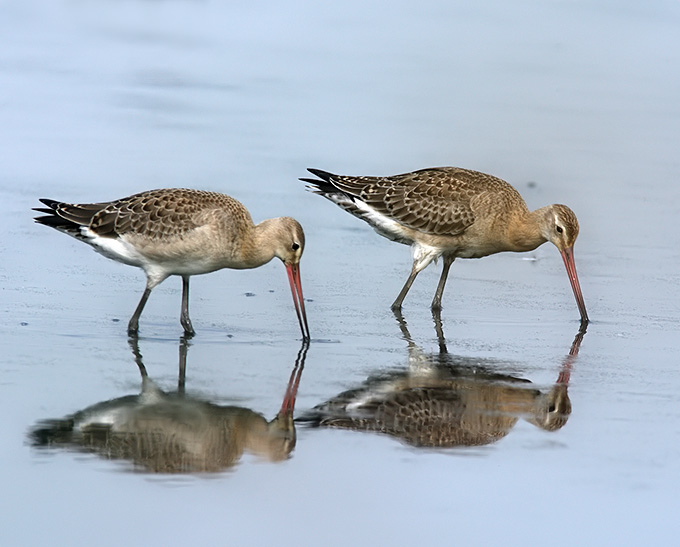 Black-tailed Godwit Limosa limosa, Photo © Robin Newlin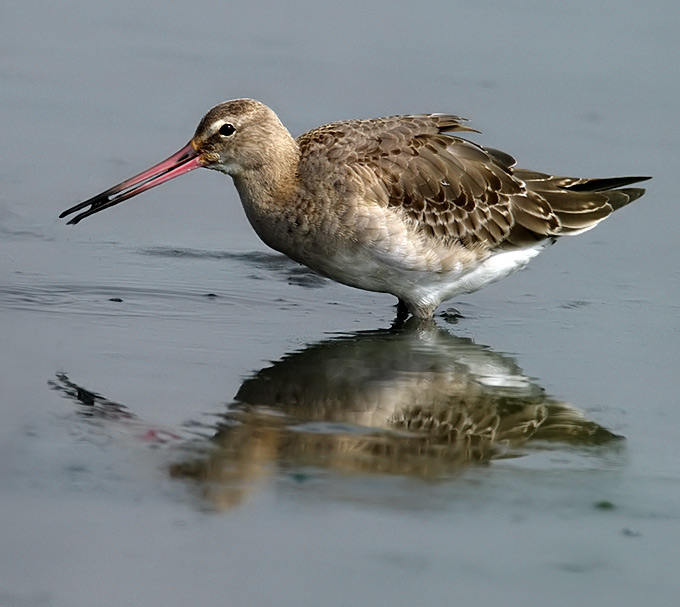 Black-tailed Godwit Limosa limosa, Photo © Robin Newlin
Bird news from Tim Edelsten
Uiwang, September 7
Somewhat surprisingly at the reservoir, a flock of 12 Yellow Wagtail: also notable, 3 Mandarin and 3 pairs of Great Crested Grebe, which have raised 4 young (3 separate broods).
Bird News from Martin Sutherland and Kim Sona
Mokpo Namhang Urban Wetland, September 2
Good numbers of shorebirds here again today the highlight being a juvenile male Ruff. A juvenile Curlew Sandpiper was also good to see. Unfortunately I was unable to get shots of either bird. Other shorebirds included 8 Pacific Golden Plover, nine Long-billed Plover, 51 Black-tailed Godwits, three Marsh Sandpipers, 202 Common Greenshank, 18 Wood sandpipers, 10 Terek Sandpipers, 12 Grey-tailed Tattlers, a Red Knot, 38 Great Knot, 40 Red-necked Stints, 11 Long-toed Stints, an adult Sharp-tailed Sandpiper and two Broad-billed Sandpipers.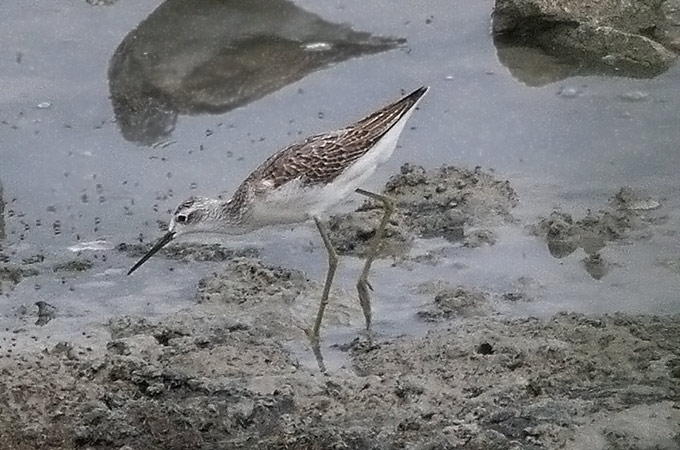 Marsh Sandpiper Tringa stagnatilis, Photo © Martin Sutherland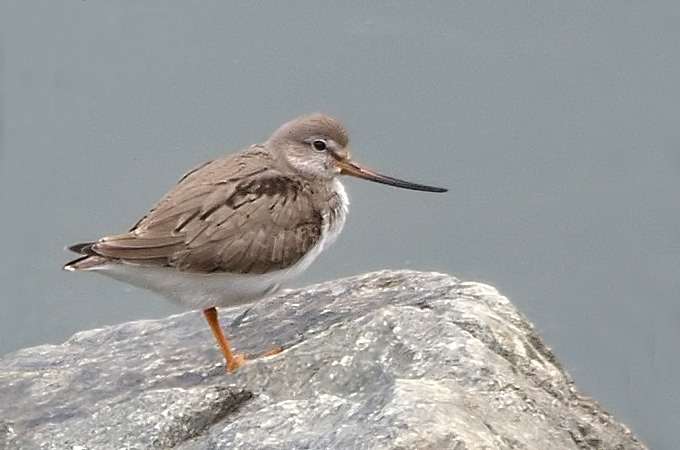 Terek Sandpiper Xenus cinereus, Photo © Martin Sutherland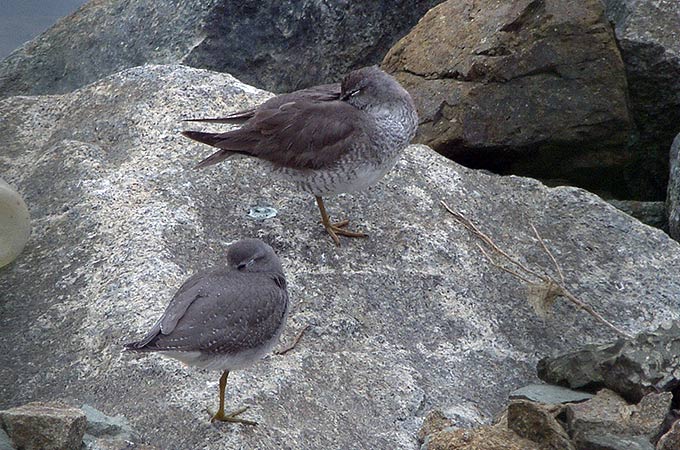 Grey-tailed Tattler Heteroscelus brevipes, Photo © Martin Sutherland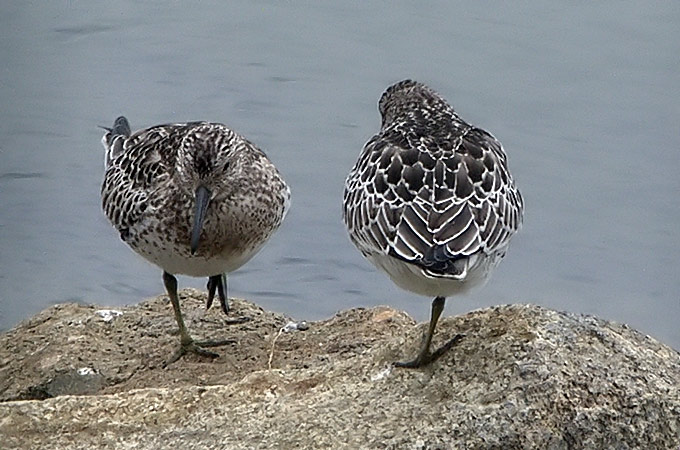 Great Knot Calidris tenuirostris, Photo © Martin Sutherland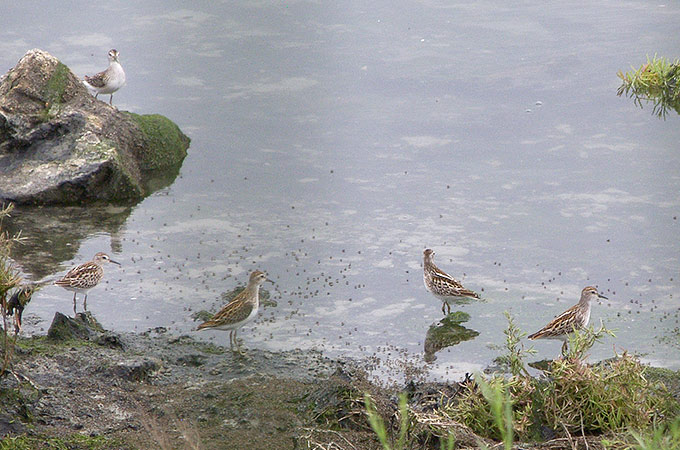 Long-toed Stint Calidris subminuta, Photo © Martin Sutherland