Birds Korea's Bird News December 2007
December
Periods of intense cold alternate with milder spells. In the coldest winters maxima are often below freezing; in milder years (such as 2001 and 2002) maxima often reach 10°C in Seoul: a few lingering autumn migrants can still sometimes be found as well as huge numbers of wintering waterbirds.
A great time for full winter bird tours or a couple of days in the right areas. Saunders's Gulls are widespread, while Relict Gulls also start to appear at a number of sites, especially in cold winters. Scaly-sided Merganser move southward onto unfrozen rivers, while numbers of Baikal Teal remain at their peak - often dispersing southward from Seosan, along with large numbers of Greater White-fronted and Thick-billed Bean Geese with the onset of subzero temperatures. Taiga Beans too can be found in the low thousands at Woopo, Joonam and in the Nakdong in the southeast, the mildest part of the mainland.
Raptors include good numbers of Cinereous Vulture (especially in recent years) and these are often joined by White-tailed and several Steller's Sea Eagles, while cranes (Red-crowned, Hooded, and White-naped), remain at key sites.
Passerines include occasionally abundant Brambling, mixed flocks of Naumann's and Dusky Thrushes and in some winters large numbers of Siberian Accentor. Species such as White's and Pale Thrush, Red-flanked Bluetail and Japanese White-eye also remain in reasonable numbers on Jeju Island and in the far southeast. Highlights in December 2002 included Korea's first Great Black-headed(or Pallas's) Gull in Seoul, Pigeon and Spectacled Guillemots off the east coast, and several Red-throated Thrushes and Chinese Nuthatches in the northwest. Highlights in 2003 included Korea's first Grass Owl - found dead on Heuksan Island.
(The following records are a compilation of our own sightings and records sent in by other observers. As well as being posted on the Birds Korea website(s), selected records are also forwarded to other Korean-language birding websites; records of threatened species are arranged and forwarded to Birdlife International and national authorities when appropriate; flag images and records are passed to bodies responsible for their coordination throughout the flyway; and all records sent to us are used to compile annual reports and to support the evolving understanding of the status of many of Korea's birds.)
Bird News from Kimura Tsutomu, Kimura Fuyumi, Shimizu Hiroshi and Nakazaki Yasuharu with Nial Moores
Jinju Area, Joonam Reservoir, and Nakdong Estuary, December 31
In cold, very windy, but largely snow-free conditions ca 120 Cinereous Vulture, with one wing-tagged bird (number 60) noted in the Jinju area. At Joonam, disappointingly few birds (in part no doubt because of a tents, loudpseakers and events set up on top of the reservoir bank to promote birdwatching: the latest of the bird festivals). At the Nakdong, also very windy and cold (about +3 C at maximum), with the highlight being at least 6 and possibly up to 8 first winter Relict Gulls, the best number seen here for several years.
Bird News from Rich Lindie and Hayley Wood
Daejeon, December 30
At a site a few kilometers below the Barrage at Sintanjin near Daejeon, 3 Scaly-sided Merganser (1 male, 2 females) and a number of Common Merganser.
Bird News from Kimura Tsutomu, Kimura Fuyumi, Shimizu Hiroshi and Nakazaki Yasuharu with Nial Moores
SE River-Geum River, December 30
At SE River still two Plumbeous Water Redstart (largely inactive and inconspicuous, perhaps due to the subzero temperature) and 4 Scaly-sided Merganser, while at the Geum River probably close to 500,000 Baikal Teal (any thoughts of counts more accurate than this were dispelled by very heavy snow that started to blanket the area), and at the estuary, 43+ Swan Goose (seen well between snow spells) and probably close to 100 Saunders's Gull.
Bird News from Rich Lindie and Hayley Wood
Seosan, December 29
A very snow blown afternoon on lake A produced little of any significance. Sightings between snow falls included Eurasian Spoonbill, Upland Buzzard feeding on a goose carcass, Goshawk, Merlin, Japanese Quail, one dead Short-eared Owl, Bull-headed Shrike and Meadow Bunting. Possible best sighting of the day was a Snow Bunting seen briefly but well just before heavy snow fall. Unfortunately no pictures were taken, so keep an eye out to possibly confirm the sighting. Also in the rice fields, two Korean Water Deer.

Eurasian Spoonbill Platalea leucorodia, Photo © Rich Lindie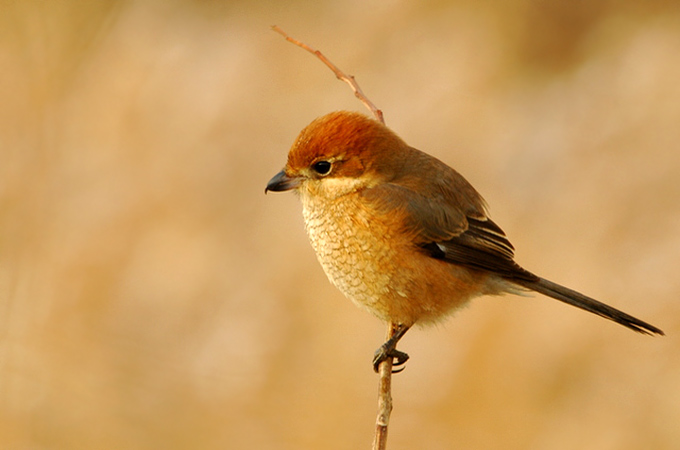 Bull-headed Shrike Lanius bucephalus, Photo © Rich Lindie
Bird News from Rich Lindie and Hayley Wood
Guryongpo, December 23
In less than perfect weather a few hours sea-watching still yielded good numbers of Ancient Murrelet, 1 Rhinoceros Auklet, Pelagic Cormorant and Glaucous Gull as well as a number of the usual species. Oriental Greenfinch were quite numerous on the day.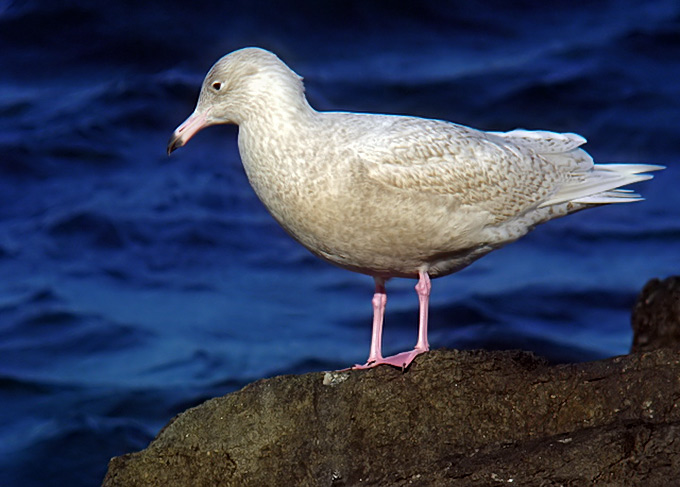 1st year Glaucous Gull Larus hyperboreus, Photo © Rich Lindie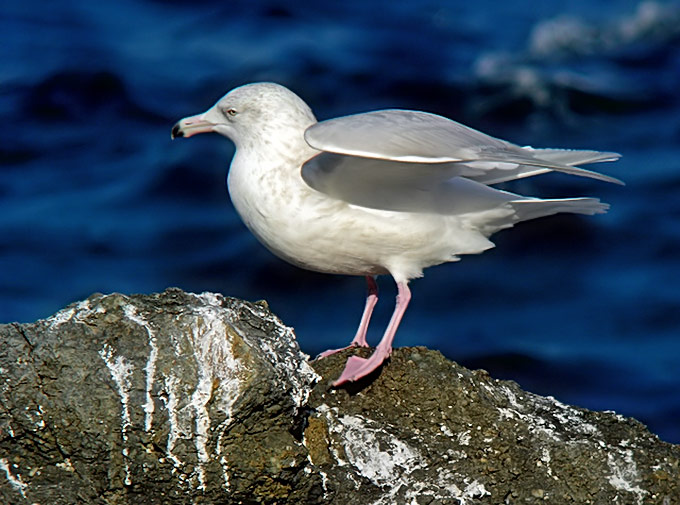 3rd winter Glaucous Gull Larus hyperboreus, Photo © Rich Lindie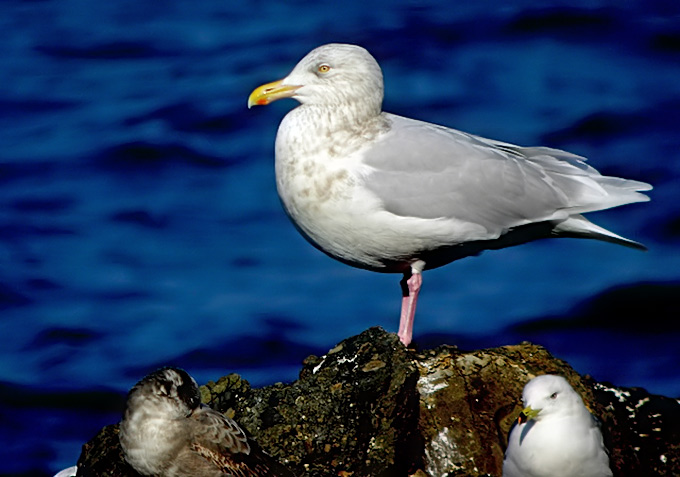 Adult Glaucous Gull Larus hyperboreus, Photo © Rich Lindie
Bird News from Peter Nebel
Gunsan area, December 22
On a short outing just north of the airport, I found a group of about 10 Long-tailed Tits, of which 2 were the caudatus subspecies.
Bird News from Rich Lindie and Hayley Wood
Joonam Wetland and Nakdong River Estuary, December 15 and 22
At Joonam, the White-tailed Eagle still harassing the flocks of White-fronted Goose and still, good numbers of Smew on the lake.
A very good mix of birds seen at the Nakdong including highlights such as Steller's Sea Eagle, White-tailed Eagle, 7 Swan Geese, Eastern Oystercatcher, 3 Relict Gull. Other birds seen include 4 Black Kite, good numbers of Common Shelduck, Falcated Teal and Red-breasted Merganser. Mammal sighting of the day went to a Siberian Weasel on the rocks by the river's edge. Japanese White-eye were the only sighting on a very wind-blown Dadaepo.
North of Busan, en route to Guryongpo, a large group of Corvids with both color phases of Daurian Jackdaw and nearby, 3 Long-billed Plover.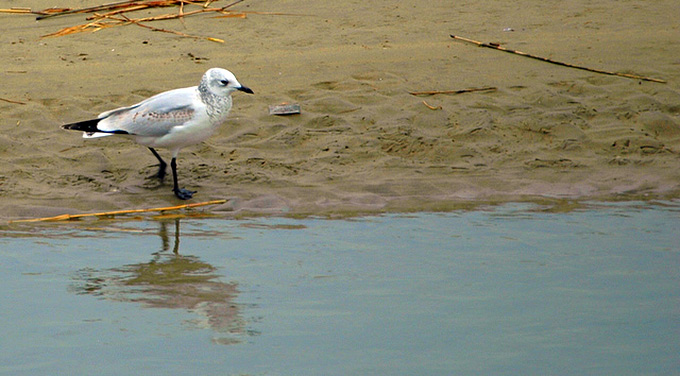 Relict Gull Larus relictus, Photo © Rich Lindie
Bird News from Barry Heinrich
Yanggu x river, lake, field and forest, December 16
I did my regular survey along the river today (December 16). There wasn't anything unexpected but I managed to take some interesting photos. In the river there were Spot-billed Ducks, Mallards, Common Teal, Common Mergansers, Little Grebes and Grey Herons. At the weirs and rocky areas I found Brown Dippers, Japanese Wagtails, Buff-bellied Pipits, Common Kingfishers, Common Sandpipers and Green Sandpipers. Along the sides of the river I saw Vinous-throated Parrotbills, Ring-necked Pheasants, a Common Buzzard and Buntings, including Rustic, Pallas' Reed, Meadow and Yellow-throated. On the dam there were more than 100 Common Mergansers, a few Little Grebes and Mallards. Over the forest near the dam I heard and then saw a Common Kestrel as it gave alarm call when a Common Buzzard and an Upland Buzzard flew over. I also saw a juvenile White-tailed Sea Eagle and a Cinereous Vulture fly across the dam and over my head. The other interesting observation was a Eurasian Saprrowhawk chasing a Feral Pigeon. The pigeon escaped. There were numerous Large-billed Crows around too. On December 14 as I was walking home at 11:30pm I heard an Eagle Owl calling. On December 15 a flock of about 100 White-fronted Geese flew over my house in typical V formation.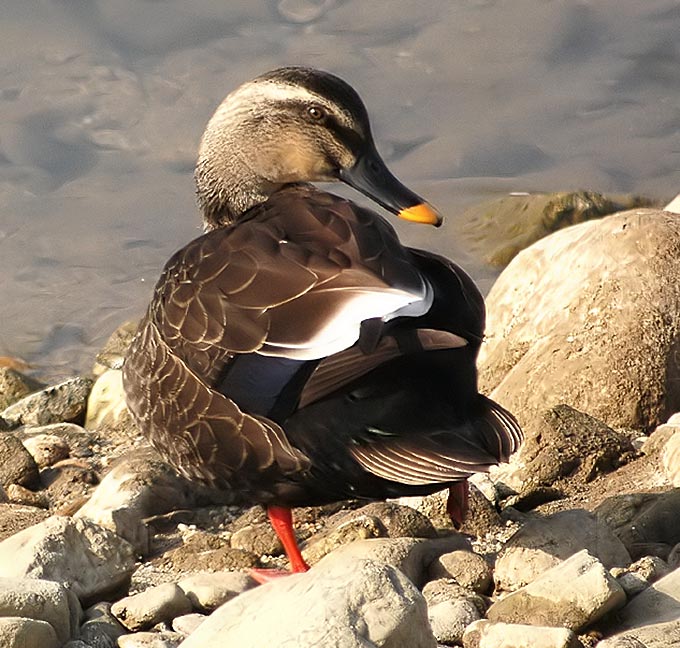 Spot-billed Duck Anas zonorhyncha, Photo © Barry Heinrich
Common Merganser Mergus merganser, Photo © Barry Heinrich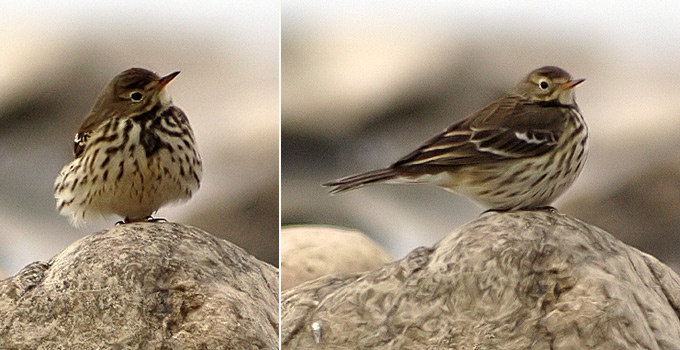 Buff-bellied Pipit Anthus rubescens, Photo © Barry Heinrich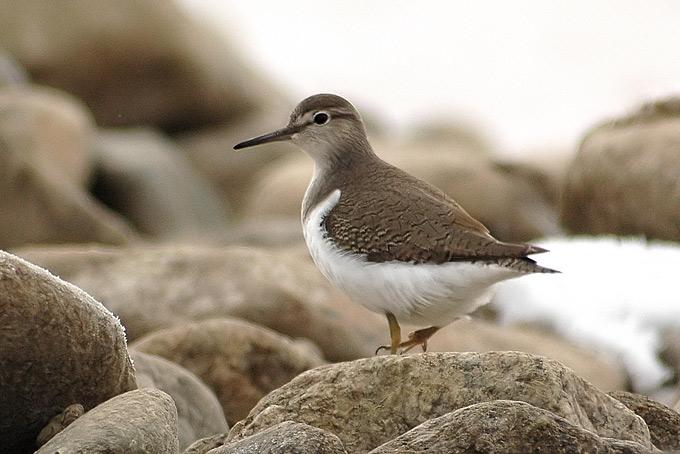 Common Sandpiper Actitis hypoleucos, Photo © Barry Heinrich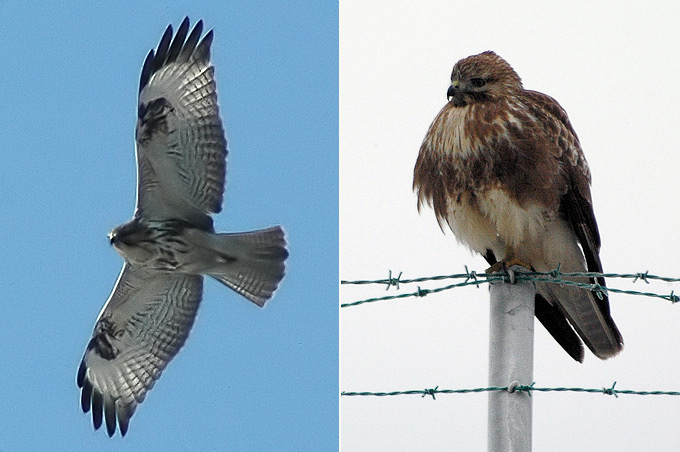 Common Buzzard Buteo buteo, Photo © Barry Heinrich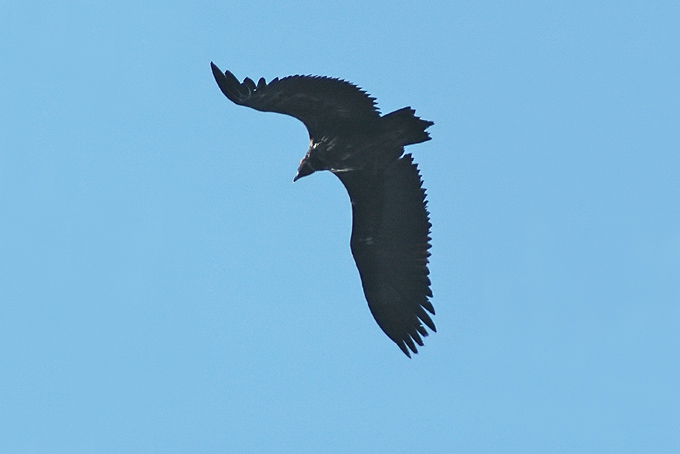 Cinereous Vulture Aegypius monachus, Photo © Barry Heinrich
News Update on Goose Research Programs: December 2007
An email (dated December 13th) from Mr. Masayuki Kurechi (son_goose2@ybb.ne.jp), one of the lead co-ordinators of goose conservation activities in the flyway, confirms that the neck-banded Greater White-fronted Goose Anser albifrons photographed by Mr. Kim Hyun-tae at Seosan on December 9th was a female banded by Dr. E. Syroechkovskii at Pekulney Lake, Vaamochuka Delta in southern Chukotka, Russia on July 24th 2005. The bird was banded as part of a joint research program between the Japanese Association for Wild Geese Protection (JAWGP) and Russian goose specialists.
It is likely that this is the first individual from this particular banding program so far reported from Korea.
The JAWGP and other goose specialists are also monitoring the recovery of Lesser Snow Goose Chen caerulescens populations in East Asia. While the species was once considered locally abundant in far north-east Asia, the overwintering population (largely confined to Japan) was all but extirpated by hunting and habitat loss. Following intensive research and initiatives (including at least in the 1990s some transfer of Snow Goose eggs into the nests of Greater White-fronted Geese), Lesser Snow Goose again now migrate regularly to Japan, though the number of birds remains small. According to Mr. Kurechi Masayuki a flock of 25 birds (containing 16 juveniles) has already been found in Japan this winter. Here in Korea, observations this winter have also been made of a group of seven Lesser Snow Goose, apparently near to the DMZ, and then of a single flock of 12 at Ganghwa Island photographed by Mr. Park Keun-Sok on November 27th (perhaps the second largest such flock ever documented, with the largest published record being of 15, also near Incheon, in February 1948), with further singles also reported at Seosan in November and December.
To track the recovery of this species in Asia, it is important to continue to gather and provide more detail on Lesser Snow Goose records from Korea. All sight reports should please include:
The observation date;

The location date (name of nearest city and where possible GPS or approximate coordinates);

The name of observer(s);

The ratio of juveniles to adults in the flock;
Further, in the case of Cackling Goose Branta hutchinsii, the JAWGP are also continuing to release Aleutian Cackling Geese at Ekaruma Island in the Kurile Islands. In 2006/2007, a total of 40 Cackling Goose wintered in Japan. In the 2007/2008 winter, to date twenty have so far been reported, including one flock of 11 birds, comprised of 4 adults and 7 juveniles.
It seems possible that some of the Aleutian Cackling Geese released in the Kurile Islands may also migrate to Korea. Again, on behalf of international recovery efforts, Birds Korea and the JAWGP would like to encourage all observers to send in all records of this species, again including dates of observation, location, names of observer and if possible, the ratio of juveniles to adults.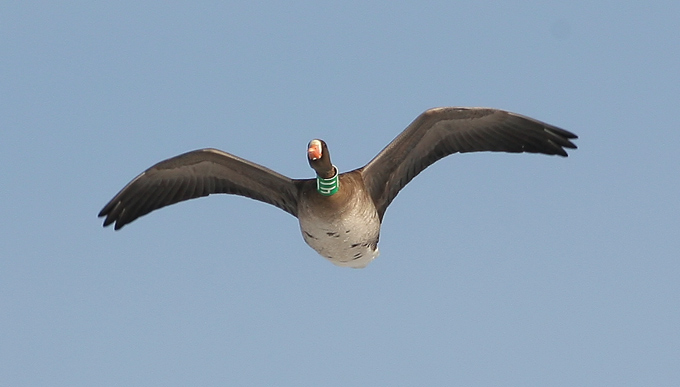 Greater White-fronted Goose Anser albifrons, Photo © Kim Hyun-Tae
Robin Newlin with Major Jin Kyu Sang and Mr. Kim Dong Hyun
Baekryungdo, December 9-11
A Boat ride out to Baekryungdo to explore the flatter-than-usual (for islands) habitat. On the ferry out (the 9th), with roughish waves, 6 divers (tentatively all Arctic) and 90+ Ancient Murrelets. Around the island, for the most part with Major Jin very kindly driving, highlights were: 1 Red-flanked Bluetail, 3 Siberian Accentors, 1 Treecreeper, 2 Long-tailed Rosefinches, small numbers of Rustic, Yellow-throated, Meadow, Little, and Pallas' Reed Buntings; 2 White-tailed Sea Eagles, 2 Upland Buzzards, 2 Black Kites, 3 Eurasian Spoonbills, Far Eastern Larks (heard), 50+ Bramblings, and several "White-headed" Long-tailed Tits.
On the 10th, mostly driving around with Mr. Kim after a fortuitous meeting at the motel (!), highlights were 4 additional Upland Buzzards and at least 10 more kites; the island seems to be a significant (and hitherto unsuspected) wintering area for this species.
Also surprising, 1 seemingly tired but actively fishing Oriental Stork. Early birds (R.N. only) were the Treecreeper again, several different Long-tailed Tits with a large flock (40+) of Coal Tits, 2 more Long-tailed Rosefinches, and 7 additional Siberian Accentors. The return ferry, over very calm seas, held smaller numbers (approx 30) of Ancient Murrelets and one exciting but frustrating encounter, as follows.
At about 9:30 am, about a half hour southeast of Socheong, from the outside 2nd floor deck, a very small (Martin-sized) alcid appeared, relatively near, flying rapidly (considerably faster than the boat!). Overall impression was that it was quite dark--black back, no obvious white except for vent area; best views, however, were from rear of the bird as it flew away past boat's prow (and soon into bright sun glare). Head was blocky, almost peaked looking. My initial (though surprised) thought that this was a Least Auklet; however, I could see no white on the back/scapulars, nor any obvious white on the nape (again, though, keeping in mind the rear/top angle). One that got away!
left: Black Kite Milvus migrans right: Siberian Accentor Prunella montanella
Photos © Robin Newlin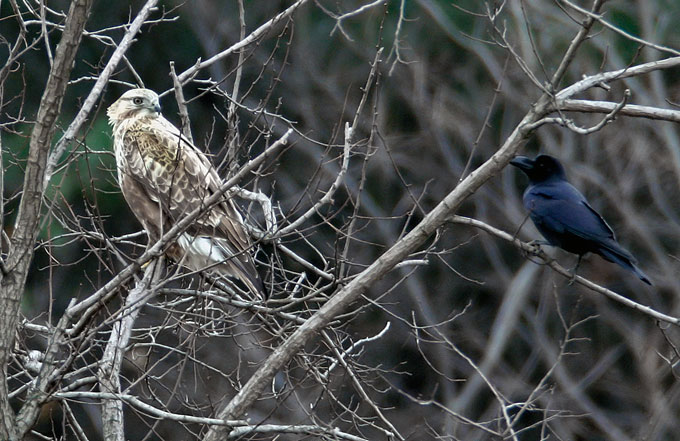 left: Upland Buzzard Buteo hemilasius, right: Large-billed Crow Corvus macrorhynchos, Photo © Robin Newlin
Oriental Stork Ciconia boyciana, Photo © Robin Newlin
Bird News from Rich Lindie and Hayley Wood
Suncheon Bay, December 9
A very quick stop found that the two Common Cranes are still present in the large flock of Hooded Crane. There are also good numbers of ducks including Ruddy Shelduck. Japanese Quail can be found in the adjacent fields as can many other wintering birds, including some very confiding Vinous-throated Parrotbills and Daurian Redstarts.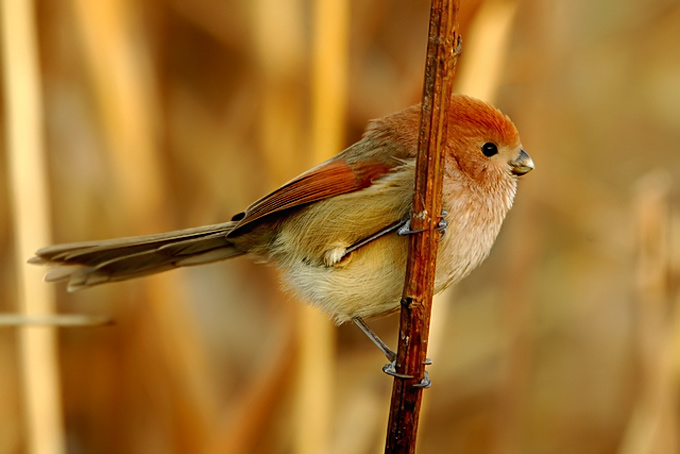 Vinous-throated Parrotbill Paradoxornis webbianus, Photo © Rich Lindie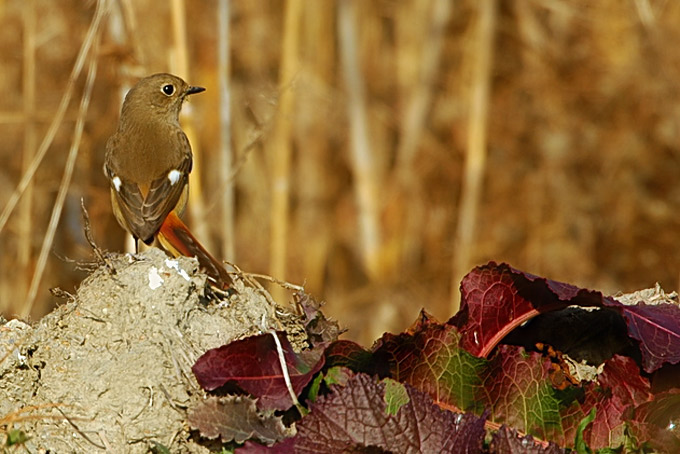 Daurian Redstart Phoenicurus auroreus, Photo © Rich Lindie
Bird News from Nial Moores with "Team US"
SE River-Joonam-Nakdong Estuary, December 8
In much better weather conditions (sunny, with a freezing dawn, and a milder afternoon), 4 Scaly-sided Merganser and a male Plumbeous Water Redstart again; 3 or 4 Cinereous Vulture from the road; a hybrid male Baer's x Ferruginous Duck at Joonam (smallish, peaked crown, heavy bill, faint greenish gloss to rear of head, dark mahogany breast and paler flanks), where also 2 White-tailed Eagle (one repeatedly flushing a flock of c 1000 Baikal Teal); and at the Nakdong Estuary, 2 Swan Goose, one White-tailed Eagle and outstanding highlights one adult Steller's Sea-Eagle and one first winter Relict Gull.
Bird News from Nial Moores with "Team US"
Guryongpo Peninsula, December 7
With strengthening winds, reaching gale-force briefly at mid-day before becoming lighter toward evening, very difficult conditions for finding seabirds. Species of note included a Black Brant, a very approachable Far Eastern Curlew, >100 Ancient Murrelet and c. 10 Rhinoceros Auklet, while outstanding highlights (NM only) included 1 or 2 Long-billed Murrelet extremely briefly in among high waves, and a Brunnich's Guillemot (3rd or 4th national record), watched for 10 seconds or so in flight through binoculars and telescope over a sheltered area of sea.
Bird News from Kim Shin-Hwan
Seosan, December 7
A party of four Cackling Goose B. hutchinsii - apparently containing three leucopareia and one other, perhaps slightly larger and paler-breasted form - either an "extreme end" male leucopareia or perhaps a B. h. taverneri (a taxon apparently nesting in northern Alaska and previously unrecorded in Korea)? Comments from experienced observers of these difficult taxa are most welcome.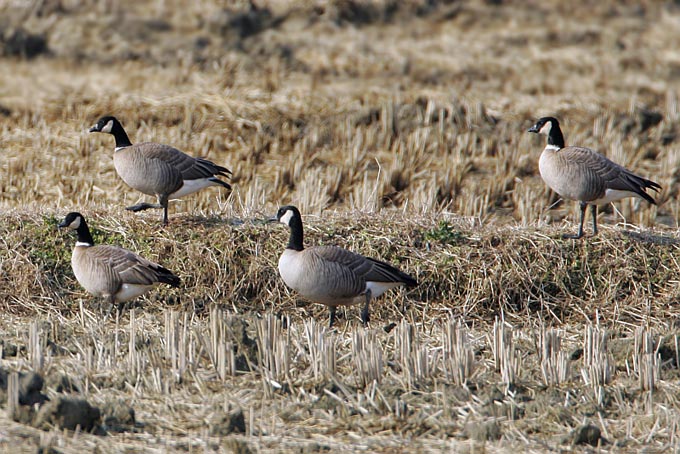 Cackling Goose Branta hutchinsii, Photo © Kim Shin-Hwan
Bird News from Mark Citsay
Bomun Lake, Gyeongju, December 5
A Greater Spotted Eagle seen in the early morning.
Bird News from Barry Heinrich
Yanggu x fields, forest and river, December 1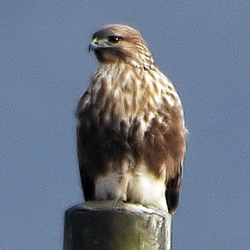 Common Buzzard Buteo buteo
Photo © Barry Heinrich
A survey of Yanggu found some interesting birds today. Nine (9) Cinereous Vultures, 2 Common Buzzards and a White-tailed Sea Eagle were the raptors. The number of waterbirds increased, particularly Common Mergansers, Mallards, Common Teal, Little Grebes, Grey Herons and Coots.
Several species of passerines were present. About 60 Far Eastern Larks, Yellow- throated, Rustic and Meadow Buntings, Long- tailed Rosefinches, Siberian Accentors and Bramblings. A Bull-headed Shrike was seen attempting to catch Vinous- throated Parrotbills.
A flock of 31 Azure-winged Magpies flew over the river from the forested mountain to the west to the hill forest in the east. Along the river I also saw Long-billed Plovers, Green Sandpipers, Common Sandpipers and Japanese Wagtails. I was able to photograph Larks, a Buzzard and Spot-billed Ducks.
Far Eastern Skylark Alauda japonica, Photo © Barry Heinrich
Spot-billed Duck Anas zonorhyncha, Photo © Barry Heinrich