Birds Korea's Bird News November 2007
November
Waves of colder air cause a sharp drop in temperature, especially from mid-month onwards, when maxima can be as low as 8-10°C: the last of the autumn migrants are joined by huge numbers of wintering waterbirds.
Numbers of Baikal Teal continue to build, along with geese (many of which move on into China). Swan Geese peak at the Han-Imjin (with 1000-1500 in recent autumns). Common Buzzards and Cinereous Vultures start to arrive for the winter, along with gulls (Saunders's, Siberian, Vega, Mongolian and Slaty-backed are all widespread), Red-crowned, White-naped and Hooded Cranes, and passerines, including Siberian Accentor. Movements of divers and alcids, most especially Ancient Murrelet, can be impressive. Passerines include many late summer visitors until the second week of the month, when winter species, such as Chinese Penduline Tit and Pallas's Reed Bunting start to predominate.
Outstanding national rarities in November have included Black-headed and Ortolan Bunting and Savannah Sparrow on Gageo Island in 2000 and 2001, Demoiselle (2001) and Siberian White Crane in the Nakdong and the Han-Imjin/DMZ (2001) respectively, Korea's first White-capped Water Redstart and Water Pipit in 2003, the country's third and fourth Verditer Flycatchers in 2004, and a Ural Owl photographed at Odaeson National Park in 2005.
(The following records are a compilation of our own sightings and records sent in by other observers. As well as being posted on the Birds Korea website(s), selected records are also forwarded to other Korean-language birding websites; records of threatened species are arranged and forwarded to Birdlife International and national authorities when appropriate; flag images and records are passed to bodies responsible for their coordination throughout the flyway; and all records sent to us are used to compile annual reports and to support the evolving understanding of the status of many of Korea's birds.)
Bird News from Andreas Kim
Area around Mokpo Agriculture Museum, November 28
The area around the Mokpo Agriculture Museum is a park like area with a Motel and a picnic/playground in the center with mixed vegetation all surrounded by rice fields. A one hour walk in the late morning sun showed several Eurasian Magpie, a group of about 30 Azure-winged Magpie, some very noisy Brown-eared Bulbul, one Hawfinch, 17 Yellow-throated Bunting, 2 Daurian Redstart, one Chinese Grosbeak, a group of about 10-15 very lively Vinous-throated Parrotbill in the under brushes as well as one Great Spotted Woodpecker, a Bull-headed Shrike and two Olive-backed Pipit. For a few minutes two Upland Buzzard circled high above the area.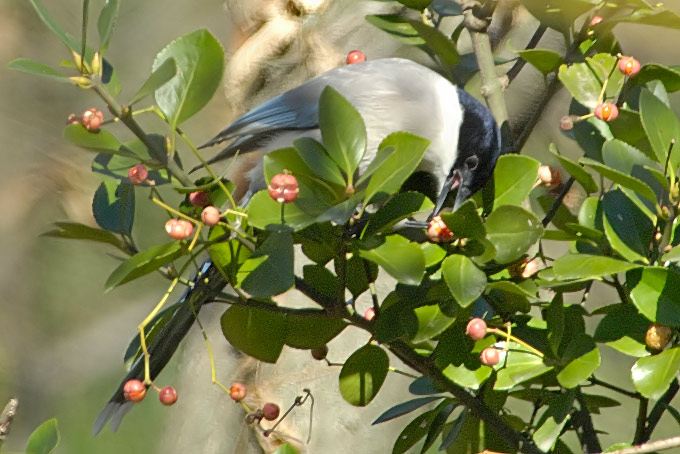 Azure-winged Magpie Cyanopica cyanus, Photo © Andreas Kim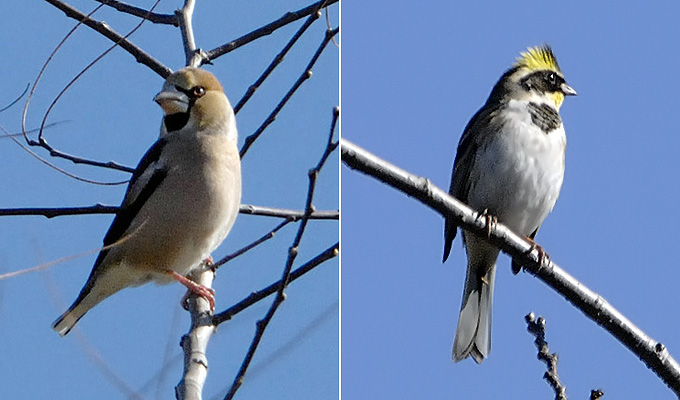 left: Hawfinch Coccothraustes coccothraustes
right: Yellow-throated Bunting Emberiza elegans
Photos © Andreas Kim
left: Chinese Grosbeak Eophona migratoria
right: Daurian Redstart Phoenicurus auroreus
Photos © Andreas Kim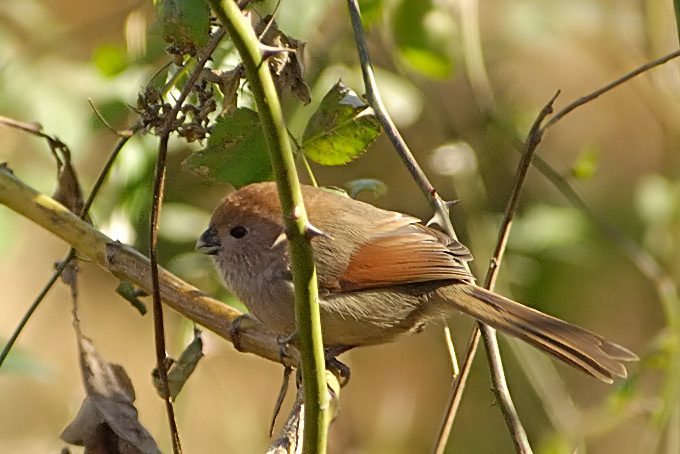 Vinous-throated Parrotbill Paradoxornis webbianus, Photo © Andreas Kim
Olive-backed Pipit Anthus hodgsoni, Photo © Andreas Kim
Bird News from Rich Lindie and Hayley Wood
Jinju, November 24
A short trip to photograph the Cinereous Vultures turned out quite successful. Of note was one individual sporting wing tag '08' as shown in the picture above.
Cinereous Vulture Aegypius monachus, Photo © Rich Lindie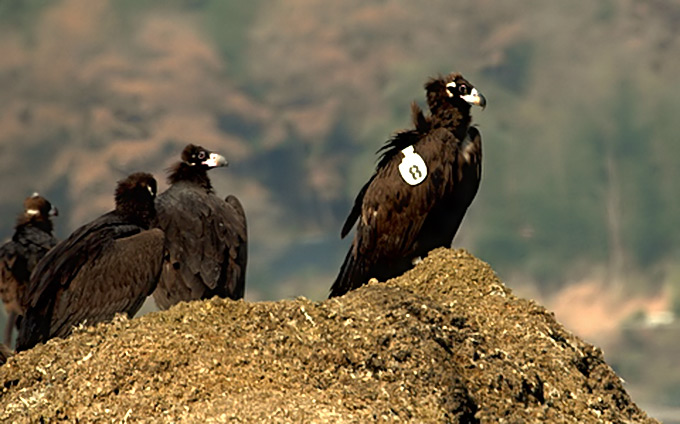 Cinereous Vulture Aegypius monachus, Photo © Rich Lindie
Bird News from Tim Edelsten
Busan, November 23
Late afternoon at Dadapo found a sizeable party of Japanese White-eye, Goldcrest, Great and Coal tits, with a Red-flanked Bluetail nearby. Towards the Nakdong rivermouth several hundred Whooper Swan and plentiful Wigeon. Well-watched at dusk was a hunting male Eastern Marsh Harrier.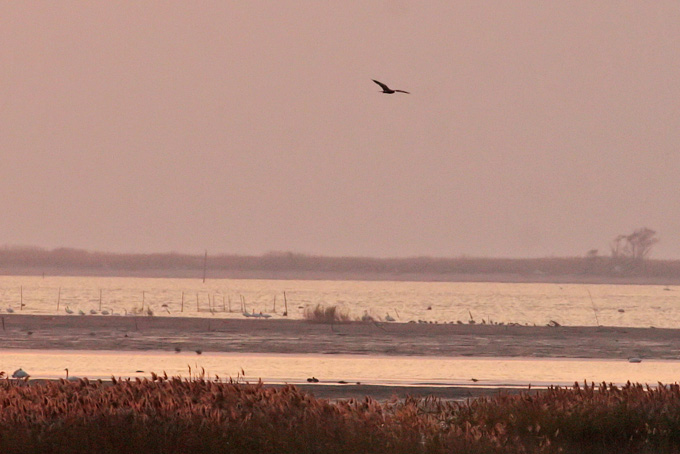 Eastern Marsh Harrier Circus spilonotus, Photo © Tim Edelsten
Bird News from Tim Edelsten
Songdo, November 20
Bright, clear and decidely cold (only 3 degrees celsius and a light snow shower yesterday). Entry to Aham-do now barred, nevertheless c. 250 Eurasian Curlew and 400 Dunlin on the mud: 70-80 Saunders's Gull contained many immatures, so I was able to speculate on their ages, (the plumages of which are apparently very poorly-known).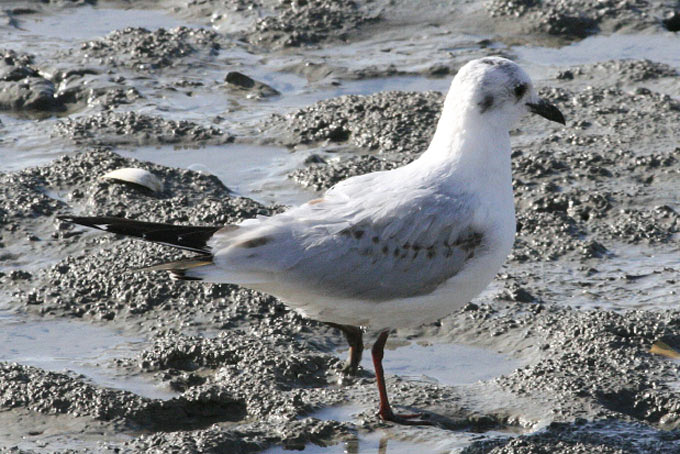 Saunders's Gull Larus saundersi, Photo © Tim Edelsten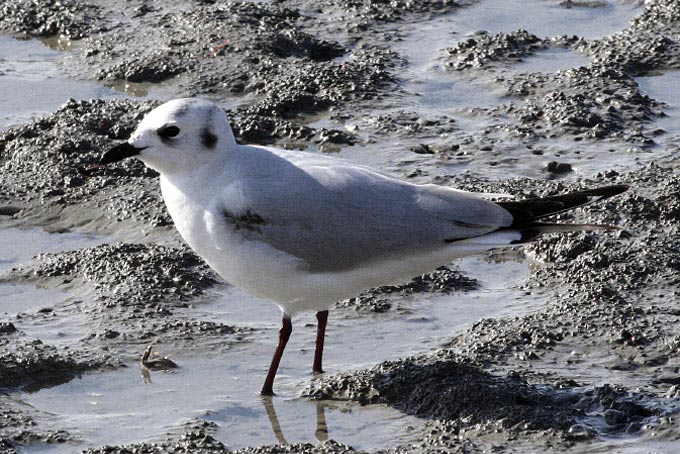 Saunders's Gull Larus saundersi, Photo © Tim Edelsten
Saunders's Gull Larus saundersi, Photo © Tim Edelsten
Most interesting were 3 large gulls:
Presumed nominate Heuglin's Gull Larus h. heuglini: clearly larger, taller and more dominant than surrounding Vega Gulls, with deep yellow legs, darkish upperparts, mostly black primaries, light speckling down the hindneck.

Possible "Yellow Sea Gull" taxa unknown. Pale yellow legs, a touch smaller with much paler ashy-grey upperparts than heuglini, and apparently clean white head.

Putative Birula Gull Larus vegae birulai. Yellow legs, definite speckled collar: smaller and neater than heuglini.
left: Heuglin's Gull Larus heuglini, right: Yellow Sea Gull, Photo © Tim Edelsten
On the Golf course, 4 immature Black-crowned Night Heron, a Winter Wren and Eurasian Treecreeper.
Bird News from Barry Heinrich
Yanggu, x river, lake and rice fields, November 18
I did my regular bird survey in Yanggu on Sunday 18 November. I left home on a cold clear morning and walked to the small river, Seocheon, that flows through Yanggu Eup. Then I followed it down stream to the north and the upper reaches of Paro Lake which is currently at full capacity.
Along the river I saw several species of ducks, including 15 Baikal Teals, 6 Pintails, Common Mergansers, Mallards, Spot-billed Ducks and Common Teals. I was able to photograph them using my new Nikon spotting scope and DSLR camera adapter. In the same area I saw Grey Herons, Common Sandpipers, Green Sandpipers, Ring-necked Pheasants, a Common Kingfisher, Rufous Turtle Doves, Japanese Wagtail and Meadow Buntings. A flock of Oriental Greenfinches came down to the river to drink.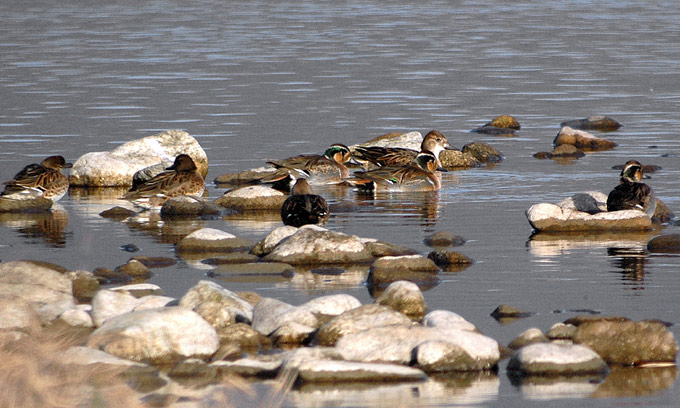 Baikal Teal Anas formosa, Photo © Barry Heinrich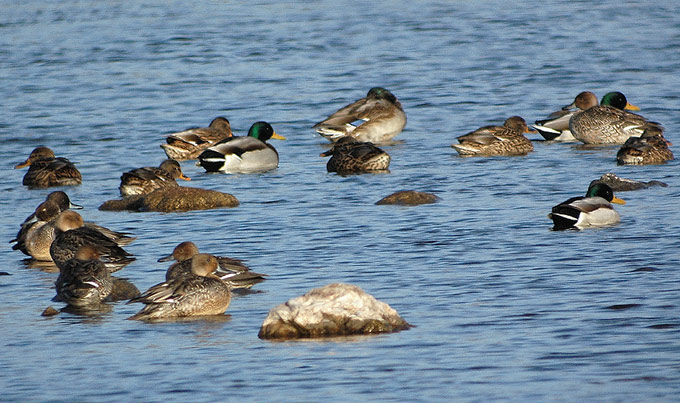 Mallard Anas platyrhynchos and Northern Pintail Anas acuta, Photo © Barry Heinrich
As I walked along the river bank I found a Bull-headed Shrike on an overhead cable, Buff-bellied Pipits in the rice fields and I saw 3 Daurian Jackdaws in a tree on the river bank. Unfortunately I couldn't get close to the Jackdaws to get quality images. There were more ducks further along the river. I also saw Vinous-throated Parrotbills, Rustic Buntings, Daurian Redstarts, Tree Sparrows and Black-billed Magpies.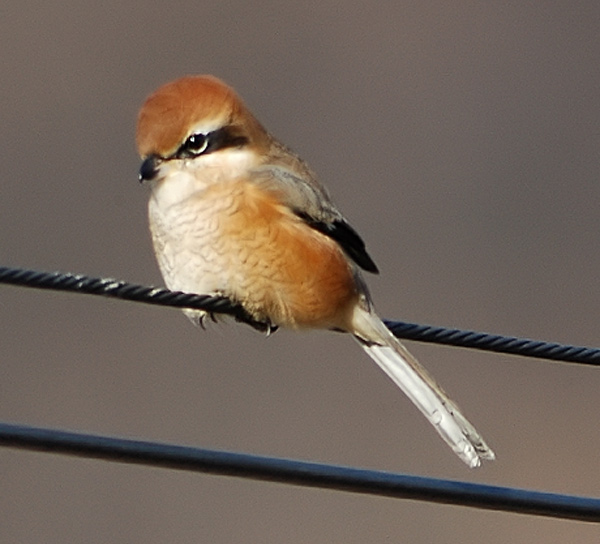 Bull-headed Shrike Lanius bucephalus, Photo © Barry Heinrich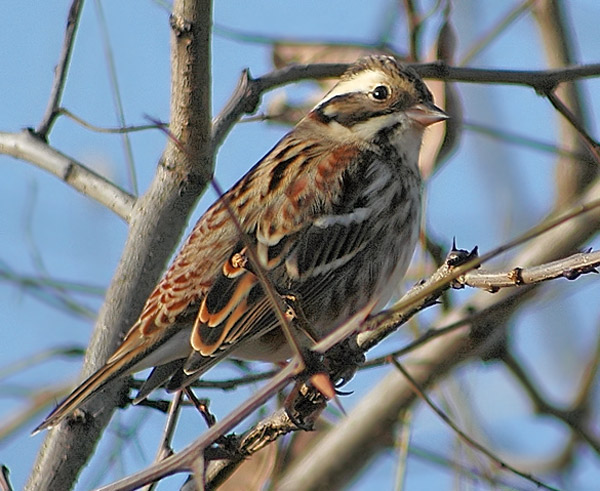 Rustic Bunting Emberiza rustica, Photo © Barry Heinrich
In the upper parts of Paro Lake I found Coots, Little Grebes and Common Goldeneyes. I flushed a Common Buzzard from a tree beside the flooded area and later found more ducks, including Eurasian Wigeons.
On my way home I found Great Tits, Bull-headed Shrikes, Long-tailed Rosefinches and more Rustic Buntings in the trees near the flooded lake. I disturbed a Japanese Lesser Sparrowhawk that had a passerine in its talons. Then walking across the fallow rice fields I found a juvenile Rook foraging for fallen grain.
Coot Fulica atra and Little Grebe Tachybaptus ruficollis, Photo © Barry Heinrich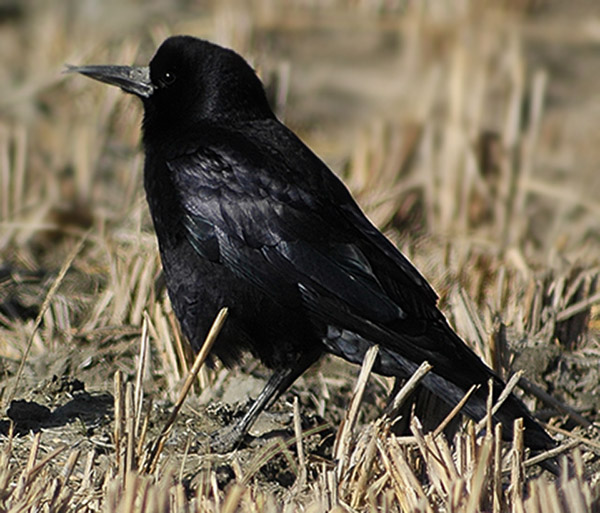 Rook Corvus frugilegus, Photo © Barry Heinrich
Bird News from Peter and Angela Nebel
Saemangeum Reclamation Area, November 17
Highlights of the day included 3 Ospreys, at least 2 Peregrines, 4 Oriental White Storks, and, the best, the Saker reported by Nial Moores the day before. Also present were thousands of Baikal Teal, several Common Buzzards, a Hen Harrier, and 20+ Eurasian Spoonbills.
Saker Falcon Falco cherrug, Photo © Peter Nebel
Bird News from Nial Moores and Ju Yong-Ki with David Stroud, Ruth Stromie, Rebecca Lee, Yu Sung-Ho and Lee Namue
Saemangeum-Geum Estuary- Seosan lake A, November 16
The Saemangeum reclamation area remains an extremely important area for waterbirds. In the first 3 hours of the morning the huge Baikal Teal flock was again present, with the flock buzzed occasionally by a juvenile Peregrine, while adjacent roosting geese and Mallard appeared to be the focus of a Saker Falcon. Seen briefly at very long range, the Saker was then watched and digiscoped poorly at medium range as it preened on a stranded boat, before flying off across the estuary. Identification was rapid and straightfoward, based on e.g. its mid-brown upperpart tones and weak head markings, as well as bulk. Saker Falcon is very rarely recorded in Korea, with the last record known to Birds Korea being of one seen at Seosan by Kim Hyun-tae in (probably) 2003. An even larger, darker, brown-washed falcon seen at Simpo, Saemangeum, on October 13th 2007 (by NM, Christoph Zockler, Mike Crosby et al), also appears to have been a Saker, based on the silhouette of this bird, and of images of Saker reviewed on the internet.
At the Geum Estuary, probably 48 Swan Goose (with R05 still present), and several hundred/low thousands Baikal Teal (many distant), while at Seosan lake A, species of note included a Red Knot (very late), and probably 150 Ruddy Shelduck. Met there by Birds Korea members Kim Su-Kyung, Kim Hyun-tae and Kim Shin-Hwan, outstanding highlight was the late evening arrival of a flock of ca 160 Hooded Crane (probably carrying with them a Common Crane) coming in to roost with an Oriental Stork, to the backdrop of an intense red sunset, many tens of Great Egrets and the cacophony of thousands of grey geese. Magical.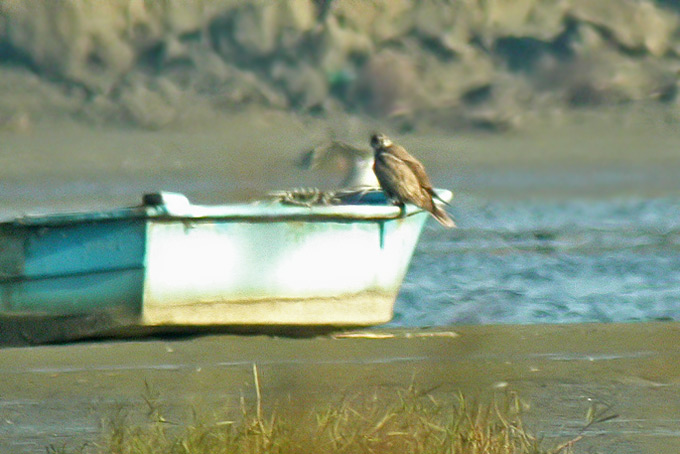 Saker Falcon Falco cherrug, Photo © Nial Moores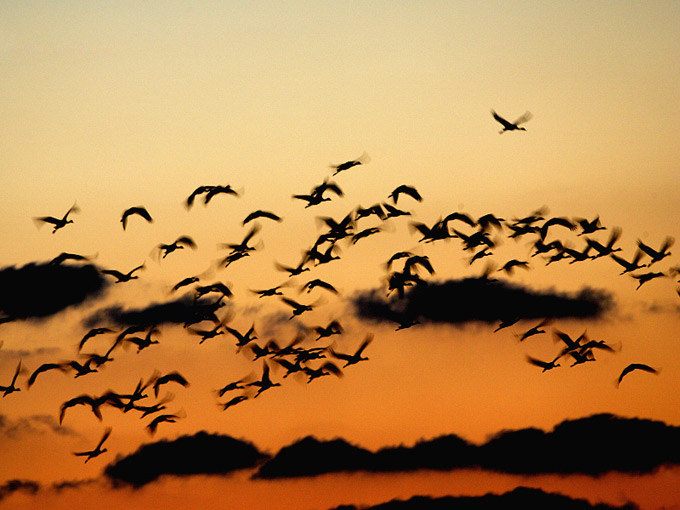 Hooded Cranes at sunset, Seosan, Photo © Kim Shin-Hwan
Bird News from Nial Moores and Ju Yong-Ki with David Stroud, Ruth Stromie, Rebecca Lee and Yu Sung-Ho
SE River and Saemangeum, November 15
A quick visit to a favorite site for Scaly-sided Merganser found now 11 individuals present (comprised of 3 adult males, 4 adult females, 3 first winter females and one unsexed/unaged), as well as the male Plumbeous Water Redstart still; while en route to Saemangeum, 5 Long-billed Plover and several Japanese Wagtail were also seen. At Saemangeum, now very approximately 300,000 Baikal Teal (with the number very hard to estimate due to distance and late departure for feeding) - with the species evidently preferring this much less disturbed area to either Seosan (now very much disturbed by fishers) or Gunsan, where the 4th Migratory Bird Festival will open on November 21st.
Bird News from Tim Edelsten
Yongjeong Island, November 15
The Northern sea wall encloses large swathes of reclaimed land, much of it reedswamp and marsh, or overgrown grassland with shallow standing water, disturbed only by overflying jetliners from the nearby airport. My attention was first drawn to a large, rising cloud of wildfowl panicked by a passing Rough-legged buzzard: later I was to see no less than 3(!) circling together (all sporting the snow-white uppertails with black subterminal bands). A Common Buzzard was also in the area.
On the water, over 600 Coot were counted, personally the highest concentration yet for the Seoul area: similarly at least 80 Falcated Teal. Otherwise present, c. 800 Pochard, 550 Mallard, 400+ Teal, 130 Little Grebe, (an extraordinarily large single gathering):also single numbers each of Goldeneye, Tufted Duck, Wigeon, Pintail, Common Greenshank, 7 Ruddy Shelduck and 8 Whooper Swan. In grassland 2 Buff-bellied Pipit and at least 5 Northern Skylark, judging by call which was more liquid and melodic than the rasping "zhweee' of Far Eastern. Finally at dusk, a brief view of a Short-eared owl fluttering, moth-like over the reeds.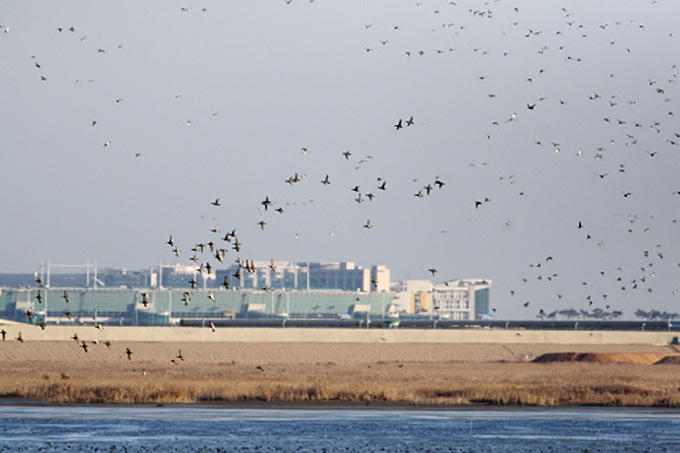 Waterfowl on Yongjeong Island, Photo © Tim Edelsten
Bird News from Tim Edelsten
Songdo, November 13
Warm and mild weather today, at the virtually lunar landscape of construction that Songdo has become. Notably late (or perhaps overwintering?) birds included a single Black-faced Spoonbill and at least 6 Far Eastern Curlew. Otherwise a more wintery feel with exactly 99 Ruddy Shelduck, 1000+ Dunlin, c.120 Grey Plover, 180 Eurasian Curlew, 40+ Saunders's Gull, 2 Olive-backed Pipit, a Common Buzzard and a heavilly streaked juvenile Peregrine. Shoveler are by far the most numerous of winter ducks now, although all are much reduced on previous years.
Bird News from Peter and Angela Nebel
Gunsan Area, November 10-12
Most of the migrants are back in numbers. The most unusual birds seen were 3 Oriental White Storks at the eastern end of the Mangeong on Nov 12. Also seen were a Short-eared Owl and a male and a female Hen Harrier, all on the north side of the Donjin on Nov 11. Three Black-faced Spoonbills were seen with 3 Eurasian Spoonbills to the south of the Industrial Zone on Nov 9. Eurasian Spoonbills are around in numbers, with 18 observed on the Geum on Nov 11, and several dozen on the Mangyeong both Nov 10 and 12.
A couple thousand Baikal Teal were present on the Geum on Nov 11, but many times that number were on the Mangyeong on Nov 10 and 12.
Besides the expected Black-headed Gulls, Saunders's Gulls were numerous on the Geum. Also on the Geum were several dozen Lapwings and 40 Swan Geese, among which was the collared R05.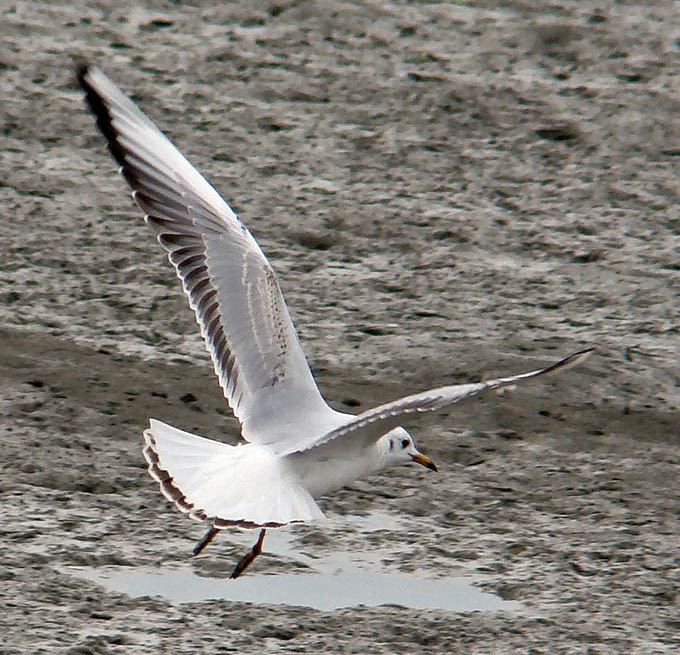 Black-headed Gull Larus ridibundus, Photo © Peter Nebel

Saunders's Gull Larus saundersi, Photos © Peter Nebel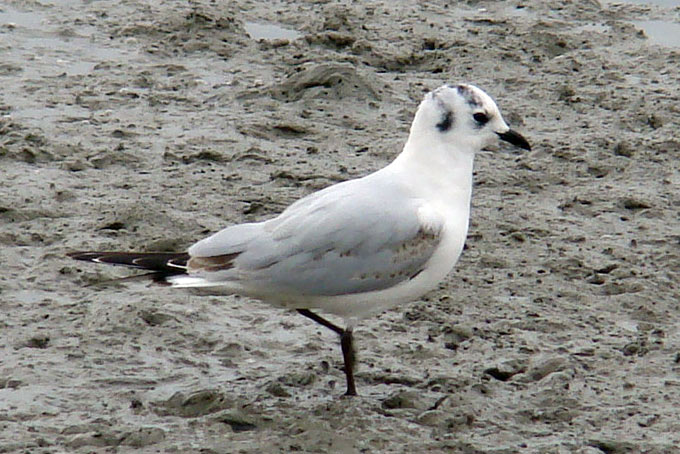 Saunders's Gull Larus saundersi, Photos © Peter Nebel
Bird News from Kim Hyun-tae
Hongsong, November 11
A wing tagged Mongolian Gull with the tag id AB48 was seen and photographed on November 11th in Hongsong Chungnam province. Exact coordinates are: 36°32'01.63"N 126°28'47.17"E.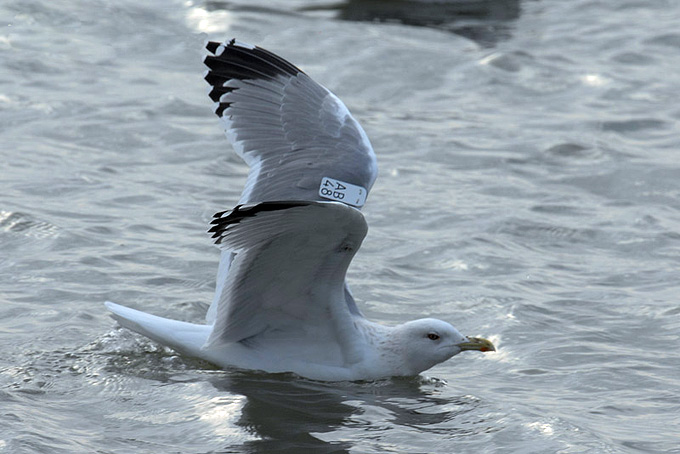 Mongolian Gull Larus mongolicus, Photo © Kim Hyun-tae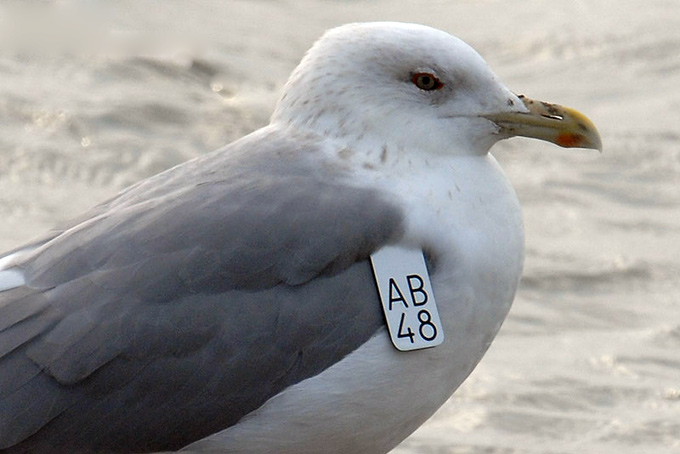 Mongolian Gull Larus mongolicus, Photos © Kim Hyun-tae
Bird News from Barry Heinrich
ex Hwacheon County and Yangyang, November 11
During my survey of a study site in the citizen restricted zone on Saturday Noviber 10, I was fortunate enough to see and photograph a Great (Eurasian) Bittern, a species considered to be a rare winter visitor to Korea. In the same area, other winter visitors were seen, including Pallas' Rosefinches, Long-tailed Rosefinches, Bramblings and Hawfinches. Several bird species were seen feeding on the red fruit of Rosa multifolia, including 10 Azure-winged Magpies, Brown-eared Bulbuls and Jays in the same area. A individual white-headed form of Long-tailed Tit was seen with a group of 5 conspecific birds in the study area.
Sunday Noviber 11 I visited the lower reaches of Namdae Cheon near Yangyang with a friend, Graham Specht. Several species of passerines were seen along the river bank, including Yellow-throated Buntings, Greenfinches, Great Tits, Long-tailed Tits, Bull-headed Shrike, Pallas's Reed Buntings, Daurian Redstarts, Siberian Accentors, Buff-bellied Pipits and Far Eastern Larks. Of special interest were two white-eye view from about 10 metres in plain view. They were bright greenish yellow above and white below with no sign of chestnut or buff on the flanks and relatively small size. Unfortunately I had no chance to obtain a photograph. During a phone conversation about these birds, Nial Moores suggested that they were most likely to be Japanese White-eyes of the race Zosterops japonica simplex. Some other birds seen included 15 Greater Scaups, Common Goldeneyes, Common Teal, Mallards, Spot-billed Ducks, Great Cormorants, Black-tailed Gulls, Vega Gulls, Black-headed Gulls, Little Grebes, Grey Herons, Great Egret Egretta alba alba and a fiale Eurasian Sparrowhawk.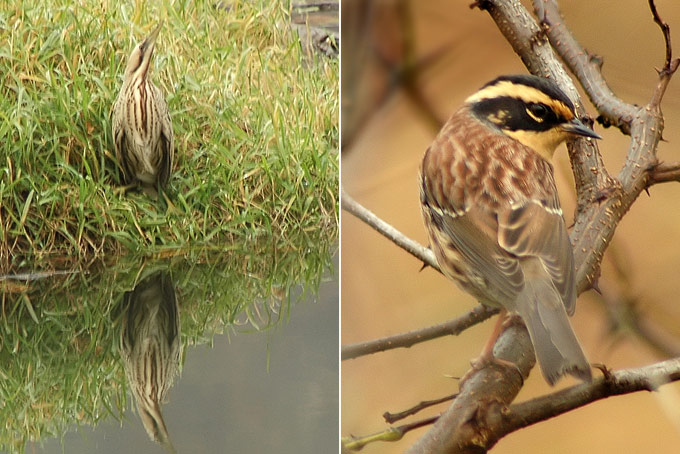 left: Great Bittern Botaurus stellaris, right: Siberian Accentor Prunella montanella, Photos © Barry Heinrich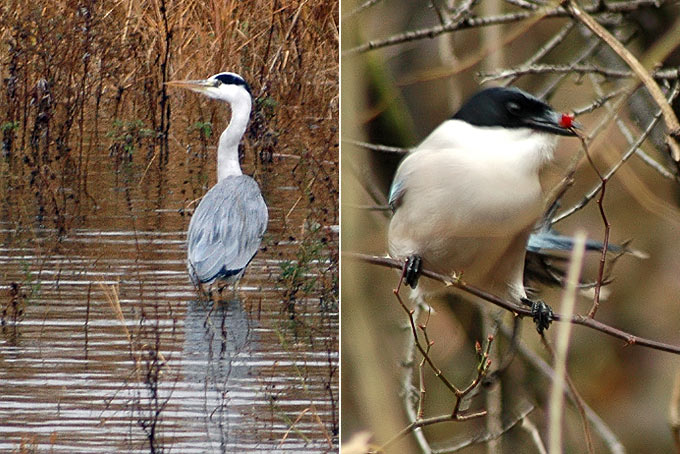 left: Grey Heron Ardea cinerea, right: Azure-winged Magpie Cyanopica cyanus, Photo © Barry Heinrich
Bird News from Tim Edelsten, Tim Perkins & Robin Newlin
Guri-Gimpo, November 10
Along the misty Han river at Guri, a White-tailed Eagle now in residence: also 2 Common Buzzard, a Eurasian Sparrowhawk and a Peregrine harrassing the Gulls. Winter wildfowl have begun to mass with 14 Whooper Swan, 20 Coot, c.60 Great-Crested Grebe, 15 Wigeon, 150 Goldeneye, c.30 Gadwall, 100+ Tufted Duck, 600 Pochard, 200 Mallard and best a Long-billed Plover. Briefly in ricefields at Gimpo, 250 Bean & Greater White-fronted Geese, 100 Rook, a Buff-bellied Pipit, 4 Far-Eastern Lark and a handful of Pallas's Reed & Rustic Buntings.
Long-billed Plover Charadrius placidus, Photo © Tim Edelsten
Bird News from Tim Perkins with Nial Moores
Cheorwon and The National Arboretum, November 9
At Cheorwon excellent views of White-naped Crane (with c 200 seen), but no Red-crowned Crane, as well as 4 Lesser White-fronted Geese (two adults well seen; one possible immature and one in flight only) and c 15,000 Greater White-fronted Geese. Also there a late Intermediate Egret, 2+ Eurasian Treecreeper and 10+ Siberian Accentor (several eventually seen very well).
At the arboretum, in failing light and rain showers, great views of a Grey-capped Pygmy Woodpecker, as well as single White-backed Woodpecker and Brown Dipper, and 2 Solitary Snipe.
Grey-capped Pygmy Woodpecker Dendrocopos canicapillus, Photo © Nial Moores
Bird News from Tim Edelsten
Seolleung, November 8
A pretty autumnal scene, trees ablaze with changing leaves: notable today was a Eurasian Treecreeper. There seems to be a widespread irruption this month, although they have been markedly scarce to rare in previous years.
Also present were 15 (magnus only) Long-tailed Tits a Great-Spotted Woodpecker and a Red-flanked Bluetail.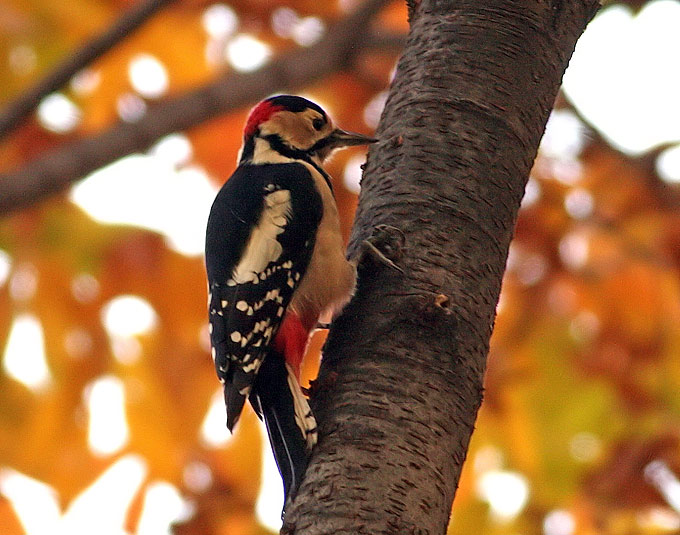 Great Spotted Woodpecker Dendrocopos major, Photo © Tim Edelsten
Bird News from Tim Perkins with Nial Moores
Eocheong Island, and Saemangeum, November 8
In beautiful calm and sunnny weather still, a good range of migrants included a very late Siberian Rubythroat, and ca 8 Siberian Accentor and 1-2 Pallas's Rosefinch heard overhead at dawn, while other visitors found and photographed an apparently moribund Streaked Shearwater. Highlights came later in the day, with a Grey Phalarope (few national records) seen well from the ferry (along with one Ancient Murrelet seen very poorly), 40 Swan Goose seen excellently well at the Geum barrage (including one with a dark blue neck collar with R05 written in white), and an Oriental Stork found at Saemangeum, shortly before dark.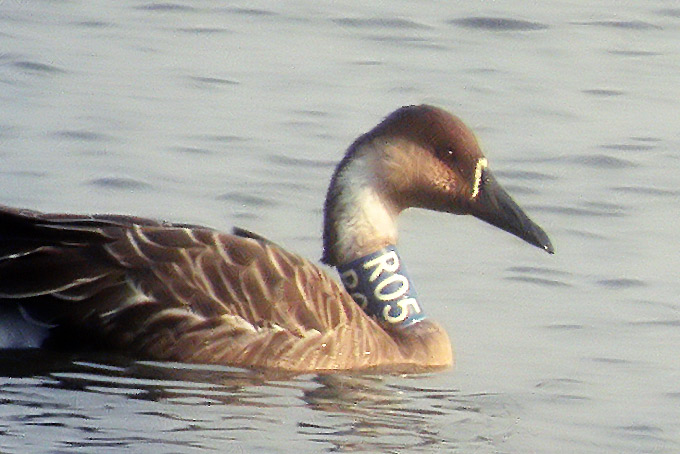 Swan Goose Anser cygnoides, Photo © Nial Moores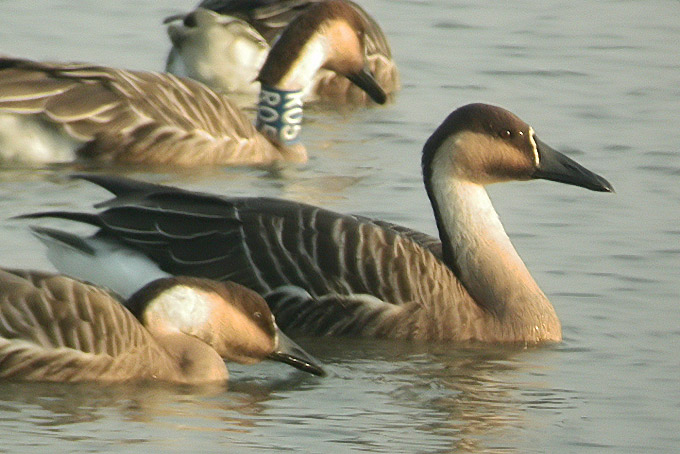 Swan Goose Anser cygnoides, Photo © Nial Moores
Bird News from Tim Perkins with Nial Moores
Saemangeum and Eocheong Island, November 7
At the airport, still 230+ Great Knot (exceptionally late for this species), 45+ Mongolian Plover, 10 Far Eastern Curlew, 15 Eastern Oystercatcher, 4-5 Black-faced Spoonbill, 11 White Spoonbill and a Northern Harrier - while a strip of reeds also held 10+ of both Pallas's Reed and Common Reed Buntings.
The ferry across to Eocheong was very bird poor, with only one Streaked Shearwater seen, while the island itself had small numbers of a very good range of species, with highlights including Eocheong's first Eurasian Coot and Eurasian Treecreeper, and the island's second Light-vented Bulbul (heard only) and Meadow Bunting (2), as well as a Bluethroat, 2 Red-billed Starling, a Japanese Grosbeak, 2+ Long-tailed and 2 Common Rosefinches, 4+ Northern Bullfinch and 75+ Goldcrest.
Japanese Grosbeak Eophona personata, Photo © Nial Moores
Bird News from Tim Perkins with Nial Moores
Guryongpo and Saemangeum (!), November 6
With the forecast of easterly winds, a quick trip to the east coast found very poor southwesterly, offshore winds, and almost no birds on the sea. Of interest were 3 White-winged Scoter and 3+ Blue Rock Thrush, while by far the most surprising was an apparent, putative juvenile/first-winter Kumlien's Gull, Larus glaucoides kumleini. Watched for 10 seconds on the ground and then for several minutes in flight, this individual gull was long-winged and smaller than accompanying vegae and taimyrensis, with an all dark bill (shortish), distinctively neat and pale-edged brown upperparts, paler primaries (most especially below), and a very dark brown/brown-grey tail - obviously the darkest part of the bird. Despite waiting, the bird did not reappear and no images were taken.
En route to Saemangeum, there were 2 Long-billed Plover and 4+ Mandarin Duck, whilst at Saemangeum itself, there there were 3 Saunder's Gull and 250,000 Baikal Teal. Shorebirds found in various parts of the estuary included at least 2 late Great Knot, 20 Black-tailed Godwit, 2 Bar-tailed Godwit and 2000+ Dunlin.
Bird News from Tim Perkins with Nial Moores
SE River and Joonam Reservoir, November 5
Highlights were 4 Scaly-sided Merganser (two males and two females), and in a different place one male and then one female Plumbeous Water Redstart and 2 Brown Dipper. At Joonam, ca 8000 Baikal Teal, 50+ Falcated Duck and a Northern Harrier.
Bird News from Rich Lindie and Hayley Wood
Suncheon Bay, November 3
My new local patch is Suncheon Bay and I make regular visits there to keep an eye on the changes. This weekend offered some enjoyable birding and photography, mostly centered around the 150+ Hooded Cranes now littering the bay and adjacent fields. In amongst the cranes however were 2 Common Cranes and 2 Whitenaped Cranes, as well as at least two hybrids. The Eco Bay Centre is often crowded with people and the birds are never far from speeding boats in the bay or cars in the fields, though they do manage to find a few quiet corners to feed and rest. Along with these specials, and the usual birds, there were 4 Eaurasian Spoonbill, Northern Lapwing, Ruddy Shelduck, Peregrine Falcon, Whooper Swan and a single Hen Harrier. This weekends trip was short but I will be returning regularly to keep everyone posted.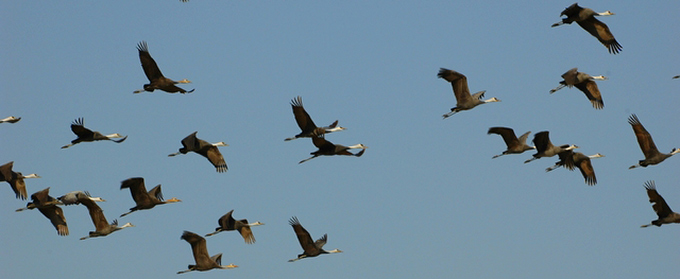 Hooded Cranes Grus monacha, Photo © Rich Lindie
Bird News from Barry Heinrich
Yanggu fields and forest, November 3
I went across the river and up the mountain to the west of Yanggu Eup today. On the way there I took photos of a Buff-bellied Pipit in the rice field and a Bull-headed Shrike along the river. On the mountain ridge I got photos of an Eurasian Treecreeper and a Eurasian Nuthatch. Returning home across the rice fields I saw more than 20 Far Eastern Larks and got a photo of one of them too. It's my first record of an Eurasian Treecreeper in Yanggu County.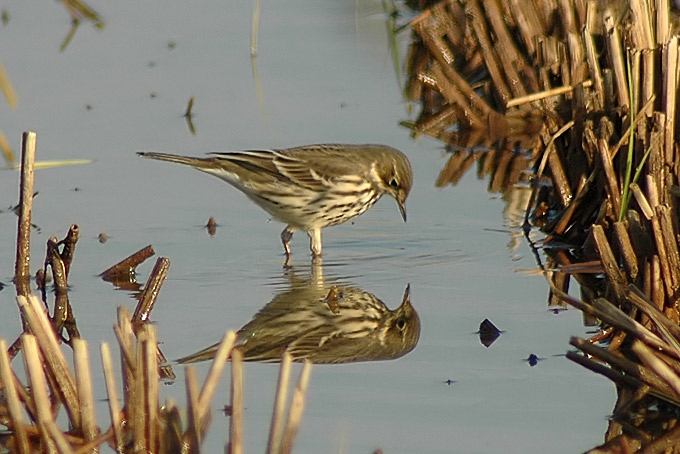 Buff-bellied Pipit Anthus rubescens, Photo © Barry Heinrich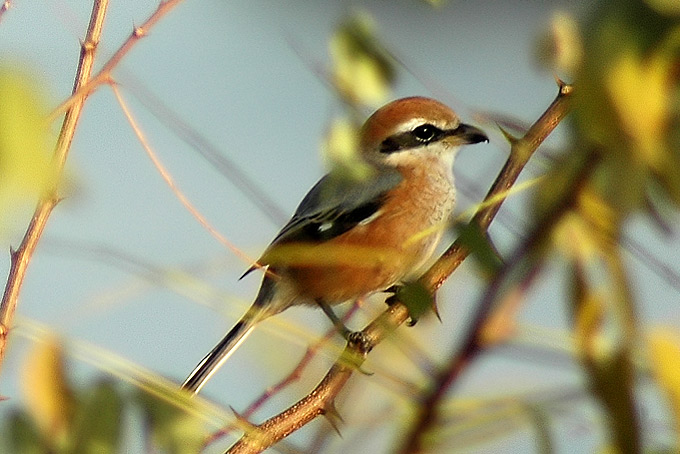 Bull-headed Shrike Lanius bucephalus, Photo © Barry Heinrich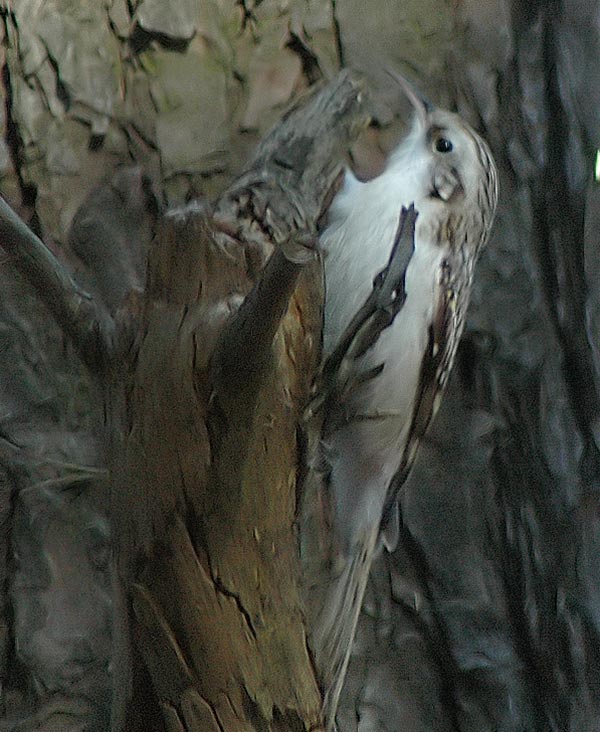 Eurasian Treecreeper Certhia familiaris, Photo © Barry Heinrich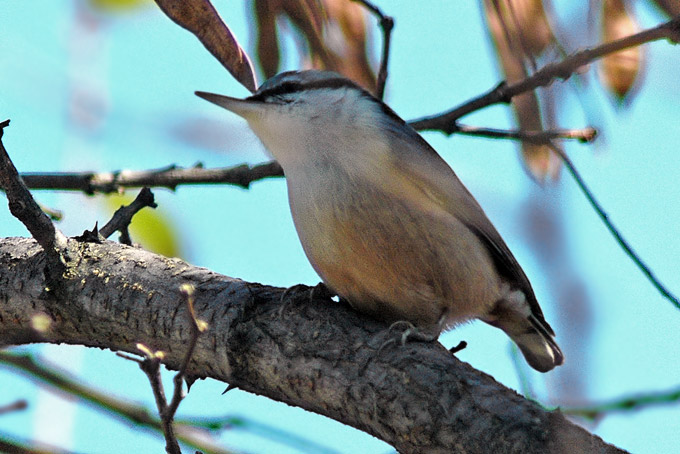 Eurasian Nuthatch Sitta europaea, Photo © Barry Heinrich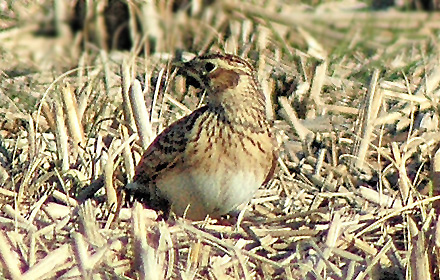 Far Eastern Lark Alauda japonica, Photo © Barry Heinrich