Birds Korea's Bird News September 2007
September
Temperatures begin to cool, especially towards the end of the month, with maxima often falling from 28°C to 20°C. Sunny, dry weather predominates, though often punctuated by occasional heavy rain and very strong winds associated with typhoons.
September sees migration pick up considerably, with a build-up of ducks including the first returning flocks of Baikal Teal by mid-month especially. Seabirds still provide much interest (with increasing numbers of jaegers and dark shearwaters), while shorebirds and Yellow Sea "specials" remain widespread and numerous: highlights have included the world's largest concentration of Spoon-billed Sandpipers (with a peak at Saemangeum of 200 in the late 1990s, likely 10% of the total world population), Nordmann's Greenshank, and up to 170 Black-faced Spoonbill at Ganghwa.
Whiskered and White-winged Black Terns, although scarce in South Korea, become rather more widespread with small flocks of the latter at Seosan especially, along with an increasing number of Mongolian Gull. Raptor migration includes large concentrations of Chinese Sparrowhawk making their way towards Japan (where over 50 000 have been recorded in one day on an island in the Korean Straits only 40 km south of Busan!), along with smaller flocks of Grey-faced and Crested Honey Buzzards, and very small numbers of Pied Harrier and Amur Falcon especially through the west and northwest.
Passerines become rather more numerous and diverse, with Thick-billed Warbler and Brown Shrike early in the month, good numbers of Yellow Wagtail (including the highly attractive taivana), Pechora Pipit, and the three species of "grey-brown flycatchers" by mid-month (some Dark-sided and Brown still, with a peak in Grey-streaked). Towards the very end of September, Olive-backed and Buff-bellied Pipit migration starts in earnest, and the first small flocks of buntings also arrive, with most numerous being Chestnut and Black-faced.
September highlights include both Korean records of Rose-coloured Starling (2002 and 2004), 2 Eurasian Tree Pipits on Eocheong island in 2002, and in 2003, an Ashy Drongo on Socheong Island, with 1 or 2 South Polar Skua seen at sea nearby, Korea's first Steppe Grey Shrike (2004), and the country's first Dotterel, found at Seosan in 2005.
(The following records are a compilation of our own sightings and records sent in by other observers. As well as being posted on the Birds Korea website(s), selected records are also forwarded to other Korean-language birding websites; records of threatened species are arranged and forwarded to Birdlife International and national authorities when appropriate; flag images and records are passed to bodies responsible for their coordination throughout the flyway; and all records sent to us are used to compile annual reports and to support the evolving understanding of the status of many of Korea's birds.)
Bird News from Nial Moores
Eocheong Island, September 30
In only three hours (in which rain showers became heavy downpours), best birds included a Little Grebe on the reservoir, a curlew sp heard (Eurasian Curlew has still not been recorded on the island), 4 Chinese Grosbeak, single Black-capped Kingfisher, Forest Wagtail, Common Rosefinch, Yellow-breasted Bunting and 20+ Black-naped Oriole. Much more intriguing was a smallish, slim, pinky-brown-legged phylloscopus warbler, greenish above, yellow-washed below, and lacking wingbars..sadly, views were very brief, before it disappeared along with 2 Arctic and a single Yellow-browed Warbler. On the ferry back to Gunsan, only one Black-tailed Gull (!), making it the most birdless ferry crossing in 5 years...surprisingly, decent views were still had of 2 or more Finless Porpoise.
Bird News from Tim Edelsten
Eocheong Island, September 30 (PM)
Heavy rain until at least 3pm, cool and clear thereafter. Apparently few migrants, most hiding up in deep cover made for difficult birding: nevertheless a single Forest Wagtail, 1 Common Snipe, at least 2 Pale Thrush, 16 Black-naped Oriole, 1 Sooty & 1 Asian brown Flycatcher, 2 Siberian Stonechat, 1 Little and 6 Black-faced buntings, 2 Olive-backed Pipit, single numbers of Arctic, Dusky, Korean Bush, & Short-tailed bush Warblers. Close views were had of a juvenile Japanese Bush Warbler, showing dull brown upperparts and mustard-yellow suffused underparts.In the harbour, 2 Sanderling.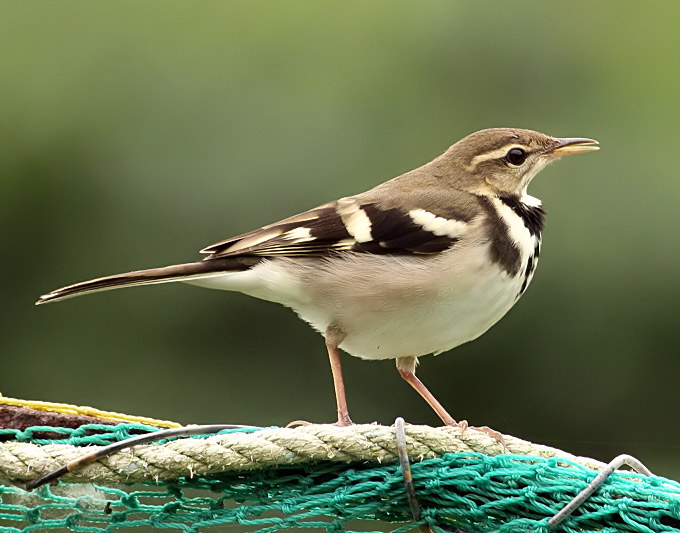 Forest Wagtail Dendronanthus indicus, Photo © Tim Edelsten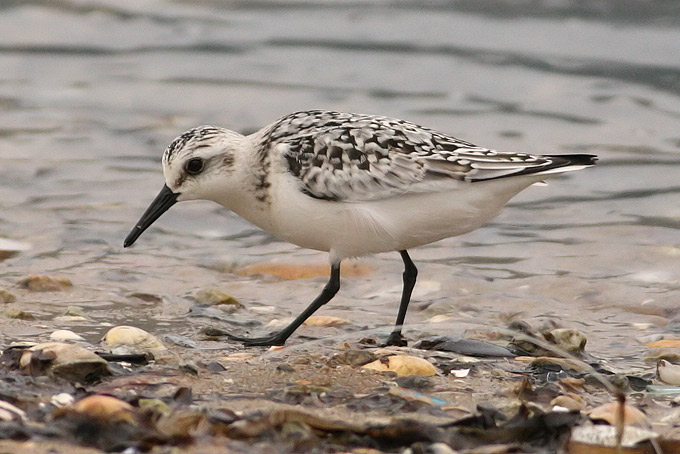 Sanderling Calidris alba, Photo © Tim Edelsten
Bird News from Andreas Kim
Mokpo Namhang Tidal Flat, September 30
A short morning trip at very low tide and quite cloudy sky revealed a lot of activity at that location. Dominating the gray sphere as white spots were the 17 Great Egret, 26 Little Egret and the 70+ Black-tailed Gulls, additional 18 Grey Heron also waited for the tide. On shorebirds a flock of 32 Red-necked Stints, 30+ Common Greenshanks, 25 Black-tailed Godwit, 17 Terek Sandpiper, 5 Pacific Golden Plover, 5 Great Knot, 1 Whrimbel, 7 Common Sandpiper, 5 Grey-tailed Tattler, 2 Long-billed Plover and 6 Far-eastern Oystercatcher were seen as well as 13 Spot-billed Ducks, 40+ Common Teal and 3 Common Snipe.
At least 34 Fishermen and -women disturbed the place.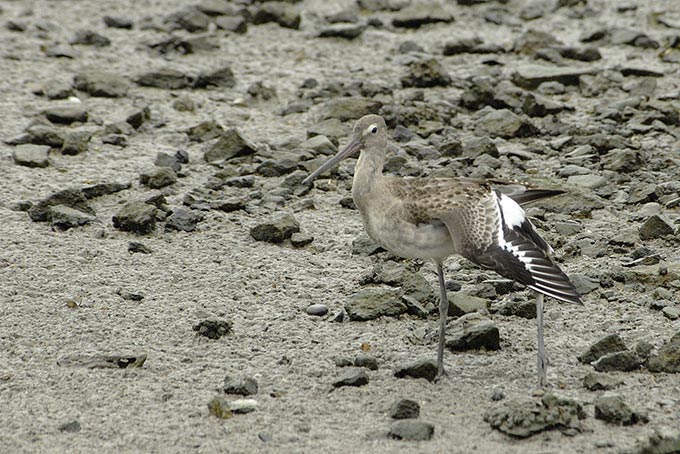 Black-tailed Godwit Limosa limosa, Photo © Andreas Kim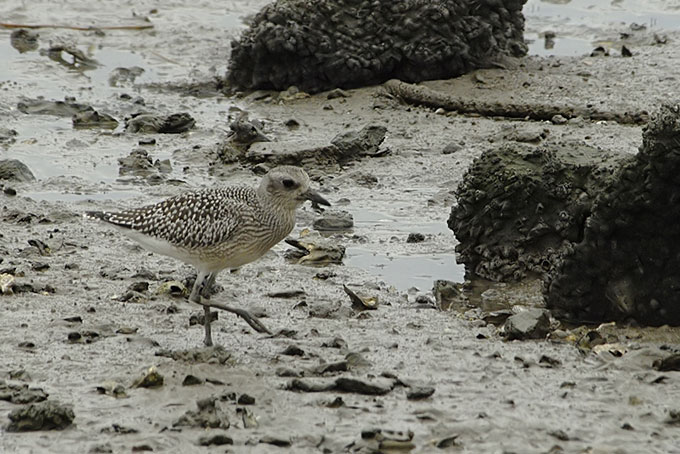 Grey Plover Pluvialis squatarola, Photo © Andreas Kim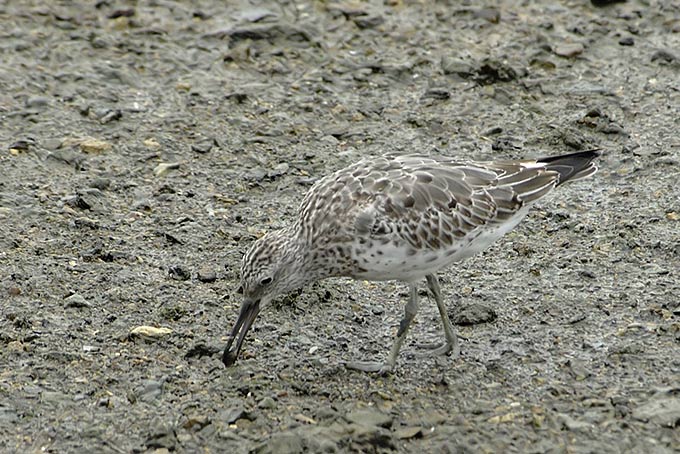 Great Knot Calidris tenuirostris, Photo © Andreas Kim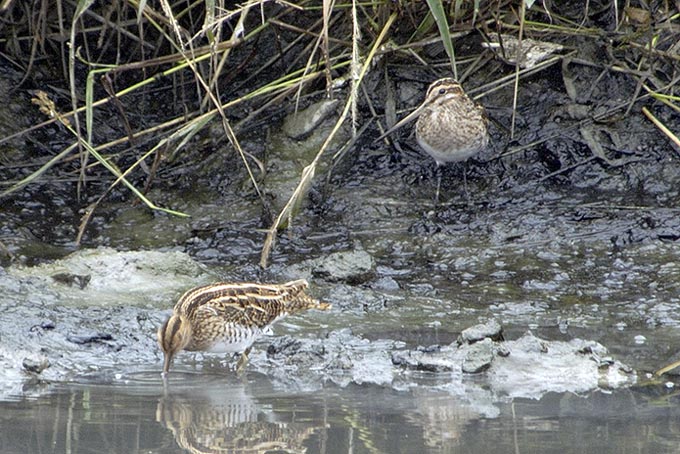 Common Snipe Gallinago gallinago, Photo © Andreas Kim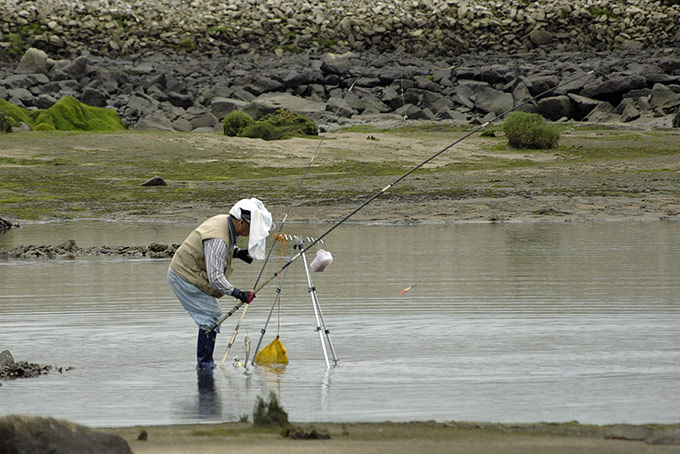 Photo © Andreas Kim
Bird News from Nial Moores, Tim Edelsten and in the morning Peter Nebel
Saemangeum (Mangyeung)-Okgu Reservoir-Eocheong PM, September 29
A very good day in the field, with close to 110 species logged. At dawn, in front of Gunsanairport within the Saemangeum reclamation, in absolutely excellent light, 15 Nordmann's Greenshank were counted in a single scan of ca 2 km of tideline. Also present there were at least 110 Broad-billed Sandpiper and 1200+ curlew (mixed flocks of Eurasian and Far Eastern), with many curlew and some smaller shorebirds heading towards the Geum to feed on the falling tide. Good numbers of hirundines and pipits seemed to be on the move shortly after dawn too, with at least 75 Red-throated and 5 Pechora Pipits logged. At Hwaje, Mangyeung, a House Martin (presumably Asian), 8 Tundra Bean Goose and ca 1200 Baikal Teal, while at Okgu Reservoir still 6 Whiskered and 3 White-winged Terns. On the afternoon ferry to Eocheong, 25-30 Common Tern and only 3 Streaked Shearwater, with probably best being a possible Chinese Grey Shrike seen sitting on wires briefly and at very long range on Yeon Do. On Eocheong itself, fairly quiet, with best being a Red-throated Flycatcher and 2 Sanderling, along with small numbers of the regular buntings and warblers.
Bird News from Robin Newlin
Seoul (Hwaegi), September 28
An afternoon stop at the university woods at Hwaegi found few birds--most time was spent admiring one very tame Asian Stubtail that crept and flitted around in the undergrowth. The woods, always good for woodpeckers, yielded Great Spotted, Grey Headed, and (best of all) one Grey-capped Woodpecker.
Bird News from Nial Moores, Kim Shin-Hwan, Ju Yong-Ki and Tim Edelsten
Yubu Island, September 28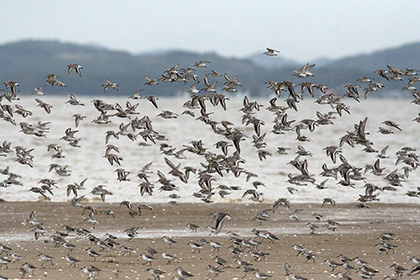 With a massive afternoon high tide, little time to count most of the shorebird species present. Most numerous were Dunlin (9800), Grey Plover (2100), Eastern Oystercatcher (1800+), Kentish Plover (1800) and rather surprisingly, at least 750 Broad-billed Sandpiper - the latter the largest concentration of this species NM has seen to date in Korea. Further highlights included a single Ruff, while species of special conservation concern included 4 Chinese Egret, 13+ Nordmann's Greenshank and 11 Spoon-billed Sandpiper, the latter comprised of 4 juveniles and 7 adults.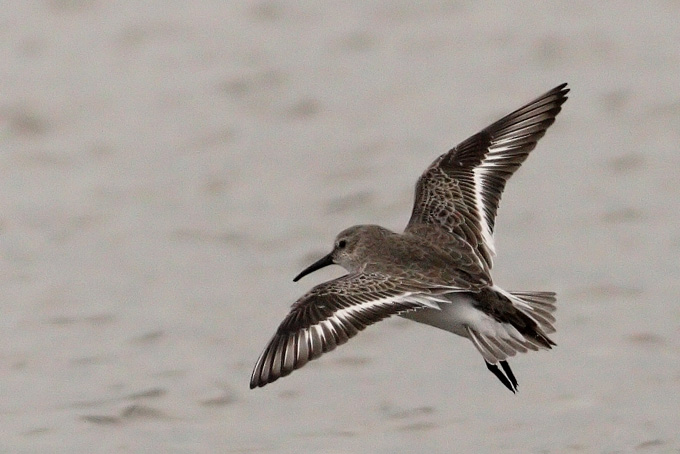 Dunlin Calidris alpina, Photos © Tim Edelsten
Bird News from Robin Newlin
Songdo, September 26
Sept 26, Songdo
A visit to the mudflat and "construction canal" at Songdo found the mudflats invaded by a fishing tournament. The canal held signs of season's change: several thousand Spot-billed Ducks, a few Common and 1 Ruddy Shelduck, 2 flyby Eurasian Wigeon, and a scattering of Common Teal and Shovelers. About 300 Black-tailed Godwits remained, as did 500 Common Greenshank, 70 Far-Eastern Curlew, 10 Far-Eastern Oystercatchers, 12 Red-necked Stints, 1 Marsh Sandpiper and 5 Wood Sandpipers. 2 Black-faced Spoonbills flew over, as did a couple of distant flocks of geese, presumed to be Bean. One small muddy area of the freshwater lagoon held 2 Wood and 3 Common Sandpipers and a single Spotted Redshank, and 43 Black-faced Spoonbills roosted across the water.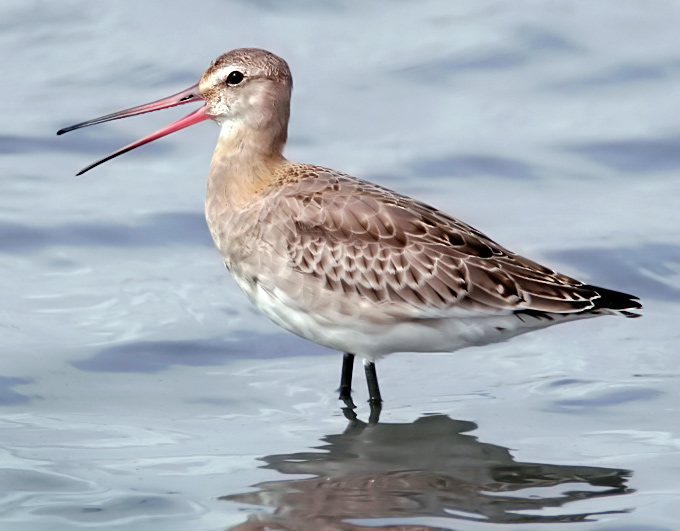 Black-tailed Godwit Limosa limosa, Photos © Robin Newlin
Bird News from Robin Newlin
Weyeon-do, Daecheon, September 23 - 24
A family trip to Weyeon-do was subdued by rain almost throughout. After a very quiet (bird-wise, not wave-wise) crossing, the island was equally quiet, with birds doubtless sheltering from the rain. About 12 different Snipe noted on the 23rd, a few could be separated (on call) as Common and at least 1 Pintail. Some other birds on the 23rd were : in a single Sycamore, 11 Chinese Grosbeaks, 1 Daurian and several Grey Starlings; in a bamboo patch, a briefly seen probable (but late) Styann's Grasshopper Warbler. In the very pretty small hilltop forest, 8 Pale Thrushes. Other birds of note were several Black-naped Orioles, a Great Spotted Woodpecker, a Dark-sided Flycatcher, a few Yellow Browed Warblers calling. On the 24th, few new birds, but only 1 Snipe, a Broad-billed Roller, a Hobby, and a Kestrel.
Sept 24, Daecheon. Several Sanderlings on the beach. In the evening (and rain) a rocky tidal-pool area held a few egrets; one (bare part color, structure, esp. leg thickness) suggested, rather than Chinese, a white-morph Pacific Reef Egret. A brief return in morning sunshine failed to relocate the bird. Please keep an eye out if you're in Daecheon!
Bird News from Tim Edelsten
Incheon-Socheong Island, September 25
The morning found a Pallas's Grasshopper Warbler (hopping into cover amongst the many real grasshoppers), 2 Meadow Bunting, 34 more Crested Honey Buzzard overhead, a restless flock of 30 Chestnut-flanked White-eyes massing together before heading out over the sea. A productive sea crossing revealed 129 Streaked Shearwater, 18 Common Tern, 2 Swinhoe's Storm Petrel, c.30 Mongolian and 1 Slaty-backed Gull in 2 hours watching. as well as excellent, close views of a Flesh-Footed Shearwater gliding alongside the ferry.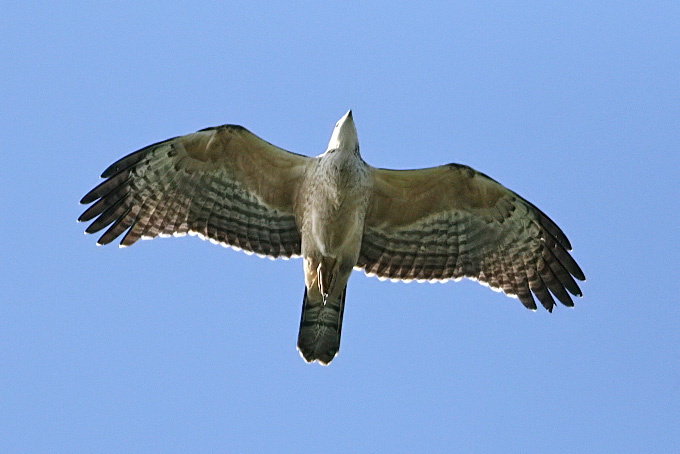 Crested Honey Buzzard Pernis ptilorhyncus, Photo © Tim Edelsten
Bird News from Tim Edelsten
Incheon-Socheong Island, September 24
In warm and sunny weather, the crossing produced 24 Streaked Shearwater. On the Island an Amur Falcon within the first 20 minutes was followed by b raptor migration through the afternoon: 76 Crested Honey Buzzard, 2 Black Kite, 3 Hobby, 2 Peregrine, 2 Osprey, 3 Japanese Sparrowhawk, 1 Northern Goshawk, 2 Eurasian Sparrowhawk (including one hotly pursuing a young cuckoo), and 1 Grey-faced Buzzard. Passerines were rather more scarce, with 5 Asian Brown, 1 Mugimaki, 1 Blue-and-White, and 4 Sooty Flycatchers, 2 Pallas's Leaf, 7 Yellow-Browed and 2 Arctic Warbler, 23 Chestnut-Flanked White-eye, 1 Black-naped Oriole, 3 Oriental Cuckoo ( all juveniles ), a White's Thrush and 6 Chinese Grosbeak. On the shore, 3 Common Sandpiper & 1 Sanderling.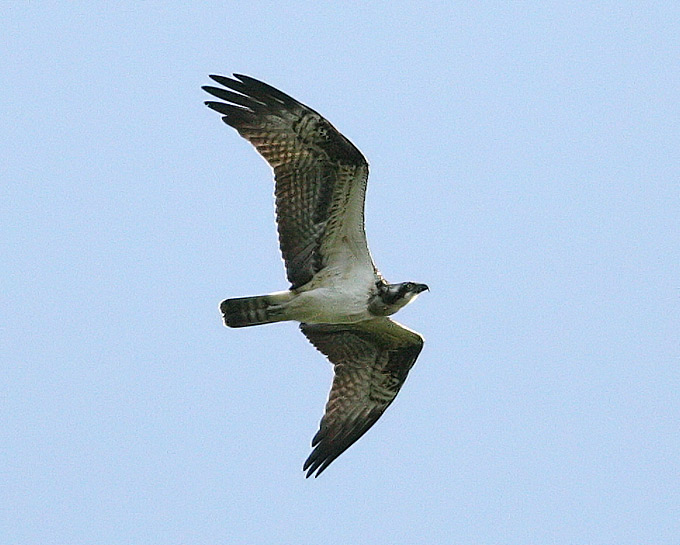 Osprey Pandion haliaetus, Photo © Tim Edelsten
Bird News from Ju-Yong Ki, Jeon Shi-Jin and Kim Beom-Su
Nakdong Estuary, September 22
"Only" two juvenile Spoon-billed Sandpiper found, with best surprise being a Nordmann's Greenshank, photographed by Kim Beom-Su.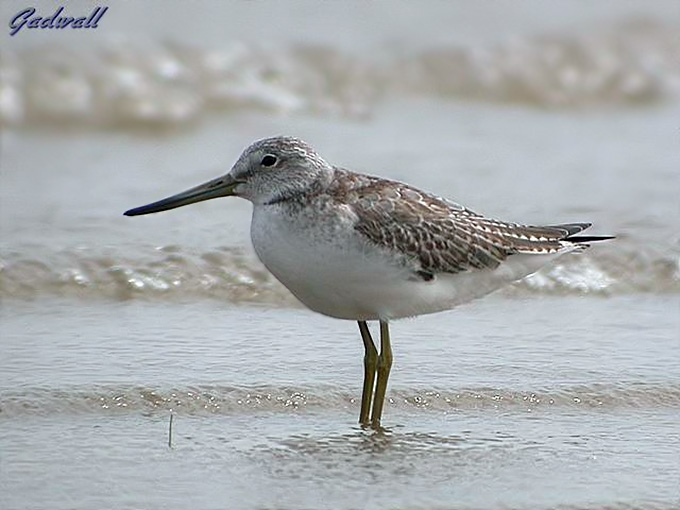 Nordmann's Greenshank Tringa guttifer, Nakdong Estuary, September 22, 2007.
Photo © Kim Beom-Su
Bird News from Nial Moores, Jeon Shi-Jin, Kim Beom-Su, Jan van de Kam and Jan Lewis
Nakdong Estuary, September 20
A trip by boat to a different part of the estuary produced excellent views of 3 more juvenile and one possible adult Spoon-billed Sandpiper (latter by JSJ only), as well as another Common Ringed Plover, one juvenile Little Stint (not photographed) and one strikingly bright juvenile Red-necked Stint, showing a typical Red-necked Stint structure, but a plumage in many ways recalling a dull Little Stint …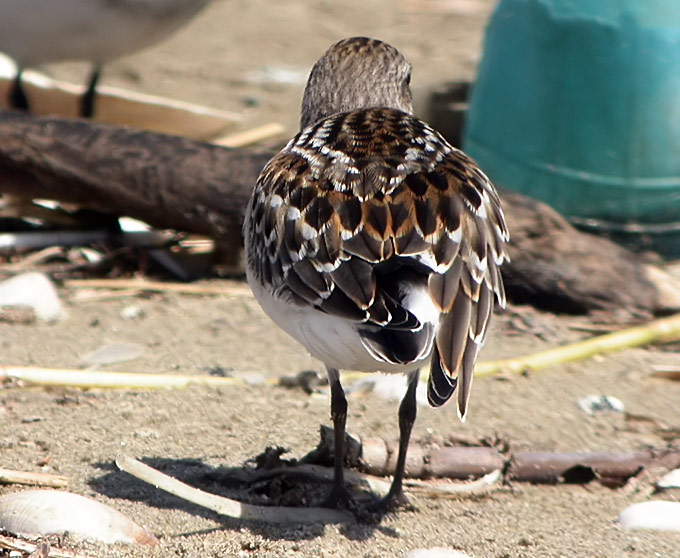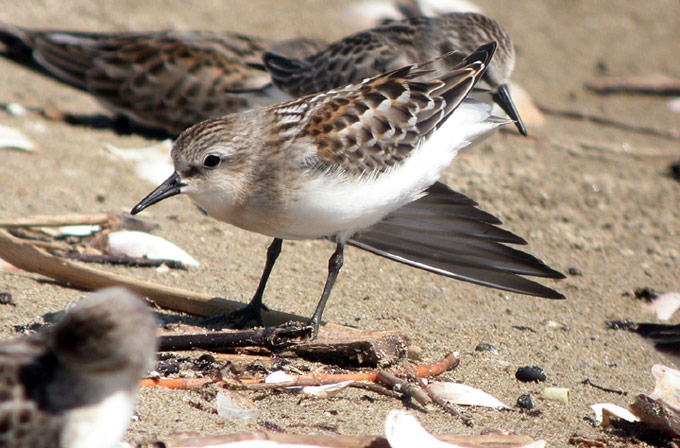 Exceptionally bright ("Little Stint-like") juvenile Red-necked Stint Calidris ruficollis, Photos © Nial Moores , Birds Korea
From the rear, the mantle lines and deep rufous fringes strongly suggest Little Stint. However, side views reveal a bill-shape and structure typical of Red-necked Stint, while many of the wing-coverts also appear rather grey-based. Nakdong Estuary, September 20.
Dear Members,
Do you know of any recent records of Spoon-billed Sandpiper? If so, we would greatly appreciate receiving them, to add to the global database of the species.
The Spoon-billed Sandpiper is not only a stunningly beautiful and representative species of Yellow Sea tidal-flats: it is also in extreme danger. The population is declining very rapidly, and the latest estimate (made after the breeding season of 2007) is that there might now be only 100 breeding pairs remaining.
Records we know of from this autumn include 8 adults and 5 juveniles at Yubu island, Geum Estuary, on September 12th (seen by Nial Moores and Ju Yong-Ki); and four juveniles and one possible adult at the Nakdong Estuary on September 19th and 20th (seen by Jeon Shi Jin, Jan van de Kam and Jan Lewis, Nial Moores and Kim Beom-Su).
In sending us your records of Spoon-billed Sandpiper to birdskorea (at) paran.com , please include:
The number seen; the date; the location; the names of the observers.
If possible, please also state what plumage the birds are in (eg., juvenile, non-breeding adult or breeding adult), and whether they are carrying leg-flags.
Thank you so much! Data like this helps us to know how many Spoon-billed Sandpipers remain, and what wetlands they need to survive.
Birds Korea, September 20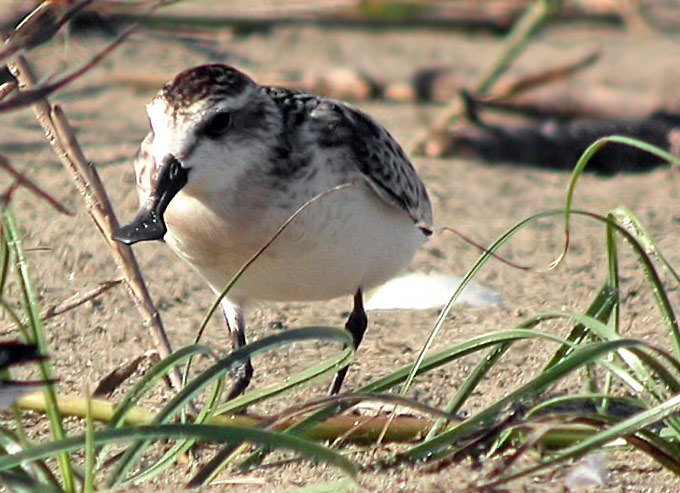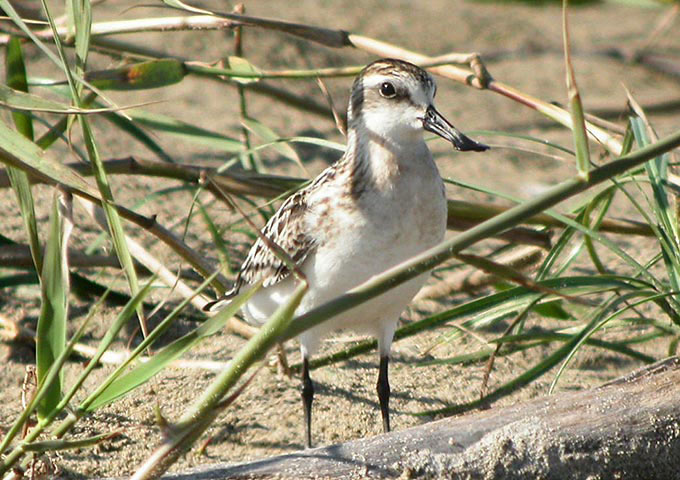 Juvenile Spoon-billed Sandpiper Eurynorhynchus pygmeus, September 20, Nakdong Estuary, Busan,
Photos © Nial Moores, Birds Korea
Bird News from Nial Moores, Jeon Shi-Jin, Jan van de Kam and Jan Lewis
Nakdong Estuary, September 19
Following the recent typhoon, parts of the estuary remain very difficult to access. At one roost, only ca 250 shorebirds, made up largely of Kentish Plover, Sanderling, Dunlin and Red-necked Stint, but also containing two Common Ringed Plover (a very scarce species in Korea), ca 8 Greater Sand Plover (including one exceptionally lanky and long-legged individual) and best of all, one juvenile Spoon-billed Sandpiper.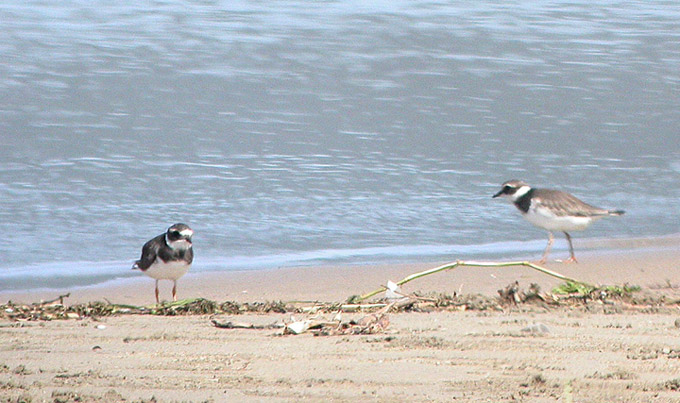 Common Ringed Plover Charadrius hiaticula
Photo © Nial Moores, Birds Korea.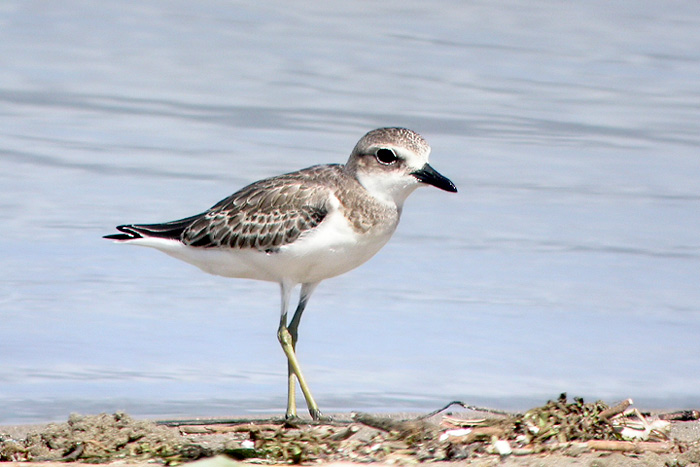 Greater Sand Plover Charadrius leschenaultii, Photos © Nial Moores, Birds Korea.
This individual appeared extremely lank and long-legged in the field, and was obviously larger and longer-legged than the other Greater Sand Plover present in the same area. Is its striking appearance due to individual variation or is there any possibility of it being an extralimital crassirostris?
Bird News from Tim Edelsten
Okku, September 19
In hot and humid weather, still c.25 White-winged terns on the reservoir.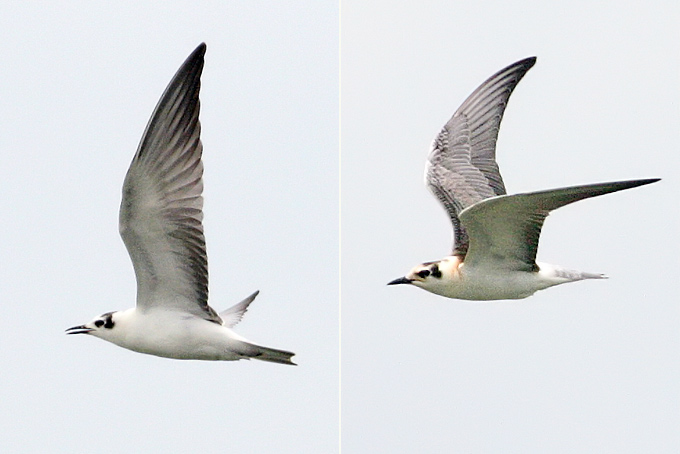 White-winged Tern Chlidonias leucopterus left: adult, right: juvenile, Photo © Tim Edelsten.
Bird News from Nial Moores, Ju Yong-Ki, Jan van de Kam and Jan Lewis
Okgu Reservoir- Airport, Saemangeum, and Yubu Island, Geum Estuary, September 12
At Okgu Reservoir, "only" 46 White-winged Tern and 2 Whiskered Tern in 20 minutes. In front of the airport (Mangyeung Estuary, Saemangeum) one adult and one juvenile Nordmann's Greenshank on the only area of wet mud checked (a fraction of the potential habitat following 10 days of rain in late August), where a very late Little Tern was also logged. On Yubu, a 6.7 m high tide produced ca 18,000 shorebirds. Exceptional highlights included 4 more Nordmann's Greenshank and at least 13 Spoon-billed Sandpiper (including 5 juveniles), with one feeding very close to us for 20 minutes...This very fast-declining (and surely Critically Endangered) species is now thought to have an estimated population of possibly only ca 100 breeding pairs. Other species of especial note on Yubu included a single Chinese Egret, ca 300 Broad-billed Sandpiper and 746 Eastern Oystercatcher.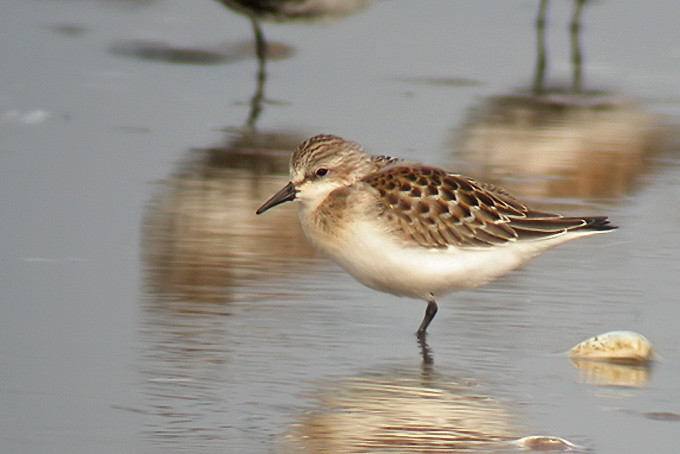 Juvenile Red-necked Stint Calidris ruficollis, Photo © Nial Moores, Birds Korea.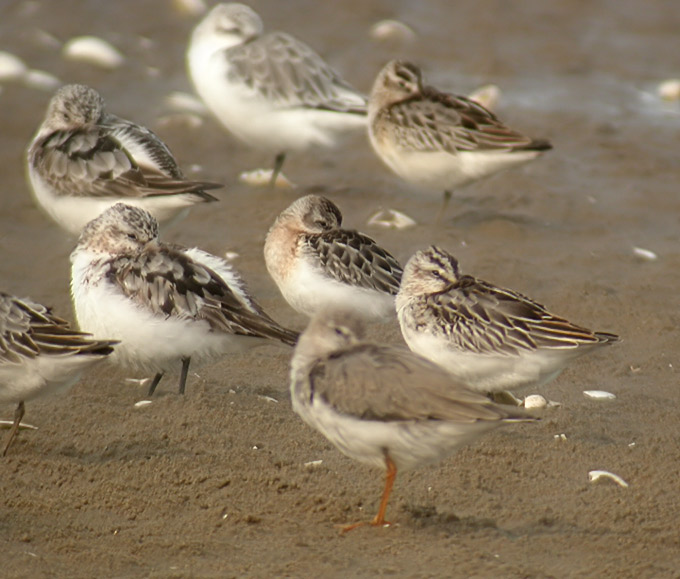 Juvenile Spoon-billed Sandpiper Eurynorhynchus pygmeus (centre), roosting with Sanderling Calidris alba,
Broad-billed Sandpiper Limicola falcinellus and Terek Sandpiper Xenus cinereus, Photo © Nial Moores, Birds Korea.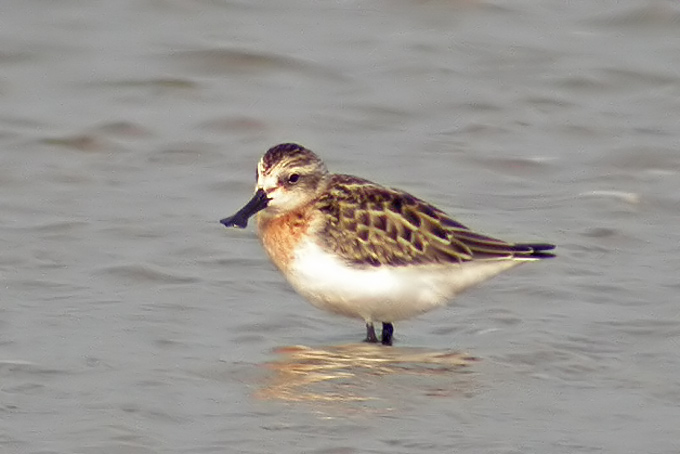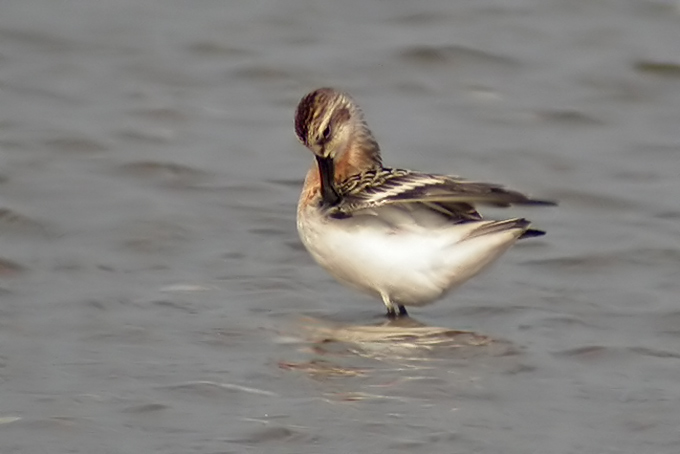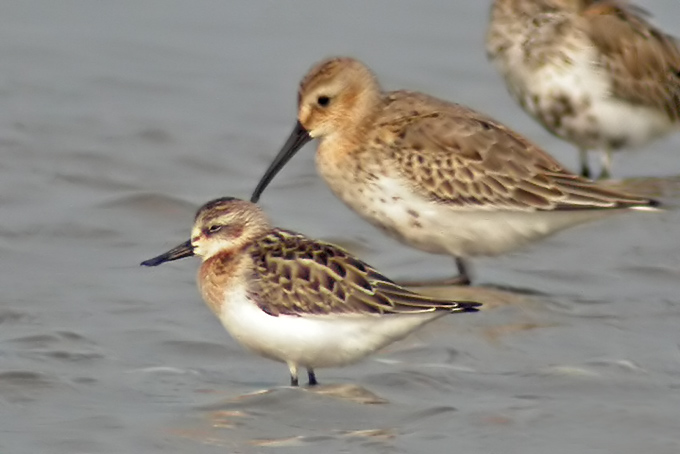 Juvenile Spoon-billed Sandpiper Eurynorhynchus pygmeus, Photos © Nial Moores, Birds Korea.

Bird News from Peter Nebel
Okgu Reservoir, Gunsan, September 7
Today it was clear that there were a large number of terns, both White-winged and Whiskered, present at the Okku Reservoir and that most of them were in the air. In order to estimate the numbers I counted the ones sitting on floats nearby (the only place where they were sitting in numbers) and found 45 White-winged and 5 Whiskered. I then tried to estimate the number of birds seen flying over the reservoir by looking out over the water with a 30x spotting scope, making about 10 observations over the entire area. There were always between 5 and 10 birds present in the fields, and I settled on an average of 7 per field. I then measured the arc I was observing as 35 fields wide. That will give a total of 245 birds. Assuming 10% Whiskered would give 25 birds. The totals would be 220 flying + 45 sitting = 265 White-winged and 25 + 5 = 30 Whiskered.
This is obviously just an estimate, but I doubt that it is too far from wrong. I suspect it errs on the low side, if at all.
Bird News from Park Chung-Rok
Nakdong Estuary, September 2
A suspiciously small Ruff-type shorebird was photographed, and identification was later confirmed (by Park Jong-Gil and then by Nial Moores) as Buff-breasted Sandpiper. The species is already included in the Lee, Koo and Park 2000 fieldguide, either in error, or due to an earlier record, for which the details remain either obscure or lost. Park Jin Young's doctoral thesis on Korean birds (2002) for example states that, according to the American ornithologist Fennell, the species was collected in South Korea in April 1972. According to his obituary, however, the very same author (Chester Fennell) actually died in January of the same year - 3 months before he was supposed to have collected the species! Moreover, none of Fennell's papers on Korean birds seem to include the record. This record from the Nakdong, supported by a photograph, therefore (likely) becomes the first confirmed record of the species on the Korean peninsula.
Bird News from Peter Nebel
Okgu Reservoir, Gunsan, August 25-September 2
On August 25th, about 50 White-winged Tern with one breeding-plumaged bird (probably constituting a new national high count of the species) were logged. By September 2nd, these had been joined by several Whiskered Tern. A series of photographs taken on the 2nd suggested there were probably 38+ White-winged Tern remaining along with at least 5 Whiskered Tern (one still largely in breeding plumage). While all the terns were very distant, at least one bird in two of the images showed very strong breast side patches, and darkish upperwing coverts and a more scaley look on the upperparts when compared with the neighboring White-winged Terns - all features characteristic of juvenile Black Tern. This therefore becomes the third record of the species in Korea, and the first record of a bird in this plumage.
Juvenile Black Tern Chlidonias niger with White-winged Chlidonias leucopterus and Whiskered Terns Chlidonias hybridus,
Okgu Reservoir, Gusan, September 2. © Peter Nebel.
In this image the Black Tern,standing with wings raised, is about to take off from the middle line of buoys. In this position, the dark breast side patch seems especially striking.
Bird News from Jan van de Kam, Jan Lewis, Robin Newlin & Tim Edelsten
Songdo, September 3
Except for 1 remaining mudflat, extensive and recent construction has virtually obliterated Songdo as viable bird habitat. Far fewer birds now present, and notably no Saunders's Gull- perhaps the first visit in years that none were seen. However, 57 + Black-faced Spoonbill on the southern mudflat, and excellent views of a Sand Martin. Early winter birds included 4/5 Black-headed Gulls and several Shoveler, also 1 Grey-tailed tattler, 12 Eastern Oystercatcher, 1 Common Redshank, c.25 Red-necked Stint, c.70 Grey Plover, a handful of Far Eastern Curlews and the resident patrolling Peregrine, causing much consternation among the flocks of Black-tailed Godwits, which numbered around 700.