Birds Korea's Bird News January 2007
January
In occasional periods of extreme cold many smaller rivers and reservoirs freeze over. Temperatures often drop to -5°C at night, and stay near freezing in the day. Periods of light snow and severe cold are usually followed by milder temperatures, and then severe cold again.
A guided tour can expect about 160 species in 12 days if all the best areas are visited, and winter specialities include Baikal Teal (in often huge concentrations) and Scaly-sided Merganser, Swan and Lesser White-fronted Goose, Steller's Sea Eagle, Relict and Saunders's Gulls and Solitary Snipe! Red-crowned Cranes stand out on tidal-flats at Ganghwa, while White-naped and Hooded Cranes can be found in the south. Huge numbers of ducks and geese fill sites like Haenam and Seosan's Cheonsu Bay. Siberian Accentors can be common. On the southern island of Jeju milder conditions allow White's and Pale Thrushes, Olive-backed Pipits, and Red-flanked Bluetails to overwinter along with Korea's only regular winter Black-faced Spoonbills, and several thousand Mandarin Duck.
January highlights in 2002 included Korea's first Slender-billed Gull at Gwangyang, and in 2003 Chinese Nuthatch and Grey Buntings at several sites in the northwest, and southeast respectively. In 2004 a Long-tailed Shrike was on Jeju, while two Red-crested Pochard (seventh national record) were present at Joonam reservoir mid-month, whilst January 2005 was notable for a Ferruginous Duck and at least two over-wintering White-bellied Green Pigeons.
(The following records are a compilation of our own sightings and records sent in by other observers. As well as being posted on the Birds Korea website(s), selected records are also forwarded to other Korean-language birding websites; records of threatened species are arranged and forwarded to Birdlife International and national authorities when appropriate; flag images and records are passed to bodies responsible for their coordination throughout the flyway; and all records sent to us are used to compile annual reports and to support the evolving understanding of the status of many of Korea's birds.)
Bird News from Gerd Rotzoll, Norbert Krott, Horst Jolitz, Hans Mittendorf and Christian Junge with Nial Moores
Song Do, January 31
In a couple of hours at Song Do, more bulldozers on part of the tidal-flat, but happily still one adult Relict Gull showing well. In addition, probably one or two Far Eastern Curlew still in with 500+ Eurasian Curlew, 600 Eurasian Shelduck, and at least 210 Saunders's Gulls.
Bird News from Dr. Richard Reading
Jinju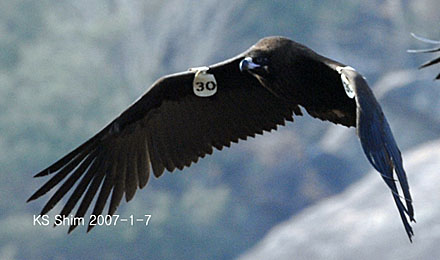 Jinju, South Korea. January 2007, Photo © Shim Kyu-Shik
News received on 30th January from Dr. Richard Reading, of the Department of Conservation Biology, Denver Zoological Foundation: a Cinereous Vulture, 'Number 30', expertly photographed by Mr. Shim Kyu-Shik near Jinju on 7th January 2007 was wing-tagged at Ikh Nart Nature Reserve, Dornogobi , Mongolia, on 21st July, 2006, by a joint US-Mongolian expedition. It was last seen feeding there on an Ibex Capra sibirica carcass on 28th September.
'Number 30' will have traveled over 2,000 km (even if measured in a straight line), to winter in southern South Korea.
Thirty-six other Cinereous Vulture were similarly tagged in 2006, with ten others (these with yellow tags) in 2005. Birds Korea welcomes all and any further records of wing-tagged or marked birds, for passing on to the relevant research and conservation bodies.
Bird News from Emily and Geoff Styles, with Nial Moores
Nakdong Estuary, Joonam Reservoir and Upo Wetland, January 27/28
On the Nakdong, a good variety of predatory birds were recorded, with one Black Kite, 2 juvenile White-tailed Sea Eagles, an Upland Buzzard, Common Buzzard, Hen Harrier and Kestrel seen.
On the sand spits were a few Eurasian Curlew, Eurasian Spoonbill, single Glaucous Gull and Dunlin. On the water were the usual collection of ducks, including Red-breasted Merganser, good looks at Smew, Whooper Swans and Falcated Duck. Great Cormorant also displayed their characteristic flight pattern overhead.
An early morning trip to Joonam Reservoir was successful, with 68 White-naped Cranes spotted flying, 2 Tundra Swan seen on the water, and a single Lesser White-fronted Goose mixed in with Greaters in the rice fields. 2 Japanese White-eye were seen at close range, as were Dusky Thrush. Winter Wrens were in the reeds and Japanese Skylark were calling overhead. A Peregrine Falcon was seen eating his breakfast on a sand spit.
Later on Sunday, the Upo Education camp group headed down to Upo Wetland to take in Long-tailed Tit, Northern Lapwing and a single Black-winged Stilt, an excellent January record.
68 species in all over the two days, and lots of new birds for the Styles'!
Bird News from Andreas Kim
Mokpo, January 23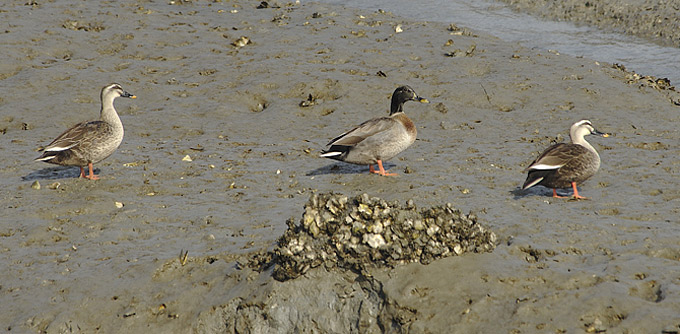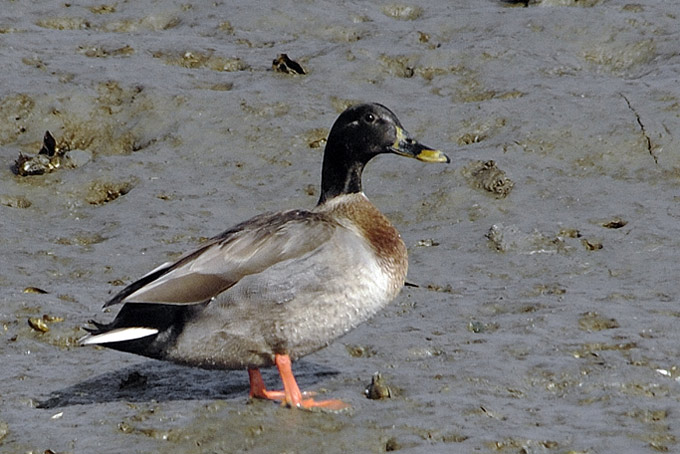 Mokpo, South Korea. January 23 2007, Photo © Andreas Kim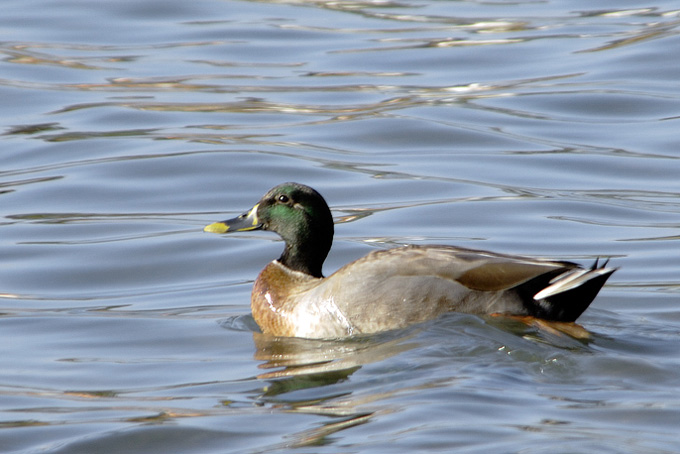 Mokpo, South Korea. November 2006, Photo © Andreas Kim
This bird appears to be a drake Mallard crossed with a Spot-billed Duck Anas poecilyrhynha. The bird has been seen by Andreas on a number of occasions with a mixed group of both species, and hybridisation is known between the two species - eg according to an entry at Wikipedia, "[The Spot-billed Duck] naturally hybridizes with the Mallard as their ranges now overlap in the Primorsky Krai due to the Spotbill's northward expansion (Kulikova et al. 2004)" (http://en.wikipedia.org/wiki/Spotbill).
Selected Bird News from the KBWS website
Seosan B, January 20
January 20: the Snow Bunting, present since late December, is still at Seosan B (Kwak Ho-Gyeong et al.), where the Long-tailed Shrike also apparently remains (via Kim Hyun-tae).
January 21: an atrogularis Dark-throated Thrush, showing signs of intergrade with ruficollis, or even perhaps hybridisation with naumanni, in Seoul, photographed by Kim Dong-Won.
Bird News from Peter Nebel and Jake MacLennan
Okgu and the Geum, January 21
Whiskered Tern Chlidonias hybridus, Photo © Peter Nebel
The two long-staying Whiskered Terns (first found by Peter Nebel on January 5th) were still present on the Okgu reservoir. While this species has been reported in Korea in December before (e.g. in 2001 at Seosan and 2002 at the Geum) this is probably the first January record nationwide.
In addition, and rather more expected, several hundred Saunders's Gull were at the Geum Estuary.
Bird News from Ju Yong-Gi
Gomso Bay, January 17
Still 7 Oriental White Stork at Gomso Bay on 17 January, with up to 10 there on or about the 10th of the month.
Bird News from Nial Moores and the Ornifolks team from the USA (Mike Flieg, Ken Cole and Bill Heady)
Cheorwon-Sorae - Song Do, January 16
The last day, and a return to Cheorwon to search for Siberian Accentor, Pallas's and Long-tailed Rosefinch (all rather/very scarce this winter). While the usual birding area was very disturbed and rather bird poor (despite some excellent flight views of both White-naped and Red-crowned Cranes there), a nearby patch of woodland and edge habitat was much more productive. While no Pallas's were found, 3 Long-tailed Rosefinch and 6 Siberian Accentor were logged (with excellent looks at the latter), along with large numbers of other commoner passerines. Two very good surprises there included a Hazel Hen (apparently flushed out of a ditch 100 m away from forest cover, before walking much more stealthily up the wooded hillside) and a Dark-throated Thrush (perhaps best aged as a first winter male): while clearly " Black-throated", its rufous outer tail feathers and small rusty patch on the neck sides revealed it to be an integrade (or hybrid) atrogularis x ruficollis.
In the late afternoon, a return to Song Do/Sorae where a first winter Glaucous Gull, and now 6 Relict Gull. In addition, an eleventh hour search through the 550 Eurasian Curlew led to the discovery of 2 Far Eastern Curlew - another species reliably found very rarely in winter in Korea - becoming approximately the 160th species of the week!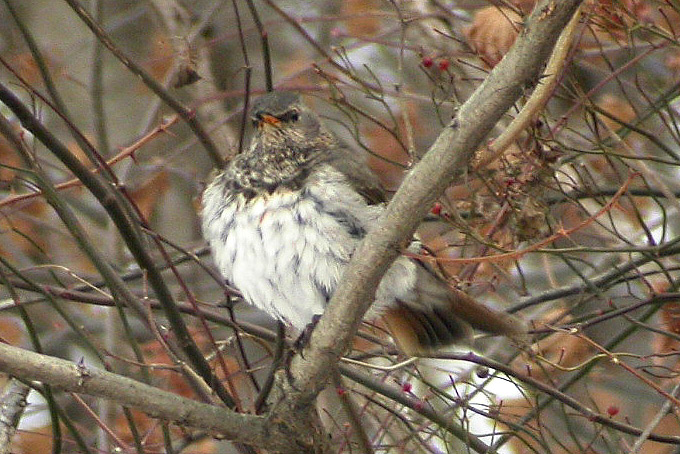 Dark-throated Thrush Turdus ruficollis atrogularis x T. r.ruficollis, Photo © Nial Moores
Bird News from Nial Moores and the Ornifolks team from the USA (Mike Flieg, Ken Cole, Bill Heady and Al Wofchuck)
Seosan Lake A - Sorae - Song Do, January 15
Another sunny morning - this time with no wind. At Seosan, a very successful few hours produced single Chinese Grey Shrike, 4 Oriental White Stork, 20 Chinese Penduline Tit, 2 Meadow Bunting, a flyover Lesser White-fronted Goose (in among an estimated 10 000 Greater White-fronts), three Korean Water Deer and two Amur Leopard Cat (the latter out on the frozen lake).
A late afternoon at Song Do/Sorae also produced some excellent birding- in the most depressing of surroundings, however, with huge reclamation projects continuing to destroy once extremely productive tidal-flats. On one reclamation lagoon, ca 6 Yellow Sea-type Gulls, along with an adult Glaucous Gull, while on the remaining tidal-flat 4 Relict Gull (one second winter, and 3 adults) were the obvious highlight.
Yellow Sea-type Gull (centre right), with Vega Gull (forward) and Slaty-backed Gull (rear), Photo © Nial Moores
Yellow Sea-type Gull is the name given by Birds Korea to individual Large White-headed Gulls that seem to share several distinctive features in adult non-breeding plumage, including:
a long-necked, slight-billed, long-legged structure;

a high-stepping gait;

a dark mantle (similar to the darkest mongolicus and darker than vegae);

head streaking coarse on the hind-nape and forming a dark boa, but apparently absent from the crown or breast sides (unlike vegae or taimyrensis and closest to mongolicus);

often faintly or strongly yellowish-toned legs;

a pale-based bill;

and greyish eyes set off by a greyish wash around the eye, and fairly strong white broken eye-ring.
That these gulls often form small groups of similar-looking individuals, and seem to be found in Korea only on gull-rich tidal-flats on the Yellow Sea coast (where they most often feed by picking at shells), led to the coining of this temporary name for this puzzling but rather distinctive type.
Bird News from Nial Moores and the Ornifolks team from the USA (Mike Flieg, Ken Cole, Bill Heady, Mark Elwonger and Al Wofchuck)
Guryongpo Peninsula, January 14
Another sunny day, though with near freezing temperatures and very strong winds until lunchtime, after which temperatures rose to a balmy 7 C. Another good day, with 57 species logged. In addition to three species of loon, decent views of White-winged Scoter (25), Harlequin Duck(25) and also Temminck's Cormorant (4). Ancient Murrelet were much harder to see well in the morning sea-swell, and only 40 were logged. Outstanding highlight was a Long-billed Murrelet: glimpsed only by NM and ME in the morning, a search for it again towards evening produced some very long range but decent views, in good light and in much calmer waters (with several plumage features, including the white scapulars and paler nape spots well-visible at 60x magnification).
Bird News from Robin Newlin
Eungbong (Seoul), January 15
A brief trip to the stretch of stream and river between Eungbong and Oksu stations: numbers of Tufted Duck seemed to be on the increase (about 700 noted) with fair numbers (400) of Common Pochards, Goosanders (200) and Smew (7). Dabbling ducks were less in evidence, with around 100 Pintail, but rather few Common Teal. However, 16 Mandarin Duck basked on the rocks or fed on the grassy bank.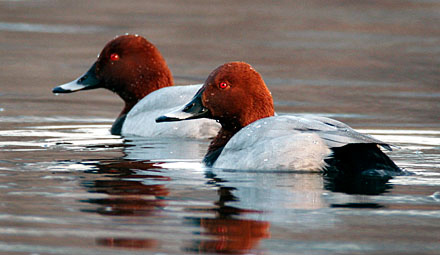 Male Common Pochards Aythya ferina, Photo © Robin Newlin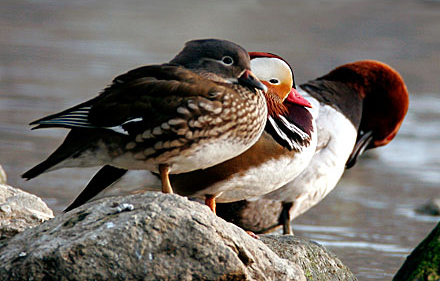 Female and male Mandarin Ducks Aix galericulata (with a Pochard at rear).
Photos © Robin Newlin
Also of note was an odd duck (photo below), an apparent hybrid: my guess would be a Ferruginous Duck/Pochard cross.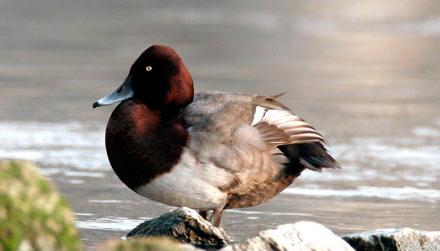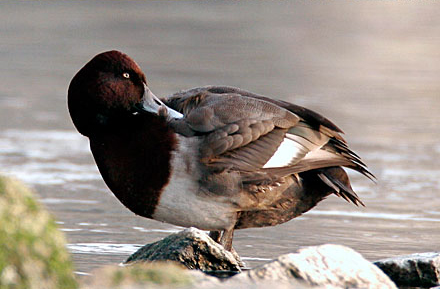 Hybrid Pochard? Photos © Robin Newlin
Bird News from Tim Edelsten & Robin Newlin
Han River, Namyangju, January 14
A return visit to this same stretch yielded a few extra birds, as well as a stunning flyover of one of the adult Stellers Sea Eagles at dusk, which appeared to be heading to roost in trees on the mountainside.
A further walk upstream revealed abundant Coots (300+), at least 200 Gadwall and a similar number of Mallard. A pair of Smew were in midriver with an out-of-place Red-breasted Merganser.
Along the riverside 1 each of Pallas's Reed Bunting, Olive-backed Pipit, Japanese Pygmy Woodpecker, Buff-bellied Pipit and several Dusky Thrushes.
Bird News from Nial Moores and the Ornifolks team from the USA (Mike Flieg, Mark Elwonger, Ken Cole, Pearl Jordan, Bill Heady and Al Wofchuck)
Nakdong Estuary-Joonam Reservoir, January 13
Despite seasonal temperatures for the SE (min -2 C/+6C max), a bitter wind, and no success in the search for Relict Gull at the Nakdong. Instead, one of the first gulls to be found was a (presumed) 4th winter American Herring Gull, with identification based largely on its bright, blue-grey toned (Glaucous Gull-like) upperparts contrasting strongly with a heavy grey-brown shawl, covering head and neck, in combination with its rather massive bulk. Very brief spread-wing views further supported the identification.
Further birds of note included 2 Harlequin Duck still - unusually keeping loose company with several Falcated Duck.
At Joonam, the long-staying Cackling Goose became the second Nearctic vagrant of the day. Further birds of note there included 40+ White-naped Crane, 30 Smew, and possibly 2 000 Baikal Teal.
Bird News from Nial Moores and the Ornifolks team from the USA (Mike Flieg, Mark Elwonger, Ken Cole, Pearl Jordan, Bill Heady and Al Wofchuck)
Hwaumsa - Suncheon Bay - SE River, January 12
Another long day, with several highlights and 68 species logged. At Hwaumsa, 2 Hill Pigeon, and excellent views of 2 White-backed Woodpecker, while the river near Gurye held a pair of Long-billed Plover.
At Suncheon bay, little evidence of any Ramsar-style management: instead, almost the whole area of tidal-flat is covered in dense fish nets, with two boats (both for tourists?) plying the small river. Despite the continuing degradation of this site 45 Hooded Crane, 4 Eastern Oystercatcher, 75 Saunders's Gull and a Black-faced Spoonbill were logged, along with one Common Redshank and two Common Greenshank (both very uncommon in winter in Korea), and in some ways even more noteworthy, a single Red-throated Pipit, possibly the first mid-winter record of the species in Korea.
Towards evening, an hour or so at the SE River, where a pair of Scaly-sided Merganser were watched copulating(!) and displaying, and the female Plumbeous Water Redstart was re-found, this time feeding in a small sheltered puddle in a rock in the centre of the river.
Bird News from Nial Moores and the Ornifolks team from the USA (Mike Flieg, Mark Elwonger, Ken Cole, Pearl Jordan, Bill Heady and Al Wofchuck)
Gomso Bay - Geum River, January 11
An interesting day with lots of good birding, and 67 species logged. At Gomso Bay, an unsuccessful search for Oriental White Stork (with two then four found there by Ju Yong-Gi, on 5 January) instead produced 3 Common Starling, one or more likely two Dusky Warbler (perhaps only the second or third January record), 14 White Spoonbill and very good scope views of both Pallas's Reed and Little (8) Buntings. At the Geum River, 38 Swan Goose (which most surprisingly flew off from the estuary to feed in adjacent rice-fields), 100+ Saunders's Gull, and upriver an estimated 420, 000 Baikal Teal still. In addition, 3 adult Lesser White-fronted Geese were found in among 1000 Greaters, eventually showing well to all in good light.
Bird News from Nial Moores and the Ornifolks team from the USA (Mike Flieg, Mark Elwonger, Ken Cole, Pearl Jordan, Bill Heady and Al Wofchuck)
Cheorwon - Arboretum - Han River, January 10
With temperatures down to ca -10C at dawn at Cheorwon, a long cold wait for both White-naped (100+) and Red-crowned (20+) Cranes to appear, while a Pallas's Rosefinch (an immature male) was seen very briefly by only one or two of the group.
At the arboretum, one (or possibly two) Solitary Snipe, a Brown Dipper, and 2 more Pallas's Rosefinch (heard by NM and again seen by only one of the group), while at the Han prolonged views of 2 Steller's Sea-Eagle: best bird of the day for several.
Bird News from Tim Edelsten & Robin Newlin
Han river, East Seoul, January 7
Much snow and ice covered the vicinity of this broad, reeded stretch of the Han today.3 (adult) Stellers Sea Eagles have returned to laze around the same islands they frequented last winter. 2 White-tailed Eagles, a dashing Merlin and a Common Buzzard indicated good hunting.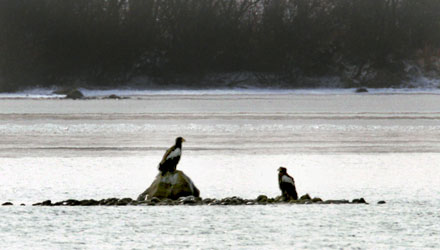 Steller's Sea Eagles, Photo © Robin Newlin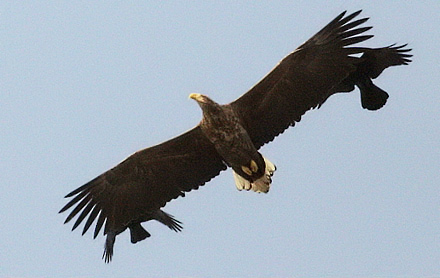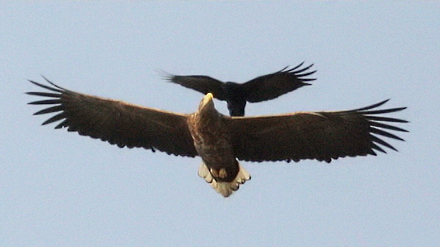 White-tailed Eagle, Photos © Tim Edelsten
On the water, a sizeable gathering of c.800 Goldeneye and some 40-50 Whooper Swans, 50 Coot, 30 Eurasian Wigeon, 30 Tufted Duck, 40 Common Pochard, c450 Goosander, and single numbers of Common Teal, Mallard & Great Crested Grebe.
In riverside willows & scrub, a Winter Wren, parties of Rustic Buntings, Long-tailed Tits and 4 Siberian Accentors.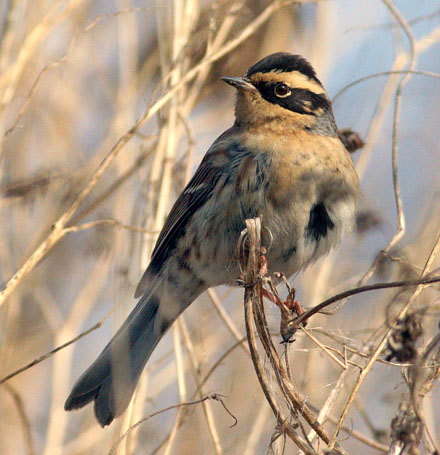 Siberian Accentor Prunella montanella, Photo © Tim Edelsten
Bird News from Ryoji Seto, Sugiyama Tokio, Senzaki Hiraku and Ishii Teruaki
SE River-Jinju Slaughterhouse, January 8
In much calmer and brighter weather, a second trip to the SE river, where the female Plumbeous Water Redstart was re-found; and a second visit to the slaughterhouse, where the Steppe Eagle was still present and well-photographed.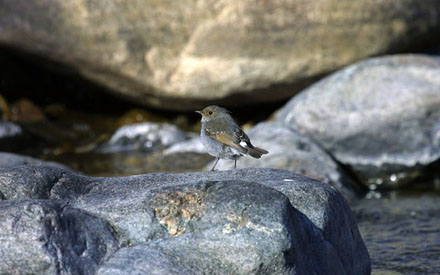 Female Plumbeous Water Redstart Phoenicurus fuliginosus, Photo © Seto Ryoji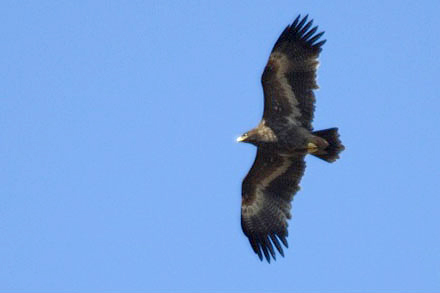 Steppe Eagle Aquila nipalensis, Photos © Senzaki Hiraku
Bird News from Ryoji Seto, Sugiyama Tokio, Senzaki Hiraku and Ishii Teruaki
Nakdong Estuary, January 7
An unsuccessful search for the Eastern Lesser Whitethroat, but views of an immature Steller's Sea Eagle (the third individual this winter here).
Bird News from Ryoji Seto, Sugiyama Tokio, Senzaki Hiraku and Ishii Teruaki, with Nial Moores
Nakdong estuary-SE River-Slaughterhouse near Jinju, January 6
Despite the increasingly cold wind, decent views of the 'Eastern' Lesser Whitethroat at Miyeonji (first found there on December 29), watched feeding in pine trees, both by picking insects from pine fronds, and also working along the bark like a small nuthatch.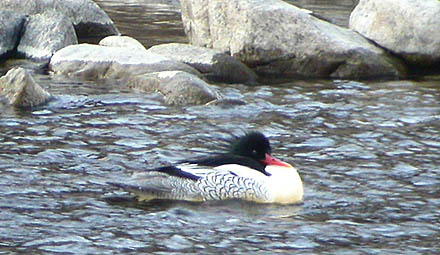 Scaly-sided Merganser Mergus squamatus, Photo © Nial Moores
Following a phone call from world lister Peter Kaestner about a Relict Gull near Dadapo, we teamed up and headed to the SE river, for excellent views of 3 Scaly-sided Merganser (2 male and one female) just as heavy snow showers moved in.
While PK then headed to Hwaumsa (in blizzard conditions!), the main team searched unsuccessfully for Plumbeous Water Redstart, before driving towards Jinju - in the hope of better weather conditions and to revisit a slaughterhouse which held a juvenile Steppe Eagle last winter. At the slaughter-house, ca 40 Cinereous Vulture - and best surprise of the day, a Steppe Eagle: based on plumage and its rarity in Korea, there is little doubt that this is the same bird returning for a second winter.

Eastern Lesser Whitethroat , Photos © Nial Moores
Bird News from Ryoji Seto, Sugiyama Tokio, Senzaki Hiraku and Ishii Teruaki, with Nial Moores
Hwaum-Sa - Geum River - Mangyeung, January 5
First light found a confiding Hill Pigeon (the first of 5 logged) at Hwaum-Sa, where both White-backed and Grey-headed Green Woodpeckers were also very well-watched.
At the Geum Estuary, ca 10 Swan Goose along with good numbers of gulls (including Saunders's and Mongolian), as well as ca 400, 000 Baikal Teal upstream of there. Most interesting birds found in the late afternoon at Hwapo (Mangyeung estuary) included ca 200 Lapland Longspur, several Pallas's Reed Bunting and a single Bluethroat (SH and NM).
Banding News from Irina Kharitonova, Bird Ringing Centre of Russia
Information was sought on the origins of a Whooper Swan with a coloured neck ring recorded from the Nakdong Estuary on Dec 30th, and Birds Korea has had the following (remarkably quick) response from Russia:
| | |
| --- | --- |
| RING NUMBER: | Moskwa AA-0156 plus markers red neck collar 2K22 + PTT 27978 |
| SPECIES: | Whooper Swan Cygnus cygnus |
| SEX: | male |
| AGE | >2 y |
| RINGING DATE | 24.July.2001 |
| PROVINCE | Russia, Khabarovsk |
| RINGING PLACE | Bolonskiy Nature Reserve |
| COORDINATES | 49.21 N 135.42 E |
| | |
| FINDING DATE | 30.Dec.2006 |
| PROVINCE | S. Korea |
| FINDING PLACE | Nakdong Estuary, Busan |
| COORDINATES | 35.06 N, 128.57 E |
| DETAILS | sight record colour mark |
| COMMENT | The swan was seen on previous dates in the same area but the collar was not read |
| | |
| DISTANCE | 1669 km |
| DIRECTION | 200 degrees |
| ELAPSED TIME | 1985 days |
| | |
| Previous record | 22.11.2004 S. Korea, Junam Reservoir, Gyeongnam Prov. 35.33 N 128.25 E |
Bird News from Ju Yong-Gi
Gomso Bay, January 4
Best of a morning's survey work included finding two Oriental White Stork: this is a new site for the species.
Bird News from Tim Edelsten, Dave Sargeant & Phil Hansbro
Songdo, January 1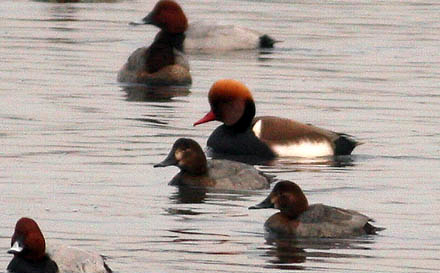 Red-crested Pochard Netta rufina, Photos © Tim Edelsten
A superb male Red-crested Pochard [there have still been less than 10 South Korean records] loitered in the midst of c.500 Common Pochard in the dwindling reclamation pool, accompanied by the usual wintering ducks.
On the mudflat facing Sorae, several hundred Dunlin, c.100 Grey Plover, and 3 Eurasian Curlew, with a Merlin hunting nearby.
A Common Buzzard at the frozen lagoon is a first for here, also a Winter Wren and a party of Pallas's Reed Buntings.
On the golf course, several Naummanns / Dusky Thrushes, as well as foraging Goldcrests and Coal Tits, Black-crowned Night Heron and a Eurasian Sparrowhawk.
At the terribly degraded aham-do mudflat, only a lone immature Saunders's Gull, and several skeins of Bean Geese overhead.
Copyright 2002 - present
http://www.birdskorea.org
all rights reserved
Birds Korea 1108 Ho, 3 Dong, Samick Tower Apt., 148-22, Namcheon-Dong, Su-Young-Gu
Busan, 618-762 Republic of Korea