Birds Korea's Bird News October 2006
October
Warm (typically between 15-20°C mid-month), with often excellent birding weather: dry, sunny, and relatively calm. Occasional rain, although uncomfortable for birdwatchers, can produce excellent falls. One of the best times to be birding in Korea!
Autumn migration is in full swing, and anything is possible! Black-faced Spoonbill and Chinese Egret are still reasonably widespread. Hooded and White-naped Cranes start moving south into Korea, with several thousand in the DMZ. Huge concentrations of Tundra Beans and Greater White-fronted Geese form at the Han-Imjin and Seosan. The charismatic Baikal Teal arrives in force mid-month, with up to 200 000 at Seosan! Raptor migration is often strong, with Grey-faced Buzzards (day peak of 1 500 on Gageo island), Oriental Honey Buzzards, the occasional eagle (especially Greater Spotted), Northern Hobby, and the odd Amur Falcon.
Shorebirds are still present in good numbers and diversity, with a peak in Nordmann's Greenshank. Visible migration peaks with Olive-backed Pipits becoming very numerous by mid-month along the west coast, plus excellent numbers of buntings and flycatchers. Pale, White's, and small numbers of Dusky Thrushes are also on the move, along with the first of the typical winter passerines, Brambling and Siskin.
(The following records are a compilation of our own sightings and records sent in by other observers. As well as being posted on the Birds Korea website(s), selected records are also forwarded to other Korean-language birding websites; records of threatened species are arranged and forwarded to Birdlife International and national authorities when appropriate; flag images and records are passed to bodies responsible for their coordination throughout the flyway; and all records sent to us are used to compile annual reports and to support the evolving understanding of the status of many of Korea's birds.)
Bird News from Jake Mac Lennan and Kim Young-mi
Oh-seong Mountain and Napo Reservoir, October 29
Three of a total of five Northern Shovelers were seen today at a reservoir near Napo Village. On Oh-seong a feeding flock had Yellow-browed and a single Pallas' Leaf Warbler. A few Goldcrests were nearby the same feeding flock. Groups of Siskins are over Oh-seong. Coots and Moorhens were in the pond at its base.
Bird News from Robin Newlin and Tim Edelsten
Seungbongdo, October 27-29
Highlights from an evening, one full day, and a morning on the attracive little island of Seungbongdo.
Several Daurian Redstarts, a Bull-headed Shrike, 35 Bramblings, 18 Siskins, 200 Yellow-throated, 8 Rustic, 2 Chestnut, and 50 Black-faced Buntings, 5 Common Buzzards, 3 Carrion Crows, 2 Eurasian Sparrowhawks, Long-tailed, Varied, and Great Tits, 5 Red-flanked Bluetails, 4 Goldcrests, 1 Mugimaki Flycatcher, the island's resident Hobbies late-lingering, several Yellow-browed and 1 Arctic Warbler, 4 Korean Bush Warblers, 5 Siberian Stonechats, 7 Grey Starlings, 1 Mandarin Duck, 1 Barn Swallow, and (most exciting) 6 Greater Short-toed Larks in the broad rice and reedbed fields near the elementary school.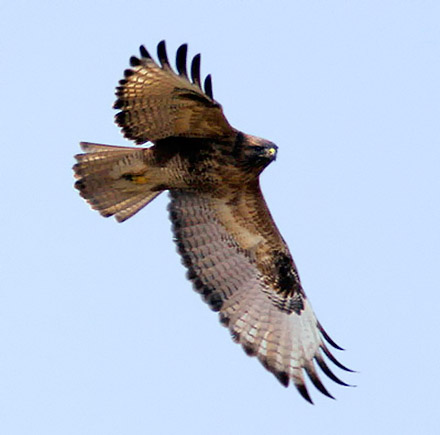 Common Buzzard Buteo buteo Photo © Robin Newlin
Common Pheasant Phasianus colchicus Photo © Robin Newlin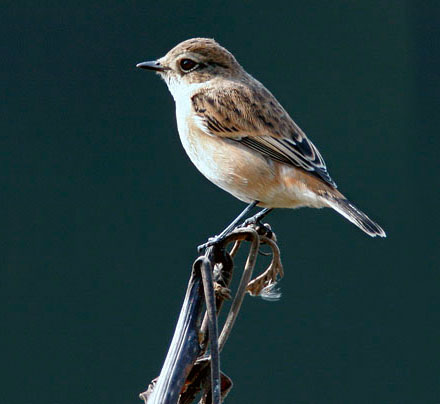 Siberian Stonechat Saxicola maura Photo © Robin Newlin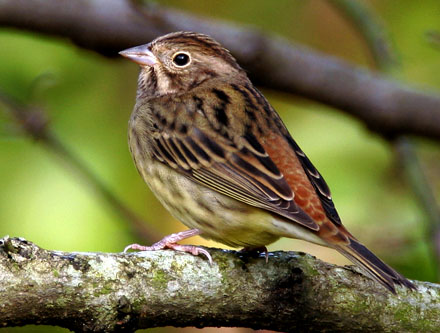 Chestnut Bunting Emberiza rutila Photo © Robin Newlin
Banding News from Clive Minton, AWSG
A Great Knot Calidris tenuirostris was sighted in a flock of 1900 birds by Arthur and Sheryl Keates at: Between Lee Point and Buffalo Creek, NT, Australia 12deg 20min0sec S, 130deg 54min0sec E on 7/10/2006 with flag(s) as follows:
LEFT leg: white flag on tibia (upper leg) above orange flag on tarsus

RIGHT leg: nothing/unknown on tibia (upper leg) above metal band on tarsus
This bird was flagged in Korean Peninsula, approximate co-ordinates 36deg min N, 126deg 40min E, which uses the flag combination White/Orange, sometime since 1998.
The resighting was a distance of approximately 5394 km, with a bearing of 174 degrees, from the marking location.
Plumage described as: Partial Breeding.
Precise location: Lat: 12 deg 19 min 46 sec Long: 130 deg 53 min 46 sec E
A Spoon-billed Sandpiper Eurynorhynchus pygmaeus was sighted by Danny Rogers, Nial Moores and others at: Yubu Island, Republic of Korea (South Korea) 36deg0min0sec N, 126deg 37min0sec E on 25/09/2006 with flag(s) as follows:
LEFT leg: nothing/unknown on tibia (upper leg) above nothing/unknown on tarsus

RIGHT leg: light green flag on tibia (upper leg) above nothing/unknown on tarsus
This bird was flagged Southern Chukotka, approximate co-ordinates 62deg 40min N, 177deg 10min E, which uses the flag combination light green flag, on the breeding grounds (May-July), sometime since 2000 (or since 2003 for Red Knot).
The resighting was a distance of approximately 4526 km, with a bearing of 253 degrees, from the marking location.
Age: Adult.
Seen during a Saemangeum Shorebird Monitoring Program survey of the Guem Estuary. This bird was an adult in post-breeding moult, with about 60% breeding plumage. It was in a large wader roost with 10,000 to 15,000 other shorebirds. There were at least 14 unbanded Spoon-billed Sandpipers also present, including both adults (at a similar stage of moult) and juveniles. They were mingling with a large flock of small waders that included roughly 5000 Dunlin, 2000 Lesser Sand Plovers, 2000 Kentish Plover, 1000 Red-necked Stint, 600 Broad-billed Sandpiper and 600 Sanderling.
The Spoon-billed Sandpipers were very active, attempting to feed on the waters edge on upper sand flats through most of the high tide period.
A Bar-tailed Godwit Limosa lapponica was sighted by Gwen Pulham and John Simmons at: McLeod's Beach, Kaipara harbour, Auckland, NI, New Zealand 36deg 28min0sec S, 174deg 15min0sec E on 7/10/2006 with flag(s) as follows:
LEFT leg: nothing/unknown on tibia (upper leg) above nothing/unknown on tarsus

RIGHT leg: white flag on tibia (upper leg) above orange flag on tibia
This bird was flagged in Korean Peninsula, approximate co-ordinates 36deg min N, 126deg 40min E, which uses the flag combination White/Orange, sometime since 1998.
The resighting was a distance of approximately 9438 km, with a bearing of 143 degrees, from the marking location.
Bird News from Nial Moores
Socheong Island, October 27
62 species logged during the day, with highlights a cracking male Red-throated Thrush (again, only in flight), the first Siberian Accentor of the autumn (3), and late Ashy Minivet (2) and Common Rosefinch (4).
Bird News from Geoff Styles and Mark Ragsdale
Eochong-do, October 21-24
A wind-induced extended stay on Eochong-do produced a modest bird count of 46 species. High winds and raptors soaring just above the tree tops and sitting in trees across the island led to very challenging birding, with most birds identified on call. Common Buzzards were the most numerous raptors (7), with Kestrels, a Northern Hobby, Crested Honey Buzzard and an immature Peregrine thrown in.
On the ground, a tight group of 6 Buff-bellied Pipit and 2 Little Bunting owned the quarry. On the ridge there was a small flock of c.10 Goldcrest with Coal Tit mixed in, as well as numerous Black-faced, Yellow-throated, Chestnut and Chestnut-eared Buntings in the low brush. A Common Kingfisher, female Mallard and Little Grebe were blown in with the winds on Sunday.
Monday saw two massive cargo ships hiding in the lee of the island as well as one Osprey, 6 Yellow-browed and 1 Dusky Warbler with Pale and Grey-backed Thrush calling and flying at dusk. One Streaked Shearwater was seen fighting the gusts from the Lighthouse. Probably many more species there but not seen or heard over the three wind-swept days.
(Mark brought his recording equipment, and was able to record excellent snippits of at least 7 species of birds, including the Kestrel and the flock of Goldcrest and Tits. Many thanks to him for coming and being gracious with the missed work on Monday and Tuesday!)
Bird News from Jake Mac Lennan and Peter Nebel
Gunsan Vicinity, October 22
A Chinese Pond Heron was being harassed by Magpies near the Geum Estuary. Black-faced Buntings were in a canal there. On Oh-seong Mountain a group of tits (the four common species) and a dozen or more Phylloscopus, most of which were Yellow-browed Warblers. Also in this large feeding flock were two Japanese White-eyes and a single Chestnut-flanked White-eye. On the west slope a single Pale Thrush flew by.
In the pond at the base of the Mountain a pair of Eurasian Wigeons and a male Gadwall apparently in eclipse were seen. Several thousand Baikal Teal were in the fresh water on Saturday, but we could only locate a few hundred on Sunday.
Bird News from Nial Moores
Socheong Island, October 23
With a moderate north-easterly wind and much clearer conditions (with exceptional visibility - including flags and trees on the DPRK mainland over 60 km distant), an extraordinarily frustrating day.
Undoubted highlight (and low point!) was a five second second flight view in the far southwest of the island, in perfect light and at close range, of a Skylark-sized or bigger, very heavy billed, brownish-black lark, with heavy streaking on the underparts, four times giving a call reminiscent of a slow, harsh Short-toed Lark. Despite much searching, when a Little Owl and 2 Yellow-legged Buttonquail were found, the lark was not relocated, presumably having moved up the island (away from the noise of construction at the lighthouse), or away from it.
In the evening, further frustration came with medium-distance flight views of a mahogany-brown juvenile Marsh Harrier sp. Other species of note included 2 Red-throated Thrush, 2 Light-vented Bulbul, a very late Middendorff's Grasshopper Warbler, an Ochre-rumped Bunting, the first personal Rustic Bunting of the autumn, and at least 250 Siskin.
Bird News from Nial Moores
Socheong Island, October 22
Very heavy rain and Beaufort force 7 southerly winds, swinging round to a moderate northwesterly in the evening. Very little time spent in the field, with highlights confined to single Slaty-backed Gull, 5 Taimyrensis, a single Black Kite and probably several hundred Olive-backed Pipit.
Bird News from Barry Heinrich
Yanggu, October 20 - 21
A flock of Mandarin Ducks here was found to number over 460 - perhaps congregating before moving south to avoid the coldest part of winter.
I was also lucky to get close enough to a Common Buzzard to get any sort of image as raptors are generally quite shy. This species can be seen around Yanggu all through the winter.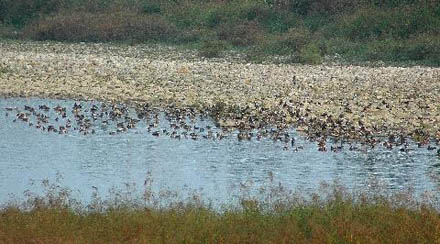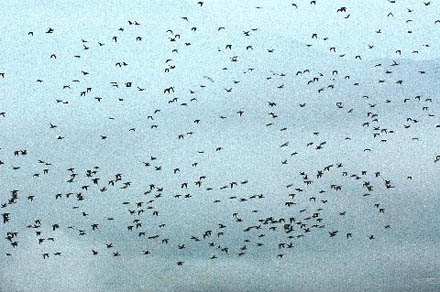 Mandarin Ducks Aix galericulata, Photo © Barry Heinrich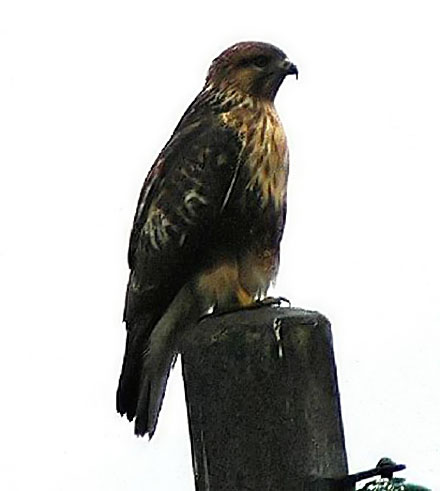 Common Buzzard Buteo buteo, Photo © Barry Heinrich
Bird News from Nial Moores
Socheong Island, October 21
In very largely sunny and warm conditions with a light southeasterly wind, much of the day was spent at the raptor counting point above the main village.
Easily the most numerous species was Common Buzzard, with a conservative 320 logged during the day (including single kettles of 70), while other species include 12 Crested Honey Buzzard (two suffering from wing damage presumably due to gunshots), 5 Black Kite, 20 Northern Goshawk, and single Upland Buzzard, White-tailed and Golden Eagle (the latter presumably a first record for Socheong and the island's twenty sixth raptor species). In addition, an Oriental Scops Owl was well watched, if briefly.
Bird News from Nial Moores
Socheong Island, October 20
With very clear conditions and an occasionally brisk NE wind, 70 species logged. Good records for Socheong included 8 Black-necked Grebe, single Eurasian Wigeon and Northern Pintail, a Ruddy Crake and a Carrion Crow, while a single Amur Falcon, 2 Light-vented Bulbul, and 8 simplex Japanese White-eye were rather more significant records at the national level.
Bird News from Robin Newlin
Samcheok, October 21
A partly-birding trip to the East Coast's Samcheok found cool winds and substantial (avian) activity on the ocean.
About an hour's sea-watching logged highlights of 400+ Streaked Shearwaters, a Mandarin Duck, about 300 stejnegeri White-winged and 25 Common Scoters, 5 Red-breasted Mergansers, 2 Goosanders, good movement (maybe 200 birds noted) of Black-headed Gulls, and single Parasitic and Pomarine Skuas.
Near the hotel, a welcome collection of female birds: a Pale Thush just outside the door, a Daurian Redstart in the scrub and a Harlequin Duck in the rough surf at a rocky headland.
Bird News from Aurélien Audevard, Mikaël Champion, Marc Duquet, Jean-Yves Frémont & Javier Orrit
Geum, Heuksan and Seosan, September 24 - October 8
The following superb photos are all from a trip to South Korea by the above participants, which is still being translated.
Highlights of the trip include probably one of the first photographed records of Pectoral Sandpiper in the country (Seosan on 26th September), and an early Oriental White Stork
Juvenile Pectoral Sandpiper Calidris melanotos, Photo © Aurélien Audevard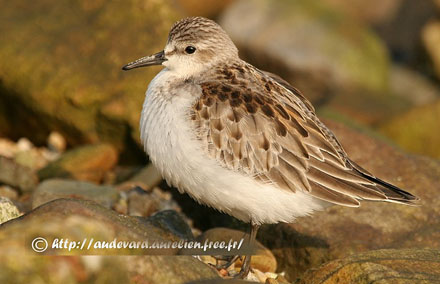 Red-necked Stint Calidris ruficollis, Photo © Aurélien Audevard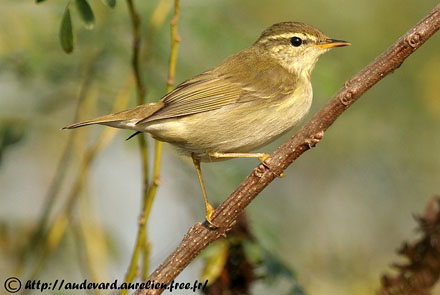 Arctic Warbler Phylloscopus borealis, Photo © Aurélien Audevard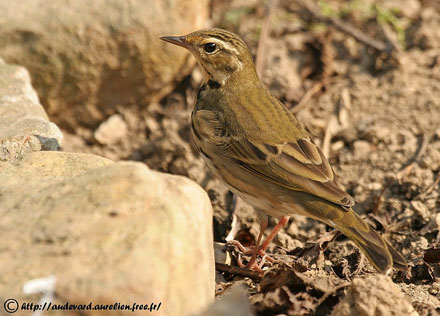 Olive-backed Pipit Anthus hodgsoni, Photo © Aurélien Audevard
Bird News from Nial Moores
Socheong Island, October 19
With an overcast conditions at dawn, clearing during the day, again 64 species logged, with much better numbers of some migrants including Korean Bush Warbler (30), Yellow-browed Warbler (50), Chestnut Bunting (300), Black-faced Bunting (300+), Grey-backed Thrush (40) with the highlight at least one, but probably two, Red-throated Thrush (the better seen individual being a full adult male).
October 18, Socheong
With occasional banks of cloud, rather improved numbers of birds, with 64 species logged during the day. Most numerous were Common Buzzard (up to 150), Olive-backed Pipit (80), Goldcrest (30), Brambling (300), Siskin (400) and Red Crossbill (38), while highlights included 4 Light-vented Bulbul trying to head out to sea, and an all-too briefly seen Alpine Accentor.
October 17, Incheon-Socheong
With still calm, dry (apparently no rain here for almost 2 months!) and warm conditions, little expectation of large numbers of migrants. Highlights for the day were from the ferry, with excellent views of a South Polar Skua along with 7 Pomarine and 2 Parasitic Jaeger, while on the island itself only 45 species logged in the afternoon, including 2 late Lanceolated Warbler and e.g just 2 Red-flanked Bluetail.
Bird News from (Nial Moores) Emily, Geoff, Mel, and Donna Styles, Andy Henderson, and Todd Schipper
Eochong-do and the Geum, October 14 - 15
We started a lovely Saturday morning birding the Barrage at the Geum where 29 species were recorded including Eurasian Curlew (500), Common Greenshank (30) and up the river 1000 Baikal Tealwere spotted before heading to the Ferry for Eochong-do.
Highlights on Eochong-do were Streaked Shearwaters (7) and Eastern Oystercatchers (160) viewed from the ferry shortly after departure, Heughlin's Gull, leugens Black-backed Wagtail, Grey Wagtail, White Wagtails (ocularis and leucopsis), Yellow-browed Warbler (15), Pallas Leaf Warbler, Rufous-tailed Robin, Slaty-backed Gull, Japanese Bush Warbler, Black Kite, and Northern Goshawk. Seeing the Goshawk chasing a Rufous Turtle Dove and take a shot at the Black Kite were also nice additions to the weekends birding. Finally, on the 15th there was a Siberian Rubythroat, and a Red Collared Dove Streptopelia tranquebarica - there have been ten or less spotted in Korea and this the first recorded on Eochong-do.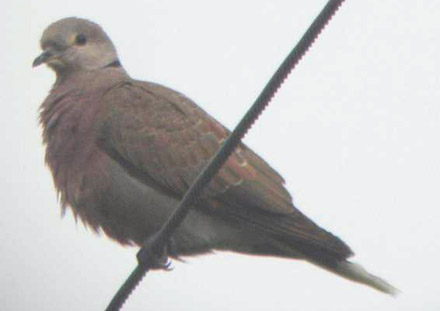 Red Collared Dove Streptopelia tranquebarica
Photo © Geoff Styles
The weekend was topped off by a run up the river from the barrage where 2000 Baikal Teal were seen flying in their renowned manner, Mandarin Ducks (~3), a Eurasian Wigeon, and a Chinese Penduline Tit was heard.
Overall it was a fabulous weekend and many thanks to Nial for being a constant knowledge dispenser and great guide as well as a great guy...
Bird News from Nial Moores with Jeon Shi-Jin and Kim Hyangee
Nakdong Estuary, October 12
In very warm sunshine (max of 25C) and hazy conditions, the last check of the autumn for shorebirds in the outer part of the estuary, where Jeon Shi-Jin and Kim Hyangee had seen 3 Juvenile Spoon-billed Sandpiper on 3 and 4 October.
Only Kentish Plover were present in significant numbers, with ca 400 present, while other species included Bar-tailed Godwit (35), Mongolian Plover (42), Eastern Oystercatcher (2), Sanderling (34), Broad-billed Sandpiper (1), and still two Spoon-billed Sandpiper, both moving from juvenile plumage into a rather duller grey and white non-breeding plumage.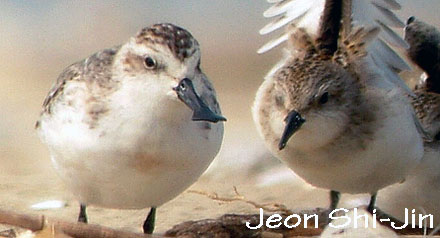 Spoon-billed Sandpiper and Red-necked Stints
Photo © Jeon Shi-Jin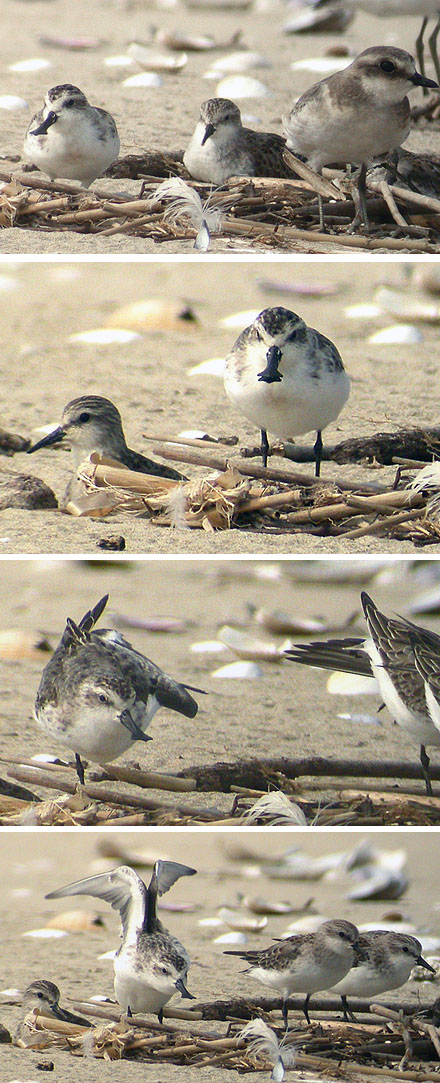 Spoon-billed Sandpiper, Red-necked Stint and Mongolian Plover,
Photos © Nial Moores/Birds Korea
Apart from this obvious (and outstanding!) highlight, most surprising was a count of at least 40 grounded Richard's Pipit, while Olive-backed (10), Buff-bellied (30+), Red-throated (3) and Pechora (2) Pipits were also all on the move southwestward overhead.
Tim Edelsten, Robin Newlin, Barry Heinrich, Dave Baker
Seungbong (am), October 6
The morning added 2 personata Black-faced and 1 Chestnut Bunting, making a total of 50 species for the trip.
Tim Edelsten & Robin Newlin Songdo (pm)
20 Black-faced Spoonbills huddled together on the lagoon. Nearby, c.70 Black-tailed Godwits, 100+ Common Greenshank, a Common Moorhen, and c.450 Great Cormorant. Numbers of Mallard, Teal, Pochard and Shoveler have swelled, with a few Tufted Duck in amongst.
On the reclaimed mudflat, the narrow drainage channel held 1 Black-winged Stilt, 1 Red-necked Stint, 1 Spotted and 3 Common Redshank, 1 Mandarin, and 2 Common Snipe.
Tim Edelsten, Robin Newlin, Barry Heinrich, Dave Baker
Seungbong, October 5
On the crossing a flotilla of 18 Black Scoters were noteworthy. Raptors soaring over the island included 2 Kestrels, 1 Peregrine, 6 Hobby, 1 Common and 1 Oriental Honey Buzzard, and 1 each of Japanese Lesser, Chinese and Eurasian Sparrowhawks.
Oriental Honey Buzzard Pernis ptilorhynchus, Photo © Tim Edelsten
Several Yellow-throated, 5 Tristram's and Black-faced Buntings were to be found keeping tight cover in thick grassland. Nearby, 1 Garganey, a Siberian Stonechat, 2 Olive-backed Pipits and a Pintail Snipe. Also 2 Arctic, 10 Yellow-browed, and 4 Oriental Reed Warblers. The day closed with a V-formed squadron of 50 Bean Geese overhead.
Bird News from Robin Newlin
Seungbong Island, October 4
An Osprey at sea was followed by 3 Common Rosefinches, Rustic Buntings, and 9 Grey Starlings on the island.
Bird News from Robin Newlin
Socheongdo, September 30 - October 2
Very warm, settled weather for all 3 days meant smallish numbers of migrants on the island.
The ferry trip over to Socheong (no outside access) was very uneventful, with only 3 Streaked Shearwaters noted.
On the island, the following highlights on 30 Sept:
75 Oriental Honey Buzzards, in occasional groups. 8 Common Buzzards. Small (single digits) of Eurasian and Japanese Sparrowhawks, 1 Osprey, 1 Peregrine Falcon, 3 Northern Hobbies, and a Kestrel.
Small numbers (15 and 12, respectively) of Olive-backed and Buff-bellied Pipits, and a single Blyth's Pipit (obligingly calling). 1 Thick-billed Warbler, 2 Pallas' Leaf, 25 Yellow-browed Warblers. 1 Red-throated Flycatcher. A single Common Rosefinch, several Chestnut Buntings (only 1 seen) and 18 Asian House Martins.
New birds for Oct01. A single Siberian Rubythroat. 7 Light-vented Bulbuls. 2 Radde's and 1 Arctic Warbler. A single 2-barred Greenish (obligingly if infrequently calling). 1 Oriental Reed and 2 Korean Bush Warblers. A (late) Pacific Swift flying with a dozen Asian House Martins. 5 Eurasian Jays (unusual on the island?). 2 Yellow-browed, 6 Tristram's, 3 Meadow, 3 Black-faced, and 1 Little Bunting.
Highlight pf the day (and trip) came drifting overhead with 6 Oriental Honey Buzzards: a juvenile Steppe Eagle.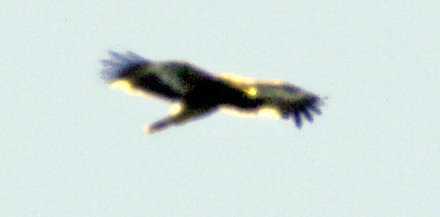 Juv Steppe Eagle Aquila orientalis, Photo © Robin Newlin
The morning of Oct 2 (very warm and calm) added 2 flocks of Siskins (about 30 overall), 2 Asian Brown Flycatchers, a Woodcock, and a juvenile Goshawk.
Several more Eurasian and 1 Japanese Sparrowhawk noted and small (about 12) numbers of Oriental Honey Buzzards.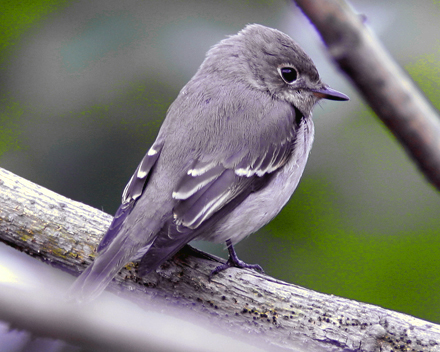 Asian Brown Flycatcher Muscicapa sibirica, Photo © Robin Newlin
The ferry return (people allowed outside) across extremely calm seas: 7 Streaked Shearwaters and 2 Flesh-footed Shearwaters, and 1 Skua (apparently Pomarine).