Birds Korea's Bird News July 2006
July
Hot (typically above 25°C, sometimes reaching 30°C) and humid, with occasional storms and heavy rains associated with southern-tracking typhoons.
Young Japanese and White(-faced) Wagtails can be found begging food on streams and rivers in the southeast. Juvenile Chinese Egrets and Eastern Oystercatchers are on north-west tidal-flats, in some areas feeding alongside summering Saunders's and Mongolian Gulls. Chinese Sparrowhawks are on telegraph poles in rice-fields throughout the country. Black-naped Orioles, Vinous-throated Parrotbills and parties of tits, are found in almost all woodland areas. By the end of July the first returning shorebirds arrive, with large numbers of Far Eastern and Eurasian Curlews at Ganghwa and the Geum estuary.
(The following records are a compilation of our own sightings and records sent in by other observers. As well as being posted on the Birds Korea website(s), selected records are also forwarded to other Korean-language birding websites; records of threatened species are arranged and forwarded to Birdlife International and national authorities when appropriate; flag images and records are passed to bodies responsible for their coordination throughout the flyway; and all records sent to us are used to compile annual reports and to support the evolving understanding of the status of many of Korea's birds.)
Bird News from Tim Edelsten & Richard Lindie
Cheorwon, July 30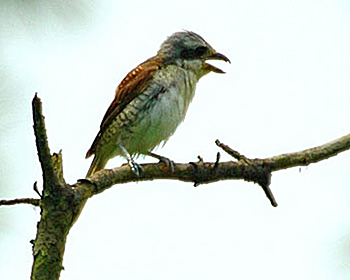 Thick-billed Shrike Lanius tigrinus, photo © Richard Lindie
Undoubted highlight was finding a family of Thick-billed (Tiger) Shrikes: 2 adults busily feeding at least 2 fledglings in an area of pine and thicket.
On a nearby reservoir, a Schrenks Bittern and a glimpse of a probable Ruddy Kingfisher by Richard. (During pursuit of which I happened to accidentally plunge into a deep pool of water, immersing myself, camera and cellphone.)
Otherwise, a roll-call of summer birds: family parties of Black-naped Orioles, 5 Common Kingfishers, 1 Black-capped Kingfisher, 2 Yellow-throated Buntings, a Dollarbird, Great-spotted Woodpecker, Oriental Reed Warblers, Oriental Greenfinch, Barn Swallows, a Hoopoe, Siberian Stonechat, 1 Northern Hobby, 1 Common Sandpiper, Great Cormorant, and several Spot-billed Ducks, and Grey, Striated, and Black-crowned Night Herons.
Bird News from Nial Moores
Igidae, Busan, July 24,
In heavy overcast with light rain showers and a gentle easterly breeze, an hour in local woodland produced 1-2 Black Kite, 1+ Japanese Bush Warbler, and large numbers of juvenile Coal and Great Tits, Vinous-throated Parrotbills etc.
Two hours of seawatching was in some ways unexpectedly interesting, considering the murky conditions, light winds and heavy boat traffic. Species included one juvenile Mongolian Gull south, 10 Black-headed Gull south (all apparently first-summers), and probably 200+ Black-tailed Gull (including many juveniles). Highlight was a very distant and spoonless (thus probably immature) Pomarine Jaeger, which successfully chased a small group of Black-tailed Gull, robbing one rather easily. In addition, there were at least 40 distant Streaked Shearwater "blogging" offshore, 2 Grey Heron in off the sea from the south, and one Far Eastern Curlew south.
At the informal sea-watching point, further interest came in the form of 2 juvenile Blue Rock Thrush trying to beg food off an adult female.
Bird News from Barry Heinrich
Yanggu County, July 20
Adult Eurasian Eagle Owl Bubo bubo, photo © Barry Heinrich
A family of Eurasian Eagle Owls still present and an adult well-photographed. Does anyone have any comments on the odd wing-posture adopted (the bird was photographed during light rain)?
Bird news from Tim Edelsten
Songdo, July 17
Juvenile Black-tailed Gull Larus crassirostris, photo © Tim Edelsten
2 days of heavy rain has left the lagoon flooded, with Oriental Reed Warblers perched just above the swollen waters. 120 Great Cormorant here also.
On the mud at Ahamdo, new reclamation work has started unfortunately. Juvenile Little Terns and Black-tailed Gulls are now apparent. No such fledged Saunders's Gulls were seen, although several adults, starting to moult out of their hoods. Also a good scattering of Far Eastern Curlew, 7 "Eastern" Oystercatcher and 1 Chinese Egret in the shallows. Oriental Greenfinches are back in nearby trees again.
Bird news from Tim Edelsten & Rich Lindie
Uiwang, July 15
2 years ago, Wangsong reservoir was concreted all around. After an environmental restoration project, it now features extensive reedbed, bankside vegetation, and is largely undisturbed.
A surprise Coot is the first I have seen in summer in Korea: a decidedly uncommon resident and scarce enough in the Seoul vicinity, even in winter. Also, 4 Yellow Bitterns, 4 Common Moorhens, 3 Northen Hobby, and a family of Common Kingfishers.
Otherwise, typical summer birds: a Barn Swallow, 1 Wood Sandpiper, Common Cuckoo, Black-naped Orioles, Oriental Reed Warblers, Grey, Black-crowned Night & 2 Striated Herons, Cattle, Eastern Great, Little and 1 Intermediate Egret, 1 Little and 1 Great Crested Grebe, and a handful of Mallard and Spot-billed Ducks.

(Black) Coot Fulica atra, photos © Tim Edelsten
Bird news from Dave Baker
Danyang, July 13
In an email, Dave Baker says that "this morning after two days of rest and rehabilitation (i.e. lots of fish) the Sooty Tern [found two days ago in Danyang] flew off the roof of my apartment building and disappeared. Hopefully it will successfully find the sea and make it's way back south."
As an addendum to the records of Sooty Tern we outlined below, this is possibly only the second Korean Sooty to survive being wrecked: the Busan one was "collected"; the inland one died; the adult in Jeju died. This leaves just the sight record from Gunsan and this inland bird - which survived thanks to Dave Baker and his colleagues feeding it.
Bird News
Jeju Island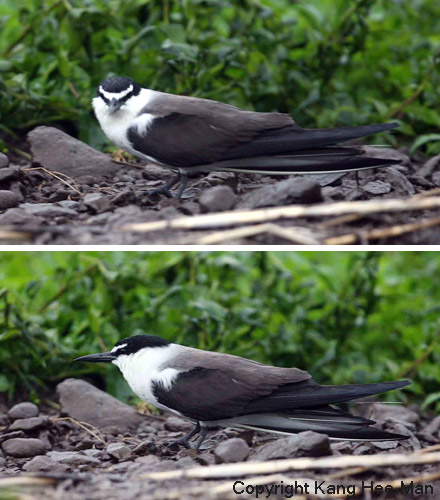 Adult Bridled Tern Sterna anaethetus, photos © Kang Hee-Man
As well as an oversummering Greater Spotted Eagle and a Pheasant-tailed Jacana, and a dead adult Sooty Tern Sterna fuscata found on June 15 (believed South Korea's 4th record), more exceptional news from Jeju Island in the far southwest comes in the form of this adult Bridled Tern Sterna anaethetus, found and well-photographed by Kang Hee-Man on July 10.
Identification is fairly straightforward, being e.g. more lightly built and less pied than Sooty Tern, and considerably darker and browner-backed than Grey-backed Tern S. lunata (with a more contrasting and paler hind-collar than either). The bird was found during the passage of Typhoon Ewiniar, an exceptionally early typhoon that also took an exceptional course, moving northwestwards from the Philippines Sea, up through the Japanese Nansei Shoto, to the West/Yellow Sea, and then north-east across the Korean peninsula into the East Sea (Sea of Japan). The Korean name for the species (in Korea the 'new' name is decided by the finder), becomes "Ewiniar Jebi-galmegi" (Ewiniar Tern).
This is the first record of Bridled Tern for Korea, and the species has been added to Category 1 of the Birds Korea checklist.
Images copyright of Kang Hee-Man, and used with permission (thanks to Mr. Jang Yong Chang. For many more excellent bird images and bird news from Jeju, please go to: http://www.birdsinjeju.com)
Bird news from Dave Baker
Danyang, July 11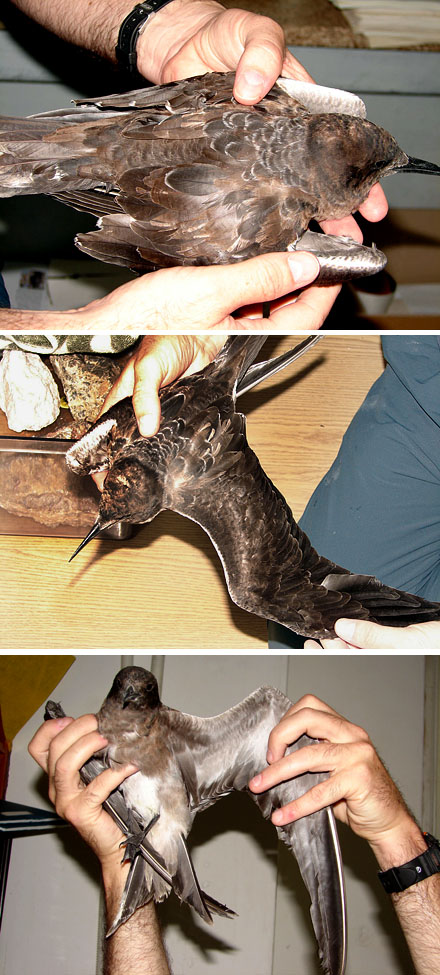 Juvenile Sooty Tern Sterna fuscata, photos © Dave Baker
A remarkable inland record from Dave Baker of a juvenile Sooty Tern which was "dropped onto the Danyang (Chungcheongbuk-Do) Middle School soccer field by the recent typhoon. Found July 11."
This is perhaps the fifth record and follows a dead individual found on Jeju on June 15th: prior records known to Birds Korea are limited to singles in August 1992 (Busan), August 2000 (Gunsan) and August 2002 (ca 90 km north west and inland of Busan).
Bird news from Tim Edelsten
Seoul, July 8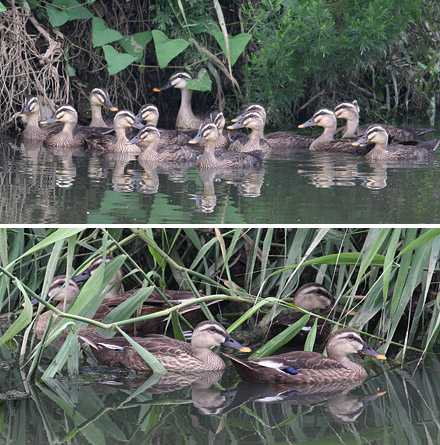 Spot-billed Duck Anas poecilorhynchos, photos © Tim Edelsten
A White's Thrush and 1 Indian Cuckoo (heard) were at Namhansanseong. The reedy canal at Seongnae held typical summer birds: a Northern Hobby, 2 Black-naped Orioles, singing Oriental Reed Warblers, Barn Swallows, Ring-necked Pheasants and creches of Mallards & Spot-billed Ducks, (led by a watchful mother who ordered them into cover in the reeds as I approached.) The Han river was deserted, save for 1 Common Sandpiper.
Bird news from Yu Dae-Ho
Busan, July 7
A Light-vented Bulbul was observed in Busan on July 7th (Yu Dae-Ho): this is the first record of the species on the Korean mainland. (For details of the first Korean record in 2002 go to Light-vented Bulbul).
Bird news from Tim Edelsten & Richard Lindie
Seosan, July 1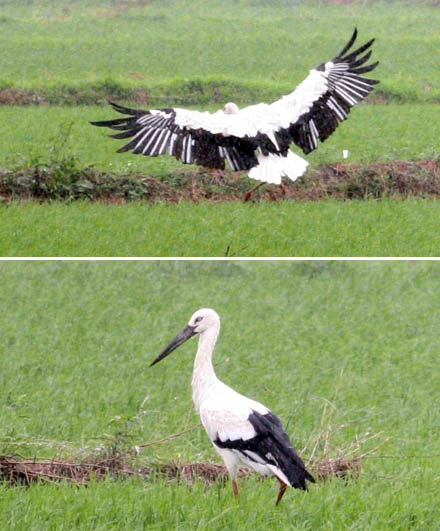 Oriental White Stork Ciconia boyciana, photos © Tim Edelsten
Heavy rain inhibited the birding, however we had good views of the summering Oriental White Stork (thanks to directions from Nial Moores). A pair of flying Yellow Bitterns were likewise a welcome sight, also 2 Wood Sandpipers, a Great Crested Grebe , Little Terns, abundant Black-crowned Night Herons and 2 "Eastern" Oystercatcher at the barrage. Rain seemed to bring many Oriental Reed Warblers boldly into the open.