Birds Korea's Bird News March 2006
March
March often contains a mixture of dry, cold days (with night temperatures down to 3-4°C, and highs between 10 and 15°C) and occasional milder showery, windy weather.
Most wintering species are still present, but in progressively reduced numbers. Falcated Duck regularly display on reservoirs and ponds, while small numbers of Baikal Teal remain at key sites. Migrant cranes peak in the northwest, as does the Ancient Murrelet migration along the east coast. Small numbers of shorebirds, including early Great Knot arrive, plus Siberian Buff-bellied Pipits and the first leucopsis White Wagtails. Hundreds of Rustic Buntings, Dusky and Naumann's Thrushes move north-east out of China and Japan, along with smaller numbers of raptors and occasional influxes of Japanese Waxwing. Bramblings and Siskins often form large flocks at key migration points. Sunny days tempt Rustic, Meadow, and Yellow-throated Buntings into song.
>March highlights are usually found by carefully searching through gull flocks for taxa like Pallas's Gull, barabensis, cachinanns, or smithsonianus, though Korea's first Japanese Accentor was found in March 2001 in Busan, Korea's first Bar-headed Goose on the Han-Imjin in 2003, and early migrant Red-billed Starlings and a Chinese Blackbird in 2004, and in 2006 Korea's eighth Pallas's (Great Black-headed) Gull - a species that seems to be a regular (though very scarce) winter visitor.
(The following records are a compilation of our own sightings and records sent in by other observers. As well as being posted on the Birds Korea website(s), selected records are also forwarded to other Korean-language birding websites; records of threatened species are arranged and forwarded to Birdlife International and national authorities when appropriate; flag images and records are passed to bodies responsible for their coordination throughout the flyway; and all records sent to us are used to compile annual reports and to support the evolving understanding of the status of many of Korea's birds.)
Saemangeum Monitoring Program. Approximate counts and details.
Yeongjong-Seosan-Mangyeung, March 31
Second of international counters, Dr. Phil Battley, arrived 0800 am. ca 5 Saunders's Gull present on dropping tide, Yeongjong. At Seosan Lake A, 15 Bar-tailed Godwit, 10+ Far Eastern Curlew, 7 Saunders's Gull (also 7 Siberian Stonechat - another obvious sign of spring migration). 4 Km to south, at Hongseong, a high tide roost held 141 Bar-tailed Godwit (one with metal ring), one Great Knot and 56 Far Eastern Curlew, including one with orange flag on upper right and left legs.
At Okku, Mangyeung, last hour of daylight and high tide (apparently unrestricted by seawall construction still): shorebirds included 16 Bar-tailed Godwit, 111 Great Knot, 40+ Far Eastern Curlew.
March 30, Yeongjong
First of the international counters, John Geale, arrived late PM. Starex van rented for one month, arranged and paid for by members donations to Birds Korea (many thanks!). One hour at Yeongjong, southern end, found 31 Bar-tailed Godwit, ca 600 Far Eastern Curlew, 2 600 Dunlin and 50 Grey Plover. Also present 79 Saunders's Gull.
Bird News from Park Jong Gil, National Parks Migratory Bird Centre
Hong Island, March 30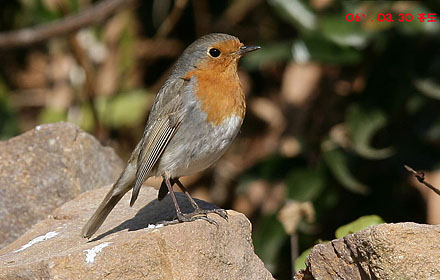 European Robin Erithacus rubecula, Photo © Park Jong Gil.
We're grateful to Mr Park Jong Gil for forwarding on a Photo of South Korea's first record of European Robin, which remained on Hong Island for two days.
Bird News from Jake Mac Lennan and Peter Nebel
Keum River, Industrial Zone and Mangyeong at Okku, March 26
In a reservoir near Napo Village a single Garganey was seen as well as a couple of Baikal Teal (the great raft is gone from the Geum, 10's of thousands were present on the 19th). Bar-tailed Godwits and a few Black-tailed Godwits were on the tidal flats, a few Northern Lapwings were still present as well. A Northern Goshawk was seen in the Industrial Zone as well as a group of 15 or so Little Ringed Plovers. One large group of 200 Curlews in the tidal area of the Mangyeong were split 1 Eurasian Curlew to 6-10 Far Eastern Curlews. Further up the estuary a group of seven White Spoonbills some showing breeding plumage and a single Black-faced Spoonbill were observed in the distance. A group of thirty Great Egrets had one alba subspecies.
Bird News from Jang Yong Chang
Jeju island, March 26
1 Oriental White Stork (apparently this bird overwintered on Jeju island) and 1 Upland Buzzard.
Bird News from Kim Hyun Tae
Hongsung in Chungnam, March 26
Shorebird migration now well underway: Bar-tailed Godwit 15, Far Eastern Curlew 53, Dunlin +460, Grey Plover 7, Little Ringed Plover 3 and Kentish Plover 2.
Bird News from Park Heon Woo
Eumsung in Chungbook, March 25
150 Hooded Cranes passed by Bohyun Mountain at around 3p.m
Bird News from Tim Edelsten, Robin Newlin & Elliot Saunders
Shiwha, March 25
The vast reedbed at Shiwha held 15-20 Common & Pallas's Reed Buntings, 2 Long-tailed Rosefinches, I naumanni Dusky Thrush and a Hen Harrier. Along the fringes, several Common, 1 Falcated, and 11 Baikal Teal were a pretty sight. Spring birds included a Black-headed Gull and 80-100 Spotted Redshank, forming a large feeding flock, probing the shallows in unison.
Bird News from Lee Jung Kwan
Taean in Chungnam, March 23
1 mandarinus Chinese Blackbird.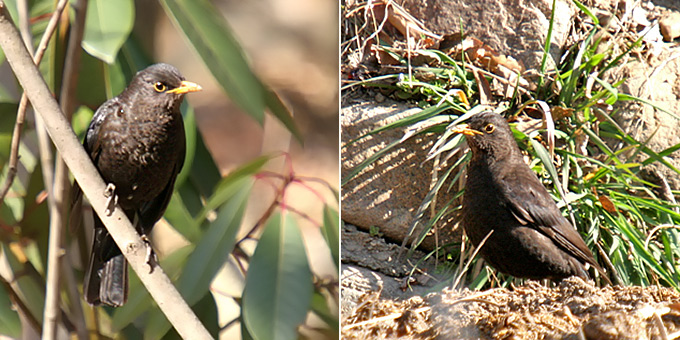 Chinese Blackbird Turdus (merula) mandarinus, Photo © Lee Jung Kwan.
Bird News from Nial Moores
Igidae Busan, March 21
A couple of hours locally in the field and a sense that spring is on the way...with warm temperatures (up to 15 C), alot of bird activity, with 100+ Vinous-throated Parrotbill, singing Japanese Bush Warbler (1) and Pale Thrush (2), 2+ personata Black-faced Bunting (including a very bright male well-seen), a presumed Tristram's Bunting (on call only), and over the sea 5+ Red-throated Loon and a Pacific Swift.
Bird News from Robin Newlin
Bulamsan, March 19
Yellow-throated Buntings, still 3 Long-tailed Rosefinches, Eurasian Jays, Siberian Accentors (heard) and Grey-headed and Great Spotted Woodpeckers.
Bird News from Barry Heinrich
Sokcho and Nam Myeon, March 19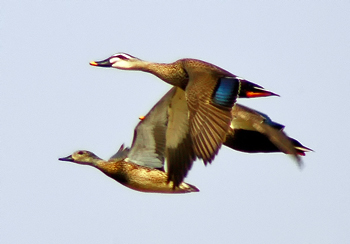 Spot-billed Ducks Anas poecilorhynchos and Gadwall Anas strepera,
Photo © Barry Heinrich.
I took these Photos of a Saunders's Gull at Cheongcho Lake in Sokcho on Sunday March 19 (also seen there, a Relict Gull at around 14:00. The bird was in breeding plumage and had a smoky black cap and very dark red beak, about 40 metres away standing on a sand bank). The Spot-billed Ducks were along Seocheon near Nam Myeon in Yanggu County on Saturday March 18.

Saunders's Gull Larus saundersi, Photo © Barry Heinrich.
Bird News from Tim Edelsten & Robin Newlin
Han River, Guri, March 17
The first signs of Spring has arrived in the form of a sprightly leucopsis White Wagtail, splendidly white marked Cormorants, and parading pairs of Mongolian Gulls. Otherwise, winter birds persist - a naumanni Dusky Thrush, and on the water, several Coot, Wigeon, Goldeneye, and a Falcated Teal among the commoner waterfowl. 13 stately Whooper Swans glided along the foreshore.
2 Stellers' Sea Eagles sat lazily on the island, with 3 White-tailed Eagles in attendance. Showing them to an amazed passer-by through my telescope, he was overjoyed, saying "I've lived here 10 years and never knew they lived here!". (TE: One problem in Korea is that people just don't know birds exist - time and again people are amazed to suddenly get a glimpse of birds that they never appreciated before.No doubt the politicians and businessmen behind the saemangeum reclamation have never been birdwatching in their lives...)
Bird News from Robin Newlin
Bulamsan (Northeast Seoul), March 13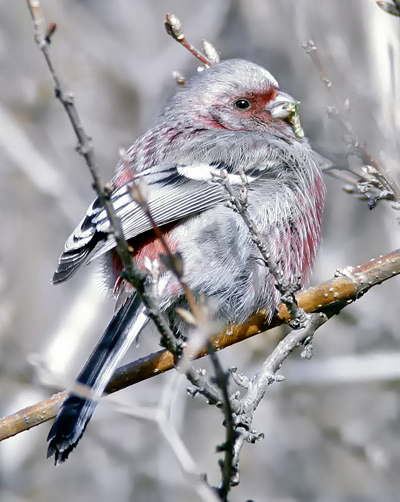 Long-tailed Rosefinch Photo © Robin Newlin.
A stretch of trees, grasses and shrubs at Bulamsan held Japanese Pygmy, Great Spotted, and Grey-headed Woodpeckers (all heard only), a Eurasian Jay, several pheasants, 2 Japanese Quail, 2 Yellow-throated Buntings, 5 Siberian Accentors, and 2 Long-tailed Rosefinches moving nicely into summer plumage and (despite the cold) finding green buds to eat.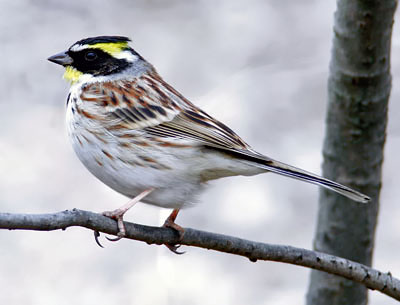 Yellow-throated Bunting Photo © Robin Newlin.
Bird News from Tim Edelsten & Robin Newlin
Eungbong-Oksu, March 11
This wide section of the Han river held vast rafts of at least 3,000 Tufted Duck and 2,000+ Pochard. In addition to the typical assembly of Mallard, Teal, Shoveler, and Spot-billed Duck, were 28 Gadwall, 16 Smew, 2 Falcated Teal, 5 Greater Scaup, 1 Coot, a sprinkling of Little Grebes and 1 summer-plumed Great-crested Grebe.

Falcated Ducks Anas formosa, Photos © Robin Newlin.
Amongst the gathering of Mongolian, 3 yellow-legged Taimyr Gulls were of interest: and somewhat distantly, prolonged views of the breeding plumaged Pallas' /Great black-headed Gull found yesterday.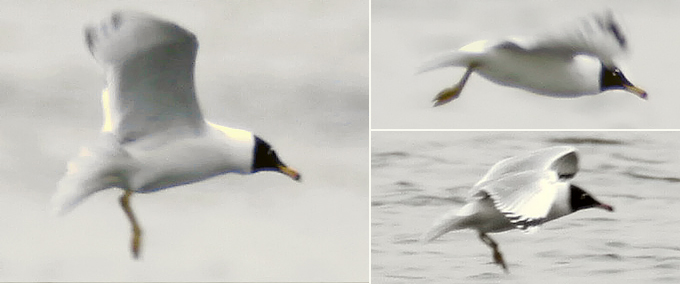 Adult Pallas's Gull Larus ichthyeatus, Photos © Robin Newlin.
Bird News from Tim Edelsten
Gwangneung Arboretum, March 10
White-backed Woodpecker Dendrocopos leucotos, Photos © Tim Edelsten.
2 Solitary Snipe probed the stream in their characteristic rocking motion, with a Green Sandpiper not far off.
Several drumming White-backed Woodpeckers savaged the treetrunks, in addition to Japanese Pygmy and Great-spotted Woodpeckers. Plentiful Rustic and Yellow-throated Buntings sifted through the woods, as well as the usual assortment of Long-tailed, Great, Coal, Marsh and Varied Tits, and Nuthatches. Remnant winter birds included 2 Bullfinches and 11 Bramblings.
Solitary Snipe Gallinago solitaria, Photos © Tim Edelsten.
Bird News from Robin Newlin
Eungbong/Oksu, March 10
A return visit to the Eungbong stretch of the Han River found increased numbers of Common Pochards, Tufted Ducks, and Smews (8), a few Gadwalls, and numerous Shovelers. A White-tailed Sea Eagle flew by, harried by a Vega Gull.

Adult Pallas's Gull Larus ichthyeatus, Photos © Robin Newlin.
Definite highlight was an adult breeding-plumaged Great Black-headed/Pallas' Gull Larus ichthyeatus - the eighth record known to Birds Korea, all of which have been in the winter/early spring, with the first in December 2002 and the latest Photographed from Heuksan Island on February 23rd this year.
Bird News from Tim Edelsten
Mt. Dobong, March 8
A rather wishful attempt to find any last remaining Alpine Accentors failed: instead, one Cinereous Vulture, 2 White-backed Woodpeckers, and a predictable mix of Eurasian Nuthatches, Coal, Marsh, Great and Varied Tits, and Japanese Pygmy Woodpeckers.
Bird News from Robin Newlin
Eungbong, March 6
Northern Pintails Anas acuta, Photos © Robin Newlin.
A visit to Eungbong found still large numbers of Northern Pintail, some Common Teal and Shovelers, about 80 Tufted Duck and 70 Common Pochard, 5 Smew, a Great Cormorant and a Great Crested Grebe, and Common, Black-tailed, and a few Mongolian Gulls.
Banding News from Clive Minton of AWSG
A Great Knot Calidris tenuirostris was sighted by Arthur and Sheryl Keates at: between Lee Pt. and Buffalo Ck. Beach, Darwin, NT, Australia 12deg 20min 5sec S, 130deg 54min 13sec E on 5/03/2006 with flag(s) as follows:
LEFT leg: white flag on tibia (upper leg) above orange flag on tarsus, RIGHT leg: nothing/unknown on tibia (upper leg) above nothing/unknown on tarsus
This bird was flagged in Korean Peninsula, approximate co-ordinates 36deg min N, 126deg 40min E, which uses the flag combination White/Orange, sometime since 1998.
The resighting was a distance of approximately 5394 km, with a bearing of 174 degrees, from the marking location.
Bird was in advanced breeding plumage.
A Bar-tailed Godwit Limosa lapponica was sighted in a flock of 915 birds by Chris Petyt at: Farewell Spit, Gobi, near Nelson, South Island, SI, New Zealand 40deg 31min0sec S, 172deg 46min0sec E on 30/01/2006 with flag(s) as follows:
LEFT leg: nothing/unknown on tibia (upper leg) above nothing/unknown on tarsus; RIGHT leg: white flag on tibia (upper leg) above orange flag on tibia
This bird was flagged in Korean Peninsula, approximate co-ordinates 36deg min N, 126deg 40min E, which uses the flag combination White/Orange, sometime since 1998.
The resighting was a distance of approximately 9725 km, with a bearing of 147 degrees, from the marking location.
Bird News from Tim Edelsten
Yeongjong island, March 6
3 Long-tailed Rosefinches frequented an area of overgrown ditch at yongyudo, accompanied by 2 Siberian Accentors, 2 Siskins and 2 naumanni Dusky Thrushes.
On nearby mudflats, 14 Eastern/Eurasian Oystercatcher were noteworthy, along with 5 Red-breasted Mergansers, 6 Goldeneye, and 10 Great-crested Grebes.
Bird News from Jake Mac Lennan and Peter and Angela Nebel
Keum Tidal Flats, fresh water, Industrial Zone, Okku shrimp ponds and East Eunpa Park, March 5
A pair of Common Sandpipers were in a canal off of the tidal area of the Keum. On the flats themselves ten Spotted Redshanks and a couple of Far-eastern Curlews were the firsts of the season. A Slaty-backed Gull was seen. Saunders' Gulls were also present, many in breeding plumage. Northern Lapwings are still present; 66 were counted on the fourth. The first couple of Eastern/Eurasian Oystercatchers of the day were at the Keum, a total of 35 for the day in three locations. Just along the shore line a Black-necked Grebe was seen. Reed Buntings were in their usual spot and Chinese Penduline Tits were heard.
Up-river Whooper Swans are down to about 70-80 individuals. Baikal Teal are still present in the 100's of thousands, plus a few hundred Greater White-fronted Geese. Swan Geese have been absent for three weeks: the last confirmed sighting of the neck-banded individual (R-90) was on February 12th (PN).
A few score Falcated Ducks were seen today in a reservoir and a large reclamation pond. In a park area in the industrial zone a single Japanese White-eye was seen briefly (JM). Also, perhaps a dozen Olive-backed Pipits were flushed in the same park. The Gunsan City Reservoir had a pair of Mandarin Ducks. The Okku reservoir had an Arctic Diver. Six White Spoonbills were seen near the shrimp ponds in Okku. East Eunpa had a single naumanni Dusky Thrush.
Peter and Angela Nebel reported a Red-throated Diver off shore just before dusk.
Bird News fromTim Edelsten & Robin Newlin
Songdo, March 3
2 Long-eared Owls were found in a spinney of conifers, roosting only yards apart. We did not attempt any Photos however, so as not to disturb them. A female Eurasian Sparrowhawk and family of Kestrels were hunting in the same area.
On the mud, a surprise Mandarin appeared, the first ever at this site. 10 Eastern Oystercatchers were dozing at high tide, along with a Common Sandpiper.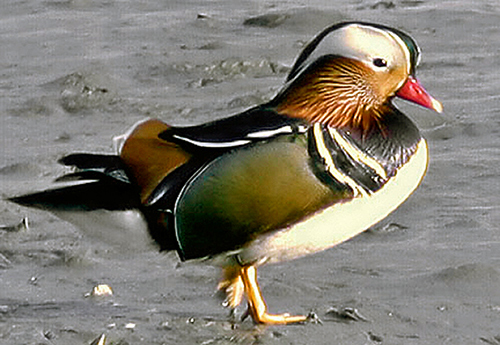 Male Mandarin Duck Aix galericulata, Photo © Robin Newlin.