Birds Korea's Bird News February 2006
February
Cold winters mean both temperatures and birding are similar to January, while mild winters are marked by brief spells of rain or sleet, often followed by warmer sunshine, with maximum temperatures rising to 15°C in the southeast.
Many wildfowl are on the move by mid-month, including one or two Baer's Pochard. Tundra Beans, Greater White-fronted and usually Swan Geese can be found at the Han-Imjin. Most Baikal Teal start to depart and by month's end can be difficult to find in southern locations. Rooks and Daurian Jackdaws begin to move back into the Nakdong valley and near Gunsan. February sees the start of crane migration, with Hooded and White-napeds moving into South Korea from Japan. Relict and Saunders's Gull peak at several sites. In the right weather conditions large numbers of Ancient Murrelets and a few Rhinoceros Auklets move north off Guryongpo. At the end of the month the first migrants, such as Far Eastern Curlews, Hoopoes and Japanese Lesser Sparrowhawks start to arrive.
Highlights in February 2001 included a peak count of 143 Relict Gull at Song Do, in 2002, Korea's first Ferruginous Duck, and in 2003 White-crowned Sparrow in Busan, and Thayer's and American Herring Gull on the east coast.
In both 2004 and 2005 highlights included a Pallas's/Great Black-headed Gull (Korea's 3rd and 4th records). 2006 brought South Korea's first confirmed Brunnich's Guillemot, as well as records of Long-billed Dowitcher and Yellow-bellied Tit.
(The following records are a compilation of our own sightings and records sent in by other observers. As well as being posted on the Birds Korea website(s), selected records are also forwarded to other Korean-language birding websites; records of threatened species are arranged and forwarded to Birdlife International and national authorities when appropriate; flag images and records are passed to bodies responsible for their coordination throughout the flyway; and all records sent to us are used to compile annual reports and to support the evolving understanding of the status of many of Korea's birds.)
| | |
| --- | --- |
| | Avifauna's Bo Petersson (right) gives a cheque for 600USD to Birds Korea Director Nial Moores (left) for our conservation work, © Bjorn Johansson. |
Bird News from National Parks Authority
Heuksan Island, February 23
A near breeding-plumaged Pallas's Gull was well-photographed.
Bird News from Robin Newlin
Songdo's Dongmak Lagoon and "Golf-course area." (PM), February 23
Yellow-bellied Tit Parus venustulus, Photo © Robin Newlin.
The lagoon held good numbers of Common Shelduck, Pochards, and Northern Pintails, and the neighboring pines had Oriental Greenfinches and Olive-backed Pipits.
Highlights from the mudflats near the golf area were about 25 Eastern Oystercatchers, scattered Eurasian Curlews, and several Saunder's Gulls, some in near-breeding plumage. Late afternoon at the semi-abandoned golf-course area was fairly quiet, with roving flocks of Yellow-throated Buntings, 1 Siberian Accentor, a fly-by Long Eared Owl (presumably the same individual seen by N.M. et al. earlier in the month), Coal Tits, still 2 Chinese Nuthatches giving great views, and a brief and colourful appearance by the Yellow-bellied Tit.
Yellow-bellied Tit Parus venustulus, Photo © Robin Newlin.
Bird News from Nial Moores with Avifauna (Sweden) and leader Bo Petersson
Song Do am, February 23
In secondary woodland, no less than 7 Chinese Nuthatch (presumably a new national high count for a single site) and the Yellow-bellied Tit still (the last but not least of the 170 or 172 species recorded by the tour, dependent on which list you follow), while on the tidal-flat (marked with flags in preparation for further reclamation) 28 Eastern Oystercatcher.

Chinese Nuthatch Sitta villosa, Photos © Nial Moores.
Bird News from Nial Moores with Avifauna (Sweden) and leader Bo Petersson
Seosan Lake A, February 22
Our search for Oriental White Stork (5) and Chinese Grey Shrike (2) proved successful within the first hour or two of a grey and slightly damp morning, although we failed to find the Snow Goose reported the same morning. Instead, excellent views of an Amur Leopard Cat (thanks to Anita Ericsson) and good views of an Upland Buzzard, along with decent numbers of commoner passerines including Chinese Penduline Tit (30+).
Bird News from Nial Moores with Avifauna (Sweden) and leader Bo Petersson
Hwaeom Sa & Geum River, February 21
In beautiful weather (largely clear, still and rather mild after a subzero dawn), a range of good birds - starting with 35 Olive-backed Pipit outside our motel in Gurye, followed by excellent views of 2 displaying Long-billed Plover and singing Japanese Wagtail, and then by no less than 7 Hill Pigeon, 3 Brown Dipper and 3 Tristram's Bunting at Hwaeom Sa. Best was still to come, however: a close encounter with at least 450000 Baikal Teal at the Geum...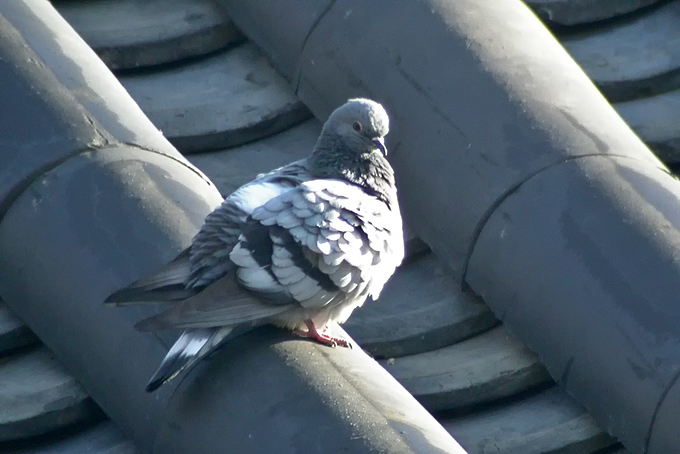 Hill Pigeon Columba rupestris, Photo © Nial Moores.
Baikal Teal Anas formosa, Photo © Nial Moores.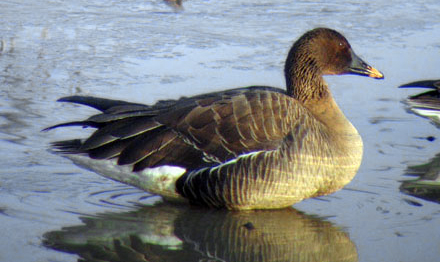 Taiga Bean Goose Anser fabalis middendorffi,
Photo © Bjorn Johansson.
Bird News from Nial Moores with Avifauna (Sweden) and leader Bo Petersson
Joonam Reservoir am, Suncheon Bay pm, February 20
Beautiful weather, and some excellent birding at Joonam, with 7 Swan Goose, 39 White-naped Crane (many of which were displaying), and the first Baikal Teal (366) of the tour. At Suncheon, much disturbance (including a boat with loud speakers extolling the beauty of this recently declared Ramsar site), but still 2 more Swan Goose, 125 Hooded Crane, and a single Sandhill Crane (presumably overwintering), along with 250 Saunders's Gull and a good range of buntings.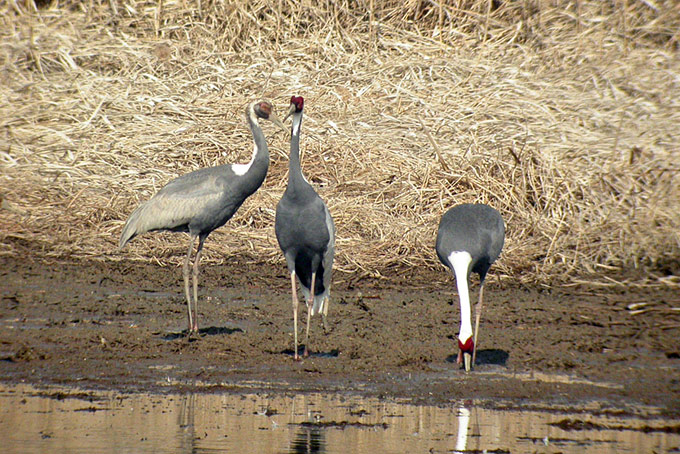 White-naped Cranes Grus vipio, Photo © Nial Moores.
Bird News from Nial Moores with Avifauna (Sweden) and leader Bo Petersson
Hadori-Halla San, including Arboretum, February 19
A very productive day with several good surprises. At Hadori, a range of unexpected species included single overwintering Korean Bush Warbler (BP only: heard also by NM et al on 18th) and Common Redshank, and a very skulking Ochre-rumped Bunting. In addition, a very probable Wryneck (perhaps no overwintering records known to Birds Korea) was seen briefly flying up from the ground into dense cover.
At a temple complex on Mt Halla, excellent and prolonged views of a White-backed Woodpecker, while at the arboretum a Red-flanked Bluetail was seen well (if briefly), thanks to directions from Mr. Jang Yong-Chang. In the same area, as in March 2005, there were also several Grey Bunting (3?), with 2 seen by almost everybody in the group, and a Tristram's Bunting (heard only), along with 1, or probably 2, Yellow-browed Warbler (apparently a rare but perhaps regular overwintering species in Korea).
Finally, a quick trip out to the west coast failed to find the overwintering Oriental White Stork (last reported almost 2 weeks ago) though some good compensation came in the form of perched and flight views of an Upland Buzzard.
Bird News from Nial Moores with Avifauna (Sweden) and leader Bo Petersson
Jeju City, Seongsan Po, Hadori, February 18
A couple of hours in a small patch of old woodland in downtown Jeju City produced stunning views of an extraordinarily confiding White's Thrush, 5 Pale Thrush, several Japanese Bush Warbler and Japanese White-eyes, a flock of 85 Chinese Grosbeak, carrying with it a single Japanese Grosbeak (few winter records nationally), and also a male Chinese Blackbird, seen by BP and Anders Jihmanner.
At Seongsan, 10 Black-faced Spoonbill were well-watched, while the coast between there and Hadori produced good views of 2 Pacific Reef Egret, 3 Meadow Bunting, and several loons (with, at one point, Red-throated, Arctic and Pacific present in one scope view allowing excellent and direct comparisons).
At Hadori, a male personata Black-faced Bunting, 520 Gadwall, and 4 more Black-faced Spoonbill were the obvious highlights
White's Thrush Zoothera dauma, Photo © Nial Moores.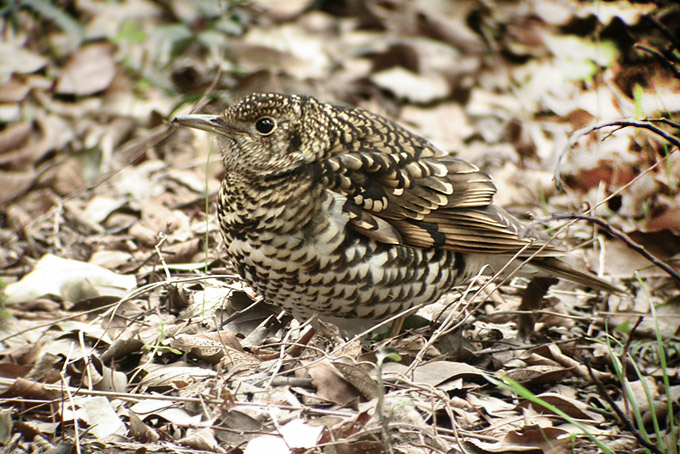 White's/Scaly Thrush Zoothera dauma, Photo © Nial Moores.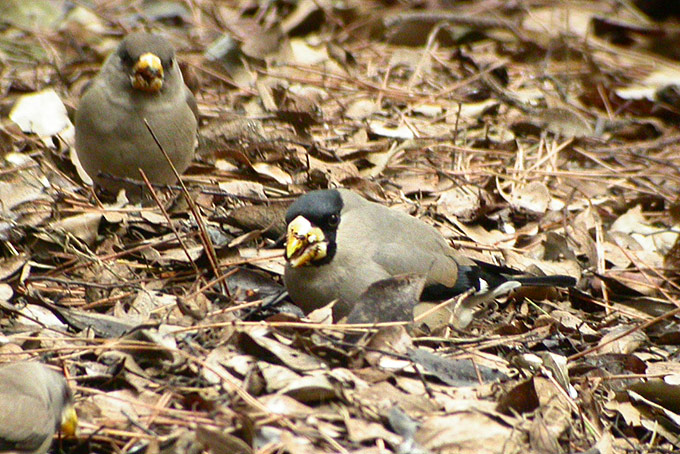 Japanese Grosbeak Eophona personata, Photo © Nial Moores.
Bird News from Robin Newlin with Lee Mi Hwa, Pastor Kim Han Soo, and progeny Paul Newlin and Kim JeHyun
Seosan, February 18
An afternoon at Seosan was taken up largely by an unsuccessful search for Little Owl, but we did find good numbers of Bean and Greater White-fronted Geese, a good view of some Gadwall, a Buff-bellied Pipit, numerous Common Buzzards, and some splendid looks at an Oriental White Stork.
Bird News from Nial Moores with Avifauna (Sweden) and leader Bo Petersson.
Ulsan and Busan, February 17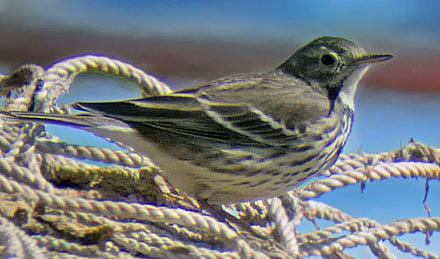 Siberian Buff-bellied Pipit Anthus rubescens japonicus.
Photo © Bjorn Johansson.
Very much colder and windier (though dry). At a reservoir south of Ulsan, spectacular views of an immature Steller's Sea Eagle along with a White-tailed Eagle, 5 or 6 Mandarin and 3 Falcated Ducks, and a flock of ca 15 Japanese Waxwing - all combined making a great start to the day...however, the afternoon was a little less successful, with no sign of either Relict Gull at the Nakdong or Grey Bunting at Dadapo. Best birds in Busan therefore included probably 3 (!) more Steller's Sea Eagle, ca 30 Saunders's Gull, a presumed hybrid Whistling x Bewick's Swan, brief views of Japanese White-eye, the same wing-tagged Mongolian Gull of February02 still, and excellent views of Falcated Duck and Buff-bellied Pipit.
Bird News from Robin Newlin
Han River around Guri, February 16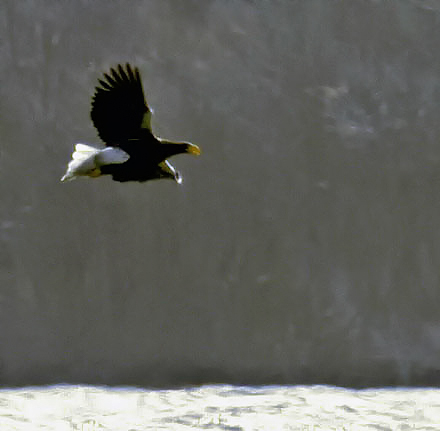 Steller's Sea Eagle Haliaeetus pelagicus, Photo © Robin Newlin.
A return visit to the river found 2 Steller's Sea Eagles and 3 White-tailed Eagles still in the area, good numbers of Coots, Tufted Ducks, Goosanders, and Common Pochards, and smaller numbers of Great-crested, Little, and Black-necked Grebes.
Bird News from Nial Moores with Avifauna (Sweden) and leader Bo Petersson.
Guryongpo Peninsula, February 16
An exceptionally good day, despite the tragic sight of quite large number of birds with patches of oil on them. Overcast conditions gradually cleared, and winds dropped, allowing for very good viewing conditions after several stormy days. Bird numbers were very high, with for example ca 750 Ancient Murrelet, 450 Black-necked Grebe, probably 50+ Slavonian Grebe and a total of over 350 loons of 3 species logged. Among many highlights: 5 Siberian Accentor in a single bush, a low-flying White-tailed Eagle, over 30 Glaucous and 5 Glaucous-winged Gulls, 25 Rhinoceros Auklet, a record-breaking 4 Long-billed Murrelet (a species recorded barely annually in Korea), and least expected of all an adult Iceland Gull, watched for a minute or so flying along the beach, when it was dwarfed by a first-winter Glaucous and was even obviously smaller (and smaller-headed and billed) than even the Vega Gull in the same group.
February 15, Uljin coast
A grey day with occasional heavy rain. Best highlights of a good day's birding included 70 Ancient Murrelet and 9 Rhinoceros Auklet, along with a single Glaucous-winged Gull and 30 Harlequin Duck.
February 14, Okyge - east coast, c)20km south of Gangneung
During a short telephone conversation, NM passed on the highlights of the day which included 2 Steller's Sea Eagles, 3 Scaly-sided Mergansers, and TWO Brunnich's Guillemots Uria lomvia - these following the first Korean record on February 1st found by NM at Guryongpo (see below).
Late Bird News from Park Jong-gil.
Pohang Harbour, February 14
Birds Korea is grateful to Park Jong-Gil who phoned us with news of Korea's first record of Little Gull Larus minutus, a 1st winter seen in Pohang Harbour, found and photographed by Park Jin-Young "in early february". We will post more details as soon as we get them...
Bird News from Nial Moores with Avifauna (Sweden) and leader Bo Petersson.
Cheorwon and Arboretum, February 13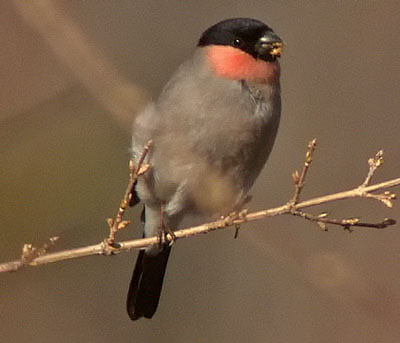 Northern Bullfinch Pyrrhula pyrrhula griseiventris, Photo © Jim Parkas.
Male Pallas's Rosefinch Carpodacus roseus, Photo © Bjorn Johansson.
An excellent day with very mild temperatures leading to a rapid thawing of much of the remaining lying snow.
At Cheorwon, ca 1200 Greater White-fronted Geese were a clear sign of the coming spring as were the more than 500 Rustic Bunting, and at least 200 White-naped and 60 Red-crowned Cranes.
Also there were 250 Cinereous Vulture, single Golden and White-tailed Eagles and a single Steller's Sea Eagle, as well as a Treecreeper, a male Long-tailed Rosefinch, and the first 10 Pallas's Rosefinch of the day (with a further 15 or so, including 4 full adult males) at the arboretum.
Also at the arboretum, 3 subspecies of Bullfinch (with finally excellent views of a male griseiventris, side-by-side with a male cassini and a male rosacea!), 4 Solitary Snipe, 2 Brown Dipper, 2 White-backed Woodpecker, and at least 8 Japanese Waxwing.
February 12 PM, Song Do
From the bus from the aiport 3 Red-crowned Crane and a briefly seen Upland Buzzard, while at Song Do itself very good views of 55 Saunders's (one or two in near-breeding plumage) and 3 or 4 Slaty-backed Gulls on the tideline. A search for the Yellow-bellied Tit was unsuccessful, and only one Chinese Nuthatch was heard (NM only), with the most surprising there being a Long-eared Owl.
Bird News from Jake Mac Lennan
Oh-seong Mountain, Keum River and Tidal Flats, February 12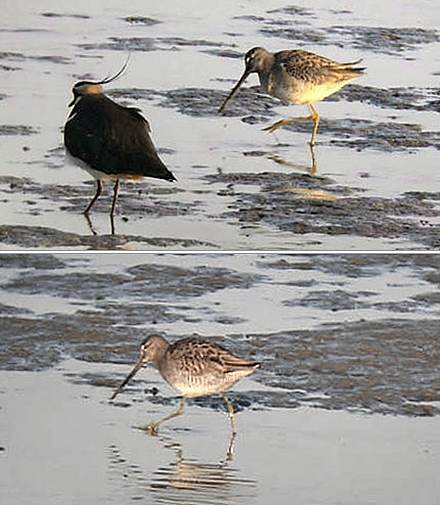 Long-billed Dowitcher Limnodromus scolopaceus, © Jake Maclennan.
A group of perhaps 40+ Red Crossbills flew over Oh-seong. A Pale Thrush was heard. While watching a mixed feeding flock of Tits a male Northern Goshawk flew over causes the Tits to call alarmingly. I counted about 2000 Greater White-fronted Geese in the fields around Napo Village. Baikal Teal are in excess of 100,000. A string of 40+ Red-breasted Mergansers were in the water. A Naumann's Thrush was at the edge of a nearby rice-field.
Meeting up with Peter and Angela Nebel on the north side of the Keum tidal flats, we waited for the tide to go out; a large group of perhaps 150 Saunders's Gulls flew by as well as 20 Swan Geese and as the Northern Lapwings (c. 80) returned to the mud a Long-billed Dowitcher Limnodromus scolopaceus joined them as it had the previous afternoon. (Long-billed Dowitcher is rare in South Korea with about/less than ten previous records, and this is apparently the first winter record.)
Bird News from Robin Newlin
Gangneung, February 10 - 12
A family trip to the East Coast's Gangneung found relatively calm seas on the 1st day, and great viewing conditions. Wind (and snow) arrived late on the 2nd day.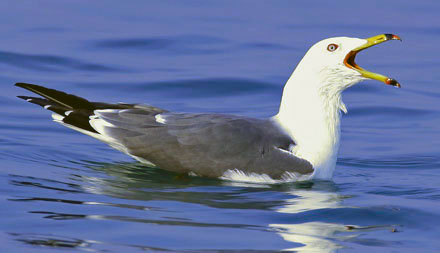 Black-tailed Gull Larus crassirostris, Photo © Robin Newlin.
Ancient Murrelets were fairly plentiful, withabout 40 seen over 2 1/2 days. Other highlights were a dozen Sanderlings, about 8 Glaucous Gulls, 1 Red-throated and several Pacific Divers/Loons, and 1 distant but highly likely Yellow-billed Diver.
Sea ducks included White-winged Scoters, Red-breasted Mergansers, and an exciting fly-by of 2 Long-tailed Ducks. [Long-tailed Duck is a surprisingly rare visitor to South Korea: it is listed as a rare winter visitor to the Korean Peninsula in Lee, Koo & Park (2000), and only single records are listed in the Ministry of Environment's mid-winter surveys in South Korea in both 1999 and 2000, for example.]
Bird News from Jake Mac Lennan with Peter and Angela Nebel
Birds Korea Birdwatch Day for Saemangeum at Oh-seong Mountain, Keum, and Mangyeong from Okku, February 5
Oh-seong Mountain was fairly active; best there were a pair of White-backed Woodpeckers, a couple of Red-flanked Bluetail females and the first of five Common Buzzards today, the rest were seen near Okku. The number of Baikal Teal seemed reduced, perhaps 10s of thousands. Four Falcated Teal and several Shovelers were near the bridge. A Green Sandpiper was in a canal that ran through the rice fields. In the tidal area, 23 Swan Geese were present including R-90. A small group of Saunders's Gulls were over the flats. In the reeds along with our regular Buntings (see previous reports) a large group of 40-50 Chinese Penduline Tits were seen. We looked around for a Water Rail seen on January 28 (JM), but had no luck. Lapwings were on the flats (last Saturday a high count of 72 was made while the flats emerged after high tide (JM).)
In the Okku reservoir a group of Common Mergansers roughly numbered 100. Also there a single Red-throated Diver was seen.
At the Man-gyeong a group of 21 Great Egrets stood around the edge of a pond, perhaps 30 today (a high count considering a string of outings with said species either absent or in single sightings since the beginning of December). The extensive mud was peppered with Dunlins and Grey Plovers. A search was made for a Eurasian Bittern seen by PN and AN the previous week, but it failed to turn anything up.
Hoping everyone had a fun day out on Birdwatch Day for Saemangeum!
Bird News from Nial Moores with Klemens Steiof, Bernd Ratzke (morning only) and Alessandro Kormannshaus
Song Do-Yeong Jong and adjacent tidal-flats, February 5
With an overnight low of -11 C, surprisingly comfortable weather once the sun was up. A significant part of the day was invested in a (failed) search for Relict Gull - but very few gulls of note were recorded perhaps because most of the tidal-flats were covered in ice, best being 1 or 2 "Yellow Sea Gulls" and 4 Saunders's.
Birds of most note on Yeongjong included 2 Long-tailed Rosefinch, an Upland Buzzard and 30 Falcated Duck, while at Song Do outstanding highlights were 4 Chinese Nuthatch and a single male Yellow-bellied Tit (presumably the same individual seen at the same site by Robin Newlin and Tim Edelsten - again many thanks to them both for the site directions!).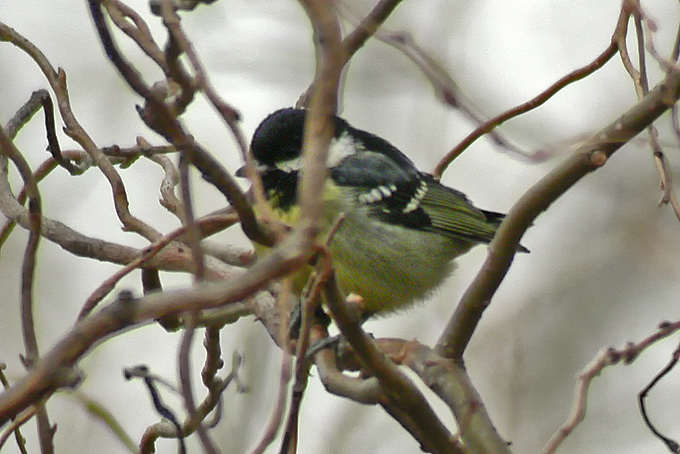 Yellow-bellied Tit Parus venustulus, Photo © Nial Moores.
Chinese Nuthatch Sitta villosa, Photo © Nial Moores.
Bird News from Robin Newlin with Lee Mi Hwa, Pastor Kim Han Soo and family
Birds Korea Birdwatch Day for Saemangeum at Jeokseong, Han/Iimjiin and Gangwhado. (Special thanks to Pastor Kim for all the driving!), February 4
An afternoon of short stops at a few different northwestern points yielded a flock of 70+ Oriental Greenfinches, Daurian Redstart, 3 Buff-bellied Pipits, a single Brambling, many Cinereous Vultures, several Common Buzzards and Kestrels, 1 Eurasian Sparrowhawk, 1 White-tailed Sea Eagle, numerous Bean and Greater White-fronted Geese, Ruddy and Common Shelduck, Common Teal, Tufted Ducks, Common Pochards, Goosanders, Pintails, and Spot-billed Ducks, a splendid view of 6 Hawfinches, a good view of 1 Hill Pigeon, and a fading-light close look at 2 Long-tailed Rosefinches.
Bird News from Nial Moores with Klemens Steiof, Bernd Ratzke and Alessandro Kormannshaus
Geum and Seosan for Birds Korea Birdwatch Day for Saemangeum, February 4
A good day, with 78 species logged by this team of four in freezing temperatures (with an overnight low in Gunsan of -11 C). A fuller account will be posted soon, but ca 200 USD raised by us for the Saemangeum Monitoring Program and several excellent highlights, including the following taxa of special conservation concern:
Baikal Teal: an estimated 280,000 at Geum in the morning, and ca 400000 at Seosan in the afternoon (including some of the same birds? Or two flocks representing a little more than the known world population of the species?).
Swan Goose: 2 at the Geum
Oriental White Stork: 3 at Seosan
Saunders's Gull: 25 at the Geum, including one red-flagged first-winter
Greater Spotted Eagle: 1 at Seosan (where also 1 Upland and 1 Rough-legged Buzzard, 3 Goshawk, including one albidus, and single Merlin and Hen Harrier.
Eastern Oystercatcher: 7 at the Geum.
In addition, a single Long-billed Plover and a very distant Chinese Grey Shrike were at Seosan, where also a single flock of 150 Lapland Bunting, while at the Geum passerines included both Pale and Dusky Thrushes and Black-faced Bunting.
Bird News from Barry Heinrich
Yanggu - Seocheon x river, February 3
I was sent home early today because there wasn't anything to do, so I went for a walk along Seocheon, the small river that flows through Yanggu township. I didn't see a lot of species: ducks along the river, tits, parrotbills and bunting in the riparian vegetation. There was a Long-tailed Rosefinch and a Siberian Accentor with the buntings.
There were 3 Common Snipe, 5 Green Sandpipers and a Brown Dipperin the river. I was lucky enough to see a Eurasian Sparrowhawk catch a small bird, probably a Rustic Bunting. I heard a Eurasian Eagle Owl calling as the sun dipped below the hills and as I was walking back a Golden Eagle flew past me, only about 30 or 40 metres away.
Bird News from Nial Moores with Klemens Steiof, Bernd Ratzke and Alessandro Kormannshaus
Suncheon Bay (Ramsar site); Hwaeom Temple (Jiri san); Geum River/barrage lake, February 3
A morning in Suncheon Bay in bitterly cold weather (with a minimum of -8C barely struggling to -4C, and significant wind chill) produced only 14 Hooded Crane (main flock disturbed by yesterday's celebrations?), and brief flight views of an adult Lesser White-fronted Goose, while the tidal-flat held at least 166 Saunders's Gull.
En route to Gunsan, an hour or two at Hwaeom Temple produced some of the nicest birding of the day, with prolonged views of a single Hill Pigeon, as well as unseasonal Japanese/Korean Bush Warbler, a Red-flanked Bluetail (AK only) and best of all 2 Tristram's Bunting (perhaps only the third national mid-winter record, all in the southern provinces). In addition, rice-fields near there held a stunning pale adult Upland Buzzard, while the last 30 minutes of the day at the Geum were spent watching clouds of Baikal Teal (totalling ca 200000) leaving the area before dark.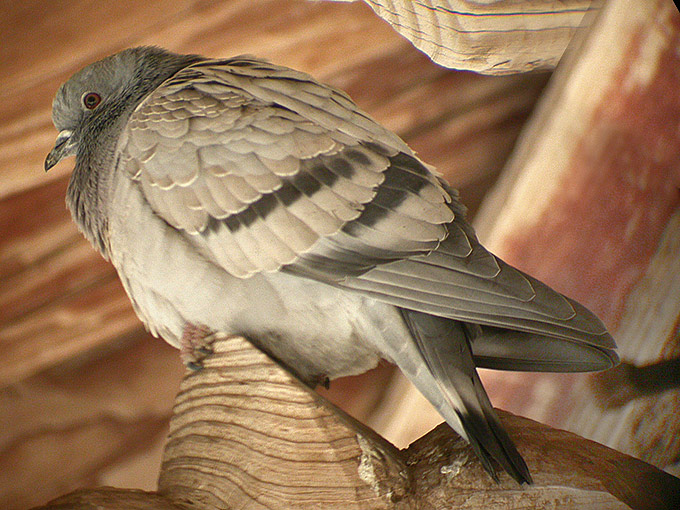 Hill Pigeon Columba rupestris, Photo © Nial Moores.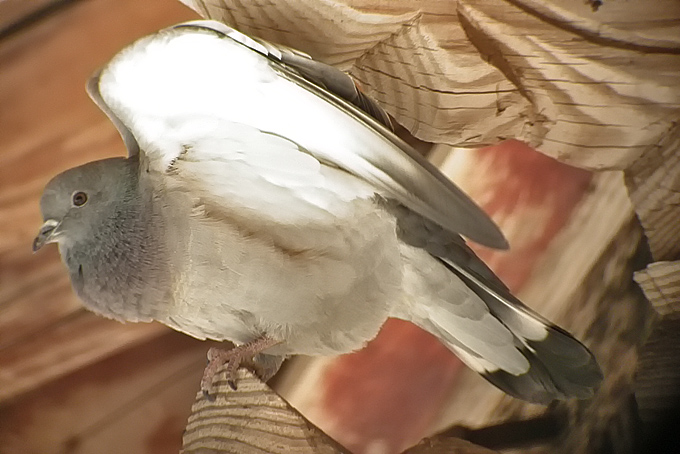 Hill Pigeon Columba rupestris, Photo © Nial Moores.
Bird News from Nial Moores with Klemens Steiof, Bernd Ratzke and Alessandro Kormannshaus
Nakdong and Dadapo, February 2
With temperatures back below normal, a whole day spent at or near the Nakdong in an unsuccessful search for Relict Gull. Despite this obvious disappointment, some excellent speices, including one Steller's and three White-tailed Eagles, a single Eastern Marsh Harrier, ca 20 Saunders's Gull, several very close Falcated Duck, and in woodland 2 Pale Thrush, 5 Japanese White-eye and ca 10 Varied Tit (with one of the latter so inquisitive at pishing that it landed within ca 30 cm of his face on the tripod that NM was carrying over his shoulder...before checking us out further from a safer distance). Most notable sighting of the day was a wing-tagged adult Mongolian Gull, with the code AA 63 (Birds Korea is currently gathering further information on where and when this bird was tagged, and this will be posted shortly - for more information on the tagging project go to Wing-tagged Mongolian Gulls).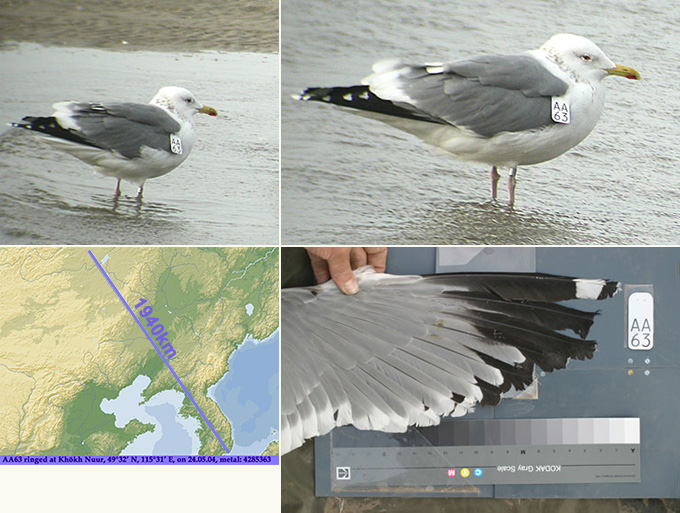 Wing-tagged Mongolian Gull (top), Photo © Nial Moores. Map drawing line between where AA63 was flagged and where it was found
in Korea. (bottom left) Map © Andreas Buchheim. Spread wing of AA63: photographed at the breeding colony 24th May 2004.
Assumed to be a sub-adult. (bottom right) © Andreas Buchheim.
Bird News from Robin Newlin
Northeast river, February 2
Scaly-sided Mergansers Mergus squamatus, Photo © Robin Newlin.
A brief visit to the Northeast river area found 12 Scaly-sided Mergansers, several Goosanders, 1 Falcated Duck, about 60 Goldeneyes, 1 Siberian Accentor, Long-tailed Tits, a Eurasian Nuthatch, and 4 Bullfinches, including 1 beautifuly rose cassinii type.
Bird News from Barry Heinrich
Northwest Chungnam Province, wetlands, coast and forest, January 28 - February 1
During the Lunar New Year holiday, Dave Baker and I went to Seosan and Taean area on a birding trip. We started on the east side of Seosan A on January 28th in the afternoon, spent all day of January 29 aound to the north and west of Seosan A. On the 30th we had a look around the peninsula in the middle of the seawalls and the southern island part of Taean Coast National Park. For the last day of January we travelled along the west and east side of Seosan B and returned to the east side of Seosan A. Our final morning was spent around Sapgyo Lake on February 1st. Several hundred thousand birds were seen.
We recorded about 80 species of birds during our birding safari. The most dominant birds were Tundra Bean Geese, White-fronted Geese, Mallards and Pintails. They were present in large numbers on the fallow rice farms. The ducks were also present in large numbers on the freshwater lakes. There were significant numbers of Spot-billed Ducks, Common Mergansers, Common Teal and Common Goldeneyes on the freshwater lakes. In marine areas there were large numbers of Black-tailed Gulls, Vega Gulls, Black-headed Gulls, Mallards, Spot-billed Ducks and Common Goldeneyes. There were also numerous Red-breasted Mergansers in marine areas.
We saw some interesting birds of prey. These included Common, Rough-legged and Upland Buzzards, Merlins, Common Kestrels (one with a large rat), a Peregrine Falcon and a Eurasian Eagle Owl. There was a mixed flock of Pallas Reed Buntings and Reed Buntings along a channel with lots of tall grass between Seosan A and Seosan. In the same area I saw a flock of about 12 Chinese Penduline Tits. We encountered a mixed flock of Thrushes on the peninsula along the seawalls. They were dominantly Dusky Thrushes of subspecies Turdus naumann naumanni, with some T. n. eunomus and a few Pale Thrushes. There were a lot of Brown-eared Bulbuls in the same area.
Perhaps our best species was Chinese Great Grey Shrike. We observed three of these birds during the trip, unfortunately we were unable to get any good quality photos of the birds. The diagnostic features we used to identify the birds were:
- relatively long, graduated tail

- white wing bar visible on the upper wing in flight on both primaries and secondaries.
The first bird was seen near the blind on the southeast side of Seosan A on January 28th we found this bird again on January 31st in the same area. The second bird was seen along the channel between Seosan A and Seosan. The third bird was along the western side of Sapgyo Lake on February 1st.
Bird News from Nial Moores with Klemens Steiof, Bernd Ratzke and Alessandro Kormannshaus
Uljin-Hupo, Guryongpo, February 1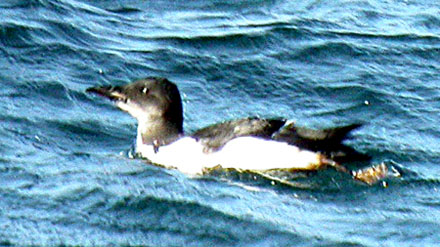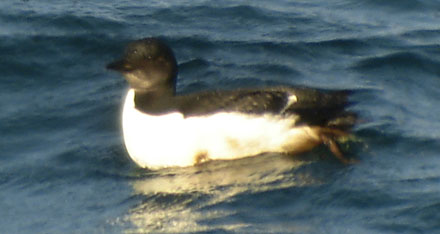 Brunnich's Guillemot Uria lomvia,
Photos © Nial Moores/Birds Korea (top) and Klemens Steiof (bottom).
With rain clearing in the morning, strengthening winds and a decided drop in temperature in the evening. A day checking several stretches of coast was most rewarding, with highlights including 17 Harlequin Duck (mostly males), 2 first-winter Glaucous-winged and 34 Glaucous Gulls, 30 Ancient Murrelet, 10+ Rhinoceros Auklet.
The outstanding highlight came in the afternoon just south of Daebo - Korea's first record of Brunnich's Guillemot Uria lomvia, a slightly oiled winter plumaged bird feeding close inshore (poorly disgiscoped by NM, but well digiscoped by KS!).