Birds Korea's Bird News September 2005
September
Temperatures begin to cool, especially towards the end of the month, with maxima often falling from 28°C to 20°C. Sunny, dry weather predominates, though often punctuated by occasional heavy rain and very strong winds associated with typhoons.
September sees migration pick up considerably, with a build-up of ducks including the first returning flocks of Baikal Teal by mid-month especially. Seabirds still provide much interest (with increasing numbers of jaegers and dark shearwaters), while shorebirds and Yellow Sea "specials" remain widespread and numerous: highlights have included the world's largest concentration of Spoon-billed Sandpipers (with a peak at Saemangeum of 200 in the late 1990s, likely 10% of the total world population), Nordmann's Greenshank, and up to 170 Black-faced Spoonbill at Ganghwa.
Whiskered and White-winged Black Terns, although scarce in South Korea, become rather more widespread with small flocks of the latter at Seosan especially, along with an increasing number of Mongolian Gull. Raptor migration includes large concentrations of Chinese Sparrowhawk making their way towards Japan (where over 50 000 have been recorded in one day on an island in the Korean Straits only 40 km south of Busan!), along with smaller flocks of Grey-faced and Crested Honey Buzzards, and very small numbers of Pied Harrier and Amur Falcon especially through the west and northwest.
Passerines become rather more numerous and diverse, with Thick-billed Warbler and Brown Shrike early in the month, good numbers of Yellow Wagtail (including the highly attractive taivana), Pechora Pipit, and the three species of "grey-brown flycatchers" by mid-month (some Dark-sided and Brown still, with a peak in Grey-streaked). Towards the very end of September, Olive-backed and Buff-bellied Pipit migration starts in earnest, and the first small flocks of buntings also arrive, with most numerous being Chestnut and Black-faced.
September highlights include both Korean records of Rose-coloured Starling (2002 and 2004), 2 Eurasian Tree Pipits on Eocheong island in 2002, and in 2003, an Ashy Drongo on Socheong Island, with 1 or 2 South Polar Skua seen at sea nearby, Korea's first Steppe Grey Shrike (2004), and the country's first Dotterel, found at Seosan in 2005.
(The following records are a compilation of our own sightings and records sent in by other observers. As well as being posted on the Birds Korea website(s), selected records are also forwarded to other Korean-language birding websites; records of threatened species are arranged and forwarded to Birdlife International and national authorities when appropriate; flag images and records are passed to bodies responsible for their coordination throughout the flyway; and all records sent to us are used to compile annual reports and to support the evolving understanding of the status of many of Korea's birds.)
Bird News from Nial Moores with the "Birds Korea team" (Toby Nowlan, Peter Hape Franz, Steve Matherly, John and Karen Shrader, Marcel Lau, Tony Broome, Trevor Feltham, and Glyn and Richard Taylor).
Seosan and Taean, September 30
Heavy rain throughout much of the day led to only 63 species logged, with for example 3 Chinese Egret at Ganwol early on and 3 Streaked Shearwater and 14 Temmick's Cormorant at Taean being the only highlights - until our first views of a flock of 10 Asian Azure-winged Magpie at lunchtime.
With the rain easing a little in the afternoon, our first stop at Seosan Lake A was a burnt over stubble field. Here, many Common Snipe (ca 300 logged during the day), 2 Pintail Snipe, a claimed Solitary Snipe (seen best by RS and KS), 2 Pechora Pipit, 1 of 2 Eastern Marsh Harrier, a Temminck's Stint, 40 Pacific Golden Plover and best of all a juvenile-type Eurasian Dotterel: the first record for Korea! Out on the lake, already 1200 Bean Goose (mostly serrirostris) and between 10 000 and 15 000 Baikal Teal.
Bird News from Nial Moores with the "Birds Korea team" (Toby Nowlan, Peter Hape Franz, Steve Matherly, John and Karen Shrader, Marcel Lau, Tony Broome, Trevor Feltham, and Glyn and Richard Taylor).
Ganghwa, September 29
ca 89 species logged for the day, with now 19 Black-faced Spoonbill on Yeongjong with "only" 30 on Ganghwa, where also 35 Chinese Egret and 143 Saunders's Gull. The shorebird flock in the southwest of Ganghwa contained 2000 Dunlin, 400 Great Knot, 200 Red-necked Stint, 150 Common Greenshank, 120 Terek Sandpiper and best of all a well-watched single Nordmann's Greenshank as well as a claimed Spoon-billed Sandpiper (seen by KS), while passerines there included 6 White's and 1 Grey-backed Thrush, 6 Asian Brown, 1 Grey-streaked and 3 Mugimaki Flycatchers.
Other species of note logged during the day included an early Rufous-tailed Robin, late Pacific Swift (1), Ashy Minivet (2), and Broad-billed Roller (1), and flyover Chinese Sparrowhawk (1), Osprey (1) and Crested Honey Buzzard (3).
Bird News from Nial Moores with Shane Enright, Trever Feltham, Toby Nowlan and Tony Broome
Ganghwa, September 28
ca 75 species logged during the day, with several species of note. On Yeongjong, 9 Black-faced Spoonbill (including one individual with a sattelite transmitter) in the area now being reclaimed by the main expressway, with a further 65 on Ganghwa. Also on Ganghwa, 30 Chinese Egret, a single Chinese Pond Heron, 300+ Far Eastern Curlew, 300 Great Knot and 20 Saunders's Gull, while passerines included one white-headed Long-tailed Tit, and 2 very late Broad-billed Roller.
Bird News from Nial Moores with Shane Enright, Trever Feltham and Toby Nowlan
Taejongdae and Joonam Reservoir, September 27
Highlights at Taejongdae included 6 Chinese Sparrowhawk, 3 White's Thrush and 2 Blue-and-White Flycatcher, while at Joonam there were ca 8 Mandarin, 200 Baikal Teal and and 25 Falcated Duck, as well as a Whiskered Tern (very rarely reported inland in ROK). From the expressway near Pyeongtaek, at least 10 000 Baikal Teal watched moving south in the late evening...
Bird News from Nial Moores with Trev Feltham, Shane Enright and Toby Nowlan, and (in the Nakdong) Jeon Shi-Jin and Kim Hyangi
Dadapo and Nakdong Estuary, September 26
In hot sunshine, best at Dadapo were excellent views of a White-backed Woodpecker, along with 5 Pale Thrush, 100+ Coal Titand 3 Arctic Warbler.
On the Nakdong, although numbers of shorebirds seemed very low, with most numerous seen being e.g. Sanderling (250) and Red-necked Stint (75), now THREE juvenile Spoon-billed Sandpiper (since 25th: JSJ), and also single juvenile Little Stint and Ringed Plover - the latter species probably not recorded annually nationwide.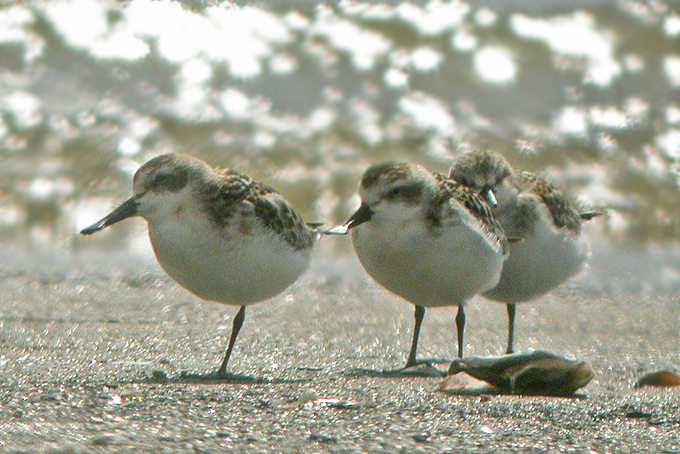 Two juvenile Spoon-billed Sandpipers with a juvenile Red-necked Stint, Nakdong Photo © Nial Moores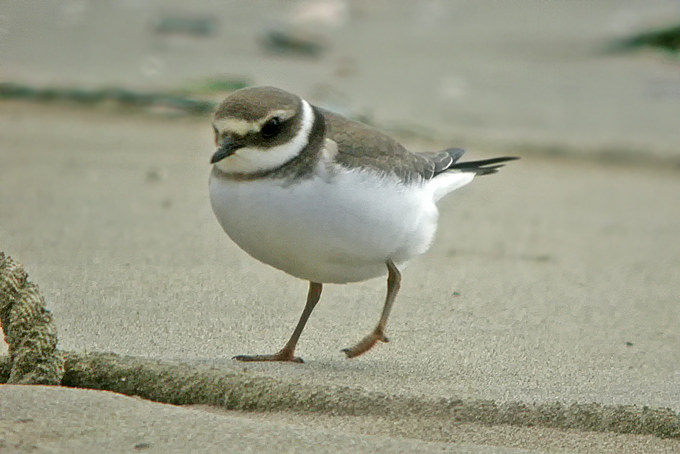 Juvenile Ringed Plover Nakdong Photo © Nial Moores
Bird News from Jake Mac Lennan and Peter Nebel
Keum Tidal Flats, Oh-seong Mountain and the Gunsan Industrial Zone, September 25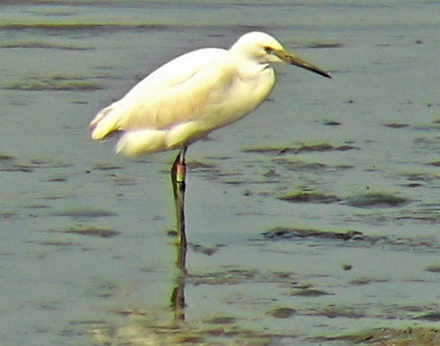 Banded Little Egret, Geum Photo © Jake MacLennan
Near the top of Oh-seong Mountain we had a brief, but good view of a male Blue-and-white Flycatcher. On either side of the mountain we heard or saw Azure-winged Magpies. Five groups were encountered during the day. They seemed to be the most common Corvidae of the day.
Sitting on a stick in the tidal mud a single Osprey did not seem to disturb the shorebirds.
In the industrial zone we saw a Yellow Wagtail and a few others of this species flew over from time to time. In a pond soon to be reclaimed a group of 50 plus Pacific Golden Plovers were seen. Also at the Geum a Little Egret was seen with the following band combination: Left tibia light grey/brown over a red band, right tibia, red over orange over a light yellow/green band.
We would be interested in knowing the history of this bird if anyone knows.
Bird News from Robin Newlin and Tim Edelsten
Incheon's Moido and Yong-yudo areas, September 25
Cool weather, relatively few but good birds. The reservoir near the Moido bridge held a number of egrets, including a couple of Chinese Egrets among the commoner species, and scattered Grey Plovers, (fly-over) Black-tailed Godwits, and Common Greenshanks.
Nearby trees held a Common Cuckoo. A briefly-seen Merlin barrelled past. Equally brief was a sighting of a Korean Bush Warbler.
Yongyudo's best offering was not a bird: a Chinese Water Deer walked briefly into view.
Bird News from Robin Newlin
Songdo, September 24
Cool and windy conditions at Songdo's Dongmak lagoon and a mostly-walled-off mudflat area.
The lagoon held about a dozen Marsh, 3 Wood, and 2 Common Sandpipers, and a few Common Greenshanks. Ducks included numerous Common Teal, and scatterings of Gadwall, Shovelers, and Pintails. About 20 Great Cormorants were on the little island, and a Hobby passed over. 2 Asian Brown Flycatchers and 1 Grey Wagtail were on the land.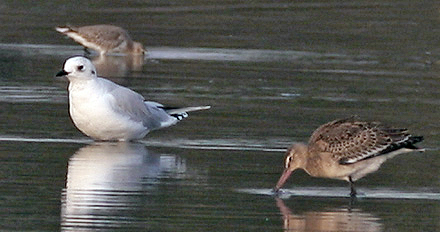 Adult winter Saunders's Gull, Songdo Photo © Robin Newlin
The mudflat area (walled-off: now brackish?) held more teal and good numbers of waders. Scattered Far-Eastern Curlews and 1 Whimbrel. 400+ Great Knots. Around 100 Dunlin. 3 Spotted and 1 Common Redshank. 50 Grey and 7 Pacific Golden Plovers. A few Marsh and Common Sandpipers, and Common Greenshanks. 1 Ruddy Turnstone, 300+ Black-tailed Godwits, and about 20 Bar-tailed Godwits, including 1 still in summer plumage. Great, Intermediate, Little, and 3 Chinese Egrets. About 180 "Eastern Oystercatchers. Scattered Black-headed and 5 Saunder's Gulls.
Highlight was the arrival of 2 Black-faced Spoonbills - later joined (in flight) by 4 more.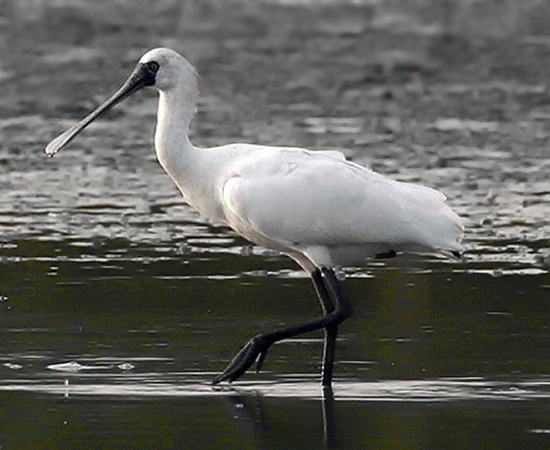 Black-faced Spoonbill, Songdo Photo © Robin Newlin
Banding News from Clive Minton/AWSG
A Ruddy Turnstone Arenaria interpres was sighted by Chung-Yu Chiang at: HanBou (Hanpou), ChangHwa County, China (Taiwan) 24deg 2min 0sec N, 120deg 21min 0sec E on 02/Sept/2005 with flag(s) as follows:
LEFT leg: nothing/unknown on tibia (upper leg) above nothing/unknown on tarsus, RIGHT leg: white flag on tibia (upper leg) above orange flag on tarsus
This bird was flagged in Korean Peninsula, approximate co-ordinates 36deg min S, 126deg 40min E, which uses the flag combination White/Orange, sometime since 1998.
The resighting was a distance of approximately 1462 km, with a bearing of 206 degrees, from the marking location.
Bird News from Nial Moores with Trev Feltham, Shane Enright and Toby Nowlan
Seosan and river near Jeonju, September 25
At Seosan, unusual species included single Chinese Grey Shrike and Purple Heron, while further highlights included good views of a perched Pechora Pipit (one of ca 20 seen/heard during the day), 11 Oriental Honey Buzzard and two Eastern Marsh Harrier, 3 Falcated Duck and a single Grey-tailed Tattler.
On a river near Jeonju, 2-3 Long-billed Plover and a single Japanese Wagtail.
Bird News from Nial Moores with Trev Feltham, Shane Enright and Toby Nowlan
Mangyeung (Saemangeum), Geum and Seosan (PM), September 24
Nordmann's Greenshank, Mangyeung Photo © Nial Moores
At one stop on the Mangyeung, ca 500 Common Greenshank and one very well-watched Nordmann's Greenshank, 5000 Dunlin, 80 Broad-billed Sandpiper and 250 Mongolian Plover, while a nearby reedbed held singles of both Yellow and Shrenk's Bittern as well as an overflying Saunders's Gull.
At Seosan Lake A already ca 5000 Baikal Teal, as well as 2 Pintail and 1 Swinhoe's Snipe, a male Eastern Marsh Harrier and 2 Chinese Grey Shrike.
Bird News from Nial Moores with Trev Feltham, Shane Enright and Toby Nowlan
Dongjin-Geum, September 23
Rather smaller numbers of some and higher than expected numbers of other shorebird species. High counts included ca 1 200 Common Greenshank (ca 1000 in one roost), and ca 200 Broad-billed Sandpiper, while other obvious highlights included 3 each of Saunders's Gull, White-winged Tern, and Black-faced Spoonbill, and most welcome 3 Spoon-billed Sandpiper (one juvenile, one winter adult and one adult breeding- non-breeding).
Bird News from Nial Moores with Trev Feltham, Shane Enright and Toby Nowlan
Yeongjong Island- Dongjin, Saemnangeum, September 22
A brief stop on the way down to Saemangeum from the airport produced 12 Black-faced Spoonbill and a Saunders's Gullat Yeongjong.
In the 3 hours or so at Saemangeum in the rain, highlights included prolonged looks at an adult Nordmann's Greenshank; 200+ Marsh Sandpiper and 5 Ruff; single Chinese Pond Heron and most unexpected, one Brown and one "red-backed type" Shrike.
Bird News from Jeon Shi-jin
Nakdong Estuary, September 21
Banded juvenile Spoon-billed Sandpiper found and photographed by Mr. Jeon Shi-jin.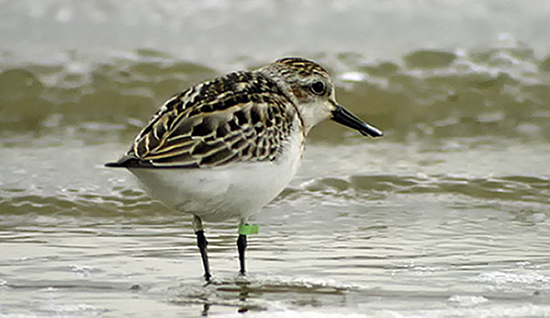 Juvenile Spoon-billed Sandpiper, Nakdong Photo © Jeon Shi-jin
Bird News from Tim Edelsten
Songdo, September 18
Ducks have returned to the lagoon, a scattering of Pochard, Teal, Shoveler, Mallard and 1 Garganey, all in eclipse plumage. Amongst the plentiful Common Greenshank (1 leg-flagged bird), a few Marsh and Wood Sandpipers, 7 Common Redshank, and 4 Black tailed Godwit.
High tide roost on the Mudflat showed a twisting aerial flock of ca. 900 Dunlin, a notable count of 188 Eastern Oystercatcher (my highest ever for Songdo). Also, Far -eastern and Eurasian Curlews, and handfuls only of Bar-tailed Godwits, Grey and Kentish Plovers. Single numbers of Chinese Egret, Red necked Stint, Ruddy Turnstone, Terek and Common Sandpipers, and 4 Pacific Golden Plovers.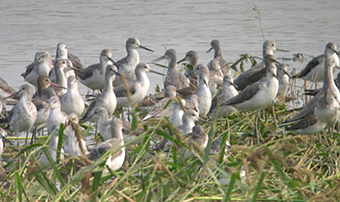 Mixed shorebird flock, Songdo Photo © Tim Edelsten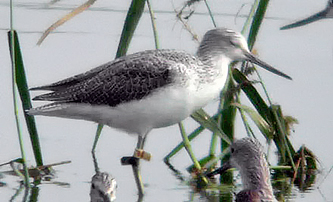 Flagged Common Greenshank, Songdo Photo © Tim Edelsten
Bird News from Peter Nebel
Dongjin River, September 17 and 18
Spoon-billed Sandpiper and other shorebirds, Dongjin
Photo © Peter Nebel
Saturday and Sunday afternoon I went out to the Industrial Zone, and to the north shore of the Donjin. In addition to the expected species we saw 2 juvenile Ruffs and a Black-winged Stilt both days at the Industrial Zone, and Spoonbill Sandpipers (at least 2 on Saturday and at least 4 on Sunday) and a Peregrine (Sunday) at the Donjin site.
Bird News from Robin Newlin
Gangwhado - Dongmak area, September 16
Overcast and warm.
First 2 Rustic Buntings of the season. Zitting Cisticola, and one Arctic and one Black-browed Reed Warbler. 27 Black-faced Spoonbill on the rock islet. 1 lone Common Snipe. A dozen Black-tailed Godwit, scattered Common Greenshank and Far Eastern Curlew, and a very distant swirling flock of probable Great Knot. A Eurasian Hobby passed over a few times.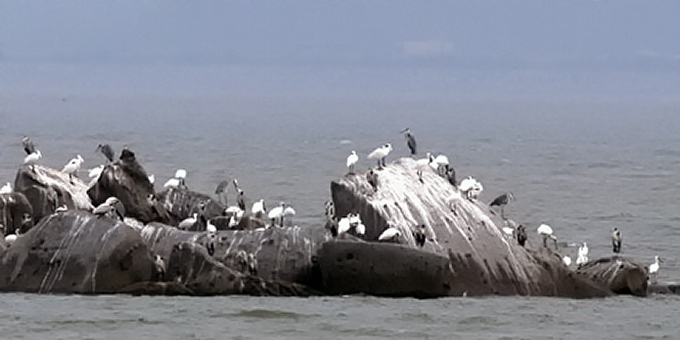 Black-faced Spoonbills (and Grey Herons), Dongmak Photo © Robin Newlin
Bird News from Nial Moores
Heuksan Island-Mokpo, September 16
A morning spent checking out an area for Black Woodpigeon in preparation for the autumn tour produced views of three birds, with two others heard.
Also on Heuksan, a Siberian Thrush flew over the harbor, while from the ferry in much windier conditions only 8 Streaked Shearwater and at least 425 terns (presumed to be Commons).
Bird News from Nial Moores
Mokpo-Heuksan Island, September 15
From the ferry, 230 Streaked Shearwater, 80 tern (presumably all Common), and 28 Red-necked Phalarope.
In the northern part of Heuksan, for most of the time in the company of Park Jong-Gil and two work associates from the National Parks Association, highlights included excellent views of a Middendorff's Grasshopper Warbler, 1 Pechora and 3 Richard's Pipits, single Latham's and Common and 2 Pintail Snipes, an Asian House Martin, and a very few early buntings (including single Little and Tristram's and 2 Yellow-broweds).
Most interesting and challenging for the day were two shrikes watched very well by all on 15th and by PJG again on 16th...Both showed characters of Red-backed Shrike, with one of the two also showing the (supposedly?) diagnostic thin black sub-terminal band on at least T6 and T5. The other of the two, perhaps more likely a hybrid Brown x Red-backed (?) was banded by Park Jong-Gil on 16th, and showed no such dark tail markings.
These two birds - even more remarkably - were in addition to a further three "red-backed shrike-types" found by Park Jong Gil on Heuksan and neighboring Hong Islands on 14th and 15th. Along with two Red-headed/Black-headed Buntings found in the same area on around the 10th, all occurred following/during the quick-succession passage of two typhoons - one to the south, the second to the west, setting up strong westerlies from inland China. Amazingly, all the shrikes were found on almost exactly the same date as South Korea's first accepted Red-backed Shrike (found, photographed and banded by PJG, also on Hong Island, on September 16th, 2004!).
Brown, Isabelline and Red-backed are all believed to hybridise where their ranges meet, far to the west of Korea (and even a Thick-billed Shrike was photographed paired with a Brown Shrike near Seoul in 2005, producing three young!), so that this multiple occurrence of "red-backed shrike types" reveals either how difficult some hybrid individuals of this "super-species" can be to identify with confidence, and/or how prone to eastward vagrancy Red-backed Shrike really is.
Opinions on the identity of these birds is actively sought!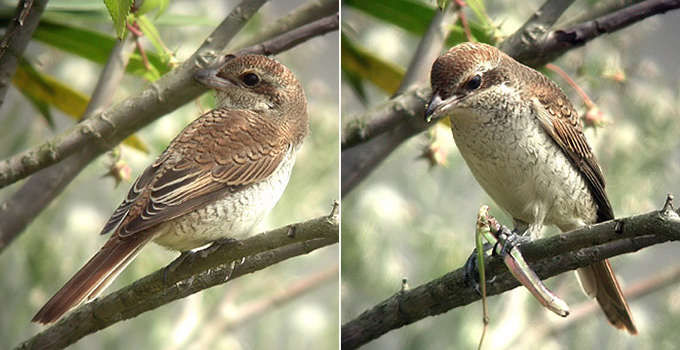 Individual 1: Presumed Red-backed Shrike Heuksan Photo © Nial Moores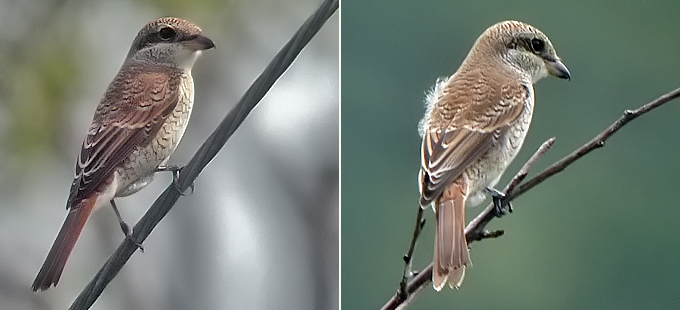 Individual 2: Hybrid Red-backed/Brown Shrike? Heuksan Photo © Nial Moores
Main differences from Brown Shrike of the Individual One in the top three images (all indicating Red-backed Shrike) include: heavy upperpart scaling, with e.g. buff and white mixed in with black; contrastingly plainer look to nape (with hint of greyer or olivey wash); much bolder, blacker scaling on much whiter-looking underparts; browner ear coverts and more poorly-marked supercilium; and dark subterminal markings on tail. Further subtle differences include a shorter, squarer-looking tail than shown by most Brown, and perhaps a subtly longer, less deep-based bill. While Individual One is being identified as Red-backed, how about Individual Two? Although pure Brown Shrike can surely be ruled out, as well as juvenile Isabelline (of all subspecies), how also to rule out a hybrid origin? As can be seen in the images, differences between Individual One and Two include Individual Two's darker ear coverts, a lack of black dark subterminal tail markings,and fewer primary tips visible beyond the longest tertial, with perhaps different spacing between the primary tips of the closed wing. Red-backed variation or a hybrid origin? Informed opinions warmly welcomed!
Bird News from Ji Nam-Jun
Jeju, September 12
Report of one Spoon-billed Sandpiper (from KWBS site).
Bird News from Jake Mac Lennan and Peter Nebel
Oh-seong Mountain, Geum Tidal Flats, and Gunsan Industrial Zone, September 11
At the Geum a Black-capped Kingfisher perched on a stick protruding from the mud. Others were seen near the airport later in the day.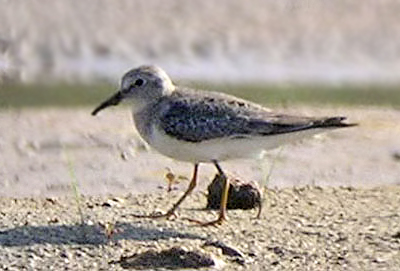 Temminck's Stint, Gunsan Photo © Jake MacLennan
A Striated Heron and a Yellow Bittern were among the reeds at the Geum. A canal in the Industrial Zone was particularly productive: a Long-toed Stint was seen among the Wood, Green and Marsh Sandpipers. A single Black-winged Stilt, a few Common Redshank and four Mandarin Ducks were there as well. A group of 28 Common Teal were personally the first of this species since the spring.
In a shallow pond not far from the airport a single Temminck's Stint was feeding. A group of a few hundred Barn Swallows perched on wires were checked through for other species but none were noticed.
Bird News from Robin Newlin
Taerung (Seoul), September 11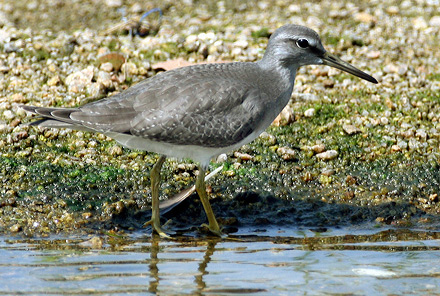 Grey-tailed Tattler, Taerung Photo © Robin Newlin
A good "inner-city" record of a Grey-tailed Tattler
Bird News from Jeon Shi-Jin
Nakdong Estuary, September 10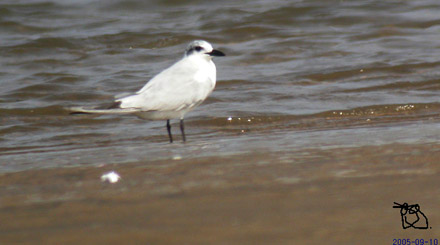 Gull-billed Tern, Nakdong Photo © Jeon Shi-Jin
Outstanding highlight was a Gull-billed Tern. Considered a vagrant to South Korea, there have been probably only ca 5 records nationwide. Intriguingly the last record know to Birds Korea was also at the Nakdong Estuary, in April 2003.
Bird News from Robin Newlin with Jeff Hopkins
Dobongsan (Northeastern Seoul), September 10
Warm and humid conditions. Very few birds in evidence, but still a good visit. Several Eurasian Nuthatches, bands of Great, Marsh, and Varied Tits, Pygmy and Greater Spotted Woodpeckers. One adult male Eyebrowed Thrush (R.N.), one Yellow-browed Warbler (J.H.) and two Blue-and-White Flycatchers (an adult male and a juvenile).
Bird News from Claus Nielsen
Socheong Island - Socheong Island-Incheon, September 9
Socheong Do:, Dollarbird 2, Cuckoo sp. 1, White Throated Needletail 2, Snipe sp. 1, Hobby 2, Brown Flycatcher 1, Brown/Darksided Flycatcher 3, Siberian Stonechat 3, Arctic Wabler 4, Phylloscopus sp. 2, Grey Wagtail 3
Ferry Socheong Do-Seoul:, Streaked Shearwater 130, Swinhoe's Storm Petrel 6, Common Tern 2, Tern sp. 30
Bird News from Claus Nielsen
Incheon-Socheong Island, September 8
Ferry Incheon-Socheong Do:, Streaked Shearwater 25, Swinhoes Storm Petrel 3, Tern sp. 8
Socheong Do:, Cuckoo sp. 2, White Throated Needletail 20, Hobby 1, Peregrine Falcon 1, Blacknaped Oriole 1, Blue Rock Thrush 7, Brown Flycatcher 1, Brown/Darksided Flycatcher 6, Arctic Wabler 6, Phylloscopus sp. 5, Grey Wagtail 5
Bird News from Nial Moores
Igidae, Busan, September 7
Following the brush-past by typhoon Nabi (bringing 100 mm or so of rain to Busan with gale-force NE gusts on the 6th), the day was largely bright with light westerly winds, and apparently little moving out to sea. However, in the afternoon winds started coming in again from the SE, and in only one hour of sea-watching (between 5 and 6 PM) at least 890 Common Tern were counted moving south.
These were joined by between one and three presumed near-breeding plumaged adult Aleutian Tern. All were too distant to see the diagnostic secondary pattern on the underwing, but were nonetheless much darker above than the accompanying groups of Common Tern (these in plumages ranging from apparently full-breeding to non-breeding), with a much more obvious, contrasting white leading edge to the wing noted on two such individuals, and a clear white forehead contrasting with a black cap/rear to the crown. On the best seen bird (watched mainly flying away) the upperparts were very dark slaty grey above, contrasting with a startlingly white rump and tail, showing also a patchy look to the edge of the upperwing coverts, and a variegated pattern to the outer wing: all features making it easy to pick out from the surrounding Commons. It also lacked an obvious pale secondary trail on the upperwing or a solidly dark trail to the primaries. Considering its breeding distribution, its regularity in Hong Kong in late August and September, and the records from the Socheong ferry in 2004, it seems likely that Aleutian Tern will prove to be a regular migrant through Korean waters (even if today's observations were perhaps insufficient to clinch identification).
Also noted there, ca 4 Streaked Shearwater and 5 Northern Phalarope feeding a little offshore. Although only one gully was checked, this held single Brown and Yellow-rumped and at least 2 Grey-streaked Flycatchers, along with an Arctic Warbler and the White-backed Woodpecker still.
Bird News from Nial Moores with Bill Tweit
Dadapo and Nakdong estuary, September 5
In continuing strong NE winds (ahead of typhoon Nabi), birding at the Nakdong was confined to dry land...
Non-breeding adult Chinese Egret, Nakdong Photo © Nial Moores
At Dadapo, in addition to good numbers (and excellent views) of Japanese White-eye (30+) and Varied Tit (ca10), ca 15 Grey-streaked Flycatcher, 2 Arctic Warbler and 1 Pale Thrush were the only obvious migrants, along with ca 25 Streaked Shearwater watched moving north, and 45 Common Tern moving south.
On the beach there, excellent views of a non-breeding adult Chinese Egret and 9 Eastern Oystercatcher, with even more surprisingly a "Kamchatka-type" Common Gull (an exceptional date).
On Ulseuk Island, a very small number of choice shorebirds included Terek Sandpiper (4), single (near-full) breeding-plumage Grey-tailed Tattler and a single Long-toed Stint, while there also were 40+ Black-headed and 2 Mongolian Gulls.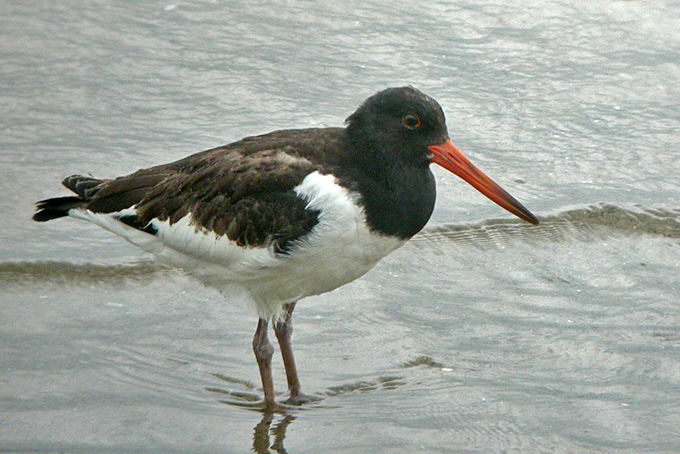 Eastern Oystercatcher, Nakdong Photo © Nial Moores
Bird News from Nial Moores with Bill Tweit
Igidae and Taejongdae, Busan, September 4
In strong NE winds and largely overcast, ca 250 Streaked Shearwater were watched moving north (most from Igidae) in little over an hour in total, along with a single early Temminck's Cormorant south at Taejongdae.
Other evidence of movement came in the form of a day total of probably 30-40 Arctic and 4 Eastern Crowned Warblers, ca 5 Grey-streaked, single Yellow-rumped (BT) and Blue-and-white Flycatchers (latter heard only), single Yellow Wagtail and Black-naped Oriole, 2 or 3 Hobby and ca 10 early-returning Black-headed Gull in among flocks of Black-taileds (ca 400 seen during the day).
Other species of note included Black Kite, Marsh Tit and White-backed Woodpecker (very briefly!) at Igidae and 2+ Northern Boobook heard after dusk at Taejongdae.
Bird News from Jake Mac Lennan and Peter Nebel
Oh-seong Mtn., Keum Tidal Flats, Kunsan Industrial Park, Mangyeong and Dong-jin Estuary, September 4
Groups of Black-naped Orioles were active on the slopes of Oh-seong as well as a large group of Azure-winged Magpies. A Scaly Thrush crossed the road near the top and a feeding flock of Tits included an Asian Brown and a Grey-streaked Flycatcher. Also there, a Japanese White-eye (PN) and an Eastern-crowned Willow Warbler (JM) were spotted briefly.
In the industrial park Green and Wood Sandpipers were in a canal. A group of perhaps 60 Marsh Sandpipers were in a shallow pond.
At the Dong-jin Estuary the high tide pushed a variety of smaller shore birds into view including 3, possibly four, Spoon-billed Sandpipers, a Grey-tailed Tattler, numerous Broad-billed Sandpipers, several Ruddy Turnstones, and a single Curlew Sandpiper. Also there, a juvenile White-winged Black Tern.
Bird News from Peter de Haas
Eulsukdo, September 3
1 Zitting Cisticola (Fan-tailed Warbler) photographed carrying food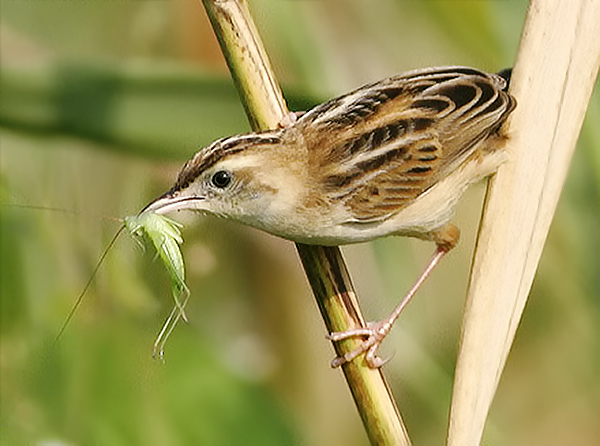 Zitting Cisticola, Eulsukdo Photo © Peter de Haas