Birds Korea's Bird News August 2005
August
Typically hot and humid (with day maxima often around 30°C until at least mid-month), with occasional heavy rains and strong winds, associated either with southern typhoons or caused by the mix of humidity and heat.
Chinese Egrets become widespread along the west coast. Shorebirds (including a very small number of Spoon-billed Sandpiper) begin to build up at many of the remaining best sites. Numbers tend to be rather lower than in spring, though Kentish Plover and Terek Sandpiper often number in the thousands in the southwest.
Parties of Black-naped Orioles, the appearance of returning leaf warblers (especially Eastern-crowned and Arctic Warblers) and small numbers of Brown Shrike and Yellow-rumped and Brown Flycatchers by mid-month also hint at the start of passerine migration, while Eurasian Hobby and Chinese Sparrowhawks appear to be on the move by the month's end. At the very end of August, the first migrant Pechora Pipit (probably of the subspecies menzbieri) and migrant buntings also appear on offshore islands especially.
Seabirds have provided most interest in recent Augusts, with three records of Sooty Tern, Korea's first Sooty Shearwaters (in 2002), and a Lesser Frigatebird overflying Socheong and Korea's first Aleutian Tern seen from the Socheong ferry in 2004, with another in 2006.
(The following records are a compilation of our own sightings and records sent in by other observers. As well as being posted on the Birds Korea website(s), selected records are also forwarded to other Korean-language birding websites; records of threatened species are arranged and forwarded to Birdlife International and national authorities when appropriate; flag images and records are passed to bodies responsible for their coordination throughout the flyway; and all records sent to us are used to compile annual reports and to support the evolving understanding of the status of many of Korea's birds.)
Bird News from Claus Nielsen
Tidal Flat at Gocheonam Lake, Haenam, August 31
Chinese Egret 30, Great White Egret 2, Little Egret 1, Great Knot 25, Grey Plover 10, Terek Sandpiper 5, Blue Rock Thrush 1 male
Bird News from Robin Newlin
Dongmak/Songdo freshwater lagoon (Incheon), August 31
Hot and sunny conditions. Highlights included many Great Cormorants, a pair of returning Little Grebes, many Black-tailed Godwits and Common Greenshanks, handfuls of Sharp-tailed, Marsh, Common, and Wood Sandpipers, 4 Common and 1 Spotted Redshank, and 2 Long-toed Stints.
The godwits flew up in a panic when a Peregrine Falcon strafed them in passing.
The only passerine of note was a Grey-streaked Flycatcher.

Black-tailed Godwits and Common Greenshank, Incheon Photo © Robin Newlin
Bird News from Tim Edelsten
Songdo, August 28
8 Chinese Egret fed characteristically on the mud at aamdo, accompanied by a scattering of Whimbrel, Far Eastern Curlew, Grey Plover, and Terek Sandpipers, 5 Grey-tailed Tattlers, Bar-tailed Godwits and a Hobby overhead.
On the "reclamation mudflat", clearly fewer waders as previously, scuttling to and fro between the walls of debris. Handfuls each of Dunlin, Red-necked Stint, Sharp-tailed Sandpiper, 1 Broad-billed Sandpiper, and 1 Saunders's Gull.
A few yards away on the lagoon, 8 Black-tailed Godwits and single numbers of Common, Wood, and Marsh Sandpipers.
Highlight though was a probable Nordmanns Greenshank - which contrasted well with a nearby group of Common Greenshank.
Bird News from Robin Newlin
Gangwhado, August 27
A mostly non-birding trip nevertheless yielded some good snatched moments with (avian) summer residents and migrants.
In Kyo-dong-do (overlooking DPRK) a largely empty area of mudflats held a single Black-faced Spoonbill and a Chinese Egret, and a Common Sandpiper and 2 Whimbrels. Area rice fields and wetlands yielded a large snake sp, all of the commoner egrets and a single adult breeding-plumage Chinese Pond Heron.
Other birds seen were Black-naped Orioles (adults and juveniles), 3 Hobbies, a Yellow-rumped Flycatcher, a Black-capped Kingfisher, and Arctic, Oriental Great Reed, and Yellow-browed Warblers.
Bird News from Jeon Shi-Jin
Nakdong Estuary, August 27
A visit to the same area of the Nakdong estuary appeared to confirm Nial Moores's and Christian Artuso's suspicions on the 26th that there were two, rather than one, Spoon-billed Sandpiper present...today, two were present together in the same area.
Bird News from Nial Moores with Christian Artuso, Jeon Shi-Jin and Kim Hyangi
Nakdong estuary, August 26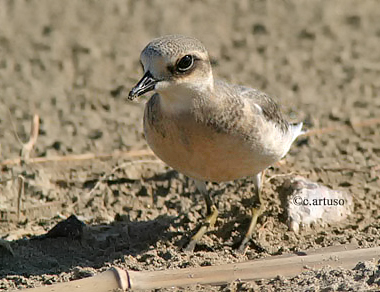 Mongolian Plover, Nakdong Photo © Christian Artuso
With near-calm conditions, a chance to check shorebirds for ca 7 hours in the Nakdong estuary thanks to Mr. Jeon Shi-Jin (and his high-speed dinghy!).
In the two main outlying areas that we had time to check, 26 species of shorebird logged, with most numerous being Kentish Plover (ca 700), Red-necked Stint (ca 250, the vast majority of which were juveniles), and Sanderling (210+, with one orange-flagged bird). Excellent views were enjoyed of these and most of the other species, including a single Long-toed Stint, at least 3 Broad-billed Sandpiper, a record-breaking 26 Greater Sandplover (presumed one of the higest counts of this species made nationwide), and 6 Eastern Oystercatcher.
Juvenile Red-necked Stint, Nakdong Photo © Nial Moores
Long-toed Stint, Nakdong Photo © Nial Moores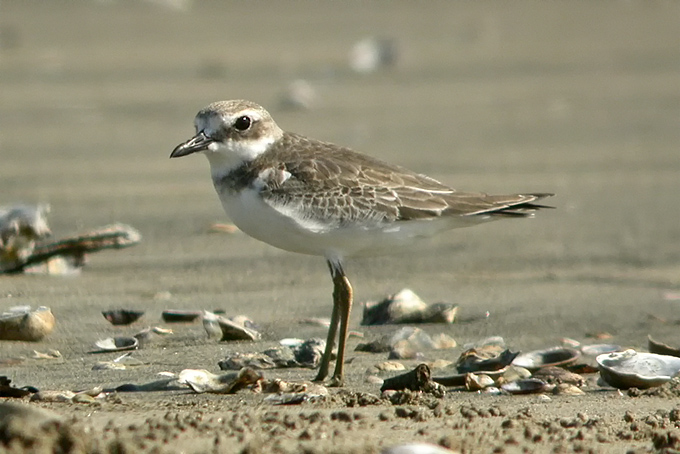 Greater Sandplover, Nakdong Photo © Nial Moores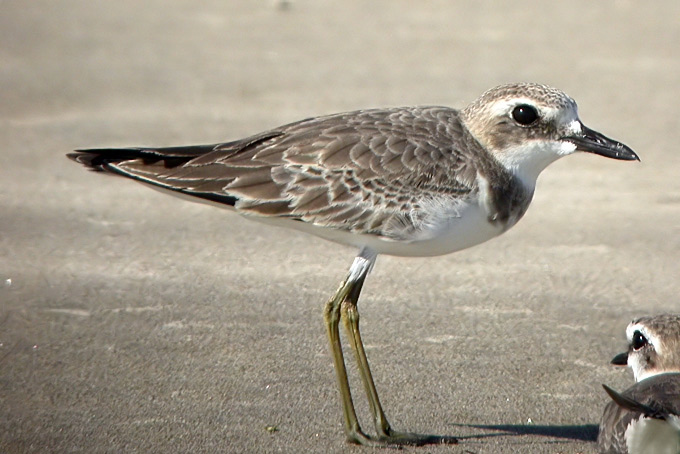 Greater Sandplover, Nakdong Photo © Nial Moores
Further highlights included a presumed Pectoral Sandpiper (seen only briefly in flight), 2 Chinese Egret, and best of all (of course!) a stunning juvenile Spoon-billed Sandpiper, watched well for 10 minutes or more feeding with Red-necked Stint and a Dunlin, and then for rather longer as it roosted up in the cover of some discarded plastic sheeting!

Juvenile Spoon-billed Sandpiper with Red-necked Stint,
Nakdong Photo © Nial Moores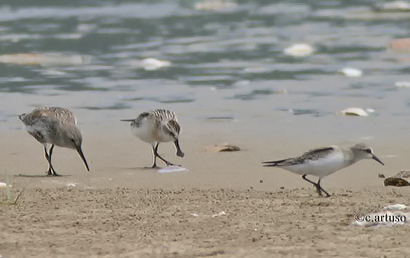 Juvenile Spoon-billed Sandpiper with Dunlin,
Nakdong Photo © Christian Aruso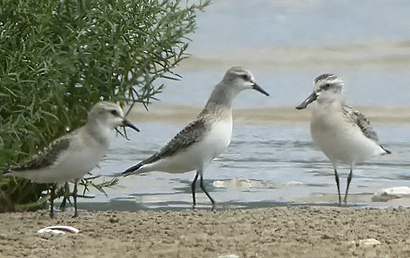 Juvenile Spoon-billed Sandpiper with Red-necked Stint in
threat posture, Nakdong Photo © Nial Moores

Juvenile Spoon-billed Sandpiper, Nakdong, Photo © Nial Moores
Bird News from Nial Moores
Igidae "Urban Nature Park", east Busan, August 25
A few hours in a local seaside park in east Busan suggested that autumn migration is now starting in earnest.
Although there were very few grounded migrants (if any!), the woodland held a Japanese Bush Warbler and most surprising of all a very confiding White-backed Woodpecker, while single Black Kite and Eurasian Hobby were logged overhead, along with ca 15 Pacific Swift and 10 Red-rumped/Lesser Striated Swallow south.
Less than an hour of sea-watching also produced two decent groups (totalling 49) of Grey Heron going south, along with ca 35 Stints (presumably all Red-neckeds), 5 Grey-tailed Tattler and 3 Far Eastern Curlew.
Bird News from Claus Nielsen
Dongjin Estuary, Saemangeum, August 24
No coordinated count made, but many species of note:
Spoon-billed Sandpiper 1 adult, Red-necked Stint 50, Great Knot 30, Sharp-tailed Sandpiper 5, Broad-billed Sandpiper 100, Common Redshank 20, Marsh Sandpiper 10, Common Greenshank 400, Ruddy Turnstone, Dunlin, Terek Sandpiper 400, Green Sandpiper 10, Wood Sandpiper 5, Common Sandpiper 5, Black-tailed Godwit 300, Grey Plover 30, Mongolian Sand Plover 300, Black-faced Spoonbill 1, Yellow Bittern 1
Bird News from Robin Newlin
Gangwhado, August 24
Highlights of a visit in cool and rainy conditions to the flats, fish-lake, and rice-fields just south of the Dongmak area of Gangwhado:
Tide was very low, and the flats were sparsely populated: scattered Eurasian and Far Eastern Curlews, Grey Plovers, Great, Intermediate, and Little Egrets; 8 Black-faced Spoonbills and 6 Great Cormorants on the rocky island.
A reedy wet area held 1 Wood and 2 Common Sandpipers and 2 Long-toed Stints, one a very bright juvenile.
Other birds in the area included a Meadow Bunting (heard only), 2 Common Cuckoos, a Broad-billed Roller, 1 Kestrel, 1 Hoopoe, a Common and a Black-capped Kingfisher.
Bird News from Christian Artuso
Busan, August 19 - 22
In Geumgang Park on August 19 a single Scaly Thrush, while on the 22nd, one Grey-streaked Flycatcher, 4 Asian Stubtail and single Pale Thrush.
At Taejongdae on August 23 highlights included a single Pale-legged Leaf Warbler and 40+ Streaked Shearwater offshore.
Bird News from Robin Newlin
Taenung (Northeast Seoul), August 21
A walk along the popular (for joggers, anglers, etc) stream between Taenung and Nowon yielded a few summer birds -- a pair of over-summering Goosanders/Common Mergansers, Spot-billed Ducks, 1 Grey Wagtail, Little and Great Egrets, Grey Herons, Black-tailed Gulls, a juvenile Black-crowned Night Heron, 1 Eurasian Hobby, and an amiable flock of Vinous-throated Parrotbills.
Eurasian Hobby, Taenung Photo © Robin Newlin
Vinous-throated Parrotbill, Taenung Photo © Robin Newlin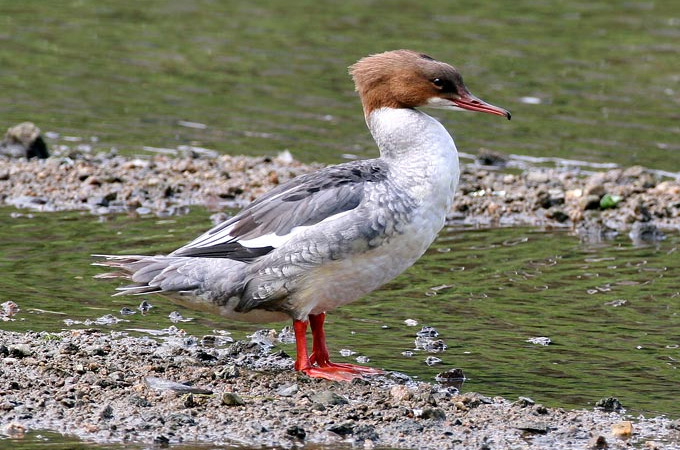 Common Merganser, Taenung Photo © Robin Newlin
Bird News from Jake Mac Lennan, Peter Nebel and Torsten Ryslavy
Geum Tidal Flats, Mangyeong Estuary and Gunsan vicinity, August 21
Near Oh-seong Mountain a Yellow Bittern popped out of the reeds in a pond.
On the Geum tidal flats Black-tailed Godwits were abundant.
In a canal in the industrial zone Wood and Green Sandpipers were seen.
On the ocean side a single Chinese Egret was on a rocky island.
At the Man-gyeong at least four juvenile White-winged Black Terns were observed. Broad-billed Sandpipers, a Grey-tailed Tattler, Ruddy Turnstones, Redshank and a Marsh Sandpiper were seen on the tidal flats.
Near the airport a Black-capped Kingfisher was seen well.
Bird News from Torsten Ryslavy and Peter Nebel
Saemangeum, August 19 and 20
Although rather more detailed data will be posted later, obvious highlight on 20th was up to 13 Spoon-billed Sandpiper on the Dongjin Estuary.
In addition, on 19th, 2 Oriental Pratincole near the airport (PN and Jim), and a Chinese Egret on the "industrial estate" tidal-flats (19th -21st).
Bird News from Nial Moores and Adrian Riegen (of New Zealand AWSG and Miranda Trust).
Saemangeum, August 16 and 17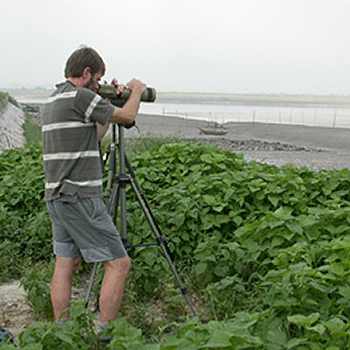 Adrian Riegen, New Zealand shorebird specialist,
Saemangeum Photo © Nial Moores
In very high temperatures (ca 32 C max) and with only neap tides, a two-day study tour of the Saemangeum estuarine area still produced well over 20 000 shorebirds comprising 30 species in those areas visited, with most numerous being Great Knot (ca 15 000), Black-tailed Godwit (ca 4 500, with possibly a further 2 000+ on the Geum) and Terek Sandpiper (ca 1400).
Other shorebirds of note included ca 100 Red Knot (including one group of 40 on the 16th containing three flagged birds: one yellow, one orange and one white - the last possibly put on by Adrian himself back home in New Zealand!), ca 75 Redshank ( national high count?), 65 Broad-billed Sandpiper, 7 Long-toed Stint, 5 Curlew Sandpiper, and best of all a near breeding-plumaged Nordmann's Greenshank on the 17th (watched at medium range, scope views were still good enough to see the slight palmations as it started feeding!).
To add to the excellent shorebirding, 2 Garganey, 2 Yellow Bittern, ca 100 Monglian Gull, and outstanding surprise one or possibly two Black Tern - only the second record in Korea (the first was by Kim Hyun-tae on May 18th, 2001 at Seosan).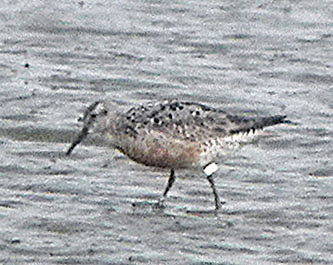 White-flagged Red Knot, Saemangeum Photo © Nial Moores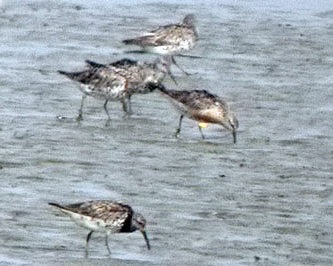 Yellow-flagged Red Knot, Saemangeum Photo © Nial Moores
Standing on a bridge over a wide dyke, two marsh terns were picked up as they first flew low over the water towards us, then almost over us and away east, gaining more and more height with the sun now behind them. Suspecting by this time that they might be Black Terns, our suspicions were confirmed as they (fortunately!) swung back round and over us again, even dropping lower to dip-feed for a few seconds, before heading away strongly back west down the same dyke. One of the two was well-scoped at close range, was seen at all angles, and could be confidently identified as a near full-breeding plumage Black Tern (just showing e.g. some obvious white patch on the upper breast); the other individual was not seen as well and was watched only when head-on or when flying away. It was apparently identical in structure (including notched tail), had grey wings and a solidly black crown. Although very likely also a Black Tern in near full non-breeding plumage, no obvious dark patch on the neck sides was seen, so its identification seems best left as tentative.
Bird news fromTim Edelsten & Robin Newlin
Gangwha1, August 4
The swamp near Dongmak presented excellent habitat and birds to match. A busy family of brilliant blue Common Kingfishers zipped to and fro, with a rather tame youngster. At least 5 Yellow/Chinese Little Bitterns gave excellent views. The main attractions were 2 Chinese Pond Herons:an adult already in non-breeding plumage, and a juvenile with brown extending along its forewings- most likely raised on Gangwha this summer. Other birds included plentiful Cattle Egrets and a Eurasian Hobby.
*Unfortunately 2 new roads are being constructed around this site.
Yellow Bittern, Gangwha Photo © Robin Newlin
Common Kingfisher, Gangwha Photo © Robin Newlin
Bird news from Peter Nebel
Gunsan area, August 6 and 7
Birds that were a bit unusual for Gunsan were a juvenile Japanese Wagtail by the Geum, a juvenile (?) Mandarin Duck in the Industrial Zone, and a Brown Hawk Owl seen and heard calling a few miles from the airport. Kentish Plovers were present (in numbers) for the first time since May. There were several thousand Barn Swallows at Okku, Saemangeum, on Saturday, August 6th.
Bird news from Peter de Haas
Busan, August 3
I female Common Kingfisher photographed.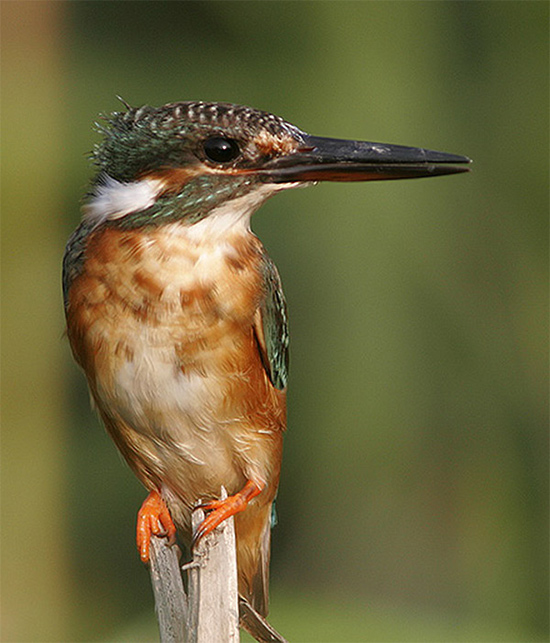 Common Kingfisher, Busan Photo © Peter de Haas