Birds Korea's Bird News July 2004
July
Hot (typically above 25°C, sometimes reaching 30°C) and humid, with occasional storms and heavy rains associated with southern-tracking typhoons.
Young Japanese and White(-faced) Wagtails can be found begging food on streams and rivers in the southeast. Juvenile Chinese Egrets and Eastern Oystercatchers are on north-west tidal-flats, in some areas feeding alongside summering Saunders's and Mongolian Gulls. Chinese Sparrowhawks are on telegraph poles in rice-fields throughout the country. Black-naped Orioles, Vinous-throated Parrotbills and parties of tits, are found in almost all woodland areas. By the end of July the first returning shorebirds arrive, with large numbers of Far Eastern and Eurasian Curlews at Ganghwa and the Geum estuary.
(The following records are a compilation of our own sightings and records sent in by other observers. As well as being posted on the Birds Korea website(s), selected records are also forwarded to other Korean-language birding websites; records of threatened species are arranged and forwarded to Birdlife International and national authorities when appropriate; flag images and records are passed to bodies responsible for their coordination throughout the flyway; and all records sent to us are used to compile annual reports and to support the evolving understanding of the status of many of Korea's birds.)
NEW POSTINGS
This spring saw good numbers of different taxa of both
Brown Shrike
Lanius cristatus
and
Pechora Pipit
Anthus gustavi
migrating through South Korea. Identification issues encountered because of their variability has prompted Nial Moores to write two articles that raise some very interesting questions... go to
Brown Shrikes
and go to
Pechora Pipits
Bird News from Nial MOORES
Geum River and Dongjin River (part of the Saemangeum estuarine system), July 31
Hot and sunny, with a high of ca 33C, and only 52 species logged. Numbers of shorebirds were much higher than expected, and included at least 1 000 Dunlin and 9 000 Great Knot on the Dongjin, along with a distant adult Little Stint (first found by TH) and no less than 56 Common Redshank (possibly a new national high count?).
Other waterbirds were fairly well-represented too, and included a juvenile Chinese Egret on the Dongjin, no less than 200 Mongolian Gull (including 15 juveniles), a single non-breeding plumaged Saunders's Gull (on the Geum), and most surprising of all a single eclipse male Baikal Teal on the Dongjin...This is presumably the first summering Baikal Teal recorded in South Korea.
Bird News from KIM Hyun-tae
Seosan, July 31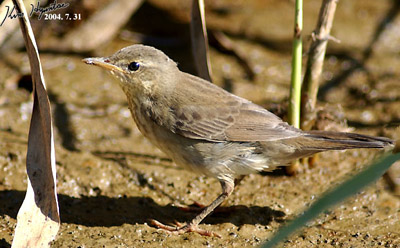 Juvenile Middendorff's Grasshopper Warbler, Seosan. © KIM Hyun-tae.
Amongst a number of interesting photographs on Hyun-tae's website, was this excellent image of a juvenile Middendorff's Grasshopper Warbler Locustella ochotensis: although surprisingly early, this individual is more likely to be an early autumn migrant rather than a locally bred bird as the closest breeding locustellas are Styann's (to at least as far north as Gunsan), and the intermediate type on Ulleung (for a brief report on this intriguing type go to Ulleung Locustellas).
Bird News from Nial Moores
Incheon Area (including Shiwa and Yeong Jeong), July 29
This report was given by telephone, and full details will be posted soon:
Over 35 Black-faced Spoonbills (13 juveniles), 30+ Chinese Egrets, and good numbers of both adult and juvenile Saunders's Gulls observed.
Shorebirds are already coming through, and high counts of over 1000 Terek Sandpipers and 200 Far Eastern Curlew were made. Other highlights included 3 Yellow and 1 Schrenk's Bitterns.
Bird News from Nial Moores with Seongkonghoe group
Ganghwa Island, July 24
Only a couple of hours in the field, but still views of 30 Black-faced Spoonbill (many of which were immature birds), 50 Common Greenshank , ca 150 Terek Sandpiper , 200 Far Eastern Curlew , 4 Black-tailed and 1 Bar-tailed Godwit , 3 or 4 Mongolian and a single Saunders's Gull (among several hundred Black-taileds).
Other birds noted included 2 Hoopoe and single Black-capped Kingfisher, Peregrine and Northern Hobby. Very surprisingly there were no Chinese Egret or even Barn Swallow noted.
Bird News from Nial Moores
Seonkonghoe University area, Seoul, July 11 - 23
After a wet June and thundery first half of the month, a few hints of early autumn now with the increased clamour of cicadas, and the similarly clicky, buzzy calls of Broad-billed Rollers attending fully-grown juveniles. On campus, Northern Hobby , frequent views of Black-naped Oriole , and still occasional bursts of song from Common Cuckoo, while one night a singing White's Thrush and another a vocal Brown Hawk Owl / Northern Boobook. In nearby rice-fields, a pair of Spot-billed Duck with near fully grown young, a juvenile Striated Heron , and several young Cattle Egret , but surprisingly no Barn Swallow.
Bird News from Jake Mac lennan and Peter Nebel
Points on the Geum, Mangyeong and Dong-jin Rivers, July 18
During low tide the Geum had Black-tailed Godwits, Eurasian and Far Eastern Curlews, and thirteen Eurasian Oystercatchers. At the Mangyeong we met Oh Dong-pil and a Mr. Bae with whom we continued on with for the rest of the day. Several Chinese Egrets were in a channel while groups of Dunlin and Terek Sandpipers were seen at a distance.
On the way south a Wood Sandpiper was seen in a rice field. The Dong-jin had still more Chinese Egrets as well as Mongolian Sandplovers, Common Redshank and Red-necked Stint. Bar-tailed Godwits were noted by another party member.
Bird News from Jake Mac lennan and Peter Nebel
Geum River, July 17
Among the returning shorebirds a single Grey-tailed Tattler was seen.
Bird News from Kim Hyun-tae
Seosan, July 17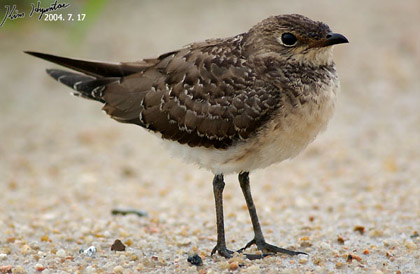 Juvenile Oriental Pratincole, © KIM Hyun tae.
A flock of 32 Oriental Pratincole, with 2 recently fledged individuals, strongly suggesting that the species nested this year - apparently a first nesting record for South Korea.
Bird News from Dave BAKER.
Danyang, July 4
One adult male and four immature Eurasian Kestrels were seen on a hill west of Sangjin-ri, Danyang. They are the results of a successful nest in the area.
Bird News from Dave BAKER.
Danyang, July 3
A male Japanese Sparrowhawk seen catching a mouse along the Namhan River in Danyang.