Birds Korea's Bird News June 2004
June
Often hot (temperatures up to 30°C inland) and humid, with very heavy rains some years by mid-month.
By early June, Yellow and the rare Schrenk's Bittern are breeding in reed-beds, and Watercock give their (slightly comical) gulping calls in the best rice-field areas. Nesting activity in Black-faced Spoonbill and Chinese Egret colonies reaches its peak, and forest nesters are still vocal, especially in the first half of the month. At Gwangneung, typical species include 4 species of woodpecker, Ruddy Kingfisher, Yellow-rumped Flycatcher and Mandarin Duck, while on the south coast at Geoje Island Pale Thrush, Blue-and-white Flycatcher and Yellow-throated Bunting predominate. Black Woodpigeon nest on Gageo and other islands and Styann's Grasshopper Warbler are widespread on small islets: both species, plus the very local Russet Sparrow, can be seen well on Ulleung Do.
(The following records are a compilation of our own sightings and records sent in by other observers. As well as being posted on the Birds Korea website(s), selected records are also forwarded to other Korean-language birding websites; records of threatened species are arranged and forwarded to Birdlife International and national authorities when appropriate; flag images and records are passed to bodies responsible for their coordination throughout the flyway; and all records sent to us are used to compile annual reports and to support the evolving understanding of the status of many of Korea's birds.)
NEW POSTINGS
This spring saw good numbers of different taxa of both
Brown Shrike
Lanius cristatus
and
Pechora Pipit
Anthus gustavi
migrating through South Korea. Identification issues encountered because of their variability has prompted Nial Moores to write two articles that raise some very interesting questions... go to
Brown Shrikes
and
go to
Pechora Pipits
Bird News from KIM Hyuntae.
Seosan, June 29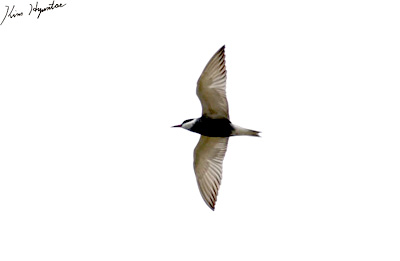 Whiskered Tern, © KIM Hyun tae.
A Whiskered Tern, a scarce but increasingly reported visitor to Korea, and the long-staying Oriental Pratincole were both at Seosan today.
Bird News from CHOI Soon Kyoo.
Gangneung, June 26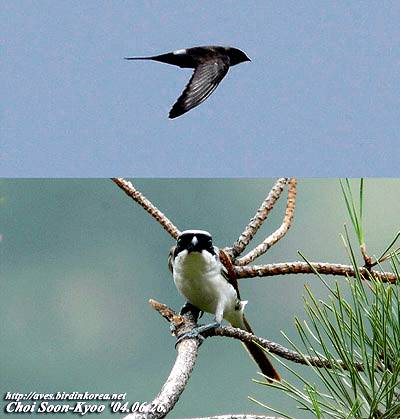 Pacific Swift and Tiger Shrike, © CHOI Soon Kyoo.
A Whiskered Tern, plus several Pacific Swift and a very obliging Thick-billed/Tiger Shrike.
Bird News from Jake Mac Lennan and Peter Nebel.
Gunsan Area, June 20
Day lists are looking a lot shorter recently but while not distracted by the other seasonal flora and fauna we noted more than 200 Far Eastern Curlew in the Geum Estuary area. Also there, a Black-capped Kingfisher perched on a wire long enough to be identified. A single Common Shelduck was at the Mangyeong. There were four Spoonbills there but at such distance that neither of us came to any conclusions about what species they might be. The day provided several raptors including two separate encounters with Peregrine Falcons and a Eurasian Hobby.
Bird News from Mike HOOPER.
Yong Jong Island, June 12
Very quite with very little about, but I was mobbed by a Saunders's Gull on the island near the airport. It is rather disconcerting looking up and seeing this black head and white body diving directly at you only to veer off at the last moment!
Similarly Little Ringed Plovers were trying to entice me away from the same area. Other species to note were 2 osculans Oystercatcher, Skylarks, Barn Swallows, Chinese Egrets but no Black-faced Spoonbills.
Bird News Records from PARK Jong Gil
Hong Island and Daeheuksan Island
2004 Migratory bird records from Hong and Daeheuksan Islands
Species
Date
(

Number of individuals

)
Location
Sex/Age
Observer
Paddyfield Warbler
April 08-10
HongIsland
Adult
Park Jong Gil
Orange-headed Thrush
May 08
HongIsland
Male
Kim Sung Hyun
Chinese/ Light-vented Bulbul
April 07-13 (

2

)
HongIsland
?
Park Jong Gil
Japanese Night Heron
May 11
HongIsland
Adult
Gwak Geon Kyung
(Kookmin Newspaper)
Chinese Blackbird
1) March 20-21 (

2

)
2) April 08 (

1

)
HongIsland
1) Male & Female
2) Female
Kim Sung Hyun
Black Redstart
April 09
HongIsland
M
Park Jong Gil
White-breasted Waterhen
1) May 05-06 (

2

)
2) May 07 (

3

)
3) May 20 (

2

)
HongIsland
Adult
Park Jong Gil
Spangled Drongo
May 07-08
HongIsland
Adult
(To be confirmed)
Black Drongo
1) May 04-06 (

3

)
2) May 18 (

2

)
3) May 19-21 (

1

)
1) Daeheuksan Island
2) Daeheuksan Island
3) HongIsland
1) ?
2) 1st S
3) 1st S
1) Han Hyun Jin
2) Park Jong Gil
3) Park Jong Gil
Red-billed Starling
1) March 31 - April 01 (

1

)
2) April 08-10 (

1

)
3) April 10-11 (

2

)
1) HongIsland
2) HongIsland
3) Daeheuksan Island
1) Female
2) Female
3) Male, Female
Park Jong Gil
Bird News from Nial Moores.
Socheong Island and ferry to Incheon, June 3
More clear skies and hot, calm conditions (with temperatures peaking at 34 C on the mainland), meant there were very few grounded migrants present (and sadly no sign of any Chinese/Light-vented Bulbuls...).
Best for the morning therefore was the presumed Upland Buzzard still (a perplexing individual present since March, and now appearing very pale-headed and fairly pale in the tail), 4 Oriental Honey Buzzard and at least 65 Chinese Sparrowhawk moving east in little over an hour, and ca 10 Broad-billed Roller still hawking insects around the village.
The ferry jouney was also rather quiet birdwise, with only 3 Ancient Murrelet, and single Streaked and Slender-billed Shearwaters, while outstanding highlight was a small whale sp (between 3 and 5 m in length, dark, with an obvious triangular-shaped dorsal fin) about 20km south of Socheong.
Bird News from Nial Moores.
Socheong Island, June 2
Fog banks at dawn combined with light westerlies produced a few hours of obvious arrivals and departures, with a female Pied Harrier, a male Russet Sparrow, a Daurian Starling, a singing Common Rosefinch, 20 Black-naped Oriole and yet another Black Drongo all through at the lighthouse in the far southwest of the island before 8 am.
This exciting run of birds was topped by the arrival there of 3 more Chinese/Light-vented Bulbul (adding to the 2 already present), making a new national high count of 5 individuals, of a species first recorded only back in October 2002 (on Eocheong)! Although present until lunchtime, none of the 5 (along with any of the other species listed above) could be found in the afternoon, and all were presumed to have departed.
Bird News from Nial Moores.
Socheong Island, Jun 1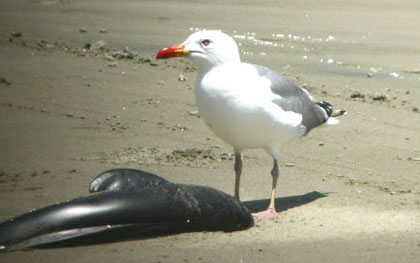 Mongolian Gull with Finless Porpoise corpse (NB: note the gull's bloodied bill).
Photo © NM.
Very clear and sunny conditions with light southwesterlies encouraged some migration, and 59 species were logged.
A sad but interesting sight was several Mongolian Gull feeding on the washed-up corpse of a young Finless Porpoise.
Other species of note included a highly unseasonal Woodcock, single Blyth's and 3 Pechora Pipits, 4 Thick-billed and 10 lucionensis Brown Shrikes, 9 Gray's Grasshopper, 10 Black-browed, 12 Oriental Reed,4 Thick-billed, 2 Dusky, 2 Radde's, 1 Pallas's Leaf, 1 Yellow-browed, 2 Pale-legged and ca 80 Arctic Warblers (the vast majority seen, and not heard).
Further late migrants included 1 Mugimaki and a single Yellow-rumped Flycatcher, while repeat highlights of the day were 3 Black Drongo and 2 Chinese/Light-vented Bulbul.
Bird News from KIM Hyun tae.
Seosan, June 1
The seemingly tireless KIM Hyun-tae has posted a beautiful series of Black-faced Spoonbills photographed at Seosan.
Black-faced Spoonbill, Seosan, © KIM Hyun tae.