Birds Korea's Bird News April 2004
April
One of the very best birdwatching months! Cold days and nights (lowest day maxima of ca 12°C) gradually warm through the month (reaching the low 20s°C by month's end), and dry spells interspersed with 1-2 days of heavy rain and stormy conditions produce great birding towards month's end.
Early in the month, late Hooded Crane move through while shorebird numbers and diversity start to build up, with up to 200 000 shorebirds in the Saemangeum area by the end of the month, including up to 60 000 Great Knot, and small numbers of the globally-endangered Nordmann's Greenshank and Spoon-billed Sandpiper. Other Korean specialities, include Chinese Egret from mid-month, and Black-faced Spoonbill in small groups along the west coast. This latter species only has a world population of around 1400! In early April, species like Brown-headed Thrush and Japanese Robin occur regularly in very small numbers in the far southwest and southeast, while mid-April sees the first large passerine arrivals and spring overshoots, with good counts of many species like Blue-and-white, Narcissus and Yellow-rumped Flycatchers, and Tristram's and Yellow-browed Buntings. Late in the month, 100 or more species a day are possible on the outer islands like Heuksan and Gageo in the far south, Eocheong off Gunsan, and Socheong to the northwest.
Highlights in April have included several firsts and many unusual records for Korea, including Caspian Tern in the Nakdong estuary in 2001, Ferruginous Flycatcher and Eurasian Crag Martin on Eocheong Island in 2002, Northern House Martin and Red-breasted Flycatcher on Eocheong in 2003, and a Paddyfield Warbler on Hong Island in 2004.
(The following records are a compilation of our own sightings and records sent in by other observers. As well as being posted on the Birds Korea website(s), selected records are also forwarded to other Korean-language birding websites; records of threatened species are arranged and forwarded to Birdlife International and national authorities when appropriate; flag images and records are passed to bodies responsible for their coordination throughout the flyway; and all records sent to us are used to compile annual reports and to support the evolving understanding of the status of many of Korea's birds.)
Bird News from Nial Moores and Kim Su-Kyung, with Birds Korea group
Ganghwa, April 30
In largely fair and warm conditions, 88 species were noted, with highlights including 3 Pallas's Reed and 5 Yellow-browed Bunting, 3 Black-faced Spoonbill (with a total of 6 said to be present), single high-flying Oriental Pratincole and a Ruff.
More typical species included 300 Far Eastern Curlew, 250 Terek Sandpiper and 100 Mongolian Sandplover.
Bird News from Nial Moores and Kim Su-Kyung, with Birds Korea group
Socheong Island and ferry, April 29
In clear conditions with light to moderate southwesterlies rather fewer birds present, with strong movements hinted at both by extent of departures and by the arrival of Rufous-tailed Robin (4), and flyover White-throated Needletail, Little Swift (2) and Amur Falcon (1).
Other birds of note in the eastern end of the island included the Little Whimbrel, Chinese Pond Heron and Japanese Night Heron still (the latter seen briefly in flight by one lucky observer), single Grey and 2 Brown-headed Thrush, Chinese Blackbird (1) and Hume's Leaf Warbler (1).
Despite this excellent range of species, the most incredible birding of the day came during the latter part of the ferry crossing. Prevented from seawatching outside for the first hour and a half, several "accipiters" were however noted through the fogged-up windows; with calmer seas and better views, these birds were then correctly identified as Grey Nightjar...no less than 84 were counted moving broadly west over the sea in little over an hour! In addition to the Nightjars (all but 5 or so of which were males), several larger, heavier birds were also seen...closer views eventually allowed for their identification: Brown Hawk Owl/Northern Boobook. In little over an hour a total of 57 Northern Boobook were counted over the sea, including a loose group of 36!
Grey Nightjar © NM
Bird News from Nial Moores and Kim Su-Kyung, with Birds Korea group
Socheong Island, April 28
Clear skies and westerly winds stimulated significant migration, with 102 species found, many contained in a large arrival in the mid-afternoon.
Most numerous migrants were "Phylloscs", with ca 300 Yellow-browed, 125 Eastern Crowned, 30 Pale-legged Leaf, 5 Hume's Leaf and 50 Pallas's Leaf Warblers, although thrushes (9 species, including Chinese Blackbird, Grey, Siberian, Eye-browed, and Brown-headed!) and flycatchers were also well-represented - the latter with 2 Grey-streaked, 5 Asian Brown, 14 Yellow-rumped, 6 Mugimaki and 15+ Blue-and-White Flycatchers logged.
Other species of note (among many) included 100s of Streaked Shearwaters moving north past the lighthouse, the Little Whimbrel still and the personal first Oriental Honey Buzzard, White-throated Needletail and Oriental Scops Owl (6) of the spring.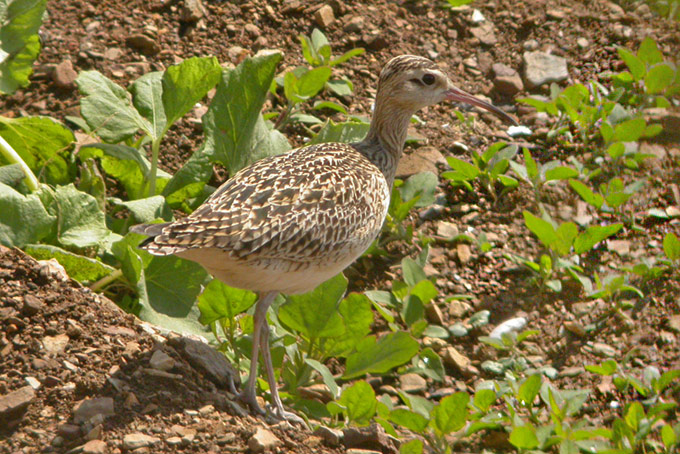 Little Whimbrel © Birds Korea/Nial Moores.
Bird News from Nial Moores and Kim Su-Kyung, with Birds Korea group
Socheong Island, April 27
Heavy rain and strengthening NE winds (clearing and swinging W by afternoon), grounded a good diversity of migrants, and 98 species were logged in total.
Most numerous among these were 60 Black-faced Bunting, 60 Grey-backed and 50 Dusky Thrush, and 20 Blue-and-White Flycatcher while further highlights included 3 Wryneck, a single Chinese Egret on the beach, an overflying Oriental Pratincole, a stunningly confiding Little Whimbrel, rather early Brown Shrike (1) and Mugimaki (2), one Chinese Blackbird, 3 Brown-headed and 2 Grey Thrushes, 3 (presumed) Hume's Leaf Warbler, a female Narcissus Flycatcher and a single Japanese Yellow Bunting.
In keeping with the Japanese theme, the outstanding bird of the day was a single apparently exhausted and rather confused Japanese Night Heron, which happily allowed very close views for several minutes before walking into a patch of pine forest...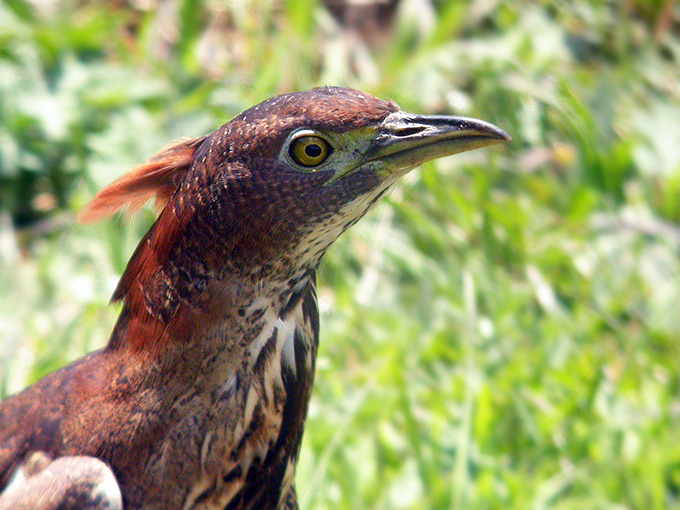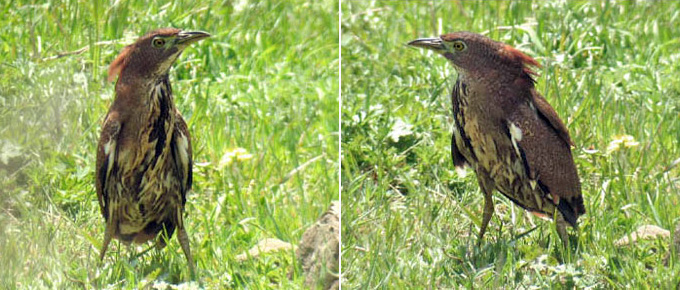 Japanese Night Heron © Kirsten KRAETZEL
Bird News from Nial Moores and Kim Su-Kyung, with Birds Korea group
Ferry and Socheong Island, April 26
With the forecast of rain , we headed straight for the ferry to Socheong, picking up Saunders's Gull and Yellow-browed Warbler at the terminal. The crossing produced our first Streaked Shearwater (20), and Ancient Murrelet (15), along with at least one Grey Nightjar (see April 29 above for a remarkable count of this species) , while birding in heavy rain on the island added another 70 or so species, including 2 Broad-billed Roller and 2 Red-throated Flycatcher (both personal firsts of the year). Most notable (from a national perspective) were single Latham's Snipe, Greater Short-toed Lark and Chinese Blackbird.
Bird News from Klemens Steiof.
Gageo Island, April 28 - 30
On 29th, single Black-capped Kingfisher (the same date as the first of the year found on Socheong Island, approximately 400 km to the north). On 28th, single early Oriental Reed Warbler and 2 Broad-billed Roller, along with Black Woodpigeon.
Bird News from Klemens Steiof.
Heuksan Island, April 25-28
On 28th, 2 rather late Pallas's Reed Bunting.
On 27th, single Ruddy Shelduck and Japanese Yellow Bunting.
On 26th, a very late Glaucous Gull and 2 Little Whimbrel were found, the latter increasing to 4 on the 27th and 28th.
On 25th, outstanding highlights included a single Oriental Plover (said to occur annually on Jeju Island, this species is recorded less frequently elsewhere nationwide), along with an early Pechora Pipit in the same field of view (!), while rather more expected were 1 male and 1 female Grey Thrush and 3 Greater Short-toed Lark. A Curlew Sandpiper there is also considered a very scarce migrant through the far southwestern islands.
Bird News from Klemens Steiof.
Mokpo City, April 24
An Oriental Scops Owl heard on the 24th is considered an early record.
Bird News from Barry Heinrich
Late-April round-up, Chungju, x river and forest
Migration time always turns up something interesting. Dal cheon, April 30, I saw 3 Mallards, 16+ Common Teal, 12 Spot-billed Ducks and about 10 Mandarin Ducks (a pair of which were observed mating on April 23).
On April 16, a Black-tailed Gull and 2 Little Terns were present at Dal Cheon. A pair of Little Terns were seen again on April 23.
Great and Little Egrets have increased in number compared to winter months. There have been numerous Wood Sandpipers at Dal Cheon and in rice fields over the last couple of weeks. Other waders include Green Sandpiper, Common Sandpiper and Little Ringed Plover.
Passerines have also been interesting. A Broad-billed Roller was at Dal Cheon on April 30. I also saw a Yellow-rumped Flycatcher. Both these species are new for me at Dal Cheon. At least 5 Common Stonechats were heard and/or seen on April 30. Two Common Kingfisher have been seen on each of the last 3 visits to Dal Cheon. A Meadow Bunting was seen on April 30. Other Buntings seem to have moved on.
On April 21, two Olive-backed Pipits and 2 Black-faced Buntings were along the creek flowing into Daejeji. Daejeji still has low numbers of birds due to the presence of fishermen.
Recent trips to Chungju Nam San have produced some interesting species. A Pale Thrush was seen on April 11 (and several more seen and heard on May 2, along with a White-backed Woodpecker). A Hazel Grouse and a female Siskin were also observed on April 11. On April 20 an Eastern Crowned Willow Warbler was heard and seen.
Barn Swallows have been seen around Chungju since April 8. A Red-rumped Swallow was along the Nam Cheon River at Gyeong San on April 25.
Bird News from Jake Mac Lennan and Peter Nebel
Gunsan Area, April 25
Viewing the Mangyeong river today was productive. An Osprey was watched harassing a White-tailed Sea Eagle which in turn pursued the only Anser species of the day. Also in the Raptor category our year's first Northern Hobby was observed flying over. The grasses behind the sea wall at Hwoe-hyun had four Chinese Penduline Tits: three males and one female.
At the Hanguk Saltpans a few more acres are gone. In the remaining ponds twelve White Spoonbills were see. Also of note a Marsh Sandpiper worked a corner of one pond in the company of Black-tailed Godwits, Sharp-tailed Sandpipers and Common Greenshank.
Bird News from Nial Moores with members of the spring tour (pre-tour "local birding").
Yeongjong Island, April 25
A very good day in reasonable spring weather: largely clear skies with a fairly brisk and chilly westerly wind.
The early morning high tide roost contained the usual mix of shorebirds, including ca 250 Far Eastern Curlew, 2 000 Great Knot and close to 12 000 Dunlin, along with ca 6 Chinese Egret, 5+ Saunders's Gulls and a single Nordmann's Greenshank. In the evening there, also a single immature Black-faced Spoonbill.
On the north of the island the lagoon held at least 3 rather late Falcated Duck and the biggest surprise of the day: a Mute Swan! Bushes nearby held a few Grey-backed Thrush, the first Red-flanked Bluetail of the day, and the first 2 Yellow-browed Bunting, while woodland edge to the east added Tristram's Bunting, a single Siberian Blue Robin, Pale and Dusky Thrush, Japanese Quail, and 2 Blue-and-White Flycatcher.
Bird News from Dave Baker
Danyang, Chungbuk-do, April 21
Japanese Wagtails have vacated their nest and are feeding juvenile birds on the river bank.
Bird News from Nial Moores with Richard Rader
Eocheong Island, April 20
Overnight winds shifted from SE to NW, and fog and cloud largely cleared to reveal hazy but sunny conditions.
A long morning on the island before a boat back to the mainland produced 78 species, including the personal first Chinese Pond Heron, Pied Harrier (a female), Little Whimbrel, Mugimaki, and Yellow-breasted Bunting of the spring. Migrants were still arriving as the boat left, and included high counts of ca 20 Japanese Lesser Sparrowhawk and 50 Yellow Wagtail. Other species of note included single Greater Short-toed Lark, Chinese Blackbird and Red-billed Starling still, along with single Grey and ca 6 Brown-headed Thrush, 30+ Eastern Crowned and 10+ Pallas's Leaf Warblers, and 25 Little Bunting.
Bird News from Nial Moores with Richard Rader
Eocheong Island, April 19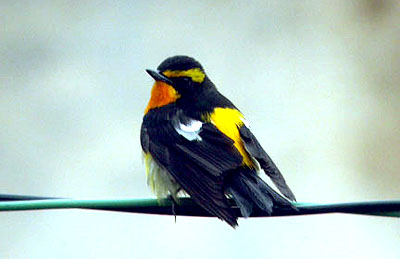 Narcissus Flycatcher © Birds Korea/Nial Moores.
Heavy overnight rain, strong SE winds and dense fog led to 79 species being logged for the day, incluing several shorebird species (including Eocheong's first record of Great Knot), with a particularly strong showing by Japan-nesting species. Such species included single Latham's Snipe, 2 Grey and ca 10 Brown-headed Thrush, the first two personal Narcissus Flycatcher of the sping, and ca 15 Japanese Yellow Bunting (all but one male): the latter is the highest single day count of the species known to Birds Korea in South Korea, and constitutes an exceptionally early "peak".
Other species of note included 2 Greater Short-toed Lark, 2 Red-billed Starling, and 1 Chinese Blackbird still, the Ferruginous Flycatcher (surely the same as the individual of the 17th as it similarly lacked its tail!) and the personal first Raddes' Warbler and Striated Heron of the spring.
Bird News from Nial Moores with Richard Rader
Eocheong Island, April 18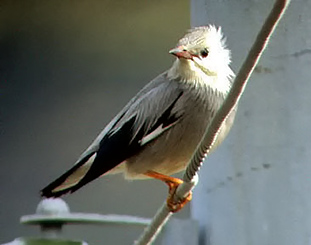 Red-billed Starling, © Birds Korea/Nial Moores
Sunny but hazy conditions gave way to overcast by midday and rain by evening (the first for almost 2 weeks), with strengthening southeasterly winds.
Diversity was good for the time of year, with 72 species logged, including the first personal Chestnut-cheeked Starling of the year. The Japanese theme typical of such weather conditions in the SW of the Korean peninsula continued with single Brown-headed Thrush, Japanese Bush Warbler, Japanese White-eye, Japanese Yellow Bunting, and a singing Japanese Robin, the latter heard by Kawaguchi Sentaro. Other birds of note included three separate Greater Short-toed Lark, 2 Red-billed Starling and 2 Chinese Blackbird, although surprisingly there was no sign of either the Ferruginous Flycatcher or the Grey Bushchat of the day before.
Blue and white Flycatcher Cyanoptila cyanomelana, Photo © Nial Moores/Birds Korea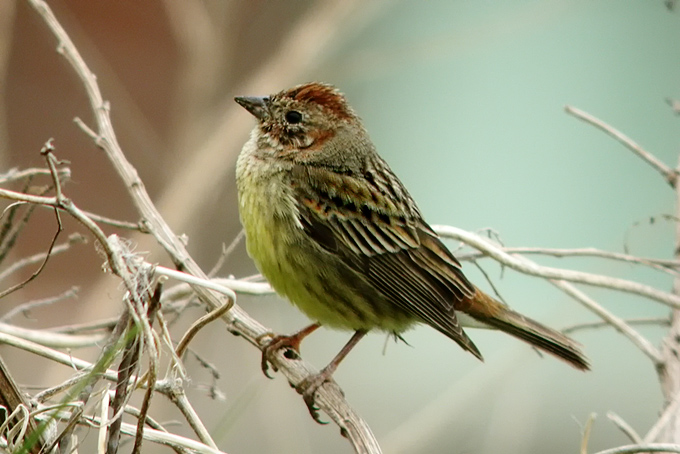 Immature male Chestnut Bunting Emberiza rutila, Photo © Nial Moores/Birds Korea
Bird News from Jake Mac Lennan and Peter Nebe
Gunsan area, April 18
Shorebirds are appearing in great numbers. At one site 20+ Mongolian Sandplover, several score of Red Knot, a dozen Terek's Sandpiper, and a couple of Ruddy Turnstone were mixed in with thousands of Great Knot and Dunlin. Also there, 250+ Far Eastern Curlew, 2 Eurasian and more than 25 Whimbrel.
Birds that were in the thousands a month ago were seen today as individuals. A single Saunders' Gull sat on the shore with an apparent wing injury. At both the Okku and the Hanguk saltpans a single Bean Goose was seen (possibly the same bird). Some winter Gulls persist: a Slaty-backed as well as a couple of Heuglin's Gulls were seen today.
Work at the Okku salt pans has eliminated the once productive pans. A few remain but it is not clear whether they will be put to use this year. The Hanguk saltpans have been reduced substantially. Work continued today but it is unknown to me what the time table or limits of the planned recreational area is. I hope that some of the ponds might be spared but surveyor's markers and flags seem to suggest that this will not be so.
Bird News from Kim Hwa Jeong and Kim Su Kyung
Socheong Island, 18 April (am and only eastern part only)
Numbers of most species decreased. 1 Wryneck (Kim Hwa Jeong), 3 Yellow-throated Bunting, 2 Eastern-crowned Warbler, 5 Dusky Thrush, 2 Olive-backed Pipit, 7 Red-flanked Bluetail, 3 Meadow Bunting, 2 Siberian Stonechat.
Bird News from Richard Rader with Nial Moores, Chai Seung Hoon and Kawaguchi Sentaro.
Geum estuary followed by ferry to Eocheong Island, April 17
An excellent day, with c 90 species logged in total.
At the Geum, 1 hour at the barrage produced good views of small numbers of commoner shorebirds, including 5 Sharp-tailed and probably 10 Terek Sandpipers, while from the ferry best were 11 Streaked Shearwater.
On Eocheong itself, despite clear skies and warm southerlies, a good range of spring migrants, including several personal firsts of the year: Pale-legged Leaf Warbler (15), Siberian Blue Robin (15), and single Yellow-rumped Flycatcher, Chestnut and Japanese Yellow Buntings.
A long list of national "rarities" (most of which have been proved in recent years to be simply scarce migrants) included 2 Chinese Blackbird, 3 Brown-headed and a single Grey Thrush, and (yet) another Red-billed Starling, while outstanding highlights were a Ferruginous Flycatcher (Korea's fouth record, but the third for Eocheong in 3 years!) and a rather confiding male Grey Bushchat (possibly only the second or third national record).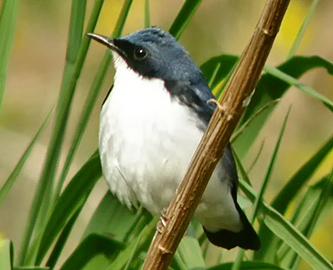 Siberian Blue Robin Photo © Birds Korea/Nial Moores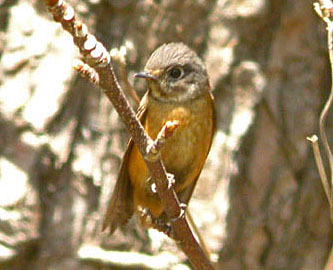 Ferruginous Flycatcher Photo © Birds Korea/Nial Moores
Grey Bushchat © Birds Korea/Nial Moores
Grey Bushchats© Birds Korea/Nial Moores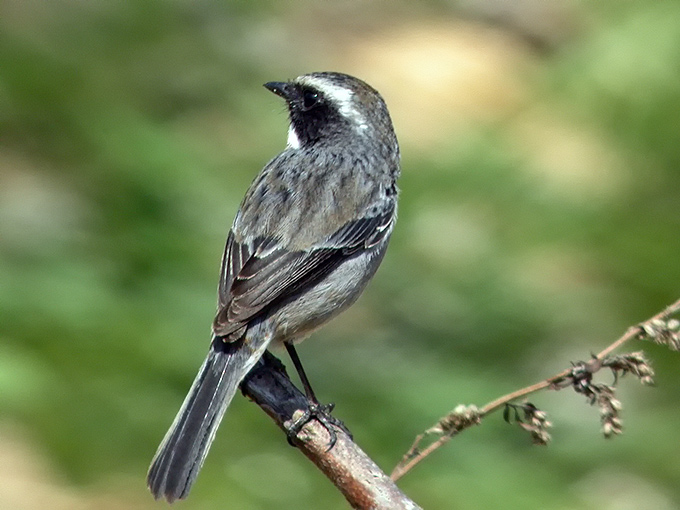 Grey Bushchats© Birds Korea/Nial Moores
Bird News from Kim Hwa Jeong, Kim Mi Ran, and Kim Su Kyung
Socheong Island, April 17
A day of active migration, with plenty of new arrivals.
Records included 1 Yellow-rumped Flycatcher, 1 Siberian Blue Robin, 4 Red-billed Starling, +20 Grey-backed Thrush, +20 Pale +5 Scaly Thrush, +100 Dusky Thrush, 3 Korean Bush Warbler, +25 Dusky Warbler, 30 Pallas's Leaf Warbler, 6 unidentified phylloscopus warbler (either Pale-legged Leaf or Two-barred Greenish), +5 Yellow- browed Warbler, 3 Eastern-crowned Warbler, 2 Asian Stubtail, +40 Red-flanked Bluetail, +50 Coal Tit, +40 Little Bunting, +40 Brambling, +15 Black-faced Bunting, 3+ Yellow-throated Bunting, 6 Meadow Bunting, 40 Olive-backed Pipit, 30 Siberian Stonechat.
Bird News from Jake Maclennan and Kim Young-mi
Gunsan, April 17
In the morning at Eun-pa park a male Garganey and possibly two females were seen in the lake among the Common Teal. Later in the afternoon at least two male Blue and White Flycatchers were seen near the Glass Factory. Also there were several small green skulking Phylloscopus (possibly Eastern Crowned). The now reduced Hanguk Saltpans had 17 White Spoonbill and one Black Faced Spoonbill.
Bird News from Nial Moores with Kim Su-Kyung
Socheong Island, April 16
Socheong and ferry to Incheon.
In very warm sunshine with light southwesterly winds, a few hours birding around the east of the island produced good numbers of a few migrants, including for example ca 30 Grey-backed and probably close to 150 Dusky Thrushes, 15+ Eastern Crowned and 20 Pallas's Leaf Warblers, as well as a single Latham's Snipe, 8 Chestnut-flanked White-eye, 2 Hume's Leaf Warbler types (one of which was heard to call once), 2 Greater Short-toed Lark and at least 3 Red-billed Starling.
From the ferry, 30 Ancient Murrelet, 20 Streaked Shearwater and a presumed Yellow-billed Loon (seen only "rowing" directly away from the ship's wake, thus not showing its bill, this individual was moving into breeding plumage, and could only have been either Yellow-billed or Great Northern - the latter not yet recorded in Korean waters).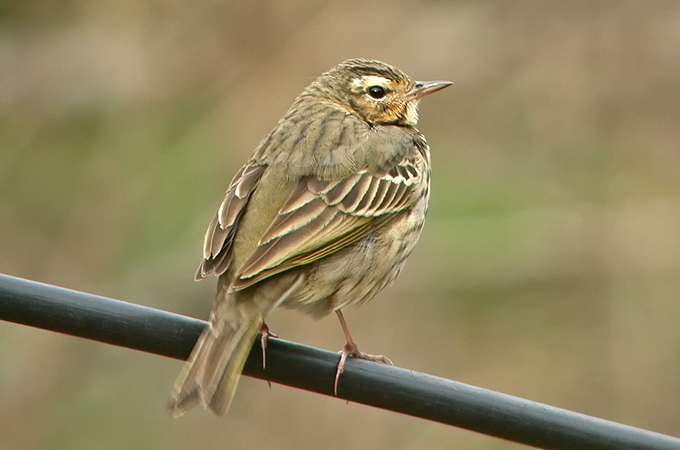 Olive-backed Pipit © Birds Korea/Nial Moores.
Bird News from Nial Moores with Kim Su-Kyung
Socheong Island, April 15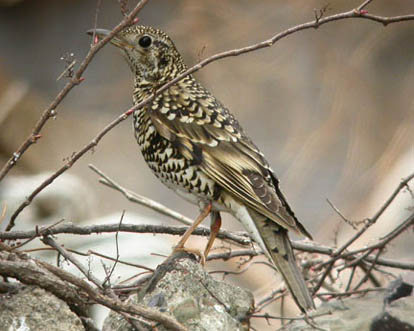 Scaly Thrush © Birds Korea/Nial Moores.
Light southwesterly winds and in the afternoon increasing visibility seemed to encourage departures rather than arrivals. Most species of migrant seemed down in number, with the exception of Pallas's Leaf Warbler (with ca 56 logged). Personal spring firsts included Latham's Snipe (1), Dusky Warbler (6), and presumed Chestnut-flanked White-eye (6).
Other species of note included a single Red-billed Starling and a second Greater Short-toed Lark.
Bird News from Nial Moores
Socheong Island, April 14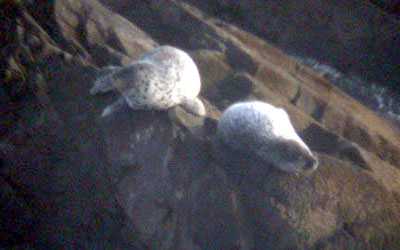 Spotted Seals © Birds Korea/Nial Moores.
Light northwesterly winds and largely clear skies.
Both Red-flanked Bluetail and Siberian Stonechat again appeared very numerous, with at least 250 of the former and 130 of the latter logged, while Pallas's Leaf Warbler also increased to a new high of 35. Personal firsts for the year comprised single Greater Short-toed Lark and at least 5 Siberian Rubythroat, while 6 Spotted Seal resting up on islets off the lighthouse also added significant interest.
Bird News from Nial Moores
Socheong Island, April 13
Strengthening NE winds reached force 6 by the evening, making birding difficult.
Numbers of birds also significantly down on the 12th, with "only" c 150 Red-flanked Bluetailand ca 80 Dusky Thrush logged. Although no major rarities, the 62 species logged for the day included the personal first Oriental Scops Owl, Yellow-browed Bunting and ocularis White Wagtail of the spring, close views of a single Ancient Murrelet, a late Long-tailed Rosefinch still, up to 60 Black-faced Bunting, and best of all 55 Grey-faced Buzzard (many of which were watched flying in low over the sea at dusk).
Bird News from Nial Moores
Socheong Island, April 12
Nicest surprise early in the day was 7 Saunders's Gull over the ferry terminal in Incheon. Dense sea fog prevented much seabirding from the boat, with easily best being 65 Ancient Murrelet ca 3 km south of the island as the fog cleared. Very good numbers of grounded migrants included at least 230 Red-flanked Bluetail counted, over 2 000 Brambling, and ca 250 Dusky Thrush (almost all eunomus with a few intergrades). Uncommon migrants included single Wryneck and female Red-billed Starling, and a Dark-throated Thrush heard only (giving a Bohemian Waxwing like trill call), while both Pallas's Leaf (10) and Yellow-browed Warblers (2) seemed a few days earlier than expected.
Bird News from Barry Heinrich
Chungju, x forest, farmland and lake/river, April 11
I saw some more arrivals and departures in the last few days. Newly arrived this week are Barn Swallows and Intermediate Egret in farmland, Grey Wagtail along a stream, Common Sandpipers and a Common Stonechat along Dal Cheon and Pale Thrush in the forest on Chungju Namsan. Depatures are mostly waterbirds, with only two Mallard, one Common Merganser and one Pochard seen at Dal Cheon, April 10. Two Buff-bellied Pipits were also seen at Dal Cheon. Still present at Dal Cheon were 86 Common Teal, 140 Gadwall and 26 Tufted Ducks. There were 10 Falcated Teal on one of the Chungju sewage ponds. 4 Meadow Buntings were seen and one was heard calling from the top of a bush.
Other observations of interest include a male Bullfinch subspecies P.p. rosacea with 4 females feeding on new buds of deciduous trees on Chungju Namsan, April 9. A lone female Siskin in the same area also feeding on buds, April 11. A Hazel Grouse at Chungju San Seong, April 11.
Bird News from Jake Mac Lennan and Peter Nebel
Gunsan area, April 11
As the winter visitors leave passage migrants and summer visitors come to take their places keeping our day list about the same as the previous few weeks.
Great Knots are visible now on all the mud flat areas we visited. In the Hanguk saltpans as the machines worked to prepare it for its transformation into golf courses we observed seven Black-winged Stilts, eight White Spoonbills - one in the company of a Black-faced Spoonbill. Another pond held a Hooded Crane that we watched well. The little ponds there are filling up even as dozers and excavators work a few hundred yards away. Spotted Redshank and Redshank were joined by returning Northern Greenshank and both Black-tailed and Bar-tailed Godwits. Pacific Golden Plovers were far outnumbered by their Grey Plover cousins.
The large populations of Bean and White-fronted Geese are reduced to just a few individuals of either species.
On the mud flats Curlews were in great numbers: Far Eastern were in the hundreds, outnumbering Eurasian perhaps 8/1. A few Whimbrels were seen as well.
A good day of birding but depressingly the end for this special place is in sight. An area where one can see international rarities such as Black-faced Spoonbill and Hooded Crane in the same day is soon to become a golf course...
Bird News from PARK Jong Gil
Hong Island, April 8 - 10
News of a potentially new species for Korea: a suspected Paddyfield Warbler Acrocephalus agricola on Hong Island (PARK Jong Gil was, of course, the birder who found and identified Korea's first Isabelline Wheatear on May 01 last year).
Seen for three days on Hong Do, PARK Jong Gil relates that the bird stayed in the shrubs at the forest-edge.
Paddyfield Warbler © PARK Jong Gil.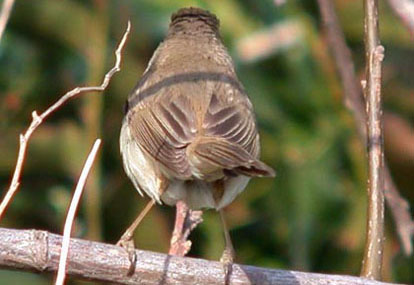 Paddyfield Warbler © PARK Jong Gil.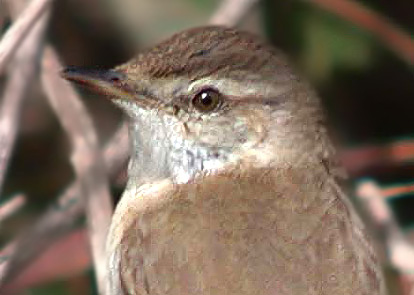 Paddyfield Warbler © PARK Jong Gil.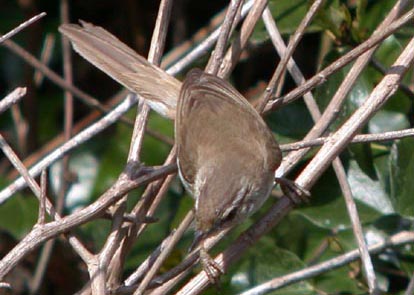 Paddyfield Warbler © PARK Jong Gil.
There are three very similar-looking warbler species that this bird could be: Paddyfield Acrocephalus agricola, Blunt-winged A. concinens, or Manchurian Reed A. tangorum. The bird appears not to be Manchurian Reed, which for example should show a longer bill and more strongly marked face, and the two most likely candidates appear to be Paddyfield and Blunt-winged (which were once considered to be the same species): only Paddyfield (of all three taxa) should show a dark tip to the lower mandible - which some of the images Park Gong geel sent to Birds Korea clearly show. Paddyfield also has a longer supercilium than Blunt-winged (on which the supercilium barely goes behind the eye) and shows a dark line on the crown-sides which Blunt-winged does not.
We would very much welcome informed comment from any birders in the region with experience of the the taxa named above, and will be writing a longer article in the future.
Update: Hong Kong researcher Paul Leader has kindly mailed the following: "The bird is a classic spring Paddyfield, pretty much for all the reasons that you state i.e long rather thin bill with dark tip (both BW and MR show a broad base to the bill and very small or no dark to the lower mandible), long whitish super, dark border above the super, very white underparts."
Bird News from KIM Hyun tae
Seosan, April 10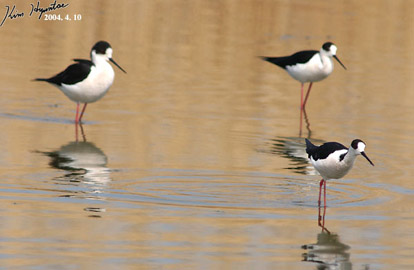 Black-winged Stilts © KIM Hyun tae.
6 Black-winged Stilt at Seosan.
Bird News from Mike HOOPER
Han Imjin, April 10
Han Imjin River very much devoid of birds. The numbers of Bean Geese have declined over the past two weeks, and the only bird of note was 1 European Spoonbill. In the coastal region 6 Brambling and 20 Rustic Bunting, 1 Little Bunting, 2 Kestrels and 1 Northern Sparrowhawk were seen.
Further inland along the Imjin river 12 Ruddy Shelduck, 2 Mandarin Duck, 1 Buzzard, 3 Hawfinches, 3 Buff-bellied Pipits, 15 Rustic Buntings, 5 Dusky Thrush, 1 Green Sandpiper and a pair of Grey Wagtails.
Bird News from Chai Seung-Hoon
Eocheong Island, April 10
In addition to very many Siberian Stonechat and Red-flanked Bluetail (possibly more than 100 of each), a Wryneck and a Long-tailed Shrike were the highlights. This is the first record of Long-tailed Shrike on Eocheong, and the second spring overshoot following the one on Sokcho on April 8.
Bird News from Nial Moores, Ch'on Shi-Jin and "Mrs. Kim"
Taejongdae, April 9
In strong and warm spring sunshine, rather fewer birds and many, many more people...
However, a still great range of species included a southbound Taiga Bean Goose, 4 Siberian Stonechat, at least 2 Kestrel apparently in off the sea, ca 15 Black Kite and 2 Grey-faced Buzzard (personal first of the year), very brief views of a Blue-and-White Flycatcher (also personal spring first), ca 100 Siskin, 5+ Hawfinch heard, now 2 Japanese Robin (with one male feeding loosely with a female), 2 male Grey, 1 male Brown-headed, ca 10 Pale, 2 Scaly, and a male Grey-backed Thrush, and possibly most surprising of all, a male Grey Bunting: the first record known to Birds Korea this year, and very much more likely a migrant than a lingering bird from the winter.
Bird News from Choi Tae Heon
Sokcho (South Korean east coast), April 8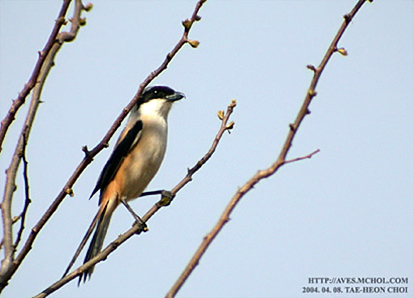 Long-tailed Shrike © CHOI Tae Heon.
1 Long-tailed Shrike.
This Long-tailed Shrike is ca the 14th record; apparently the easternmost and northernmost record in Korea; only the fourth mainland record; and only the second spring record known to Birds Korea, both such records coming this year.
Bird News from PARK Un Nam
Gangneong, April 7
25 Hooded Crane.
Bird News from Nial Moores
Taejongdae, April 7
With overnight rain followed by low cloud and drizzle, expectations of some interesting early migrants was rather high, and the day did not disappoint.
In the alottments, there was a single Hoopoe (fairly uncommon in the Busan area) and Korean Bush Warbler, 4 male personata Black-faced Bunting, 5 Siberian Stonechat, and overhead 15+ Barn Swallow and 5 Intermediate Egret. Best of all there was a male Red-billed Starling, with either another or the same seen several hours later 3 km SE, flying northeast over the sea.
In the park itself, at least 10 Pale and 3+ Scaly Thrush in song, with other thrushes including at least 2 Dusky, one male Brown-headed and 2 Grey (although the latter two species are both considered vagrants by Lee, Koo and Park, 2000, they are actually rather regular and occasionally even fairly numerous migrants, especially along the south coast). Another personal first for the year there was Asian Stubtail, with ca 5 in song towards the evening, joined by at least one Japanese Bush Warbler, while 10 Asian House Martin was also a very high count for the date.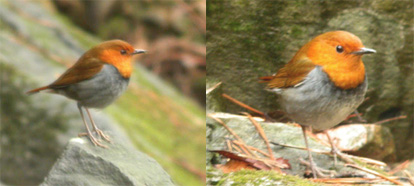 Japanese Robin © Birds Korea/Nial Moores.
Best bird of the day continued the Japanese theme: a male Japanese Robin which was watched very well despite the drizzle and very poor light conditions for over an hour feeding actively in the main gully. Like the thrushes mentioned above, this species is also considered a vagrant by Lee, Koo and Park, though day counts of ca 4 each on Gageo Island in the far southwest and in Taejongdae in past springs indicates that this species too is much more regular in South Korea than the few records suggest.
Bird News from Barry Heinrich
Chungju, x rivers/lakes and other areas, April 7
The last few weeks have seen departures and arrivals. Pintails, Smew, Falcated Teal and Common Goldeneyes are no longer present at Dal Cheon. Numbers of Mallards, Common Teal and Pochards have declined since March 17. There were over 130 Tufted Duck at Dal Cheon on the 27th.
Arrival of summer visitors include Little Egrets, Little Ringed Plovers and Hoopoes, the latter being a new species for me at Dal Cheon. Great Egrets are appearing in greater numbers.
Hoamji has been disappointing for birds due to numerous recreational fishermen. The site was a popular spot for Mandarin Ducks, Mallards, Spot-billed Ducks and egrets and herons last spring. Little Grebes seem to be the only species that tolerates the close presence of humans for an extended period.
Away from waterways, Dusky Thrushes have been forming flocks. The number of Buntings seems to have declined around Chungju. Grey Starlings are being seen regularly. Species apparently collecting nest material include Great Tits, a Winter Wren and Black-billed Magpies.
On March 28 I saw a White-backed Woodpecker on Chungju Nam San. It appeared to be working on a nesting hole in a large live conifer. I estimate that the hole it had made was about 10 centimetres into the trunk of the tree about 10 metres above the ground.
Bird News from Barry Heinrich
Songnisan National Park, April 3 & 4
I took the opportunity to visit Songnisan National Park over the long weekend. It was interesting to observe several pairs of Mandarin Ducks along the river on April 3. I also saw a Brown Dipper and a Grey Wagtail near Beojusa temple on the same day. Goldcrests were still present in the forest.
On April 4, along the hiking trail in the forest, I found a Black Woodpecker, and while sitting on a rock at Munjangdae an Alpine Accentor landed close enough to be photographed for later identification.
Bird News from Jake Mac Lennan and Kim Young-mi
Eocheong Island, April 3 - 5
After an uneventful afternoon ferry ride we walked toward the rain deprived reservoir. Behind the medical center was quite active with numerous Siberian Stonechats and Dusky Thrush (both subspecies). A single Wood Sandpiper was in the canal nearby with a pair of Common Snipe and Grey Wagtails. The adjacent yard had the trip's best surprise: a (though possibly more) male Black Redstart, which remained to be photographed by Kim Hyun-tae and Choi Seung-hoon on the fourth. Otherwise the species count was low although the density of some species was surprising. One garden hosted six Hoopoes and others were scattered among the grassy areas across the island. Another common species in high density was the Bull-headed Shrike: I witnessed one shrike capture a travel wearied stonechat and present it to its mate in the bushes, then return to its perch with the gore still on its bill. In the same meadow a Scaly Thrush was seen.
Our last day brought a Siberian Accentor seen at a meadow's edge and in the harbor a Red-throated Diver was seen alongside Great-crested Grebes displaying to each other. On the trip back to Kunsan two Streaked Shearwaters were seen.
Bird News from Mike Hooper
Han-Imjin and near Munsan, April 4
Much of the Han-Imjin now appearing deserted, with very few geese and no cranes seen. Still 1 Cinereous Vulture present, small numbers of Rustic Bunting (12), a single Little Bunting, 4 Hawfinch, and bird of the day two rather early taivana Yellow Wagtail.
Bird News from Kim Hyun-tae and Chai Seung Hoon
Eocheong Island, April 4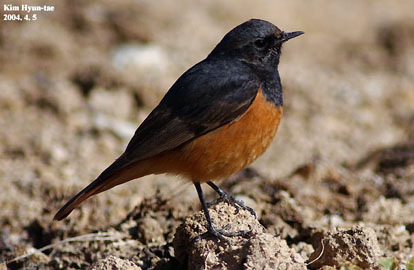 Black Redstart © KIM Hyun tae.
"Many" thrushes, Siberian Stonechat and best of all, a male Black Redstart well-photographed.( Black Redstart has probably been recorded annually in recent years, on the far southwest islands. This likely constitutes about the 9th record for South Korea, with the last being on Hong Island in mid-April 2003).
Bird News from Dave Baker
Danyang, April 3
A slow weekend for birds in Danyang. Two interesting finds: in the morning I had a pair of Mandarin Ducks, and in the afternoon a pair of Common Mergansers - the first in two weeks.
Bird News from Mike Hooper
Ganghwa, April 3
A few hours birding included good views of Intermediate Egret, two flocks each of 60 Far Eastern Curlew, a Garganey and a late White-naped Crane.
April 2, southern Seoul
1 Japanese Waxwing still present and showing very well.
Bird News from Nial Moores
Eocheong Island, April 1
A few hours in the field before the boat back to the mainland produced a flock of 20 Japanese Waxwing overflying the island, 2 personata Black-faced Bunting, excellent views of a Scaly Thrush (feeding alongside a naumanni Dusky Thrush), and a rather early male Grey-backed Thrush.
Scaly Thrush (with naumanni Dusky Thrush).
Photos © Birds Korea/Nial Moores.