Birds Korea's Bird News January 2004
January
In occasional periods of extreme cold many smaller rivers and reservoirs freeze over. Temperatures often drop to -5°C at night, and stay near freezing in the day. Periods of light snow and severe cold are usually followed by milder temperatures, and then severe cold again.
A guided tour can expect about 160 species in 12 days if all the best areas are visited, and winter specialities include Baikal Teal (in often huge concentrations) and Scaly-sided Merganser, Swan and Lesser White-fronted Goose, Steller's Sea Eagle, Relict and Saunders's Gulls and Solitary Snipe! Red-crowned Cranes stand out on tidal-flats at Ganghwa, while White-naped and Hooded Cranes can be found in the south. Huge numbers of ducks and geese fill sites like Haenam and Seosan's Cheonsu Bay. Siberian Accentors can be common. On the southern island of Jeju milder conditions allow White's and Pale Thrushes, Olive-backed Pipits, and Red-flanked Bluetails to overwinter along with Korea's only regular winter Black-faced Spoonbills, and several thousand Mandarin Duck.
January highlights in 2002 included Korea's first Slender-billed Gull at Gwangyang, and in 2003 Chinese Nuthatch and Grey Buntings at several sites in the northwest, and southeast respectively. In 2004 a Long-tailed Shrike was on Jeju, while two Red-crested Pochard (seventh national record) were present at Joonam reservoir mid-month, whilst January 2005 was notable for a Ferruginous Duck and at least two over-wintering White-bellied Green Pigeons.
(The following records are a compilation of our own sightings and records sent in by other observers. As well as being posted on the Birds Korea website(s), selected records are also forwarded to other Korean-language birding websites; records of threatened species are arranged and forwarded to Birdlife International and national authorities when appropriate; flag images and records are passed to bodies responsible for their coordination throughout the flyway; and all records sent to us are used to compile annual reports and to support the evolving understanding of the status of many of Korea's birds.)
Our Review of the most-important records of 2003 is online.
The report contains details of hundreds of sightings, and a selection of photographs:
Bird News round-up from Kim SuKyung
Yarious locations
News from Choi Chang Yong
Black faced Spoonbill : total 24 individuals in S. Korea
- Jeju Island: 23 (Kang Chang Wan/ Kim Eon Mi)
- Haenam : 1(Han Sung Ho, Choi Chang Yong)
White Spoonbill: Min 219 (Max 280: 18th Jan.)
- Jeju Island : 2 (Kang Chang Wan/Kim Eon Mi)
- Haenam : 169 (Max 230) (Han Sung Ho/Choi Chang Yong)
- Jin Island : 1 / (Han Sung Ho/Choi Chang Yong)
- Cheonsu Bay : 33 (Kim Hyun Tae)
- Junam reservoir : 0 (Mo In Ho)
- Nakdong estuary : 13 (Kim Yeon Su/Park Jung Rok)
Bird News from Tim Edelsten
Song Do, January 25
Fairly thick snow and much of the fresh water frozen provided a picturesque sight. 11 female Goosanders (their first appearance here this winter) and 8 Little Grebes crowded together on a small patch of running water. 16 Dusky Thrushes were near the lagoon.
A brief look at the "channel" revealed an abundance of Saunders's Gull: after several attempts to count these busily feeding and moving birds, I concluded that there were close on 220 individuals.( Nice to notice a small flock of 9 Dunlin as well.)
Bird News from Jake Mac Lennan and Peter Nebel
January 25, Keum Estuary and Okku
Intermittent snow made viewing conditions difficult but our determination was rewarded with good views of a pair of Northern Lapwings at the Keum Estuary and a small group of Olive-backed Pipits further up the river. In a small vegetated channel near Okku we saw a pair of Water Rails and two Bluethroats walking on the mat of dead plants: one was viewed well (within 10m's) while the other (perhaps a female) kept its distance.
January 24, Kunsan, Eunpa park
While walking the perimeter of the mostly frozen lake I counted 21 Little Grebes, 5 Coot, 50 Common Teal, a Spot-billed Duck and Northern Shoveler crammed into about a 200 square foot area that remained unfrozen. Continuing my walk I flushed a Pale Thrush several times along the foot path that circles the lake.
January 23, Keum-ji Village 10km north of Mai-san Jeon-buk Province
A couple of hours walking around the local reservoir during the cold clear morning proved productive. The stream bed had eight or more Common Snipe, a Japanese Wagtail and a Common Kingfisher. Large groups of buntings included one Little Bunting and a dead stand had a Eurasian Sparrowhawk at its top.
Bird News from Kim Hyun-tae
Seosan, January 23
One Oriental White Stork, and ca 1000 Greater White-fronted Goose were highlights.
Bird News from Tim Edelsten with Nial Moores and Kim Su-Kyung
Pohang-Guryongpo, January 21
Subzero temperatures (reaching a maximum of only around -3C) and strong winds with lots of sea swell hindered our search for birds - so only small numbers of divers/loons were found (including one healthy and confiding, and two further oiled Black-throated/Arctic), and no alcids. Birds of most interest included 3 Harlequin Duck (one very well-watched), single Slavonian and 3 Red-necked Grebe, single Blue Rock Thrush, and among the gulls, ca 7 Glaucous, along with one Glaucous-winged or perhaps rather Glaucous x Glaucous-winged Gull hybrid (appearing very similar to Glaucous-winged, it nonetheless showed an obviously pinkish bill base, with a broadly dark cutting edge and tip).
Bird News from Tim Edelsten with Nial Moores
Joonam Reservoirs and Miyeonji, Nakdong estuary, January 20
At Joonam, much disturbance on the main reservoir from ca 5 fishing boats, but still 28 White-naped Crane and half-a-dozen Baikal Teal were logged, along with a female Red-crested Pochard on Dongpan, and an adult Lesser White-fronted Goose on rice-fields in among ca 700 Greater White-fronteds. Of much interest was that the adult closely associated with at least one Greater White-fronted that perhaps seemed to show several features of Lesser - including a slightly smaller bill than typical Greater, bright pink with a broad white tip as in Lesser, very extensive white around and above the bill (though not reaching quite as far back as in the Lesser), and a faint yellow eye-ring.
Also there, 4 Eurasian Spoonbill and ca 10 Olive-backed Pipit, the latter a high count for mid-winter. At Miyeonji, prolonged views of up to 4 Hen and a single distant Eastern Marsh Harrier were best.
Bird News from Peter Nebel
Gunsan, January 19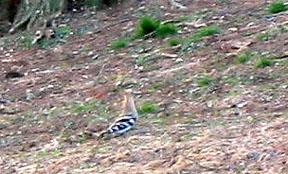 Hoopoe, © Peter NEBEL.
In the afternoon I observed a Hoopoe near the Gunsan Airport, the first one I've seen here since August. It was first spotted on a wire with 2 Dusky Thrushes, one each of the 2 subspecies.
Bird News from Tim Edelsten with Nial Moores
Taejeongdae and Nakdong estuary, Busan, January 19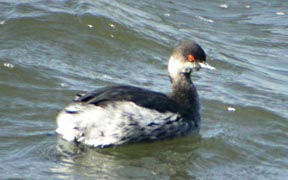 Black-necked Grebe, © Nial MOORES.
A total of 65 species for the day. On the Nakdong, excellent views of a number of commoner wintering species (including Smew, Falcated Duck, 1000 plus Northern Shoveler and 2 Tundra Swan), along with a female American Wigeon, 13 Swan Goose, 40 Saunders's and 2 First-Winter Relict Gulls.
At Taejongdae, no sign of last week's Asian House Martin (perhaps to be expected with daytime maxima only reaching ca 6C), but instead excellent views of White's/Scaly Thrush and a single Red-flanked Bluetail.
White's Thrush, © Nial MOORES.
Bird News from Kim Hyun-tae
Seosan, January 18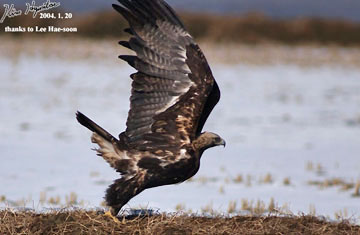 Eastern Imperial Eagle, © KIM Hyun Tae.
In subzero conditions, raptors included single Greater Spotted and eastern Imperial Eagle, 2 Steller's Sea-Eagle (one adult type, and one presumed first-year), and 7 Cinereous Vulture. In addition, at least one (and possibly several) Oriental White Stork still present.
Bird News from Jake Mac Lennan and Peter Nebel
Geum River and Okku Area, January 18
Weather conditions made visibility at times very poor today, but nonetheless there were a few good views of a Black-necked Grebe among the Whooper Swans at the Keum Estuary. Azure-winged Magpie were heard but not seen. A small group of Dusky Thrush, including both the eunomus and naumanni forms, were seen there also.
Over on the other side of Kunsan at the Mangyeong Estuary several hundred Dunlin fed during low tide a long with numerous Grey Plovers. Seeing four dead ducks (apparently Mallards) being eaten by gulls in the same general vicinity was a little disconcerting however.
Over at the Okku Reservoir there were a pair of Eurasian Wigeons. Near the airport we flushed four Common Snipe and a few Black-faced Buntings.
Bird News from Peter and Erwin Collaerts
Ganghwa Island, January 18
Heavy snowfall and fog before noon. In the afternoon the weather was much better and this resulted in good observations.
+/- 20.000 Greater White-fronted Geese, 1 Northern Goshawk, 1 Upland Buzzard, 1 adult Rough-legged Buzzard, 1 imm Golden Eagle, 3 Peregrine, 1 Naumann's Thrush, 7 Siberian Accentor, 2 male Meadow Bunting, 5 Chestnut-eared Bunting, 3 male Japanese Reed Bunting, and 2 Little Bunting.
No Red-crowned Cranes were found on the island.
Bird News from Kim Sang Jin
Daedong Dam, January 17
5 Black Stork observed.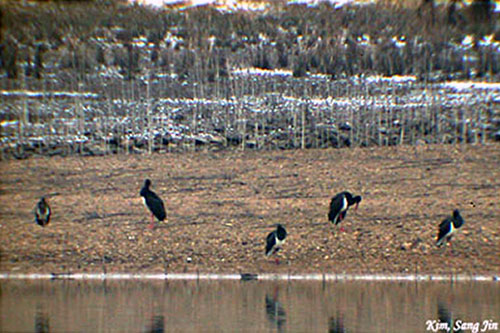 Black Storks, © KIM Sang Jin.
Bird News from Choi Soon-Kyoo
Gangneung, January 14
An apparent Great Grey Shrike well-photographed further highlights the lack of knowledge surrounding the identification criteria of the various taxa of Far Eastern Grey Shrikes (i.e. of eastern Steppe Grey Shrike various subspecies of Great Grey and the two subspecies of Chinese Grey Shrike).
Bird News from Peter and Erwin Collaerts with Nial Moores
Geum River, Daejeon, January 17
Revisiting the stretch of river which had held a Scaly-sided Merganser in December, we instead came upon 2 car loads of illegal hunters, which were duly reported to local authorities. In addition heavy snow and thick overcast prevented much checking of ducks still present - though these surprisingly did include a single male Red-breasted Merganser (very unusual so far inland).
January 16th, Cheorwon Basin and Imjin River.
In Cheorwon a single Steller's Sea Eagle was found, along with 2 White-tailed Eagle, 20 Red-crowned Crane and at least 275 Cinereous Vulture. Several individuals of the latter species have apparently been reported sick or dying in the past few days (perhaps from "starvation, pesticides or an unknown epidemic": Lee Hansoo in lit to James McCarthy of the Wild Bird Club of The Philippines), and concerns are rising over the health of the rest of the birds present, especially as South Korea is presently experiencing a very severe outbreak of avian influenza in domestic chickens and ducks.
On the Imjin River, near Munsan, no sign of December's Scaly-sided Merganser, best instead being ca 20 Cinereous Vulture, 80 Ruddy Shelduck and 1 Eastern Taiga Bean in among 300+ Greater White-fronted Geese.
January 15th, Yeongdeok-Hupo AM; Andong Area PM
At Hupo, 3 Glaucous and 1 distant probable Glaucous-winged Gull were best, along with ca 20 White-winged Scoter and 2 slightly un-seasonal Blue Rock Thrush.
No sign of any Scaly-sided Merganser on the upper Nakdong River at Andong, and much of the preferred river stretch of previous years is still suffering increased turbidity and rampant "construction" work. In one area, however, there were ca 325 Goosander and 70 Smew, while another held a single group of 125 Mandarin Duck.
January 14th, Guryongpo Peninsula
Upland Buzzard, © Nial MOORES.
Despite the strong (and cold!) northerly winds of the previous couple of days, rather few seabirds were observed, best being single Ancient Murrelet and single digit numbers of the three regular diver/loon species. More than adequate compensation was provided, however, by excellent views of both drake Harlequin Duck (one of ca 20 logged) and Upland Buzzard - the latter hovering for a while very close to the road.
Other species of note included probably 3 Glaucous-winged and at least 11 Glaucous Gulls, a single Japanese Sparrowhawk, 40-100+ Japanese Lark, and 7 Siberian Accentor.
January 13th, Busan
On the Nakdong estuary, best were 3 Relict Gull (2 first winters and a single adult, all showing well), 5 Swan Goose and 11 Eurasian Spoonbill.
At Taejongdae, 3 Red-flanked Bluetail and 3 Pale Thrush (one seen well) were as expected, while a group of ca 8 Asian House Martin were much more noteworthy - being presumed the first January record of the species in Korea.
Update: Following this posting, Park Jong-Gil has kindly sent us a record of 2 Asian House Martin that he saw on the morning of January 9th on Hong Do, between 08:00 and 08:15. The birds then left in a north-westerly direction. These birds are therefore presumably the first January Korean records - and perhaps part of a newly developing pattern of some individuals overwintering on the Korean peninsula (see January 10th for records of Barn Swallow and Black-tailed Godwit, and January 19th for a record of Hoopoe)?
Bird News from Peter and Erwin Collaerts
Joonam Reservoirs, January 11 - 12
A good number and variety of ducks included ca 3000 Baikal Teal, 450 Falcated Duck and rarest of all single male and female Red-crested Pochard (only about the eighth and ninth individuals of the species recorded in Korea). In addition, there were 28 White-naped Crane, 3 Eurasian Spoonbill and a Merlin.
January 11th, Suncheon Bay
At least 22 Hooded Crane were present, including several presumed hybrids, as well as a single Chinese Grey Shrike and ca 15 Little Bunting.
January 10th, Haenam Gun
An excellent day, with several exceptional records. These included 4 Barn Swallow and a single Black-tailed Godwit (both likely first January records), 130 Eurasian Spoonbill (considered likely a new national high count), and no less than 12 Oriental White Stork in one group - again considered likely a record high count. In addition, there were 1200 Baikal Teal, a Chinese Grey Shrike and 10 Little Bunting at Gocheonnam.
January 9th, Daejeon.
On the upper Geum River, 100+ Mandarin Duck and more than 250 Goosander were logged.
January 8th, Geum River, Gunsan (AM); Geum River, Daejeon (PM).
On the Geum estuary at least 2 000 osculans Oystercatcher, and 41 Swan Goose still, while neighboring rice-fields held 30 Daurian Jackdaw and 22 Northern Lapwing. Near Daejeon, best were single White-backed Woodpecker, 8 Long-tailed and 5 Pallas's Rosefinch.
January 7th, Geum Estuary and barrage lake.
Massive numbers of Baikal Teal and 41 Swan Goose (one with a blue neck band with R 90 inscribed in white), while there were ca 200 Saunders's Gull on the tidal-flats.
January 6th, Seosan.
Very poor weather limited the birding - best therefore being 30 Baikal Teal, 30 Eurasian Spoonbill and a good range of buntings. These included 3 Chestnut-eared, 5 Little, 100 Pallas's Reed, 1 Black-faced and at least 500 Lapland Bunting.
January 5th, Gwangneung.
Two hours in the afternoon at the arboretum (where river dredging has happily now been completed) produced 4 Solitary Snipe, 3 Mandarin Duck, and at least 15 Pallas's Rosefinch.
Bird News From Jake Mac Lennan and Peter Nebel
Keum River, Man-gyeong River and Okku Area, January 11
It was a good day for birds of prey. At the Man-gyeong estuary there were four immature White-tailed Sea Eagles. In the Okku area a Northern Goshawk and a Eurasian Sparrowhawk were found. The area also revealed a couple of Kestrels and a swift, low flying Merlin.
Earlier at the Keum River about 60 Northern Lapwings, 147 Eurasian Curlews and two Common Sandpipers were seen.
Finally just after Sunset in the twilight of our day of birding a small flock of Black-faced Buntings were located in a willow by the Kunsan Town Reservoir.
Bird News from Nial Moores
At sea near Busan, January 10
From the hydrofoil to Japan, ca 150 Black-legged Kittiwake and a single Pomarine Skua ca 15km south of Busan: the latter is presumed the first mid-winter record of the species in Korean waters.
Bird News from Lee Jeong-Sik
Hampyeong Gun, Jeollanam Do, January 9
6 Black Stork and a Steller's Sea Eagle are both wintering in the area.
Bird News From Jake Mac Lennan and Kim Young-mi
Gwangneung Arboretum, January 7
We were happy to see several White-backed Woodpeckers as well as Treecreepers and Nuthatches. The thrill of the day for me was the low fly over of a Cinereous Vulture. My companion enjoyed the large mixed groups of Tits that included Varied, Coal, Marsh and Great.
Bird News from Mo In Ho
Joonam Reservoir, January 6
28 White-naped Crane, 500 Taiga Bean Geese, 30-40 Whooper Swan, 500 Baikal Teal, and 1 Peregrine Falcon.
Bird News from KWAK Ho-kyong
Hwa Jin Po, January 4 - 5
Long-tailed Rosefinch, © KWAK Ho-kyong.
2 Long-tailed Rosefinch observed.
Bird News round-up from Kim SuKyung
Daehuksan Island, December 25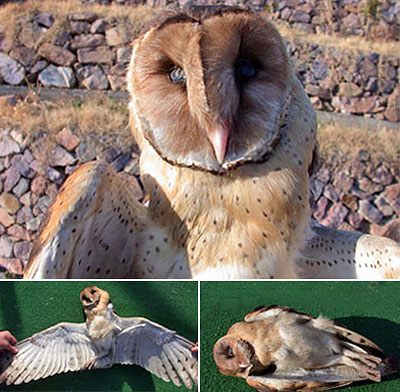 Grass Owl, © PARK Jong Gil.
Belated news of Korea's first Grass Owl Tyto capensis , apparently killed in strong winds.
Neither Grass Owl nor Barn Owl has been recorded in South Korea before - though Nial Moores had brief views at dusk of one or the other on Socheong Island on 29 October 2003.