Birds Korea's Bird News December 2003
December
Periods of intense cold alternate with milder spells. In the coldest winters maxima are often below freezing; in milder years (such as 2001 and 2002) maxima often reach 10°C in Seoul: a few lingering autumn migrants can still sometimes be found as well as huge numbers of wintering waterbirds.
A great time for full winter bird tours or a couple of days in the right areas. Saunders's Gulls are widespread, while Relict Gulls also start to appear at a number of sites, especially in cold winters. Scaly-sided Merganser move southward onto unfrozen rivers, while numbers of Baikal Teal remain at their peak - often dispersing southward from Seosan, along with large numbers of Greater White-fronted and Thick-billed Bean Geese with the onset of subzero temperatures. Taiga Beans too can be found in the low thousands at Woopo, Joonam and in the Nakdong in the southeast, the mildest part of the mainland.
Raptors include good numbers of Cinereous Vulture (especially in recent years) and these are often joined by White-tailed and several Steller's Sea Eagles, while cranes (Red-crowned, Hooded, and White-naped), remain at key sites.
Passerines include occasionally abundant Brambling, mixed flocks of Naumann's and Dusky Thrushes and in some winters large numbers of Siberian Accentor. Species such as White's and Pale Thrush, Red-flanked Bluetail and Japanese White-eye also remain in reasonable numbers on Jeju Island and in the far southeast. Highlights in December 2002 included Korea's first Great Black-headed(or Pallas's) Gull in Seoul, Pigeon and Spectacled Guillemots off the east coast, and several Red-throated Thrushes and Chinese Nuthatches in the northwest. Highlights in 2003 included Korea's first Grass Owl - found dead on Heuksan Island.
(The following records are a compilation of our own sightings and records sent in by other observers. As well as being posted on the Birds Korea website(s), selected records are also forwarded to other Korean-language birding websites; records of threatened species are arranged and forwarded to Birdlife International and national authorities when appropriate; flag images and records are passed to bodies responsible for their coordination throughout the flyway; and all records sent to us are used to compile annual reports and to support the evolving understanding of the status of many of Korea's birds.)
Bird News from Park Jong-Gil
Junam Reservoir, December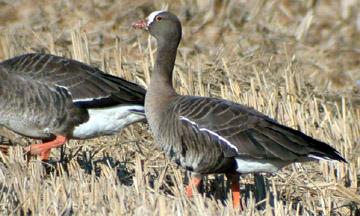 Lesser Whitefront Goose, © PARK Jong Gil.
1-2 Lesser White-fronted Geese
News from Mo In Ho
Junam Reservoir, December 19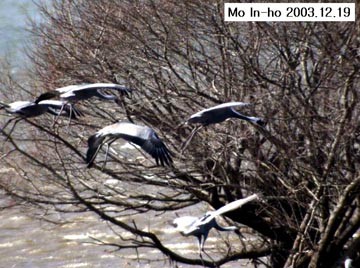 White-naped Cranes, © Mo In Ho.
Changwon City have increased the water level for a predicted drought next year, and fishing boats and boats measuring the water level are causing a great deal of disturbance:
12 White-naped Crane, 1 Hooded Crane, 5 Common Shelduck, 4 Great Cormorant.
News from Woo Jong Cheol
Han river, December
Black Brant, © Woo Jong Cheol.
1 wild Black Brant feeding near a tennis court, Han river
News from Kim Young Jun
Inje Gun in Kangwon Provice, December
1 Ural Owl (Black Type) caught with a rat, and banded.
News from Ji Nam Jun
Sungsanpo in Jeju Island, December 25
Black-faced Spoonbills, © Ji Nam Jun.
2 Black-faced Spoonbill
News from Sim Mi Young
Hwajinpo in Kangwon Province, December 28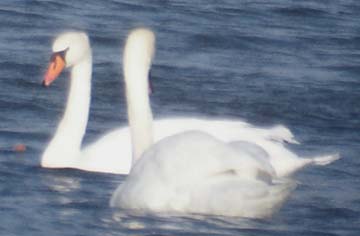 Mute Swans, © Sim Mi Young.
2+ Mute Swan
Bird News from Nial Moores and Barry Heinrich
Nakdong estuary, December 28 am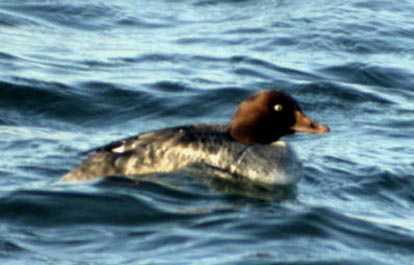 Female Common Goldeneye with orange bill, © Nial Moores.
Mild conditions after a subzero start allowed for a relaxed and pleasant morning's birding, but comparatively few species of note. Best were 4 Relict Gull (2 adults and 2 first-winters), 12 Swan Goose, 11 White Spoonbill, probably 2 Osprey and 3 Peregrine.
In woodland nearby, at least 3 Pale Thrush (and 2 deer!), but no Grey Bunting. Of most interest therefore were probably 2 rather unseasonal Blue Rock Thrush (a species which is quite hard to find on the mainland in winter), and an orange-billed Common Goldeneye - inviting obvious confusion with Barrow's!
(This observation has prompted a note on the bill colour of female Goldeneyes as an identification criterion: go to Female Barrow's Goldeneye - more than just bill colour.)
Bird News from Tim Edelsten
Song Do tidal-flat, December 28
Black-tailed Gull were scarce today, replaced by 98 Vega Gulls, and 500+ Black-headed Gulls. 36 Saunders's Gulls were in their preferred area of mud around the brackish channel, and after hours of searching I at last located 2 Relict Gull near the bridge.
Ducks have largely dispersed - with only 23 Shoveler, 230 Pintails, 400+ Spot-billed Ducks,6 Mallard and a Common Teal remaining.
(See Tim Edelsten's essay on the destruction of Song Do - go to Last call for Song Do.)
Bird News from Jake Maclennan, Peter Nebel, Anyunghala Nebel and Kim Young-mi
Geum River and Man-gyeong River area, December 28
A couple of Common Sandpipers were seen near the Geum River area. Northern Lapwings have risen in numbers slightly to 55, in the same rice field as before next to the west side of the Keum River Estuary Park. Baikal Teal are here in enormous numbers on the Fresh water side such that counting them would be a difficult task: I would guess easily greater than 300,000.
Near the Mangyeong River we observed a Eurasian Sparrowhawk as well as a Merlin.
A White Spoonbill was seen on the flats of the Mangyeong.
Bird News from JUNG Sun Gu and Barry Heinrich
Upo wetland, December 26
1 White-tailed Eagle, 2 Northern Goshawk, 1 Common Buzzard, 2 Peregrine, 2 Common Kestrel, 2,000 Taiga Bean Geese, 10 Swans 5 White Spoonbill, 700 Baikal Teal, 2000+ Ducks, 1 Common Snipe.
Northern Goshawk guarding a Mallard kill, Upo.
Photo © Jung Sun Gu.
Bird News From Jake MaMac Lennan and Peter Nebel
Keum and Man-gyeong River and adjacent area, December 21
A single group of 148 Eurasian Curlews worked the tidal flats at the Keum estuary. In the rice fields 100 meters back from the water a group of 47 Northern Lapwings hunkered down for the midday high tide. Near the Man-gyeong a huge group of several thousand Rooks seemed to have no companion corvids.
Bird News from Nial Moores
Song Do tidal-flat, December 17
Few gulls just after a neap high tide, best being 13 Saunders's Gull, along with the usual assortment of Vega, Mongolian, taimyrensis/heuglini, Slaty-backed (2), Black-tailed, Black-headed and "Kamchatka" Gulls.
Bird News from Nial Moores
Socheong and ferry back to mainland, December 16
Around the main village, a single Treecreeper Certhia familiaris (considered a rather uncommon winter visitor to South Korea) and several Siberian Accentor (including one in song). Over the harbor, a very poorly seen large raptor was most likely a White-tailed Eagle, while at sea ca 20 White-winged Scoter and ca 40 Great Crested Grebe were best.
From the ferry back to Incheon, only 8 Black-legged Kittiwake, ca 300 Black-tailed Gull and ca 28 diver/loons seen. Most remained unidentified (due to poor viewing conditions and distance), but included at least 2 close Pacific and one rather distant (probably juvenile) White-billed Diver (the latter ca 10km south of Socheong). Intriguingly, an Alaskan-banded White-billed Diver carrying a radio transmitter was located in this same general area in November 2002 (a short note to this effect will likely be posted on the website in the coming weeks).
Bird News from Nial Moores
Socheong island, December 15
In very strong northerly winds rather few birds noted on the land, with best being single Upland Buzzard and Merlin, 2 Japanese Quail, 3 Siberian Accentor, 1 Long-tailed Rosefinch and single Dusky and Naumann's Thrush. On the sea, 3+ very distant Rhinoceros Auklet (a species suggested nesting just to the north in Korean Bay, DPRK, by Tomek), single Black and ca 8 White-winged Scoter.
Birds News From Jake Mac Lennan and Peter Nebel
Keum River and Okku area, December 14
Among the scores of Great Crested Grebes today we discovered one Horned Grebe. Numbers of Baikal Teal in the Keum River have risen to an estimated 300,000. A couple of late Black-tailed Godwits were seen at the Keum River, where Eurasian Curlews persist in good numbers as well. Okku had eight White Spoonbills and a couple of jousting Peregrine Falcons.
Bird News from Nial Moores
Baekryong Island (am) and Socheong island (pm), December 14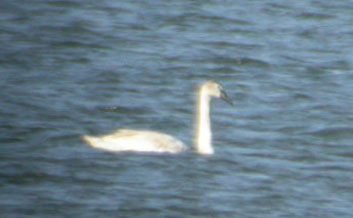 Mute Swan, Dec 03, © Nial Moores.
The Mute Swan Cygnus olor is a very rare and presumed declining taxon in East Asia, wintering in South Korea regularly only on lakes in the northeast of the country (ca 20-30 in most recent winters).
On the reservoir only 1 White-tailed Eagle still, but ca 260 serrirostris and 5 middendorffi Bean Geese, 3 Falcated Duck (scarce so far north in mid-winter) and largest surprise of all (literally!), an immature Mute Swan.
On the sea, ca 20 Black and 10+ White-Winged Scoter.
On Socheong, single Short-eared Owl, 200+ Coal Tit still, 3+ Long-tailed and 4 Pallas's Rosefinches were the best birds of the afternoon.
Bird News from Nial Moores
Incheon - Baekryong Island, December 13
Few seabirds noted due to very difficult viewing conditions, best being 4+ Ancient Murrelet and 5 alcid sp, 3 of which appeared to be Rhincoeros Auklet.
On Baekryong Island on the main beach by the harbor, 22 Kentish Plover and a single adult Saunders's Gull, while on the reclamation reservoir 3 White-tailed Eagle, ca 270 Bean Geese (the vast majority Tundra) and 1 Mandarin Duck.
News from Nial and Charlie Moores (until 10th), with Helma Unverhau and Prof. Andre Brosset
Song Do - Han-Imjin-Imjin River, December 12
At Song Do, ca 400 Saunders's and several Mongolian Gulls. On the Han-Imjin, still ca 400 Swan Goose, while at Imjingak ca 2 500 Greater White-fronted Goose still, 150+ Rustic Bunting (the first decent-sized flock of the winter) and possibly 100 Cinereous Vulture.
Searching for Scaly-sided Merganser resulted in one more female-type found (and photographed) on the Imjin River near Munsan, while present in the same general area were 2 White-naped Crane, 5 Cinereous Vulture, 1 Upland Buzzard, 20 middendorffi Taiga Bean Goose, 25 Ruddy Shelduck and a further 100+ Rustic Bunting.
News from Nial Moores, with Helma Unverhau and Prof. Andre Brosset
Song Do-Ganghwa Island, December 11
At Song Do, 415 Saunders's Gull (including one carrying a red leg flag), and 10 "Yellow Sea Gull" feeding on razor clams in a single group (for more information on this puzzling type, hybrid or otherwise, please refer to the gulls paper in the id section).
Near Ganghwa, a flock of ca 100 Rook contained 15-20 Daurian Jackdaw, while on Ganghwa itself, 5+ Siberian Accentor in one patch of vegetation gave excellent views. In addition, the southern rice-fields held 4 Red-crowned Crane, a single White-tailed Eagle and a small mixed group of buntings, containing 2 Little, 1 Pallas's Reed, 8+ Meadow and a single Japanese Reed Bunting.
News from Nial and Charlie Moores (with Charlie leaving for the UK on early morning), with Helma Unverhau and Prof. Andre Brosset.
Upper Geum River, Daejeon, December 10
Only 1 Scaly-sided Merganser found, a female with ca 100 Goosander. Other birds of note included 4 Great Cormorant (scarce so far inland), 20+ Azure-winged Magpie, and 30+ Mandarin Duck.
News from Nial and Charlie Moores, with Helma Unverhau and Prof. Andre Brosset.
Busan (am) and Joonam Reservoirs, December 9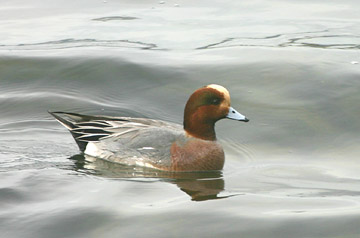 Eurasian Wigeon, Nakdong Estuary, © Nial Moores.
A small percentage of Eurasian Wigeon in South Korea show a green patch curving back from the eye. For more images and a brief discussion go to 3 possible Hybrid Ducks.
3 White-naped Crane and 8 White Spoonbill were almost the only birds on Joonam's otherwise deserted main reservoir (3 fishing boats most likely the main cause), with most excitement provided instead by a single skulking Siberian Accentor. Trying to pish this bird into the open, a much less expected Siberian Rubythroat called in response. Although not uncommon on migration (especially on offshore islands), Siberian Rubythroat is seldom recorded on the mainland, and this is presumed the first December record of the species in South Korea.
On neighboring Dongpan, ca 1000 aythya, 500+ Falcated Duck, 10 Baikal Teal and 2 Swan Goose, in amongst 1 000 middendorffi Bean and 500+ Greater White-fronted Geese. In the evening, a Lesser White-fronted Goose was also watched flying in from local rice-fields.
News from Nial and Charlie Moores, with Helma Unverhau and Prof. Andre Brosset.
Yeongdeok-Pohang-Guryongpo, December 8
4 Long-billed Plover and 5+ Japanese Wagtail gave good views at Yeongdeok, as did 5 Black Brant on the beach at Pohang.
In amongst large flocks of roosting gulls on the Guryongpo, a single first winter Glaucous-winged and a presumed juvenile American Herring Gull - the latter seen only briefly and not in flight. Features that looked very good for American Herring Gull (a taxon claimed several times in Korea, most recently an adult found and photographed by Jon King and Geoff Carey in February 2003 along the same stretch of coast) included a Vega Gull-like jizz (though slightly more massive, with a medium-length all dark bill and moderate primary projection); dark brown wash overall, most velvety and chocolaty on the belly and lower breast; darkish greater covert bar fading to light spotting or barring; and a "dark-looking" tail. As in Vega Gull, the tertials also showed some notched edges.
News from Nial and Charlie Moores, with Helma Unverhau and Prof. Andre Brosset.
Chuncheon Dam and Andong, December 7
A day searching two prime sites for Scaly-sided Merganser ended without success, although some compensation was provided by 5 Long-tailed Rosefinch, 2 Long-billed Plover and 8+ Japanese Wagtail at Chuncheon, and 1 Cinereous Vulture, 30 Mandarin Duck and 6+ Japanese Wagtail at Andong.
Bird News from Dave Baker
Danyang, December 6 - 18
On the Nam-Han River in Danyang, 5 Japanese Wagtail and 2 Long-billed Plover on 7th, while outstanding highlight on December 6th was a female Barrow's Goldeneye, seen well and finally photographed on December 16th (after the bird was eventually relocated, 10 days after the initial sighting), and seen again on 18th. Identification was based on head shape as well as bill color - largely yellowish. It is hoped that images of the bird - a very rare vagrant to East Asia, with probably only 2-3 prior records from South Korea - will be posted on the site soon.
Bird News from Charlie and Nial Moores, with Andre and Helma
Cheolwon/DMZ, December 6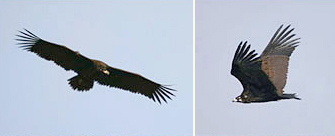 Cinereous Vultures, Cheolwon, DMZ, Dec 2003
Photos © Charlie Moores
Falling temperatures, strong winds, and after a sunny start, poor light. However over 450 Cinereous Vulture, 50 White-naped and 15 Red-crowned Cranes logged as well as close views of a feeding Steller's Sea-eagle and 3 White-tailed Eagle.
Other birds of note included Chinese Grey Shrike, 2 Brown Dipper, and a single flock of over 70 Azure-winged Magpie.
Cinereous Vultures, Cheolwon, DMZ, Dec 2003, Photos © Charlie Moores
Bird News from Charlie and Nial Moores, with Andre and Helma
Gwangneung Arboretum, December 4 - 5
Two days spent at the perhaps the world's most reliable site for wintering Solitary Snipe - a site ruined somewhat by the decision of the Arboretum management to dredge the stream that the Snipes favour with a bulldozer and re-inforce the banks with boulders. Nevertheless, after much searching one Solitary Snipe was eventually found and watched for about an hour.
Solitary Snipe and Pallas's Rosefinch, Gwangneung, Dec 2003.
Photos © Charlie Moores
Other good birds seen included 7 Pallas's Rosefinch (excellent views of two stunning males), 5 species of woodpecker (including Black and White-backed), a White's Thrush (unusual so far north in winter), several Naumann's Thrush, an Upland Buzzard and 3 Cinereous Vulture, and a good variety of interesting forest species - including Varied Tit, Hawfinch, the beautiful rosacea form of Bullfinch, and the dark-eyed brandti form of Jay.
Bird News from Charlie and Nial Moores, with Andre and Helma
Seosan, December 1
A typically bird-rich morning with excellent views of a number of Korea's most sought-after winter specialities.
Although waterbird numbers at Seosan are past their peak, still several thousands of Baikal Teal, and a good diversity of geese. Amongst still numerous serrirostris Tundra Bean and frontalis White-front about 50 middendorffi Taiga Bean Geese and at least one Lesser White-front - though a distant group of 10 small geese amongst a large flock of Greaters were presumably also this species.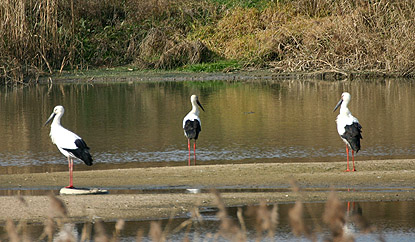 3 Oriental Stork, Seosan, Dec 2003, © Charlie Moores.
A most unexpected find was a single Black Brant - a taxon usually found in small flocks at just a handful of sites on the east and south coasts, and almost always associated with estuarine and maritime habitats.
Also out of habitat were 2 Black-faced Spoonbill (in freshwater with around 25 White Spoonbill).
Raptors included three loose-knit groups of Cinereous Vulture (perhaps totalling 12 individuals), a first calendar year White-tailed Eagle, and the more usual Peregrine, Hen Harrier, and a Northern Goshawk.
Other birds of note included an exceptionally late Barn Swallow, at least 1000 Lapland Bunting, and - highlight of the day - 2 feeding Oriental White Stork (3 on the following day) giving spectacularly close views for over 30 minutes (at one point dwarfing the 2 Black-faced Spoonbills feeding close by).
Copyright 2002 - present
http://www.birdskorea.org
all rights reserved
Birds Korea 1108 Ho, 3 Dong, Samick Tower Apt., 148-22, Namcheon-Dong, Su-Young-Gu
Busan, 618-762 Republic of Korea