Birds Korea's Bird News November 2003
November
Waves of colder air cause a sharp drop in temperature, especially from mid-month onwards, when maxima can be as low as 8-10°C: the last of the autumn migrants are joined by huge numbers of wintering waterbirds.
Numbers of Baikal Teal continue to build, along with geese (many of which move on into China). Swan Geese peak at the Han-Imjin (with 1000-1500 in recent autumns). Common Buzzards and Cinereous Vultures start to arrive for the winter, along with gulls (Saunders's, Siberian, Vega, Mongolian and Slaty-backed are all widespread), Red-crowned, White-naped and Hooded Cranes, and passerines, including Siberian Accentor. Movements of divers and alcids, most especially Ancient Murrelet, can be impressive. Passerines include many late summer visitors until the second week of the month, when winter species, such as Chinese Penduline Tit and Pallas's Reed Bunting start to predominate.
Outstanding national rarities in November have included Black-headed and Ortolan Bunting and Savannah Sparrow on Gageo Island in 2000 and 2001, Demoiselle (2001) and Siberian White Crane in the Nakdong and the Han-Imjin/DMZ (2001) respectively, Korea's first White-capped Water Redstart and Water Pipit in 2003, the country's third and fourth Verditer Flycatchers in 2004, and a Ural Owl photographed at Odaeson National Park in 2005.
(The following records are a compilation of our own sightings and records sent in by other observers. As well as being posted on the Birds Korea website(s), selected records are also forwarded to other Korean-language birding websites; records of threatened species are arranged and forwarded to Birdlife International and national authorities when appropriate; flag images and records are passed to bodies responsible for their coordination throughout the flyway; and all records sent to us are used to compile annual reports and to support the evolving understanding of the status of many of Korea's birds.)
Information Request
:
Aleksey Antonov of Khingansky Nature Reserve has reported that a moulting Swan Goose with the korean metal band 140-00383 was shot in Ulbansky Bay, Sea of Okhotsk (53 deg 33 min N, 137 deg 25 min E) on August, 3 2003. Any info on where the Goose was banded and by whom would be appreciated. Please mail Aleksey (at) hinganamur.ru (and please copy to us).
Bird News from Paul Leader
Jeju Island, November 22-23, Black-faced Spoonbill Symposium
Interesting news from Hong-Kong based Paul Leader of what would appear to be Korea's first Water Pipit, seen by Paul whilst attending the Black-faced Spoonbill Symposium on Jeju Island. We've mailed Paul for more details and the exact date of this excellent record.
Paul also recorded 18 Black-faced Spoonbill, "loads" of Buff-bellied Pipit, and 1 Baikal Teal. He also reported that local Jeju birders recorded a Black Vulture (unusual so far south) and yet another Long-tailed Shrike over the same weekend.
Bird News from Kim Su Kyung
Upo Ramsar site, November 27
In very cloudy and rainy conditions, 900+ Taiga Bean Geese, 600+ Baikal Teal, 1500+ Ducks, 1 Merlin (adult male), 4 Black-winged Stilt still ( but no White Spoonbills seen).
Bird News from Dave Baker
Danyang, November 23
Near Danyang on Sunday, eight Mandarin Ducks: one male in a pond and four males and three females in a slough through a flooded willow copse a little farther west along the Namhan River just west of town.
Also found two Long-billed Plover in Danyang on 22nd.
Bird News from Tim Edelsten
SongDo Mudflats, November 23
Sunny, clear, cold, 5 deg. c.
Common Shelduck 13, Dunlin 55, "Bean" Goose 70, Saunders Gull 9, Relict Gull 3, Siberian Gull 1, Black-headed Gull 200, Great Egret 2, Little Egret 6, Spot-billed Duck 15.
(Common Greenshanks have vanished, Great Cormorants much dispersed from previously- only 2. Duck numbers were similarly down at the lagoon. I was relieved to see they have halted their building work there).
PM. Hangang at Eunbong: Plentiful Shoveller, Pochard, Common Teal,Spot-billed Duck & Pintail. Lesser numbers of Tufted Duck, Gadwall, Goosander and Mallard...
Also 1 Merlin hawking the parrotbills....
Bird News from Jake MacLennan, Peter Nebel, Oh Dong-pil, Hwang Myeong-im and Song Shin-sook
Man-gyeong, Dong-jin, Okku salt pans and adjacent flats, November 23
At the Man-gyeong numerous Eurasian Spoonbills were seen. This was true for the Dong-jin as well, where 20 were seen. Eurasian Curlews were in good numbers too - roughly 80 in one group. Also 2 White-tailed Sea Eagles (a male and a female juvenile (judging by its larger size)): while they sparred a Peregrine flew into the scene and got involved, exciting stuff!
Bird news from NM and KIM Su-Kyung
Joonam and the Nakdong, November 23
Few species of note observed during a "training day" for potential Upo Ramsar site guides, best being 7 White-naped Crane at Joonam.
Bird News from NM, with BBC and NHK (the "Planet Earth Team")
Gocheonnam Lake, November 20 - 22
Dawn breaks over half the world's Baikal Teals, Geocheonnam.
Photo © NM
Daily changes in numbers of Baikal Teal (with 250,000 on the 20th, 120,000 on 21st and ca 240,000 on the 22nd) were likely in response to disturbance caused by sightseers. Other birds of note included the Long-tailed Shrike (at least until the 20th), the same or another Black Stork (a rather shabby-looking juvenile-immature resting in wet rice-fields photographed through reeds on the 21st), the Chinese Grey Shrike (mixing spells of hovering with swift chases after the numerous Lapland Bunting and Japanese and Northern Skylarks), and 2 Greater Spotted Eagle - with an adult-type on the 21st and a juvenile-type on the 22nd.
Bird News from KIM Hyun tae
Seosan, November 16 - 20
Up to 8 Oriental White Stork at Seosan, as well as 3 Black Stork, from November 16th to 20th. Go to the News section of Hyun tae's website, Pintail's Home, for more images.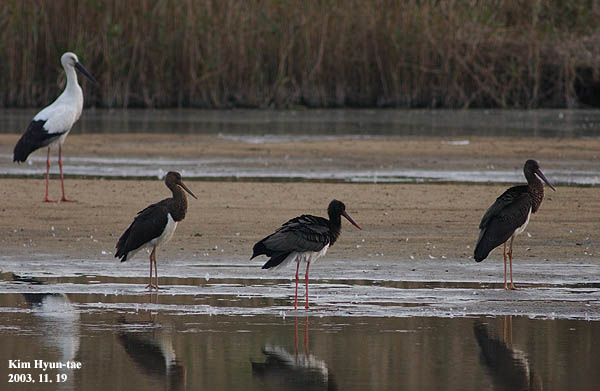 Oriental White and Black Storks, Seosan
Photo ©KIM Hyun-tae
Bird News from Nial Moores
Geocheonnam Lake, Haenam, November 18 - 19
Long-tailed Shrike, © Nial Moores.
At the very least 350,000 Baikal Teal on 18th, with possibly rather fewer on 19th ("only" 300,000 plus). Interestingly, one individual seen was leucistic, with a pale fawn coloration, and whiter-looking primaries.
Also 1 near adult Upland Buzzard and 2 Hooded Crane on 18th, along with 2 Pallas's Rosefinch overhead at dawn, and 1 Eastern Imperial Eagle on 19th. Although both the Long-tailed and Chinese Grey Shrike were seen well on the 18th, neither were seen in rainy conditions on the 19th.
At Yeongam Lake on 19th, very few birds of note.
Bird News from Nial Moores
Geocheonnam Lake, Haenam, November 17
A huge raft of Baikal Teal today contained at least 350,000 individuals, with possibly as many as 400,000 present (i.e. almost the whole world population of this charismatic duck).
Other birds of note included 2 Hooded Crane at dusk, Japanese Quail, the Chinese Grey Shrike still (watched hovering for long periods), and least expected, a Long-tailed Shrike (which with several Bullheaded made three species of shrike in a 500 m stretch of reedbed edge). From descriptions of a large shrike with a pink wash on the underparts given by Barry and MUTA san yesterday, the same bird was likely also present on the 16th. This is about the tenth record for Korea, and possibly only the third record on the mainland.
Bird News from Kim Hyun tae
Seosan, November 16
Incredible images on KIM Hyun tae's website today of an Oriental White Stork at Seosan.
Oriental White Stork, Seosan, ©KIM Hyun tae.
Bird News from Kim Su Kyung
Upo Ramsar site, November 16
4 White-naped Crane (2 adults, 2 juveniles), 1 Tundra Swan, 700+ Taiga Bean Geese, 500+ Baikal Teal.
Bird News from Jake MacLennan, with Peter Nebel, Oh Dong-pil, and Bae Kui-ja.
Geum River, November 16
The Baikal Teal are building in numbers at the Geum River - perhaps 5,000 there.
3 Peregrine Falcon also seen there.
At the mouth of the Man-gyeong River we saw 20 or more Eurasian Spoonbills, large numbers of Eurasian Curlews and the birds of the day turned out to be three Hooded Cranes: two adults and one juvenile, so perhaps a family group. (Mr. Bae believes there has been no record of that species at this site.)
Bird News from Nial Moores
Geocheonnam Lake, Haenam, November 16
Despite very significant disturbance by people coming to view "the migratory birds", at least 200,000 Baikal Teal watched excellently...other birds of note included a pre-roost congregation of 28 Hen and 2 Eastern Marsh Harriers, 2 Merlin, a late Barn Swallow, and most unexpectedly single Chinese Grey Shrike and Black Stork - two species that have attempted wintering in the area in previous years.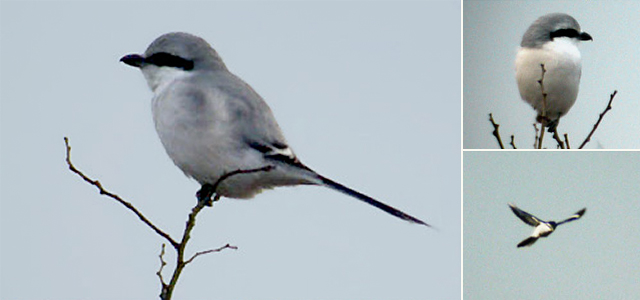 Chinese Grey Shrike, © Nial Moores.
Bird News from Nial Moores
Geum River, Gunsan, November 15
Only 7 Baikal Teal near the roosting island at Napo Ri - with the fields and surrounding area looking very disturbed and suporting rather few waterbirds.
Yeongam Lake, Mokpo:
Baikal Teal ca 60,000 in the evening.
Bird News from Nial Moores with the BBC team
Seosan Lake A and B, November 14
Only ca 60,000 - 70,000 Baikal Teal, with 20,000 -30,000 of these watched departing south in the late evening.
On Lake B, probably 500 Baikal Teal present.
Highlights on Lake A included a Lesser White-fronted Goose and at least 46 (and possibly as many as ca 85) Hooded Crane in the evening; in addition an immature Peregrine was watched harrasssing the teal, before heading over the rice-fields where it swooped unsuccessfully - flushing an Amur Leopard Cat!
Bird News from Nial Moores with the BBC team (BBC team joined by NHK's senior cameraman, MUTA Toshihiro)
Seosan Lake A, November 13
Slightly reduced numbers of Baikal Teal, with probably ca 250,000 present. Many (>100,000) watched flying south(east) in the evening.
Bird News from Nial Moores with the BBC team
Seosan Lake A, November 12
At least 270,000 (and possibly as many as ca 330,000) Baikal Teal present, with many calling a peculiar low buzzing "ak-ak-ak".
Bird News from Nial Moores with the BBC team
Seosan, November 6 - 7
The BBC are in South Korea to film the Baikal Teals at Seosan...and unfortunately so far the weather has not been helpful: no aerial ballet and grey, overcast skiesr.
The birding has been good though, and highlights include 1 adult and 1 immature Snow Goose, 1 Swan Goose, ca 60 White Spoonbill (were 81 on 4th), 42 Hooded Crane (on 6th; fewer on 7th), White-tailed Eagle and 3 Oriental White Stork (the last record from Kim Hyun-tae).
Very rough counts of the Baikals give estimates of ca 200,000 on 6th, and perhaps 150,000 on 7th.
Bird News from Nial Moores with Dennis Buss
Upo Ramsar Site, November 4
No sign of the Oriental White Stork which had been present and well-watched for several days (last seen well on November 3rd). Best therefore were ca 500 Baikal Teal, 6 Tundra Swan (the personal first of the autumn), 6 Red Crossbill, 5-6 Black-winged Stilt still, and a wide range of commoner winter passerines (including Dusky Thrush, Brambling, Meadow, Yellow-throated and Rustic Buntings and Siberian Accentor).
Bird News from Park Jong Gil
Hong Island, November 3
More proof of the late migration through the area, comes with Korea's first White-capped Water Redstart Chaimarrornis leucocephalus found by Park Jong Gil on Hong Island.
This comes after Jong Gil "shared" the first Korean records of Scaly-breasted Munia on the same island just last week!

White-capped Water Redstart, Hong Island, © PARK Jong Gil.
The White-capped Water Redstart is found from Central Asia, Afghanistan, and the entire Indian subcontinent, across through much of China (except the far north). Mainly resident along rocky rivers and streams, the species breeds up to 4000m in places, moving lower in the winter.
Bird News from Nial Moores with Dennis Buss
Seosan, Lake A, November 3
The passage of a dry cold front saw temperatures drop from a very mild 15C overnight (perhaps encouraging an extremely late Brown Hawk Owl watched next to our motel to remain into November) down to a midday temperature of ca 11C, with strong northwesterlies.
Massive numbers of wildfowl included ca 180,000 Baikal Teal, 10,000-15,000 Northern Pintail, 15,000+ Thick-billed Bean, ca 8,000 Greater White-fronted Geese (including one with a green neck collar - perhaps with E3 written on it?) and an immature Snow Goose.
Further highlights included 28 Hooded Crane (including one pale, apparent hybrid), 1-2 White-tailed Eagle, a Rough-legged Buzzard (scarce in South Korea in recent winters), and perhaps best of all a Chinese Grey Shrike, watched hunting along a reed-filled channel.
Bird News from Jake Mac Lennan, Peter Nebel and James Levenson
Okku and Geum River, November 2
On telephone lines and rice fields near Okku a mixed group of Corvids included several Daurian Jackdaws amongst the Rooks and Carrion Crows.
Later at the Geum River estuary a few dozen Northern Lapwings were spotted amongst the geese and ducks.
Not many rarities but a good daylist total of 63 between the three of us.
Bird News from Nial Moores with Dennis Buss
Socheong, am; Ferry back to Incheon, pm, November 2
Continuing fog and moderate winds for much of the morning seemed to keep most migrants in cover. In the east of the island, however, 60 Dusky/Naumanns were joined by 2 Pale Thrushes, while there were no less than 3 flycatcher species logged.Most predictable were 2 Mugimaki, while a first year male Blue-and-White Flycatcher can be considered an extremely late record. Best, however, was a large and heavy all-blue flycatcher with solidly black lores, hawking and picking insects from exposed perches along the edge of a belt of pine trees. Seen only from behind by NM (with good views of the head), this presumed Verditer Flycatcher Eumyias thalassina was very well seen by DB as it perched on an exposed branch. DB also noted a lack of contrast between the upper and underparts (with, for example no obviously paler throat or "belly"), and surprisingly a lack of tourquoise in the plumage, though with some iridescence on the closed wing and tail. An apparently similar flycatcher, also considered a Verditer, was found and photographed (distantly) on Gageo Island on October 12th, 2001, by PARK Jin Young, KIM Su-Kyung and CHOI Yu-Seong (with a further sighting on October 17th, 2001: PJY pes comm.), making the Socheong bird presumably the second record of the species for the Korean peninsula.
The ferry journey was hampered by poor visibility, but again 6 Pomarine and 1, probably 2, South Polar Skuas were logged by NM, DB and NAM Ki Baek and CHOI Yu-Seong, along with a single Slender-billed/Short-tailed and ca 10 Streaked Shearwaters.
Bird News from Nial Moores with Dennis Buss
Incheon-Socheong, November 1
From the ferry, 6 Pomarine Skua, 210 Pacific Black-legged Kittiwake, and 2 Ancient Murrelet. On Socheong, in poor visibility (with mist and fog patches) no sign of the male Amur Falcon seen on November 1st by NAM Ki Baek and CHOI Yu-Seong, and rather few other migrants, with best being a late Rufous-tailed Robin, 20+ Daurian Redstart, 10+ Dusky Warbler and a single Long-tailed Rosefinch.
Copyright 2002 - present
http://www.birdskorea.org
all rights reserved
Birds Korea 1108 Ho, 3 Dong, Samick Tower Apt., 148-22, Namcheon-Dong, Su-Young-Gu
Busan, 618-762 Republic of Korea