Birds Korea's Bird News August 2003
August
Typically hot and humid (with day maxima often around 30°C until at least mid-month), with occasional heavy rains and strong winds, associated either with southern typhoons or caused by the mix of humidity and heat.
Chinese Egrets become widespread along the west coast. Shorebirds (including a very small number of Spoon-billed Sandpiper) begin to build up at many of the remaining best sites. Numbers tend to be rather lower than in spring, though Kentish Plover and Terek Sandpiper often number in the thousands in the southwest.
Parties of Black-naped Orioles, the appearance of returning leaf warblers (especially Eastern-crowned and Arctic Warblers) and small numbers of Brown Shrike and Yellow-rumped and Brown Flycatchers by mid-month also hint at the start of passerine migration, while Eurasian Hobby and Chinese Sparrowhawks appear to be on the move by the month's end. At the very end of August, the first migrant Pechora Pipit (probably of the subspecies menzbieri) and migrant buntings also appear on offshore islands especially.
Seabirds have provided most interest in recent Augusts, with three records of Sooty Tern, Korea's first Sooty Shearwaters (in 2002), and a Lesser Frigatebird overflying Socheong and Korea's first Aleutian Tern seen from the Socheong ferry in 2004, with another in 2006.
(The following records are a compilation of our own sightings and records sent in by other observers. As well as being posted on the Birds Korea website(s), selected records are also forwarded to other Korean-language birding websites; records of threatened species are arranged and forwarded to Birdlife International and national authorities when appropriate; flag images and records are passed to bodies responsible for their coordination throughout the flyway; and all records sent to us are used to compile annual reports and to support the evolving understanding of the status of many of Korea's birds.)
Bird news from Kim Dong Won
Gyeongpo Lake (Lagoon) in Gangneung City, August 31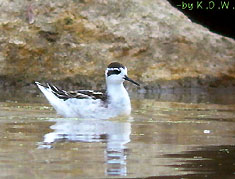 Red-necked Phalarope, Gangneung
Photo © Kim Dong Won.
2 Red-necked Phalarope.
Bird News from Nial Moores guiding Tim Edelsten
Eocheong am; Okku, Saemangeum pm, August 30
Despite prolonged spells of heavy rain, 77 species logged, including several "most wanteds".
On Eocheong, significant increases in quite a few species - with for example at least 30 Chinese Grosbeak, a new peak for the island - and several early autumn arrivals, including the first Chestnut Bunting, Siberian Thrush, and Dark-sided Flycatcher. Other species of extra interest included the Chinese Egret and Black-winged Stilt still, 3-5 Asian House Martin, and the day's biggest surprise - a juvenile Long-billed Plover, feeding down to several meters on the island's only muddy puddle. Long-billed Plover's status in South Korea remains a little unclear. Described by Lee, Koo & Park as an uncommon resident, it is mapped as a winter visitor in the same field guide, while observations suggests it is more likely a fairly widespread bird of shingley rivers throughout the country, commonest in the SE, with odd birds turning up well away from typical habitat on migration, particularly in the autumn.
From the ferry, the surprisingly low total of only 6 Streaked Shearwater (happily with one flying alongside the ferry for almost a minute at 5 m range), was more than compensated for by single Pomarine and Arctic Skua, 62+ Common Tern, 92 Red-necked Phalarope and a new high count of ca 6 Swinhoe's Storm Petrel.
At Okku, 1 juvenile Whiskered Tern, but few shorebirds (probably only 8 000), which local observers suggest is due to the impacts of the offshore reclamation dyke. Amongst the more numerous ca 2 000 Bar-tailed Godwit and 2 500 Great Knot, several 'scarce' species, including a single Pectoral Sandpiper, ca 3 Greater Sand Plover, 35+ Broad-billed Sandpiper and best of all 1-3 Spoon-billed Sandpipers.
Bird News from Nial Moores guiding Tim Edelsten
Eocheong Island, August 29
The ferry journey out from Gunsan produced ca 50 Streaked Shearwater (some giving really excellent views) and much less expected a similar number of Common Tern.
On the island, small numbers of the typical early autumn migrants, including 1 Forest Wagtail, 4+ Chinese Grosbeak, 6 White-throated Needletails, ca 4 Yellow-rumped, 3 Brown and 1 Grey-Streaked Flycatcher, 1 Eastern Crowned, ca 6-8 Arctic and 10+ Pale-legged(/Sakhalin) Leaf Warblers. Highlights included single Long-toed Stint, Latham's Snipe and (most surprisingly) Black-winged Stilt. Also, 1 Osprey, and a single adult Chinese Egret, moulting out of breeding plumage.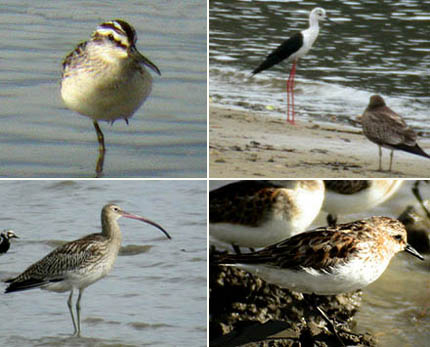 Autumn Shorebirds. Clockwise from top left:
Broad-billed Sandpiper, Black-winged Stilt, Red-necked Stint, orientalis Curlew.
All photos © Nial Moores
Bird News from Nial Moores and Tim Edelsten
Okku, Saemangeum, August 28 pm
With the boat to Eocheong cancelled due to wind we went instead to Okku (even though tides are not really high until the 30th).
29 species of shorebird observed, some excellently well. Overall numbers rather small, with most numerous being ca 4,500 Great Knot (that were repeatedly chased by 4 Northern Hobby), and ca 200 each of Bar-tailed Godwitand Red-necked Stint. Of most interest perhaps were 2 osculans Oystercatcher, 2 Sanderling (very unusual at this site), 20 Pacific Golden Plover and 15+ Long-toed Stint (typically a scarce migrant through South Korea in autumn), along with the following 3 leg-flagged birds (all coolpixed):
Great Knot: 1 yellow flag upper right (flagged in NW Australia)
Great Knot: 1 green flag, upper right
Bar-tailed Godwit (male): 1 yellow flag upper right (flagged in NW Australia)
Bird News from Nial Moores and Tim Edelsten
Geum Estuary, August 27 pm
In heavy rain showers, reasonable views of a fairly wide range of shorebirds at the Geum barrage - including ca 350 Black-tailed Godwit and 125 Common Greenshank. Along with ca 400 Black-tailed Gull, ca 25 presumed Mongolian Gull(including several first winters, already showing pale heads and underparts, and well-marked "primary blazes"). The only non-waterbird migrants of note were 2 simillimaYellow Wagtail and 1 Northern Hobby.
From Choi Soon-Kyoo's website: On August 26th in Gangneung, north-east South Korea, an image of 1 Grey-tailed Tattler with a yellow leg flag.
Bird News from Kashiwagi Minoru of JAWAN
August 24
Kashiwagi Minoru of JAWAN today returned from another banding expedition to the Chukchi Peninsula - this time the southern coast (see Wetland01 for details of an earlier expedition). KASHIWAGI San said that the team had managed to band about 100 Spoon-billed Sandpiper this summer - c 55 of which were adults - as well as c 50 Dunlin. We will post more details in the near future.
Bird News from Nial Moores
Nakdong Estuary, Busan, August 14
Extremely poor. Very few birds along the highly disturbed eastern flank. Best were a single Black Kite, and the first Eurasian Curlew of the autumn, on the Nakdong (ca 5) in with ca 10 Far Eastern Curlew, and ca 15 Grey Plover. No hirundines seen at all, and very few gulls - though one adult type Mongolian/Vega (identification of adults/near-adults appears to be very difficult out of the mid-winter period).
Bird News from Nial Moores and Kim Su-Kyung
Taejongdae, Busan, August 11
Very few migrants indeed, with only 2 Black Kite, and reasonably numerous (presumed local-breeding) Pale Thrush, Japanese White-eye and Yellow-throated Bunting. On the sea, a lone Little Egret south and at least 70 Streaked Shearwater feeding well offshore.
Bird News from Nial Moores
Nakdong Estuary, Busan, August 4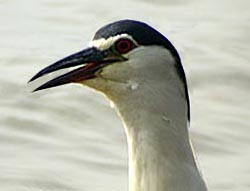 Black-crowned Night Heron
Photo © Nial Moores
Ringed/flagged Grey-tailed Tattler
Photo © Nial Moores
High temperatures (with a maximum of ca 31C on the coast) set off late afternoon thunderstorms, limiting time in the field.
Still fairly quiet species-wise along the heavily disturbed eastern flank of the estuary, but numbers of several commoner species had increased significantly compared with a week before. Most noteworthy was a Grey-tailed Tattler (out of 15+ present) with a yellow leg-flag (banded in Northwest Australia).
Other shorebirds included ca 5 Common Greenshank and ca 30 Far Eastern Curlew. Spot-billed/Yellow-nibbed Duck had also increased to 80, while egrets were also more numerous - with at least 100 Great (White) Egret counted in one scan, along with lesser numbers of Grey Heron and Black-crowned Night Heron. Raptors still included a single Osprey and 5+ Black Kite.
(The following was received from Dr Clive Minton of the Australasian Waders Study Group, where all flag records should be sent:
A Grey-tailed Tattler Heteroscelus brevipes was sighted by Nial Moores at:
Nakdong Estuary, Republic of Korea (South Korea) 35° 5' 0" N, 128° 50' 0" E on 4/08/03 with flag(s) as follows:
LEFT leg: nothing/unknown on tibia (upper) above metal band on tarsus, RIGHT leg: yellow flag on tibia (upper) above nothing/unknown on tarsus
This bird was flagged in North-west Australia, approximate co-ordinates 19deg 0min S, 122deg 0min E, which uses the flag combination Yellow, sometime since August 1992.
The resighting was a distance of approximately 6058 km, with a bearing of 7 degrees, from the marking location.