Birds Korea's Bird News January 2003
(The following records are a compilation of our own sightings and records sent in by other observers. As well as being posted on the Birds Korea website(s), selected records are also forwarded to other Korean-language birding websites; records of threatened species are arranged and forwarded to Birdlife International and national authorities when appropriate; flag images and records are passed to bodies responsible for their coordination throughout the flyway; and all records sent to us are used to compile annual reports and to support the evolving understanding of the status of many of Korea's birds.)
Bird News
Gwangneung, January 31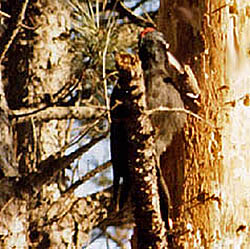 Black Woodpecker, ©Tim Allison.
4 Black Woodpeckers; 7 White-backed Woodpeckers; 3 Solitary Snipe; 2 Cinereous Vultures; 2 Brown Dippers; 1 Pale Thrush; 11 Pallas' Rosefinches, including 8 adult males; 2 Hawfinches.
Bird News from Jos Henrichs
Gumi, January 31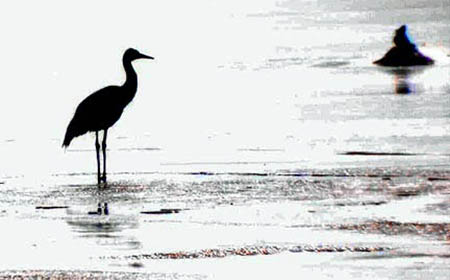 White-naped Crane, Gumi , © Jos HENRICHS.
Near the Soongseon bridge (Haepyeong-ri) in Gumi a large pipeline construction is being built across the Naktong-gang. Before this construction started at the end of November, many birds could be seen from the Pumpstation near the river, especially Greater White fronted Geese (>1000), Bean Geese, Spot-billed Ducks, Mallards etc.
On January 31th however (the day before Lunar New Year), it was very quietand again 500+ probably White fronted Geese were seen and one White-naped Crane (at a distance of about 900m).
Bird News from Nial Moores with Bill Boyle, Tim Allison & Lee In-Gyu
Incheon/Seoul, January 25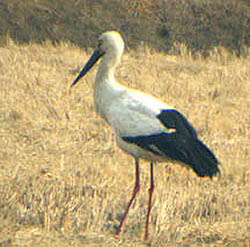 Oriental White Stork, Gangwha.
Photo © Nial Moores.
One day guided birding, starting at Song Do, then Ganghwa and finishing at the Han-Imjin river. Along with typically large numbers of geese (including small numbers of Eastern Taiga Beans in amongst several thousand Thick-billed Beans), and a scattering of winter passerines containing Siberian Accentor and ca 10 Naumann's Thrush, were a range of highlights...these included still 1 Chinese Nuthatch (seen briefly, 2+ present on 25th) and ca 50 Saunders's Gulls at Song Do; 350 Ruddy Shelduck, 2 Red-crowned Crane, ca 4 'white-headed' Long-tailed Tit and a highly unseasonal Chinese Grosbeak at Ganghwa; ca 70 Daurian Jackdaw at Gimpo; 25 Cinereous Vulture and at least 9 White-tailed Eagle on the Han-Imjin.
Most unexpected of all, however, was an Oriental White Stork seen near the road in rice-fields near Ganghwa town.
Bird News from Tim Allison
Imjingak, January 19
Imjingak: 4,000+ White-fronted Geese, 200+ serrirostris Bean Geese, 38 Swan Geese, 1 Snow Goose. Many geese went unidentified because they were badly backlit after the fog cleared. Also 16 Cinereous Vultures, 6 Common Buzzards, 3 Kestrels, 1 Peregrine, 1 Black Kite.
En route: 17 Meadow Buntings near Daegok Sta. and 30+ near Paju Sta., with smaller numbers of Yellow-throated Bunting present at both locations and a couple of Rustic Buntings at Paju.
14 Great Egrets near Paju Sta. (unusual in the Northwest).
1 Tawny Owl between Paju and Munsan Stations (it flew out of a woodlot and alongside the train for several seconds, giving a nice view), and 3 Short-eared Owls in various ricefields between Paju and Daegok.
Bird News from Nial Moores and Tim Allison
Song Do, January 18
Both Nial and Tim have been looking at "Large White-headed Gulls", particularly mongolicus types, for an article we'll be posting in the next week or so.
Highlights otherwise included 160 Saunders' Gulls and two Chinese Nuthatch still.
Bird News from Jorongi
Joonam reservoir, January 17
1 White tailed Eagle, 1 Great spotted Eagle, Red crested Pochard, 1800 Whooper Swan, 1 Snow Goose with the Bean Geese flock.
Bird News from Kim Woo Soo
Pohang in East Sea, January 17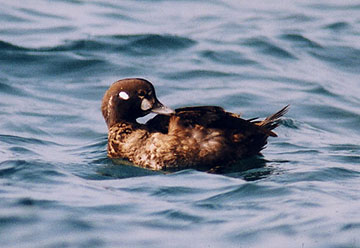 Female Harlequin Duck,Pohang, © Kim Woo Soo.
Several Harlequin Ducks and 1 Arctic Diver.
Bird News from Choi Jong Soo
Joonam, January 12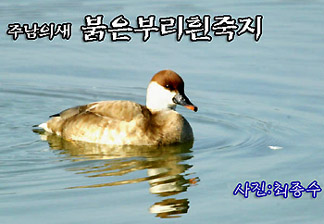 Female Red-crested Pochard, Joonam.
Photo © Choi Jong Soo.
The wintering female Red-crested Pochard (Korea's fifth or sixth record, first found last year on Nov 30th) was showing well, as was a Snow Goose.
Bird News from Tim Allison
Seoul, January 11
Went to Suraksan in NE Seoul this morning, hoping for Pallas' Rosefinch and Solitary Snipe. The mid-sized stream, which runs quickly in the summer, was frozen solid with people walking on it. No snipe.
There were, however, about 40-50 Pallas' Rosefinches in the area. Also potentially of note were 2 Eurasian Nuthatches, 5 Naumann's, and 1 Dusky Thrush. Numbers of Long-tailed Tits present, but unfortunately none of the caudatus ssp.
Bird News from Nial Moores
Nakdong Estuary and neighboring woodland, January 10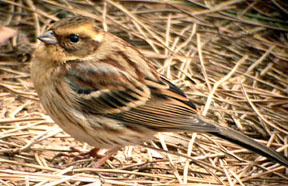 Yellow-throated Bunting, Busan.
Photo © Nial Moores
Heavy mist and overcast skies meant very poor visibility over the estuary, so only 3 Relict Gull could be found, and few raptors showed, best being 1 White-tailed Eagle, 1 Eastern Marsh Harrier, ca 4 Osprey and 60 Black Kite in the evening (heading towards Taejongdae). Highlight was 10+ Swan Goose still, along with ca 75+ Smew (unusual in the estuary). In one area of woodland 2 Red-flanked Bluetail and ca 5 Pale Thrush were both as expected, but a mixed flock of buntings contained ca 30 Yellow-throated, 2+ personata Black-faced, 3+ Grey Bunting and best of all at least one and possibly up to 3 Tristram's Bunting: possibly the first winter record of the species in Korea.
Bird News from Kim Hyun Tae
Seosan, January 5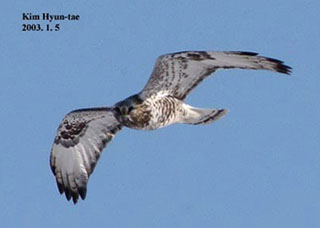 Rough-legged Buzzard, Seosan, © Kim Hyun tae.
1 Rough legged Buzzard.
Bird News from Kim Su Kyung
Woopo Ramsar Wetland, January 4
In freezing conditions most of the wetland had frozen over. Highlights included 1 Oriental White Stork and 1,800 Taiga Bean Geese, but the White Spoonbills appeared to have left.
Bird News from Choi Soon Kyoo
Yangyang, Namdae River, January 3
A number of Steller's Sea Eagle have been giving remarkably good views today. For more superb photographs go to Birding News of Gangnung, Choi Soon Kyoo's excellent website.
Near adult Steller's Sea Eagle, Namdae River, Photo © Choi Soon Kyoo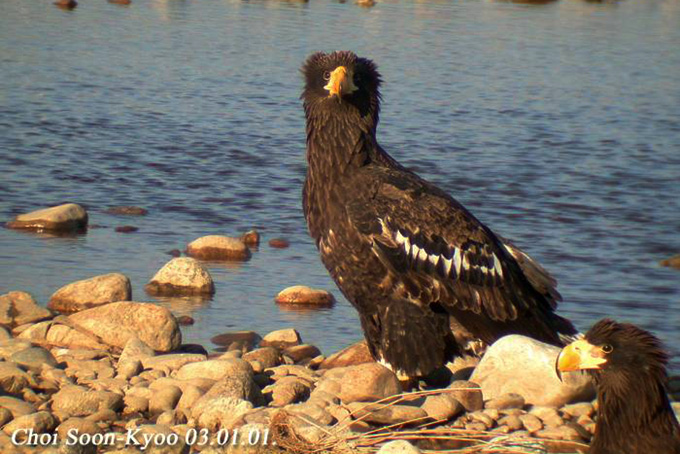 Immature Steller's Sea Eagle, Namdae River, Photo © Choi Soon Kyoo
Bird News from Charles Hesse
Seosan, January 2
As much of the area was frozen and the best areas difficult to find, ducks numbered only in the thousands: of more interest were a group of 5-6 Long-eared Owls flushed from a roost in some lakeside pine trees, and a Zitting Cisticola - scarce in winter along the south coast, it's very unusual so far north.
Bird News from Charles Hesse
Geum Estuary, January 2
In fog and heavy snow, few birds found: best were two highly unseasonal Far Eastern Curlews (probably only a few singles over-winter nationally most years).
Bird News from Charles Hesse
Han-Imjin, Imjingak, January 1
5 White-naped Cranes in the distance and tens of Cinereous Vultures. Also Upland Buzzard.
The highlight though was incredible numbers of geese (seemingly in the tens of thousands) flying right overhead. These appeared to be mainly Greater White-fronted.
Bird News from Choi Soon Kyoo
Gangwon Province, January 1
A high count of 41 Mute Swan at Hwajin Po. There is very little data on the endangered east Asian population of Mute Swan, and many overseas visitors may not appreciate how scarce they are: we would welcome any further records.
News from Choi Soon Kyoo
Namdae river in Yangyang, January 1
6 Steller's Sea Eagle, 2 White tailed Eagle, and 1 Cinereous Vulture.
Bird News from Tim Allison
Joonam, January 1
Highlights for the day were 7 White-naped Cranes and the female Red-crested Pochard (5th or 6th record for Korea). Also of note were 8 White Spoonbills, an Olive-backed Pipit, and 7 Baikal Teal.
Bird News from Kim Hyun Tae
Seosan, January 1
Northern Goshawk, Seosan.
Photo © Kim Hyun Tae.
A great raptor day! 7 White-tailed Eagle, 11 Common Buzzard, 1 Upland Buzzard, 1 Northern Sparrowhawk, 1 Northern Goshawk, 1 Merlin, and 1 Saker Falcon.
Other highlights on Kim Hyun Tae's website were a Lesser White-fronted Goose, 32 Hooded Crane, plus a juv White-tailed Eagle photographed by KWAK Ho-Kyong.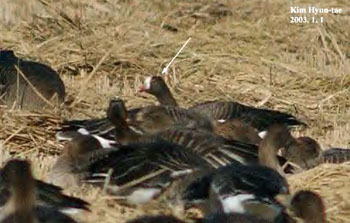 Lesser Whitefront, Seosan, © Kim Hyun Tae.
Copyright 2002 - present
http://www.birdskorea.org
all rights reserved
Birds Korea 1108 Ho, 3 Dong, Samick Tower Apt., 148-22, Namcheon-Dong, Su-Young-Gu
Busan, 618-762 Republic of Korea