Birds Korea Update for Members: January 2009
This Update covers January 2009. It is in three parts:
1. Conservation News
2009 has started with increasing signs of economic slowdown, matched by increased efforts to boost the economy through easing of property sale restrictions. As reported by domestic media, at present government permission is needed to buy or sell 19.1 percent of all the land in the country. With a change in regulations in January, this restricted area will be reduced to 8.9 percent, allowing more rapid development of areas which otherwise would have to be first used for agriculture (January 24, JoongAng Daily).
There is also a massive push for increased large-scale infrastructure development, which at the national level disproportionately affect wetlands, including several wetlands that are known to be internationally important based on Ramsar criteria.
One such project aims to "refurbish" the nation's four largest rivers. According to an interview with the Minister of Land, Transport and Maritime Affairs published in the JoongAng Daily on January 24th, "The master plan on the renovation of the four rivers (Han, Nakdong, Geum and Yeongsan) will be arranged by May and full construction will start between August and September. We are planning on adding the Seomjin River to the already confirmed refurbishment of the four rivers."
The government hopes that the project will help the country to overcome the economic crisis and serve as a major economic boost for future growth, with 190,000 jobs to be created via the river development program.
Specific projects listed in earlier announcements include the dredging of rivers; dams; and in the case of the Seomjin River, which flows into Gwangyang Bay, new bicycle paths and an "international walking path."
An official was quoted in the same article: "Since the natural riverside scenery is outstanding, it could become a hot spot for walks once lodging facilities are built nearby."
As the river lacks an estuarine barrage, the ministry will also look into ways to reduce "the problem of seawater entering the lower end of the river".
The Seomjin Estuary, part of Gwangyang Bay, has until recently supported internationally important concentrations of the East Asian population of Brant Goose Branta bernicla nigricans (the only such wetland nationwide) and of Saunders's Gull Larus saundersi.
According to the Korea Times, the 14-member Saemangeum committee also met this month, and agreed to frontload the budget to complete the Saemangeum seawall construction project as early as possible, and to hold an investor relations session in March to draw investment from local and foreign institutions. The reclamation project is still seen as a future home of "developers of green growth and low carbon technology, the country's new economic growth engines", a top official stated, helping to fullfil the plan to make the area the "Dubai of Northeast Asia".
Considering South Korea's hosting of the Ramsar Convention conference in October-November 2008 (demonstrating the nation's full commitment to the Convention) it is sincerely hoped that Ramsar guidelines and Resolutions will help to shape all of these ongoing development proposals, and that Ramsar's obligations will be accepted as legally-binding by domestic courts.
While the Ramsar convention is often considered as "soft law", a recent court case in the Netherlands demonstrates that "Ramsar Soft law is Not Soft Law At All" (J. Verschuuren, Tilburg University, Centre for Legislative Studies). A top legislative body in the Netherlands advised that resolutions, decisions and guidelines accepted unanimously by the Conference of Parties to the Convention, a body established by the Convention and which includes representation by the Kingdom of the Netherlands, should be considered part of the nation's obligations under the Convention.
As the Ramsar convention calls for the wise use of all wetlands within the territories of contracting parties, it is apparent that these obligations have legal weight and need to be considered in all projects that target wetlands – not only Ramsar sites and other wetlands that are defined as internationally important by Ramsar convention criteria.
For a fuller description of this extremely important case (in English) please see:
http://www.ramsar.org/wn/w.n.bonaire_2007.htm
(Finally, for a further very useful collection of media-URLs on development-related issues in the Republic of Korea and China, please go to the independent blog:
http://factplusfancy.com/pbw/ys/11/YSR_Infrastructure_Spending_News).
2. Birds Korea News
Work in January has included continuation of the survey of shorebirds and Saunders's Gull Larus saundersi along the west coast; work on a Shorebird Education book; behind-the-scenes refinement of constitutional processes that shape Birds Korea and the decisions that we make as an organisation on behalf of our members; and an interview with the national JoongAng Daily newspaper on wetland conservation (Busan office, January 30th).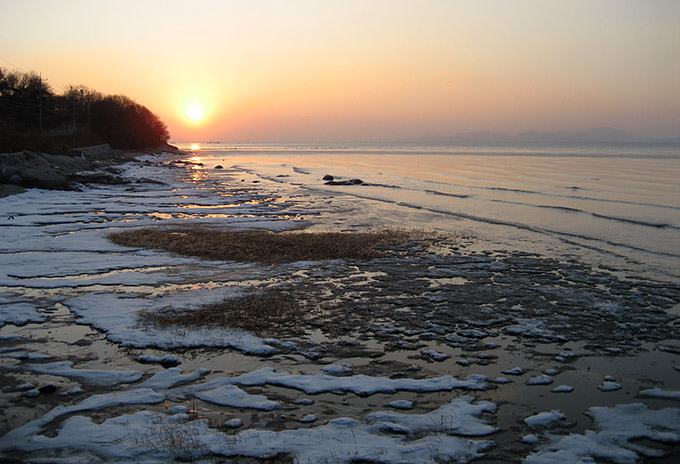 Frozen shoreline at Ganghwa Island, January 14, Photo © Kirsten Kraetzel
The shorebird and Saunders's Gull survey was enabled by the generous support and participation of a team of visiting birdwatchers from Germany, and was part of research conducted for Birds Korea and as part of doctoral research (Newcastle University, Australia). It covered shorebird sites of known importance from Haenam in the south to Ganghwa Island in the north. In often sub-zero conditions, counts were conducted by two teams over high tides at Haenam (December 29th), Aphae Island (December 29th), Hampyeong Bay and Baeksu (December 30th), Gomso Bay (January 2nd), Yubu Island (December 31st) and the Geum Estuary (January 1st), Cheonsu Bay (January 9th), Asan Bay and Namyang Bay (January 10th), Song Do (January 11th), Yeong Jong Island and Ganghwa Island (January 14th). Saemangeum, formerly the most important shorebird site nationwide in mid-winter, was excluded from the counts, as team size and time available were inadequate to cover the whole system now that it has such restricted tidal-flow. On December 31st, however, at Hwapo (Saemangeum) one area of tidal-flat still supported 150 Dunlin Calidris alpina and 37 Saunders's Gull, suggesting that Saemangeum for now likely remains important. While data are still being processed, the West Coast counts confirmed the importance of the Geum Estuary, which held 7473 shorebirds (4265 on Yubu Island, and the remainder at mainland sites), which was more than one third of all shorebirds recorded by this survey. In total (excluding Saemangeum) 1885 Saunders's Gulls were also recorded along the West Coast, but only one Relict Gull Larus relictus.
Several of the key shorebird sites held fewer shorebirds than in previous surveys, and significant degradation of habitat was evident, especially at Yeongjong Island. The major shorebird roost on the island, only a few kilometres from Incheon International Airport, is now surrounded by building activity, and no shorebirds were present at high tide. Construction of a new harbour and roads in the last remaining area of tidal-flat at Song Do is also ongoing, and clearly the conservation status of this internationally important site also remains very poor.
Green Growth? Tower blocks rise out of internationally important wetlands at Song Do, and construction overshadows
the main shorebird roost at Yeongjong, Photo © Kirsten Kraetzel
Behind-the-scenes work has also continued with the aim of refining the structures and the constitution of Birds Korea. At present, Birds Korea has 10 (or 11) Vote-holders, and is working hard to establish working teams, including a formal Education Team. Following the publication of our "Healthy Wetlands, Healthy People" (an English-language environmental education textbook in late 2008), we are now aiming to produce further publications, and to build a pool of educators committed to conservation through education and awareness-raising.
In February, Birds Korea will welcome Ms. Park Chusong as a part-time staff, responsible for Finances and Administration: welcome and many thanks!
Birds Korea's work will also include a meeting in Busan with a team of visiting ornithologists from Germany organised by the Hanns Seidel Foundation (February 1st), the completion of a Report on the Mokpo Namhang Urban Wetland for the UNDP-GEF YSLME project and a meeting in Mokpo (February 14th and 15th); and ongoing revision to the Birds Korea Checklist (with the aim of producing a revised version of the Checklist in March).
Research will also begin on Black Woodpigeon Columba janthina in the southwest, as part of our aim to identify avian biodiversity conservation priorities in the South Korean part of the Yellow Sea (or West Sea).
With our members' support, research throughout 2009 and 2010 on seabirds and on breeding species (including Black Woodpigeon and Styan's Grasshopper Warbler Locustella pleskei) will enable us to contribute to the better identification and delineation of Important Bird Areas, and also to publish a report on "The Conservation of Avian Biodiversity in the Republic of Korea". This we aim to present online, and also in published form to delegates and NGOs attending the Tenth Conference of the Convention on Biological Diversity, in Japan (October 2010).
3. Exceptional Bird Records
The excellent finish to 2008, with a Lesser Black-backed Gull Larus fuscus found and photographed in the Geum Estuary on December 31st, was more than matched by January 2009, a month with two different King Eider Somateria spectabilis, Korea's second Eurasian Redwing Turdus iliacus (and the first to be photographed), and the nation's first ever "twitchable" flock of Asian Rosy-finch Leucosticte arctoa.
Selected Highlights include:
Red-crested Pochard netta rufina V3 (So)
Two females were found at Shiwha lake on January by Park Heung-Sik, and seen by multiple observers thereafter. Both were still present at least until January 25th (Park Heung-Sik).
http://www.kwbs.or.kr/bbs/board.php?bo_table=search&wr_id=3466&page=2
King Eider Somateria spectabilis
First Record
The first record for Korea was a female found and photographed by Kim Seok-Min at Ayajin Port (Gangwon Province) on January 11
th
. This individual was then re-found by members of the KWBS further north at Geojin Harbor, being last seen (and photographed) alive either by Tim Edelsten on January 19
th
or by a member of Birddb on 22
nd
. Unfortunately, this individual was later found dead in Geojin harbour by members of the KWBS at the beginning of February (
via
Dr. Shim Kyu-Sik). Extraordinarily, a male King Eider was also found and photographed during the same period near Uljin on 17
th
by Park Young-Ook. This bird moved between harbors, and was last reported on the border of Gangwon and Gyeongsangbuk Provinces on January 22
nd
, when windy weather likely disrupted the search for it.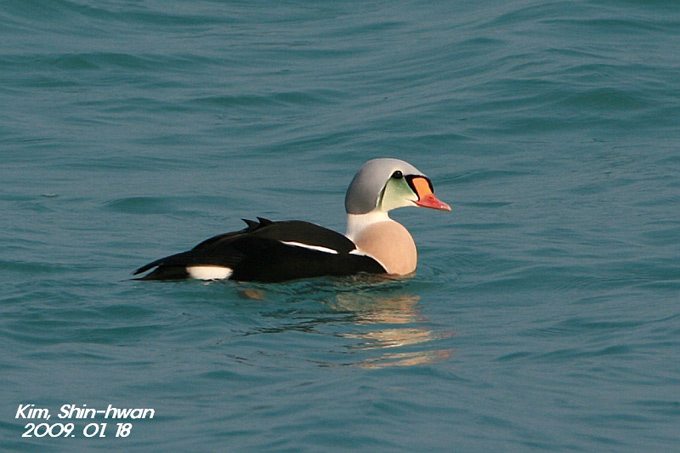 King Eider Somateria spectabilis, January 18th, near Uljin, Photo © Kim Shin-Hwan
Striated Heron Butorides striata S3
One photographed at Seogwipo, Jeju (Matthew Poll) on January 17th is the first fully documented mid-winter record in Korea of the species known to Birds Korea.
Eastern Imperial Eagle Aquila heliaca VU, V1
An immature bird was seen in Haenam Gun on January 2nd (Michael Rumberger), and a white-shouldered adult-type was photographed also in Haenam by Park, Jong-Gil on January 12th.
http://www.npmbc.or.kr/?z=bbs.birds&zz=view&bseq=1357&cseq=0&pn=1&stype=&sstr=&soption=&cate
Upland Buzzard Buteo hemilasius P4 W5
A dark morph photographed by Thomas and Jörg Langenberg at Oido on January 11th is the first record of this type in Korea known to Birds Korea.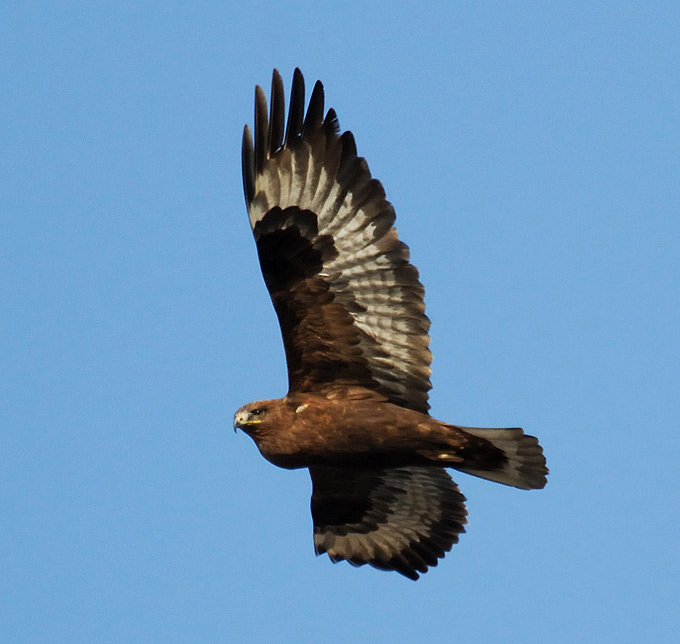 Dark Upland Buzzard Buteo hemilasius, January 11th, Oido, Photo © Thomas Langenberg
Little Ringed Plover Charadrius dubius P3 S3
Although regularly reported in winter, the vast majority of claims appear to be in error, due to confusion with Long-billed Plover Charadrius placidus. One found and photographed at Seongsan Po, Jeju, by Nial Moores Kirsten and Heiko Kraetzel, Soenke Tautz, Jörg and Thomas Langenberg, Johanna Rathgeber-Knan, and Armin Schneider on 14th and photographed on 14th and 16th (Thomas Langenberg) is the first fully-documented winter record of this species in Korea known to Birds Korea.
Iceland Gull Larus glaucoides V2 (So)
One first-winter at Yangyang seen, but not photographed, by Michael Rumberger, on January 7th.
Pallas's Gull Larus icthyaetus V2 (So)
One adult, of two seen on December 28th, was still present at Goheung, Jeollanam Province on January 3rd (Michael Rumberger) and another adult was photographed on January 18th by Kang Hee-Man, apparently on Jeju island.
http://birdsinjeju.com/bbs/data/birdgallery/hmkang_1232261864_01.jpg
Lesser Black-backed Gull Larus fuscus
First Record
Korea's first Lesser Black-backed Gull was found and poorly photographed at Yubu Island, Geum Estuary, on December 31
st
2008 by Nial Moores and Kirsten and Heiko Kraetzel, Soenke Tautz, Jörg and Thomas Langenberg, and Johanna Rathgeber-Knan.Details of the sighting (and more images) are in English at:
http://www.birdskorea.org/Birds/Significant_Records/Rarity_Reports/BK-RR-Baltic-Gull-2008-12.shtml
Thick-billed Murre Uria lomvia V3 (So)
Two, out of possibly 10 present, were photographed offshore in Gosong-Gun, Gangwon province by Park Jong-Gil on January 17th.
http://www.npmbc.or.kr/?z=bbs.birds&zz=view&bseq=1362&cseq=0&pn=1&stype=&sstr=&soption=&cate
Spectacled Guillemot Cepphus carbo DEC, R(m)5
The highest national count, at least in recent decades, was of 90+ seen from a fishing boat off Hwajin Po on January 5th by Kirsten and Heiko Kraetzel, Soenke Tautz, Jörg and Thomas Langenberg, Johanna Rathgeber-Knan, Armin Schneider and Nial Moores. A paper in the Auk (Neff, 1956) describes a large breeding colony in 1953 of this "abundant" species on Konghui and Nan Do Islands, some 150 km to the north at 40 Degrees North, now within the DPRK.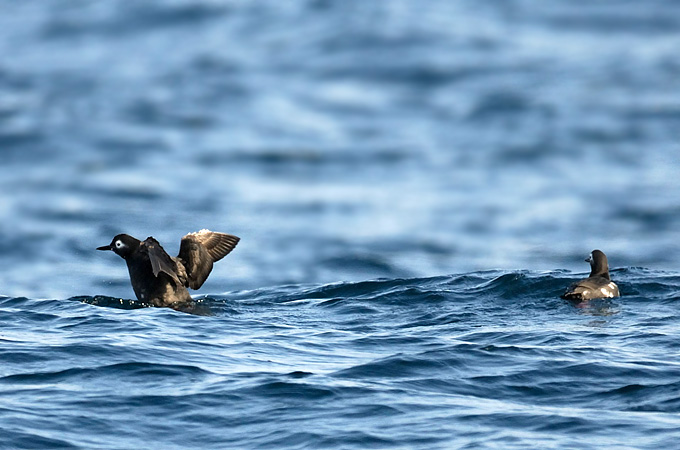 Spectacled Guillemot Cepphus carbo, January 5th, off Hwajin Po, Photo © Thomas Langenberg
Rhinoceros Auklet Cerorhinca monocerata W3, R(m)5
Very high counts within January 2009 included: 1450 in a single scan 10km south of Uljin, on January 4th (Kirsten and Heiko Kraetzel, Soenke Tautz, Jörg and Thomas Langenberg, Johanna Rathgeber-Knan, Armin Schneider and Nial Moores); an estimated 2500 off the Guryongpo Peninsula on January 6th (Michael Rumberger); and c. 1000 in a single scan off the Chukbyeon harbour headland on 20th (Nial Moores, Tim Edelsten and Park Meena). This last concentration included a smaller all-dark alcid, considered likely to have been a Crested Auklet Aethia cristatella (NM only).
Yellow-bellied Tit Periparus venustulus V3 (So)
One possible was seen at Dadapo, Busan, on January 3rd (Jörg Langenberg), and two males were seen at close range in the exact same location by Michael Rumberger on January 5th (description received). In January, details were received of the one on Yeongjong Island, reported in our last update: it was seen within 3 km of the airport, on November 26th, 2008 (Tim Appleton).
Eurasian Redwing Turdus iliacus Category 3: V3 (So)
One found and photographed by Nial Moores, Soenke Tautz, Kirsten and Heiko Kraetzel and Jörg Langenberg in Cheorwon County on January 8th is the second record for Korea, and the first supported by images. It could not be relocated subsequently.
The species will be moved from Category 3 to Category 1 of the Birds Korea checklist in the next update (February/March 2008).
Of interest, the Eurasian Redwing has been recorded 10 or more times to date in neighboring Japan, where coverage is more extensive, with records from Hokkaido in the north to Okinawa in the south (Umegaki Yusuke, in lit. January 2009).
Asian Rosyfinch Leucosticte arctoa WV2
A flock of 20 were found on Gumjeong Mountain, Busan, in late December, with 17 still there at least until January 21st (Tim Edelsten). This is apparently the first flock to have been seen by a large number of observers in Korea. There are less than 10 previous records in the southern provinces, with exceptional numbers last seen in 1998, when (according to Park 2002) there was one on Dobongsan, 6 on Bukhansan and 300 in Taebaek City, Gangwon Province.
Finally, a gentle reminder to all of our members (past and present) living in Korea. Birds Korea depends entirely on the support of our members and volunteers. Donations and domestic membership fees are vital to us! Please renew your membership (annual membership fee is only 30,000 Korean won; and life-time membership only 150,000 Korean won at this time), and help us to help the birds!
This update was prepared through the joint efforts of Nial Moores, Kim Sona, Andreas Kim, Park Meena and Tim Edelsten, with contributions by many members.
Birds Korea, January 31st, 2009.