Birds Korea Update for Members: January 2008
This Update covers December 10st - January 31st 2008. It is in three parts:
1. Conservation News
December and January have perhaps been two of the worst months for Korean conservation efforts to date.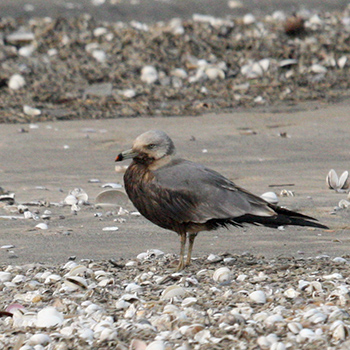 Black-tailed Gull Larus crassirostris Photo © Ju Yong-Ki
In December 2007, the nation's suffered its largest oil spill. A rapid assessment by Birds Korea of the impacts of this spill on wild birds on December 19th and 20th (see: BK-IN-Oilspill-2007.shtml) found 333 birds contaminated with oil, comprised of 13 species, with the vast majority (289) made up of a single species, Black-tailed Gull Larus crassirostris. The assessment concluded that probably" several thousand birds have so far been contaminated with oil". Efforts were then made in late December to raise funds for further coordinated monitoring, but these efforts failed, not helped it seems by the general impression that wildlife was generally unaffected, with the massive clean-up effort focused almost entirely on beach-cleaning and fisheries protection. During the course of January, however, oil slicks continued to move southwards along the west coast, with dead loons, grebes and murrelets washing up on beaches as far south as Shinan-Gun (in the far southwest of the peninsula, 250 km south of the spill-centre). An oiled Red-throated Loon Gavia stellata photographed nearby in downtown Mokpo in early February could also have been a victim of the same spill, or of presumably numerous other smaller spills responsible for oiled seabirds along the south and parts of the east coast during the same period. Although there has been no coordinated wildlife monitoring and assessment program put in place, it now appears likely that probably tens of thousands of birds will have been affected by this spill to date.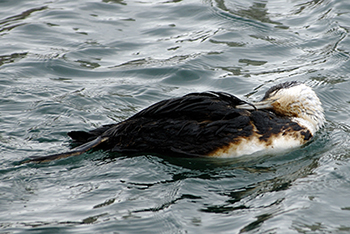 Red-throated Loon Gavia stellata Photo © Andreas Kim
Looking at examples of past and contemporary wildlife response in e.g. Japan, the United States of America and in Europe, it is clear that much greater resources are needed in Korea to reduce (or even to measure) the impacts of oil-spills on seabirds. It is extremely regrettable that to date there has still not been any significant public acknowledgement of the impacts of the December Taean oil spill on wildlife; and that there seems still to have been little progress in discussions towards establishing a permanent wildlife response unit in Korea, to respond to future spills and the constant threat of oil pollution in national waters.
Also of great concern during the period, has been both the promotion of the Grand Canal Scheme following the presidential election late in 2007, and also the push for rapid development of Saemangeum, following the passing of the Saemangeum Special Law in November.
A January 4th editorial in the English-language Korea Herald entitled "About the canals" describes the mega-development Canal Scheme as a "20 trillion won project to build 12 waterways across South Korea, and an additional five that would eventually be extended to North Korea… They would total 3,100 kilometers in length…(President-elect) Lee's transition scheme says that ground can be broken next month…Most people….will have to be given a compelling assurance that any environmental damage will be negligible".
While we await more details of this Grand Canal Plan, it is clear that the straightening and deepening of many of the nation's shallow rivers; the construction of high concrete banks; and the linking of the Han and Nakdong River basins to enable the construction of inland ports for shipping and recreation, will undoubtedly cause massive environmental damage. Birds Korea has no opinion on the economic merits or otherwise of this project. However, we believe that the project will:
Very likely cause the extinction of several historically isolated and endemic fish species;

Cause declines and possibly the loss of species like the Scaly-sided Merganser Mergus squamatus to South Korea;

Scaly-sided Merganser Mergus squamatus Photo © Robin Newlin

Cause the loss of many of the main shallow-river areas used by roosting Hooded Cranes Grus monacha during migration, as at Gumi (Nakdong River);

Further worsen environmental conditions in estuaries, leading to accelerated declines in a broad range of globally threatened bird species and in fisheries.
At the very least, it is already absolutely clear that environmental damage from this scheme will not be "negligible."
As further indication perhaps of the new economic mood sweeping South Korea, and certainly of the impacts of the new Special Laws (on Saemangeum and on the Coastal Zone, see: Rakhyun-Kim_South-Koreas-Special-Development-Laws-on-Saemangeum-and-The-Coastal-Zone.pdf) The Korea Times (January 24th) reported that: "President-elect Lee has plans to develop the Saemangeum area into an economic hub… Lee (has) approved the construction of a leisure complex in Saemangeum on the west coast. Under the plan, a high-rise landmark will be built on Sinsi Island, which would top the 468-meter-high Oriental Pearl Tower in Shanghai, China". In addition, it now appears likely that the Ministry of Maritimes Affairs and Fisheries, which has done great work during the past 10 years in trying to introduce sustainability into planning in the coastal zone, will soon be dissolved, as part of a government shake-up, designed, apparently, to reduce the size and increase the efficiency of national government.
Positive news, meanwhile, is limited to the creation of two domestic conservation alliances, one broad-based and working for wetlands conservation in preparation for the Ramsar COP, and the other, "The Tidal-flat Forum", focused on the conservation of inter-tidal wetlands.
2. Birds Korea News
In the period under review, highlights for Birds Korea have included:
The opening of the new-look and greatly-improved English-language website late in January, thanks to new manager Mr. Andreas Kim in Mokpo (Andreas.Kim@birdskorea.org). As can easily be seen, the new website contains many more menu items and makes much clearer our work ethic and focus: the conservation of birds and their habitats in Korea and the wider Yellow Sea Eco-region.

Initial discussions and background work on overhauling the Korean-language website, to expand the menu, improve on the management system, and make the website more attractive and useful for members now and into the future. More on this process in the next update.

Participation in international meetings in Thailand (Please see: BK-RA-Bangkok-2008-01.shtml) and by Nial Moores in Japan, who presented a key-note speech at the "International Forum on the Restoration of Sanbanze" on 29th January, at the invitation of Chiba Prefectural government. This meeting, attended by 400 people, offered a very useful opportunity to introduce Birds Korea and our work on wetlands conservation under the heading of "Birds, People and Wetlands Are One"; to explain and promote the Ramsar Convention and the upcoming Ramsar COP 10; to outline the Saemangeum Shorebird Monitoring Program, and threats to the Nakdong Estuary; and to build stronger ties with Japanese conservationists working for intertidal wetlands at Sanbanze (such as the indefatigable Mr. Tachibana Katuaki), and elsewhere, including representatives of NACS-J, WWF-Japan and especially the Japan Wetlands Action Network. On January 30th, a further, informal 2-hour meeting was also held in Tokyo with Ms Cristi Nozawa (Head of Asia Division, BirdLife International) and Mr. Richard Grimmett (Global Conservation Manager, BirdLife International), with a brief visit made to BirdLife Asia's new and improved office.

Increased Birds Korea activity in New Zealand. Following an article in "Korea Town", New Zealand's Korean-language newspaper by Mr. Rakhyun Kim (our Advisor on Environmental Law and Ramsar), a small meeting was held at The Miranda Naturalist's Trust Centre, North Island, in late January. By chance this meeting included Mr. Rakhyun Kim, several members of the local Korean community, staff from Miranda and local shorebird researchers (all of whom participated in the SSMP), and one of Birds Korea's International Advisors, Canadian-born Mr. Geoff Styles, due to return to Korea for one month of the 2008 SSMP!

Discussions on participation in the Tidal-flat Forum – a very important new initiative at the national level led by Professor Koh Chul-Hwan (one of the co-authors of the 2007 SSMP Report).
Media coverage in the period included articles in e.g. the Japanese-language editions of The Yomiuri, The Asahi and The Tokyo Newspapers, about the January 29th Sanbanze International Forum (in Chiba Prefecture, Japan), including specific coverage of the keynote speech on behalf of Birds Korea by the director, Nial Moores, in which an appeal was made to designate Sanbanze as a Ramsar site, not only for the benefit of birds but also for future human generations.
3. Exceptional Bird Records
Selected highlights for this period, December 10th-January 31st, have been arranged this month by Mr. Tim Edelsten (with accompanying codes based on the Birds Korea Checklist). Most records are supported by photographs (as indicated in the text). Regrettably, many potentially highly-significant records continue to be lost, because of the lack of detail on e.g. location and date.
Baikal Teal Anas formosa VU, W1 SV3
690,000 were counted at Gocheonnam Lake, Haenam-Gun, on January 7th (Nial Moores and Kim Su-Kyung). This is the highest single count known to Birds Korea of this still-increasing species.
Ferruginous Duck Aythya nyroca V3
A male photographed at Paldang Reservoir, Gyeongii Do, was present from at least January 29th (Kim Dong-Won), until at least early February (Robin Newlin).
Eastern Imperial Eagle Aquila heliaca VU, V1.
One reported on Jeju (in Hado-Ri area) for much of January via Jeff Hopkins, with one also photographed (by Lee Jae-Hung) mobbing a Cinereous Vulture Aegypius monachus presumably on the mainland, and posted on the Wild in Korea website on January 1st, apparently without location or date.
Ruff Philomachus pugnax P5
One photographed at Goheung Bay, on January 19th by Han Dong-Gwan (and posted on KWBS) is perhaps only the second over-wintering record known to Birds Korea.
Thick-billed Murre Uria lomvia V3 (So)
Two were photographed in flight by Park Jong-Gil on December 21st near Beka Do, Soseong Gun, Gangwon Do, with one other seen. One was seen off Hwajinpo on January 3rd (Robin, Heesun and Paul Newlin).
There are between three and four previous records, all since early 2006.
Common Murre Uria aalge DEC, V1
One was photographed in flight by Park Jong-Gil on December 21st off the Gangwon coast. One was seen off Hwajinpo, Gangwon Do, on January 3rd and 4th (Robin, Hee-Sun and Paul Newlin), and at least two were offshore between Hawjinpo and Yangyang, on January 23rd, (Nial Moores and Dominique Tavenon).
Spectacled Guillemot Cepphus carbo DEC, R(m)5
In January, two were off Hwajinpo on 3rd (Robin, Heesun and Paul Newlin), with 17 counted in one scan a little south of there on January 23rd (Nial Moores and Dominique Tavenon).
Long-billed Murrelet Brachyramphus perdix NT, V1
One was seen and photographed on January 3rd and 4th off Hwajin Po, Gangwon Do (Robin Newlin, and Heesun and Paul Newlin), with four present between Hwajin Po and Yangyang on January 23rd (Jean Francois, Serge Nicolle, Dominique Tavenon and Nial Moores)
Least Auklet Aethia pusilla V3 (So)
Three were seen on January 3rd, off Hwajinpo, Gangwon Do (Robin, Heesun and Paul Newlin). All showed dark barring on the flanks.
One was present in the same area on January 23rd (Nial Moores and Dominique Tavenon).
Brown Shrike Lanius cristatus DEC, P3 S4
One lucionensis/confusus Brown Shrike photographed at Seongsan Po, Jeju, on at least January 19th (when posted on the Birds in Jeju website) is presumably the first mid-winter record for Korea. (Kim Eun Mi, Kang Chan -Hwan, Jeff Hopkins).
Light-vented Bulbul Pycnonotus sinensis INC, SV1 RV3 (So)
First recorded in Korea in October 2002, one photographed (Jeong Jin-Mun) at Suncheon City, Jeollanam Do on January 26th and posted on the KWBS website appears to be only the second or third mainland record, and the first mid-winter mainland record.
Common Chiffchaff Phylloscopus (collybita) tristis. V3
One photographed on Hong Island, January 6th (Hong Gil-Pyo) and posted on the National Parks Migratory Bird Centre website appears to be the second winter record, the 6th record for the Republic of Korea, and the 7th for the Korean peninsula.
Dusky Warbler Phylloscopus fuscatus P3 S4 WV3
One at Mokpo and one or two at Gocheonnam, Haenam, on January 7th (Nial Moores) continues the trend of over-wintering individuals, recorded annually since the first in 2001.
Common Starling Sturnus vulgaris INC, W5
A flock of 40-50 on January 19th, at Daecheongdong in Jeju (Jeff Hopkins, Kim Eun-Mi, Kang Chang-Hwan) is perhaps the second largest flock known to Birds Korea (c.f count of 100 on Jeju in December 2004: The Birds Korea Review of 2004)
Grey-backed Thrush Turdus hortulorum INC, P3 S3
One seen in Busan on January 27th (Randy Harvorth) appears to be the first mainland mid-winter record.
Plumbeous Water Redstart Rhyacornis fuliginosa V3 (So)
This species was first recorded in Korea in 2006, when two records. During the period under review, one male, in the Seogwipo area of Jeju appears to have been present between at least January 6th and 28th (being seen and photographed e.g. on 19th by Kim Eun-Mi, Kang Chang-Hwan and Jeff Hopkins), while the long-staying male and female have remained at SE River throughout the period (being seen at the end of the month by Ju Yong-Ki and Yu Sung-Ho).
In addition, one very probable male was also seen briefly (by Nial Moores) at NE River, on January 22nd.
Eastern Yellow Wagtail Motacilla tschutschensis P2
One at Gocheonnam, January 7th (Nial Moores) is perhaps the first record of over-wintering away from Jeju.
Snow Bunting Plectrophenax nivalis V3
On December 29th, one was seen briefly at Seosan Lake A (Rich Lindie and Hayley Wood).
Finally, a gentle reminder to all of our members, past and present, living in Korea. Birds Korea depends entirely on the support of our members and volunteers. Donations and domestic membership fees are vital to us! Please renew your membership (annual membership fee is only 30.000 Korean won; and life-time membership only 150.000 Korean won at this time), and help us to help the birds!
Birds Korea, February 5th, 2008.