Birds Korea Update for Members: Late 2007
Warm greetings from Birds Korea – now three years old, and soon to open a newly revised and greatly-improved English language website.
Due to an extremely busy past three months, this extended update covers the period October 1st - December 10th, 2007 and has three parts:
1. Conservation News
Despite some successes and progress, 2007 appears ready to close with several further major blows to wetland and bird conservation here in South Korea.
In October, Busan City made formal attempts to repeal designation of part of the Nakdong Estuary as a (protected) National Natural Monument, a move that appears to threaten the long-term conservation of this internationally important wetland. Based on a meeting in Busan on November 17th with Dr. Lee Kyung Hoon, Vice Mayor for Political Affairs, the city's argument apparently goes: The Nakdong Estuary was once very important for wildlife; now some areas are less important; the city should therefore remove protection for the less valuable areas, and increase protection of the more important areas of the Estuary. According to well-placed sources, motives for this change in protected status might include, at least by some, a long-held plan to construct an airport on an artificial island within the Estuary itself – something that apparently has not been formally discussed, nor announced by Busan City. Either way, Busan City's argument for reducing the area of protected wetland ignores the evidence that such areas are still internationally important under the guidelines of the Ramsar Convention (and hence should be conserved); and that the degradation of large parts of the Estuary is largely due to projects already initiated and supported by the city (including the construction of the Miyeonji Road Bridge, and the massive western New Dock complex). Clearly, there is an urgent need to organize bird data and to gather expertise, in order to work with Busan City to raise awareness of how genuine conservation of the Nakdong Estuary could lead to long-term benefits, not only for wildlife, but also for the citizens and the city itself.
On a similar theme, November saw the eventual passage of two domestic laws: the Saemangeum Special Law, and the Special Law for Coastal Development, both of which will open up large areas of the coastal zone for more rapid (even less controlled) economic development. It is especially ironic that such laws were passed even as South Korea prepares to host the next Ramsar "Wise Use of Wetlands" Convention conference (in Changwon, in October 2008), and within days of South Korea apparently winning the right to host the next World Expo – this at Yeosu in 2012, under the theme of "The Living Ocean."
In December, most alarming and immediate has been the nation's largest oil spillage, off the Taean Peninsula on December 7th. To date, the oil has already blackened once beautiful beaches and destroyed local fisheries. While relatively few birds have been affected so far (with small numbers of oiled grebes, Red-breasted Merganser Mergus serrator and Temminck's Cormorant Phalacrocorax capillatus reported, and some birds already treated by specialists), the oil slick now (as of December 10th) apparently extends 70 km south from the crash site, and appears ready to foul tidal-flats that stretch south from the Taean Peninsula towards the globally important Geum Estuary. Birds Korea members (including Dr. Kim Shin-Hwan and Mr. Ju Yong-Gi) have both been at Taean, and updates are being posted on both of our websites (see: BK-IN-Oilspill-2007.shtml).


Photos © Kim Shin-Hwan
In contrast to all of the negative developments above, in a meeting in Seoul on November 20th, Dr. Kim Woong-Seo (Director of the Marine Resources Research Department, Ministry of Maritime Affairs and Fisheries), was able to provide some much-needed positive news: both that the proposed reclamation of the Geum Estuary will NOT proceed (surely the best news of 2007!), and that his ministry remains committed to challenging large-scale reclamation, unless such reclamation can be proven to be absolutely in the national interest.
2. Birds Korea News
As has been very often noted before, South Korea appears to be at a turning point. After massive investment in infrastructure (creating huge eco-centres in internationally important wetlands at, for example, the Nakdong Estuary, Upo Ramsar Site, Suncheon Bay, Muan and the Geum), the progress of two UNDP-GEF supported government initiatives (one for the Yellow Sea, the other for inland wetlands and wetland biodiversity), and a blizzard of international meetings, it is clear that "conservation" is moving increasingly towards the mainstream.
We still have a very long way to go, however. South Korea now has either the 11th (or even the 10th) biggest economy in the world, and yet we still lack any comprehensively managed wetlands for biodiversity; there are no bird reserves; and no large bird and habitat conservation organizations (with only c 750 members in total, Birds Korea appears to be the largest such bird and habitat conservation organisation to date). Further, there is no partner or South Korean office of the Wildlife Conservation Society, and no BirdLife International, Wetlands International, WWF, or International Water Management Institute partner (the latter four representing, along with IUCN, the formal International Organisation partners to the Ramsar Convention). This lack of international outreach contributes significantly to South Korea's inability to work efficiently through regional conservation initiatives (such as bilateral treaties, e.g. the Republic of Korea-Australia Migratory Bird Agreement, and conventions such as Ramsar and the Convention on Biological Diversity), and it leaves domestic NGOs often unsupported by the larger global conservation community – an expert body able in many cases to either pressure, support or lead government and national opinion on key conservation issues through the use of science and best advice. Combined with other domestic factors (including the lack of long-term experience of wetland or bird conservation), the absence of well-supported international NGO presence no doubt significantly contributes to the nation's appalling Ramsar record (presently we rank approximately 135th globally in the area of wetland designated as Ramsar site). It also allows the development of poorly-designed "conservation infrastructure" and events, including Migratory Bird Festivals (with one in November offering caged threatened species and para-glider aerial displays over birdless wetland to its throngs of noisy visitors), and even a well-supported and well-intentioned (though very poorly advised) proposal to "reintroduce" the extirpated and Endangered Crested Ibis Nipponia nippon to Upo Ramsar site, some intend in time for the 2008 COP 10. Such an introduction as presently proposed would be fully against IUCN guidelines and is also already against BirdLife International advice (repeated again by Ms Cristi Nozawa during her visit to Korea in December) – as for example the species was never known to breed in South Korea (this according to written evidence presented in Austin [1948], and Park [2002]), and it was never even formally recorded at Upo. Moreover, the Upo Ramsar site itself is suffering massively from disturbance, habitat fragmentation, invasion by exotics, and a recently-changed hydrological regime, all combined rendering the site obviously less and less attractive to many naturally-occurring species of waterbird.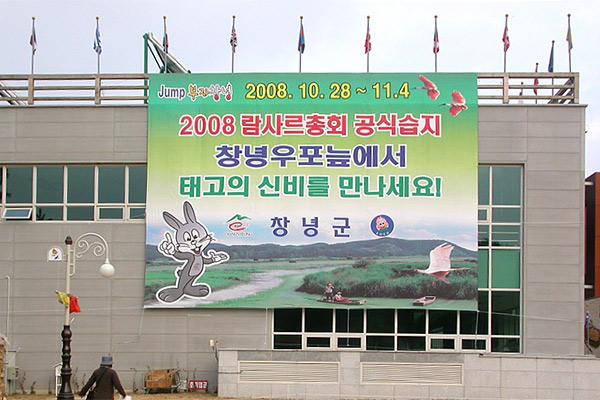 New Centre at Upo Ramsar Site adorned with a huge banner promoting the 2008 Ramsar Convention (November, 2008). Note the Bugs Bunny Style rabbit and the images of Crested Ibis both superimposed on an image of the wetland...Science or? Photo © Nial Moores
With the world's attention to be more and more focused on Korean wetlands and conservation efforts in the run up to the Ramsar Convention conference, 2008 should offer all of us an extremely important opportunity to help lift South Korea up, eventually into a leadership role in bird and wetland conservation – a role much better befitting the economic, educational, and social status of the nation.
It is clear that Birds Korea (with its unique structure and approach), needs to contribute more to this process of national "good" development , by helping to facilitate and at times helping to lead the discussion and communication of conservation issues in Korea, both internally and overseas. To do so, we need ever greater support - from our members, our advisors and our supporters.
We would like to encourage all of our members to please keep supporting our work, helping us to increase our membership (here in Korea especially, but also overseas among the scientific conservation community), and our capacity, through volunteering, through fund-raising and through contributing data and advice.
An indication of our possible role in the year(s) ahead comes with a listing of selected recent meetings and discussions since the beginning of October:
October 1st: Participation by three core personnel in the Yellow Sea Partnership meeting in Busan. The Yellow Sea Partnership aims to create an informal structure that can continue the work of the ongoing South Korea-China-UNDP-GEF Yellow Sea Large Marine Ecosystem Program, bringing together concerned organizations and institutions. Birds Korea has become the first Korean NGO to register as a partner( see: http://partnership.iwlearn.org/);

October 13th: Meeting with BirdLife International's Mr. Mike Crosby and Dr. Christoph Zockler of the Spoon-billed Sandpiper Single Species Action Plan, at Saemangeum, following a joint press release on Spoon-billed Sandpiper by Birds Korea, the RSPB and BirdLife International, as well as other conservation organizations where this critically Endangered species occurs (see: BK-PR-SBS-2007-10-11.shtml);

October 16th: Workshop on shorebird monitoring given by Mr. Nial Moores and Mr. Ju Yong-Ki at the Geum River Basin (Ministry of Environment-UNDP-GEF) Korean Wetlands Project office (see: BK-HA-Saemangeum-Week-Oct-2007.shtml);

October 17th: Meeting with two staff of the Wildlife Conservation Society at Saemangeum and the Geum Estuary;

November 2nd: Participation in a DMZ Forum meeting in Seoul;

November 11th-13th: Participation by Mr. Nial Moores as an invited expert to the Ramsar STRP meeting in Changwon;

Ramsar Scientific and Technical Review Panel meeting, Changwon, November 11th-14th.
Dr. Nick Davidson, Deputy General Secretary of the Ramsar Convention (with hand raised), explains about the Convention and introduces several key themes of next year's Ramsar conference: health, urban wetlands and flyways. In the foreground, Professor Joo Gea-jae of Busan National University. Photo © Nial Moores

November 14th: At the invitation of Shinnan County, a meeting held between Mr. Nial Moores and the Mayor of Shinnan, Mr. Park Woo-Ryang and other key officials, to discuss bird conservation and the promotion of birdwatching-based eco-tourism (with thanks to Mr. Go Gyeong-Nam for arrangements);

November 15th-17th: Guiding three STRP participants to a range of sites, including Saemangeum, the Geum Estuary and the Nakdong Estuary; meeting with the Korea Wetlands Project CEPA officer (Ms Lee Namue) at Gunsan, and meeting with Dr. Lee Kyung Hoon, Vice Mayor for Political Affairs of Busan City on 17th;

November 16th: Publication of the 2007 Saemangeum Shorebird Monitoring Program (SSMP) Report;

November 18th-22nd: With support funding provided to Birds Korea from the Korea Wetlands Project, a series of meetings conducted jointly with Birds Korea and Mr. Ken Gosbell, Chair of the Australasian Wader Studies Group, to help distribute the SSMP report. Meetings included with Professor Joo Gea-Jae of Busan National University and with the Nakdong Estuary Conservation Group (on 19th); with officials from the Ministry of Maritime Affairs and Fisheries and the Ministry of Environment (on 20th); with the Mayor of Gunsan and other officials, followed by a seminar, co-organised with Saemangeum Alliance for Peace and Environment (??) attended by more than 30 people at the Jeollabuk Provincial Government building (on 21st);

Mr. Ken Gosbell, Chair of the Australasian Wader Studies Group, with Ms. Park Meena (Birds Korea National Coordinator) and volunteer Ms. Kim Boram, at Miyeonji Tidal-flat, Nakdong Estuary, November 19th, 2007. Photo © Nial Moores

Overview of the Gunsan World Migratory Bird Festival, November 21, 2007, held next to the Geum River Important Bird Area. Although the opening day of this year's festival was dominated by a huge building-sized model of a Baikal Teal, overflown by motorised hang-gliders, the Mayor of Gunsan stated very positively and encouragingly that in future years the festival will instead emphasise training and environmental education. Photo © Nial Moores

November 26th-27th: Eco-guide Training Camp at Upo Ramsar Site, organized by Nakdong River basin office of the Korean Wetlands Project, and led by Mr. Nial Moores;

Eco-guide training program at Upo Ramsar site (November 26-27, 2007): a very positive initiative supported by the Korea Wetlands Project. Photo © Nial Moores

November 30th: national NGO meeting to prepare for Ramsar, attended by Mr. Ju Yong-Ki;

December 3rd-December 7th: With support funding provided to Birds Korea from the Korea Wetlands Project, a series of meetings conducted jointly with Birds Korea and Ms. Cristi Nozawa, Head of Asia Division of BirdLife International, with a seminar attended by 30 people at the Nakdong Eco-centre on 3rd (with presentations by Ms. Park Meena, National Coordinator of Birds Korea; Mr. Ju Yong-Ki, Birds Korea Formal Advisor on Saemangeum and the Geum Estuary; Ms. Cristi Nozawa, introducing BirdLife International; Mr. Jeon Shi-Jim of the Nakdong Estuary Conservation Group, introducing the Nakdong Estuary; Professor Joo Gea-Jae, introducing long-term ecological planning, and the proposed Regional Ramsar Centre for East Asia initiative; and Ms. Lee Hyun-Ju, introducing the work of the Nakdong River Office of the Korea Wetlands Project); meetings with curator Dr. Kim Seok-Yee at Mokpo National Natural History Museum and with Mr. Bae Jong Bum, Vice-Chairman of Mokpo City Council to promote conservation of the Mokpo Urban Wetland (organized and attended by Mr. Andreas Kim, the Birds Korea English-language website spinner), and with Ms. Jang Ji-Yeong and Mr. Kim Gyung-Wan and staff of the Muan Tidal-flat centre on 4th; meetings with officials of the Korean Wetlands Project Geum River Office and Gunsan City officials, based at the Gunsan Migratory Bird Centre; and on 5th, with researchers working at the Oriental Stork Research Facility in Cheongju (including Birds Korea co-founder Ms. Kim Su-Kyung and member Dr. Sung Ha-Cheol); and on 6th, a visit to the Birds Korea office, followed by a further meeting with Professor Joo Gea-Jae and Mr. Suh Seong-Oh, of the Ramsar Centre Korea.

Viewing the Mokpo Urban Wetland (December 4, 2007): from left to right Mr. Ju Yong-Ki and Mr. Andreas Kim of Birds Korea, Ms. Cristi Nozawa (Head of Asia Division, BirdLife International) and Mr. Kim Seok-Yee, Curator of the Mokpo Natural History Museum. Photo © Nial Moores

Discussion on detailed research and long-term planning for species restoration, in this case for the Oriental Stork Ciconia boyciana, December 6th 2007. From left to right Dr. Jeong Seok-Hwan, Birds Korea member Dr. Sung Ha-Cheol, Ms. Cristi Nozawa (Head of Asia Division, BirdLife International), Mr. Andreas Kim (Birds Korea English website-spinner), Mr. Ju Yong-Ki (Birds Korea Formal Advisor) and Ms. Kim Su-Kyung (Birds Korea co-founder). Photo © Nial Moores

The Oriental Stork Research facility now has over 40 Oriental Storks, with several pairs breeding in controlled conditions, in long-term preparation for their reintroduction into Korea. Photo © Nial Moores
Media coverage of our work during this period has remained good and positive, with e.g. articles in the Naeil Newspaper on the Spoon-billed Sandpiper and filming with a French Channel 3 Documentary Crew at Saemangeum in October; an interview with Reuters about the SSMP Report in November and oil spill in December, and two days of filming with KBS TV in early December.
3. Exceptional Bird Records
Most highlights during this extended period can be found on the Latest Bird News Archives on the English-language website. All observers are warmly encouraged to share their records, especially of scarcely-reported species, including the date of observation, the location, the name of observer(s) and the number of individuals seen. Thank you!
Selected records of greatest note in the period under review include:
Snow Goose Chen caerulescens
A flock of 12 at Ganghwa Island photographed by Park Keun-Sok on November 27th is perhaps the second largest flock noted in Korea, with the largest published record being of 15, also near Incheon, in February 1948 (Wolfe 1950).
Japanese Night Heron Gorsachius goisagi
One (apparent) adult, very well-photographed by Kang Hi-Man on Jeju Island between at least October 4th and 16th.
(Frigatebird sp Fregata sp.
One seen in flight at Seokgoram, near Gyeongju on September 26th by Randy Horvarth.)
Saker Falcon Falco cherrug
One possible was seen at Simpo (Saemangeum) on October 13th (Nial Moores, Mike Crosby, Christoph Zockler), and one different individual was then photographed, also within the Saemangeum reclamation area, on November 16th and 17th (Nial Moores, Ju Yong-Ki, Yu Sung-Ho, Lee Namue, David Stroud, Ruth Cromie, Rebecca Lee, Peter and Angela Nebel). Only 4 records are listed in Park (2002), though this review omitted at least three further records (one collected in December 1951 [Prentice, 1952]; and one seen in Haenam on February 12th 2000, and another on Gago Island on May 9th 2000: Nial Moores et al.). There is also at least one further recent record: one seen by Kim Hyun-Tae at Seosan, apparently in 2003.
Nordmann's Greenshank Tringa guttifer
The southward migration peak count was of between 46 and 50 in The Geum Estuary, on October 14th (Nial Moores and Ju Yong-Ki).
Red Phalarope Phalaropus fulicarius
One seen well from the ferry between Eocheong island and Gunsan City on November 9th (Tim Perkins and Nial Moores). There are possibly less than 10 national records.
Iceland Gull Larus glaucoides kumleini
An apparent juvenile/first winter was seen on the Guryongpo Peninsula on November 6th (Nial Moores and Tim Perkins). L. glaucoides is surprisingly claimed almost annually in Korea, with most individuals apparently being close to the nominate subspecies in appearance.
Thick-billed Murre Uria lomvia
One seen at Daebo, Guryongpo Peninsula, on December 7th (NM only). There are only two or three previous records (all from 2006).
Plumbeous Water Redstart Rhyacornis fuliginosa
Still present in the same general area in Gyeongsangnam Province since December 2006. While the site has public access and is increasingly known to photographers, all visitors are respectfully urged to keep disturbance of these birds to a minimum – especially during cold weather.
References
Austin, O. L., Jr 1948. The birds of Korea. Bulletin of the Museum of Comparative Zoology, Harvard University 101: 1-301.
Park Jin-Young 2002. Current status and distribution of birds in Korea. Department of Biology, Kyung Hee University, Seoul (unpublished thesis). (In Korean.)
Prentice, D. S. 1952. Bird Observations in Korea. The Passenger Pigeon, Vol 4.4: 137-142.
Wolfe, L. R. 1950. Notes on the birds of Korea. Auk 67: 433-455.
Finally, a gentle reminder to all of our members, past and present, living in Korea. Birds Korea depends entirely on the support of our members and volunteers. Donations and domestic membership fees are vital to us! Please renew your membership (annual membership fee is only 30.000 Korean won; and life-time membership only 150.000 Korean won at this time), and help us to help the birds!
Birds Korea, December 12th, 2007.