The Destruction continues...
Song Do's internationally-important tidal-flats "reclaimed"
Editorial by Birds Korea, text and photographs by Tim Edelsten, April 2005.
Editorial
In November 2003 we posted a report, jointly written with Birds Korea member Tim Edelsten, warning of the planned destruction of the Song Do tidal flats - an internationally-important area that has held one of the highest winter counts ever made of Relict Gull (143, in February 2002); one of the highest winter counts of Saunders's Gull (643 in December 2001), and is now perhaps uniquely a breeding site and internationally important wintering area for the species; and that regularly supports significant concentrations of Chinese Egret in the summer and autumn...
As we reported at the time, despite Song Do clearly fulfilling criteria that should have meant its listing as a Ramsar site, there was a ... "plan to convert the whole area - the remaining tidal-flats and those surrounding areas already lying idle as expansive car parks or land-ready-for-building - into a waterfront city based on the model of Chicago: much of it, according to the Korean Herald, following the design and leadership of an American company, Gale Co. (of Florham Park, New Jersey), working with Korean steel giant POSCO, and under the architectural guidance of Gene Kohn of the New York architecture firm, Kohn Pedersen Fox Associates. Their aim, according to the Korea Herald newspaper, is to create New Songdo City, a " 20 billion US dollar (equivalent) effort to transform 1, 400 acres of reclaimed waterfront property in South Korea"…(offering) "35 000 mostly for-sale residential units, 50 million square feet of office space, 10 million square feet of retail space, a convention center, about 4,000 hotel rooms, 20 million square feet of garage space, 11 public schools, a hospital, a golf-course, a 65-acre central park and an additional 210 acres of open space...
...This mega-project, mega-expensive to both the environment and in terms of tax dollars, will of course be completed without the benefits of an Environmental Impact Assessment process befitting one of the world's leading economies."(Last Call for Song Do).
Depressingly, this irreversible "conversion" is now fully underway, and there seems little doubt that in a few months these tidal-flats will have gone the same way as so many sites around the Yellow Sea - barraged, dried out, and destroyed.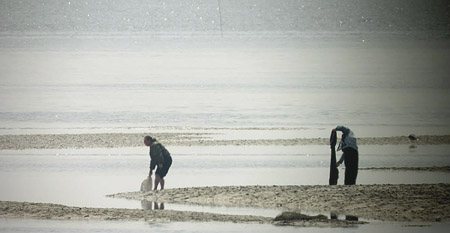 Fisherfolk, Song Do, April 2005 © Tim Edelsten
---
Tim Edelsten, a Birds Korea member living in Seoul, has been observing the unfolding developments at Song Do and his comments and thoughts are recorded below. We are very grateful to him.
"Imminent destruction of Important Songdo tidal- flat at Incheon"
"April 03: At Inpia mudflat, a brand new sea wall is now jutting out at the far end: a terribly depressing sight, as this will soon seal the fate of the most productive and last remaining inter- tidal area. "(from Latest Birds Report)

"April 05: The new sea wall has advanced rapidly, now extending about halfway across this prime, vast mudflat. Song Do may no longer be viable for thousands of shorebirds within weeks, if not days.

Possibly my most spectacular, yet saddest day at Song Do. The birds were outstanding: roughly 3000 Dunlin, many in black-bellied breeding plumage, covered the ground at high tide, along with 200+ Grey Plover and ca.60 "Eastern" Oystercatcher - my highest ever counts for each at this prized site. Also up to 40 Bar-tailed Godwit, some sporting rich red underparts, mingled amongst them.

The years first group of 8 Great Knot, around 20 Spotted Redshank, and a handful of summer-marked Red-necked Stint have just arrived.

Around 10 Taimyr and 2 Vega Gulls were in with a surprisingly large gathering (ca.150) of Mongolian Gulls" (from Latest Birds Report).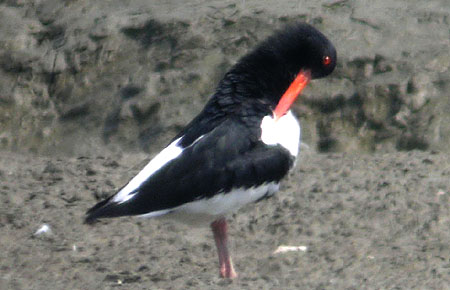 "Eastern" Oystercatcher, Song Do © Tim Edelsten
Dunlins, Song Do © Tim Edelsten
"April 06: This final reclamation will leave thousands of shorebirds with nowhere to feed, and destroy an area valuable to highly threatened birds such as the Relict Gull, Black-faced Spoonbill, Chinese Egret, and Saunder's Gull. The huge mudflat at Inpia is an important feeding area for internationally significant numbers of Dunlin and used by a great diversity of other shorebirds..." (mail to Birds Korea, April 06)

"After a year of spectacular and rewarding birdwatching at Song Do, I can hardly believe that developers are finally destroying this valuable ecosystem forever: a place that has provided me with a greater diversity of species and more dear memories than any other site in the Seoul vicinity.

The formerly vast mudflats were of course the crowning glory of Song Do, providing a bountiful harvest both for local fishermen and a rich variety of shorebirds.

Reclamation began in earnest in the first months of my visiting: whole sections and chunks of pristine estuary rapidly vanishing under rubble and construction until now- the wall is finally closing on the last and most productive section of mudflat.

Song Do is/was made up of several different wetland areas working in tandem. When the tide is in, birds roost on the sandbars of the nearby freshwater lagoon, reservoir, or brackish channel. Without the adjoining mudflats these patches of habitat are cut off and isolated far inland. They cannot hope to feature the same special birds as before in nearly the same numbers - if at all.

Globally endangered species such as Chinese Egret, Saunders' and Relict Gulls will have no more refuge here: Saunders' Gull thrived on the fine silt and extensive shallows of Inpia mudflat; Relict Gulls were commonly found overwintering in the brackish area - now barraged; Chinese Egret seemed to rely on the open safety of formerly expansive mudflat at Aamdo - now gone.

Thousands of waders and duck now have nowhere to go. Miniscule remnant slices of mud along the edge of the construction are disturbed and hemmed in from all sides. The reservoir may yet provide for a handful of the most common diving ducks, and the lagoon for a handful of freshwater types, but the essential value of the site has disappeared under concrete, making way for New Songdo city - "The envy of the world, a city to rival New York" as its promoters cry out in flashy advertisements.

As a long line of trucks laden with rocks streamed to and from the closing wall, a touching moment: I invited a friendly passer-by to look through my telescope, trained on a group of brightly coloured Oystercatchers resting on the mudflat.

His eyes lit up in amazement and wonder - as if to say "Wow! I had no idea such beautiful birds lived here. I thought it was all just mud!"

So much is being lost here: we have to make sure that the people of Korea know about their charming and varied birdlife, before its too late."
Tim Edelsten, Seoul, April 06 2005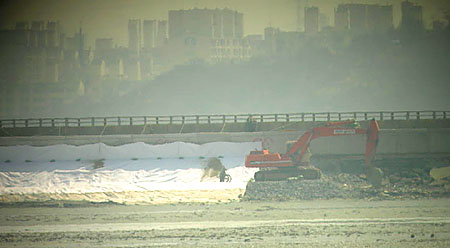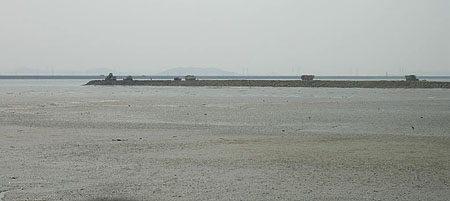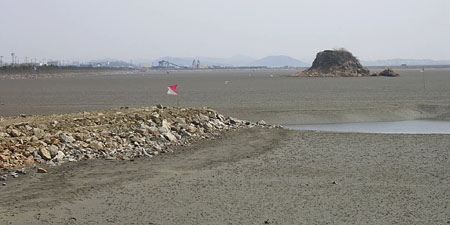 ---
Like Saemangeum, Asan Bay, Haenam and many more smaller sites throughout the country which fulfill criteria that prove they should be protected, Song Do will simply be absorbed into South Korea's rapid conversion from countryside to concrete. Regrettably there have been few actions to defend this site, little recent protest by national groups and no response at all by international NGOs.
The only voice being heard is that of Birds Korea - and as we are the first to admit, we are simply too small at the moment to do much more than report the facts and try to prod the conservation community into action. We will continue to do what we can, and we are building our group and talking with people all the time, but we need help: please join Birds Korea NOW and together let us develop ways and means to become more effective.