Saemangeum Reclamation Area September 2010: Opening of Sea-gates Essential to Conserve Internationally Important Concentrations of Shorebirds.
Birds Korea, September 12th 2010
Shorebird counts were conducted in the Saemangeum Shorebird Monitoring Program (SSMP) Study Site between September 4th and 9th 2010 by Nial Moores (Director Birds Korea and IUCN SSC Member) and Ju Yung Ki (Chonbuk National University, and Birds Korea Advisor on Saemangeum).
Before seawall close in 2006, Saemangeum was the most important known wetland for shorebirds in the Republic of Korea and in the Yellow Sea, supporting huge numbers of shorebirds on both northward (April and May) and southward migration (August-October) between Siberian and Alaskan breeding grounds and wintering areas in southern Asia, Australia and New Zealand.
The SSMP (conducted by Birds Korea and the Australasian Wader Studies Group in April and May 2006-2008) proved that following closure of the Saemangeum seawall in 2006 there were very massive declines in many shorebird species, most especially the Great Knot Calidris tenuirostris. The SSMP revealed, for example, that the global population of the Great Knot declined more than 20% between 2006 and 2008 due to the loss of natural tides at Saemangeum.
While the environment behind the Saemangeum seawall has been very badly affected by the reduced tidal flow and worsening water quality since 2006, there have been few data on the impact of these changes on shorebird numbers during southward migration.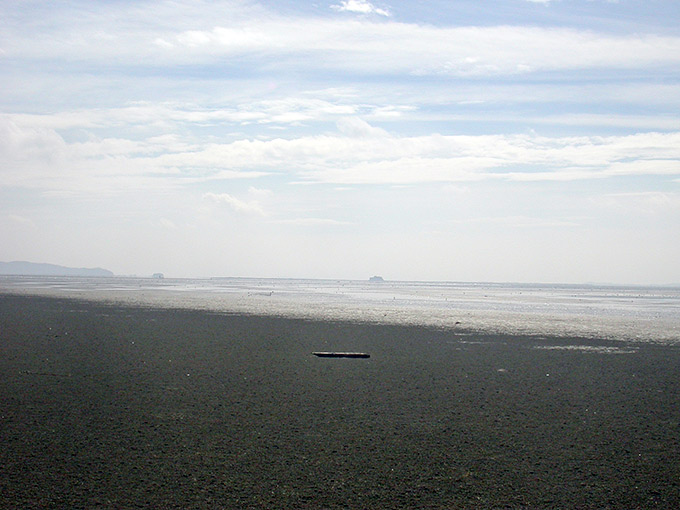 Saemangeum, degraded but still internationally important, Photo © Nial Moores
Between September 4th and 8th, we counted shorebirds from land and from boats. We counted at least 26,551 shorebirds within Saemangeum, excluding c. 2,000 shorebirds that apparently flew in from the Geum Estuary to roost on tidal-flats near Gunsan airport (Mangyeung) during high-tide only. A further 22,026 shorebirds were also counted within the Geum Estuary, and 2,661 shorebirds in Gomso Bay.
Our data show that Saemangeum is still the most important shorebird site during southward migration in the Republic of Korea, although the numbers of most species are now much smaller than recorded by government surveys before seawall close in 2006.
Our 2010 survey found seven species of shorebird in Ramsar-defined internationally important concentrations (of more than 1% of Flyway population) within Saemangeum. These included 2.5% of the world's Endangered Tringa guttifer. In addition, four Critically Endangered Eurynorhynchus pygmeus were found.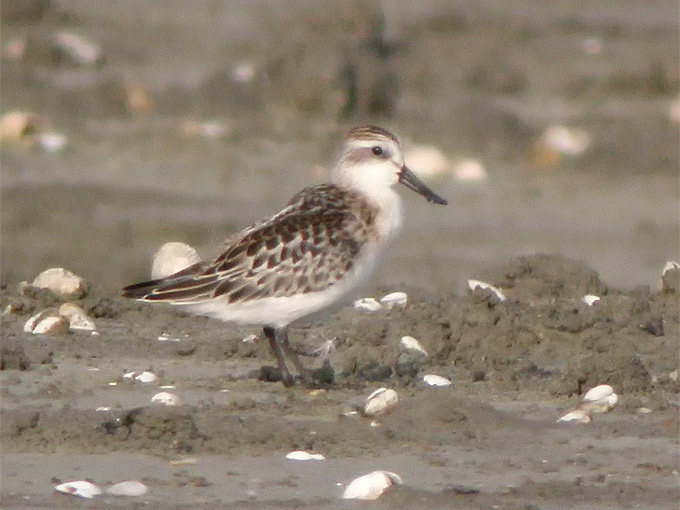 Spoon-billed Sandpiper Eurynorhynchus pygmeus, Photo © Nial Moores
Within Saemangeum, 18,615 shorebirds were found within the Mangyeung Estuary, with half of these (9758) feeding on a tidal-flat island off Haje, close to the sea-wall and sea-gates where there was some obvious tidal movement. 7936 shorebirds were counted in the Dongjin Estuary, with almost all of these on islands between Gyehwa and the seawall, again close to the sea-gates.
Nordmann's Greenshank Tringa guttifer, Photo © Nial Moores
Few shorebirds, and no internationally important concentrations of shorebird, were found upstream of the Mangyeung and Dongjin estuaries, due to the combination of very poor water quality and very restricted tidal-range. However, an internationally important concentration (30) of the globally Endangered Black-faced Spoonbill Platalea minor was observed in the Mangyeung River.
Comparison between our data and shorebird counts during southward migration (August-October) in e.g. 2003 and 2005 published by a government body reveals very major declines in several species since seawall close in 2006 (see Table below).
Conservation of internationally important concentrations of shorebirds and other waterbirds and biodiversity is a national obligation under several existing agreements and conventions (including Ramsar and the Convention on Biological Diversity).
To maintain present numbers of shorebirds within Saemangeum and to fulfil even in part existing conservation obligations, the sea-gates at Saemangeum need to be kept open, allowing regular tides.
Failure to maintain or improve tidal flow within Saemangeum will very likely lead to further declines in shorebirds, both at the site and the population level.
Table: Selected Shorebird Species recorded within Saemangeum (September 4th-9th, 2010).
Species Name
Species Name
GCS
1% Flyway
Saemangeum Peak Counts Aug-Oct 2003, 2005
Mangyeung Sep. 2010
Dongjin Sep 2010
Saemangeum
Total
Sep 2010
Haematopus (ostralegus) osculans
Far Eastern Oystercatcher
100
12
495
13
508
Pluvialis squatarola
Grey Plover
1,300
6,532
1407
137
1534
Charadrius alexandrinus
Kentish Plover
1,000
6,280
1,437
11
1,448
Charadrius mongolus
Mongolian Plover
600
3,897
3,948
213
4,161
Limosa limosa
Black-tailed Godwit
NT
1,500
4,970
403
1
404
Limosa lapponica
Bar-tailed Godwit
1,700
3,800
453
27
480
Numenius phaeopus
Whimbrel
550
2,197
43
46
89
Numenius madagascariensis
Far Eastern Curlew
VU
300
1,949
120
31
151
Tringa nebularia
Common Greenshank
1,000
1,984
719
96
815
Tringa guttifer
Nordmann's Greenshank
EN
8
2
16
4
20
Xenus cinereus
Terek Sandpiper
500
3134
885
2,112
2,997
Calidris tenuirostris
Great Knot
VU
3,800
66,380
857
1,102
1,959
Calidris ruficollis
Red-necked Stint
3,200
1,590
1,665
3,094
4,759
Calidris alpina
Dunlin
10,000
41,300
5,290
625
5,915
Eurynorhynchus pygmeus
Spoon-billed Sandpiper
CE
5*
25
1
3
4
GCS (Global Conservation Status) is from BirdLife International 2010 on behalf of the IUCN. NT = Near-threatened, VU = Vulnerable, EN = Endangered and CE = Critically Endangered. "1% Flyway" is the number of that species representing an internationally important concentration (of 1%) as defined by the Ramsar Convention, and as listed for use by Ramsar  in Waterbird Population Estimates - Fourth Edition  (Wetlands International, 2006).  Peak counts in 2003 and 2005 are those given during southward migration in 철새도래 및 서식환경 조성연구 [1] 2003.11/ 철새도래 및 서식환경조성 연구[Ⅱ] 농업기반공사 농어촌연구원 2005.11  Numbers in bold represent internationally important concentrations.
For more on the SSMP 2006-2008: http://www.birdskorea.org/Habitats/Wetlands/Saemangeum/BK-HA-SSMP-report-2008.shtml
Acknowledgements
Thanks to Mr. Jason Loghry for supporting the survey, the Rufford Small Grants for Nature Conservation and the Queensland Wader Study Group for their finacial support.