Saemangeum Shorebird Monitoring Program 2008
First Count Cycle: April 4th-8th, 2008
April 10, 2008
Following some provisional assessment and site-checking, counting for the first spring-tide cycle of the third year of the SSMP started formally on April 4th and continued until April 8th. In total nine people participated in the counts, covering Gomso Bay, and Saemangeum and the Geum Estuary (the latter two areas by boat and land), across a series of very good spring tides in largely mild and calm conditions.
Although data are still being processed, survey effort for this first count cycle recorded a total of 80,244 shorebirds, with by far the majority of these (57,551) found in the Geum Estuary, with lower numbers in Saemangeum (22,445) and Gomso Bay (248).
Most numerous shorebird species at the Geum Estuary (counted by three teams on the 5th and 6th) were Dunlin (31,1000), Great Knot (10,702), Bar-tailed Godwit (6,635), Grey Plover (4,763), Far Eastern Curlew (2,360), Eurasian Curlew (1,103), Eastern Oystercatcher (690) and Sanderling (138), with the vast majority of these concentrated at Yubu Island on an excellent afternoon tide on the 6th. These numbers are rather higher than those of the first (comparable) count cycle in 2007, when a neap tide on April 9th revealed only 2,645 Dunlin, 1,438 Great Knot and 839 Grey Plover.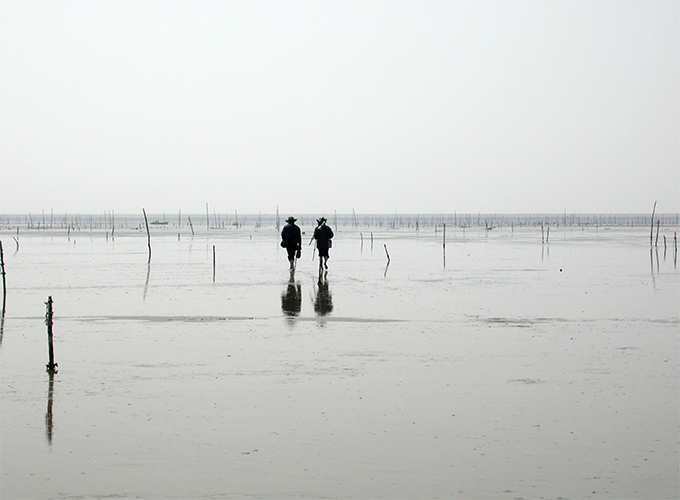 Surveying an island in the former Dongjin Estuary, April 7 © Nial Moores
Pink-washed foam and flotsam, Simpo, Saemangeum, April 7 Photo © Nial Moores
Counting within Saemangeum revisited all the main shorebird areas identified by previous SSMP work in 2006 and 2007, when a rather similar total of 24,340 shorebirds were counted (April 7th and 8th, 2007). Almost all areas, with the exception of the airport and the "Okgu Island" in the former Mangyeung Estuary, and an island offshore from Gyehwado in the former Dongjin Estuary, appeared relatively bird-poor, with most areas of the tidal-flat now apparently lacking shellfish, and much of the tide-line, e.g. at Simpo, littered with either garbage or red-toned foam - clear evidence of very poor water quality within the system. Most numerous species so far have included Dunlin (13,233), Great Knot (5,380: with 2,100 of these feeding largely outside of the seawall, roosting within the reclamation area when pushed off the remaining few hundred hectares of tidal-flats by the incoming tide), Grey Plover (1,220), Bar-tailed Godwit (673), and Far Eastern Curlew (499).
Gomso Bay/Jeulpo Bay remains rather shorebird poor, with only 248 shorebirds counted (compared to 1,805 on April 2nd 2007). However, the site's international importance was further confirmed by the discovery of over 80 Hooded Crane, with 60 found by the SSMP on the 4th.
In total, 40 or so flagged shorebirds have also been found already, including several individually-marked Great Knot and Bar-tailed Godwit.
Counting and leg-flag searches will continue near-daily, until the start of the Second Count Cycle, which will run from Friday, April 18th through until April 26th. Based on counts in 2006 and 2007, this count cycle should record significantly larger numbers of Great Knot, and likely the first Spoon-billed Sandpiper of the northward migration period.